From ancient samurai houses to beautifully preserved Edo districts, a day trip to Kanazawa is a must for lovers of Japanese culture, history, or architecture. And with the newly expanded shinkansen line, it's possible to reach Kanazawa within two or three hours from popular cities like Tokyo and Kyoto.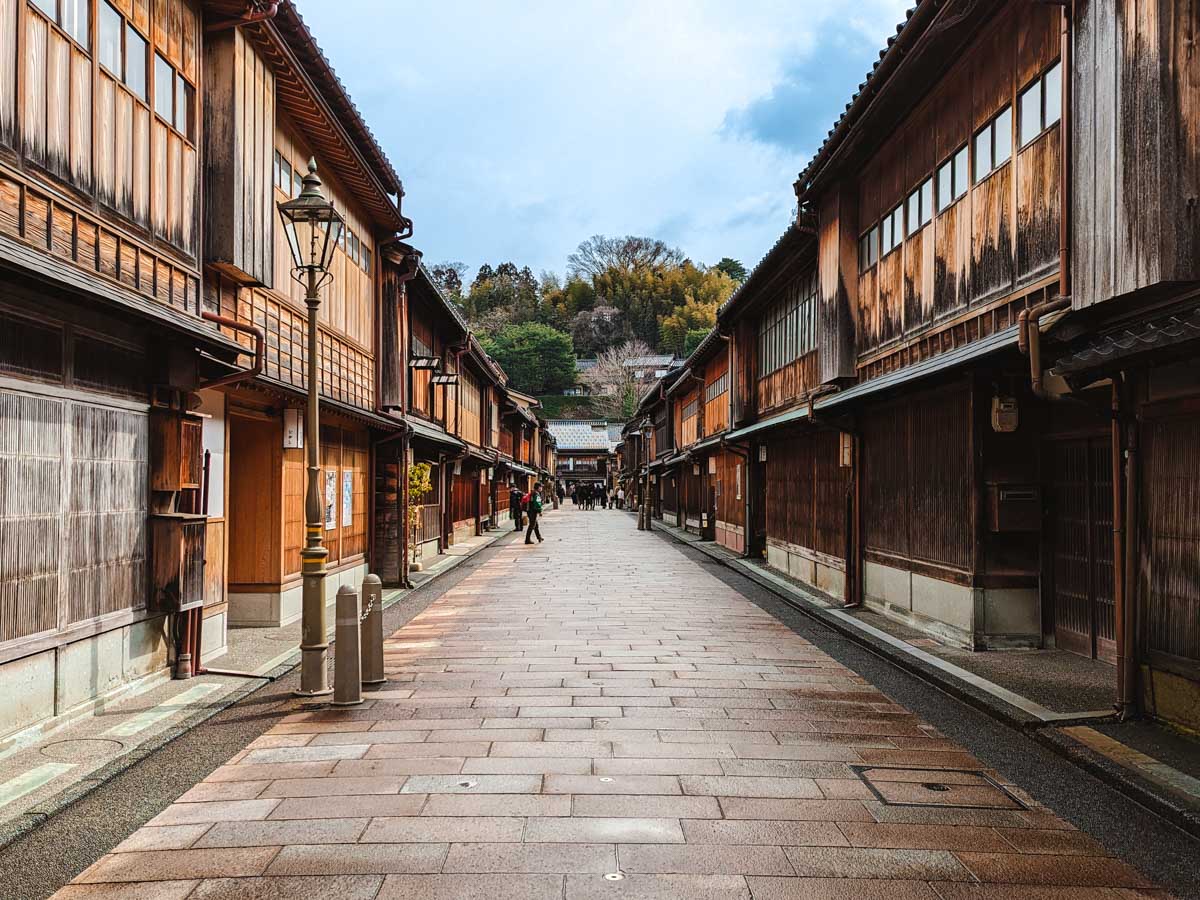 To help you make the most of your visit, I designed this efficient Kanazawa itinerary for exploring the town's highlights.
This article is part of my 5 day Nagano itinerary and 10 day Japan itinerary. Check out the full guides if you're planning a longer trip!
This post contains affiliate links. As an Amazon Associate, I earn from qualifying purchases. For more information, click here.
Day Trip to Kanazawa Itinerary
Why Take a Day Trip to Kanazawa?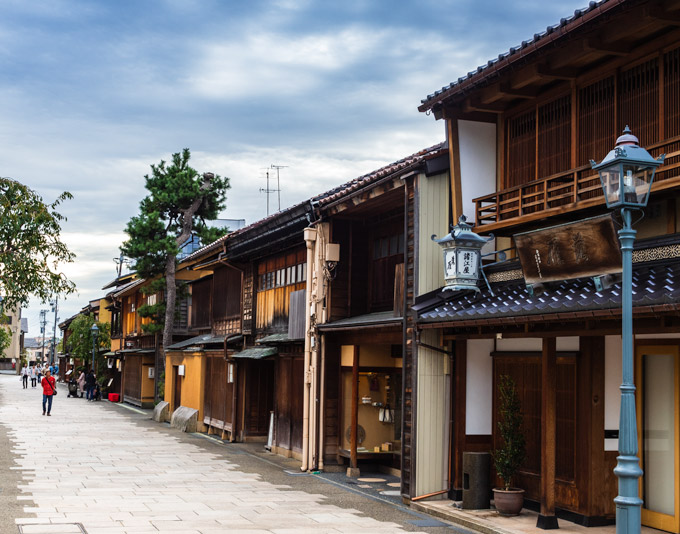 If you want to feel as though you've walked back in time, a Kanazawa day trip is essential.
Unlike other Japanese cities, much of Kanazawa has been preserved since the Edo period. The area's lack of natural disasters and man-made destruction allowed multiple tea districts (called chaya) to survive and thrive for hundreds of years.
Even today, many visitors wear traditional yukata or kimonos as they explore the town and partake in tea ceremonies.
Book your Kanazawa historical district walking tour here!
In addition to the chaya, multiple samurai districts remain standing, including the preserved home of the Nomura clan. The house serves as a living museum, complete with samurai artifacts like swords and armor.
Kanazawa is also a UNESCO Creative City of Crafts and Folk Arts.
Their silk dying techniques and gold leaf crafts are the most famous, with many shops selling beautiful kimonos, scarves, and bags worked in colorful silk and gold. You'll also note cafes selling gold leaf ice cream and other novelty treats.
This one day Kanazawa itinerary also includes Kenrokuen, considered one of Japan's three "perfect" gardens. It's a sprawling masterpiece that's worthy of any Japan bucket list.
Getting to Kanazawa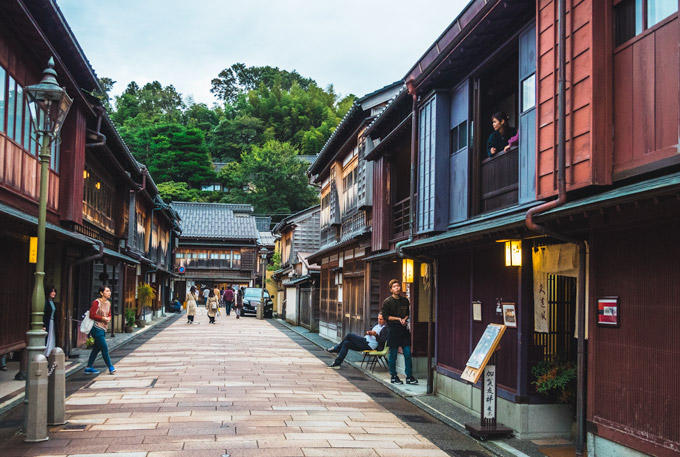 Shinkansen from Tokyo to Kanazawa
Kanazawa is a popular shinkansen day trip from Tokyo, thanks to the direct connection on the Hokuriku line. Two train categories run from Tokyo Station: the Kagayaki and Hakutaka. Tickets cost about 14,000 yen and are covered under the Japan Rail Pass.
To maximize your time (especially if you only have a few days in Tokyo to begin with), I highly recommend taking the Kagayaki, which reaches Kanazawa in 2.5 hours. The Hakutaka has more stops and takes closer to 3 or 3.5 hours.
However, all Kagayaki trains require a seat reservation! If you have a JR pass, you'll need to visit a JR office to book your seat.
Pro tip for JR Pass holders: If you already have an itinerary planned when you arrive in Japan, you can make all of your shinkansen reservations when you pick up your pass. Be sure to order your pass in advance!
Limited Express Train from Kyoto to Kanazawa
The JR Thunderbird limited express line runs from Kyoto to Kanazawa once or twice an hour. The travel time is a little over 2 hours, and tickets are about 6,400 yen. The Japan Rail Pass covers the entire journey, and seat reservations aren't required.
I recommend catching the earliest train for a day trip to Kanazawa, which leaves around 7:30am from Kyoto Station. You can check the JR West timetable for the latest updates.
Trains from Nagano to Kanazawa
The Hokuriku shinkansen runs from Tokyo through Nagano to Kanazawa. Two train categories run from Nagano Station: the Kagayaki and Hakutaka. Tickets cost about 4,900 yen and are covered by the JR Pass.
The Kagayaki train from Nagano to Kanazawa only takes an hour. However, as noted above, all Kagayaki trains require a seat reservation. If you have a JR pass, you'll need to visit a JR office to book your seat. And the Nagano Station JR office doesnt' open until 10am some days, so make sure you reserve in advance!
If you don't have a seat reservation, you can take the Hakutaka train. Cars 1-4 are non-reserved, and the trip takes about 1.5 hours. Note that Hakutaka trains only run a few times a day, so plan accordingly.
Transport from Takayama to Kanazawa
The Nohi highway bus from Takayama to Kanazawa runs every few hours. You can check the timetable and make your mandatory seat reservations on the Nohi Bus website. A round trip ticket costs about 6,000 yen and takes about 75 minutes.
You could also take the JR Hida limited express line to Toyama Station, and change for the Hokuriku shinkansen to Kanazawa. This journey takes around 90 minutes depending on how you time your connection, and is covered by the JR Pass.
Don't Forget Your Japan Rail Pass!
Buying a Japan Rail Pass will save you a ton of time and money when traveling across Japan.
I've purchased a JR pass for two out of three Japan trips, and here's why:
– Free bullet trains and reservations: Quickly travel all over Japan to maximize vacation time.
– Easy to use: Just show your pass to the gate attendant and walk to your train!
– Affordable day trips: Visit popular places like Nagoya, Kanazawa, and more without spending a fortune on tickets.
Getting Around Kanazawa
Getting around Kanazawa is easy thanks to it's public transit system. For this Kanazawa itinerary, we'll mainly rely on walking and the occasional bus.
Note that buses here do not accept IC cards (ex. Suica, Pasmo, etc.), so have yen handy to pay the fare upon exiting. In fact, always carrying yen is one of my essential Japan travel tips! The main tourism buses have displays and announcements in English and Japanese, so you don't have to worry about missing your stop.
This local bus map is very useful, and I recommend downloading a copy of the PDF to your phone.
My Favorite Japan Travel Planning Books
These books win my travel blogger Seal of Approval for vacation planning:
What to do in Kanazawa: Itinerary
Kenrokuen Garden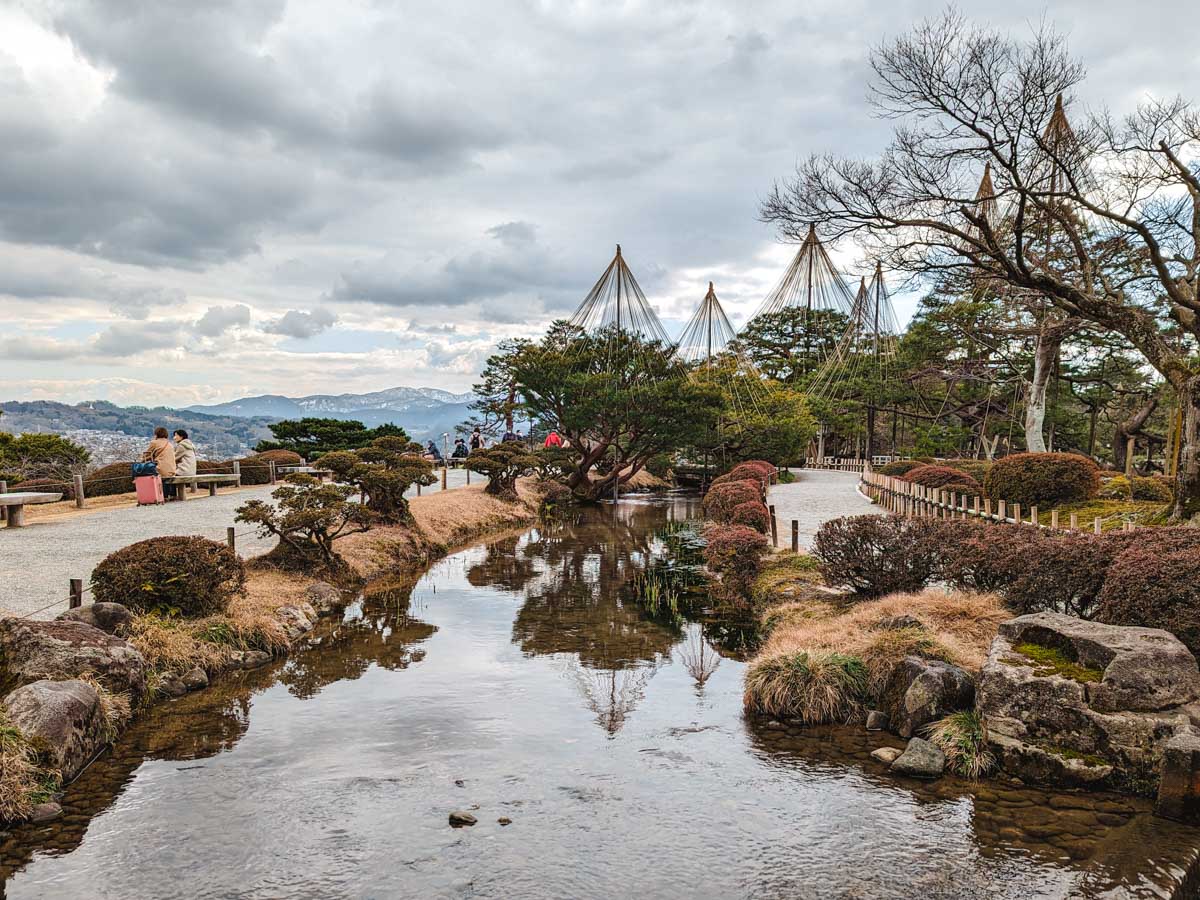 You'll start your Kanazawa day trip in Kenrokuen, one of Japan's three "perfect" gardens.
To get here from Kanazawa Station, take the purple Kenrokuen shuttle bus from the number 6 pillar. The fare is 200 yen, which you'll pay upon exiting.
Exit the bus and head up to the garden's entrance booth. Pay the 310 yen admission fee (cash only) and enjoy a leisurely stroll through the beautiful landscape.
Kenrokuen is one of the largest gardens I've visited in Japan, so plan to spend at least 45 minutes here. Highlights include multiple reflecting pools, a traditional tea house, and panoramic viewpoints over Kanazawa.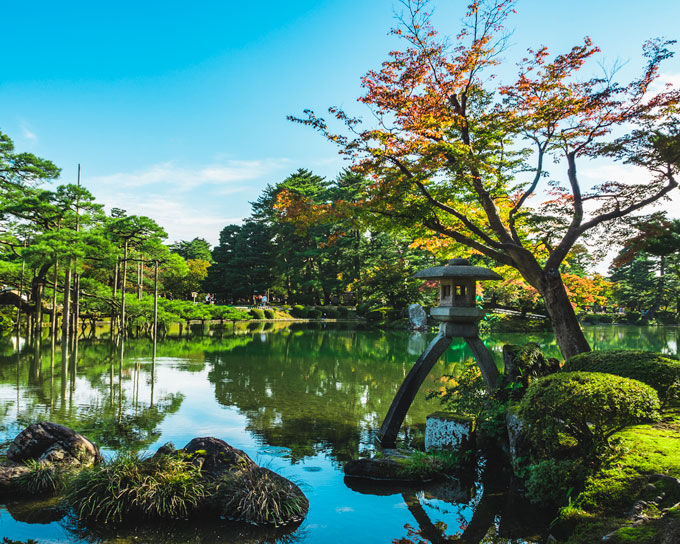 If you're traveling to Japan in October, you'll also see some stunning red Japanese maples!
After you've finished exploring this famous Japan attraction, head across the bridge to Kanazawa Castle.
Kanazawa Castle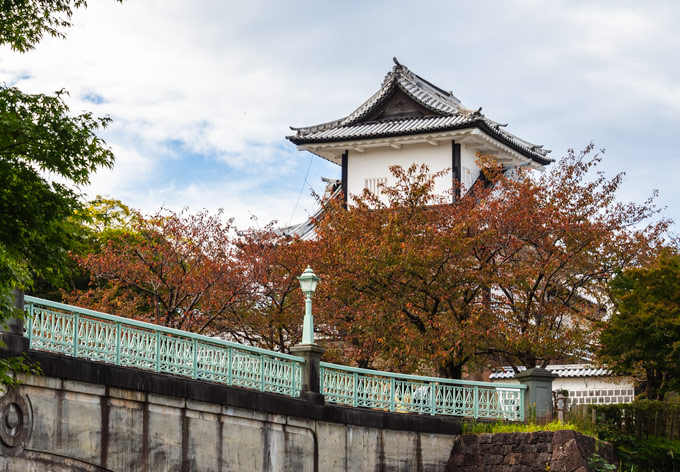 Built in the 1500's, Kanazawa Castle's iconic white walls and black roof stand tall in the town center.
In the spring, cherry blossoms add a lovely pop of pink around the main entrance. And inside the turrets and storehouse, visitors can see the beautifully restored wooden beams and relevant artifacts.
Entrance to the castle's interior is 310 yen, though it's free to walk around the massive grounds. There's a lot to do on this day trip, so I suggest skipping the interior (the exterior is more impressive in my opinion).
Our next destination is Oyama Shrine, which lies just outside the castle's western Nezumita-mon Gate.
Save me for later!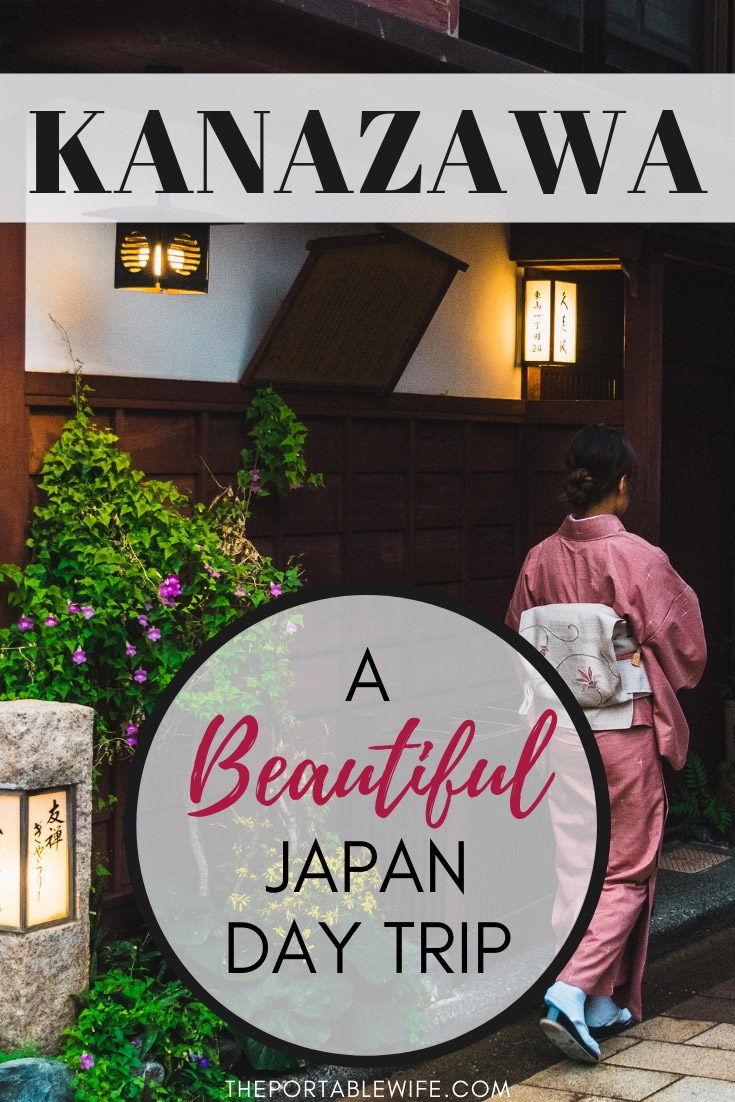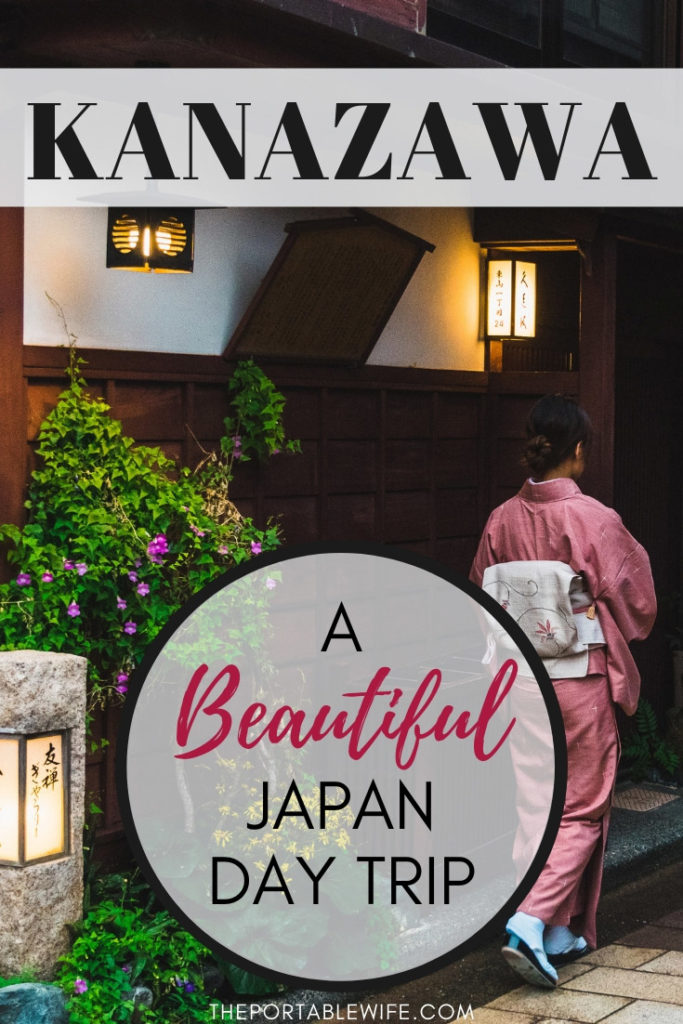 Oyama Shrine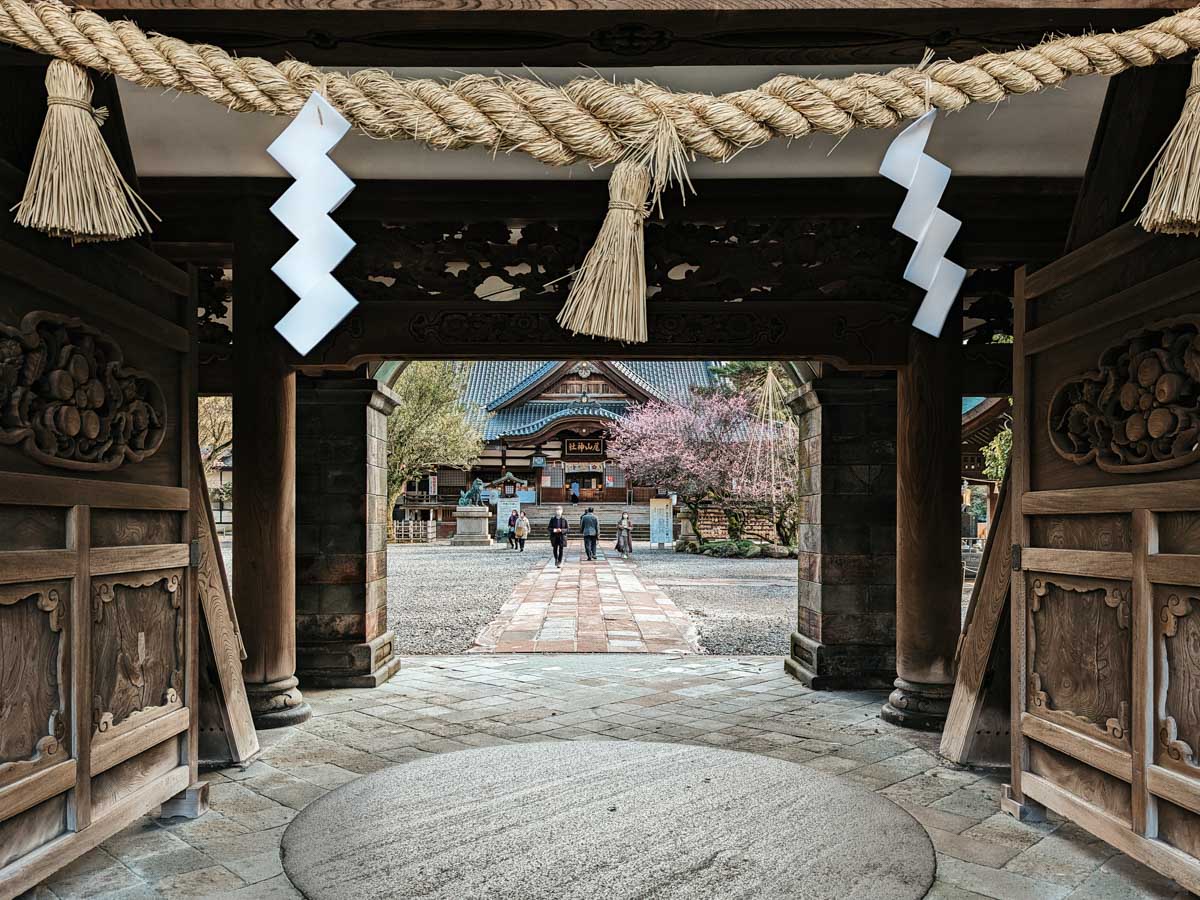 I somehow missed Oyama Shrine on my first visit to the town. However, I recently spent 2 days in Kanazawa and stumbled into the place by accident, and I think it's a must-see.
Oyama Shrine is striking for a few reasons, most notably because its gate. While the main gate's carved wooden doors are traditionally Japanese, its tower with stained-glass windows is a curious blend of European and Chinese architecture.
There's also a beautiful pond with stone bridges to the east of the temple. And if you're visiting in late February/early March, you can enjoy the plum blossom trees that dot the complex.
When you're ready to leave Oyama Shrine, walk north along the road that runs alongside Kanazawa Castle Park to reach Ozaki Shrine.
Ozaki Shrine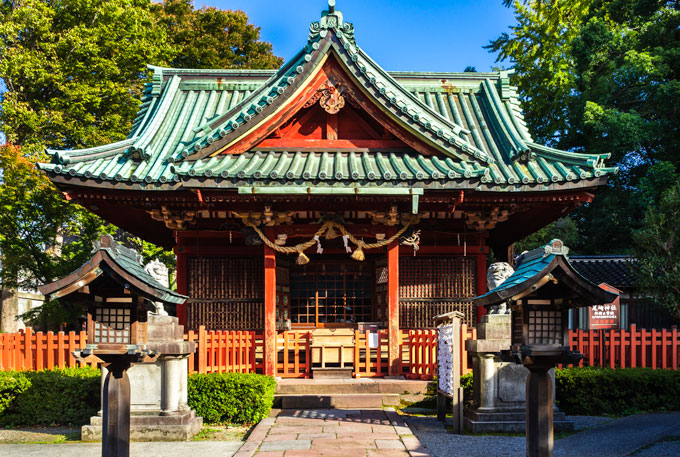 This unassuming structure is actually an important cultural property in Japan: it's dedicated to Tokugawa Ieyasu, the founder of the famed Tokugawa shogunate.
Ozaki may be small compared to some of Japan's other famous shrines, but the intimate setting and ornate details make it stand out from the crowd.
RELATED: Essential Kamikochi Hiking Guide for the Japanese Alps
From here, it's a 15-20 minute walk to our next destination: Nagamachi, the old samurai district.
Nagamachi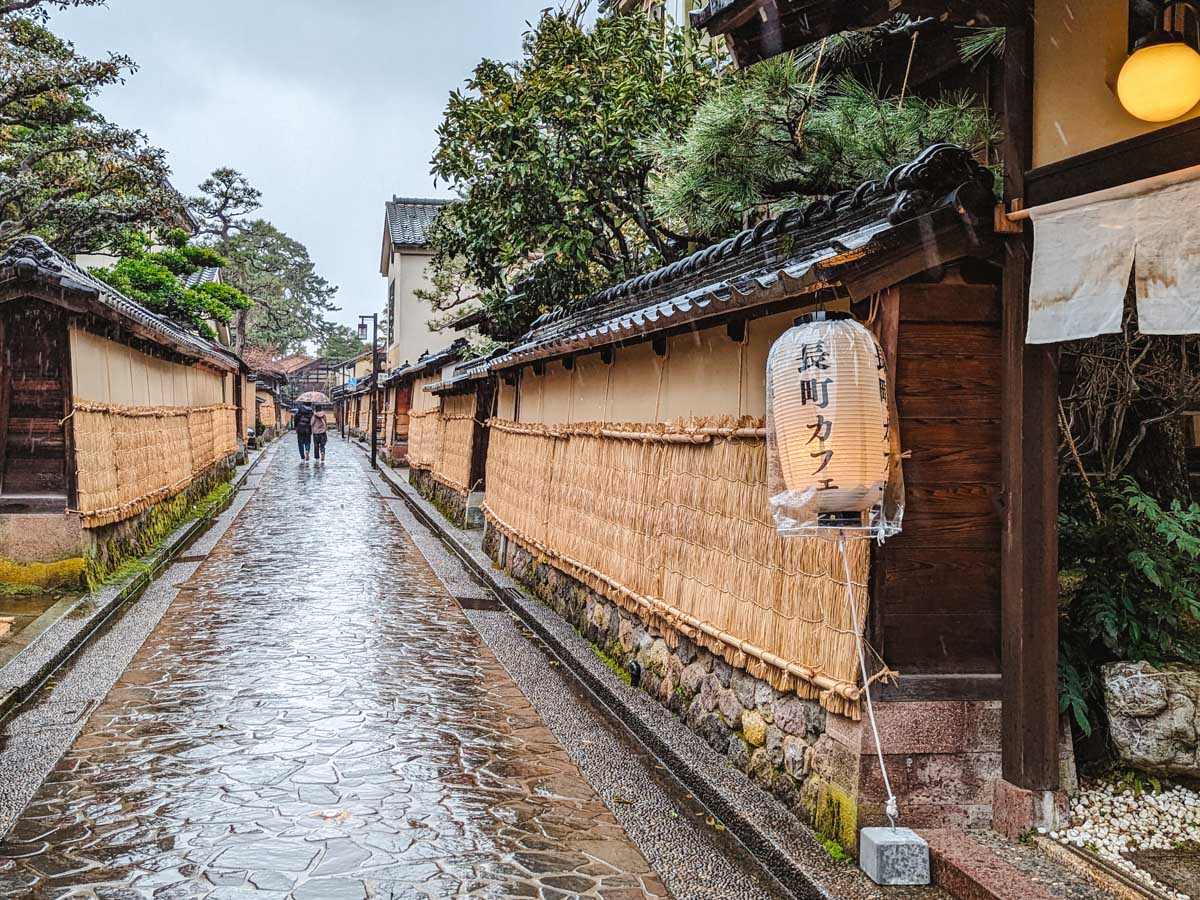 This area is where Kanazawa's middle and high-ranking samurai and their families lived, which explains the quality of the homes hidden behind long privacy walls. Its pretty canals and unique architecture set it apart from the town's other historic districts.
Although this is a short day trip to Kanazawa, I recommend taking a leisurely walk through the area Part of Japan's charm lies in its narrow alleys and side streets, which you miss if you're always taking public transit.
The best route is to cross the major road that loops around the castle area, and walk towards Tamagawa park. From the park's southwest corner, head south along the road that follows the stream, and you'll end up at the Samurai House.
Nomura Clan Samurai House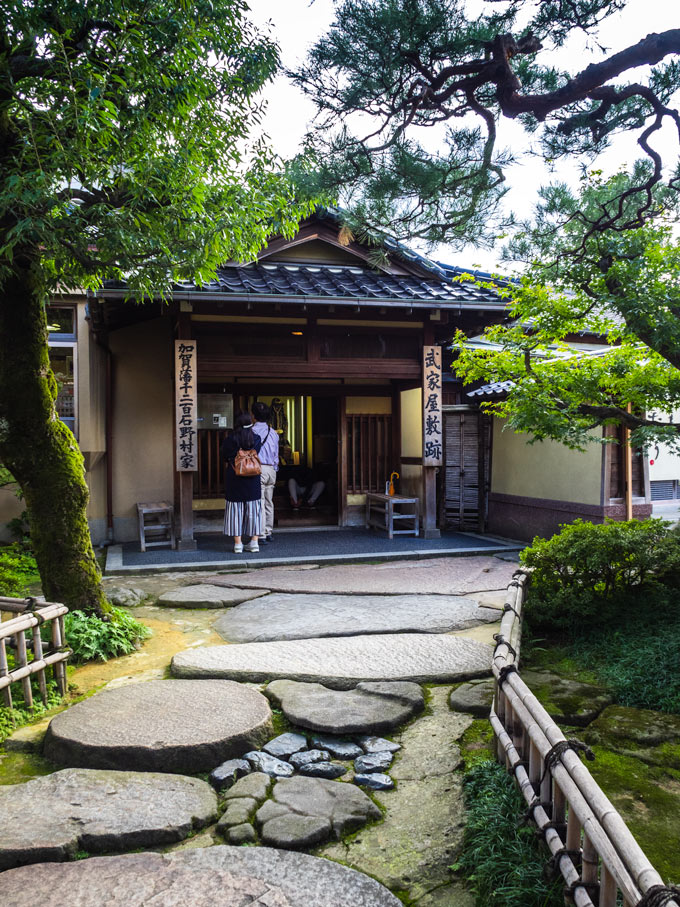 If you've ever wondered what the inside of an Edo-period house looked like, you'll love the Nomura Clan Samurai House.
After paying 550 yen admission and swapping shoes for slippers, you can explore the interior. The whole place is a living museum, with traditional furniture and samurai artifacts on display.
And several rooms have a view of the elegant Japanese garden courtyard. There's no better place to rest your tired feet than on the bench overlooking the koi pond.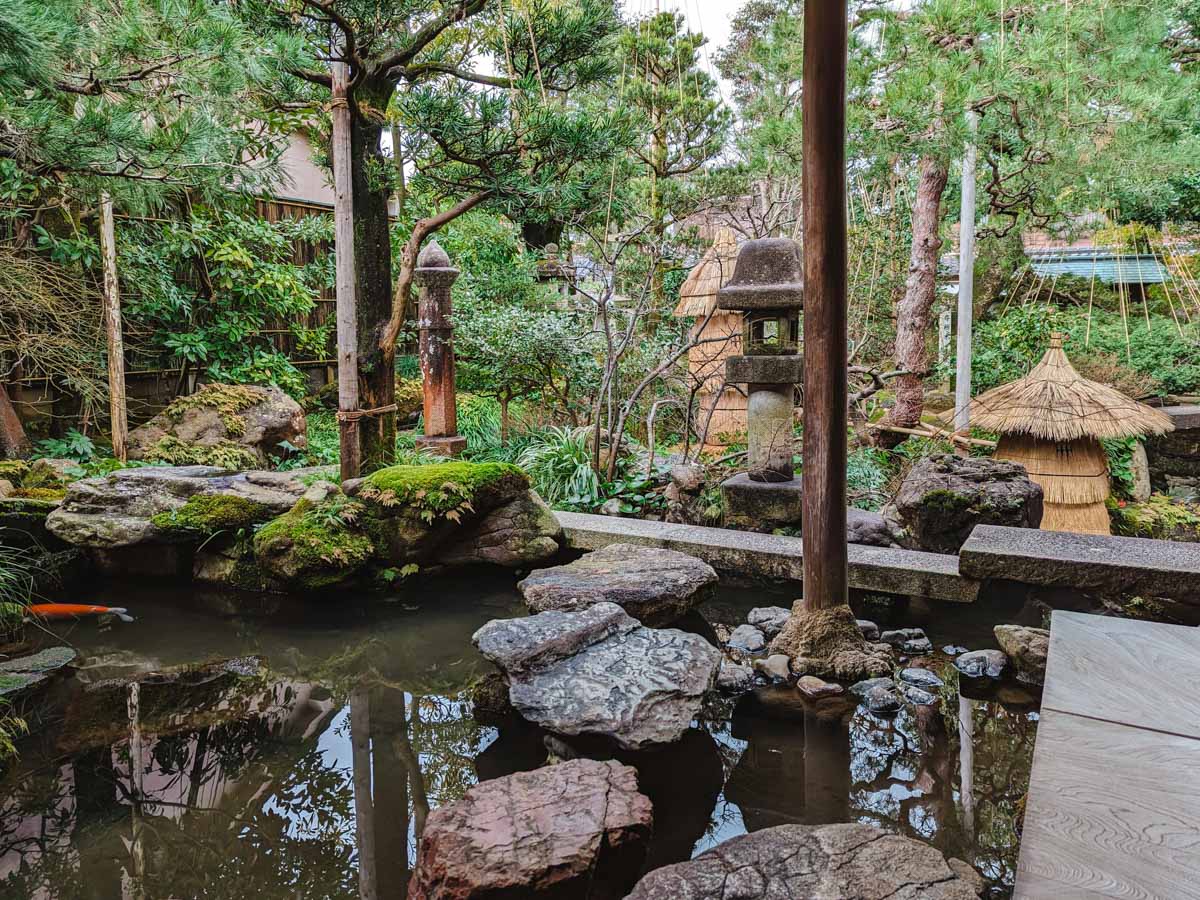 And if samurai are really your thing, you could cut something out of this itinerary to add the Kanazawa Ashigaru Museum. Like the Nomura Clan House, this building is a living museum to Edo-era footsoldiers who served the Kaga clan.
From here, the fastest way to the next stop is on foot. Head southeast to the major road that crosses the river. Two blocks after crossing the bridge, you'll reach the Ninja Temple.
Myoryuji Temple (Ninja Temple)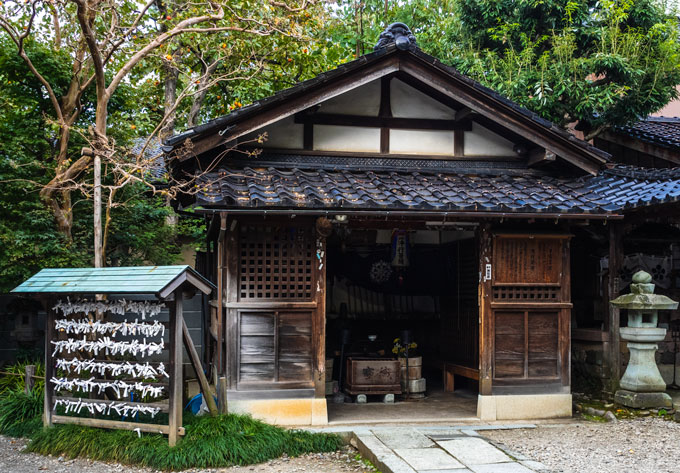 Who could resist visiting a ninja temple? Touring this building is one of the most popular things to do in Kanazawa. For 1,000 yen, you can explore secret passageways, hidden traps, and learn about ninja life.
In general, Myoryuji Temple requires advanced reservations. You can get the phone number and find out more on this website. They do accept some day-of reservations if there's space, so you might get lucky if you visit during the off-season on a weekday.
After your ninja adventure, head west across the major road to another of Kanazawa's historic districts.
Nishi Chaya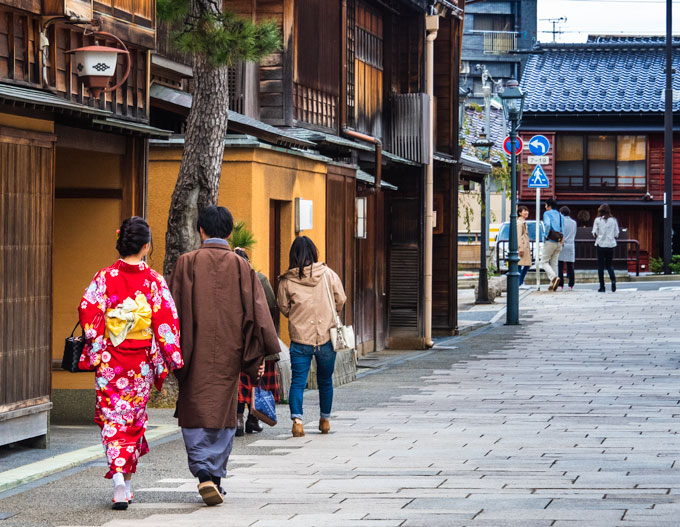 Nishi Chaya's beautiful buildings were mainly home to Edo-era tea houses. Today, there's only one place in operation, and it's a museum dedicated to the district's history. Though you can't enter the buildings, the streets are a must-see for the architecture alone.
After exploring Nishi Chaya, evaluate how you're doing on time. If it's getting late, you could go straight to the next historical district. You'll want the green Left Loop bus from Hirokoji (stop 5) to Hashiba-cho (stop 10).
If you have more than 2 hours left for this Kanazawa itinerary, you can walk down Teramachi.
Optional: Teramachi Temple walk
If you have the time, spend a half hour on the Teramachi Temple walk. Starting from the end of Nishi Chaya, head southeast along the major road that's parallel to the Sai River.
Here, you'll find over 70 small temples lining the street, though some require you to head down a short alley to reach.
If you walk as far as Zenryuji before turning around towards the bus stop at Nishi Chaya, it'll take about 30 minutes. Once you've finished, you'll catch the green Left Loop bus from Hirokoji (stop 5) to Hashiba-cho (stop 10).
Kazuemachi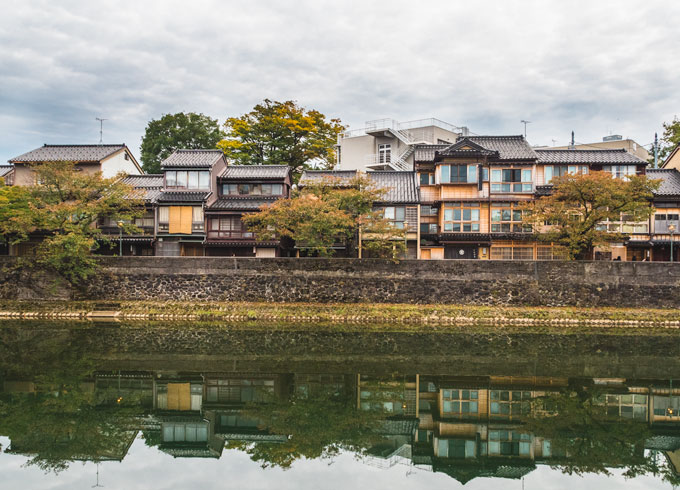 After exiting the bus, cross Asanogaya bridge for a view of Kazue-machi. This iconic row of traditional tea houses is a popular Kanazawa tourist attraction. And if the weather is calm, you'll quickly see why.
Photographers will love the gorgeous reflection of the Edo buildings in the river. And if photos aren't your thing, it's still a peaceful area to visit.
Higashiyama (Higashi Chaya District)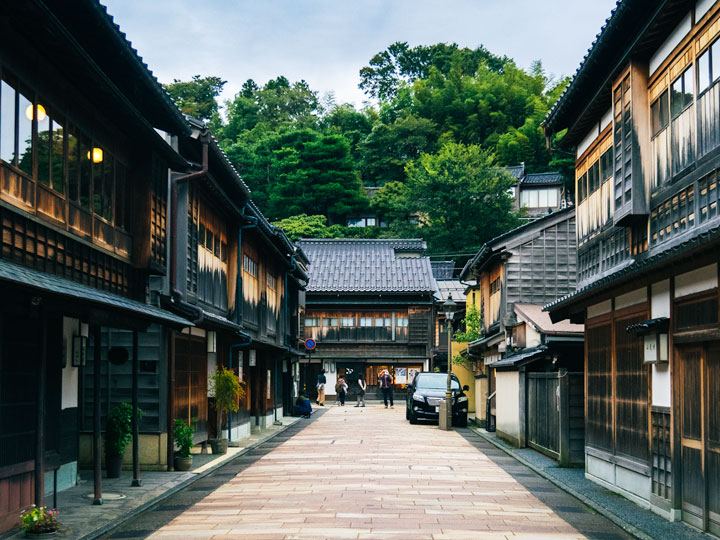 I've saved the best for last, and for good reason: Higashiyama's beauty is heightened in the evening. The warm glow of lanterns combined with the tea house hostesses shuffling about in kimonos makes for a magical experience.
RELATED: 5 Day Japan Itinerary Ideas to Suit Any Travel Style
Unlike Nishi Chaya, Higashiyama is full of shops, restaurants, and even a few ryokan. Edo houses in rich hues of purple and burgundy line the main street (pictured at the top of this post), making for lovely photos.
You'll want at least 45 minutes to explore the alleys and visit a few stores, which sell everything from traditional Japanese candy to high-end tea leaves.
Depending on the time, you could take the Right or Left Loop bus back to Kanazawa station. Or, if you have more time in your Kanazawa itinerary, you can cross back over the river and head southwest to Omicho market.
Optional: Omicho Market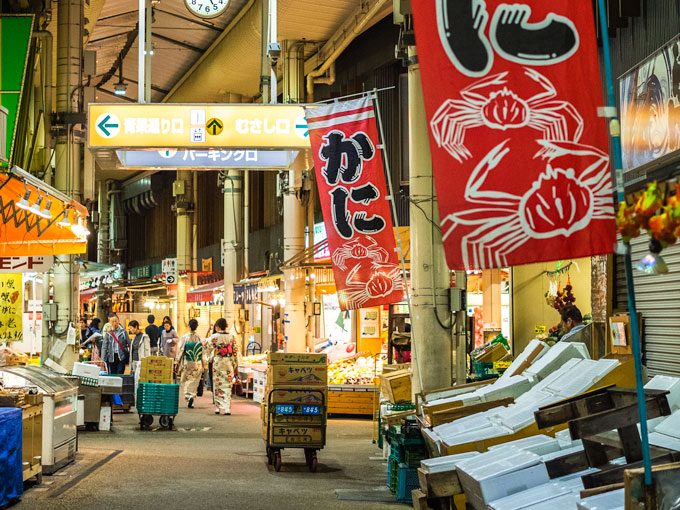 During the day, Omicho Market bustles with locals and tourists alike. Here, vendors sell everything from fresh fish to hot bowls of oden and other delicious Japanese dishes. But after closing time, it's a great place for an evening walk back to Kanazawa station.
Omicho Market technically closes at 5pm, though you can still walk around the interior until 6pm. If you wanted to do some shopping, you could make this the first item on your Kanazawa day trip instead.
Map of Day Trip to Kanazawa Itinerary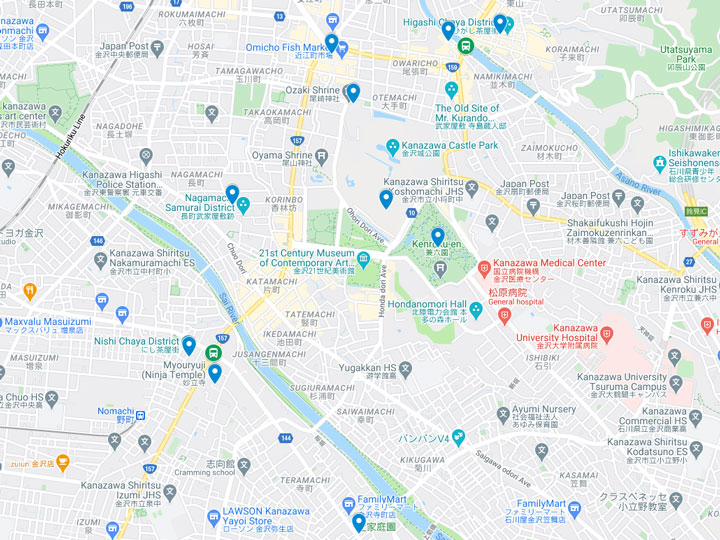 Click here for the full interactive map!
Day Trips From Kanazawa
If you want to do some additional traveling from Kanazawa, here are a few popular and easy-to-reach locations.
Shirakawago: The Nohi highway bus runs from Kanazawa to Shirakawago, a UNESCO world heritage site home to the famous Japanese thatched-roof cottages.
Nagano City: Take the Hokuriku shinkansen to Nagano Station, and spend a day exploring the mountain town's onsen and famous Zenkoji temple.
I hope you have a great day trip to Kanazawa! If you're still planning your trip to Japan, check out these itineraries for 1 week in Kansai and 2 days in Kyoto.