Moving to the UK with pets was by far the most stressful part of our relocation to London from the US. It's also the topic I get asked about most frequently, which isn't surprising.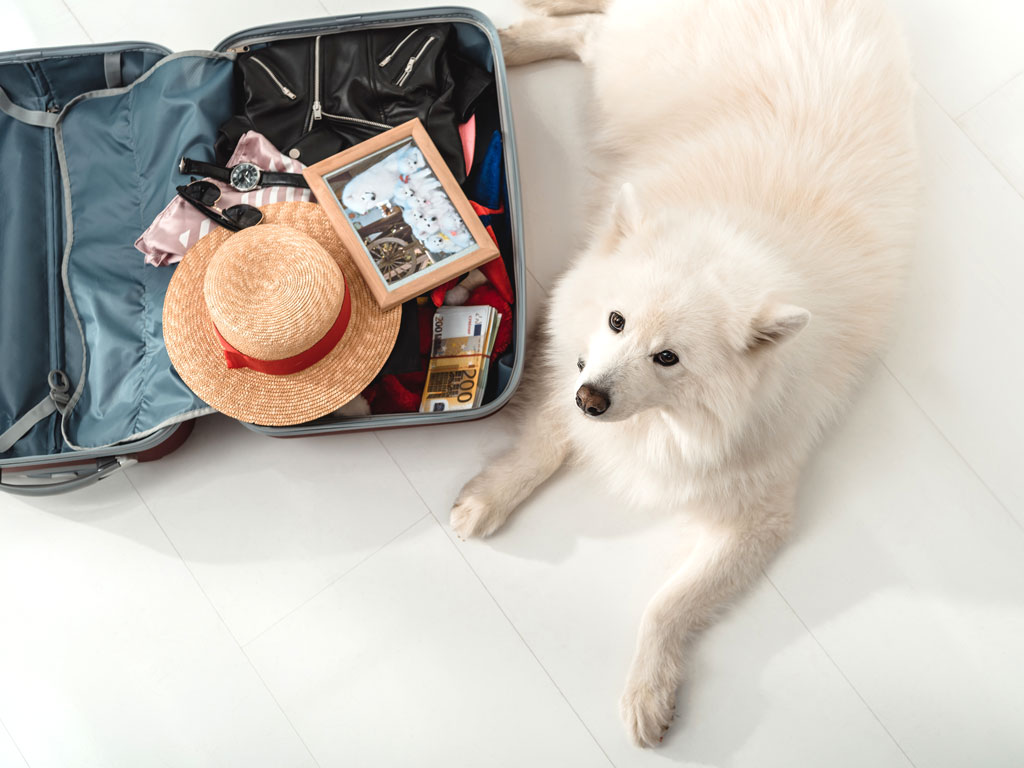 This post contains affiliate links. As an Amazon Associate, I earn from qualifying purchases. For more information, click here.
Between the complicated paperwork, the struggle to find pet friendly rentals in the UK, and the anxiety of putting your beloved furry friend in the cargo hold, you're sure to have a few sleepless nights leading up to the big move.
Thankfully, you don't have to do it alone! There are knowledgeable people and companies that specialize in helping people relocate to the UK with pets.
One of those people is Russell Hunt, a fellow Londoner and the founder of Pets Lets.
After taking in three dogs from friends who couldn't find pet friendly properties, Russell created an online platform to help pet owners find long and short-term rentals. Pets Lets has since expanded to include vacation rentals and dog-friendly pub rooms, making it an inclusive community of pet lovers and pet owners looking to move or travel.
Russell's team also offers personalized property search services for people moving to the UK with pets! With so few pet-friendly landlords in Britain, it's incredibly helpful to have a local expert supporting your search for the perfect place.
I've worked with Russell before to share advice on renting with pets in London specifically. Today, I've invited him back to talk about the ins and outs of finding pet friendly rentals in the UK–and how a relocation service can make the process a thousand times easier.
What do I need to bring my pets to the UK from abroad?
The UK has a strict set of procedures for bringing pets into the country. It's called the PETS scheme, and it outlines everything you need to do to avoid quarantining your pet upon arrival.
If you're researching how to move to the UK with pets, your first step should be reading everything on this website.
Depending on where you're moving from, it can take months to complete the certification process. And a single mistake on paperwork (including using the wrong color ink!) can lead to denied entry or quarantine.
While you can DIY most of the pet import process, I strongly recommend working with a pet travel agency.
Although Pets Lets can help you with the property search portion of moving to the UK with pets, they don't currently offer transportation services. Russell can recommend a company based on your needs during your consultation (we used PetRelocation.com).
RELATED: The Ultimate FAQ on How to Move to the UK
Why is it so hard to rent with pets in the UK?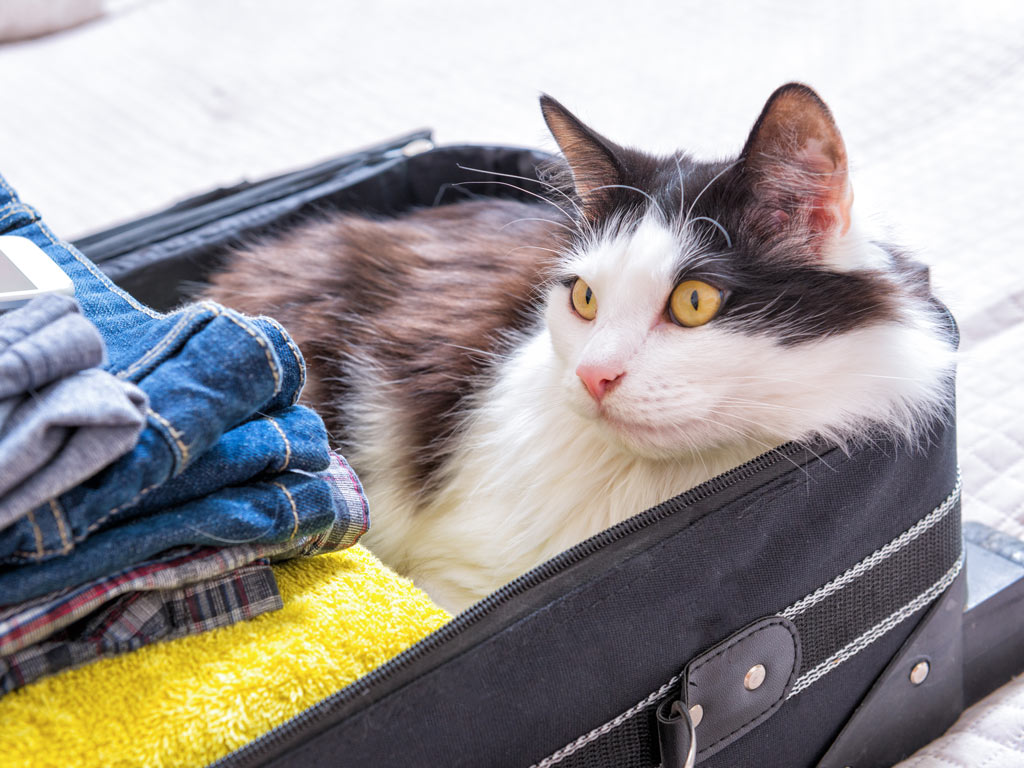 The UK is famously known as a dog-loving country, with 17 million households owning at least one pet. Given the circumstances, you'd think that landlords would be more open to tenants with pets. Unfortunately, that's not the case.
To landlords, a property is an investment. Their focus is ensuring minimal damage with maximum occupancy to make as much profit as possible. And as the property market continues to heat up, it's only getting harder for people moving to the UK with pets to find a place to live.
Sure, you'll find pet-owning landlords who sympathize. Yet when it comes to their own rentals, their heart rules their head and they say no to pets.
The UK's 2019 Tenant Fees Act, created to help renters, unintentionally made things harder for pet owners. The new law limited a deposit to 5 weeks rent and banned landlords from requiring professional cleaning upon moving out. It took away the opportunity for tenants to offer a larger "pet deposit" to ease landlords' worries about damage and extra cleaning.
Unfortunately, some landlords just think cats claw carpets and dogs chew the furniture–an outdated myth, as most of us modern pet owners invest in proper training and entertainment.
That being said, there are a few tried and true tips for renting with pets in the UK that will help you beat the competition.
Tips for finding a place to live when relocating to the UK with pets
#1: Be proactive
UK estate agents are infamous for not responding to emails quickly (or at all). Good rental properties get snatched up within days or even hours of coming on the market.
Be proactive and not reactive. Don't sit there waiting for a response–if there is a property you like, chase it up.
Estate agents deal with lots of people and have short term memories. Don't let them forget about you. You want to be the first person they call/email when the right property comes on.
This is especially important if you're hoping to rent in London with a dog, as competition is fierce and flats can get a dozen offers the day they go on the market.
The best way to nab a property with pets is by making a strong offer before the estate agent advertises it online. And the only way to do that is to have a good connection with the right agents. Working with a property search agent makes that much easier!
#2: Make your offer more appealing
In most cases, you'll be bidding against other prospective tenants for a property. As someone living abroad, you're at a distinct disadvantage, because you can't feel out the competition like someone doing in-person viewings.
Instead, you'll need to rely on making your offer as appealing as possible.
The most obvious way is to offer over the asking price (usually £20-£50 per pet per month). But remember that for a landlord, time is money. They lose money for every day a property is vacant, as well as every time they need to relist the property to let.
A good tip is to offer a 2-year rental term with a 1-year break clause. This shows the landlord that you're willing to stay long-term, but also gives you the option to move out after a year. If other people only offer the standard one year agreement, you look like the better prospect even though you have a pet.
Your tenancy start date matters, too. If the property is available June 1, but you can't move in until June 10, the landlord is unlikely to accept your offer over someone who can move in on the first available day. It's better to start the term on the earliest day possible, even if you won't be moving in right away.
Also, affordability is very important. As a pet owner (and a non-resident) you may be asked to pay several months of rent upfront. If you are not employed or relocating to the UK and looking for work, you will probably be asked to show proof of funds for 12 months or offer a guarantor. It varies depending on the landlord and the agency.
#3: Have a stellar pet CV ready
A well-crafted pet CV can help you stand above the competition and even sway a landlord who's on the fence about renting to someone with pets.
It should include the basics like age, breed, and vaccinations. But a great CV will highlight training, additional certifications, and positive traits. If you work from home part or full time, play that up to your advantage. Landlords are far more likely to accept a dog if they know it won't be left alone 9+ hours every day.
And don't forget to include a reference from a previous landlord saying how well behaved your pets have been. If you can't get one, a reference from your vet or boarding/daycare service will suffice.
Finally, use cute images of your pets to back up your references. It adds a personal connection and just might convince a landlord to say yes instead of no.
#4: Insist on a pet clause
Never sign a tenancy agreement without a pet clause. A verbal agreement from a landlord means nothing unless that clause is inserted.
For example, if your neighbor complains about your pet making noise, you do not have any legal rights. Nine times out of ten, the landlord will side with the neighbor as it is their investment and tenants come and go.
#5: Confirm the property is actually pet-friendly
If you find a flat in a large block (i.e. an apartment complex) that claims it's pet friendly, make sure the building itself allows pets. In Central London for example, lots of big blocks don't allow pets.
Without getting into all the technical jargon, many landlords only own a part of the building. The person/company that owns the entire building sets the occupancy rules, including if pets are allowed, how many per unit, breed restrictions, etc.
Some landlords are not aware of the building having a no pets clause. Rental agreements regularly fall apart at the last minute because estate agents have not done their due diligence.
#6: Be flexible
When you're relocating to the UK with pets, you get used to hearing the word "no". The more flexible you can be, the more "yes"es you'll get when reaching out to estate agents and landlords.
If you have multiple pets (particularly dogs), renting an unfurnished property in a more rural location will be far easier than trying to find a newly renovated flat in a city center. Keeping your "must have" list to a minimum will literally open more doors.
And you can always use the Pets Lets property portal or bespoke relocation service to make things even simpler.
For even more tips, check out the Pets & Property Tips Facebook Group.
Why you should work with a property search specialist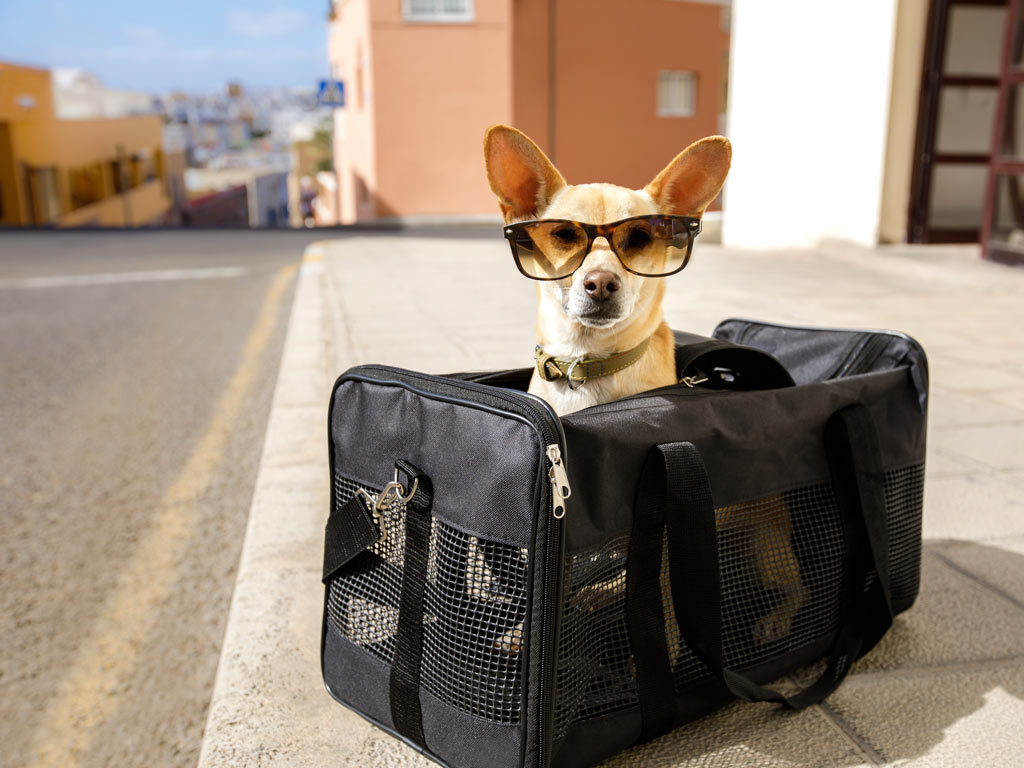 If you read everything thus far, you're probably wondering how anyone could possibly do this alone!
Frankly, I could not imagine bringing my dog to the UK from the US without property search help. We were up against so many challenges:
Communicating with estate agents on a 5+ hour time difference
Getting estate agents to actually respond after they find out you're a foreigner
Convincing landlords you're a responsible pet owner without any local references
Securing a rental while still living outside the country
Working with a relocation service like Pets Lets takes all of that off your plate so that you can focus on the million other things on your moving abroad checklist.
It all starts with an initial consultation via email, over the phone, or on Zoom/Skype/WhatsApp/etc. They'll discuss what kind of pet(s) you have, your property requirements, your budget, and other considerations like work commute and school catchments. If you don't know the UK very well, they will recommend areas that will suit your needs.
The team can also help you craft the perfect pet CV. At the same time, they will be connecting with estate agents and searching for rentals that fit your requirements.
Once they find suitable properties and confirm their pet-friendliness, the agent will negotiate an offer on your behalf and oversee the contract process. Having a specialist with estate agent relationships to negotiate on your behalf is invaluable if you're in a complex situation (ex. paid in foreign currency, living in the UK on a work visa, etc.).
All that's left for you to do is sign the final tenancy agreement and move in!
Here's a testimonial from one of Russell's recent clients:
"I moved to London on March 3rd, 2021 from Atlanta, GA, USA. After seeing several horror stories of finding pet friendly accommodation for myself and my two dogs, Frida and Henry, while doing research before coming, I came across Pet Lets and Russell. THANK GOODNESS I did!"
Book your consultation appointment today!
Though moving to the UK with pets is challenging, it's also incredibly rewarding. As expats, we have to leave our friends and family behind. But us pet owners can bring a bit of home with us, and that comfort is priceless.