Britain is a nation of dog lovers. Even in a metropolis like London, it's not uncommon to see Labradors frolicking in the park or Yorkshire terriers trying to keep up during a morning jog. And yet, renting in London with a dog is difficult.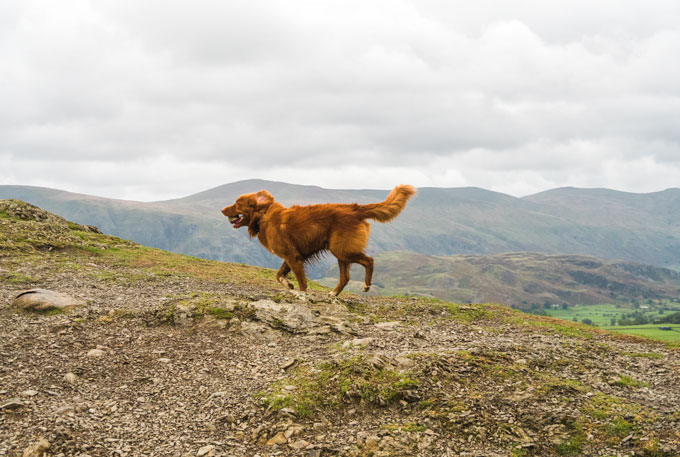 When we prepared to move to London from the states, I read countless horror stories of dog owners who couldn't find a decent flat. Inevitably, they resorted to lying about pet ownership, moving into a poorly-maintained building, or giving up their dog.
Although there are non-profit groups trying to make renting in London with a dog easier, the city's competitive lettings market means landlords have the upper hand.
Luckily for you, I spent a lot of time (and money!) figuring out the best way to move to London with a dog without deception or heartbreak. If you're moving from outside the UK, I'll also share some advice for bringing your dog to England from overseas.
RELATED: What You Should Know About Moving Overseas With Pets
If you want to score a great dog-friendly flat in London, here's what you need to know.
This post contains affiliate links. As an Amazon Associate, I earn from qualifying purchases. For more information, click here.
Ignore Zone 1 when searching for a pet friendly rental in London
In case you're not aware, London is divided into nine transportation zones that circle outward from the city center.
Competition for super-central (i.e. Zone 1) London flats is extreme even for wealthy tenants without pets. When you add a dog into the mix, finding a flat in Zone 1 becomes nearly impossible, and here's why.
Most of the affordable lettings in Zone 1 are in purpose-built structures (apartment complexes for the American readers) and converted mansion house blocks.
Landlords may "own" a flat inside the building, but the organization that truly owns the entire building sets the rules for what is and is not allowed. Unfortunately, the vast majority of these buildings do not allow dogs, even if the landlord is okay with pets.
Aside from the incredibly low inventory of dog friendly rentals in London Zone 1, there are often dozens of people clamoring to rent even the tiniest, dated studio apartments. Flats will go on the market and be under offer in a matter of hours.
Having a dog puts a dent in your desirability as a tenant, and if you're up against other renters with stellar credit and glowing references, you won't beat the competition.
Branching out to Zones 2 and 3 significantly increases your chances of finding pet friendly flats in London. There's more inventory, less competition, and far more properties that are pet-friendly.
As an added bonus, many rental properties in Zones 2 and 3 are in converted row homes, which often include either private or shared garden space.
OpenRent is the best platform for moving to London with a dog
When it comes to finding a flat in London, there are tons of online search platforms that can help. However, OpenRent is ideal for pet owners moving to London for two reasons.
First, OpenRent's flats are managed directly by landlords, rather than an estate agency, so there's more room to negotiate the terms of your lease. Second, they have a pet-friendly option in their filter, which is something the other search platforms are oddly lacking.
The downside of OpenRent is that the stock is limited, so you might not find what you're looking for in a property.
Writing a pet CV can help
Initially, I thought the idea of a pet CV was ridiculous. Why on Earth would a landlord take a dog resume seriously?
However, listing the positive behaviors and accomplishments of your furry pal says more about you as a dog owner than you think.
When renting in London with a dog, you need to prove you're an intelligent, responsible pet owner. A well-written pet CV is not unlike a stellar human resume. The thoughtfulness you put into the document is a direct reflection of you and your abilities.
Take the time to craft a pet resume that includes the basics (age, breed, vaccinations) but also highlights training, additional certifications, and positive traits. A winning doggo smile can be the deciding factor in your application.
Line up references from prior landlords, kennels, trainers, and/or veterinarians if possible
If this isn't your first time renting with a dog, reach out to your former landlords and see if they'll write a short reference. Although your prospective landlord will inevitably call your references should you make it to the final stage, it's helpful to include written references to push your application forward.
We were homeowners before we moved to London with a dog, so we had no landlord references. Instead, I reached out to the staff at a doggie daycare and boarding facility that we used frequently, and they were happy to supply a reference.
If you've never rented with a pet, contact kennels, dog trainers, or even your veterinarian for possible references. Anything is better than nothing!
RELATED: The Ultimate Moving to London Checklist
Save me for later!
Always be upfront about renting in London with a dog
This tip is short and sweet. Don't lie about owning a dog!
If you're caught, one of two things will happen. Either you'll be served an eviction notice, which will ruin your chances of finding decent accommodation in the future, or you'll be allowed to stay if you immediately get rid of your dog.
Some people say you should wait until after you put in an offer to mention that you have a dog. However, that's more likely to irritate the landlord and/or estate agent than help your case. If you want to find a pet friendly rental in London, be honest from the start.
When competition is high, offer a higher monthly rent
They say money is power, and this is especially true in the London lettings market. If you're looking to give yourself an edge over the competition, consider offering a slightly higher monthly rent.
In our case, we were willing to offer an extra £40/month on top of the asking price if it meant getting our top choice. We also have a German Shepherd, so we figured some extra encouragement would help us rent with a large dog.
High rents are already one of the cons of living in London, but a little bit extra can go a long way.
Expect to pay a higher security deposit and mandatory cleaning fee
Update 1/1/2020: Under the new 2019 Tenant Fees Act, landlords cannot charge more than five weeks' rent for a security deposit. Professional cleaning fees are also banned from tenancy agreeements, and cannot be enforced on existing agreements after June 1, 2020.
Even if you don't go over the asking rent amount, you'll likely pay a higher security deposit. Most landlords want an eight week security deposit for pet owners as opposed to the usual six.
And you'll probably see a mandatory pet cleaning fee tacked on to your tenancy agreement. Expect to pay around £100-£300 depending on the flooring and furnishings of your flat.
Do not sign a tenancy agreement unless it includes a pet clause
Under no circumstances should you sign a tenancy agreement (i.e. lease) that doesn't explicitly state you can keep a dog.
Do not accept a verbal assurance that your dog is allowed. Otherwise, you won't have legal protection should your landlord decide they no longer allow pets.
Dog-friendly places make living in London with a dog fun for everyone
It seems overwhelming now, but renting in London with a dog is totally worth it. London has tons of dog-friendly pubs, cafes, and restaurants. The city is filled with green spaces that allow off-lead playtime. Dogs are even allowed on the trains and tube provided you avoid the escalator!
London is full of dog lovers, which makes finding a responsible sitter or dog walker easy. When we're planning a city break or longer holiday, we use the Rover app (they acquired DogBuddy) to connect with local, background-checked sitters.
All this dog-friendly infrastructure is one of the best things about living in England.
Tips for Moving to the UK With a Dog
Consider working with a pet relocation agency
When it comes to moving to the UK with pets, timing and accuracy are critical.
The UK requires multiple vaccinations and special paperwork for importing dogs, and there's a set schedule of when treatments must be given. A mistake in paperwork or treatment can lead to quarantine or even refused entry.
That's why we ended up working with a pet relocation agency. They helped us every step of the way, from choosing the right size travel kennel to answering paperwork questions. They even offered door-to-door service, so we didn't have to figure out how we'd get our dog and his massive kennel from Heathrow to our flat!
Relocation services are pricey, but they are worth the peace of mind. If paying for dog relocation is out of your budget, you should seek out a veterinarian who has gone through the process of bringing a dog to the UK. The paperwork and process is complex and rigid, and even seasoned veterinarians can make an error.
Thankfully, Pets Lets offers personalized property search services for people moving to the UK with pets!
With so few pet-friendly landlords in Britain, it's incredibly helpful to have a local expert supporting your search for the perfect place. They can also connect you with a transportation service to bring your beloved pets safely into the country.
UK pet quarantine is no longer mandatory under the PETS scheme
I alluded to this earlier, but the UK no longer requires that all dogs undergo a quarantine period. Instead, dogs need to follow the PETS import scheme to ensure they are free of rabies and tapeworm.
Depending on your country of origin, this may involve a blood titration test and lengthy waiting period. The DEFRA website goes into detail on what's required to import your dog without quarantine.
If you're moving from the US, you can skip the blood test, but your dog may need additional shots.
Our dog needed an extra rabies booster because the one he got a few months earlier wasn't on the UK's approved treatment list. There was then a 21-day waiting period between his vaccination date and the date he'd be allowed into the UK.
The moral of the story is that you should read up on the PETS process long before your relocation date. And be sure you include the key vaccination and paperwork dates on your moving to London checklist!
If you have any questions about renting in London with a dog, or relocating to the UK with pets, let me know in the comments section!