From antique books to adorable bears, there are endless things to buy in London when you come for a visit. As an expat, I feel compelled to bring a few of the best gifts from London when I return to the US to see family and friends.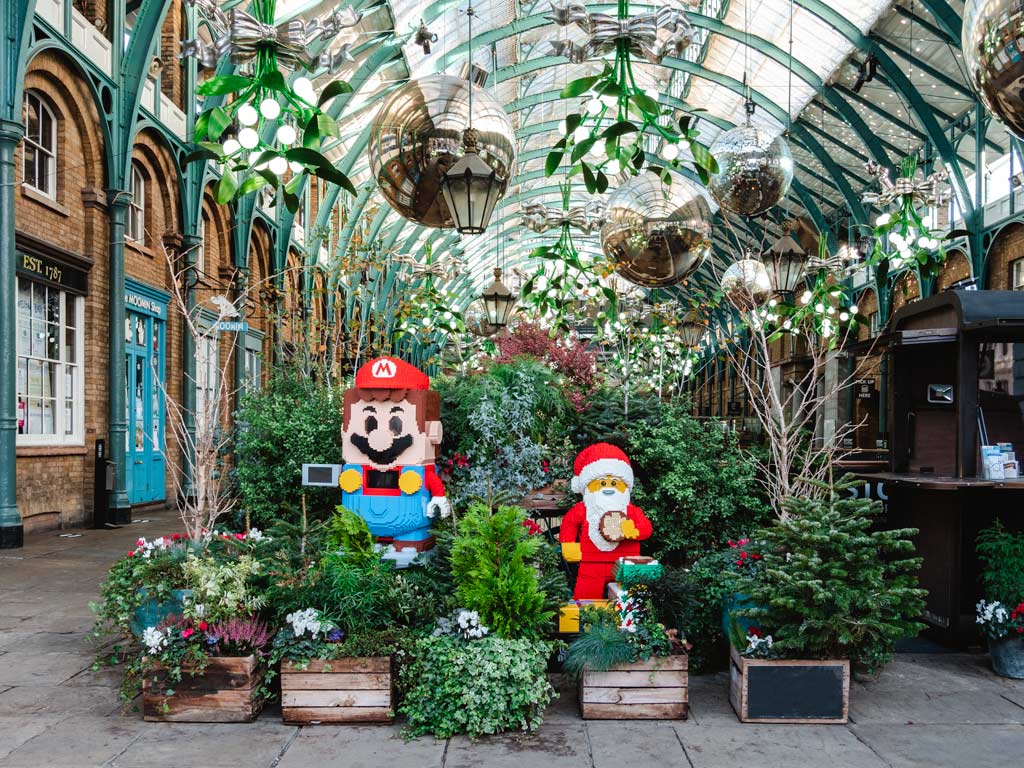 Having lived in the city for a few years now, I've sussed out the best places to shop for everything, so I can help you avoid paying £50 for a mediocre box of posh chocolates.
London is a notoriously expensive place to shop, but you'll find plenty of affordable things to buy on this list. That being said, I couldn't resist sharing a few of my top spots to splurge (Choosing Keeping is a dangerous place if you love beautiful notebooks and pens)!
Whether you're a traveler looking for unique London souvenirs, or a shopper in need of gifts for people who love London, you can't go wrong with these items.
RELATED: Ultimate 4 Days in London Itinerary From a Local
Best Gifts from London Shops
Perfume from Les Senteurs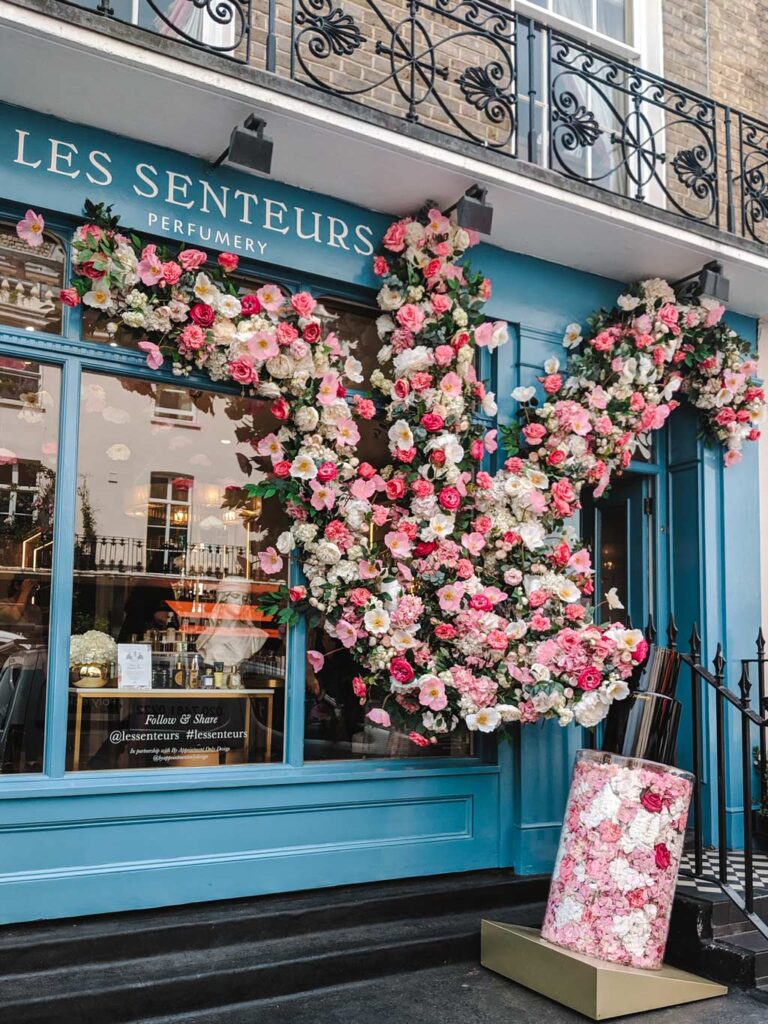 Les Senteurs is London's oldest independent perfumery. Located in the gorgeous Belgravia neighborhood (near the Insta-famous Peggy Porschen cupcake shop), Les Senteurs is all about helping guests find the perfect fragrance.
They use a color-coding method called the "Senteur System" that groups scent profiles together, so you can seek out Aquatic perfumes that evoke days on the beach, or Floral perfumes that conjure up a sweet summer garden.
Their staff are true experts, with the ability to recommend a perfume based on vague descriptions. You can also get suggestions based on other fragrances you (or your gift recipient) liked in the past.
Les Senteurs is one of the more posh places to shop in London, so it's best suited for splashing out on a partner or dear friend/relative. But if you're looking for a unique and thoughtful gift, it's an excellent choice.
Books from one of London's famous bookshops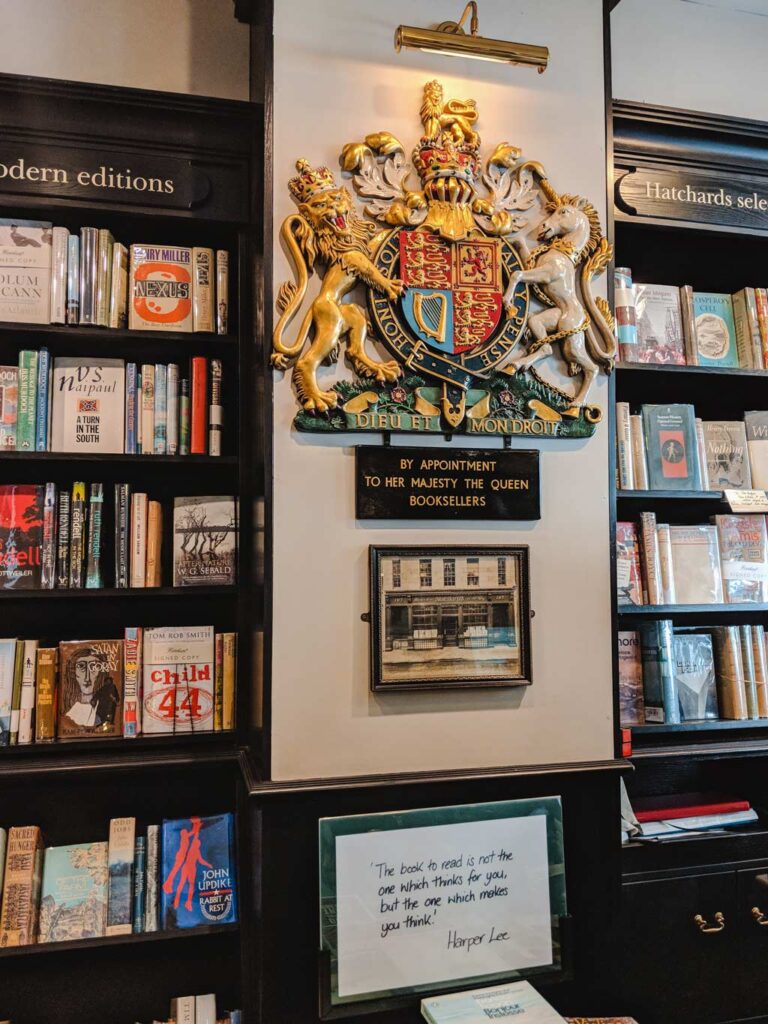 London is a bookish city, with over 100 independent bookshops and countless chain locations. Given its rich literary tradition, a book from one of the city's famous bookshops is an ideal gift from London for the readers in your life.
My personal favorite is Hatchards, which is London's oldest bookshop. Their flagship store in Picadilly opened in 1797, and it has three Royal Warrants from the Duke of Edinburgh, the Prince of Wales, and the Queen herself. They also recently opened a smaller location inside St. Pancras International station.
Daunt Books is another fantastic bookshop with multiple locations. Their original Marylebone store is utterly gorgeous and has a large travel section filled with international and local guides and fiction works.
Most of the city's independent booksellers also give out beautiful (and free) bookmarks with every purchase. They add a nice "only in London" touch to your gift.
RELATED: 15 Non-Touristy Things to do in London
Tea sets from Fortnum & Mason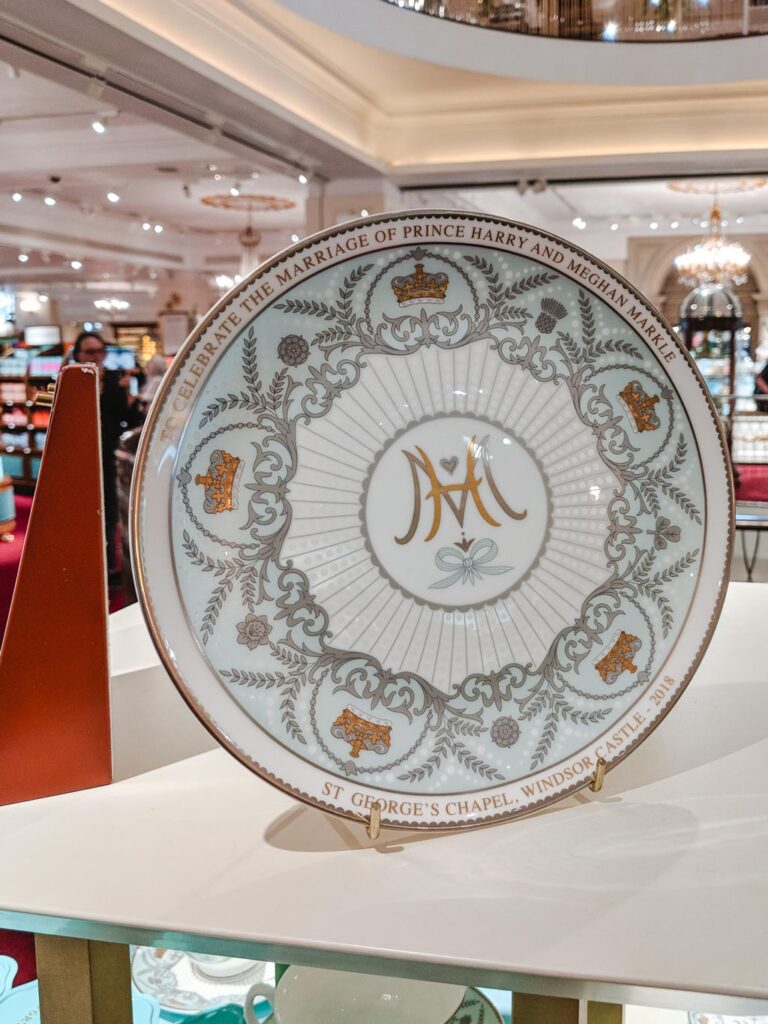 The Fortnum & Mason afternoon tea experience is overrated in my opinion. But their gift shop has some lovely teas and tea sets, including limited edition items you can't find anywhere else.
If you don't want to splash out on a full set, you can buy individual cup and saucer combos as well. They also have really nice hampers (gift baskets for my American friends) that include jams, drinks, truffles, biscuits, and other goodies.
Umbrella from James Smith & Sons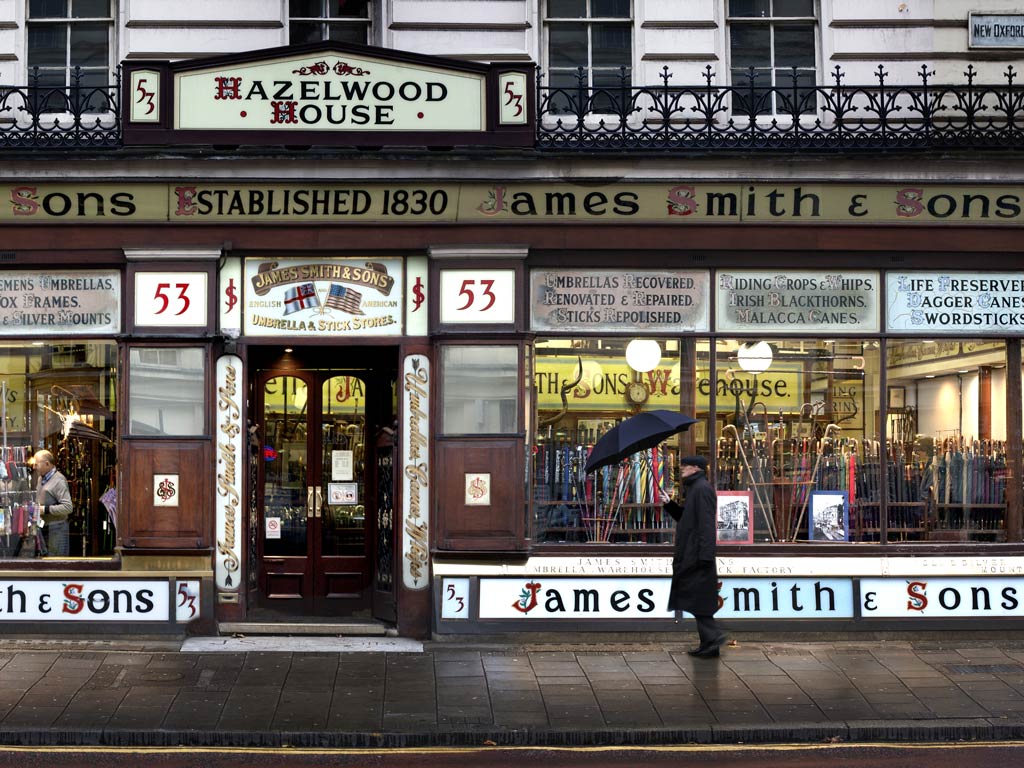 Umbrellas have to be one of the most iconic things to buy in London. And there's no better place to pick one up than James Smith & Sons.
Founded in 1830, they sell quality British crafted umbrellas and walking sticks with stunning carved details. If you can't splurge on a £300 umbrella with a wooden jaguar handle, their affordable standard retractable umbrellas are excellent and won't break like the cheap ones they sell at convenience stores and London souvenir shops.
Anything posh from Harrods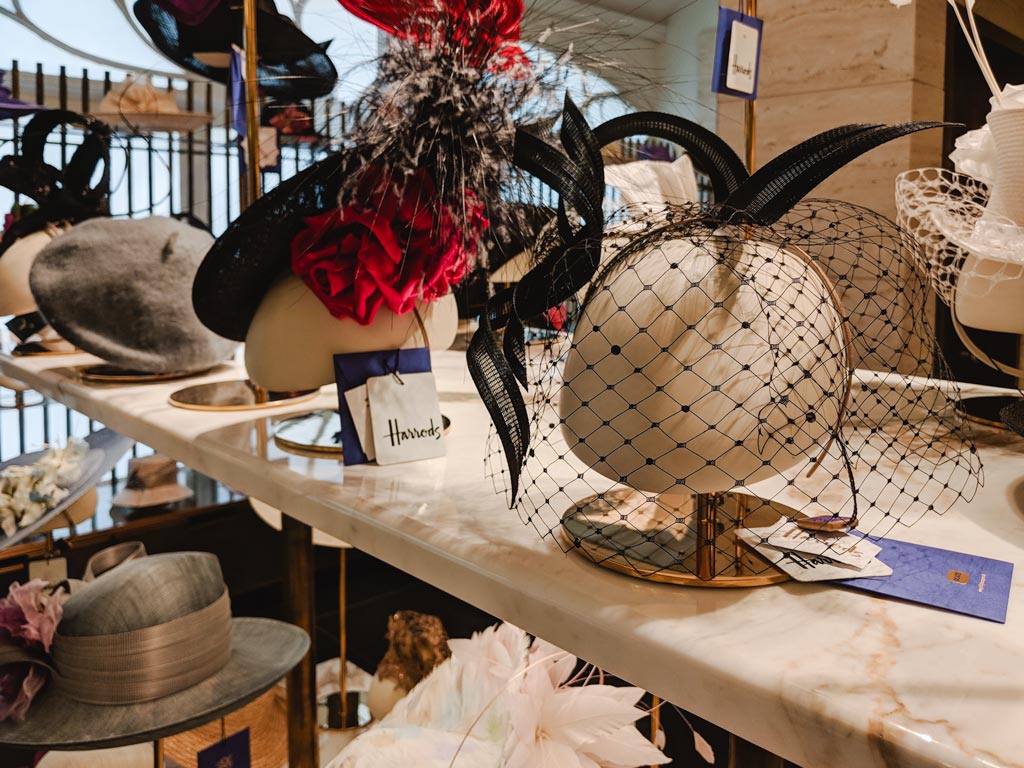 Every London sightseeing trip should include a visit to Harrods. The ultra-posh department store's gilded elevators, chandeliered ceilings, and marble floors make it feel more like a palace than a place to shop.
If you're on the hunt for the very best gifts from London, you'll find them in Harrods. From limited-edition designer sweaters to slabs of chocolate made to look like gold bars, it's a treasure trove of options.
Even if you decide not to buy anything, be sure to treat yourself to a tasty patisserie or truffle in the basement food hall before you leave!
Antiques from Portobello Road Market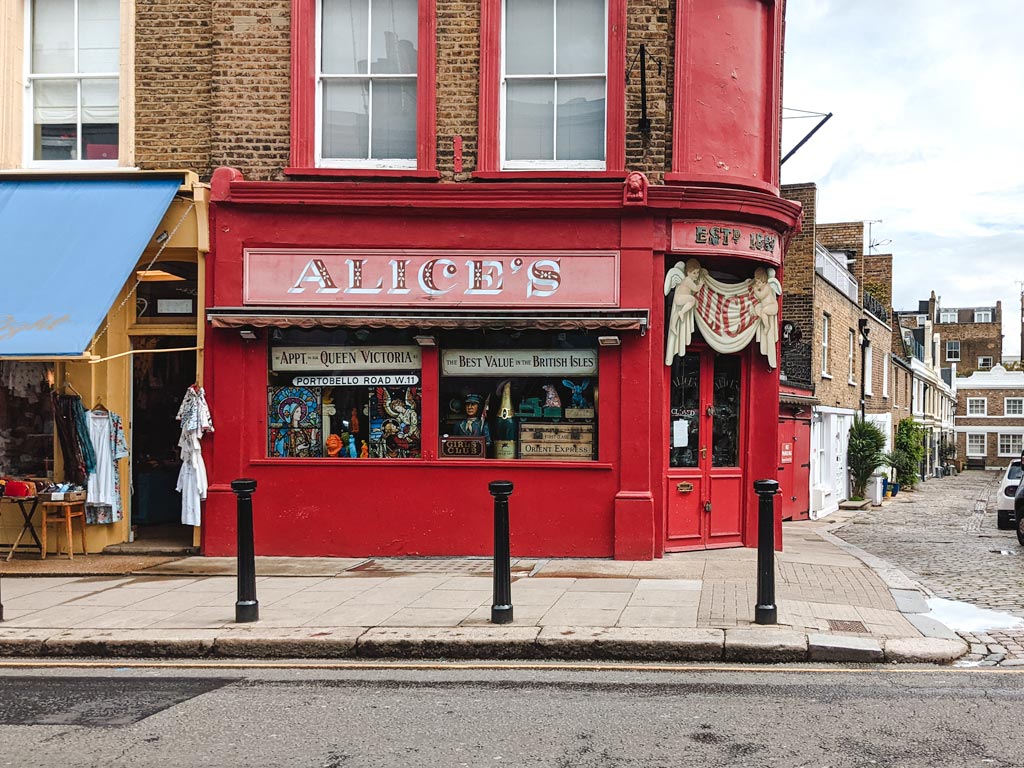 Portobello Road Market is the first place I went shopping in London. We were staying in Notting Hill while trying to find a flat, and we spent hours browsing the street stalls and brick-and-mortar shops selling antiques and vintage items.
With over 1,000 dealers specializing in everything from books to snuff boxes, Portobello Road is the world's largest antiques market. I've scored early editions of Charles Dickens novels, pretty tea cups (from the famous Alice's pictured above), and a lovely bracelet during my trips to the market.
P.S: If you need a mid-shopping snack, there are multiple hot food stalls open on Fridays and Saturdays selling a wide array of international foods (the arepa stall is my favorite)!
Leather shoes from Grenson
Shoes may seem an odd choice of gifts to buy in London. But there's nothing quite like a solid pair of leather shoes that conform to your exact foot shape.
Founded in 1866, Grenson shoes is THE place to get brogues and Oxfords. Their shoes are handmade in England and crafted with comfort and durability in mind. If your gift recipient is someone who dresses up for work, they'll get plenty of compliments on their Grenson shoes (though they might be the silent kind if they work in England).
Premium pet toys and accessories from Mungo & Maud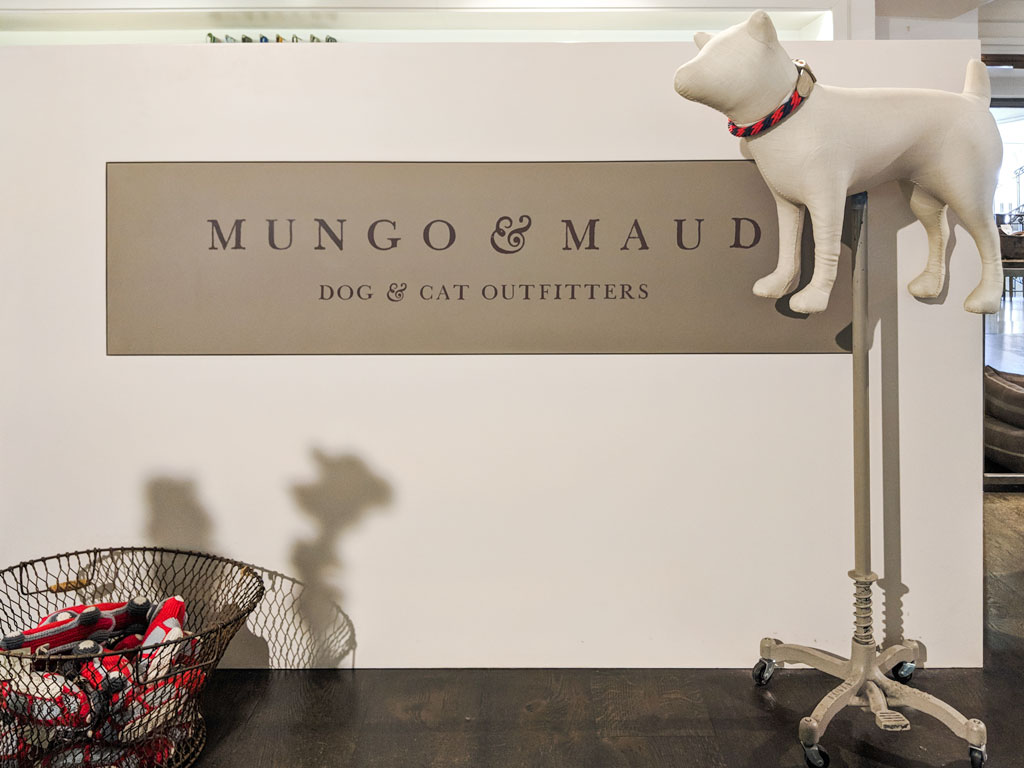 After living in London for a few months, it became clear that people here spoil their pets. And there's no better place to get premium pet toys and accessories than Mungo & Maud.
This boutique pet outfitter has everything from leather leads to cashmere cat beds. Their main shop is in Belgravia (the home of the best London gift shops), but they also have a mini location inside Harrods.
Quality stationery and writing supplies from Choosing Keeping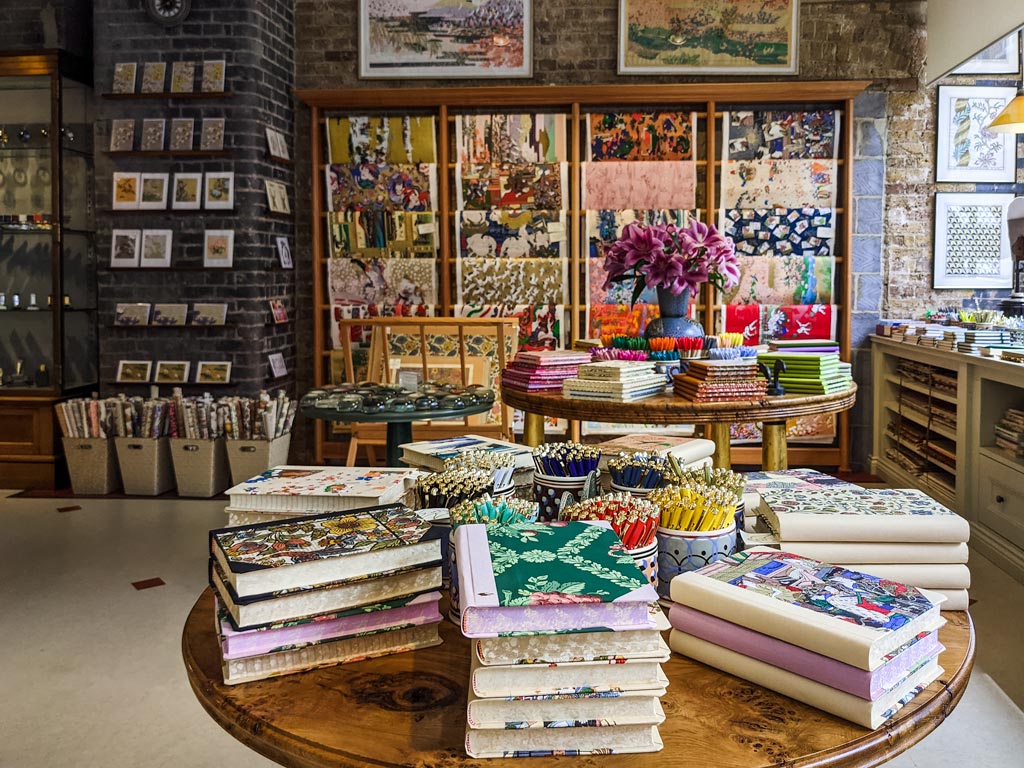 I have a bit of a notebook obsession, and my family knows it. I'm a sucker for beautiful covers, blank pages, and the smell of paper.
If you're shopping for someone with a similar affliction, you're in luck! London is home to some of the world's best stationery stores.
Choosing Keeping in Seven Dials is hands down the best place to buy notebooks in London. Their curated stock is super high quality, with a wide range of bindings, materials, and paper types. They also carry a gorgeous selection of ballpoint and fountain pens, inks, cards, and watercolors.
For a bigger selection of writing and drawing materials, check out Present & Correct. They carry everything a journaller or stationery fan could want, from washi paper to bullet journals.
Harry Potter stuff from House of Spells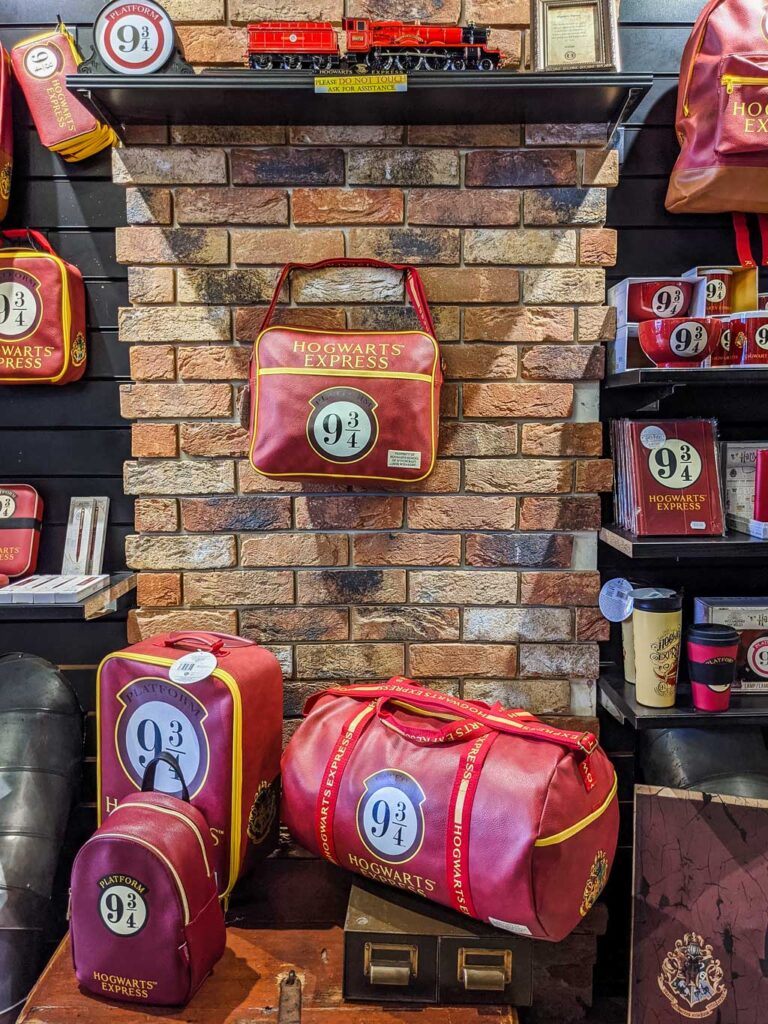 For many foreign visitors, London is synonymous with Harry Potter. And with a dog named Albus, you can probably guess that I'm a big fan, too.
If you're wondering where to buy Harry Potter stuff in London, I know just the place.
You can skip the crowded gift shop at King's Cross Platform 9 ¾ and head over to House of Spells in Leicester Square. They carry many of the same things as the more popular Platform 9 ¾–wands, robes, books, etc.–but without the crushing crowds. I'm actually writing this while wearing a Hogwarts sweatshirt I bought there!
And if your UK travel bucket list includes a trip to the Warner Bros Studio tour, you can get even more exclusive HP merch from their gift shop.
Something sparkly from Hatton Garden
Known as the Diamond District, Hatton Garden is London's prime destination for all things sparkly. This Farringdon street is home to dozens of jewelers selling new, used, and bespoke jewelry.
To be candid, I'm not much of a jewelry person, so I don't have a specific recommendation of where to shop. However, Eric Ross Jewellers is regarded as one of the best shops on the street, especially for engagement rings.
Vintage vinyl records in Soho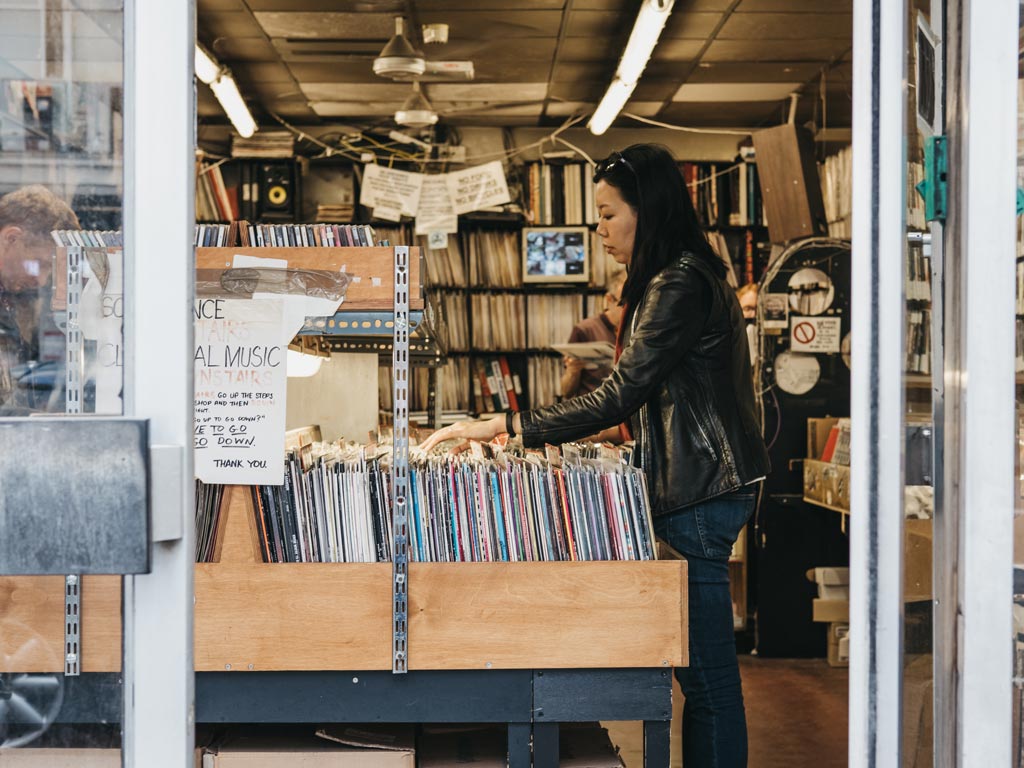 From David Bowie to Florence + The Machine, London has been home to many famous musical acts. Although Britain's "Tin Pan Alley" of recording studios is well past its heyday, there are a number of fab vintage vinyl shops in the area.
Soho's big three–Reckless Records, Sister Ray, and Phonica Records–carry a great selection of vinyl records (and CDs). And if you find yourself in Notting Hill, Honest Jon's is a long-standing and wonderfully cozy shop famous for its blues and reggae vinyl collection.
Unique music merch from themed stores and museums
Sticking with the music-themed things to buy in London, there are plenty of shops selling unique merch from popular artists.
The Handel and Hendrix museum, which is inside the house where both Jimi Hendrix and composer George Frideric Handel lived at one time, has a gift shop with some cool items that feature both legends.
The Beatles Store next to Baker Street Station is full of memorabilia, artwork, and other souvenirs. And if you're shopping for London gifts for rock and roll fans, check out It's Only Rock 'n' Roll across the street.
Flowers from Columbia Road Flower Market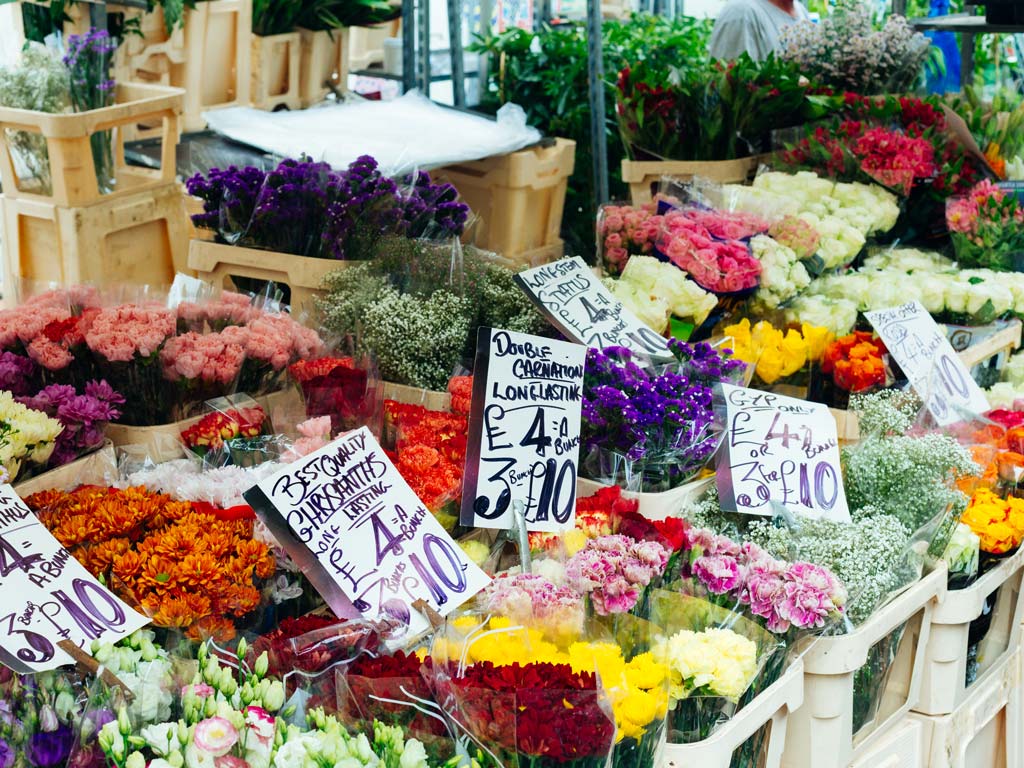 Getting fresh flowers from Columbia Road flower market is always a treat. With over 50 stalls, you're sure to find the perfect bouquet or potted plant.
But if you're looking for something you can pack in a suitcase, there are several vendors selling seeds. Just be sure to check the customs rules if you're taking them outside the UK, as some countries may not allow you to bring foreign seeds without proper paperwork (or at all).
Gardening tools from Kew Gardens
If you want to get your green-thumbed friend a gift you can only buy in London, you can't go wrong with gardening tools from Kew Gardens. Their gift shop has lovely wooden-handled trowels, leather gloves, watering cans, and other kit that would make for beautiful presents.
A long stroll through Kew Gardens is a good way to escape the hustle and bustle of London. But if you aren't planning to go inside, you can shop online instead.
Vintage threads from Brick Lane Vintage Market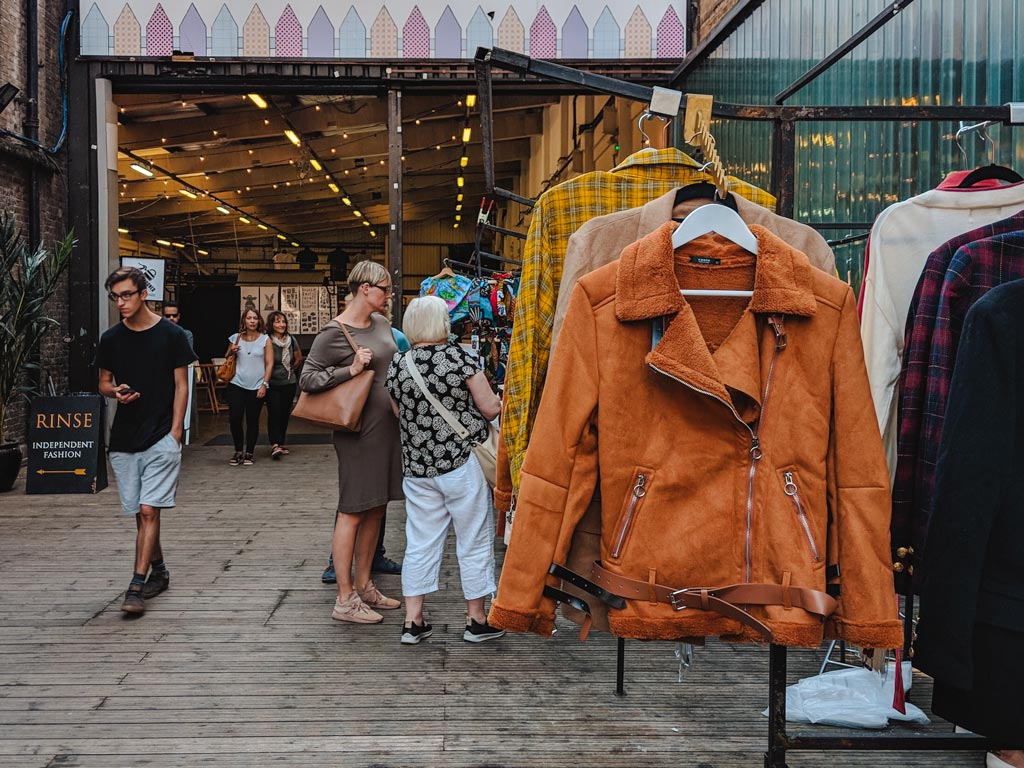 Brick Lane's Vintage Market always has gorgeous pieces when I visit. From leather jackets to dresses to gloves, you'll find a wide selection of vintage threads at reasonable prices.
It's also less crowded here than the stalls on Portobello Road, so you don't feel as rushed when you're searching for the best London present.
Best London Souvenirs to Buy
Paddington Bear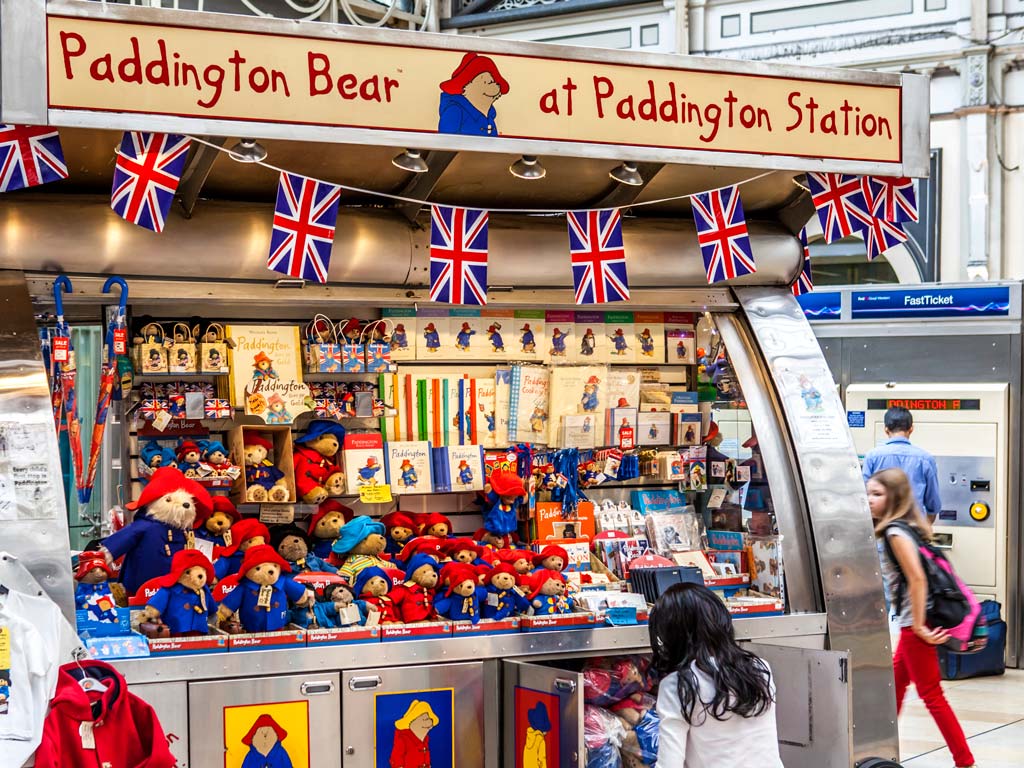 My dear family friend has a massive collection of Paddington bears, so I have a soft spot for them. But nostalgia aside, these adorable stuffed animals are really the perfect London souvenirs.
There's an entire beloved series of Paddington books (and movies now) about his escapades after arriving in the UK from Darkest Peru, though his origin story is that he was stranded at London's Paddington station and rescued by the Brown family.
You'll find Paddington-themed stuff for sale in many souvenir shops and children's stores. And if you're passing through Paddington Station, be sure to stop by the truck (pictured above).
London mugs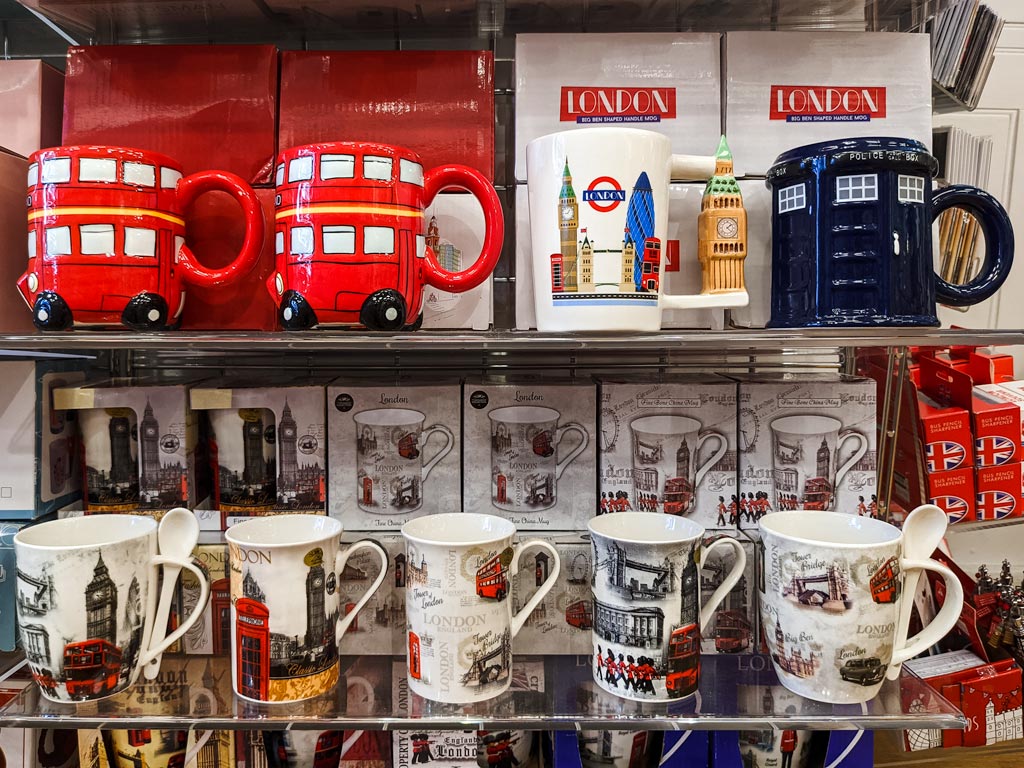 Mugs are popular souvenirs wherever you go. But given how much Brits love their tea, mugs make for especially excellent gifts from London.
Your typical souvenir shop will have generic mugs with prints of London scenes and landmarks. If you want something more unique, like a mug with a telephone booth for a handle, check out Cards Galore. Many of them have a small collection of fun mugs in addition to greeting cards.
Christmas ornaments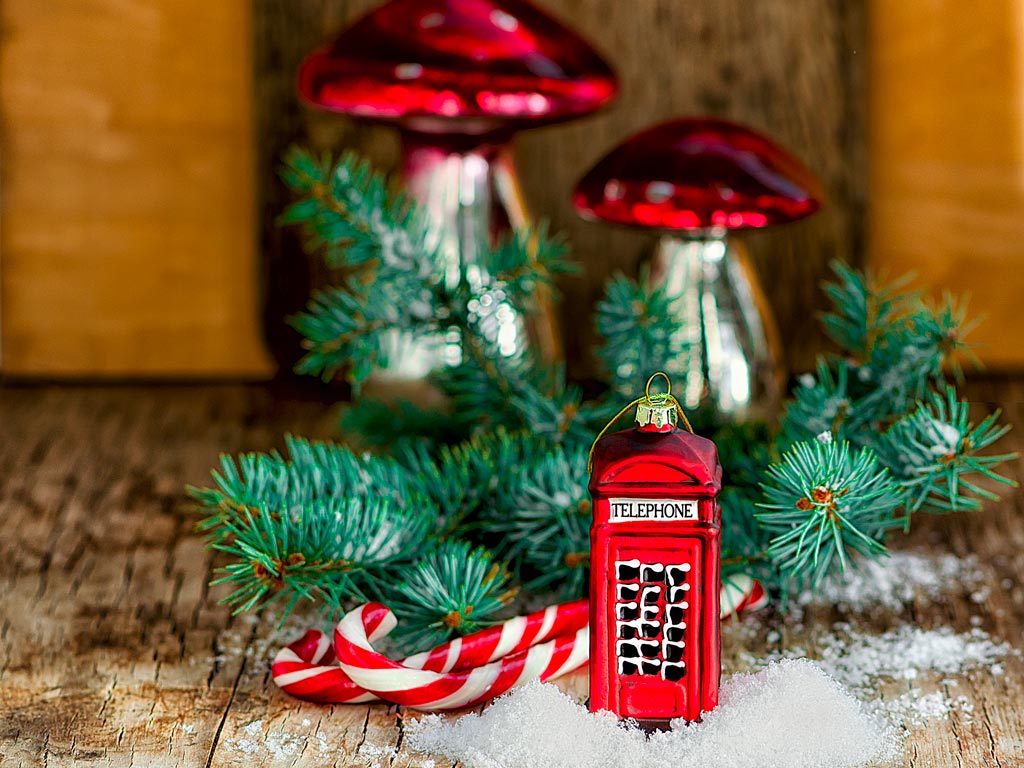 England knows how to deck the halls for Christmas–it's one of the best things about living here. So naturally, a London-themed Christmas ornament would be an appropriate souvenir.
All the famous department stores and major home goods shops (John Lewis, M&S, The Range, etc.) start selling Christmas decor in October. But if you'd like to grab an ornament outside the festive season, you can usually find them for sale in the city's many gift shops
Anything from the V&A gift shop
London's Victoria & Albert Museum (a.k.a. The V&A) is a must see in its own right. The gorgeous building houses a world-class collection of art, design, and cultural artifacts through the ages.
Given its distinctive and sometimes quirky contents, it's no surprise that the V&A gift shop is packed with unique London souvenirs you won't find anywhere else. Here you'll find everything from literary print aprons to eclectic chunky necklaces to Japanese-inspired wallpaper.
Street and Tube signs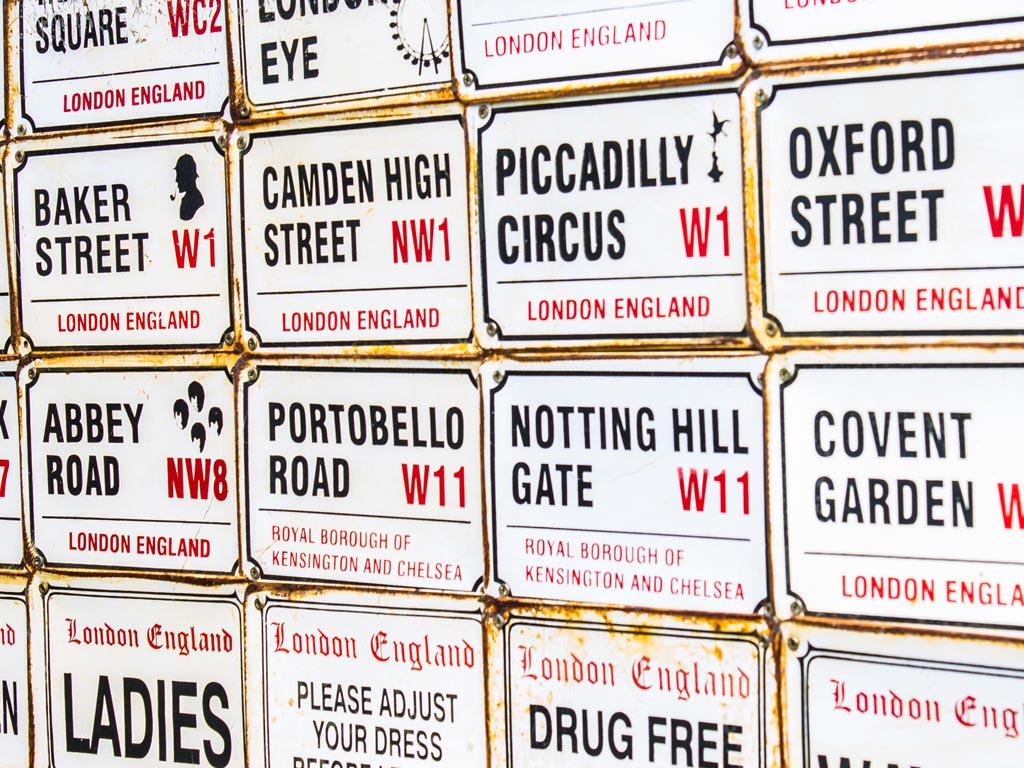 Oddly enough, the city's iconic signage has been a popular thing to buy in London for decades. Whether you're after the rounded rectangle street signs or a fun London Tube sign, you won't have too much trouble finding a street vendor who sells them.
Keep your eyes peeled around Oxford Street and Leicester Square. You'll also find stalls selling them at Portobello Road market and sometimes Brick Lane market. I've even passed by furniture shops that sell them as wall decor!
Kitschy London souvenirs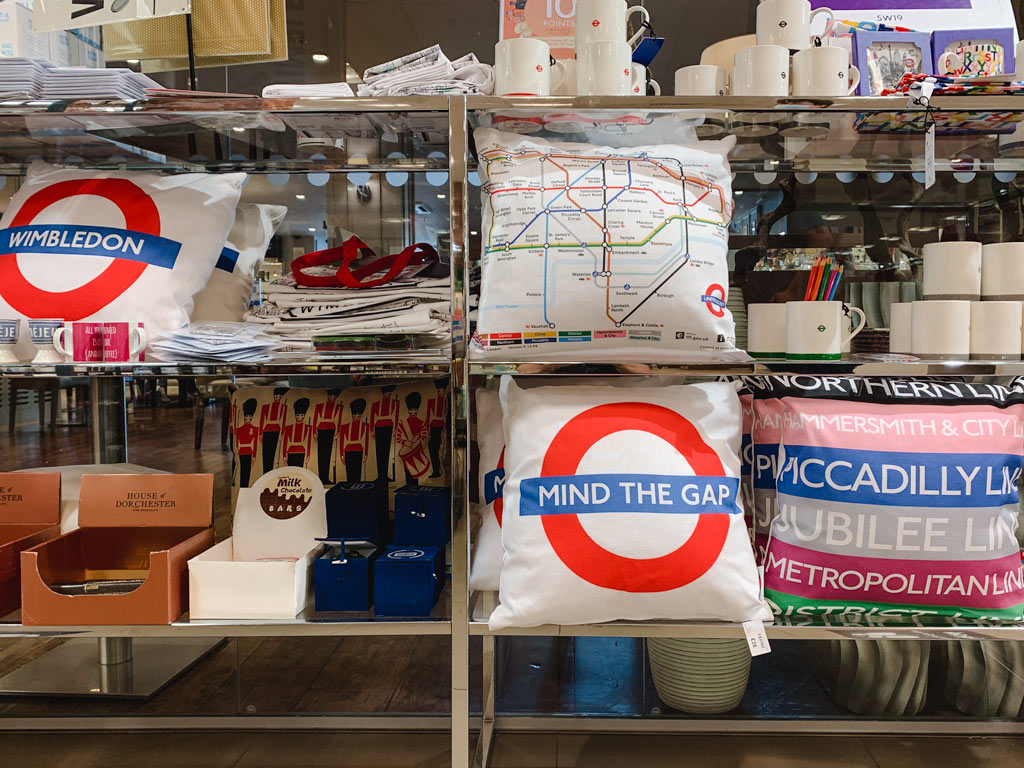 It wouldn't be right to leave off classic kitschy London souvenirs from this list. You can't walk 5 metres through London's touristy areas without stumbling across stalls bursting with magnets, keychains, figurines, tote bags, bottle openers, pillows, and all manner of random items.
While I'm not one to buy clutter-type gifts when I travel, my husband absolutely loves the bottle opener keychain we bought at the Tower of London gift shop. It's held up wonderfully for three years and gets plenty of use during our travels.
Football accessories
Football is kind of a big deal in the UK. On game days, you'll find team flags hanging from windows and loud cheers echoing from pubs into the streets.
With football fandom being nearly ubiquitous, you won't have any trouble finding accessories for the country's many teams. All of the athletic apparel stores on Oxford Street (Adidas, Nike, JD Sports, etc.) sell current season jerseys, shirts, and sometimes shorts for popular teams like Chelsea and Manchester United.
If you're looking for more team variety including vintage jerseys, check out the Classic Football Shirts Shop. Located just outside of Brick Lane's Vintage market, this place has racks upon racks of shirts for all sorts of England and European league teams.
Corgi plush from Buckingham Palace gift shop
I couldn't resist adding this cute London souvenir to the list!
If you visit London between July-October, you can take an amazing tour through Buckingham Palace. At the end of the tour, you'll pass through a gift shop that has, among other things, a whole bin full of adorable corgi plushies (the Queen's favorite dogs). I can't think of a better gift from London for dog lovers.
Save me for later!
Best Edible Gifts from London
Artisan ingredients from Borough Market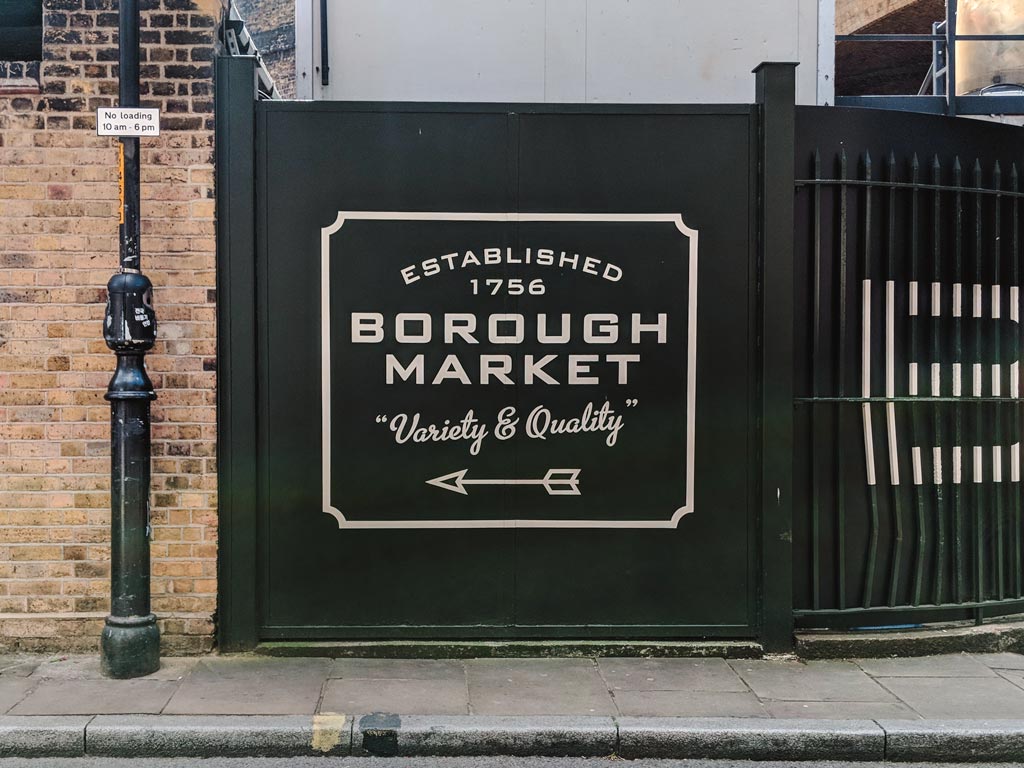 Going to Borough Market is dangerous if you're on a diet or a budget. It's one of my favorite places in London to shop for artisan ingredients and foods, and I often end up spending £50+ every time I visit.
With a long list of traders, you'll have plenty of gift options to bring back home. My must-visit stalls are Fitz Fine Foods for Kent-made preserves and condiments, The Olive Oil Co, and The Cider House.
If you're able to bring perishables back, grab a wedge of Merry Wyfe of Bath from the Bath Soft Cheese Co, and some deliciously moist chocolate brownies at Free From Bakehouse.
Artisan chocolates from Rococo Chocolates
Is there a better combination of two words than "luxury chocolate"?
Rococo has been making mouth-watering British chocolates for nearly 40 years, and their expertise shows in flavors like caramelized almond and strawberry champagne. They have multiple locations, including St. John's Wood and Belgravia (I told you this was the best neighborhood to buy gifts from London!).
Their artisan confections are pricey but totally worth it. However, if you're looking for a more budget-friendly option and are planning a trip to Borough Market, So Chocolicious makes fantastic truffles and can package them up as a gift.
Tea from Twinings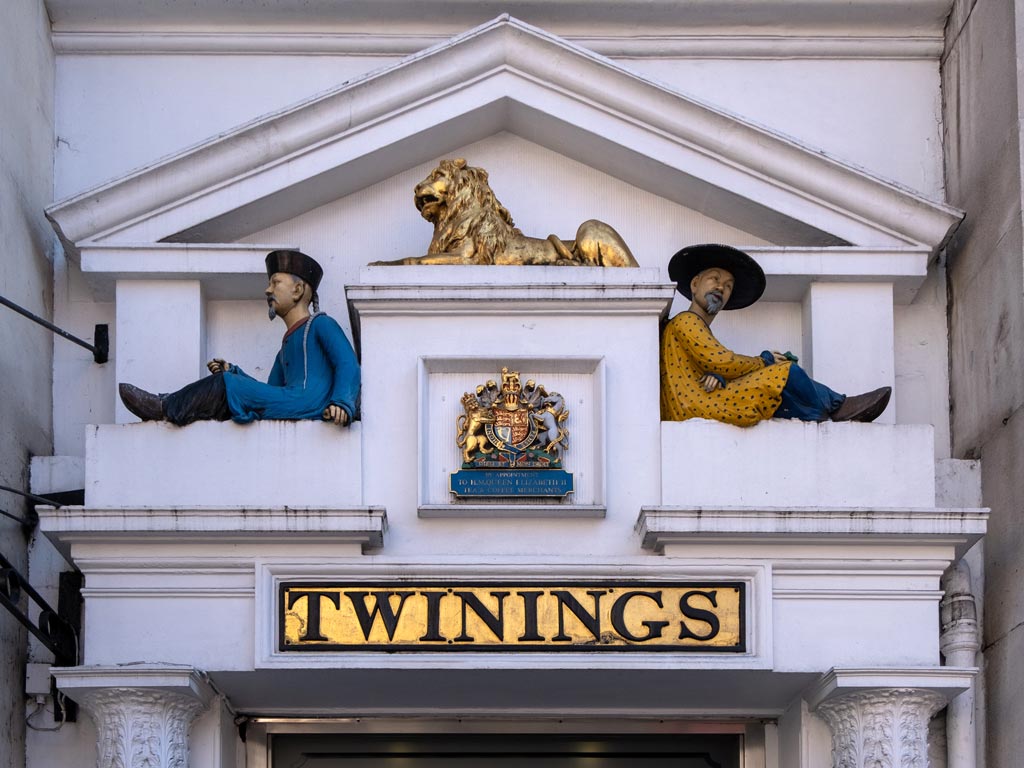 When you need gifts for people who love London, you can't go wrong with tea from the historic Twinings. Thomas Twining founded Britain's first tea room in 1706 at No. 216 Strand, London. It's still in operation today, and you can buy a wide variety of teas there that you won't find at the local supermarket.
Twinings tea is a staple in my house, particularly their loose leaf green tea. Plus, the canisters are pretty enough that you don't even need to wrap them.
Themed biscuits from Biscuiteers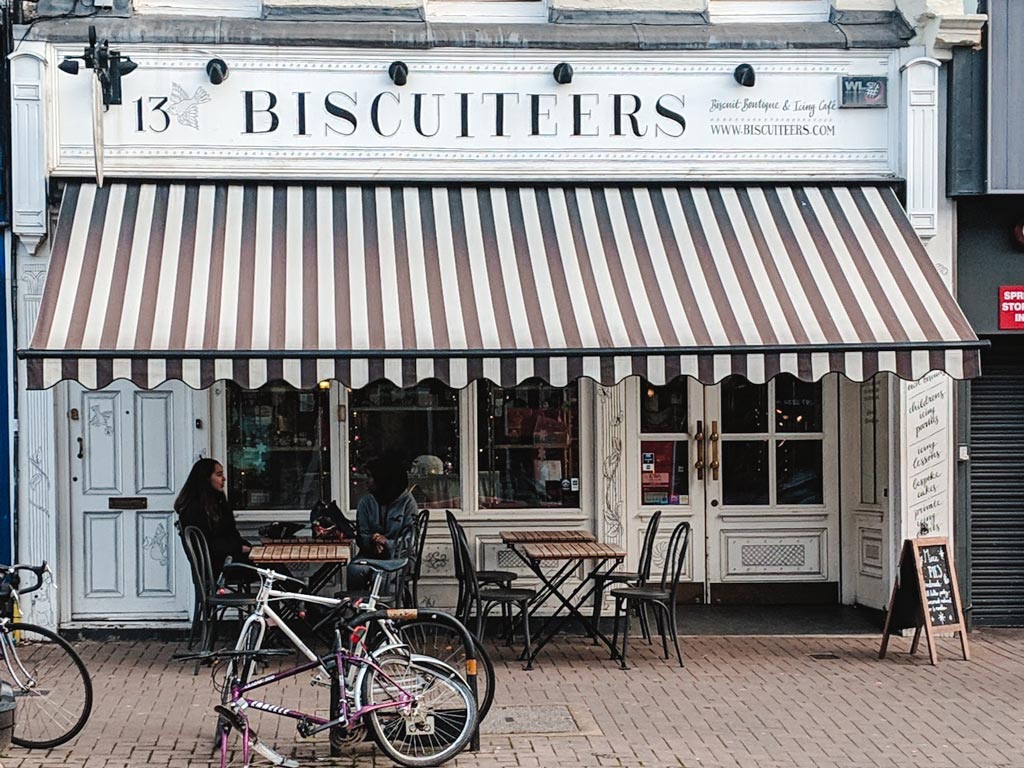 You may have seen the Insta-famous black and white striped awning of Biscuiteers before you even arrived in London. But the cuteness doesn't stop at the facade. Inside, you'll find tons of adorably frosted biscuits for every occasion.
Our family members were delighted when we showed up for Christmas with little tins of Paddington and London-themed biscuits. The edible Tube signs and phone boxes were a big hit with adults and kids alike.
Craft gin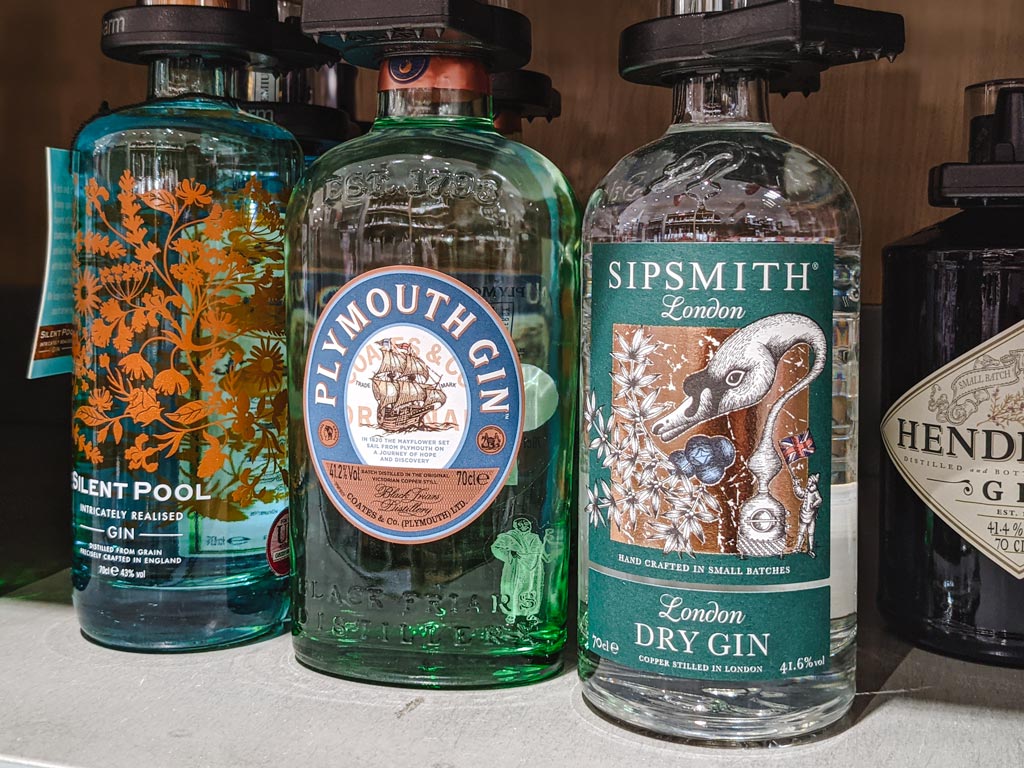 Gin is incredibly popular in the UK. There was even a "gin craze" back in the 1700s that led to a ban on the beloved drink!
After a bleak couple of centuries, gin has bounced back and gained a more sophisticated reputation. Today, there are a number of English distilleries making craft gin, from long-standing Sipsmith to London-based Hayman's (my personal favorite).
You can purchase locally crafted gin at pretty much any supermarket, but the best variety can be found at Gerry's in Soho or Oddbins (they have various locations).
Coffee beans from Monmouth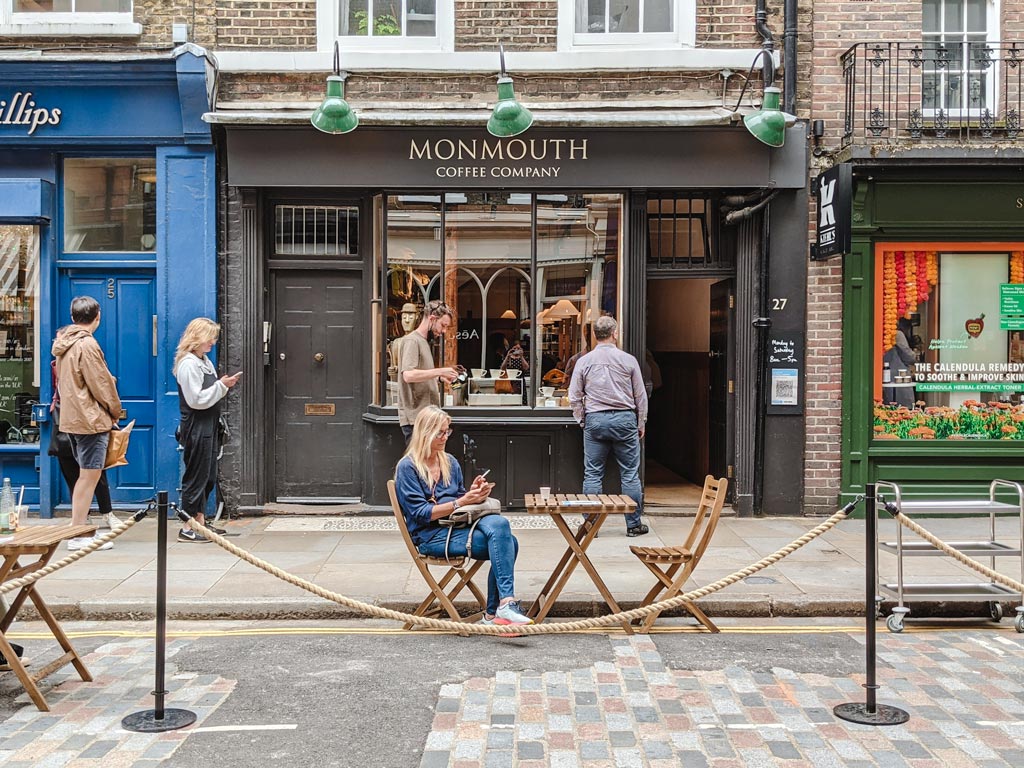 No matter what time I pass by Monmouth Coffee in Covent Garden, there's a line out the door. And for good reason–their coffee is seriously amazing.
They've been roasting coffee since 1978, with a rotating selection of beans depending on the season. All of their coffee is ethically sourced from single farms, estates, and co-ops. They also sell beans at their Borough Market and Spa Terminus locations.
I hope you've found some ideas for the best gifts to buy in London. And don't forget to pick up a few treats for yourself along the way!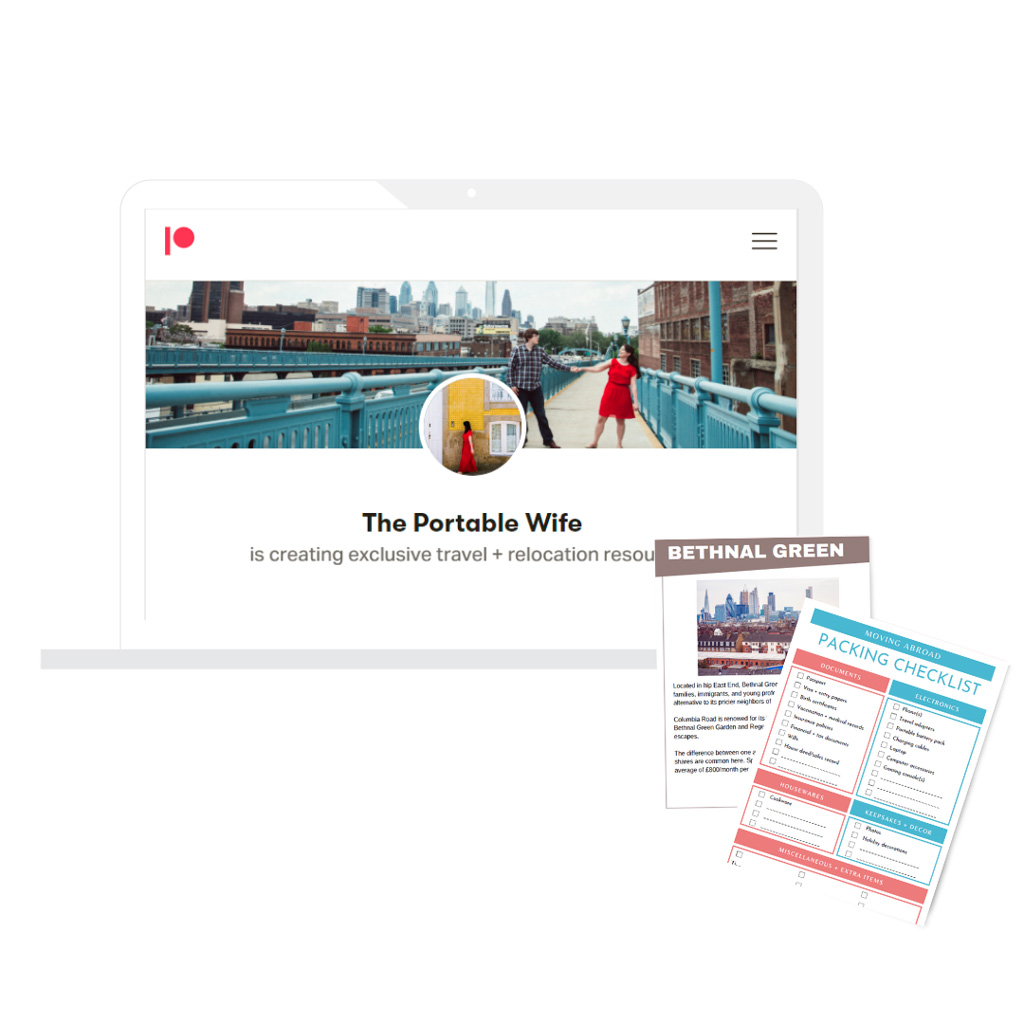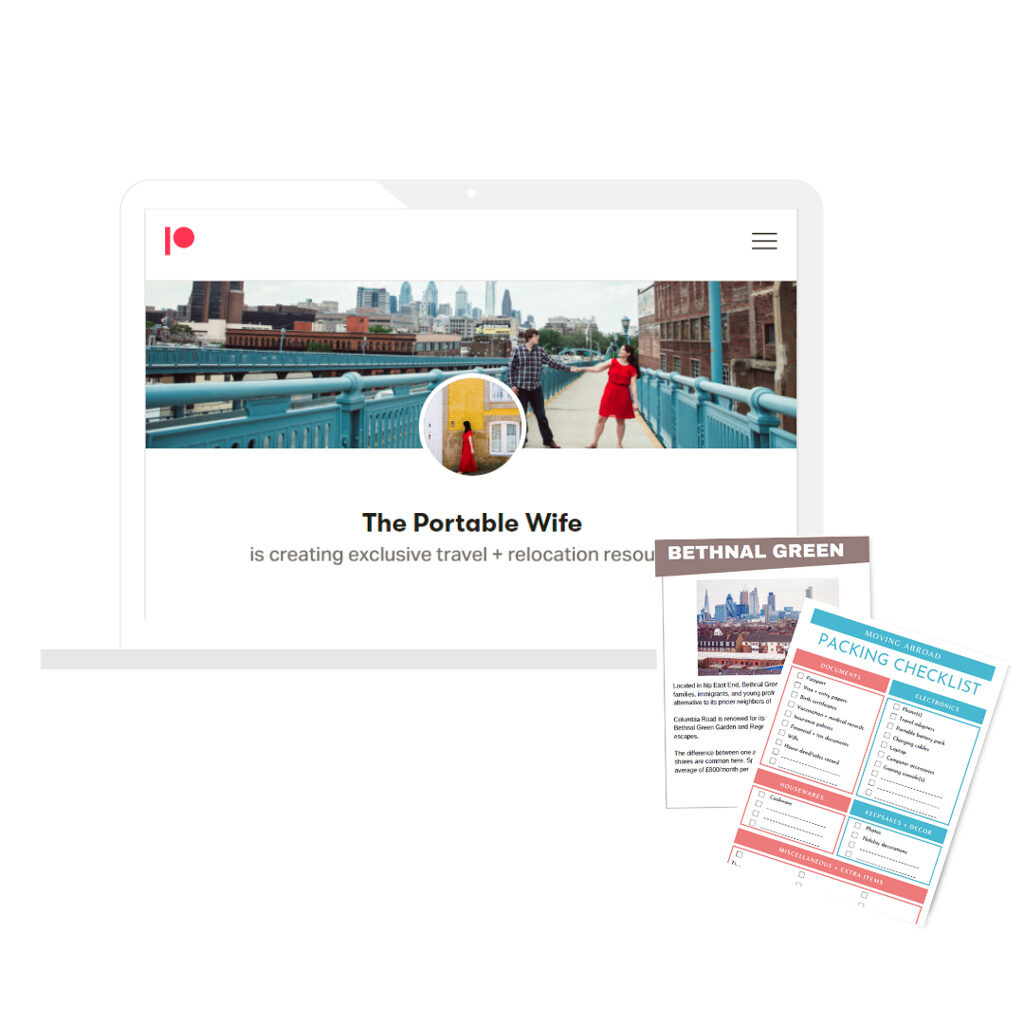 Want more travel + relocation tips?
Become a member of my Patreon group for exclusive access to my resource library, including:
Printable packing lists for moving + travel
Money-saving tips
Insider travel guides
And much more