If you're traveling through Japan's Kansai region, a Lake Biwa day trip is the perfect addition to your itinerary. From floating torii gates to mountain top temples, there's more to this area than the typical lakeside activities you'd expect.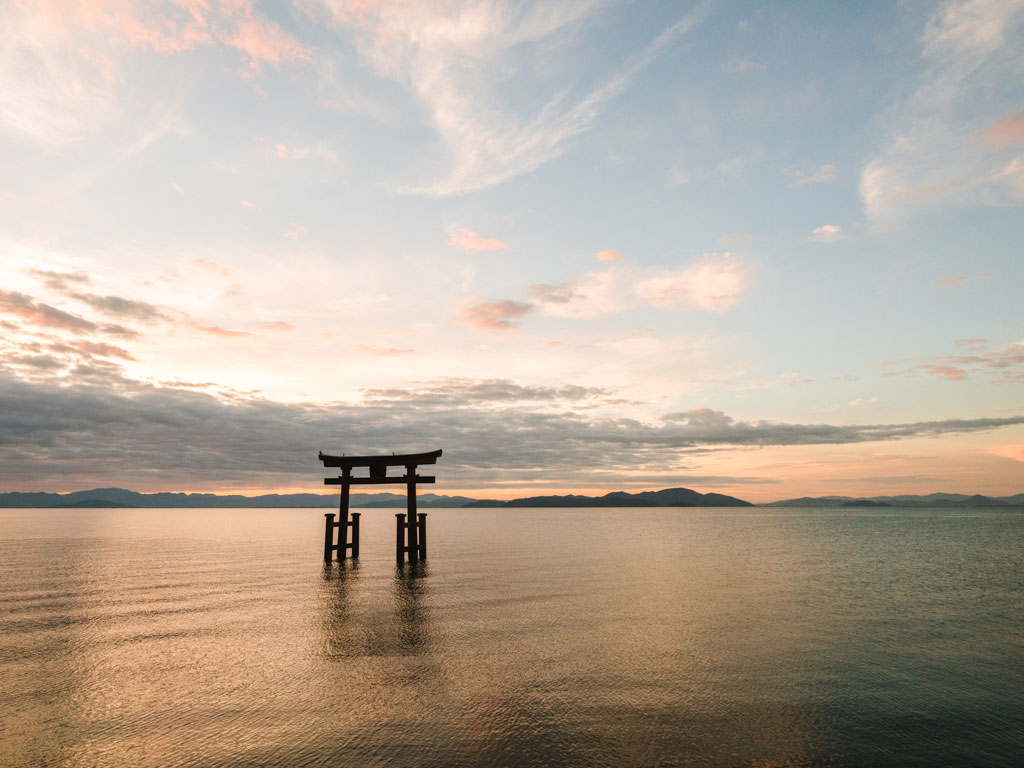 Situated northeast of Kyoto in Shiga prefecture, Lake Biwa (Biwako in Japanese) is Japan's largest freshwater lake. Locals flock here to swim, kayak, fish, and generally enjoy the gorgeous surroundings. However, it remains off the beaten path for most foreign tourists.
Whether you're an outdoor enthusiast, anime fan, or shrine seeker, you'll have plenty to enjoy during a day trip to Lake Biwa.
This post contains affiliate links. As an Amazon Associate, I earn from qualifying purchases. For more information, click here.
RELATED: Ultimate Japan Travel Checklist for First Timers
Table of Contents
Top things to do in Lake Biwa area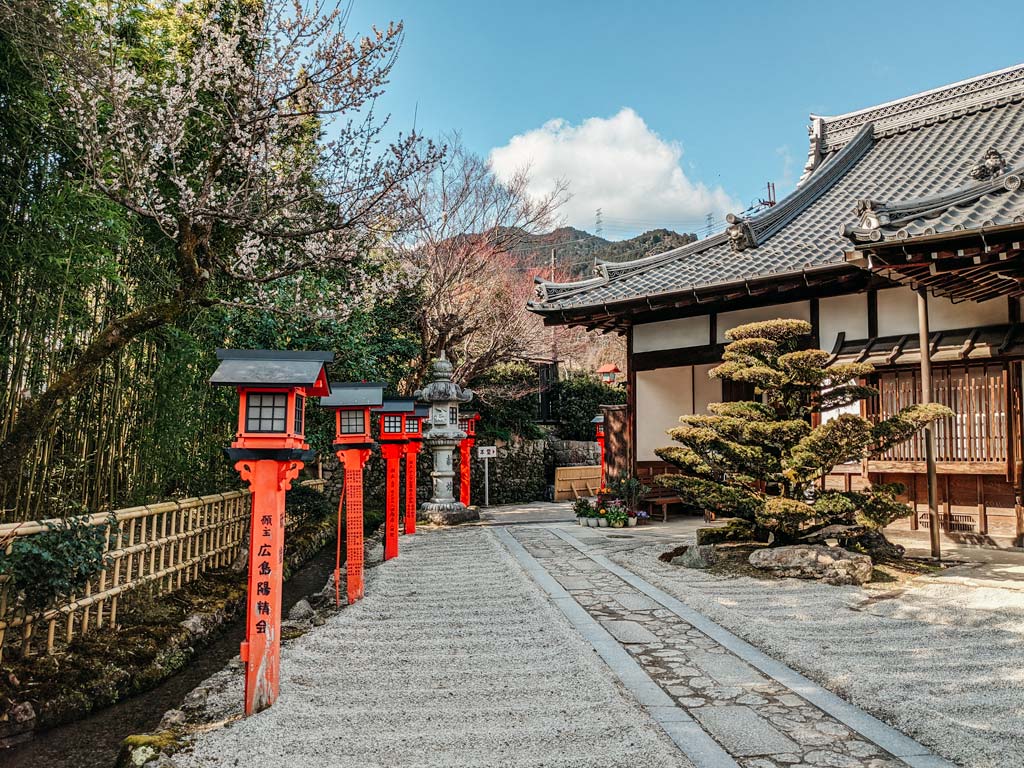 Scenic towns, cycling paths, lush forests, and sacred mountains surround Lake Biwa's 120+ kilometers of coastline. Add in a variety of water activities, and there are tons of things to do in Lake Biwa.
Here are some of the best activities:
Go for a ride in "The Michigan", Biwako's vintage paddle boat
Stroll beneath the cherry blossoms at Kaizu Osaki park
Step back in time at the 17th century Hikone Castle
Take an easy hike to Mii-dera, home to Japan's 4th largest temple
Marvel at the serene Shirahige floating torii gate
Explore the 1,200-year-old temple grounds of Ishiyama-dera
Cycle along the coastal roadways and designated bike paths for scenic views
For a more structured Lake Biwa day trip guide, check out the itinerary at the end of this post.
Best time to visit Lake Biwa
If you want to enjoy 100% of what Lake Biwa has to offer, you should plan your visit in summer. This is the height of travel season, which means all of the sites, restaurants, businesses, and tour companies will be open.
However, summer is by no means the only appropriate season to take a day trip to Lake Biwa. Having visited in late February, I can assure you that there's no wrong time to visit this beautiful area.
Springtime brings mild temperatures and fresh greenery to the region. And late March is typically when the cherry blossom trees bloom in Kaizu Osaki park (among other places in the area).
Autumn ushers in a wave of fall foliage, with Biwako's western mountains taking on red and gold hues. It's a fantastic time to explore the forest-dwelling temples and shrines and do some momijigari (leaf-peeping).
Winter is a wonderful time to visit Lake Biwa, with migratory birds dotting the water and snowy mountain tops rising in the distance. And with highs around 44°F / 7°C, it's warm enough to enjoy a day outdoors.
RELATED: Visiting Japan in October – The Best of Autumn in Japan
Getting to Biwako
Japan is well-connected by public transit, and Lake Biwa is no exception. There are multiple train lines that service the region, including [JR Pass-friendly routes] and a high speed rail station.
For trains not covered by the JR pass–which you'll be using for part of this itinerary–you can use an IC card (Suica, Pasmo, etc.) to pay the fare.
You don't need a car to enjoy a Lake Biwa day trip. However, some places like the Shirahige torii gate and Kaizu Osaki park are difficult to reach by public transit and would require a lot of walking.
How to take a Lake Biwa day trip from Kyoto
Lake Biwa is an easy day trip from Kyoto.
Your exact route will vary depending on what part of Kyoto you're traveling from. But you'll likely take the Tozai line to Biwako-Hamaotsu Station, the closest train station to Kyoto.
The journey takes around 25 minutes and costs 500 yen.
This will get you to the starting point of the Lake Biwa day trip itinerary below.
How to take a Lake Biwa day trip from Osaka
If you're traveling the popular Osaka-Kyoto-Nara itinerary, Lake Biwa is a fantastic addition to your plans.
There are direct trains from Osaka Station to Ostu station via the Tokaido-Sanyo line. If you catch the Special Rapid Yasu train, the journey takes about 40 minutes and costs just under 1000 yen (free with the JR Pass).
From Otsu station, it's just a 10 minute walk to the lakefront and the start of this itinerary.
Don't Forget Your Japan Rail Pass!
Buying a Japan Rail Pass will save you a ton of time and money when traveling across Japan.
I've purchased a JR pass for two out of three Japan trips, and here's why:
– Free bullet trains and reservations: Quickly travel all over Japan to maximize vacation time.
– Easy to use: Just show your pass to the gate attendant and walk to your train!
– Affordable day trips: Visit popular places like Nagoya, Kanazawa, and more without spending a fortune on tickets.
Lake Biwa day trip itinerary
As I mentioned before, there are tons of different things to do in the Biwako region. Your perfect Lake Biwa day trip may involve kayaking and cycling around the waterfront, or having a relaxing picnic in the park.
My day trip to Lake Biwa was all about exploring temples and shrines. You can find some of Japan's most impressive and enchanting spiritual buildings nestled along the lake's western mountains. If you want the magical, old world Japan experience without the Kyoto crowds, this is the itinerary for you.
That being said, you can easily swap parts of this itinerary out for more water-based activities. Cutting out Enryaku-ji and Ishiyama-dera will save about three or four hours, which is plenty of time for a boat cruise or a quick trip to one of the other Lake Biwa attractions mentioned earlier.
Otsu Port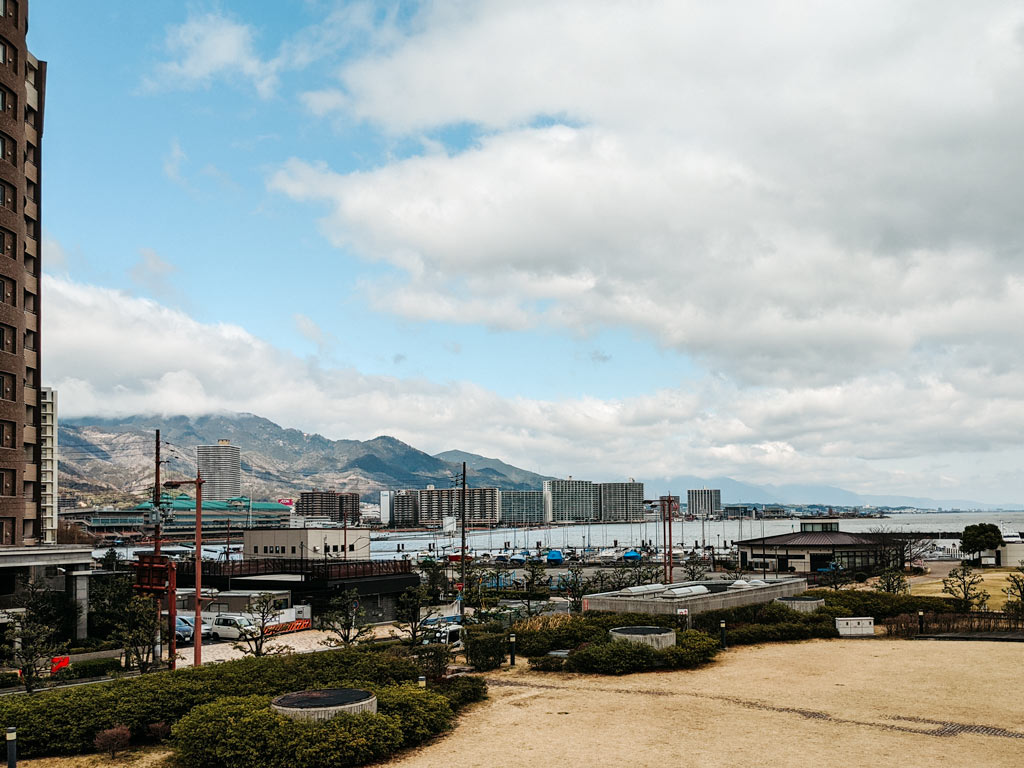 We'll kick things off at Otsu Port, which lies just opposite Biwako-Hamaotsu station. While this itinerary doesn't include a boat tour, this is where you'll find the photogenic Michigan paddle boat.
Take in the lovely waterfront views from Nagisa Park before heading west to Mii-dera.
Save me for later!
Mii-dera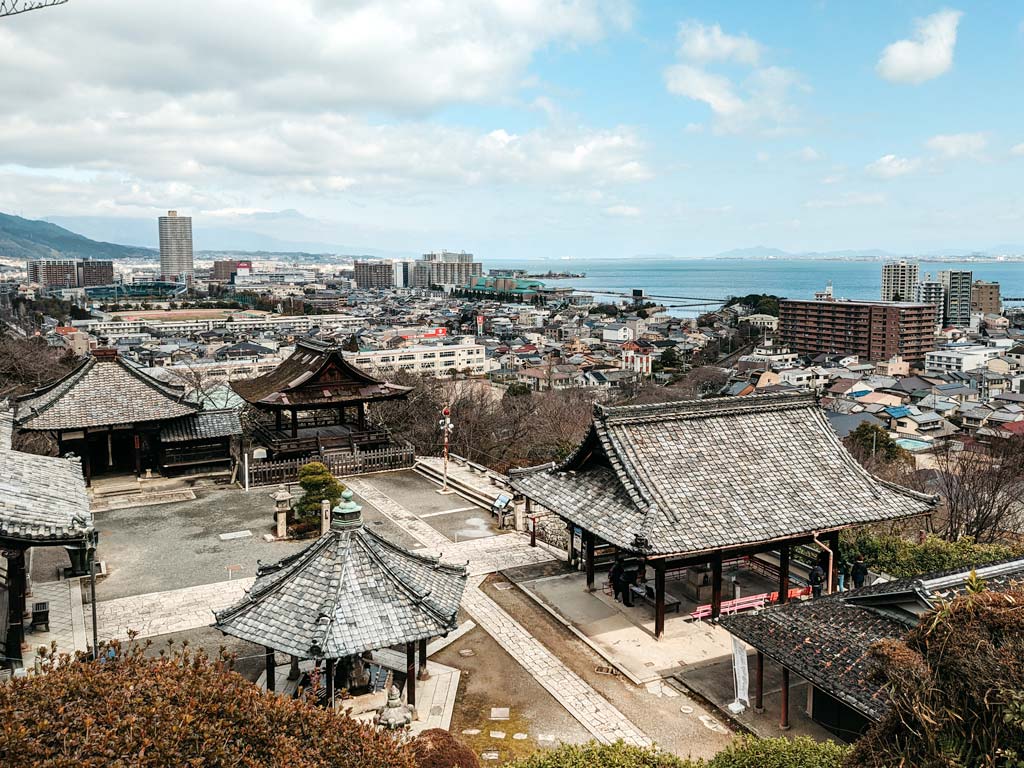 Tucked into the foothills of Mt. Hiei, Mii-dera is a massive temple complex comprising over 40 buildings. In fact, it's Japan's fourth largest temple. Tree-lined paths snake through its multi-leveled layout, which culminates in a stunning view over the city and lake below.
Founded in 672 to honor Emperor Tenmu's slain brother, Mii-dera was one of the four chief temples that spiritually safeguarded Nara, which was Japan's capital at the time. These esteemed origins are reflected in the buildings themselves, which include ornate pagodas and the Golden Hall, a National Treasure of Japan.
I especially loved the long pathway of stone lanterns.
After you've finished soaking up the views from the top of Mii-dera, head back down to street level to Mii-dera station. From here, take the Ishiyama Sakamoto line to Omi-Jingu Mae station.
Omi-Jingu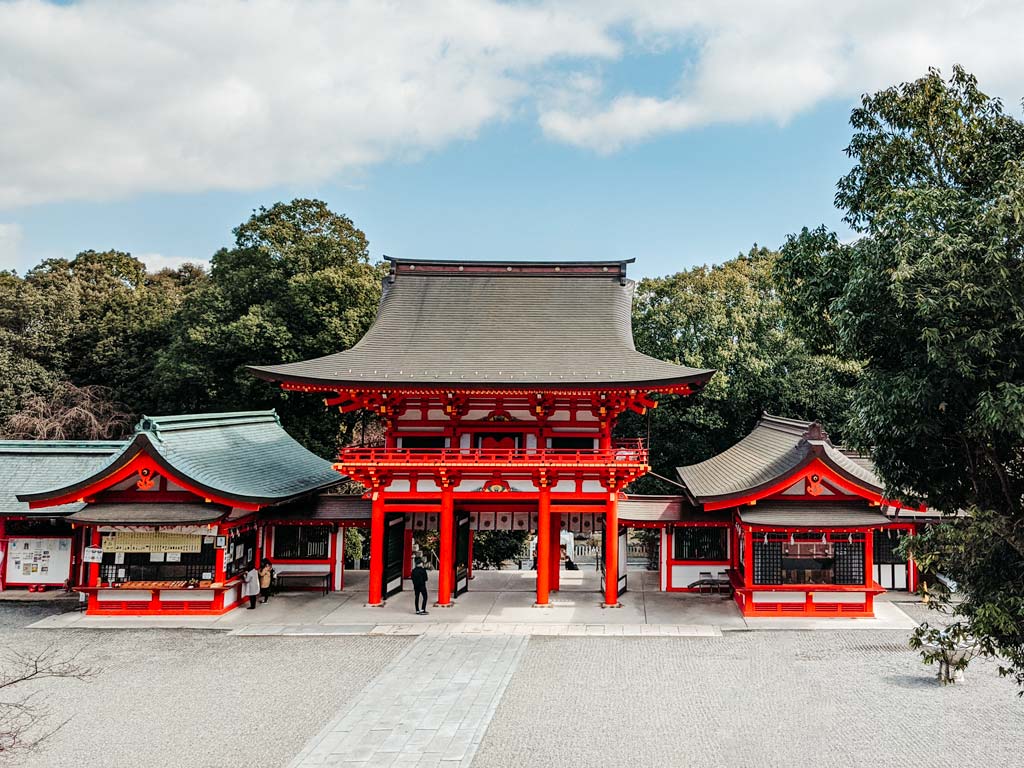 Unlike the other ancient shrines in the Lake Biwa area, Omi-Jingu is a modern addition to the landscape. Constructed in 1940 in dedication to 7th century Emperor Tenji, this vibrant red beauty stands out amidst the surrounding forest.
Fans of the anime and manga series Chihayafuru will recognize Omi-Jingu as a karuta tournament location. It's not uncommon to see young Japanese people taking selfies in front of the stairs leading to the Romon gate. The shrine is one of many seichi junrei–anime tourism–hotspots in the Kansai region.
Karuta is an ancient card game that I won't attempt to explain–check out this website to satisfy your curiosity. Omi-Jingu hosts the national Karuta Championship (Karuta Matsuri) every January.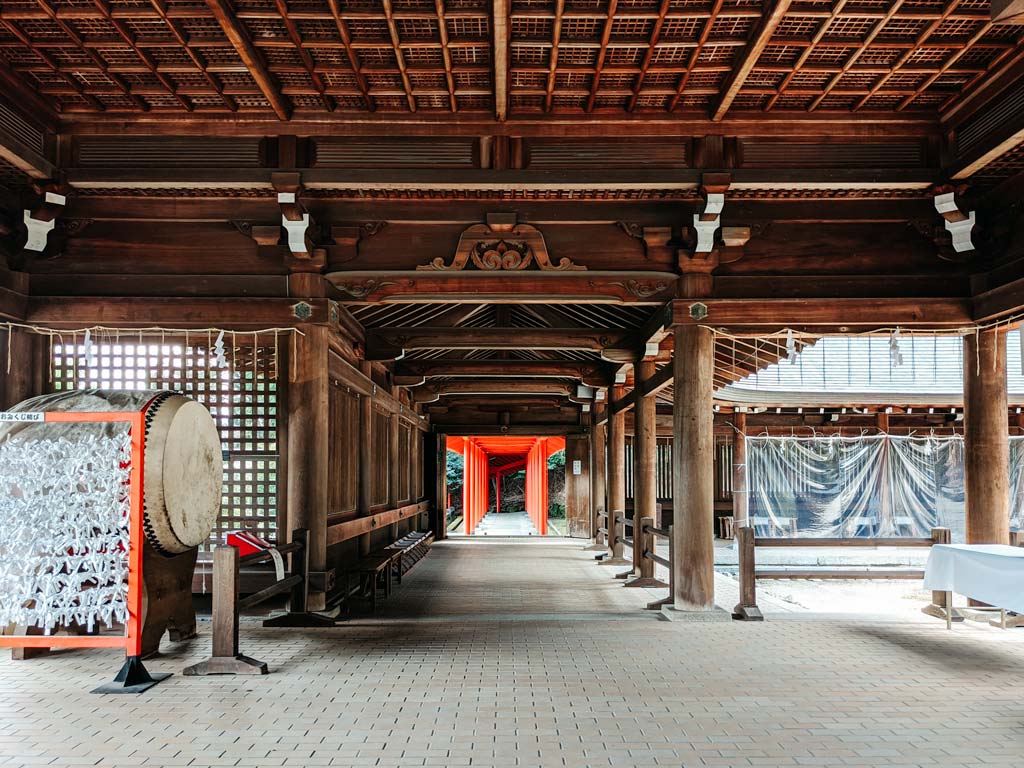 You'll also find several water clocks on the shine grounds, which are a nod to Emperor Tenji's introduction of clocks from China to Japan.
Once you've explored the shrine grounds, head back down to Omi-Jingu Mae station. From here, take the Ishiyama Sakamoto line to Sakamoto-hieizanguchi station.
Hiyoshi-Taisha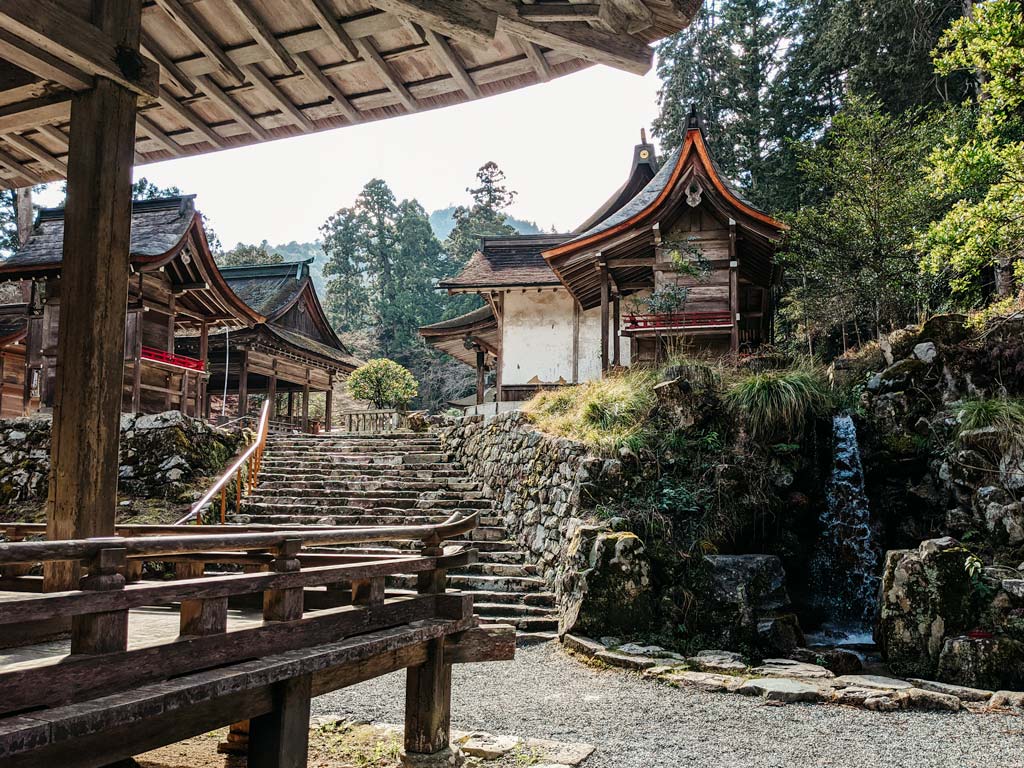 Hiyoshi-Taisha is a magical shrine with a tumultuous history. Originally founded sometime before the 8th century, the shrine was burnt to the ground in 1571 by the famous feudal Lord Nobunaga during his quest to unify Japan.
The buildings you see today were reconstructed not long after Nobunaga's destruction, which is why they still look so ancient. The weathered wood and faded paint looks absolutely beautiful amidst the trees and mini-waterfalls.
Hiyoshi-Taisha is the head of Japan's seventh largest shrine network, which worships the Sanno (Mountain God) deities. You'll find monkey symbols throughout the buildings–and maybe some real-life monkeys on the grounds–who represent Masaru, the messenger to the gods.
Visiting Hiyoshi-Taisha was the highlight of my Lake Biwa day trip. While the complex itself is breathtaking, the journey to the top is lovely as well. As you walk up the canal-lined path towards the main shrine, you'll pass a number of pretty side shrines and temples that deserve a quick peek.
At this point, you have a few decisions to make about where to go next.
If you don't mind deviating away from the lake, now is a great time to visit the famous Enryaku-ji temple on Mount Hiei. With the cable car station just around the corner from Hiyoshi-Taisha, it's much easier to reach Enryaku-ji from this area than from Kyoto city.
If you'd rather keep close to Lake Biwa, you can skip Enryaku-ji and head straight to Ishiyama-dera temple.
Depending on how much time you have left in the day, you may only be able to fit in one more stop.
For Enryaku-ji: Walk to Cable Sakamoto station to catch the Hieizan-Sakamoto cable car.
For Ishiyama-dera: Walk back down to Sakamoto-hieizanguchi station and catch the Ishiyama Sakamoto Line to Ishiyamadera station.
Hieizan-Sakamoto cable car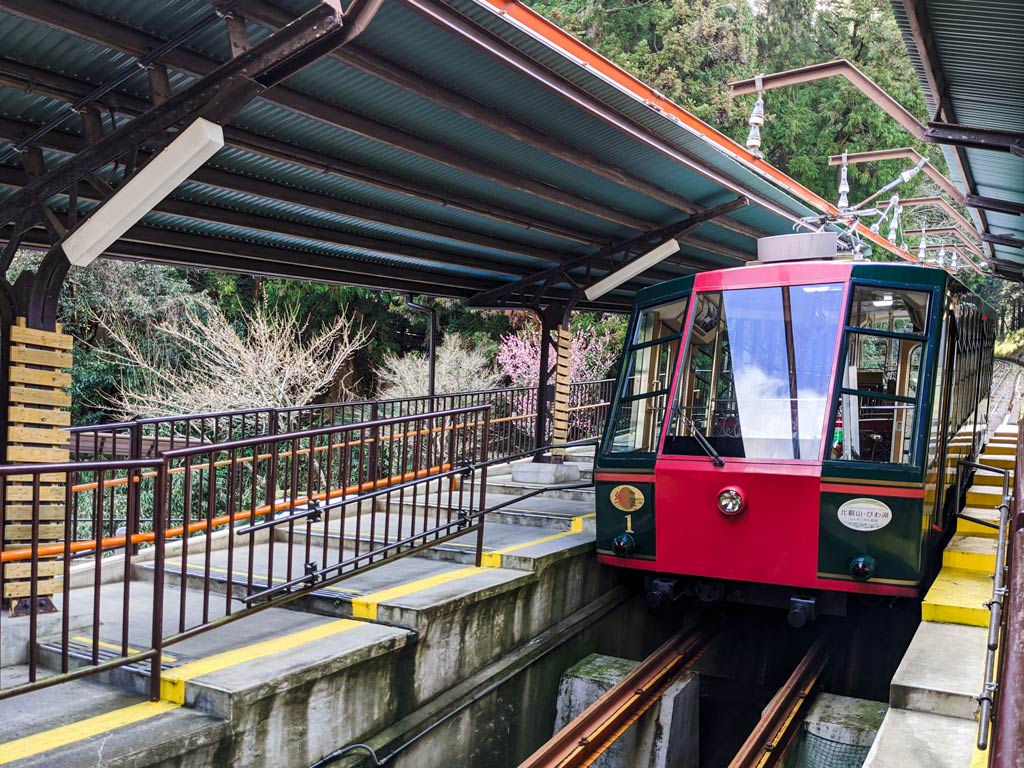 Although it's possible to hike up Mount Hiei to reach Enryaku-ji, you'd miss the chance to ride on Japan's longest cable railway! Not to mention the fact that you don't have time to hike an 850m mountain during a day trip to Lake Biwa.
The cable car journey offers a scenic ride over the forest, with great views of Otsu and the lake below. You can purchase a round trip ticket from the machine inside the station for around 1,700 yen. The ride takes about 11 minutes, with departures on the hour and half hour (more frequently during peak season).
Note that if you're visiting Lake Biwa in winter, the cable car runs on a limited winter schedule. Check the website for more information.
The cable car will take you straight to Enryaku-ji station, which is about a five minute walk from the main complex.
Enryaku-ji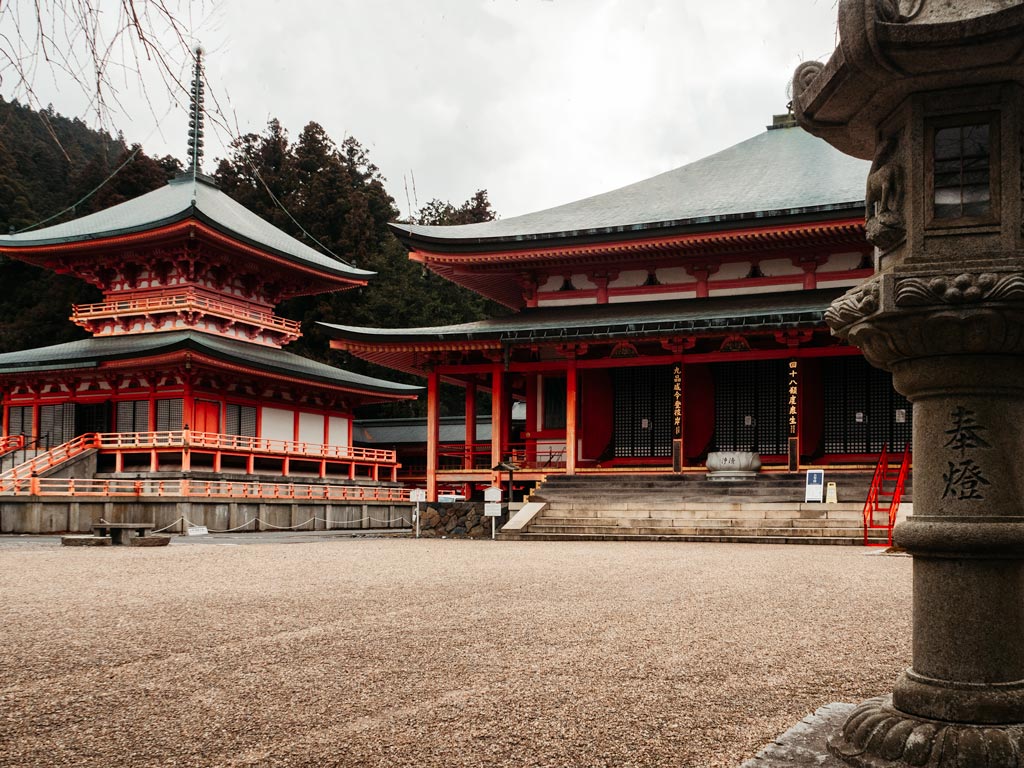 Founded in 788, Enryaku-ji is a Tendai monastery and a UNESCO World Heritage Site. Like Hiyoshi-Taisha, this place was razed to the ground by Nobunaga and his forces in 1571 in his quest to end Buddhist militancy and unify Japan. Yes, you read that right: Enryaku-ji was a monastery that trained warrior monks.
Everything you see today was reconstructed in the 16th and 17th centuries, with restoration works continuing even now. Given the site's popularity with tourists, it's no wonder the place requires constant upkeep!
After exiting the station, head to the ticket counter for your admission ticket (1,000 yen) and a very large, complimentary map of the complex.
The majority of Enryaku-ji's buildings are clustered into three areas: the East Pagoda, West Pagoda, and Yokokawa. While all three sections have their merits, the most culturally significant buildings are in the easily reachable East Pagoda (Tō-dō). You may have time to visit the West Pagoda (Sai-tō), which is a 20 minute walk from the East Pagoda, but the Yokokawa is too far to see on an already-busy day trip like this.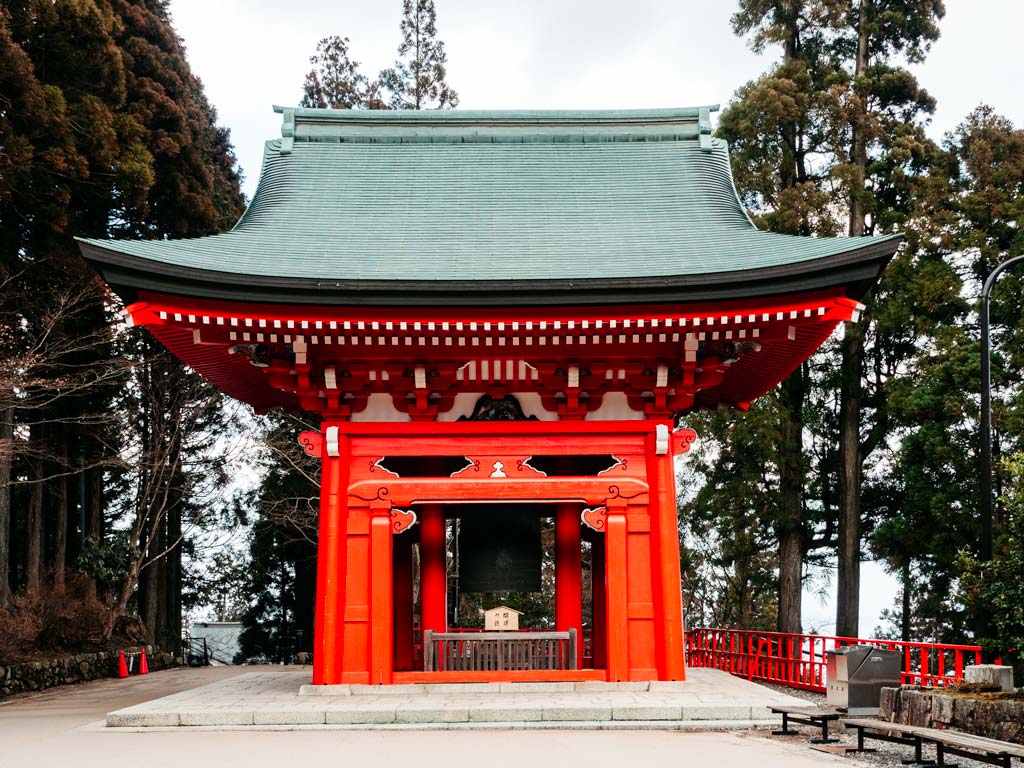 Full disclosure: at this point in my Lake Biwa day trip, I was practically running through Enryaku-ji to see as much as possible before the last cable car departed. I don't recommend that approach, especially if you're out of shape (the place is riddled with hills and steep steps).
Even if you only have time to see the Tō-dō area, it's well worth the trip up here. The Bell Tower, Ordination Hall, and East Pagoda (the actual pagoda) were the highlights of the visit.
When you've finished exploring Enryaku-ji's many gems, take the cable car back down the mountain to Cable Sakamoto station and walk to Sakamoto-hieizanguchi station.
At this point, you can wrap up your Lake Biwa day trip or carry on to one last sightseeing spot. If you want to keep going, take the Ishiyama Sakamoto Line from Sakamoto-hieizanguchi station to Ishiyamadera station.
Ishiyama-dera (if time allows)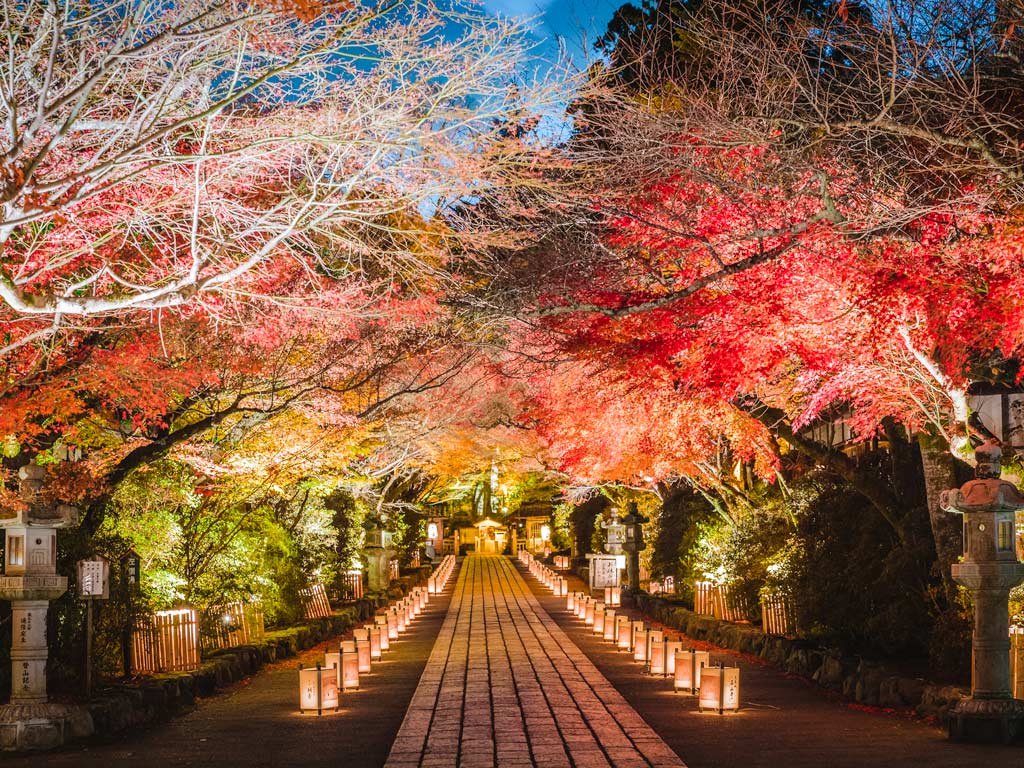 Located along the Seta River south of Lake Biwa, Ishiyama-dera is the kind of place that inspires people to visit Japan. Constructed in the mid-8th century, this Buddhist temple is said to be the place where Murasaki Shikibu started writing The Tale of Genji.
Inside the temple, you'll find a "Genji Room" dedicated to Murasaki that includes a life-size statue of her, as well as the famous painting "The Autumn Moon at Ishiyama" (it's said that there was a full moon on the night Murasaki commenced writing The Tale of Genji). There are a number of National Treasures preserved here as well, including written records of China's first dynasty.
Ishiyama-dera is also famous for its beautiful natural surroundings. Plum blossoms decorate the grounds in the spring, while autumn brings hues of red and gold to the numerous trees. In late September, over 2,000 lanterns decorate the grounds as part of the Fall Moon Festival.
With so many things to do in Lake Biwa, you're sure to have an amazing day trip. Just remember to set your alarm early to fit in as much as possible!
Ready to explore the best of Japan? Here are more travel guides to help you plan the perfect trip: