When planning a dream trip to Japan, the bustling cities of Tokyo, Kyoto, and Osaka usually spring to mind. But it would be a mistake not to explore Japan off the beaten path, even if it's your first trip to the country.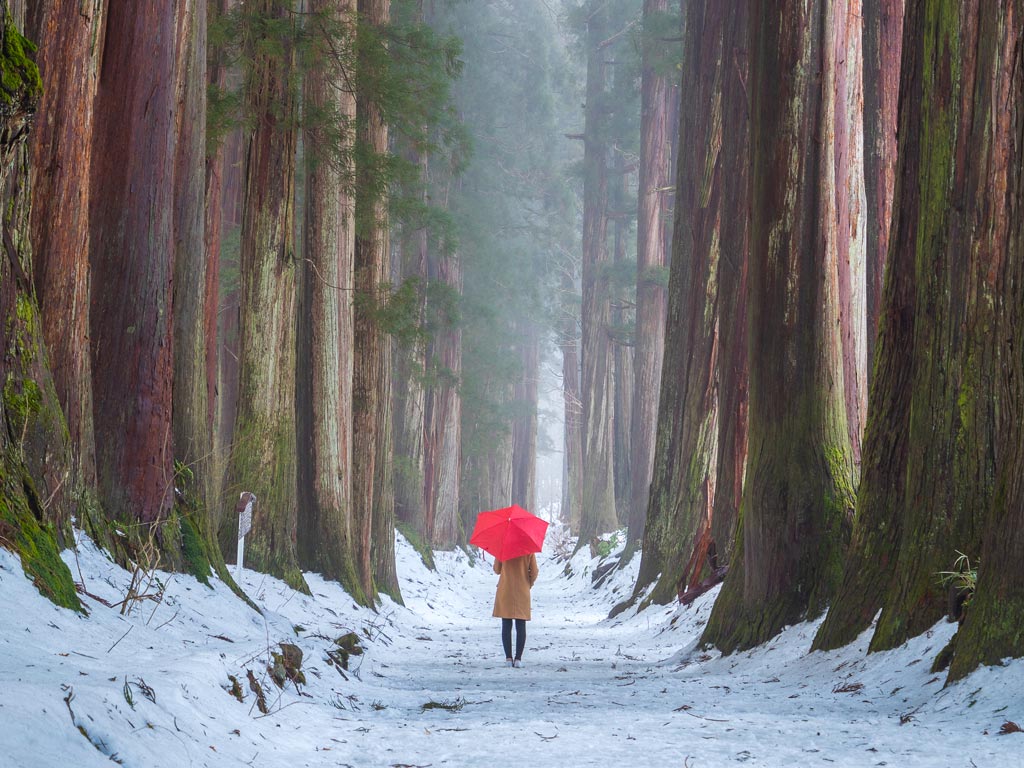 The Land of the Rising Sun is incredibly diverse, with so much to see and experience throughout its islands. From moss-covered primeval forests to charming fishing villages, the possibilities are endless. It's why I've traveled to Japan three times in three years, with a fourth trip in the works!
If you're looking for authentic and unique things to do in Japan, add a few of these amazing destinations to your itinerary alongside the country's famous sights.
To make things even easier, I've included tips to reach these hidden gems in Japan by public transit.
This post contains affiliate links. As an Amazon Associate, I earn from qualifying purchases. For more information, click here.
RELATED: The Essential Japan Travel Checklist for Stress-Free Planning
Shirakawa-go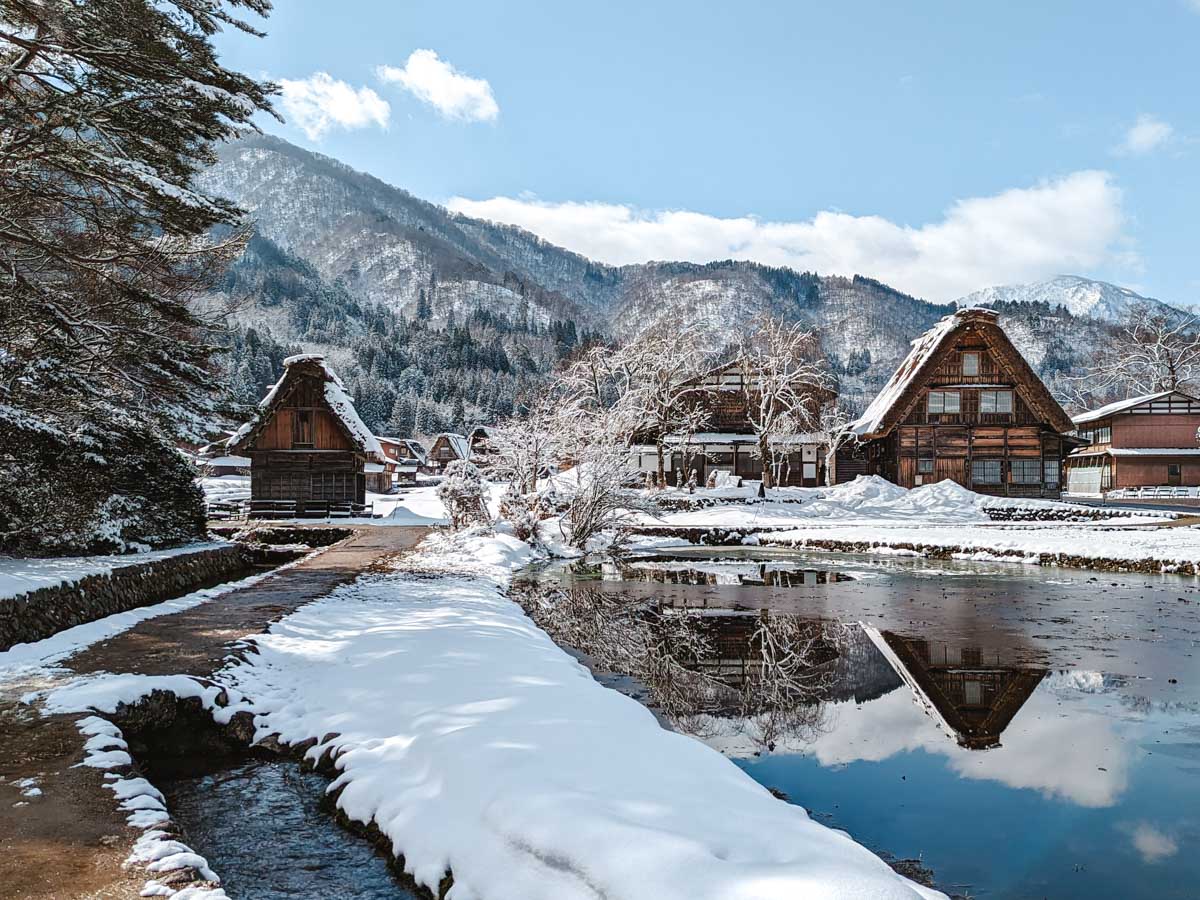 Tucked away in a mountain valley of Gift Prefecture, Shirakawa-go is a 1,000-year-old village that's recently become my #1 favorite destination in Japan.
Thanks to its remote location, the area remained relatively undisturbed during the country's long and occasionally destructive history, leaving its beautiful and unique Gassho-style farmhouses preserved to this day.
Along with its neighbor, Gokayama, it was placed on the UNESCO World Heritage list in 1995.
Best known for its thatched-roof A-frame buildings reminiscent of Swiss ski chalets, it's the stunning landscape as a whole that makes Shirakawa-go worth getting off the beaten track in Japan. Between the towering pine trees, rice paddies, undulating streams, and snowy mountain backdrop, there are few places in the world that rival the village's "stuck out of time" appearance.
There are no train stations within walking distance of Shirakawa-go. Instead, visitors need to drive themselves or take a highway bus. Nohi Bus operates the route from a number of nearby cities including Kanazawa and Takayama, and reservations–mandatory for most journeys–can be made online up to a month in advance.
Bus from Takayama Station: 50 minutes
Bus from Kanazawa Station: 1 hour 20 minutes
Shizuoka City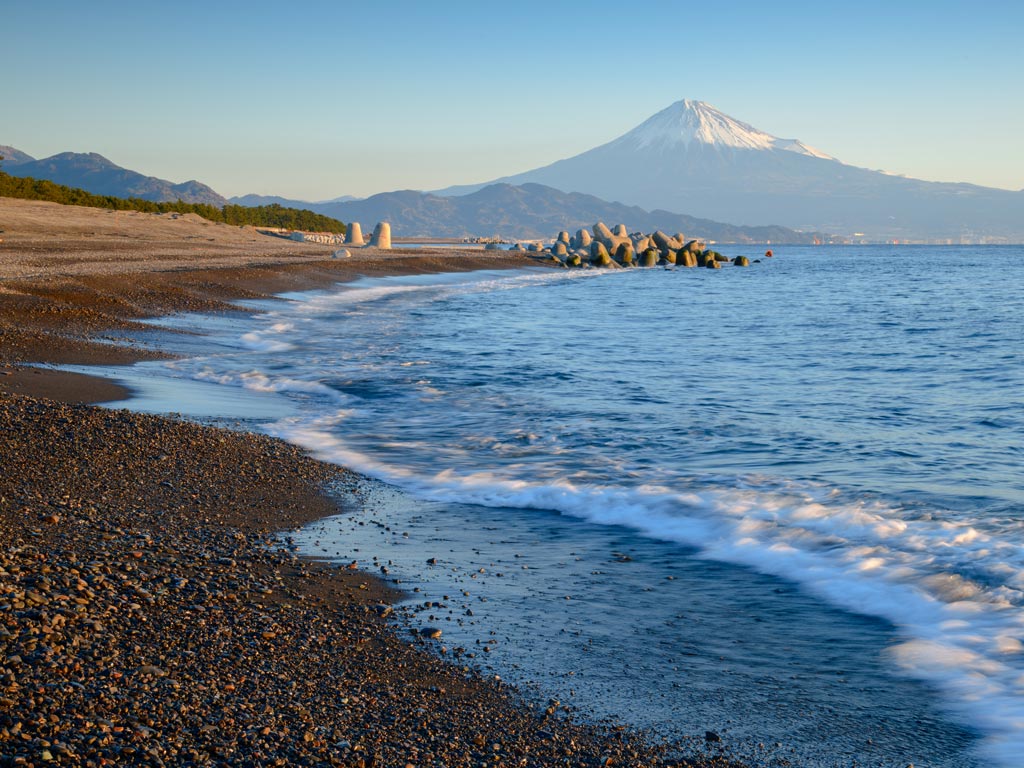 Despite its location along the "Golden Route", Shizuoka City remains off the tourist radar. And that's a shame, because this beautiful destination is easily one of the top places to visit between Tokyo and Kyoto.
If you're longing for great views of Mount Fuji, you're in luck! Shizuoka City has two amazing spots for breathtaking Fuji-san sightings.
The Nihondaira park and observatory sits at the top of Mt. Udo, and it's totally free to enter. You'll get 360 degree views over Shizuoka prefecture, along with lovely walking paths dotted with winter sakura blossoms.
For oceanfront views of Mt. Fuji, head to Miho no Matsubara. This tree-lined beach is considered one of Japan's best scenic points, even if Fuji-san is obscured by clouds or fog.
Shizuoka city was also the former home base of the Ieyasu shogunate. Remnants of their castle stronghold, Sunpu, remain in the city center surrounded by a lovely public park. And their most famous leader, Tokugawa Ieyasu, was enshrined outside the city at Kunozan Tosho-gu.
Kunozan is a UNESCO World Heritage Site, with wonderfully colorful buildings spread across the mountainside overlooking the ocean. Getting here is also part of the fun. A scenic cable car ropeway connects Nihondaira overlook and Kunozan Tosho-gu shrine, offering stunning views over the forest and water.
Shizuoka lies on the Tokaido Shinkansen line, which JR pass holders can ride for free with no reservation needed. The city is well-connected by public transit, so you can visit all the highlights without a car (though a car/taxi is recommended to reach Miho no Matsubara).
Nearest train station: Shizuoka Station
Don't Forget Your Japan Rail Pass!
Buying a Japan Rail Pass will save you a ton of time and money when traveling across Japan.
I've purchased a JR pass for two out of three Japan trips, and here's why:
– Free bullet trains and reservations: Quickly travel all over Japan to maximize vacation time.
– Easy to use: Just show your pass to the gate attendant and walk to your train!
– Affordable day trips: Visit unique places like Matsumoto, Shizuoka, and more without spending a fortune on tickets.
Izu Peninsula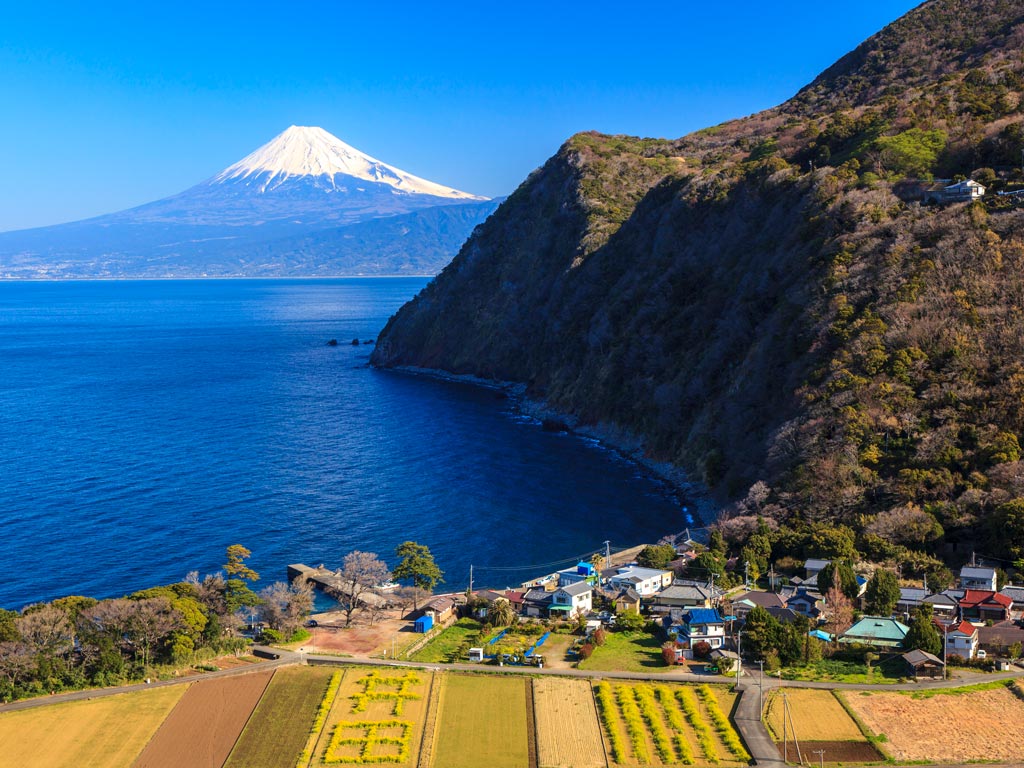 You know it's one of the best hidden gems to see in Japan when the locals visit it. And Izu Peninsula is the go-to resort destination for Tokyo residents.
Less than a two hour train ride south, the Izu Peninsula is a mountainous peninsula on the Pacific coast with rugged, less developed and rural areas in the west, and more developed towns, beaches and onsens on the east coast.
This popular weekend getaway from Tokyo is a great change of pace and scenery if you've been visiting the major cities, with famous onsen resorts such as Shuzenji which not only offers bathhouses, but also meditation classes. Ito and Atami are also popular hot spring towns with ocean views.
For the more adventurous travelers, the west coast of the peninsula offers incredible views of Mount Fuji on a clear day as well as multiple walking trails, such as the Irozaki coastal trail.
Jogasaki and the Kawazu Nanadaru waterfall trails are both located on the south and south-eastern tip of the peninsula and offer beautiful views, with the waterfall trail passing through seven waterfalls in the mountain region.
Nearest train station: Izu Station
Matsumoto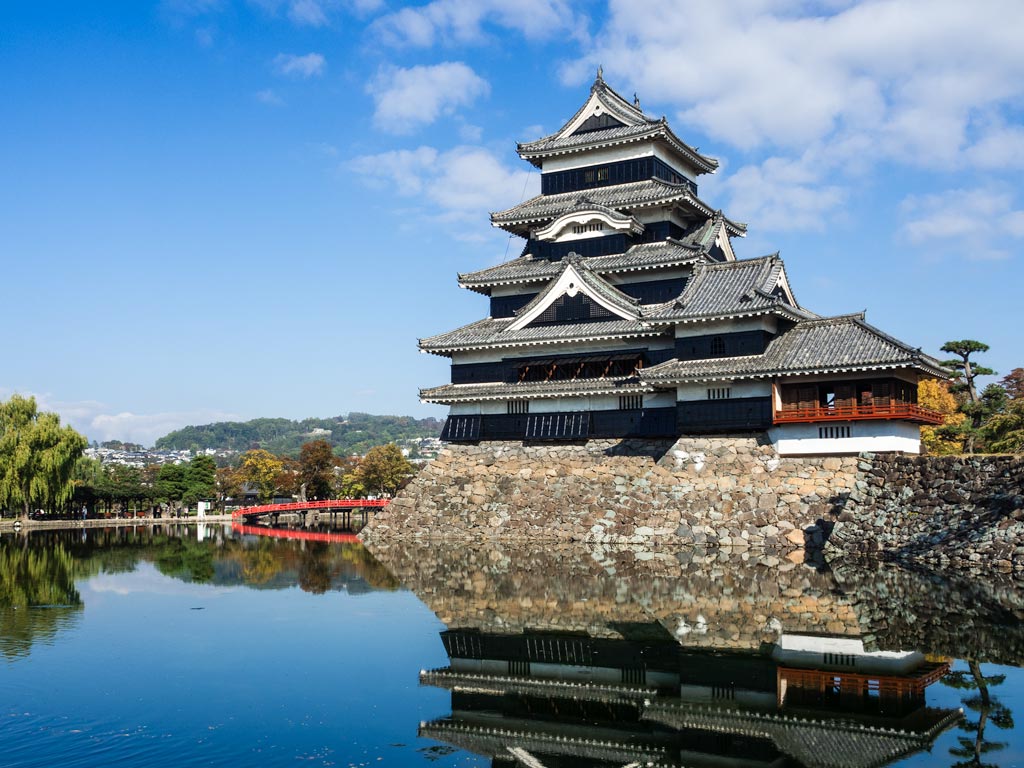 Most people who visit Matsumoto come for one reason: Matsumoto Castle.
Considered one of Japan's "perfect castles", Matsumoto Castle is still a hidden gem among foreigners. Its unique dark roof and borders set the structure apart from other castles in the country. And with a mountainous backdrop, swan-filled reflection pool, and long red bridge, it's one of the most photogenic places in Japan.
Aside from the iconic castle, Nakamachi Street is a must see. This historic road is lined with black-and-white kura–traditional storehouses that have since been converted into shops. Visitors can find everything from handmade pottery to wooden crafts, along with some cozy cafes.
If you're traveling through Nagano prefecture or nearby Gifu, you won't regret a quick detour to Matsumoto.
Nearest train station: Matsumoto Station
Kamikochi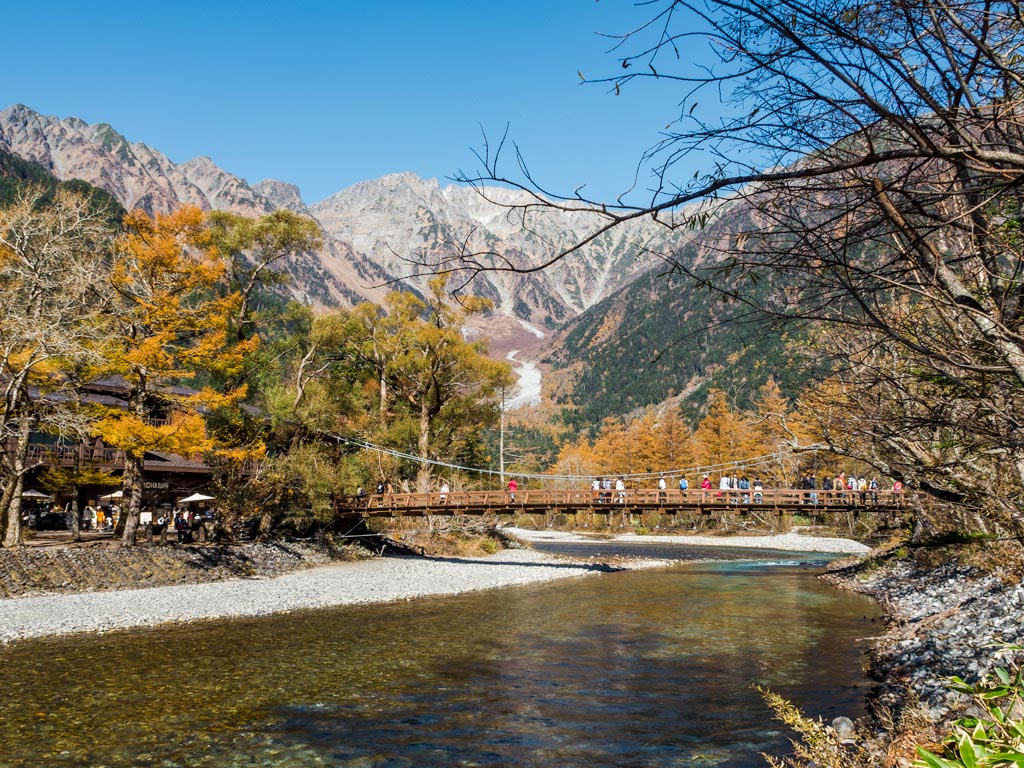 Nestled in a semi-remote valley in Nagano prefecture, Kamikochi National Park is renowned for its natural beauty. If you're visiting Japan in October or early November, you'll be greeted by red maples, golden larches, and yellow grasses.
During a half day trek, you'll cross a winding river, pass beneath towering trees, and balance on wooden planks suspended over a marsh, among other adventures. Everyone from young children to the elderly can traverse the well-defined circuit, while those looking for a challenge can set off on the rugged mountain trails.
With no cars allowed in the park, Kamikochi is firmly off the beaten path in Japan. However, you can easily plan your visit with my detailed Kamikochi hiking guide!
Nearest train station: Shinshimashima Station (can take a bus into the park from this point)
Togakushi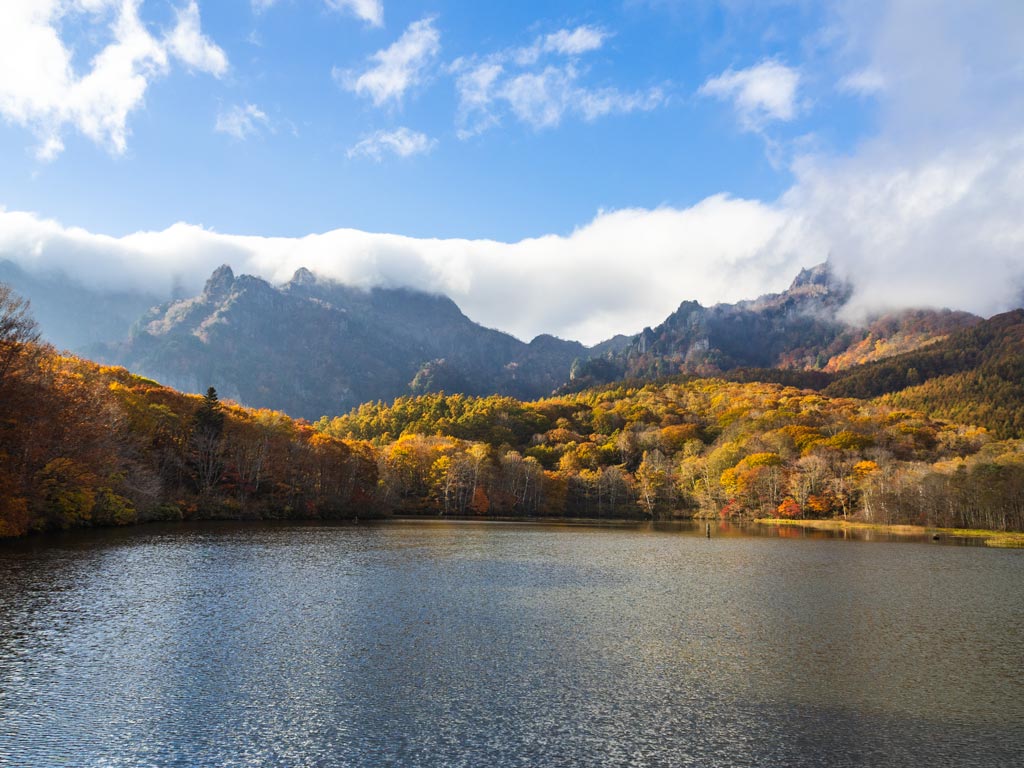 If you love nature and quiet places, you'll love exploring Togakushi's famous towering cedar trees and mountain shrines. Located in Nagano prefecture, this Japan hidden gem is best known for its shrine path, which winds through the village and forest to the summit of Mt. Togakushi.
There are five shrines on the path, though you can ride the Alpico bus part-way up the mountain if you don't have the time or energy to complete the full journey.
In addition to the shrine path, Togakushi boasts stunning forest trails, a botanical garden, and a "mirror pond" (Kagami-ike). On calm days, the lake perfectly reflects the sky and mountains. It's utterly magical and well worth getting off the beaten path in Japan.
If you're travelling alone in Japan or visiting in winter, put Togakushi on your itinerary.
Nearest train station: Nagano Station (take the Alpico Bus #70 or #73 from the stand across the street)
Save me for later!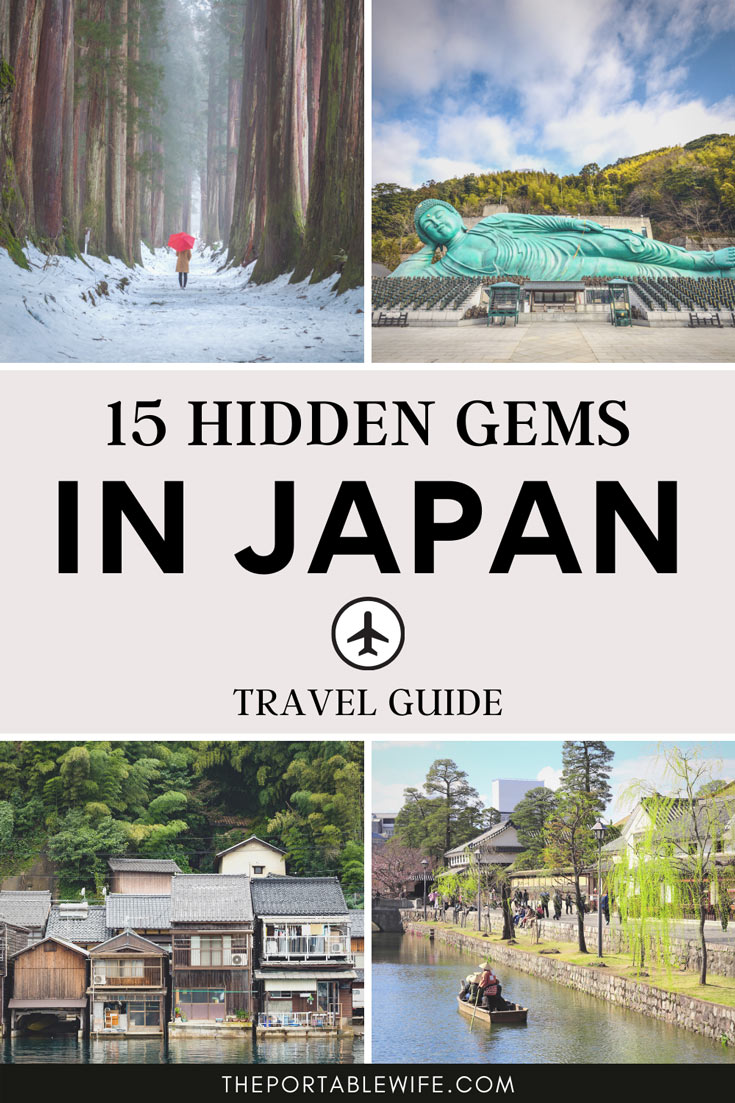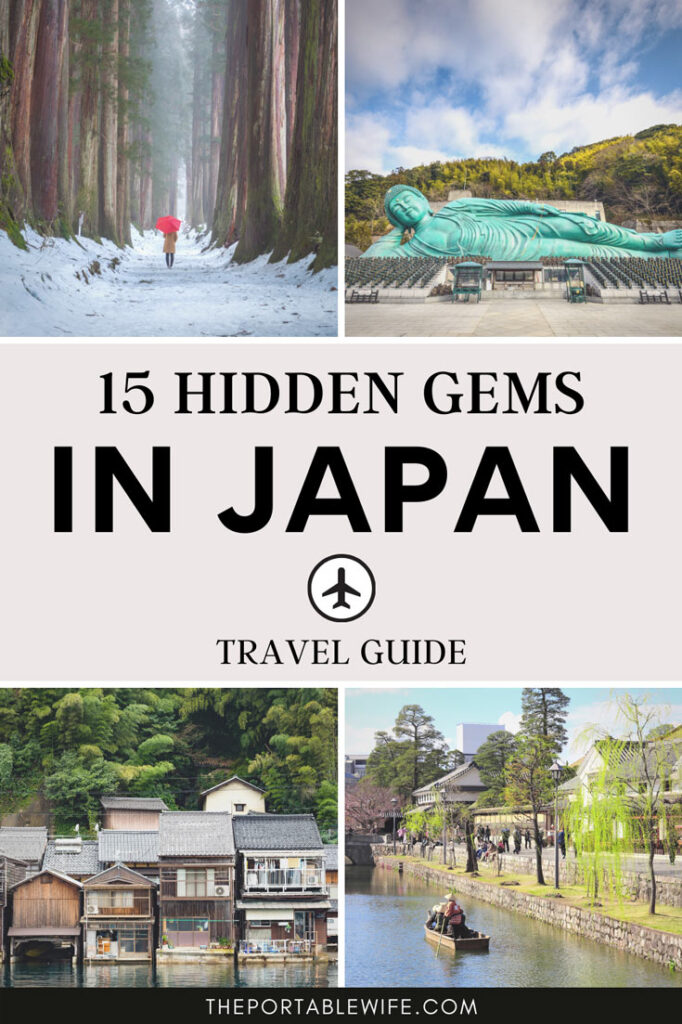 Matsuyama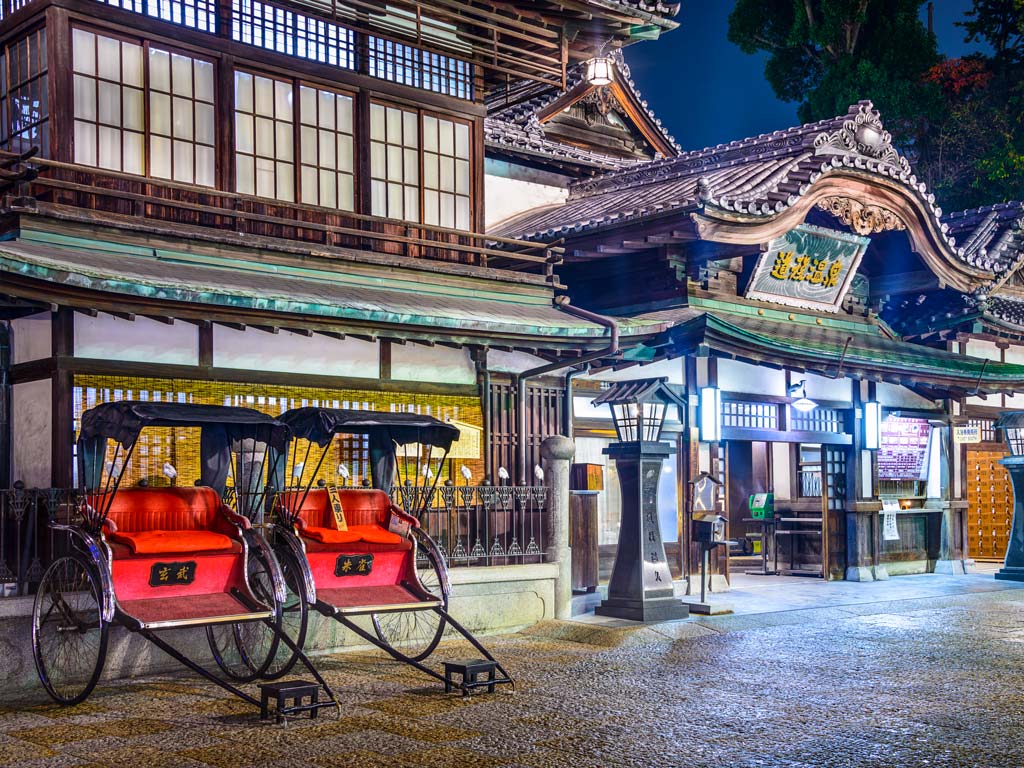 Located on Japan's Shikoku Island in Ehime Prefecture, Matsuyama is famous for its traditional Japanese architecture, with detailed wooden houses and buildings dating from the Meji Period.
The journey to Shikoku Island and Matsuyama is well worth going off the beaten track to visit the city's traditional Dōgo Onsen, which claims to be Japan's oldest hot spring. Said to have inspired the setting of Spirited Away, these bathhouses are a unique Japanese experience, with soaking rooms, private baths and traditional tea and snacks on offer.
If you reach the Onsen by train, take some time to admire the Botchan Karakuri Clock which is outside of Dōgo Onsen station and was erected to mark the 100th anniversary of Dōgo Onsen. Every hour the clock chimes and the characters come alive to show scenes from the famous Japanese novel, Botchan. The station is also home to the Botchan steam locomotive.
Matsuyama Castle is a beautiful Japanese castle uniquely positioned on a large hill in the middle of the city, offering panoramic views of Matsuyama and beyond. But it really comes into its own during spring when the cherry blossoms (sakura) are in full bloom.
Nearest train station: Matsuyama Station
Kurashiki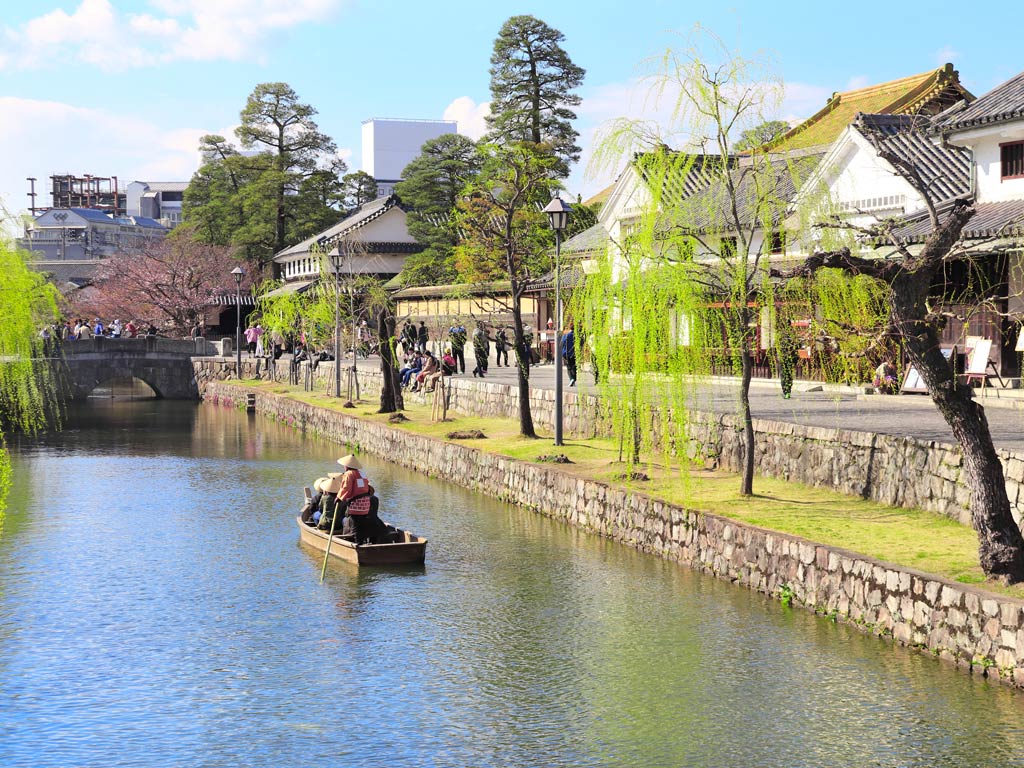 Just an hour and a half from Osaka and 30 minutes from Okayama, Kurashiki is a small city found in Okayama Prefecture. The city's fascinating central canal area is often likened to Venice and dates back to the Edo Period. With willow-draped waterways and historic buildings, taking a canal cruise in Kurashiki is a must-do activity.
The city's old rice storehouses have been converted into museums and quirky shops and cafes in the Bikan historic quarter, perfect for an afternoon of shopping and exploring. Interestingly, Kurashiki is the birthplace of denim in Japan, so you'll find no shortage of denim jeans, jackets, shirts and accessories, even denim ice cream to try!
The historic district is also home to the Ohara Museum of Art which is a stunning museum not only of Japanese art, but also some of the most famous western artists in the world – Monet, Matisse and Warhol to name a few.
In the centre of the city, Achi Shrine is a traditional Shinto shrine which offers views across the city, just prepare yourself for the climb up 200 steps!
Kurashiki makes for a great off-path addition to an Osaka Kyoto Nara itinerary.
Nearest train station: Kurashiki Station
Otaru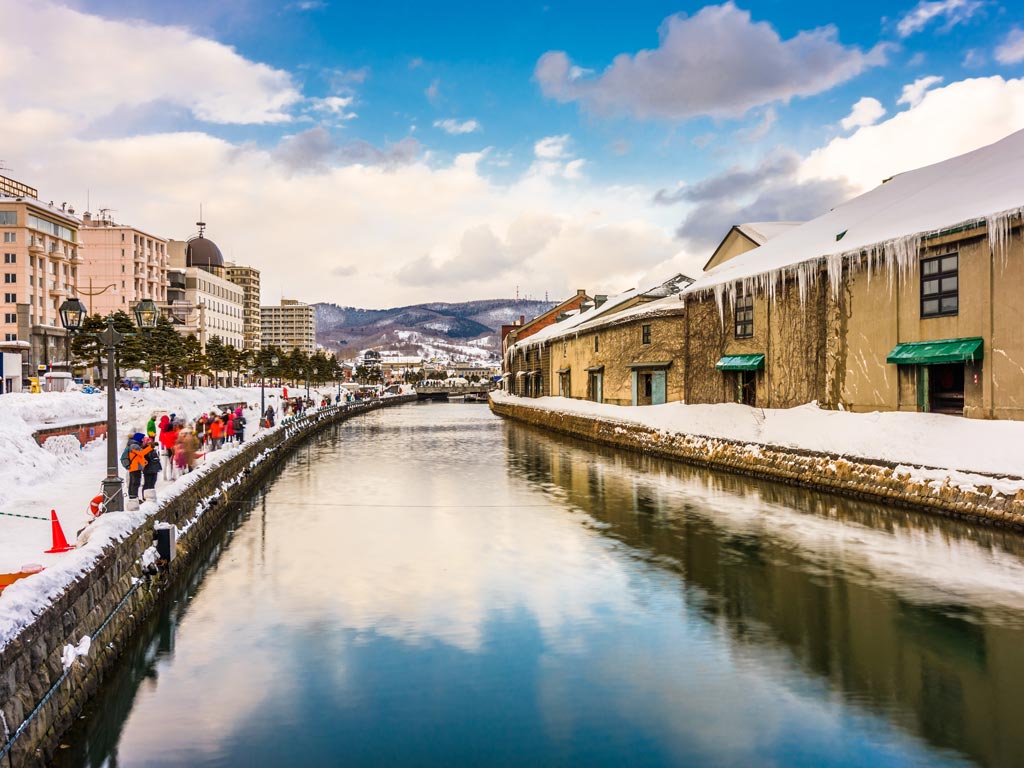 Otaru is situated just one hour from Sapporo in Hokkaido Prefecture. While Otaru is also home to a canal district, this port city is actually more famous for its glassworks and distilleries.
The Otaru Canal sits just behind the harbour area and the canal cruises take you on a historic tour of the old warehouses. Now, the warehouses are home to lively restaurants and shops which line the canalfront. The brick buildings and canal walk are magical when it's lively and lit up in the evenings.
A unique experience in Japan off the beaten path is to visit a sake distillery. Sake is Japanese rice wine and Otaru features several sake distilleries, such as the Tanaka Sake Brewery where you can book tours and tastings. But if you're not a sake fan, Otaru is also home to the Nikka Whisky Yoichi Distillery, a Japanese whisky distillery that offers free tours.
Nearest train station: Otaru Station
Geibikei Gorge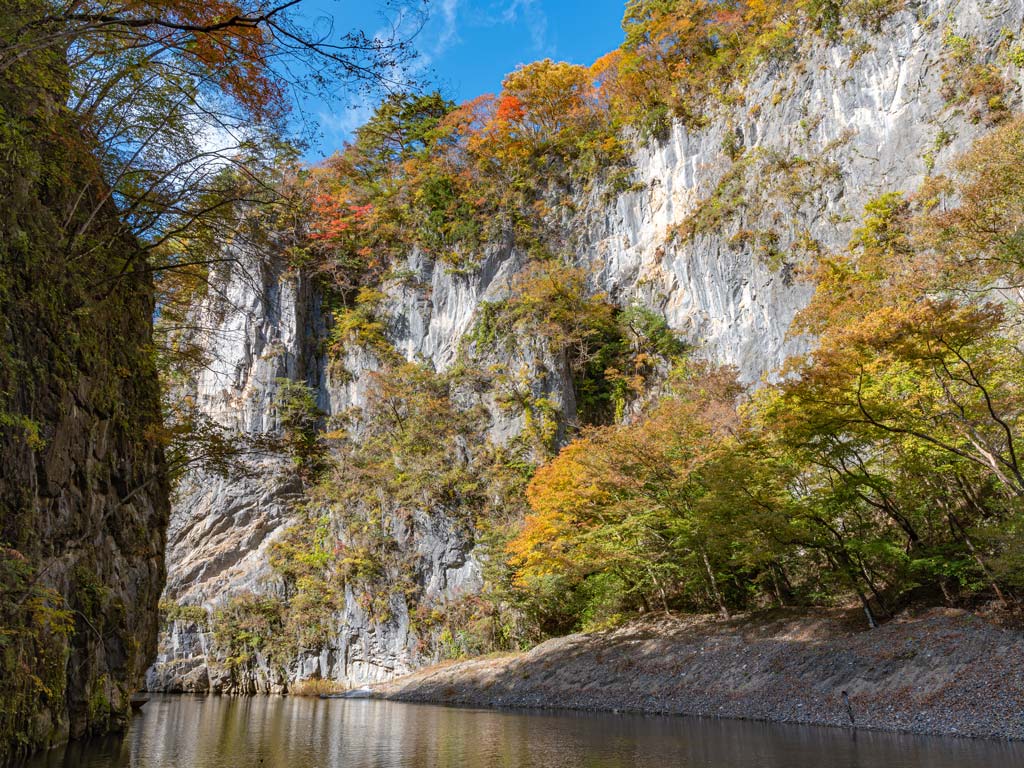 If you're looking for Japan hidden gems, Geibikei Gorge should be at the top of your list. Whilst many visitors to Japan are familiar with the natural beauty of Takachiho Gorge in the south of Japan, Geibikei Gorge in the northern Iwate Prefecture is much less visited but arguably more scenic.
Geibikei Gorge was named a National Place of Scenic Beauty and Natural Monument in 1923 and is designated as one of the 100 Landscapes of Japan.
The dramatic cliffs and tree lined water are spectacular in autumn when the trees become vibrant shades of yellow and orange alongside the turquoise blue water.
There are regular guided boat rides through the gorge which last for about 90 minutes with an optional walk at the turning point. Times and prices can be found on the Geibikei Gorge website.
Nearest train station: Geibikei Station
Lake Biwa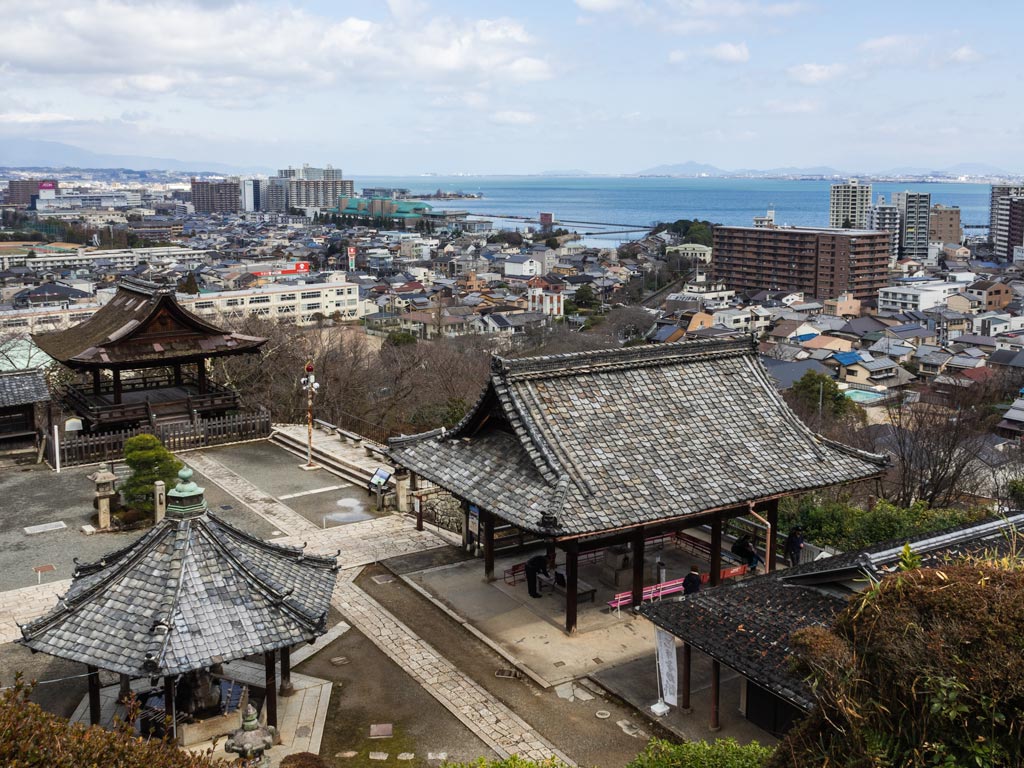 If you're visiting Japan in the summer, Lake Biwa is an excellent day trip from Kyoto. Japan's largest freshwater lake is where you'll find locals swimming, kayaking, fishing, and generally enjoy the gorgeous surroundings.
Scenic points dot Lake Biwa's coast, including Ishiyama-dera Temple, Mii-dera Temple complex, Kaizu Osaki's cherry blossom park, Hikone Castle, and the "floating" Shirahige Torii gate. There are multiple cycling trails around the lake, and bike rental shops are plentiful in the coastal towns.
If you're a fan of boat tours, Lake Biwa has multiple operators including a vintage paddle boat dubbed The Michigan that cruises around the southern waters.
Lake Biwa area is best explored by bike or car. However, it's easy to explore the beautiful temples and shrines on the western shore thanks to the train lines that encircle the coast.
Check out my complete Lake Biwa day trip itinerary to plan your visit!
Nearest station: Biwako-Hamaotsu Station (there are numerous other stations along the lake)
Ine Funaya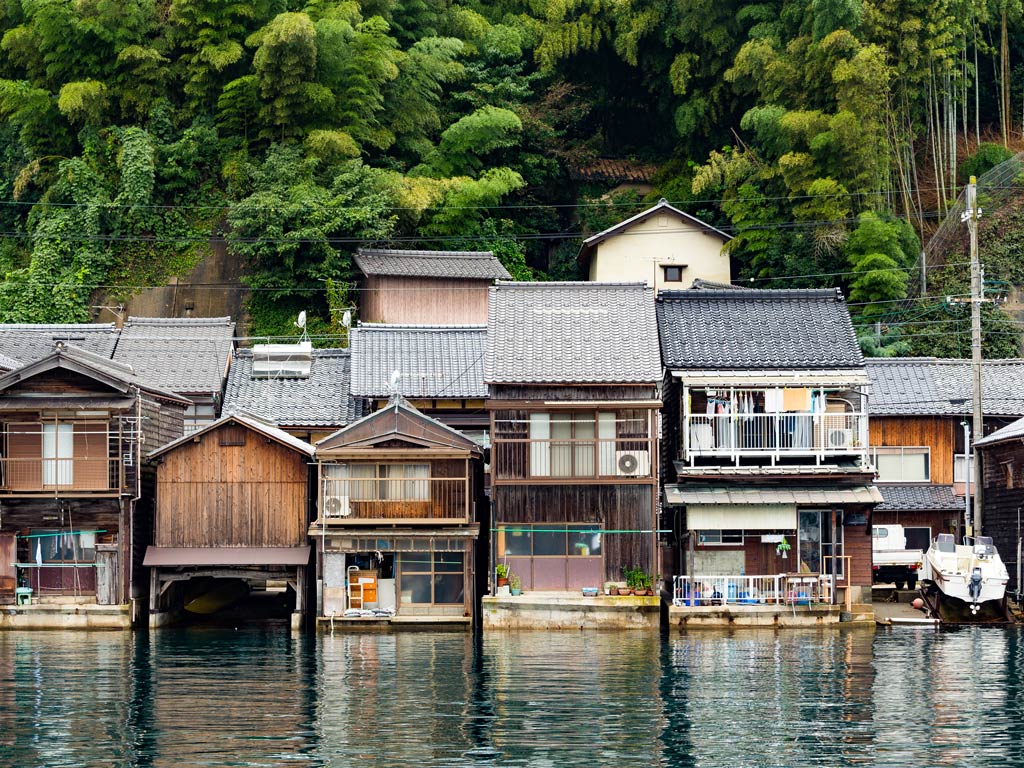 There aren't many places in Japan which are off the beaten path completely, but without a local train station, the fishing village of Funaya really is one of the hidden gems in Japan.
To reach Funaya, you will need to take a train from Kyoto to Miyazu Station, followed by one of the local buses to reach Funaya. Buses to get around the area are irregular, but there are plenty of bikes which are free to use to cover the shorter distances rather than waiting for a bus!
But this quaint coastal village is well worth the journey. The traditional fisherman's houses, called Funaya, are right on the water's edge for easy water access with their boats. The best way to see these unique houses is from the water and a regular sightseeing ferry runs throughout the day from Ine Marina.
Some of the fisherman's houses have now been converted to guest accommodation for the experience of feeling like you're sleeping above the sea.
Funaya is a fantastic add-on to a Kyoto itinerary.
Nearest train station: Miyazu Station
Mount Kōya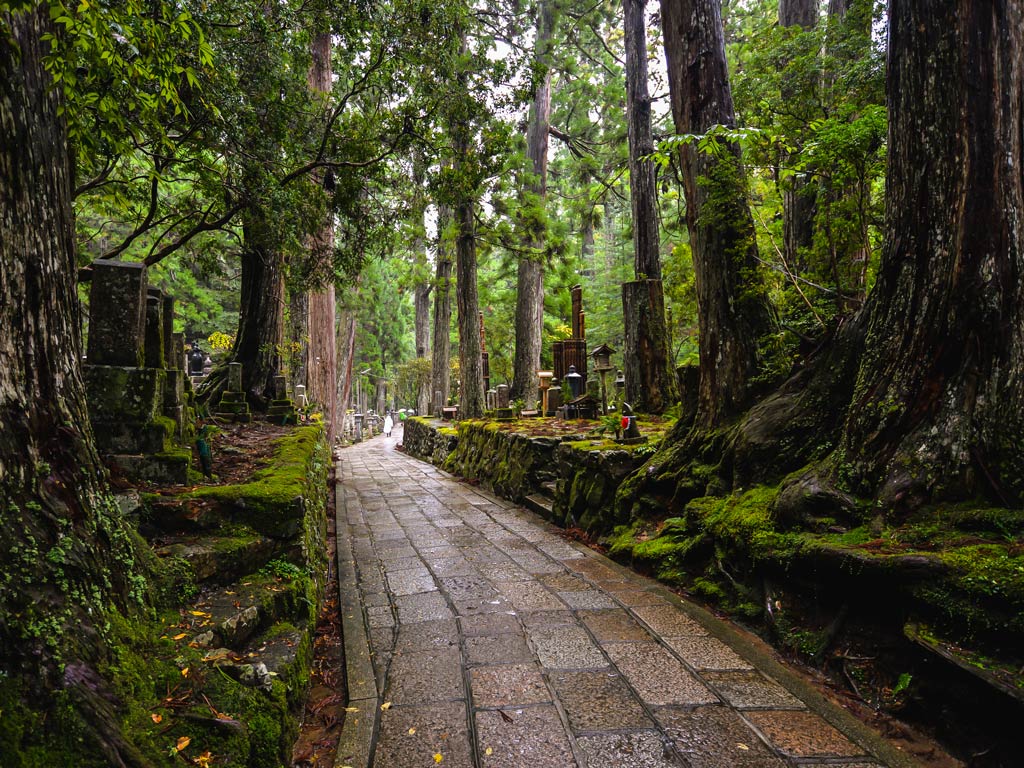 One of the most spectacular hidden things to do in Japan is seeing the huge temple complex at Mount Kōya. Kōya-san is the mountain name of the area in Wakayama Prefecture.
Mount Kōya is significant because it's the origin of Shingon Buddhism and was founded by Kobo Daishi in Japan in 805 who also built the original mountaintop temple. Now there are over 100 temples in the surrounding area.
Okunoin is one of the most important and most spectacular of these temples as it's the site of Kobo Daishi's mausoleum. To reach Okunoin temple you walk through the eerie Okunoin Cemetery – the largest cemetery in Japan with over 200,000 tombstones on a kilometer long track to reach the Mausoleum.
Mount Kōya is also one of the best places in Japan to experience an overnight temple stay because there's such a large number of temples to choose from. Be sure to book your ryokan or temple stay well in advance, as reservations fill up quickly.
Kōyasan is reached by a cable car that rises above the clouds from Gokurakubashi station to reach the mountain temple complex.
Nearest train station: Gokurakubashi Station
Yufu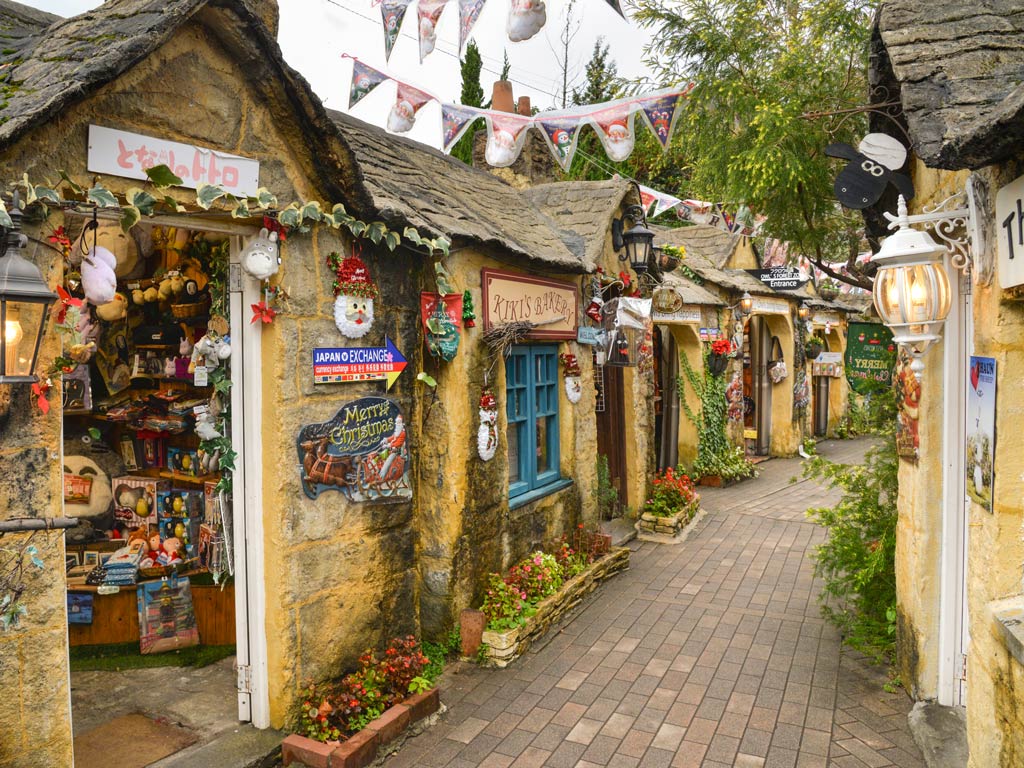 Yufu is an off the beaten track Japan destination because it's a relatively young city, only established in 2005.
However it's most well-known for Mount Yufu, the two-peak mountain in Oita. Climbing Mount Oita is a moderate climb which can be done in a 4-5 hour round trip from the trailhead.
Mount Yufu isn't the only striking natural scenery in the area though. Kirin Lake is a picturesque lake known for its misty mornings and the hot springs and nature trails that surround it. The Yufu Onsen resort village here is perfect for nature lovers who like to spend time outdoors and enjoy the relaxing hot springs too.
The vibrant Yunotsubo Street is a shopping street in the city which connects Yufuin Station to Kirin Lake. Its Studio Ghibli-esque atmosphere promises to turn Yufuin into a tourist hotspot. The street is lined with shops selling traditional Japanese specialty products, whimsical souvenirs, and local food dishes.
Nearest train station: Yufuin Station or Tenjin-Yama Station
Yakushima Island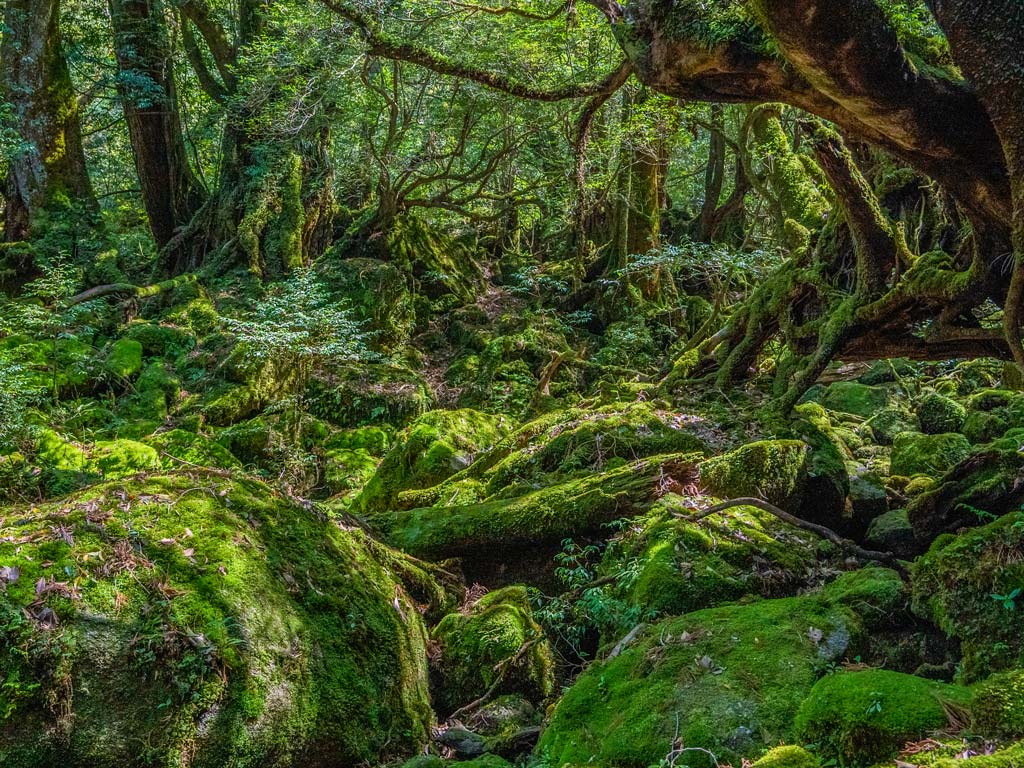 Yakushima Island is an island located off the southern tip of Japan's Kagoshima Prefecture and this off the beaten path Japan destination can only be reached by airplane or by taking the train to Kagoshima and changing to a ferry.
The subtropical position of this island makes it an absolutely magical place to experience, especially as the island is known for its dramatic mountainous terrain and Japanese Cedar trees, some of which are over 1000 years old. The oldest tree, Jomonsugi, is believed to be the oldest at somewhere between 2000-7200 years old!
In fact the island is so unique that it's been designated a UNESCO World Heritage site for its natural beauty. If you're looking to explore Japan off the beaten path, it doesn't get better than this with magical and mysterious trails winding through the cedar forests.
The island is popular with hikers and outdoor enthusiasts thanks to the trails but is also popular with Princess Mononoke fans thanks to the Shiratani Unsuikyo Ravine. The Ravine is a fascinating, green, moss-covered forest which served as the inspiration for the Princess Mononoke movie. The ravine has multiple hiking trails of varying lengths and difficulties.
Nearest train station: Kagoshima Station
Fukuoka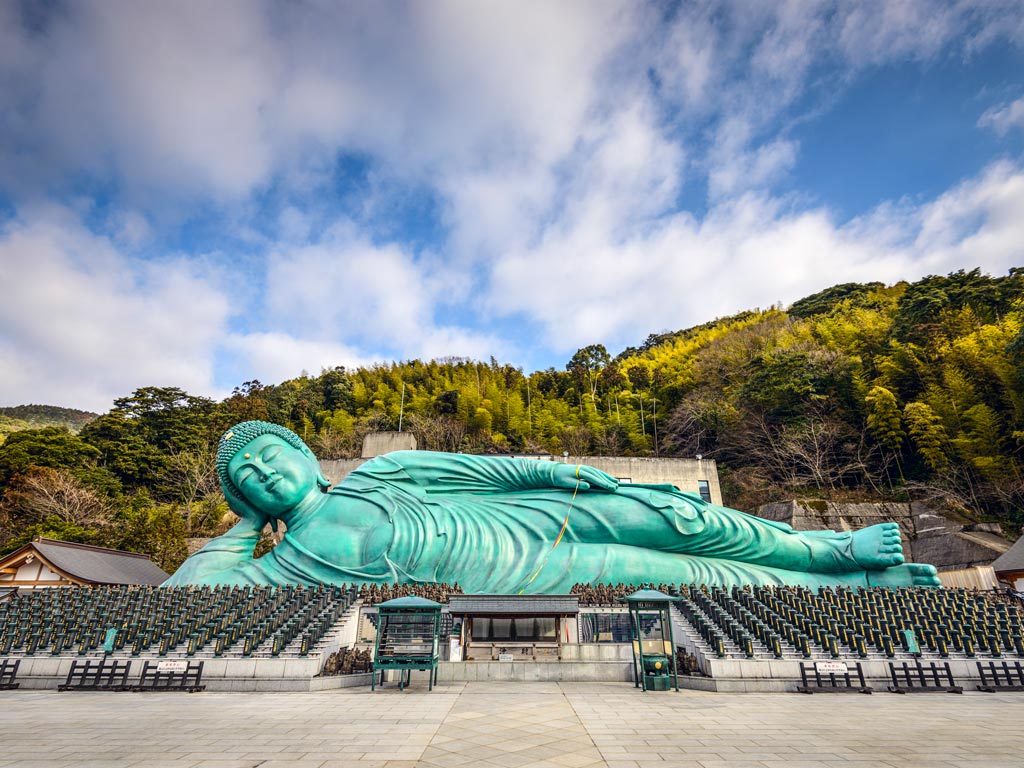 Fukuoka is the capital city of Fukuoka Prefecture on Japan's southern Kyushu Island. The city is full of ancient temples with historic and religious significance, the oldest of which is Tōchō-ji Temple, founded in 806 and home to a 10m tall wooden Buddha statue. Tucked in the middle of the city, the five tier pagoda is striking among the city buildings.
A short walk out of the city centre takes you to the Fukuoka Castle ruins in Maizuru Park, although the majority of the castle walls are intact, the Edo castle itself is in ruin. By climbing the walls, you have a view of the city and the park, which is full of hundreds of sakura trees in spring.
If you're looking for more quirky things to do in Japan, head to Fukuoka's Ramen Stadium. This food court is home to dozens of ramen stations with different types of ramen from all over Japan, including the local Hakata ramen variety.
Nearest train station: Hakata Station
Are you ready to check these hidden gems in Japan off your bucket list? Here are some helpful resources to plan your perfect trip!