Vibrant streets, awe-inspiring temples, delicious street food… This Osaka-Kyoto-Nara itinerary has it all. If you only have one week in Japan and want to experience as much of the country's culture and history as possible, head to the Kansai region!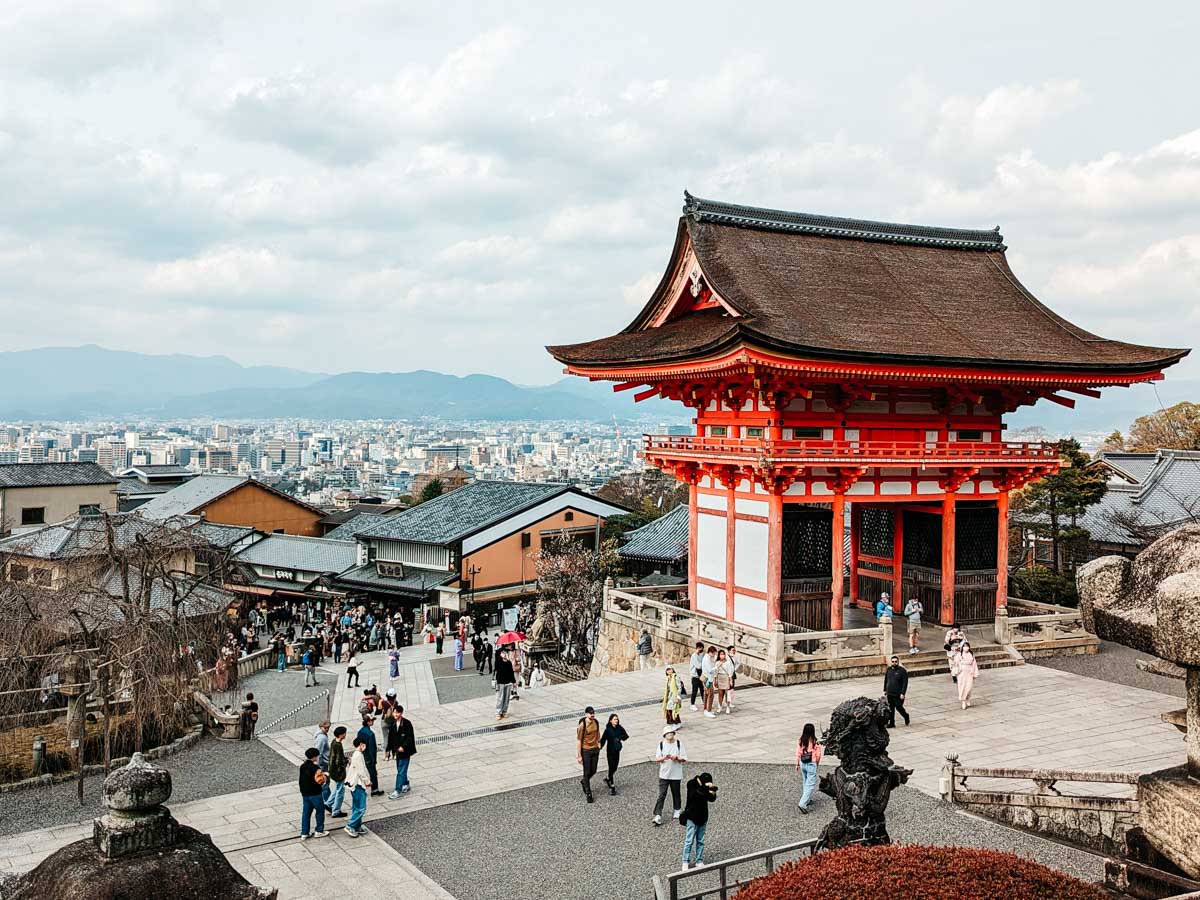 Japan's blend of old world charm and modern invention is a sight to behold. It's a country where 1,000-year-old buildings are squeezed between skyscrapers, and the best shops are hidden down a maze of lantern-lit corridors. Journeying from Osaka to Kyoto to Nara is the ideal way to enjoy the unique atmosphere of Japan.
This six day Japan itinerary starts in Osaka, the street food capital of Japan. You'll chow down on takoyaki and curry as you explore the city's billboard-lined canal streets, castles, and shrines.
From there, you'll head to Kyoto, the former capital of Japan that's utterly packed with ancient temples, narrow alleys, and world-class restaurants. Kyoto is my favorite city in the world, and I'll be sharing my top highlights and hidden gems to visit.
Finally, you'll round out your journey with a trip to Nara, another historic Japanese capital. This town is brimming with UNESCO World Heritage sites, but the biggest draw are the sacred deer that roam the streets.
There's a lot to see and do in this Osaka-Kyoto-Nara itinerary, so be sure to save it for reference later!
This post contains affiliate links. As an Amazon Associate, I earn from qualifying purchases. For more information, click here.
Have more than a week in Japan? Check out my 10 day Japan itinerary!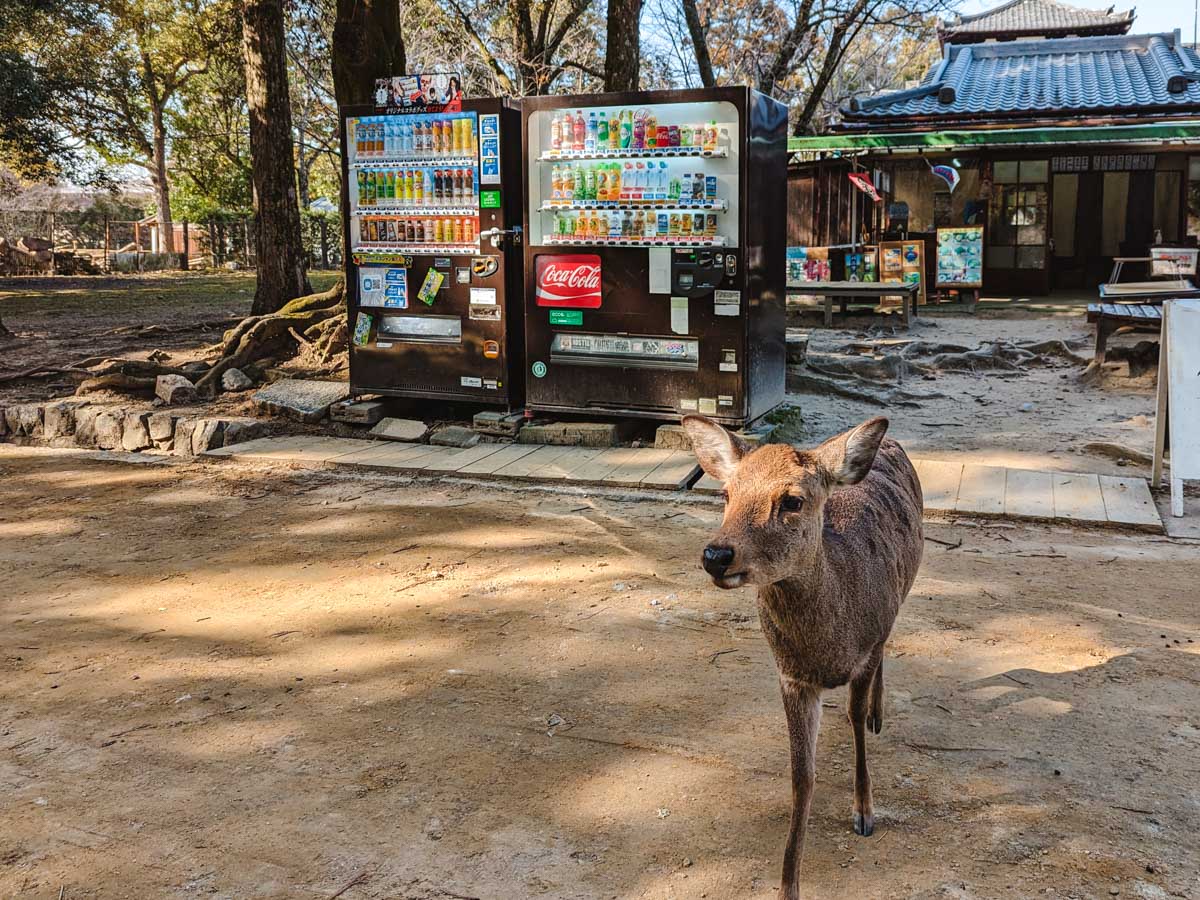 6 Days in Japan: Kansai Region
Osaka Kyoto Nara Itinerary
Day 1: Osaka's famous shrines and streets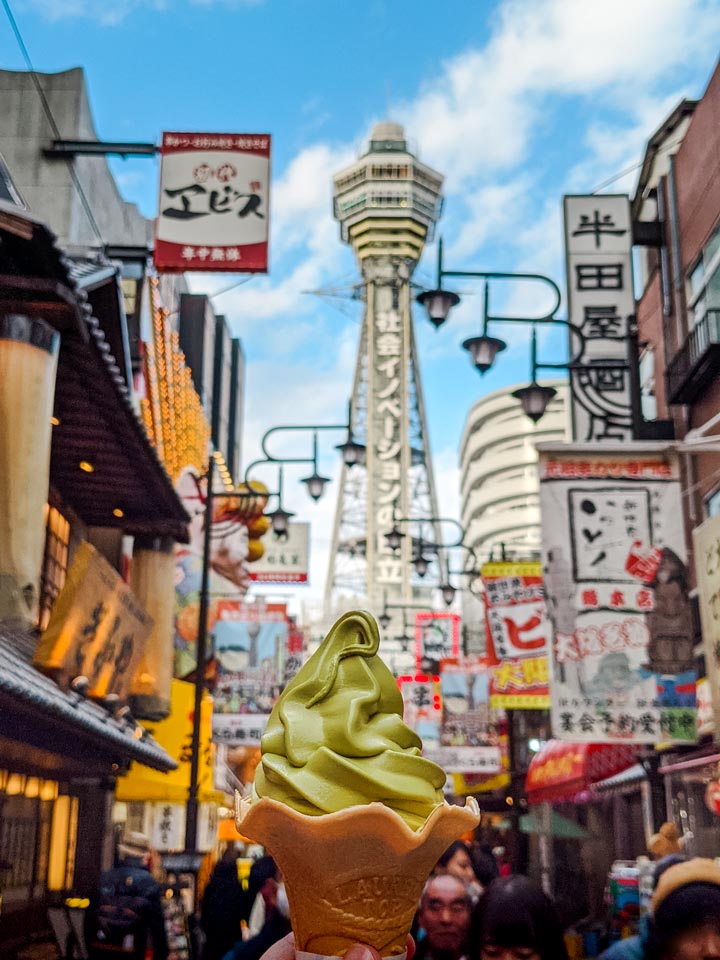 Sumiyoshi Taisha
Kick off your Osaka itinerary at Sumiyoshi Taisha, a 1,600-year-old Shinto shrine. This stunning and sprawling complex is best known for its arched red footbridge that reflects beautifully in the surrounding pond. If you arrive in the early morning (around 8-9am), you'll have the peaceful place mostly to yourself.
When you've finished exploring the shrine's nooks and crannies, exit on the eastern side and cross the street to reach Sumiyoshitorii-mae tram stop (it's the raised platform in the median). Catch the Hankaidenki-Hankai tram to Dobutsuen-mae to get back to the city center.
Shinsekai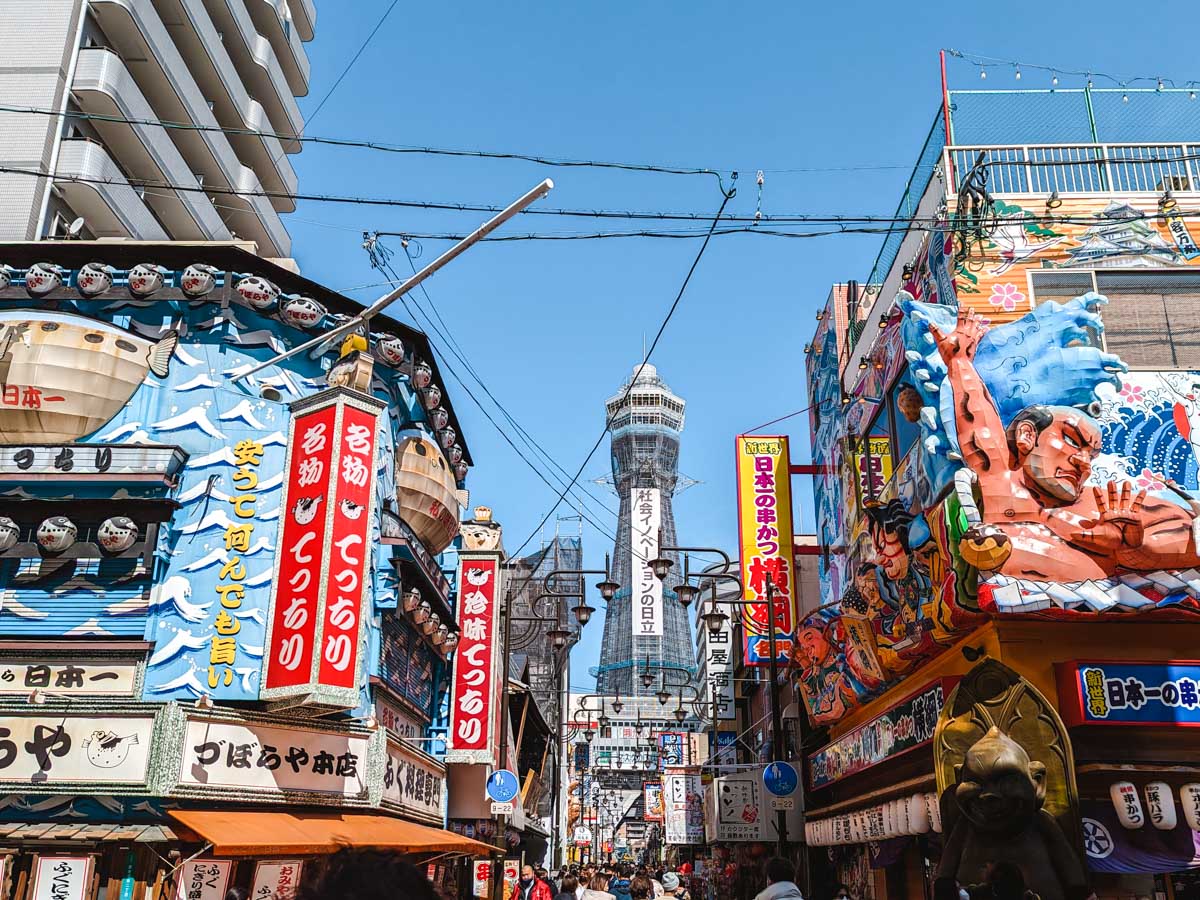 If you scrolled through Instagram when planning your trip to Japan, you probably saw a few shots of Shinsekai. This iconic pedestrian street leads straight to Tsutenkaku tower, one of Osaka's famous landmarks.
The whole place has the feel of a carnival with music, game centers, and abundant street food vendors. Its retro covered shopping arcade feels as though it hasn't changed since the late 80s, which is Osaka's vibe in general.
There are dozens of shops and restaurants in the area, including a giant Don Quijote perfect for buying cute and cheap souvenirs.
Pro tip: if you want to re-create the matcha ice cream photo I posted earlier, head to Kokomoyotteya near the base of the Tsukenkaku tower. They sell a variety of soft serve ice creams along with cute souvenirs.
Tennoji Park and Keitakuen Garden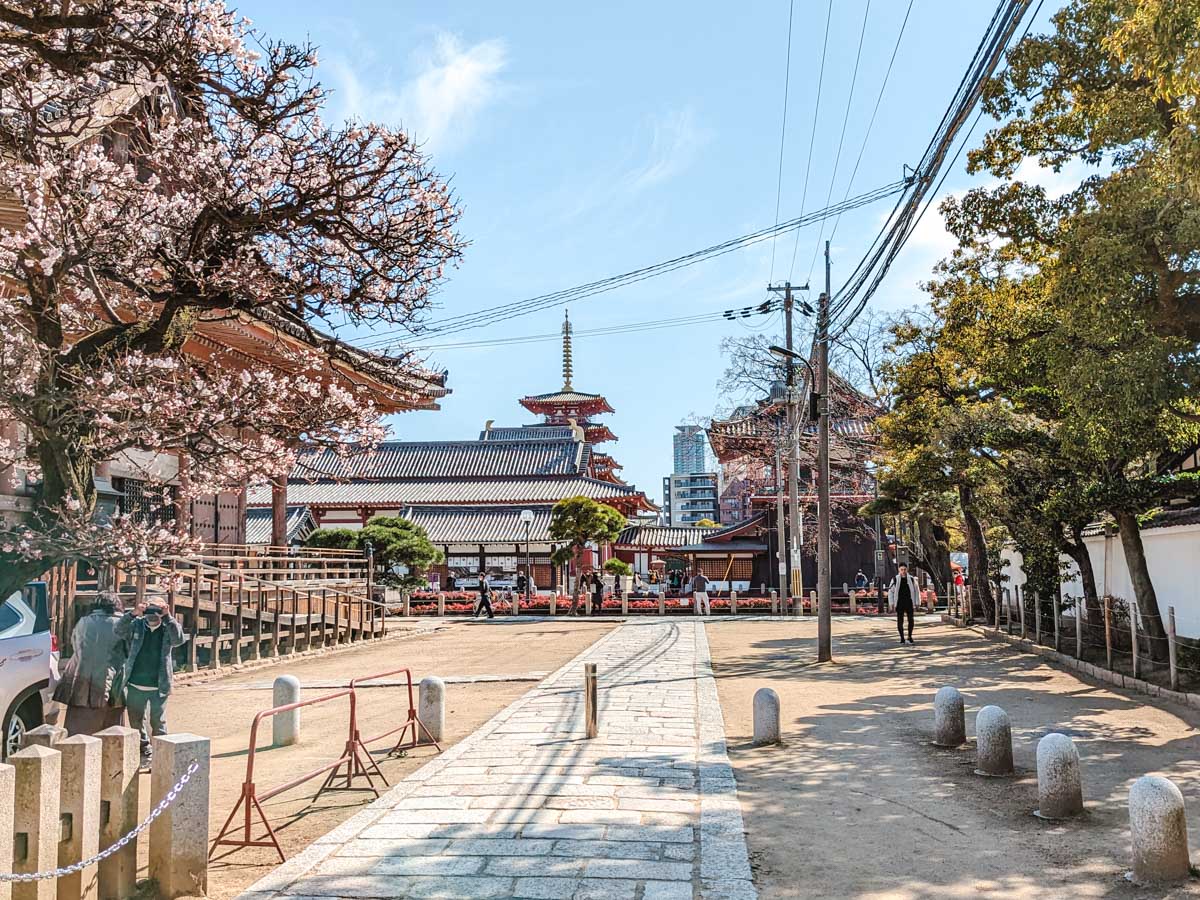 Just a few blocks east of Shinsekai lies Tennoji Park, a massive green space nestled in the city center. There are several points of interest inside the park, from the modern-looking Osaka City Museum of Fine Arts to the Kawazokoike red footbridge (keep your eyes peeled for herons and cranes!).
I highly recommend paying the small admission fee (150 yen in 2021) to visit Keitakuen Garden. It's a serene and traditional Japanese garden in the heart of Osaka. As you walk around the reflecting pond and see glass skyscrapers rising in the distance, you'll see how Japan beautifully combines urban and natural landscapes.
There are several paths that loop and cross Keitakuen Garden, so keep an eye on the small wooden signs as you explore. You'll eventually need to exit the same way you entered before making your way to some nearby temples.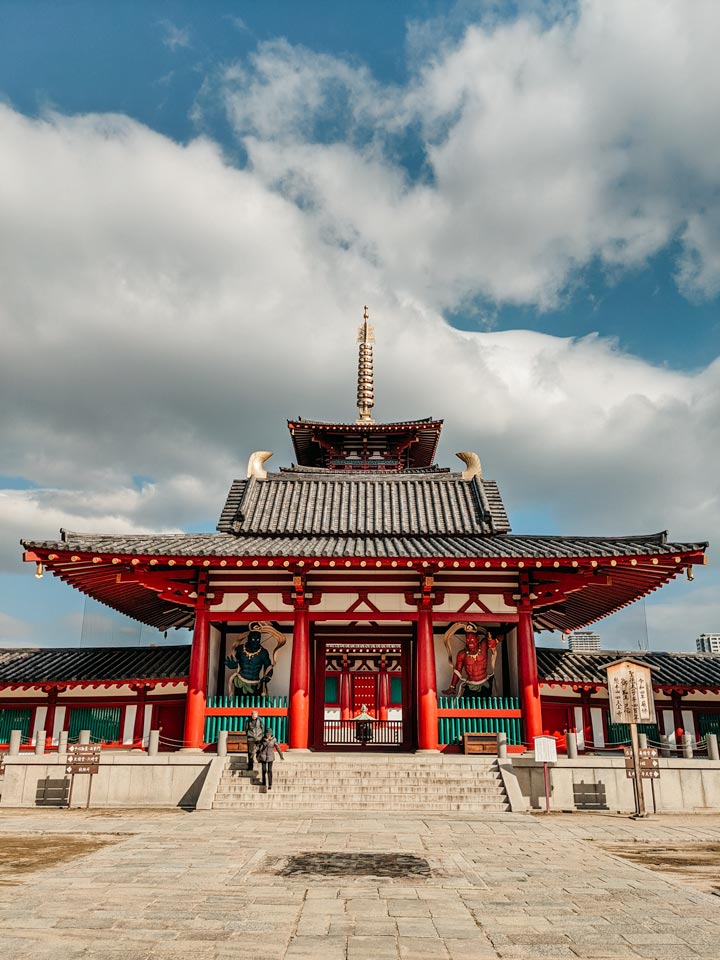 Isshinji & Shittenoji
Nestled along the northern border of Tennoji Park, Isshinji is a Buddhist temple best known for its Buddha statues made of cremated bones. The complex is small and uniquely laid out so that smoke and incense swirls heavily through the air. Walking through here was one of the more memorable parts of my Osaka-Kyoto-Nara itinerary.
About 10 minutes east of Isshinji lies Shittenoji, another impressive Buddhist temple. Constructed in 593 A.D., Shittenoji has a remarkable 5-story pagoda and several buildings painted in striking red and white. If you're lucky, you might spot a few turtles peeking out of the surrounding moat.
Shinsaibashi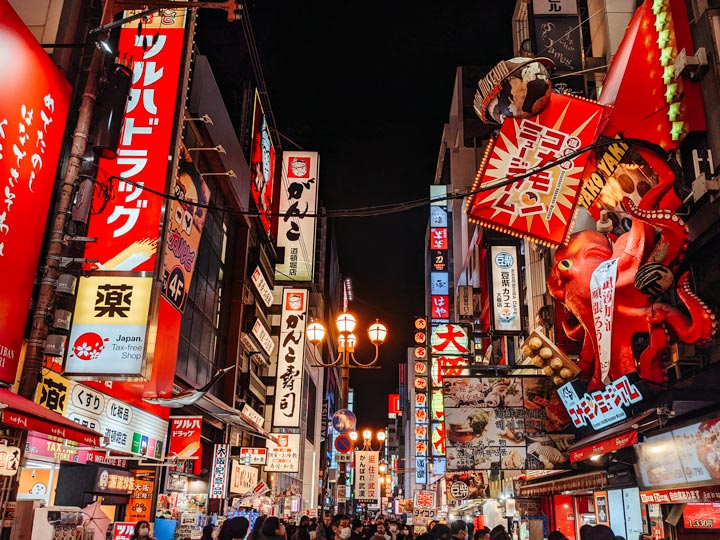 The bustling, billboard-lined streets of Shinsaibashi are one of the most famous things in Osaka. Try not to stumble as you look up at the giant octopus, fish, and gyoza models hanging off the buildings.
Shinsaibashi is the go-to shopping district of Osaka. You'll find all sorts of goods for sale in the small and large shops here, including electronics and Japanese ingredients. There's also a vibrant covered market–Shinsaibashi-Suji Shopping Street–with a mix of high-end brands and budget finds.
Dotonbori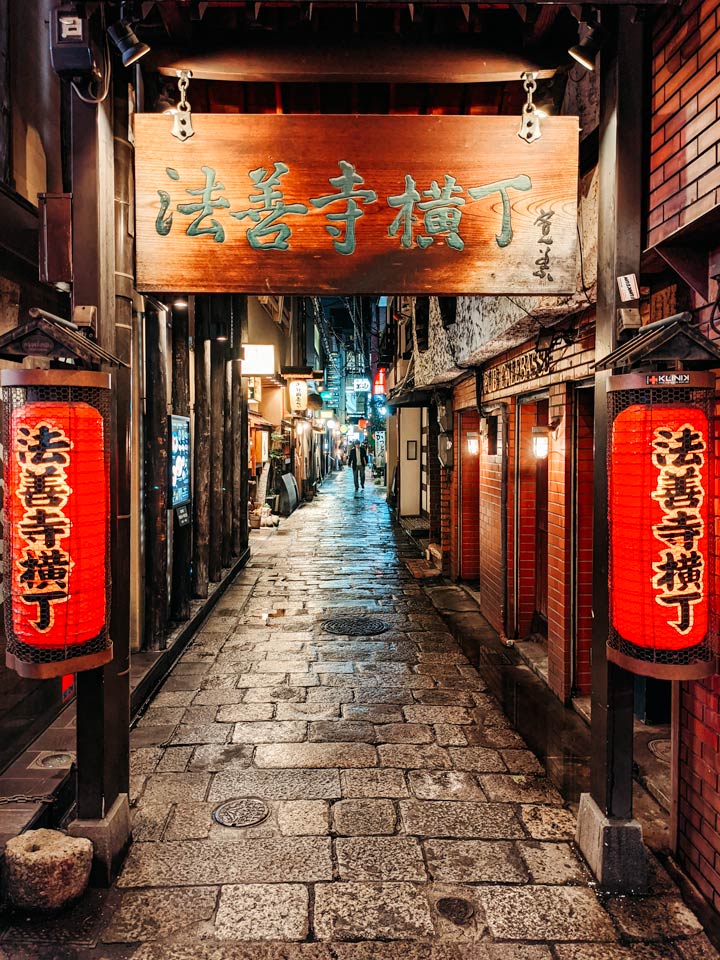 Easily the most popular place to visit in Osaka, Dotonbori district is like something out of a cyberpunk novel. Towering electronic billboards line either side of the canal, with bridges criss-crossing the water. The place is impressive any time of day, but Dotonbori is best enjoyed after sunset.
Be sure to check out Hozenji Yokocho while you're here. This lantern-lit alley is one of the most Instagrammable spots in Osaka that's somehow remained off the tourist radar.
Osaka is the street food capital of Japan, and there's no shortage of it in Dotonbori. While local ordinances have forced many stalls to close, you'll still find plenty of counter-style places selling takoyaki, matcha ice cream, yakisoba, and other must-eat Japanese food.
However, if you're after a sit down meal, head to Fukutaro. This restaurant specializes in okonomiyaki, a savory cabbage pancake filled with your choice of meats and veggies. The line can get pretty long at dinnertime, so I suggest arriving when they open at 5pm to get your name on the list (I think they can read English, but I wrote mine in Japanese characters just to be safe).
Day 2: Osaka highlights and hidden gems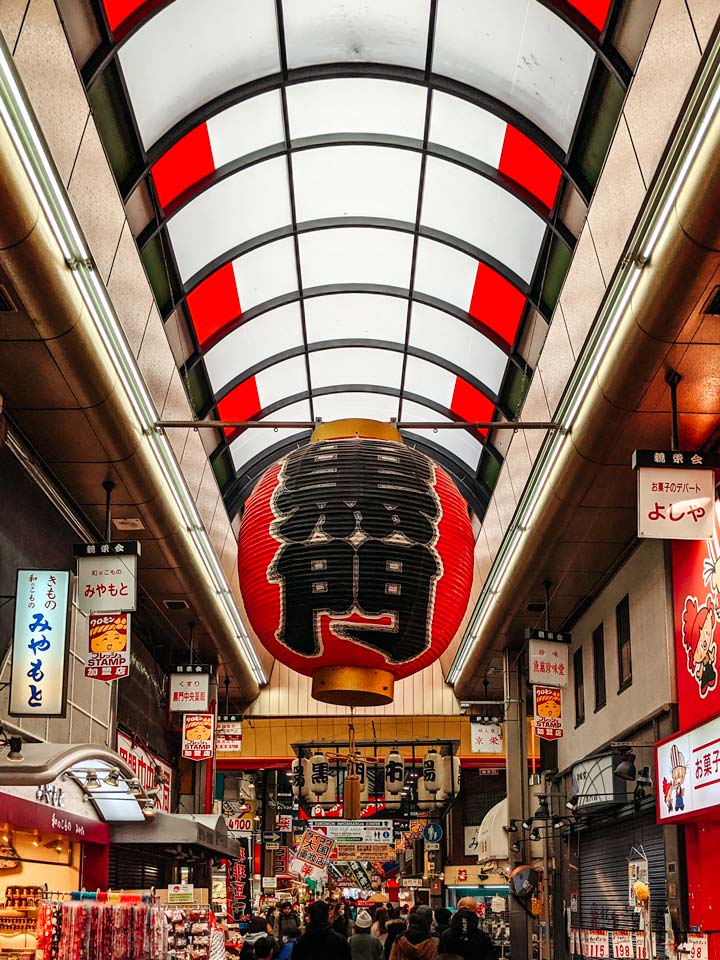 Domyoji Tenmangu OR Daisen Park
Day two of this Osaka-Kyoto-Nara itinerary is all about mixing popular attractions and lesser known spots. You'll start off with one of the latter. However, your first destination of the day depends on the season.
If you're visiting Japan in spring, head to Domyoji Tenmangu. Like the hundreds of other Tenmangu shrines in Japan, Domyoji is dedicated to Tenjin, the patron deity of academics. During exam season, Japanese students and their parents journey to Tenmangu shrines to pray for wisdom and passing scores.
Tenmangu shrines are also famous for their plum blossom trees, and Domyoji is one of the best places to view plum blossoms in Osaka. Plum blossom season always comes at the end of winter (before cherry blossom season), usually around mid to late February. Being surrounded by hundreds of red and white blooming plum trees is truly magical.
If you're visiting Japan in autumn, travel to Daisen Park. This lovely green space has a gorgeous Japanese garden, traditional tea house, and numerous Japanese maples and trees perfect for leaf-peeping. You'll also find various historical landmarks here, including the mausoleum of Emperor Nintoku.
After exploring your chosen destination, head back north to JR Namba Station for a mouthwatering excursion.
Kuromon Market Tour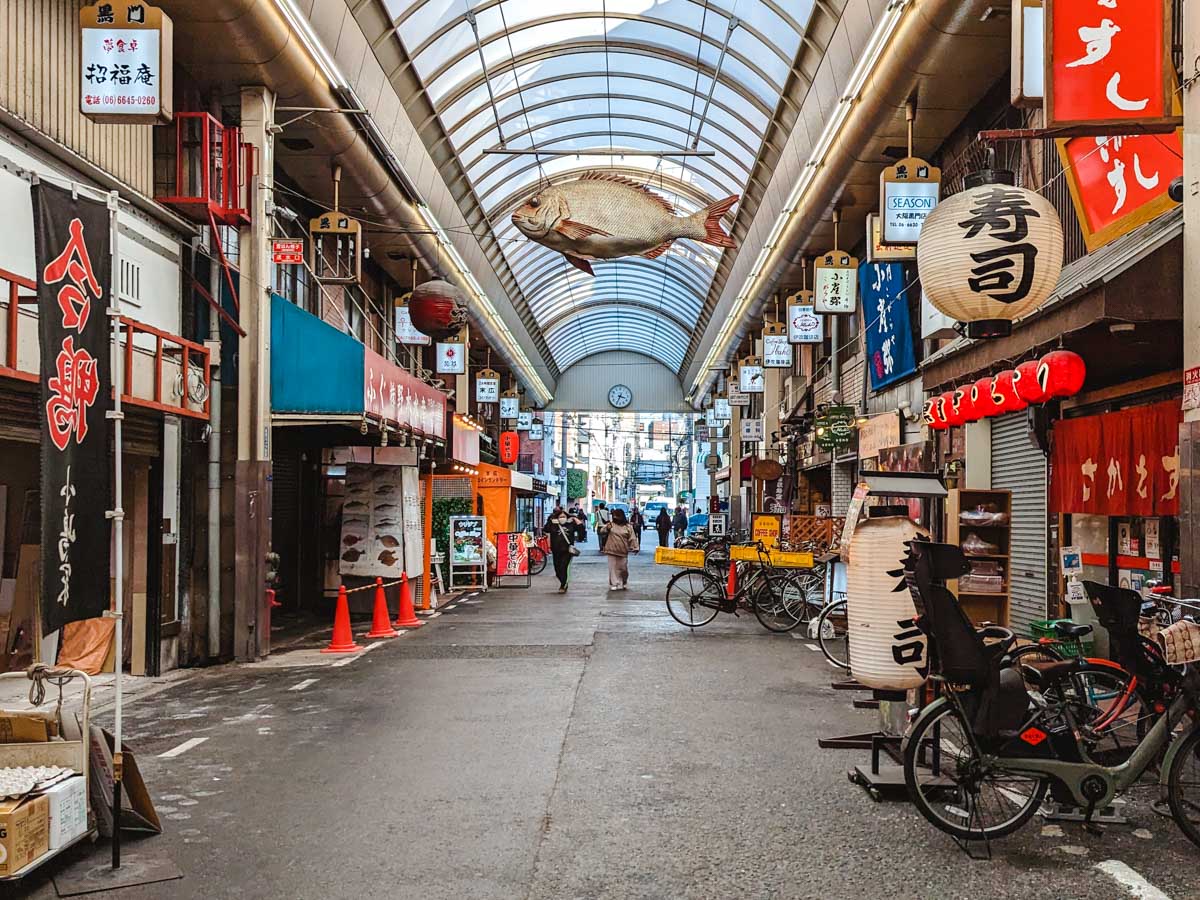 Kuromon Market is a must-see when visiting Osaka. The covered market is 100 years old, but only started selling street food around 2016 due to an influx of Chinese tourists. Prior to 2016, it was mainly frequented by locals shopping for groceries.
Kuromon can be pretty intimidating, especially if you don't speak Japanese, so I strongly recommend booking a guided food tour with a local. I had tons of fun sampling and learning about Japanese cuisine with Hiro, our local guide.
Book your Kuromon Market food tour here!
If you're visiting Osaka with kids, the food tour is a great way to introduce them to Japanese foods in small bites. And if they're not into the cuisine, they're sure to love the sampuru shops filled with realistic food displays.
Depending on your appetite, you may still be hungry after the food tour. Fortunately, Kuromon Market is one of the best places to eat cheaply in Osaka. Just be sure to bring cash, as some stalls don't accept card payments.
Den Den Town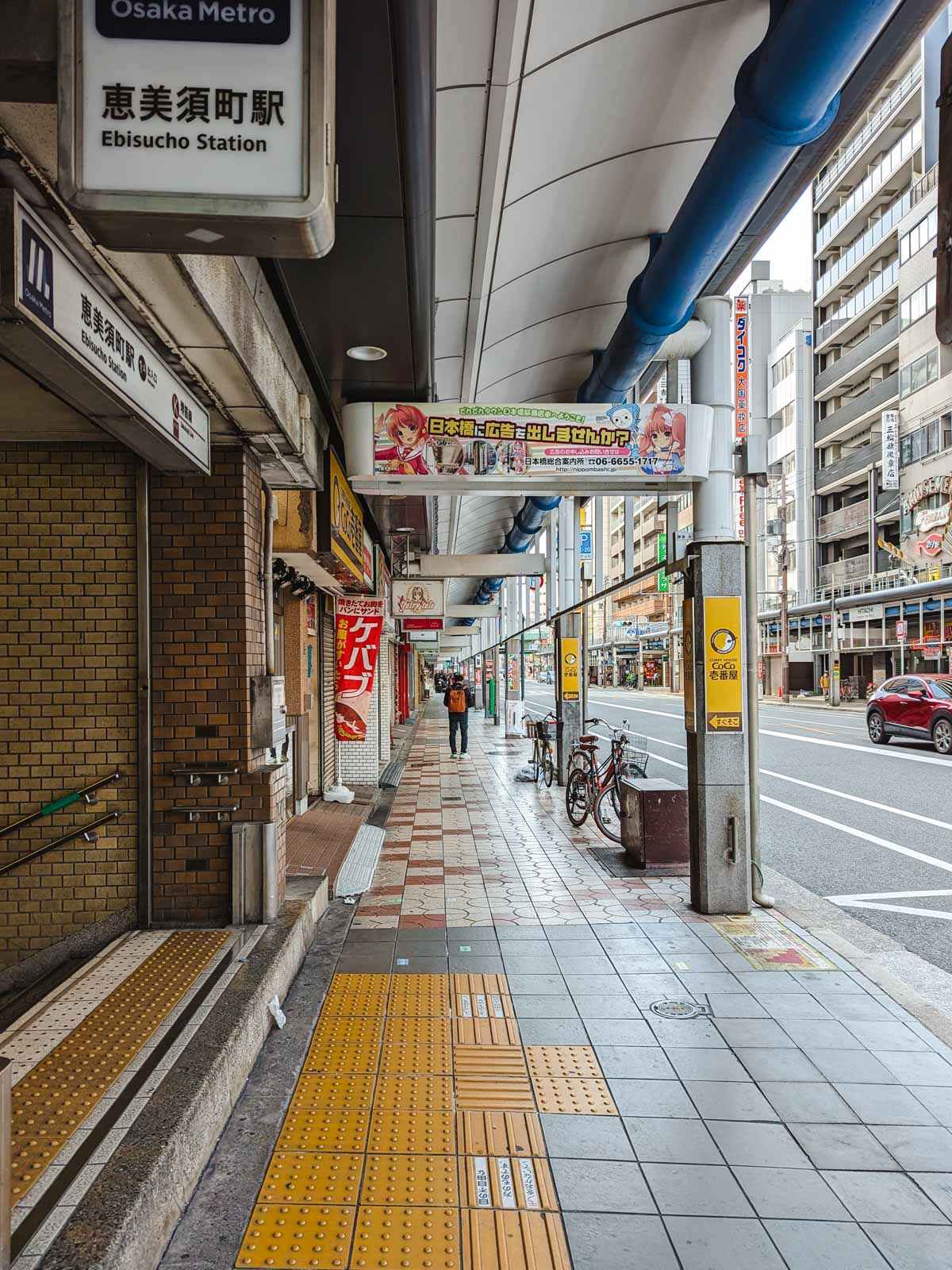 Known as the Akihabara of Osaka, Den Den Town is filled with arcades, figure sellers, manga stores, and electronic shops. While there aren't as many colorful billboards lining the streets like its Tokyo counterpart, there's still plenty to see and do here.
Super Potato has a location here, and Super Kids Land is jam-packed with figures, model kits, trading cards, and other nerd culture favorites. For gaming, check out Namco's classic arcade or The Silver Ball Planet if you like pinball.
Osaka Castle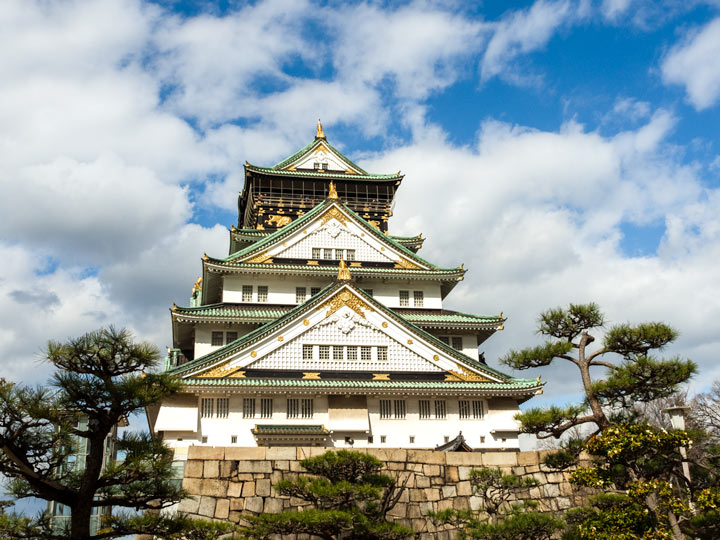 And now for the moment you've been waiting for! Osaka Castle is one of Japan's most famous places for a reason–photos simply can't do this place justice.
The castle's five-storied layers of white, gold, and teal are absolutely breathtaking when viewed up close, especially through a veil of plum and cherry blossoms. Take your time to stroll around the exterior and interior walking paths, and don't miss the plum blossom grove if you're visiting in late-February/early March.
You can also pay to visit the castle tower for stellar views over the city below (check the website to confirm opening times).
Nakazakicho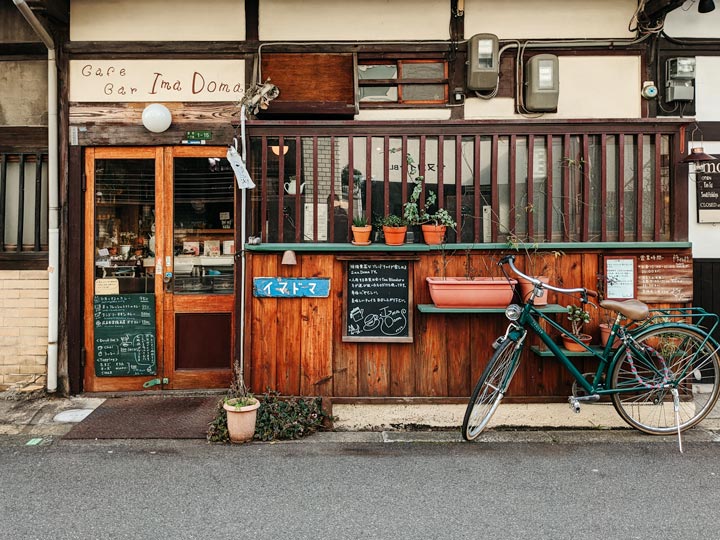 Nakazakicho is akin to the "hipster" neighborhoods of western countries. The trendy cafes and cute shopfronts are popular with Japanese visitors, but remains off the radar for most foreign tourists.
It's a great place to grab a coffee and take a leisurely stroll. You'll need to refuel if you want to make the most of this Osaka Kyoto Nara itinerary! I highly recommend the colorful Taiyō No Tou, which looks like something out of a Studio Ghibli film.
And if you're craving sweets, the strawberry and cream crepes from Uncouple Anglecam's street stall are a must try (it's not on Google Maps, so search for ImaDoma which is across the street).
Umeda Sky Building
What better way to end your Osaka adventure than with a birds-eye view of the city? The Umeda Sky Building's 40th floor observation deck provides unparalleled panoramic views over Osaka. You'll need to make an online reservation, and I suggest choosing a sunset time slot for the ultimate experience.
Other things to do in Osaka
Here are a few alternate ideas to customize your Osaka-Kyoto-Nara itinerary:
Learn about the history of instant ramen and make your own signature flavor at the Cup Noodles Museum
Discover Osaka's nightlife and street food with a local guide
Glide along the moats of Osaka Castle in a traditional Gozabune boat
Live out your childhood fantasies at Universal Studios Japan (note: you'll need an extra day in Japan for this)
Save me for later!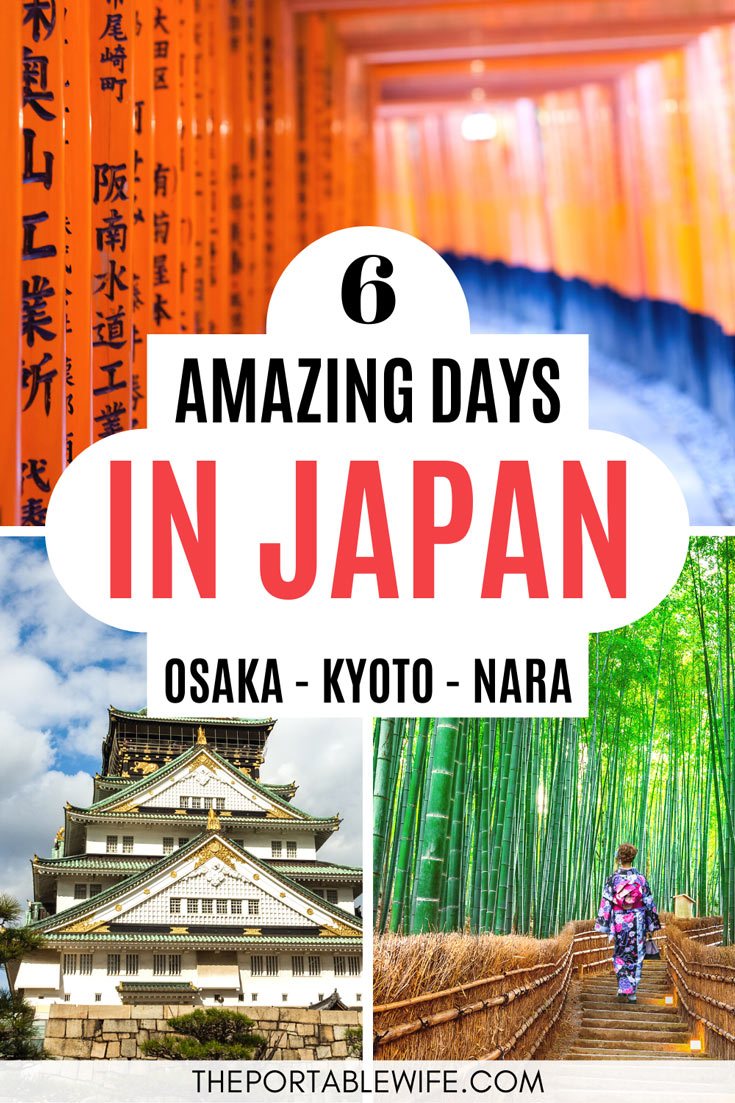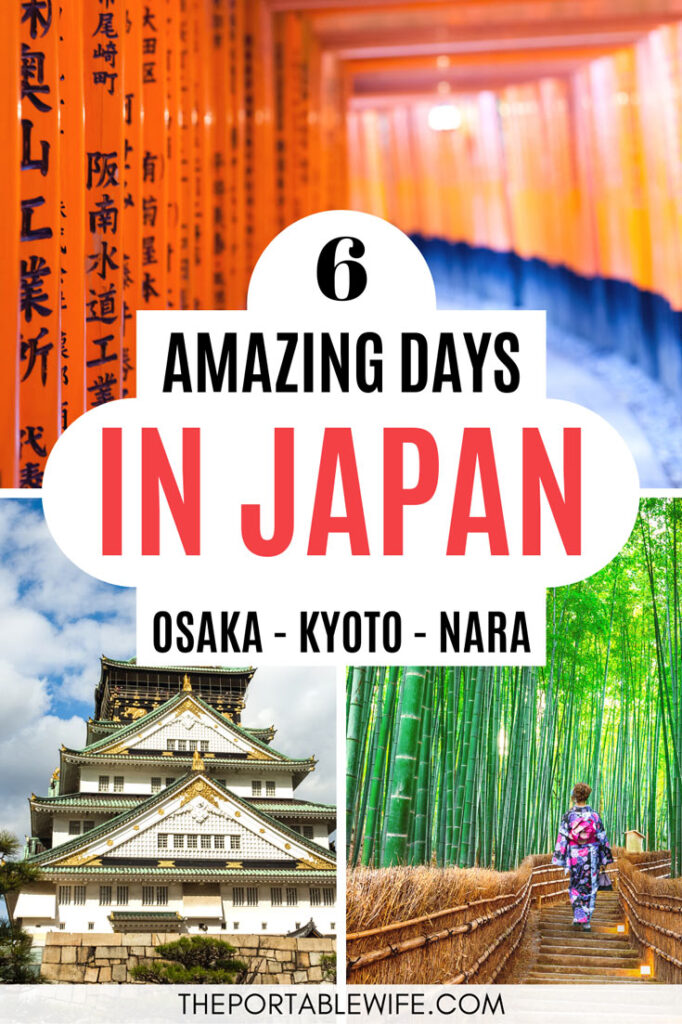 Day 3: Kyoto's top sights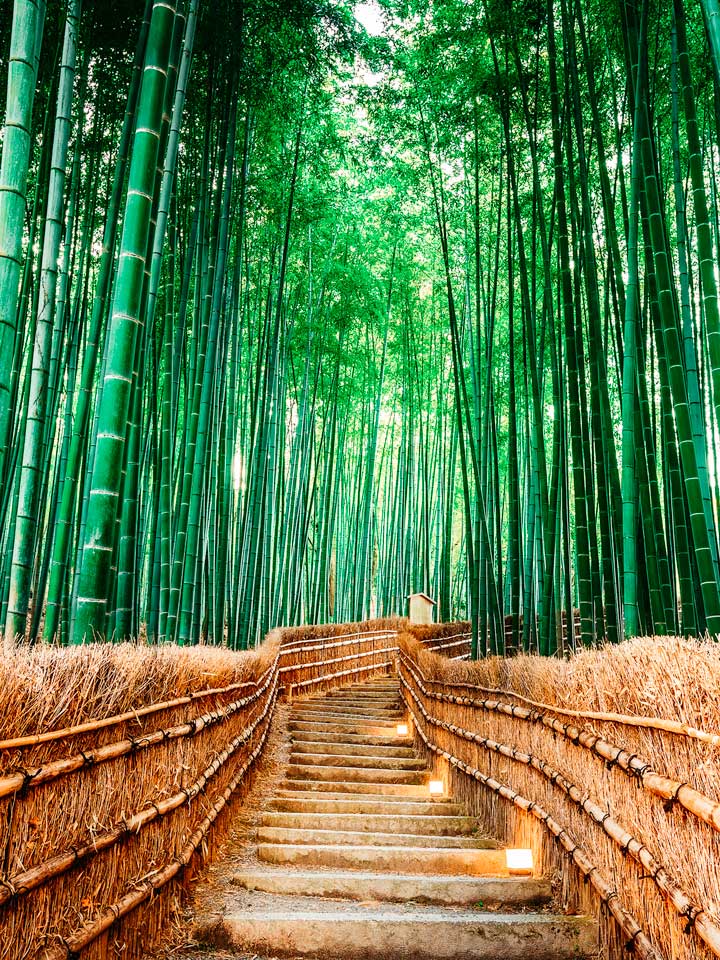 Arashiyama
When you think of Kyoto, what comes to mind? For many people, it's the swaying green stalks of Arashiyama.
Between the district's mystical bamboo forest, renowned temples, and monkey mountain, you could easily spend an entire day here and not see it all! Due to its far west location and abundance of sights, I usually categorize it as a day trip from Kyoto.
However, there's a lot on the agenda today, so I'll only cover the primary highlights in this Osaka-Kyoto-Nara itinerary.
Start bright and early with a stroll through Arashiyama Bamboo Grove. The experience of walking beneath these towering, swaying green stalks is truly otherworldly. And if you arrive before 9am, you'll avoid the crushing crowds that flow through here like a slow-moving river.
Situated along the forest's border, Tenryuji Temple is an impressive complex of ancient buildings with a remarkable Japanese garden. It's a gorgeous place year-round, but it's particularly impressive in autumn. If you're visiting on the weekend, you can pay to enter the Hatto hall and see the famous Cloud Dragon painting.
From the temple, head south towards the Katsura River. As you cross Togetsu-kyō Bridge, take a pause to soak in the spectacular views of traditional boats drifting along the waterbank.
At this point, you have two choices depending on time: head back towards central Kyoto or continue on to Arashiyama Monkey Park Iwatayama. This mountainside park is filled with Japanese macacques, and the overlook point at the top has incredible panoramic views over Kyoto. You'll need about 30 minutes to reach the overlook, so plan accordingly.
When you're ready to leave Arashiyama, head to Saga-Arashiyama Station and take the JR San-in Line to Nijo Station (free for JR pass holders).
Nijo Castle
This former home of the Ieyasu shogunate is one of Kyoto's many UNESCO World Heritage Site. Nijo Castle's whitewashed walls and grey-black tiles are unmistakably Japanese. Inside the walls, you can tour the elegant Ninomaru Palace and grounds and marvel at the intricately painted gates.
From here, take either the JR Bus or the Raku sightseeing bus to Kinkakuji.
Kinkakuji and Ginkakuji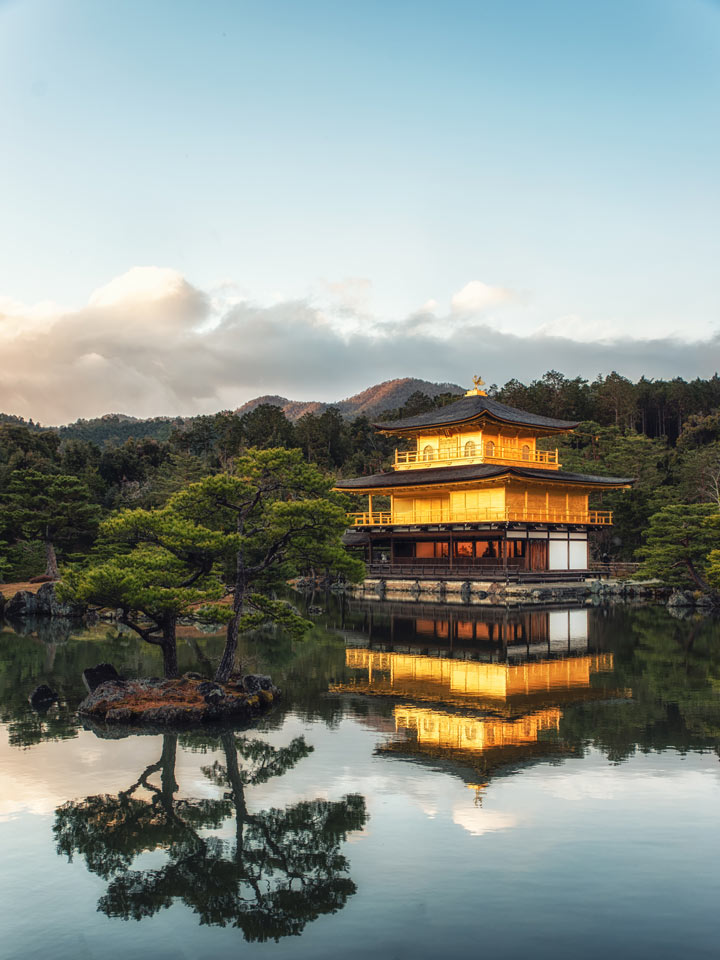 Known as the Golden Pavilion, Kinkakuji is a glittering Zen temple covered in gold leaf. While the original temple was built in the 1300s, the building you see today is a 1955 reconstruction. The view of the central pavilion from across the reflecting pool is one of Japan's greatest sights.
Follow the strolling garden path past the tea house and back outside, where you can hop on the Raku bus towards Ginkakuji. Though the temple is called the Silver Pavilion, you won't find a hint of silver on its facade!
Ginkakuji's official name is Higashiyama Jisho-ji,and it was supposed to be a shiny silver version of Kinkakuji. Unfortunately, the project to cover the facade in silver leaf never happened. To this day, the temple remains a humble–albeit pretty–wooden structure.
I think Ginkakuji's fantastic gardens, including one made of raked sand, more than make up for the disappointment.
Philosopher's Path (Tetsugaku No Michi)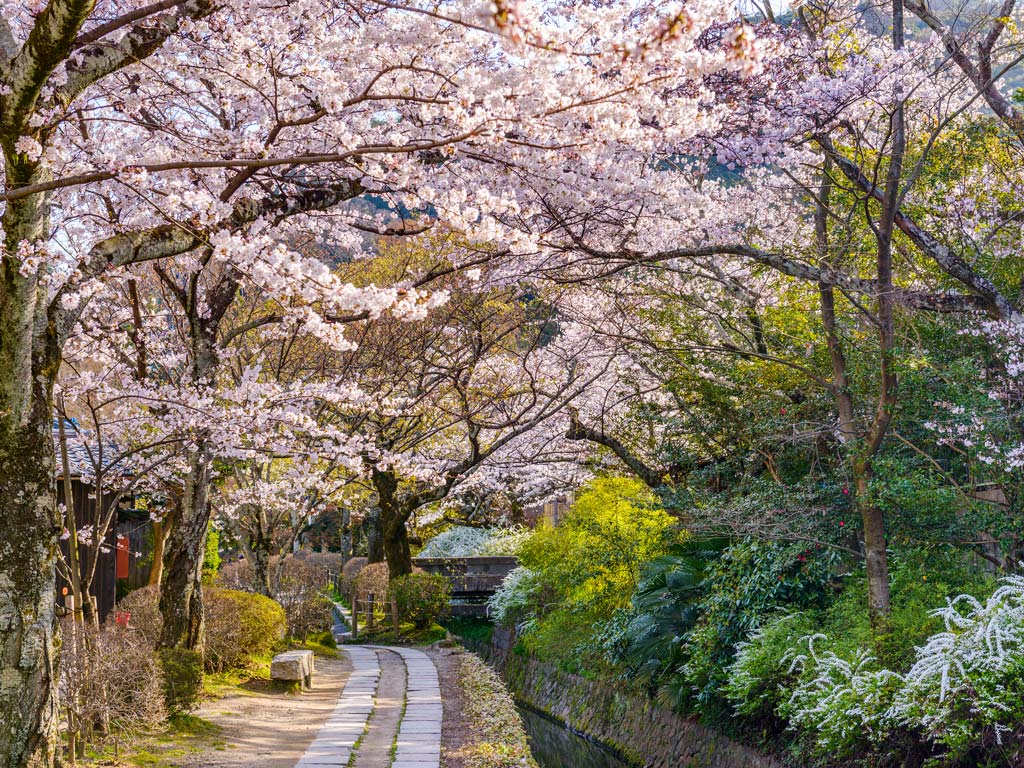 The northern entrance to the Philosopher's Path is conveniently located up the road from Ginkakuji. This scenic footpath gets its name from Nishida Kitaro, the 20th century Japanese philosopher said to have walked the route every day in meditation.
You'll find charming cafes, independent shops, and hundreds of cherry blossom trees lining the canal path. Keep an eye out for Suzuki Shofudo, an adorable papercraft shop with a frog mascot.
It takes about 20 minutes to walk the entire 2km path, though you'll surely need more time as you stop to shop and take photos. And when you reach the southern exit, you'll be just around the corner from one of my favorite temples in Kyoto.
Eikan-do Zenrin-ji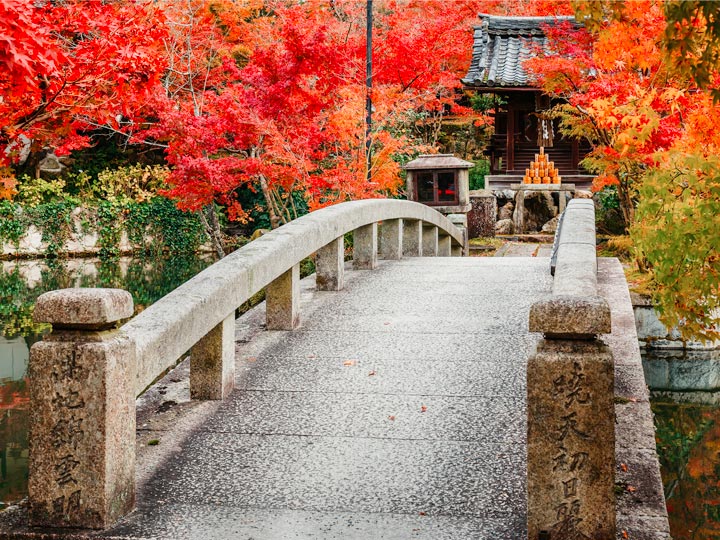 It's hard to compete with the natural beauty of Eikan-do Zenrin-ji. People travel from all over the world to see the incredible autumn colors surrounding the vast Hojo Pond and stone bridge. However, the temple deserves to be explored no matter the season.
If you have time, climb the steps of the pagoda for stellar views of the complex before walking south to the next temple.
Nanzen-ji
Nestled near the base of Kyoto's eastern mountains, Nanzen-ji is one of Japan's most important Buddhist temples. Thanks to its hillside placement, the towering temple gate offers lovely views, and the sprawling grounds are a peaceful escape from the city. I loved feeling the cool mountain breeze at my back as I looked out over Kyoto.
After exiting the temple grounds, walk west up Niomondori to the Okazaki Koen bus stop. From here, catch the 100 Rakuten bus to Kiyomizu-dera.
Kiyomizu-dera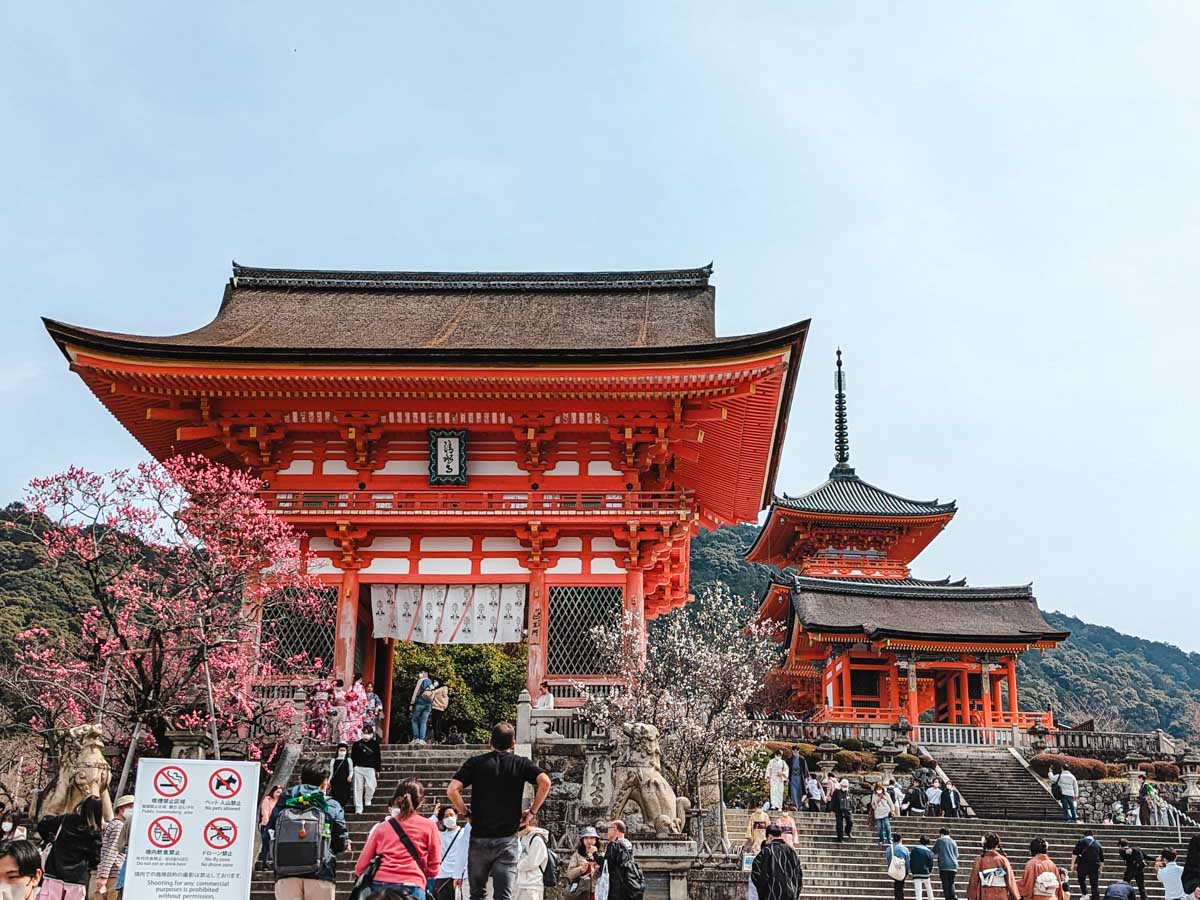 Easily the most visited temple in Kyoto, Kiyomizu-dera is a vast temple complex of buildings and gardens set on a hill among a forest of trees and bamboo. The multi-story wooden main hall is mind-bogglingly enormous, and its observation deck boasts the best views over Kyoto.
Kiyomizu-dera is particularly striking in the fall, when the surrounding forest explodes with red and gold leaves. This place is a must-see for any Osaka Kyoto Nara itinerary!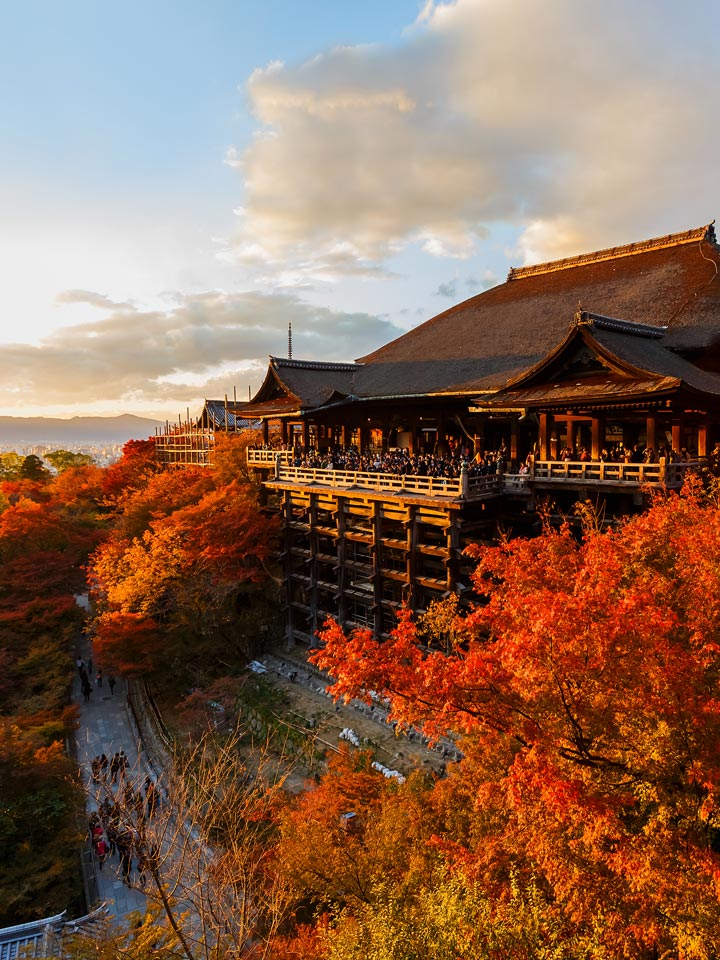 Gion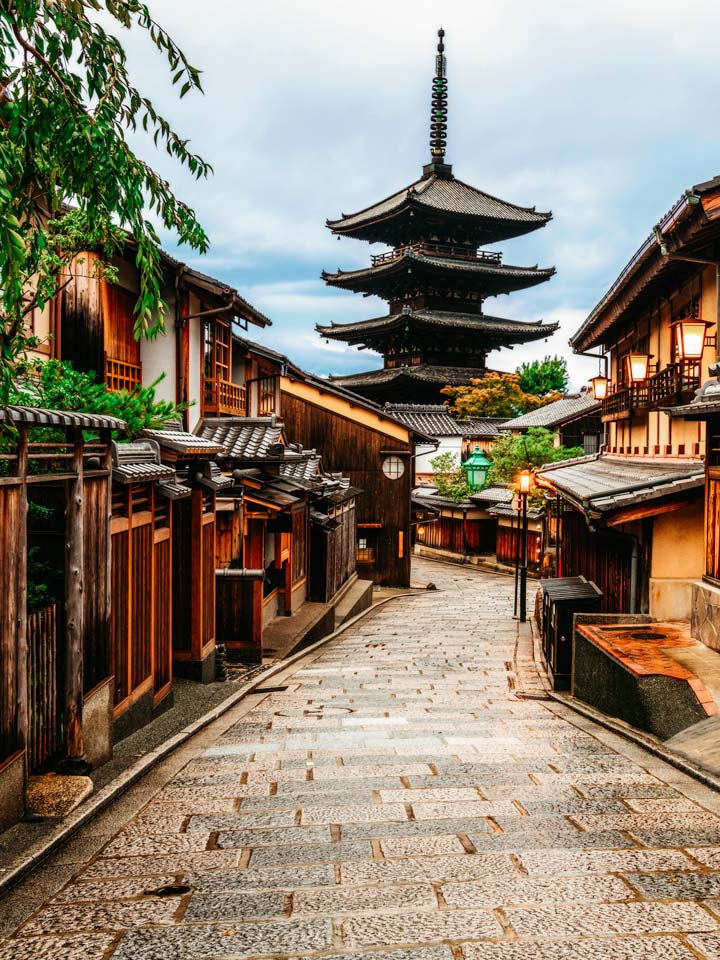 By now it should be evening, which makes it the perfect time for a stroll through Gion. Known as Kyoto's geisha district, this area is full of traditional shops, maze-like alleys, and elegant tea houses. If you're lucky, you might catch a glimpse of a geisha or maiko (apprentice) on their way to an appointment (but please appreciate them from a distance).

Just down the hill from Kiyomizu-dera lie Ninenzaka and Sanenzaka. These picturesque neighborhood streets are lined with lanterns and offer amazing views of Kiyomizu's pagoda. Note that people still live in this area, so please respect the "no photography" signs where posted.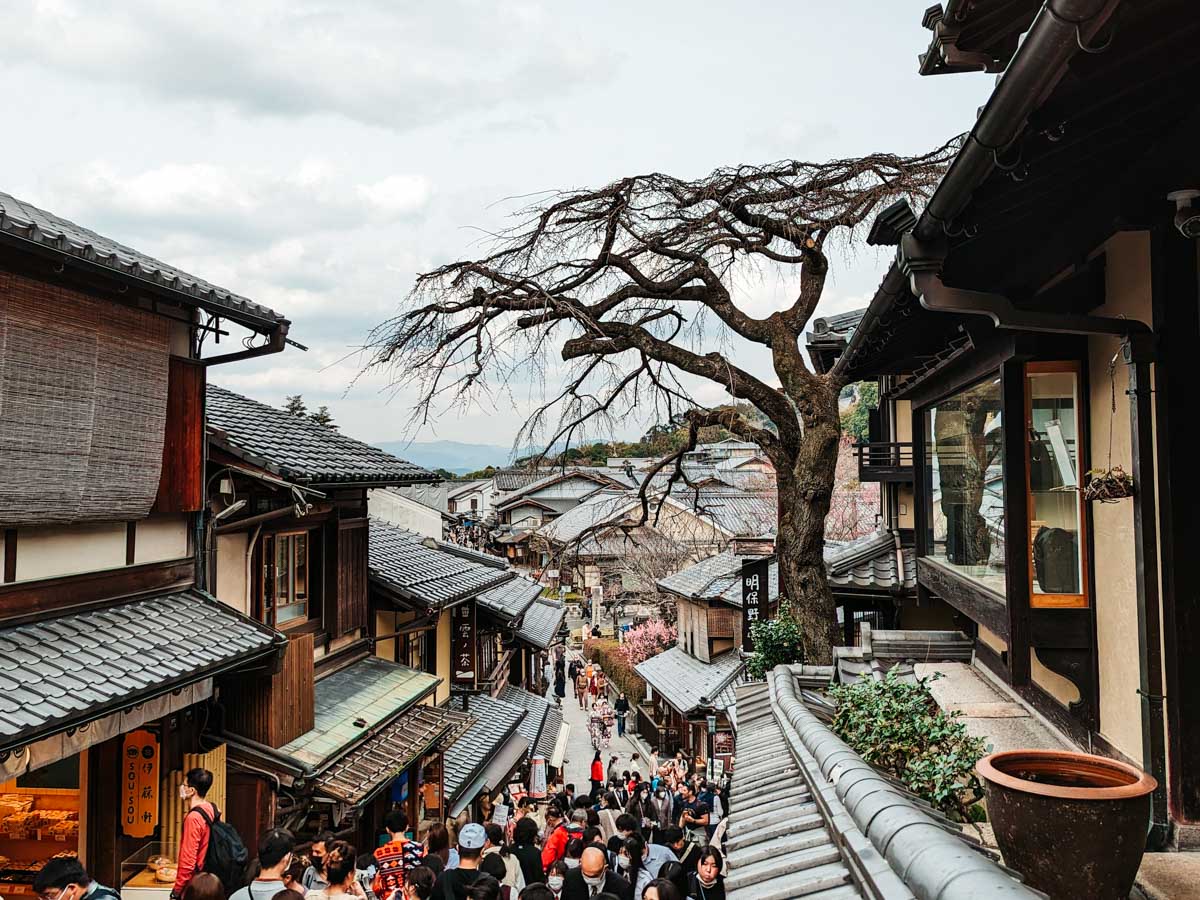 Meander north towards Kodaiji, where you can explore the illuminated temple grounds and mini bamboo forest. They also run a three minute light and sound show after dark in the sand garden area.
Work your way northwest until you reach Yasaka Shrine, one of the most culturally significant shrines in Japan. Every July, the Gion Matsuri festival begins here, with an ornate deity float (mikoshi) parading through the gate and around the city.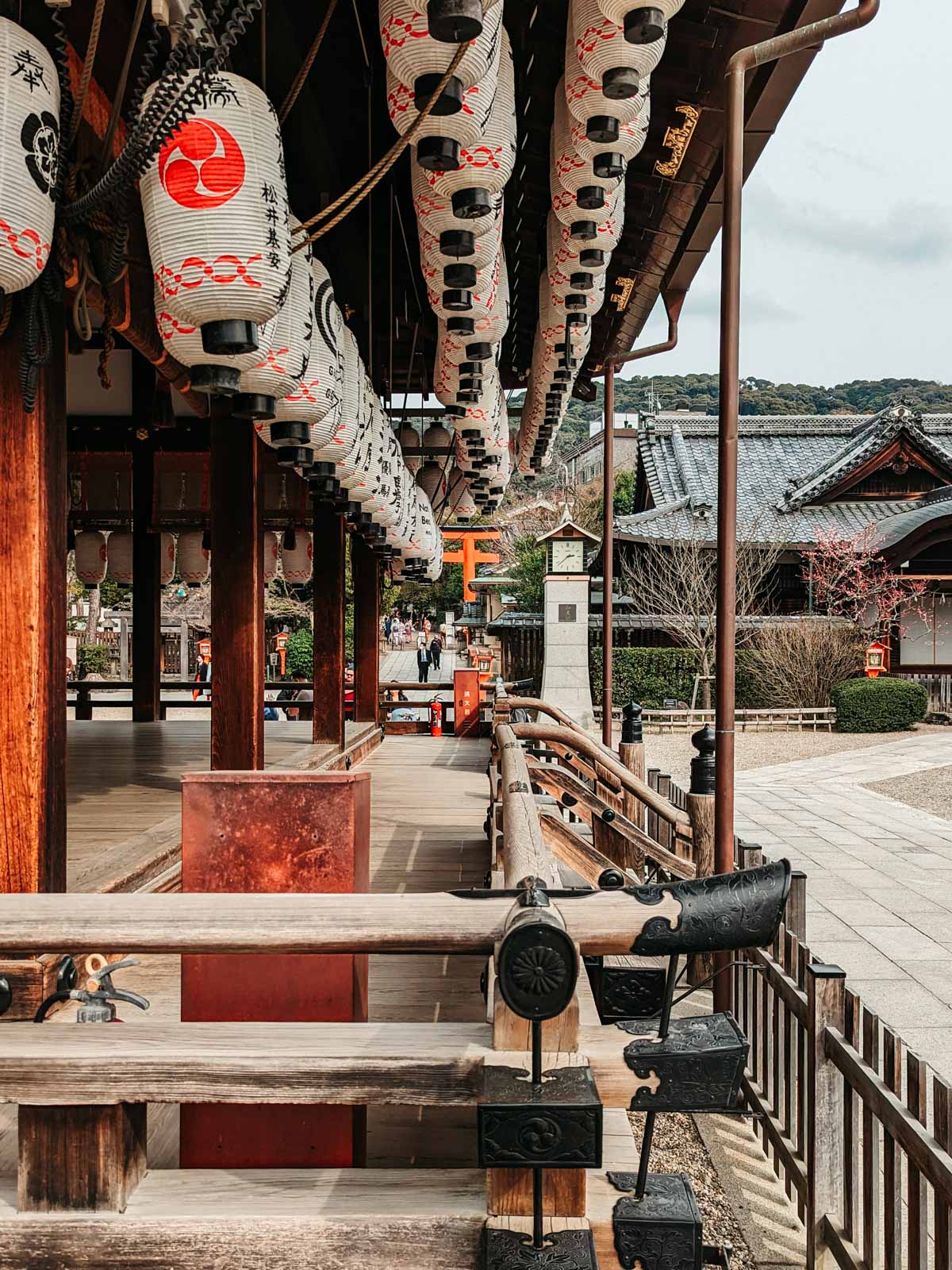 Finally, take a stroll up Hanamikoji. Gion's main street is home to hundreds of shops and street food counters operating under the iconic sakura lanterns. The numerous souvenir shops are perfect for picking up traditional wagashi–Japanese sweets–to bring back home (Kagizen Yoshifusa is my favorite wagashi shop).
Many shops close at night, but don't worry: you'll return to Gion again tomorrow!
Day 4: Kyoto's cultural hotspots
Gion Revisited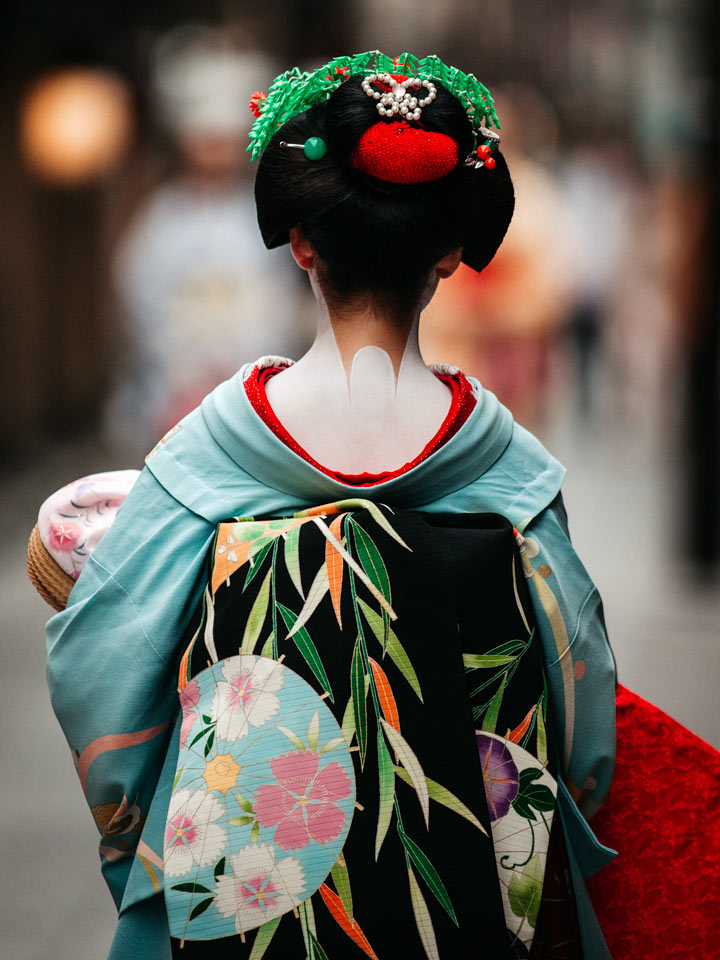 You'll pick up the second day in Kyoto where you left off: Gion.
There's still a lot to see and do here, but these highlights are not to be missed:
Gion Tatsumi Bridge spans a small canal and leads down one of the district's prettiest alleyways.
Behind Yasaka Shrine lies Maruyama Park, a lush green space that's home to multiple temples and Japanese gardens. It's a must-see during cherry blossom season.
Adjacent to Maruyama Park, you'll find Chion-in and Shoren-in. The temples' wooden facades blend in beautifully with the natural surroundings.
Enjoy a (mostly) crowd-free stroll down Ishibe-koji Alley.
Manga Museum OR Daimaru
It's time for another "choose your own adventure" moment in this Osaka-Kyoto-Nara itinerary.
Anyone who loves libraries or has even a passing interest in manga (Japanese comics) should visit the International Manga Museum. There are towering shelves packed with every manga series imaginable, as well as exhibits and art galleries in English/Japanese that showcase both famous and up-and-coming illustrators.
If manga isn't your thing, how about some fancy Japanese-style shopping?
Daimaru Is Kyoto's 2nd largest department store, with 10 floors packed with clothes, accessories, electronics, and more. Highlights include the giant handkerchief selection on 1F, and the elegant kimonos and super cute stationary on 6F.
Don't leave without visiting the massive basement food hall, where hundreds of stalls sell everything from bento to bread to traditional sweets.
Kyoto Imperial Palace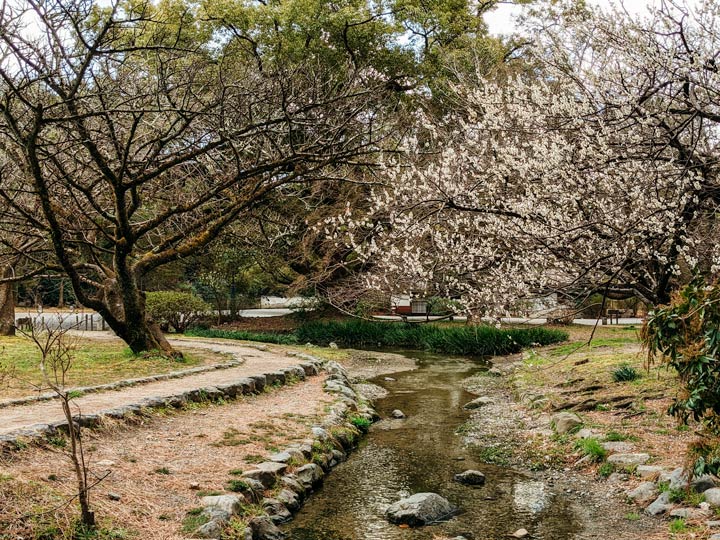 Kyoto Imperial Palace was the official home of the Japanese Imperial family for 500 years. It's a confusingly large complex that's mostly empty space (you can't enter most of the buildings). However, the architecture is impressive and the gardens (especially the plum blossom grove) are spectacular.
In the past, a reservation was required to enter the complex, but today it's freely accessible. Check the website for more details on English guided tours and changes to opening hours.
Nishiki Market
Although Nishiki Market has transformed from a local's shopping market into a tourist attraction, it's still a significant part of Kyoto's cultural history. The market was built on top of cold water channels so that vendors could keep their food fresh.
Locals may not come here to do their grocery shopping anymore, but Nishiki is still a phenomenal place to sample Japanese cuisine like grilled oysters, taiyaki (fish-shaped pastry with sweet bean paste), and dango (grilled dumplings with sweet sauce).
Rengeoin Sanjusangendo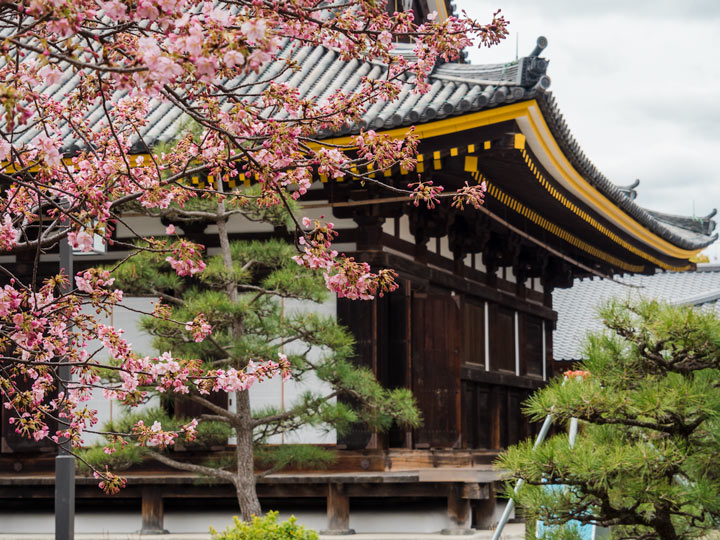 Walking through the halls of Rengeoin Sanjusangendo is a truly humbling experience.
Founded in 1164, this enormous Buddhist temple will blow you away with its 1,001 tall statues of the Goddess Kannon arranged in rows. Various displays detail the evolution of Buddhism in Japan, and many Kyoto natives consider this one of the city's most important cultural sites.
If you have some extra time, check out the beautiful Japanese garden at nearby Chishakuin Temple.
Pontocho Alley
The first time I spent 2 days in Kyoto, I fell in love with Pontocho alley. The old wooden facades, paper lanterns, and narrow side corridors were exactly what I dreamed Kyoto would look like.
Wandering the lantern-lit alleys is one of the most magical things to do in Kyoto at night. You'll find tons of small izakaya specializing in everything from yakitori to wagyu beef. However, there's one more food stop left in today's itinerary, so save some room for an elegant Japanese dinner!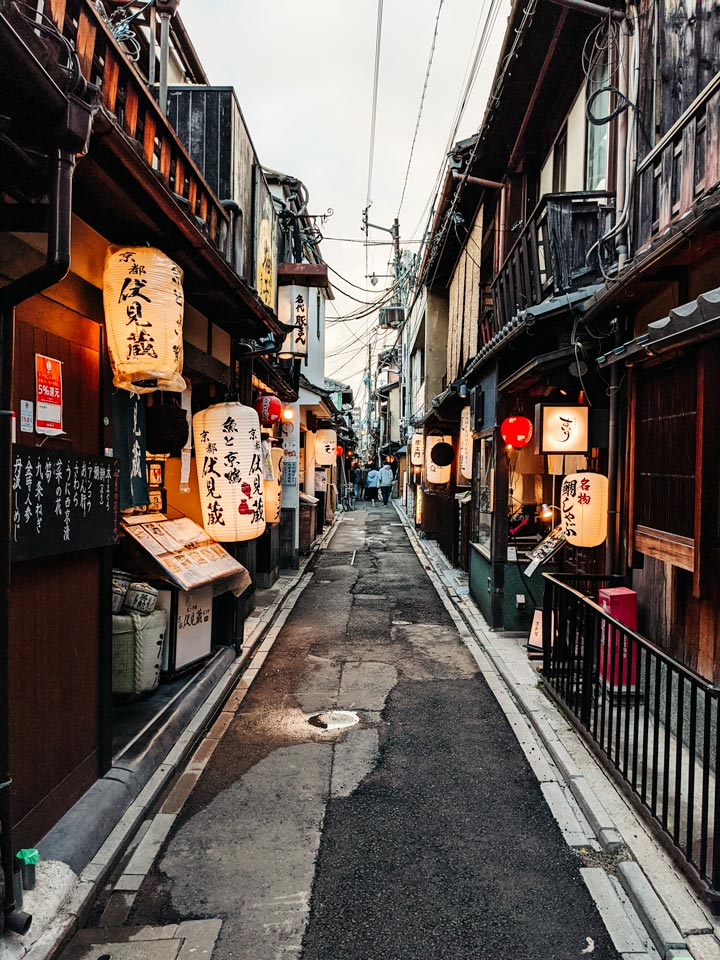 Kaiseki
Known as Japanese haute cuisine, kaiseki is a traditional meal that dates back hundreds of years. Every aspect, from the ingredients to the plating to the order in which dishes are served, is governed by Japanese principles of nature, balance, and order.
Kaiseki isn't cheap, with dinner prices starting around 9000 yen (~$90 USD) per person. You'll also need to make a reservation, sometimes weeks or months in advance if the place is well-known (your hotel can help you with this if there's no online system). Our kaiseki dinner at Yuzuya Ryokan was the highlight of our first trip to Japan.
Day 5: Kyoto like a local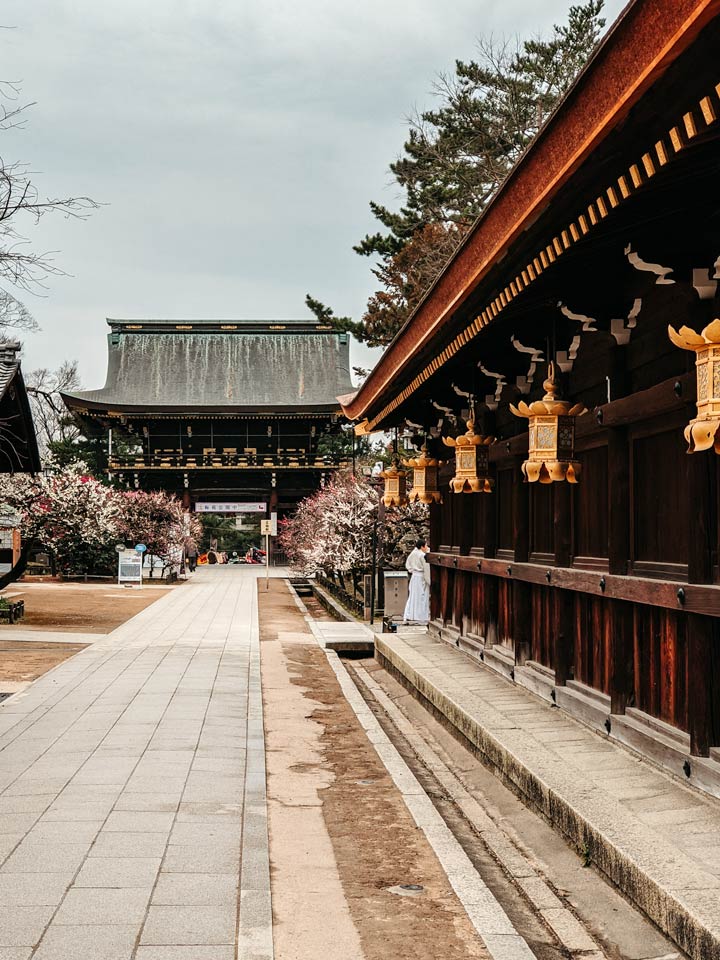 Kitano Tenmangu
Kitano Tenmangu's plum blossoms and golden lanterns have become a symbol of Kyoto. While it's a somewhat popular spot for tourists, locals also come here to pet the heads of the various cow statues to gain wisdom before exams.
The temple also sells various good luck charms for academic success, an important commodity in a city known for its prestigious universities and top-tier schools.
If you visit on the 25th of the month, stop by the huge Tenjin Market for some antique shopping and street food.
Toyouke Chaya
I don't often recommend restaurants in my itineraries, but this place is special. Kyoto's tofu is regarded as the best in the country (if not the world), and Toyoukechaya is THE place to sample it.
Toyouke Chaya's tofu is incredibly fresh because it's processed just around the corner. Their various set meals feature all sorts of tofu preparations, from fried agedashi and inari to delicate soft cubes served with a side of dashi.
They open at 11am, but you should arrive by 10:30am to get a good spot in line. The whole process of waiting in line and eating will take up a couple hours, but it just might be the most memorable meal you'll have on this Osaka-Kyoto-Nara itinerary.
Heian Shrine and Garden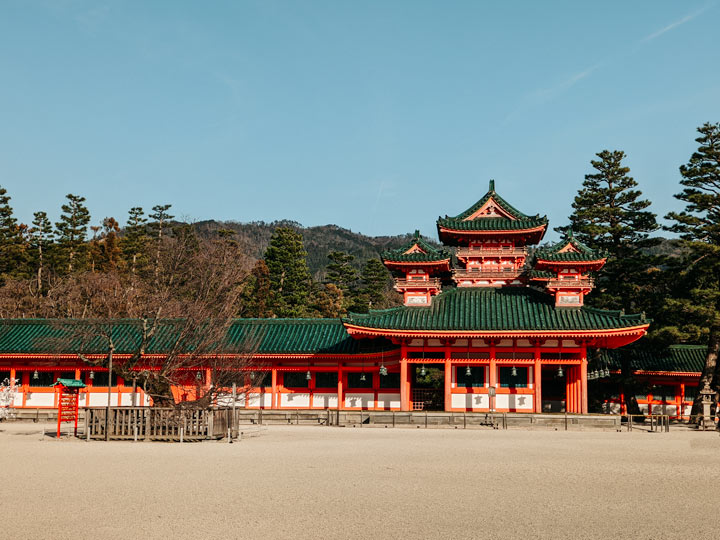 Like Kitano Tenmangu, Heian Shrine is a sightseeing location with an important local custom. Unlike the city's other ancient buildings, Heian Shrine was built relatively recently in 1898 to commemorate Kyoto's 1100th birthday. Its giant torii gate is the largest in Kyoto and spans the width of Jingu-michi street.
Every April, locals enter the shrine's splendid inner garden to celebrate the Heian Jingu Reisai Festival. There are dancing geishas, tea ceremonies, and musical performances that invite the audience to sing along. Aside from the festival, Heian Shrine is a popular place for traditional Japanese weddings.
Yoshida Shrine and Park
If you want to explore an ancient site off the beaten path, head to Yoshida Shrine. Located next to Kyoto University, this 1,200-year-old shrine houses the same gods as Nara's famous Kasuga shrine (which you'll visit tomorrow) and played an important role in the Shinto religion. The nearby park is a popular hangout spot for university students.
Horiikecho neighborhood
While there's nothing particularly exciting about Horiikecho, it's canal-lined streets and traditional buildings make for a scenic stroll.
Aside from the area's charm, there's also a fantastic local sushi shop here: Hatsune Sushi. The owner and his wife serve up delicious Kyoto-style sushi at an affordable price.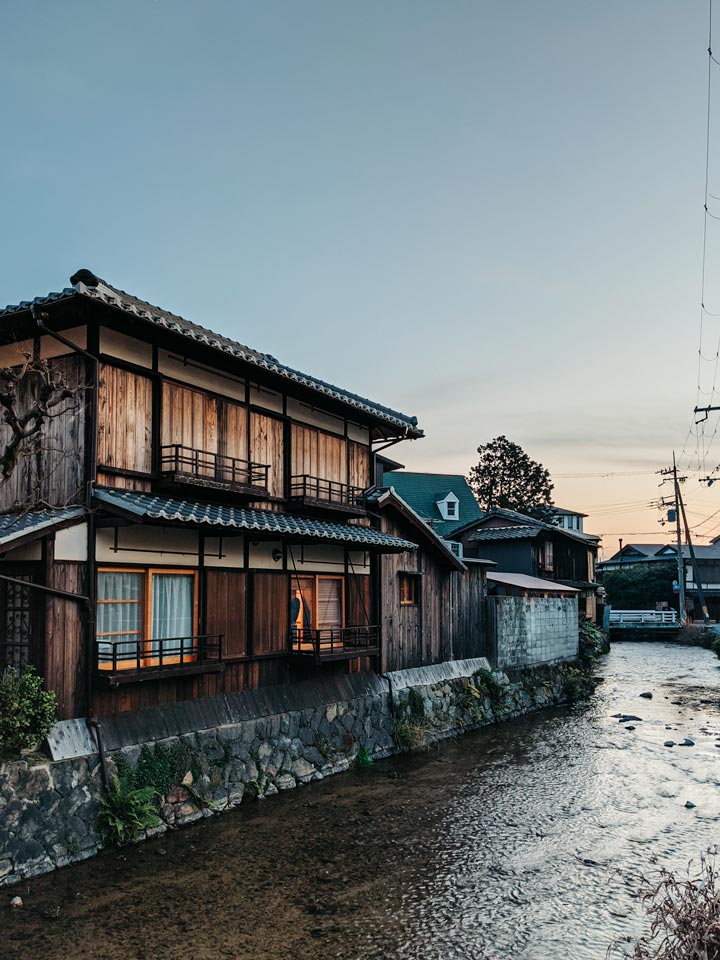 Furukawacho Shopping Alley
Kyoto has no shortage of covered markets, but it's hard to resist one that's dripping in colorful paper lanterns!
Unlike the touristy markets near Gion and the city center, Furukawacho still caters to Kyoto natives. You'll find flower shops, produce stalls, and several restaurants here that are a welcome reprieve from the maddening crowd.
Obanzai
To eat like a local in Kyoto, head to an obanzai restaurant. Best translated as "Japanese home cooking", obanzai serve a seasonal selection of traditional foods, many of which are displayed in large bowls on the counter. I suggest brushing up on some basic Japanese dining phrases before you order.
Other things to do in Kyoto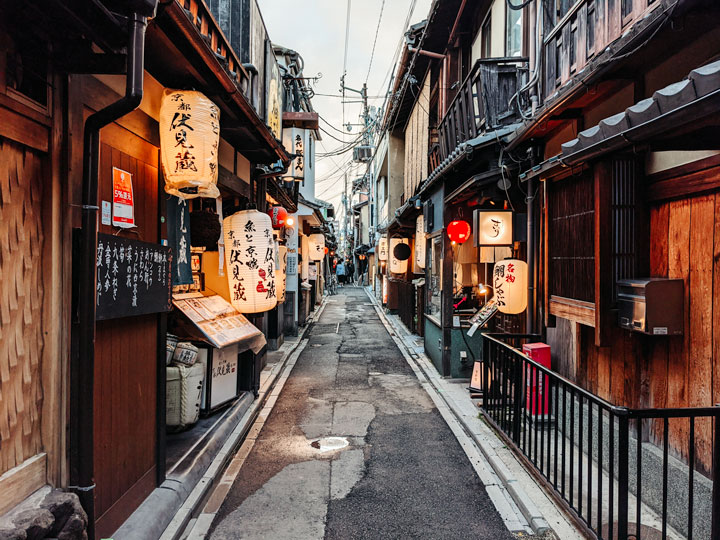 Here are some alternate ideas for your Kyoto itinerary:
Day 6: Fushimi Inari Shrine and Nara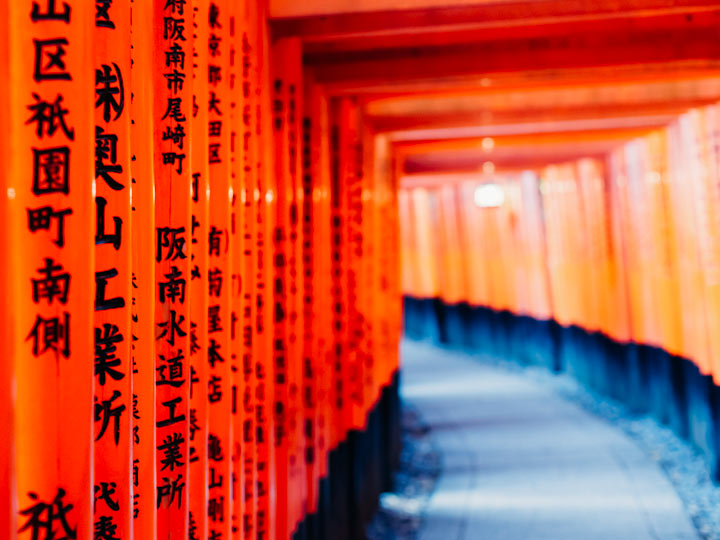 There's no better way to end a Osaka-Kyoto-Nara itinerary than with a trip to Fushimi Inari Shrine and Nara. Both of these destinations are tourist hotspots, so I suggest getting off to an early start!
Fushimi Inari Taisha's seemingly endless vermillion torii gates–more than 10,000–draw millions of tourists a year. The gates line the path up Mount Inari, linking the main Shinto shrine at the base to smaller ones further up the mountain. As you walk up the mountain, you'll spot plenty of fox statues that represent the god Inari, protector of rice growing.
It takes around three hours to walk all the way to the top and back, and it gets tiring quickly. Luckily, there are multiple landing spots where you can easily turn around and descend back to the train station if needed.
After you've finished exploring Fushimi Inari Taisha, head back to Inari Station and take the JR Nara line to JR Nara Station.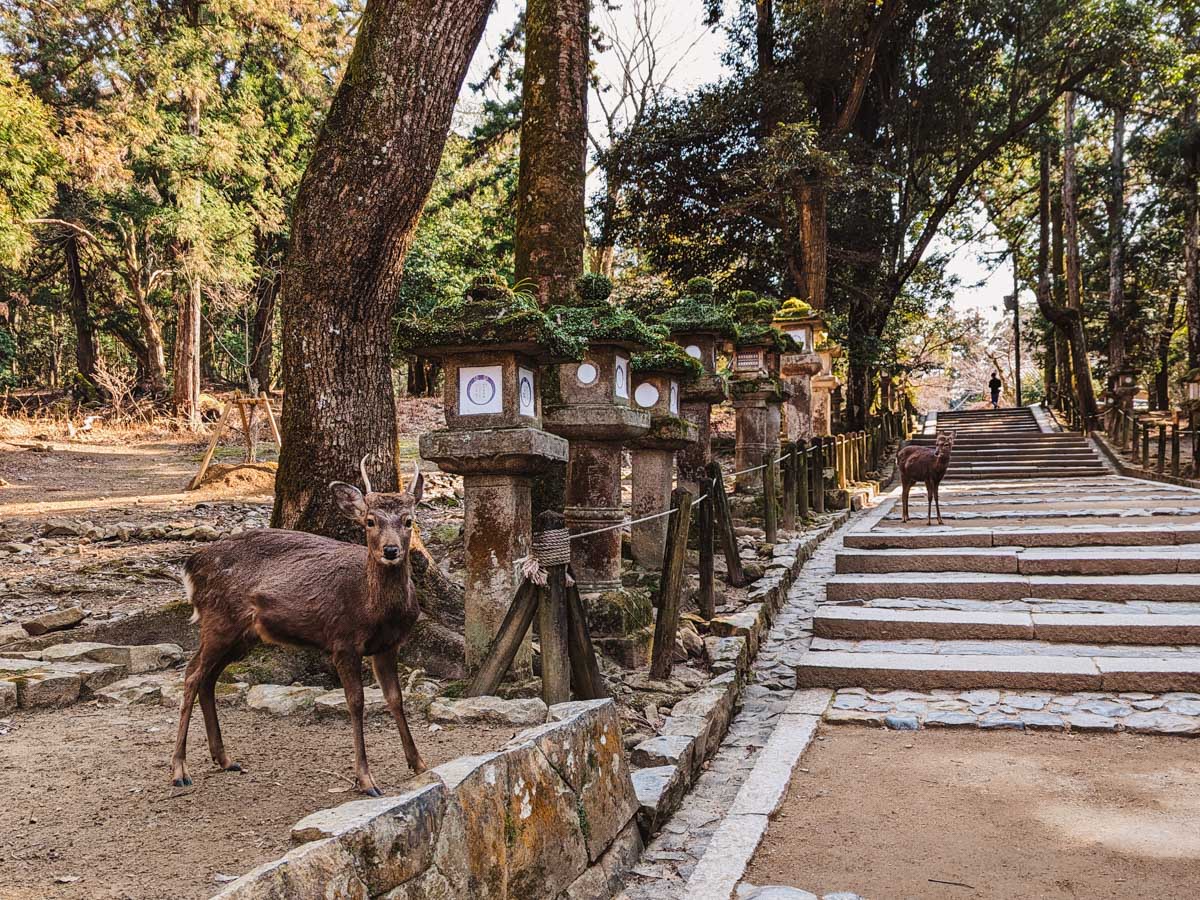 Nara is an extraordinary and utterly unique Japanese city. Once an ancient capital city, Nara has a whopping eight UNESCO World Heritage Sites, including a giant Buddha and a petrified forest. And of course, it's especially famous for the sacred deer that freely roam the streets.
See my detailed Nara day trip itinerary to plan your visit!