Tokyo is a city of contrasts. Ancient shrines sit across from busy shopping centers.  Cherry blossom trees grow in front of flashing billboards. Narrow alleys with tiny restaurants hide behind six-lane roads and skyscrapers. And with this 6 day Tokyo itinerary, you'll have time to experience the city's highlights and hidden gems.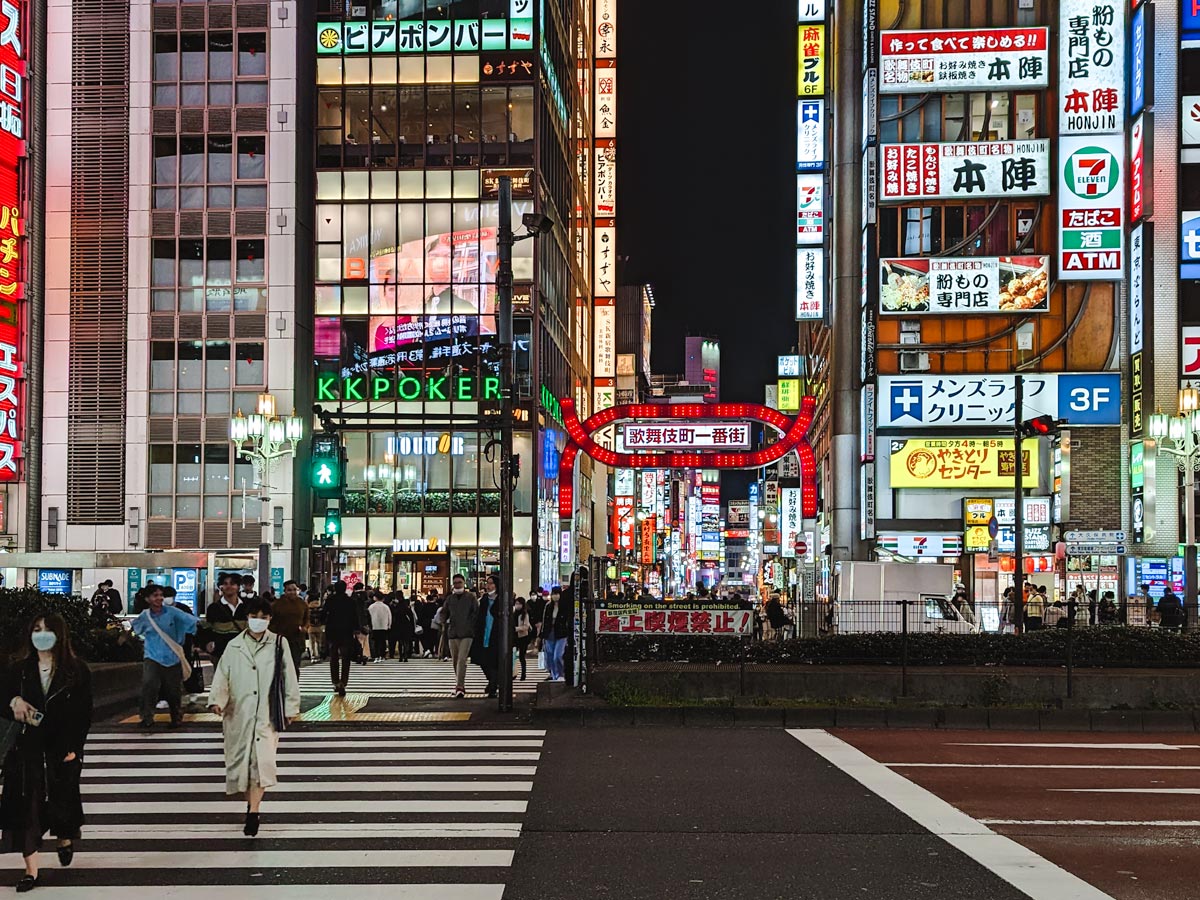 6 days in Tokyo might seem like a lot, but this massive metropolis has so much to offer. From UNESCO sites to parks to gaming arcades, this city wants for nothing.
It's home to the most delicious food I've ever eaten, and is surprisingly budget-friendly. And best of all, you can get off the beaten path with minimal knowledge of Japanese!
Heads up: This is a comprehensive Tokyo itinerary! I suggest pinning it now so you can refer back later.
This post contains affiliate links. For more information, click here.
Table of Contents
Know Before You Go: Tokyo Travel Tips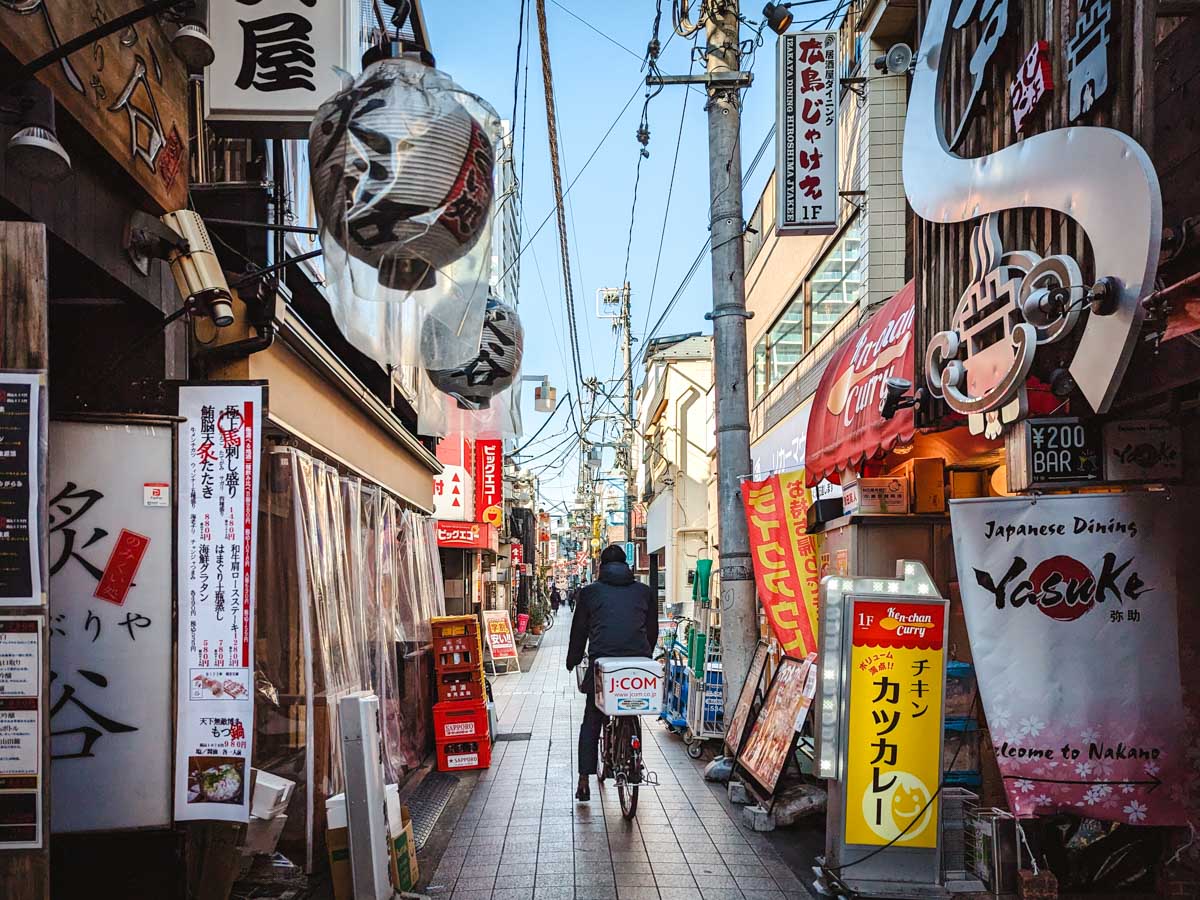 Money
Estimated Budget (excluding transportation and accommodation): $300 / 40,000 yen
Cash is still king in Japan, and Tokyo is no exception. Despite the country's modernization overhaul for the 2020 Olympics, you'll find plenty of restaurants and shops that only take yen.
Definitely bring a coin purse with you, as the yen coins go all the way up to 500 before paper money kicks in.
Also, not all ATMs in Japan work with foreign cards. Keep an eye out for green 7-Bank (owend by 7-Eleven) and Japan Post Office ATMs. These work with most international, chip-enabled cards. You'll find them in Japan's major airports, convenience stores, and post offices.
RELATED: Comprehensive Japan Travel Checklist for First Time Visitors
Finally, I highly suggest you arrive with some yen or cash to exchange. You never know if your card will have issues, or your bank will decline a transaction. And that could cost you precious time out of your 6 day Tokyo trip.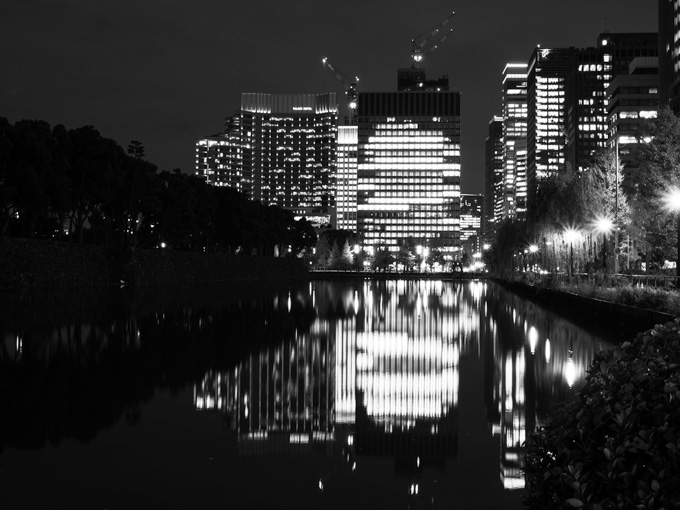 Language
You've probably read a lot of conflicting advice about how much Japanese you need to know for visiting Tokyo. Speaking from experience, I promise that learning a handful of basic travel phrases is absolutely worth your time.
While most people in the city can speak a bit of English, you'll put people at ease if you use a little Japanese. And frankly, it's downright rude to not thank people for a meal or say excuse me if you bump into them, merely because you didn't bother learning a couple phrases.
The 10 phrases below are plenty for spending six days in Tokyo. I strongly recommend downloading Google Translate on your phone and adding these phrases into your phrasebook. And be sure to download the Japanese dictionary for offline use!
Hello – Konnichiwa (cone-nee-chi-wa)
Good morning – Ohayo (oh-high-yo)
Good evening – Konbanwa (cone-bahn-wa)
Thank you – Arigatou Gozaimasu (a-ree-ga-toe go-zeye-mus)
Excuse Me – Sumimasen (sue-me-mah-sen)
Yes – Hai (hi)
Do you understand English? – Eigo ga hanasemasu ka? (ay-go gah ha-nah-say-mas kah)
Sorry, I don't understand – Sumimasen, wakarimasen (sue-me-mah-sen, wah-kah-ree-mah-sen)
(I'd like) this, please – Kore o kudasai (koh-reh oh koo-dah-sigh)
Can I have the bill, please? – Okanjo o onegaishimasu (oh-kahn-jo oh oh-neh-guy-she-mas)
My Favorite Japan Travel Planning Books
These books win my travel blogger Seal of Approval for vacation planning:
Culture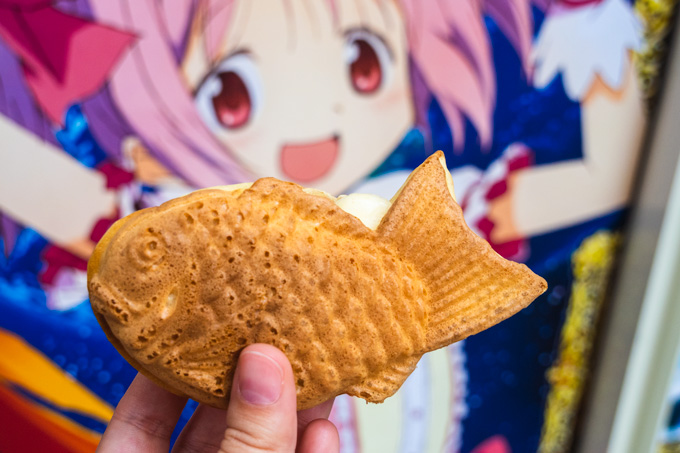 I've written an entire post on Japanese culture and things to avoid in Japan. But if you're looking for the cliff notes version, here's what you should know before spending 6 days in Tokyo:
Never leave a tip, including for taxis, hotels, and restaurants. It's not culturally acceptable, and your server will come running after you to return it.
Always wear or carry socks. Some museums, restaurants, and shrines require you to swap your shoes for slippers, and bare feet are a no-no.
Don't ask for meal customizations. If you're vegetarian or vegan, you'll have a somewhat difficult time, as most Japanese sauces and broths contain meat or fish. And if you have food allergies, you should bring a Japanese/English allergen card to help you communicate with your server.
Bring hand sanitizer everywhere. Not all bathrooms have soap.
Never eat on public transit unless you're riding the Shinkansen (bullet train). And if you're on the street, don't walk and eat/drink.
Best Time to Spend 6 Days in Tokyo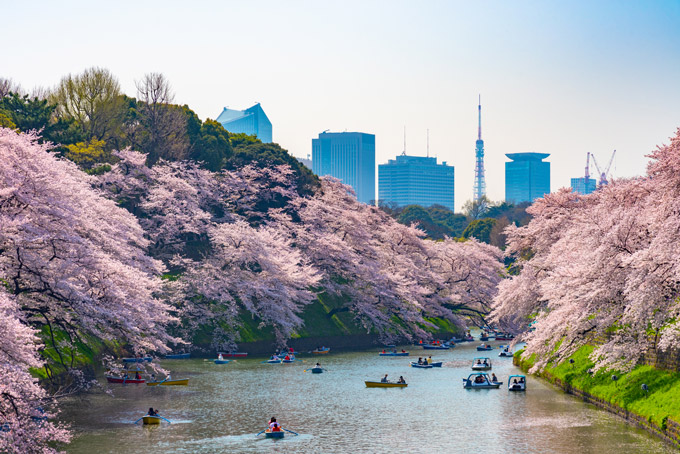 It's tough to choose the best time to go to Tokyo. Each season offers benefits and drawbacks, from weather to events to cost. Here's some information to help you plan a visit to Tokyo:
December to February is chilly (around 40-50°F/5-10°C), but the crowds are much thinner and travel is cheaper (except for New Year's). Christmas is surprisingly a big deal, and you'll see shops and courtyards decked out with light displays. Late February is also plum blossom season, a lovely alternative to its more famous cherry blossom sister.
March to May sees warmer temps (starting at 50°F/10°C and nearing 70°F/20°C) and beautiful cherry blossom trees. The peak hanami (cherry blossom viewing) season for Tokyo changes each year, but is usually around mid April.
June to August is best avoided. It's peak domestic travel season, and the weather is hot and humid. It's also the time of the rainy and typhoon season. However, there are summer festivals and fireworks to take your mind off the heat.
September is a good time to visit Tokyo, as the humidity and crowds of summer dissipate. You'll get shoulder season prices and shorter queues, as well as a few autumn festivals.
October and November are all about festivals, vibrant red maples, and decent weather. Visiting Japan in October means lighter crowds and cheaper accommodation. But if you want to catch peak fall foliage in Tokyo, plan your trip for early to mid-November.
RELATED: 5 Day Japan Itinerary Ideas to Suit Any Travel Style
Getting to Tokyo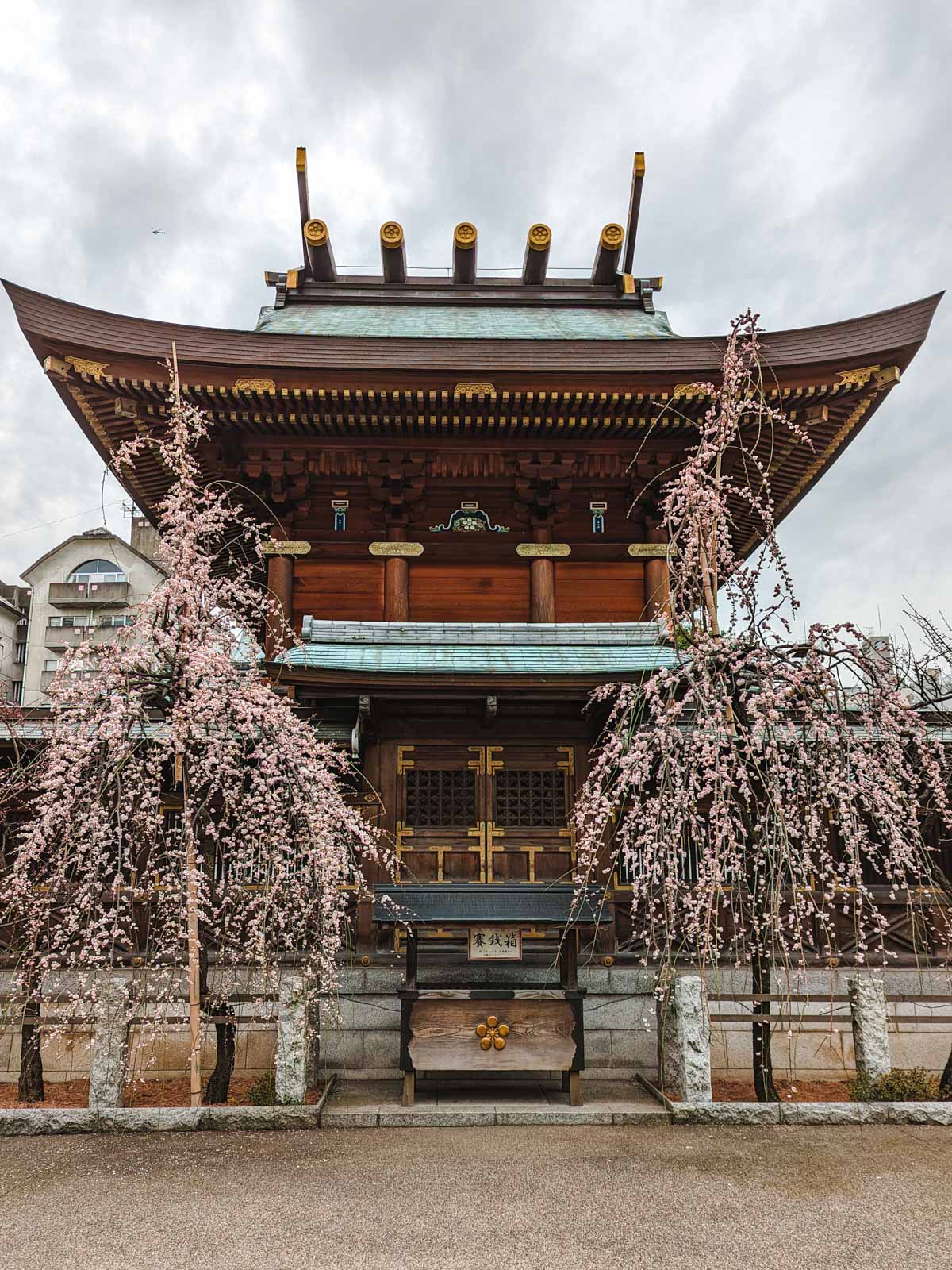 There are literally hundreds of public transit routes leading to Tokyo, too many to cover in this post. I also realize you may be coming from elsewhere in Japan to start this 6 day Tokyo itinerary.
However, I'll share a few optimal routes from Tokyo's major airports into the city.
A note on the Japan Rail (JR) pass
If you only follow this Tokyo itinerary and don't venture further out in Japan, there's no need to buy a JR pass. It's more cost effective to pay for transit as you go.
However, if you're planning to take more day trips, or travel on to Kyoto/Osaka/etc., consider buying one.
Having a Japan Rail Pass can save you a ton of time and money when traveling around Japan. I've used a JR pass for two out of three Japan trips, and here's why:
– Easy to use: Just show your pass to the gate attendant and walk to your train!
– Free bullet trains: Quickly travel all over Japan to maximize vacation time.
– Affordable day trips: Visit popular places like Nara, Takayama, Nikko, and more without spending a fortune!
Narita Express from Narita Airport to Tokyo (N'EX TOKYO)
This express train (abbreviated N'EX TOKYO)is the fastest way to get from Narita Airport to Tokyo. It takes about 50 minutes to travel from Narita Airport to Tokyo Station. From there, you can continue on to Shinagawa, Shibuya, Shinjuku, and a few other stations.
Although it's around 4,000 yen for a round trip ticket, you'll get to Tokyo much faster without needing to navigate any subway changes. You can buy these tickets in the basement-level JR office at the airport, or in advance online.
The Japan Rail Pass covers the Narita Express. However, all Narita Express seats are reserved. So, you must make your seat reservation right when you pick up your pass from the JR office.
After you've purchased your tickets/made a reservation, follow the signs to head down to the N'EX (Narita Express) platform. Look at your ticket to see which car number you're in, and wait by that number on the platform.
Once on the train, you can store large luggage near the doors. Backpacks and small roller bags will fit in the overhead area or under the seat.
Tokyo Monorail from Haneda Airport to Tokyo
JR pass holders can take the Tokyo Monorail for free. It'a a short 14 minute journey to Hamamatsucho Station. From there, you can take the JR Yamanote line pretty much anywhere in the city, including Shinjuku and Shibuya.
Keikyu Line from Haneda Airport to Tokyo
If you don't have a JR pass, I recommend taking the Keikyu train line into the city. Fares range from 500-600 yen, with journey times between 20-30 minutes depending on where you get off. You can also use a Suica card to pay for the journey.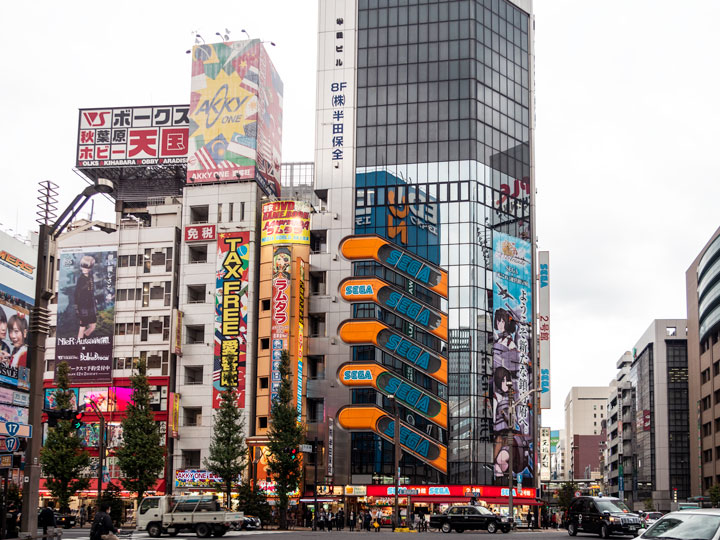 Getting Around Tokyo
Tokyo is famous for its incredibly efficient and affordable public transit system. And you'll be making good use of it for this 6 day Tokyo itinerary.
Buying and using a Suica (IC) card
The first thing you should do when you arrive in Tokyo is buy a Suica (IC) card. You'll find Suica machines at basically every station in Tokyo.
Once at the machine, choose your language and select the option to buy a new card. You'll need to load money onto the card, plus an initial 500 yen deposit. Most Suica machines accept credit card, but some are cash-only.
If you've traveled to London or other places that use a contactless metro card system, you won't have any trouble using your Suica. Just tap your card onto the reader at the station gate, and tap out when you exit at the next station. You can check and reload your Suica balance at most subway stops.
And Suica cards aren't just for public transit! You can even use them at vending machines and convenience stores like Lawson's and Family Mart. It's a great way to use up excess balance before you leave Tokyo.
JR operates a number of Tokyo's major metro lines, and Japan Rail Pass holders can ride them for free!
Tokyo's transit system is well-labeled in English, and even has English announcements at the platforms and onboard the trains. However, choosing the right route from point A to B is not easy without an app.
Google Maps is a life-saver for finding the best subway routes, and will even give you the correct train platform and fare information.
Having cell data is essential for getting around Tokyo. Streets are not labeled like they are in Western countries, and it's very easy to get turned around.

Plus, Tokyo's complex subway system can be overwhelming to navigate without Google Maps. If your phone plan/device won't work in Japan, you should rent a pocket WiFi or a phone.

Fortunately, you can order your pocket WiFi rental online, and even have it delivered directly to your hotel!
Where to Stay in Tokyo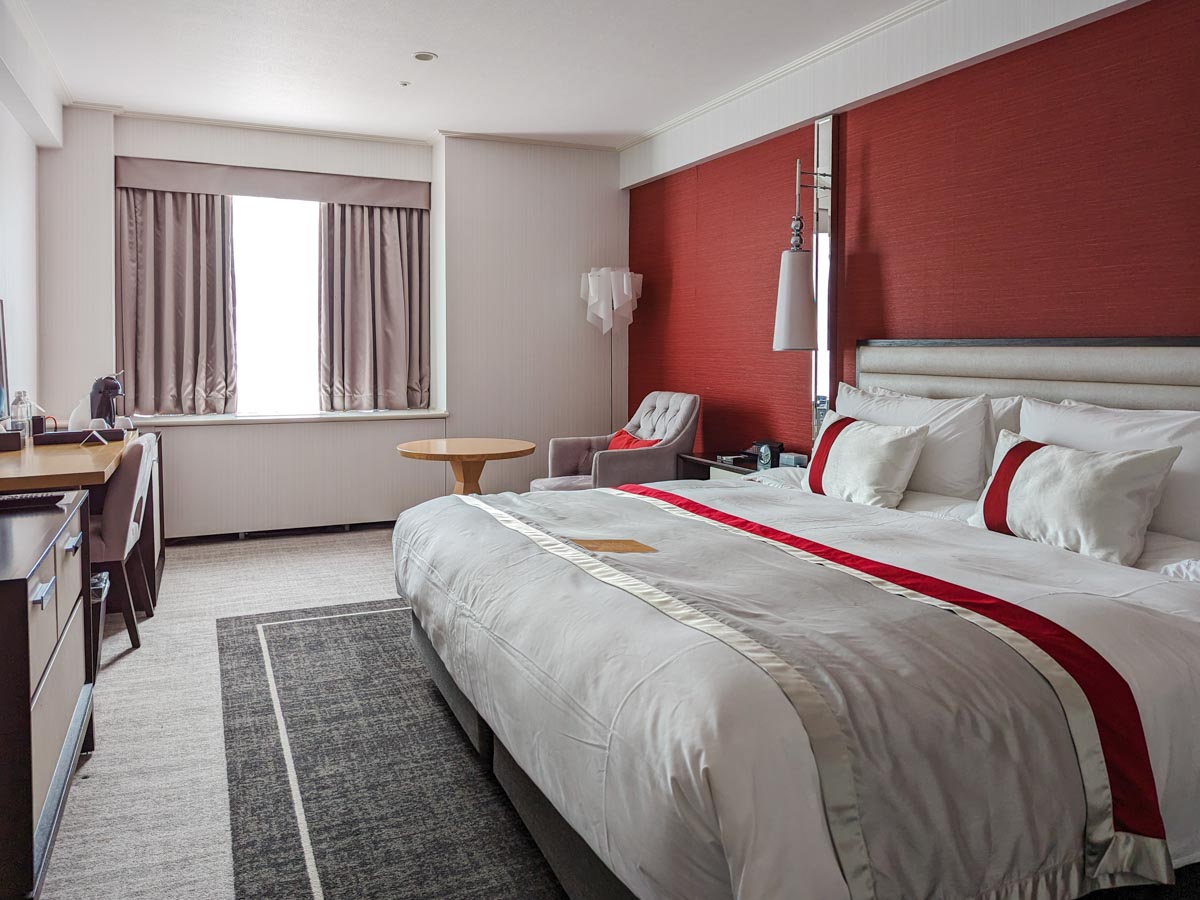 Tokyo's excellent train and subway system means you can stay pretty much anywhere. However, for this particular Tokyo itinerary, I highly recommend staying in either Shinjuku, Shibuya, Minato, or Kanda.
All of these wards offer a wide range of accommodation, food/drink, and access to Tokyo's main subway lines.
In terms of accommodation types, Tokyo has everything from hostels to high end ryokans (traditional Japanese inns). If money is extremely tight, you could even rent overnight space in a manga cafe (though you'll have a painful six days in Tokyo).
After Japan's 2018 overhaul of accommodation regulations, you'll be hard-pressed to find rentals by owner (i.e. Airbnb, Homeaway/VRBO). That being said, there are some amazing apartment-style accommodations in Tokyo, like this stylish modern apartment in trendy Shibuya.
I've personally stayed at the Tokyu Stay Shinjuku and the Tokyo Prince Hotel right next to Tokyo Tower.
The former is a solid mid-range option with plenty of nearby restaurants, shops, and metro stations, and ideal if you're planning on late nights of drinking or karaoke.
Depending on the dates of your Tokyo itinerary, the Tokyo Prince Hotel costs about as much as any other nice hotel in the city center but comes with spacious rooms, killer views (half of the rooms overlook Tokyo Tower), and gorgeous facilities and restaurants. Plus it's a short walk to the stations with direct links to Narita and Haneda Airports, so your jet-lagged self won't have far to navigate after arriving.
6 Day Tokyo Itinerary
Day 1: Akihabara, Jinbocho, Ueno Park
Akihabara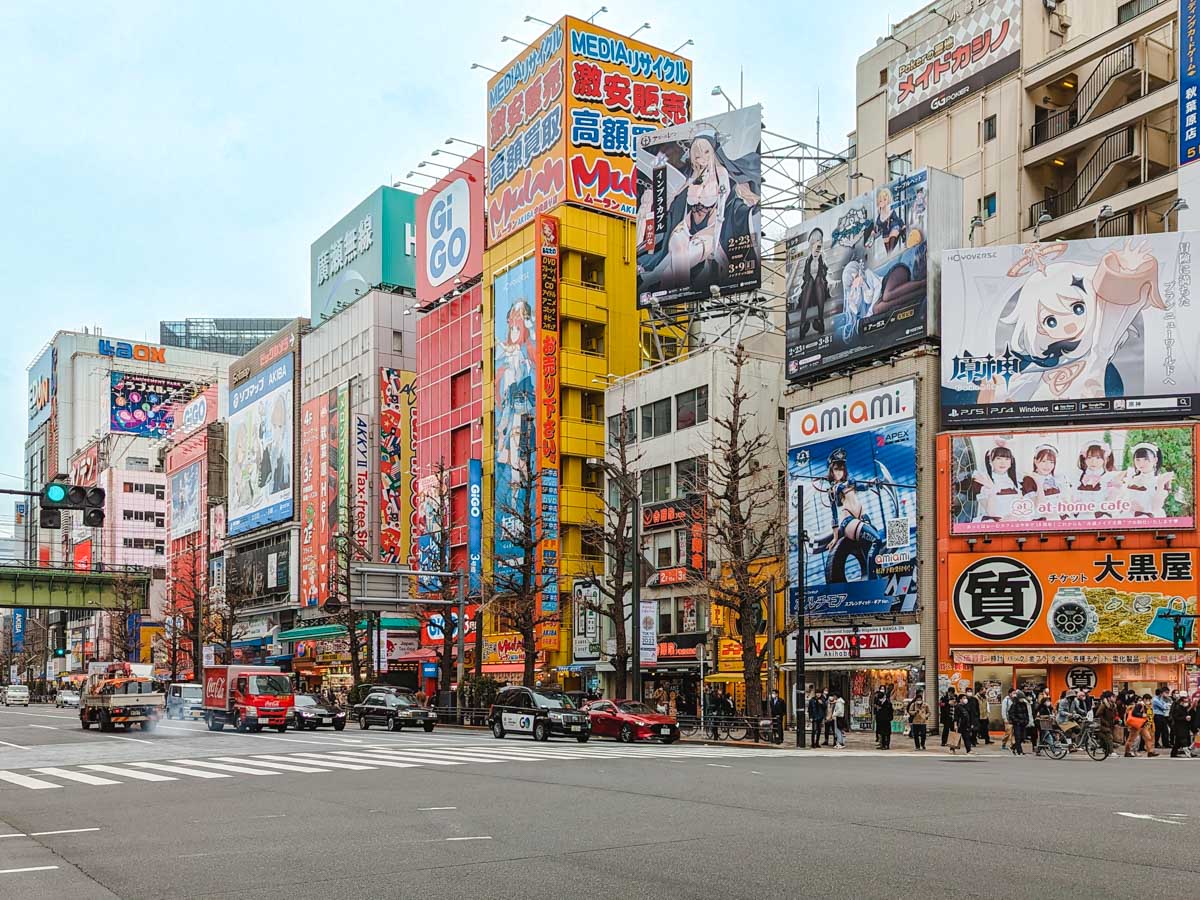 I can't think of a better way to start a Tokyo itinerary than a trip to Akihabara. Known as Electric Town or Akiba, this neighborhood is the epicenter of Japan's anime and gaming culture.
Multi-story arcades, themed cafes, and colorful billboards fill the streets and skyline. Even if you're not an otaku, Akiba is an incredibly fun place to explore, especially if you're fighting extreme jet lag.
You could easily spend an entire day in Electric Town, but here are the must sees in Akihabara: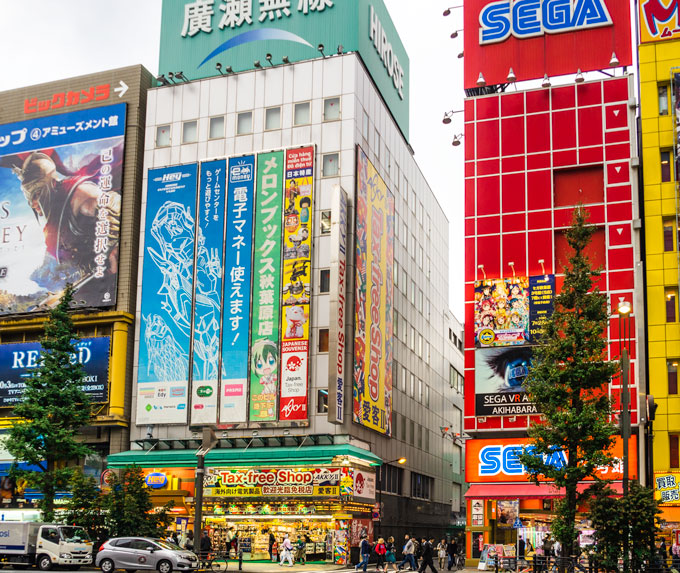 Visit the Mandarake Complex for eight floors of collectibles, cosplay gear, games, manga, and more.
Check out Super Potato for endless shelves of retro video games, accessories, and vintage arcade machines. They even have old consoles set up, so you can your original Donkey Kong or Super Mario World fix.
Bring your 100 yen coins to Yodobashi Camera's Gachapon Corner, where people of all ages come to collect tiny prizes from the capsule-dispensing machines.
Head to the GiGO Arcade (formerly the iconic SEGA building) to sample Tokyo's hottest arcade titles, from frantic rhythm games to realistic racers. And try not to spend all your money attempting to win a Snorlax plushie from the crane games.
Escape the crowds at the beautiful Kanda Myojin shrine, where gamers take their consoles to be blessed for good luck.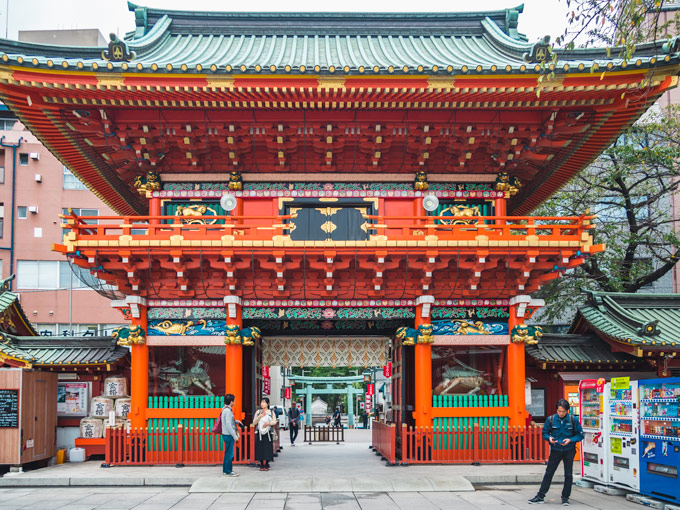 After all this excitement, you'll be ready for refreshment. Know that the popular themed cafes, like the one for Square Enix, require online reservations. So, you'll need to plan a few days or weeks in advance if you want a Moogle milkshake.
There are also Tokyo's infamous maid cafes, where girls in cute maid costumes will treat you like a king (or queen) and typically serve you cutesy dishes. Each maid cafe is unique, but most involve singing, dancing, and other entertaining interactions throughout the meal.
Also, please note that it's rude to take photos of the maids who stand outside and promote the cafe, unless you're a paying customer.
Akihabara also has delicious street food, from sweet crepes to savory takoyaki (octopus fritters). You should definitely try taiyaki, a fish-shaped pastry. Traditionally filled with sweet red bean paste, this fried delight can be stuffed with anything from nutella to apple custard.
Once you've finished exploring Akihabara, walk southwest across the Kanda River towards Jinbocho.
Jinbocho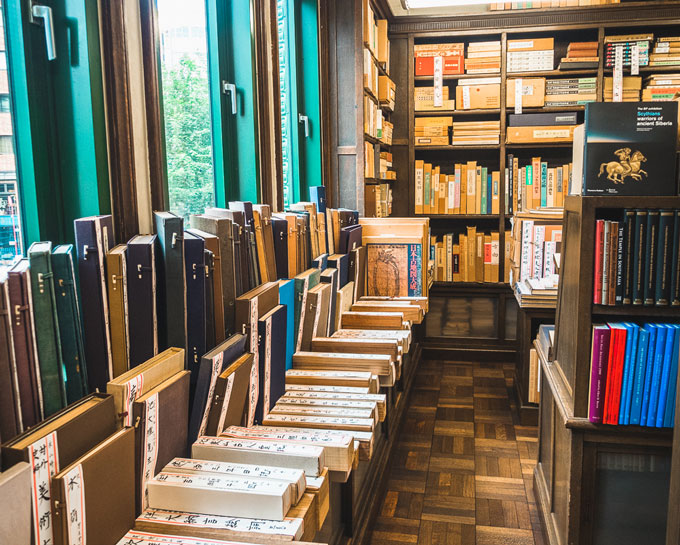 Jinbocho serves as a stark contrast to the mild chaos of Electric Town. Known as the used book capital of Tokyo, Jinbocho boasts over 150 bookstores. Here, you'll find everything from antique manuscripts to discount manga shops.
Even if you don't read Japanese, there's plenty to do in this underrated neighborhood. Otakus should not miss Village Vanguard Ochanomizu, essentially a Super Potato shop without the pressing crowds. Whether you're in the market for a Studio Ghibli jewelry box or an Inuyasha t-shirt, Village Vanguard probably has it.
Then, stop into Isseido Booksellers near Jinbocho Station for two floors of vintage books and scrolls. The second level houses rare illustrated manuscripts and old English language texts.
At this point, you'll probably be ready for a hearty meal. Because it's nearly impossible to have a bad meal in Japan, I won't recommend specific restaurants for each of the 6 days in Tokyo. However, you cannot leave the city without trying one of the city's best curries.
RELATED: Must Eat Food in Japan: Where to Find the Best Dishes
Head to Curry Bondy for their famous plate of rich and savory beef curry, topped with a little cheese. And if that's not enough, it all comes with a side of steamed potatoes!
Getting here can be a bit tricky, as the entrance is in a back alley off the main road. It's definitely one of those secret places in Tokyo that few tourists know about. However, they'll probably be a small line of people outside waiting for a seat.
When I was there, the hostess spoke some English. However, you'll want to know some basic Japanese to explain how many are in your party and place your order. It's truly the perfect place to experience Tokyo like a local.
After lunch, take the Shinjuku line from Jinbocho Station to Iwamotocho Station. Then, walk north to Akihabara Station and take the Hibiya line to Ueno Station.
Ueno Park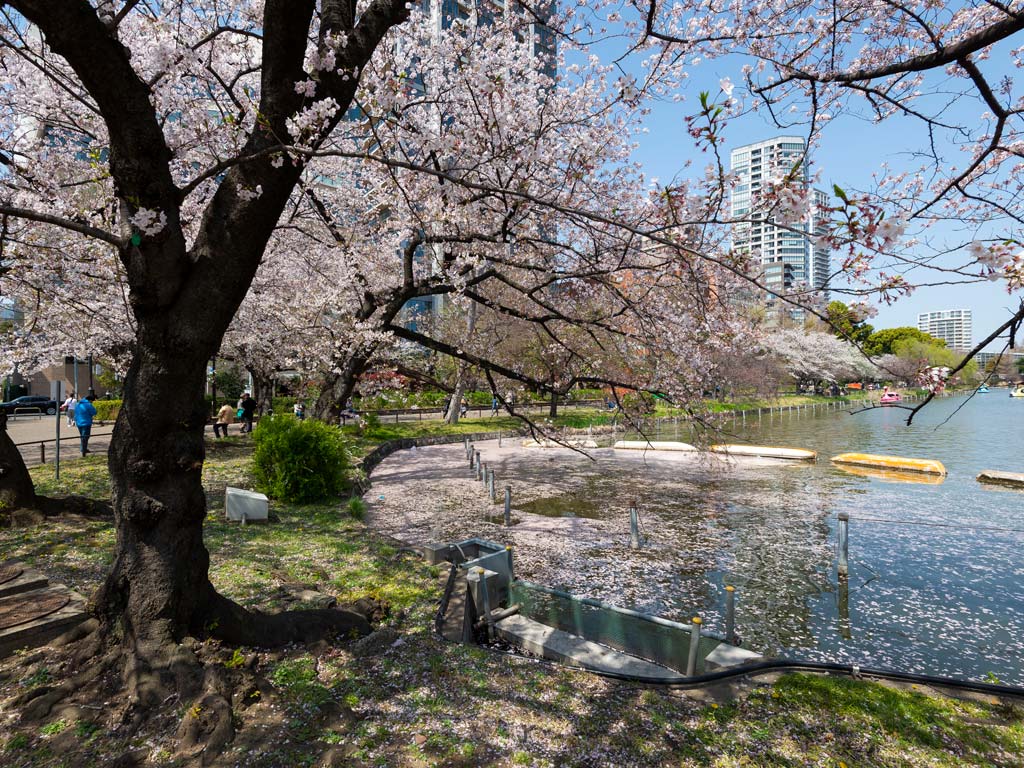 Ueno Park is a sprawling complex of green space, shrines, and museums. It's a popular fall foliage and cherry blossom viewing spot. And no matter the season, there's an excellent view of the Tokyo skyline from across Shinobazu Pond.
There's no admission fee for Ueno Park itself, making it one of the best budget-friendly excursions in this 6 day Tokyo guide.
At the northern end of Ueno Park lies Tokyo National Museum, a sprawling complex of Japanese art and archaeological treasures. There are multiple buildings, but you'll probably only have time (and energy) to wander the central Honkan gallery.
Here, you'll see everything from centuries-old tapestries to samurai armor. Admission is 1000 yen (as of 2023)
Save me for later!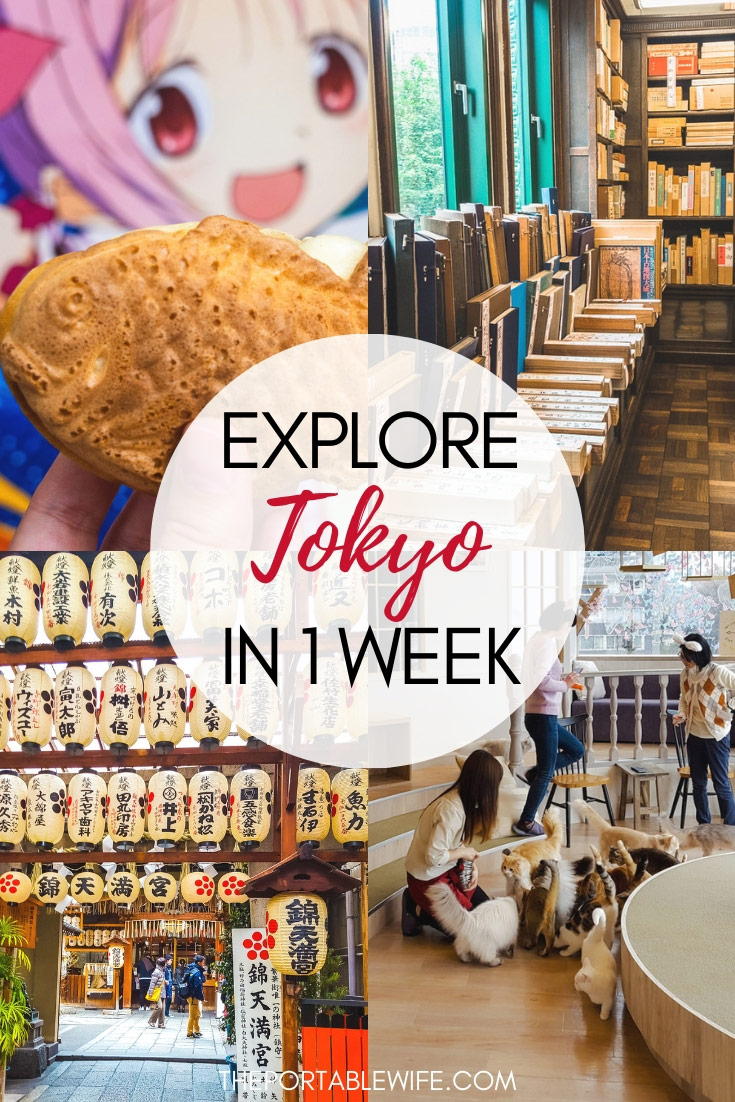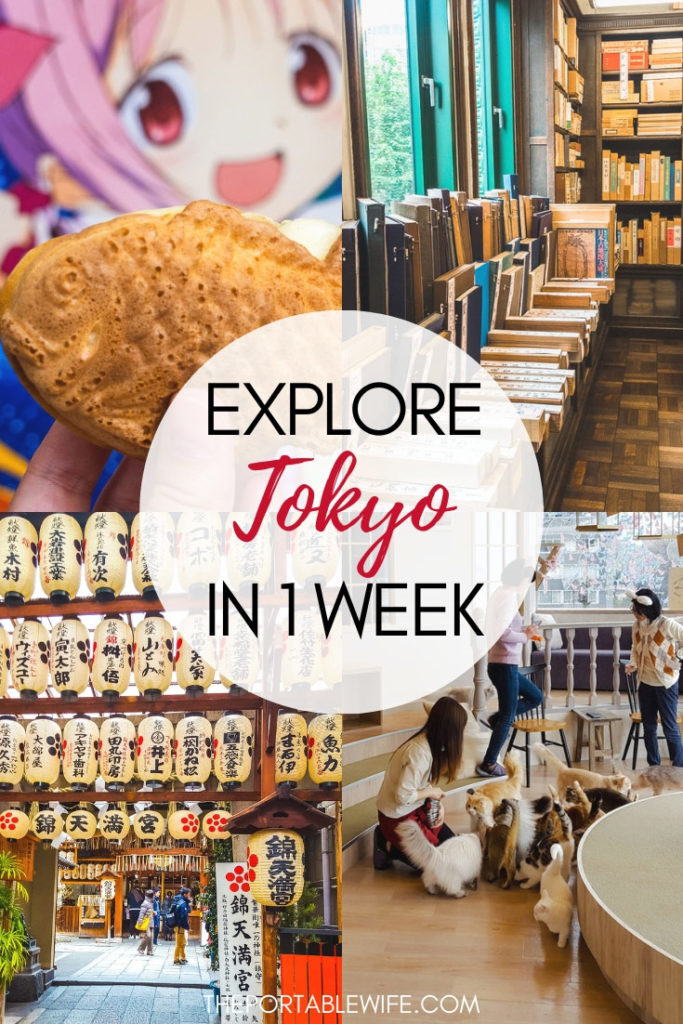 Day 2: Studio Ghibli Museum, Inokashira Park, Shinjuku
Studio Ghibli Museum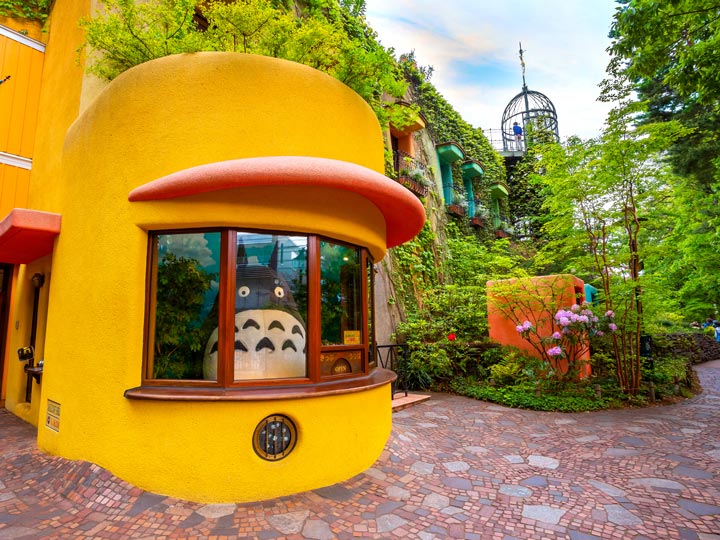 Forget Tokyo Disney. If you want to be transported into a fairy tale, book a visit to the Studio Ghibli Museum.
This interactive museum celebrates Hayao Miyazaki's animated films, from My Neighobr Totoro's Cat Bus to original drawings for Howl's Moving Castle. There's even a replica Miyazaki office that seems plucked from a storybook.
Studio Ghibli Museum tickets must be purchased in advance and sell out very quickly, sometimes in a single day. JTB USA stopped selling individual tickets, so US travelers will need to go through Lawson's online portal.

Lawson's sells tickets for the following month beginning at 10:00am Japan time on the 10th of the month (i.e. tickets for March dates go on sale February 10th). Adult tickets cost 1000 yen.
The Studio Ghibli Museum was a major highlight of my 6 days in Tokyo, and I can't recommend it enough.
Getting here is easy. Just take the JR East like to Mitaka Station, and follow the adorable street signs to reach the entrance.
Inokashira-koen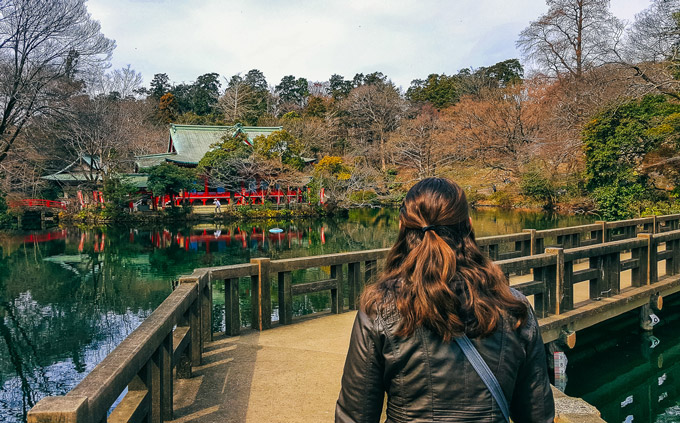 Before boarding the train back to central Tokyo, visit one of the city's most beautiful parks. Inokashira Park is gorgeous year round, though it's simply idyllic during cherry blossom season and autumn.
Walk along the paths and bridges and watch rowboats glide across the pond. There's also a shrine and Japanese garden to explore.
After soaking in the peace and quiet, head back to Mitaka Station and take the Chuo line to Nakano Station.
Nakano Broadway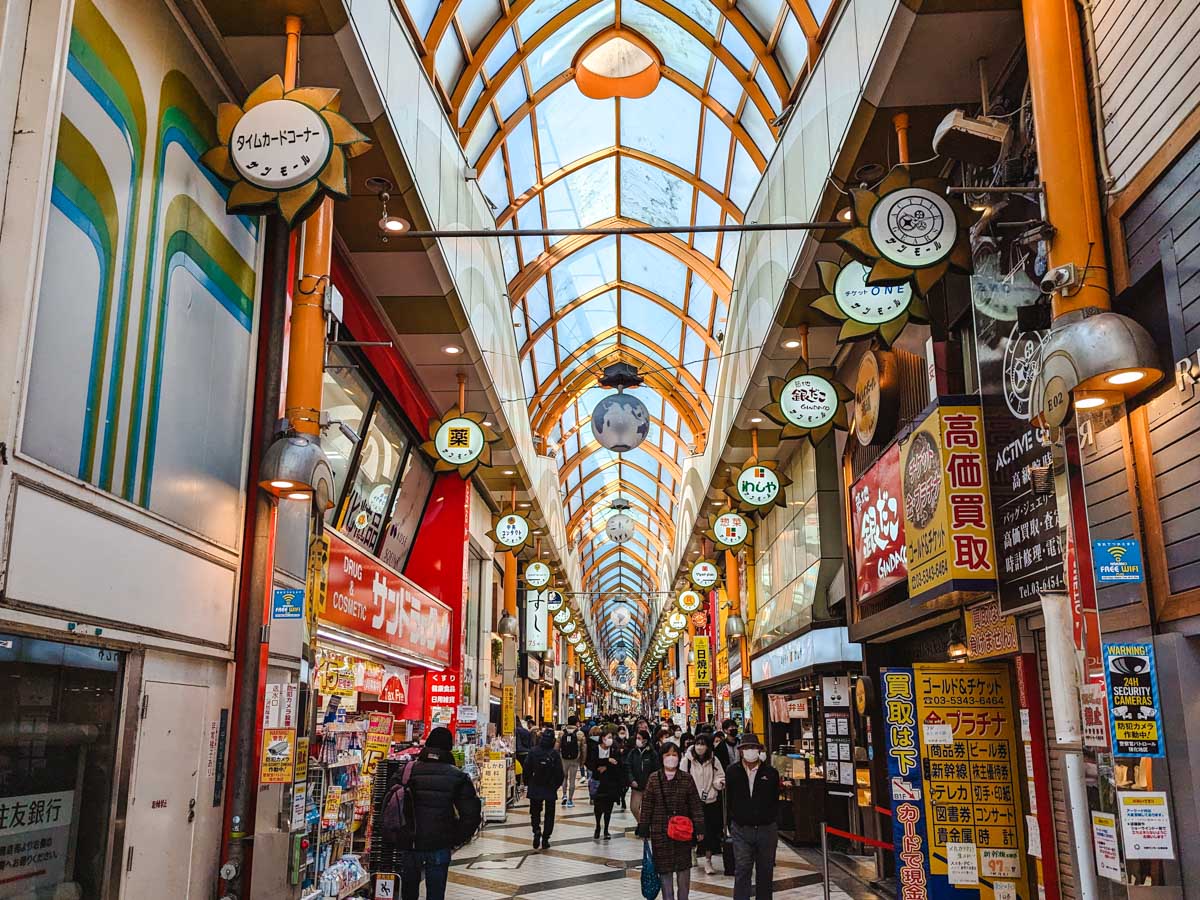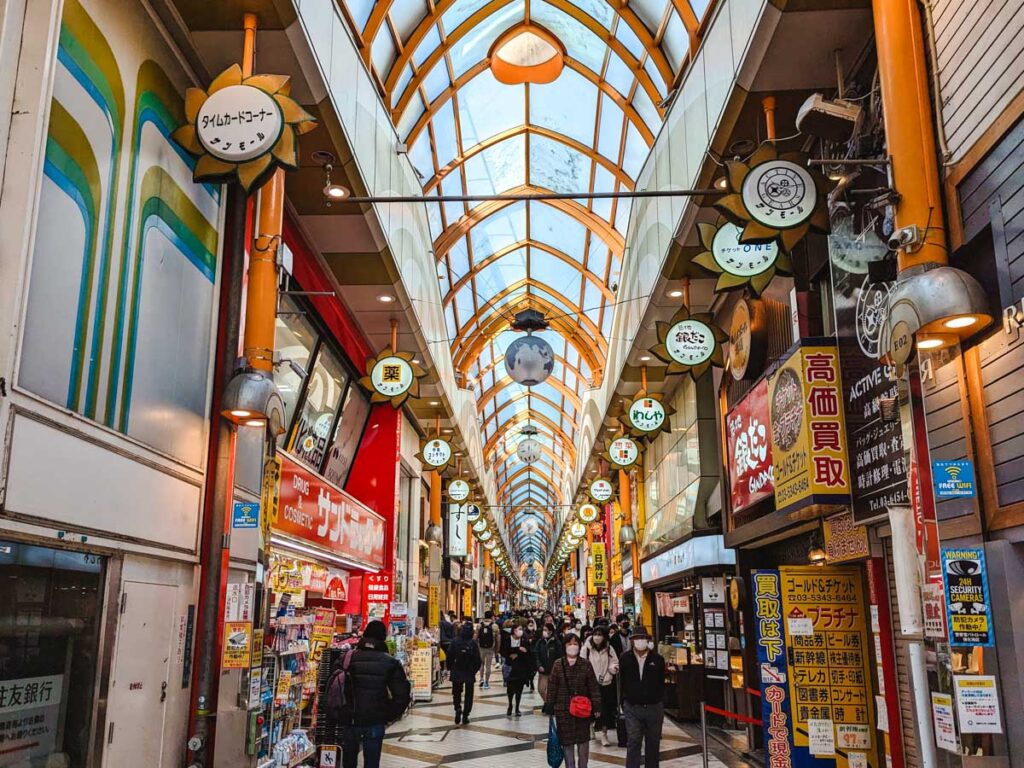 Nakano Broadway is such an underrated area. This massive covered shopping arcade is a dream for anyone into anime, manga, electronics, and other collectibles.
While it's similar to Akihabara, the shops of Nakano Broadway have far more merchandise on offer at more reasonable prices, and with fewer crowds. There's also a bigger selection of unique and throwback items, like Sailor Moon iPhone 5 cases and Inuyasha lunchboxes from the 90s.
The streets surrounding the main complex are full of charm and make for excellent photos. You can easily spend hours exploring and browsing, so keep and eye on the time lest the day get away from you!
When you're ready to leave, go back to Nakano Station and take the Chuo Line down to Shinjuku Station.
RELATED: What to do in Nagano Japan: A 5 Day Nagano Itinerary
Shinjuku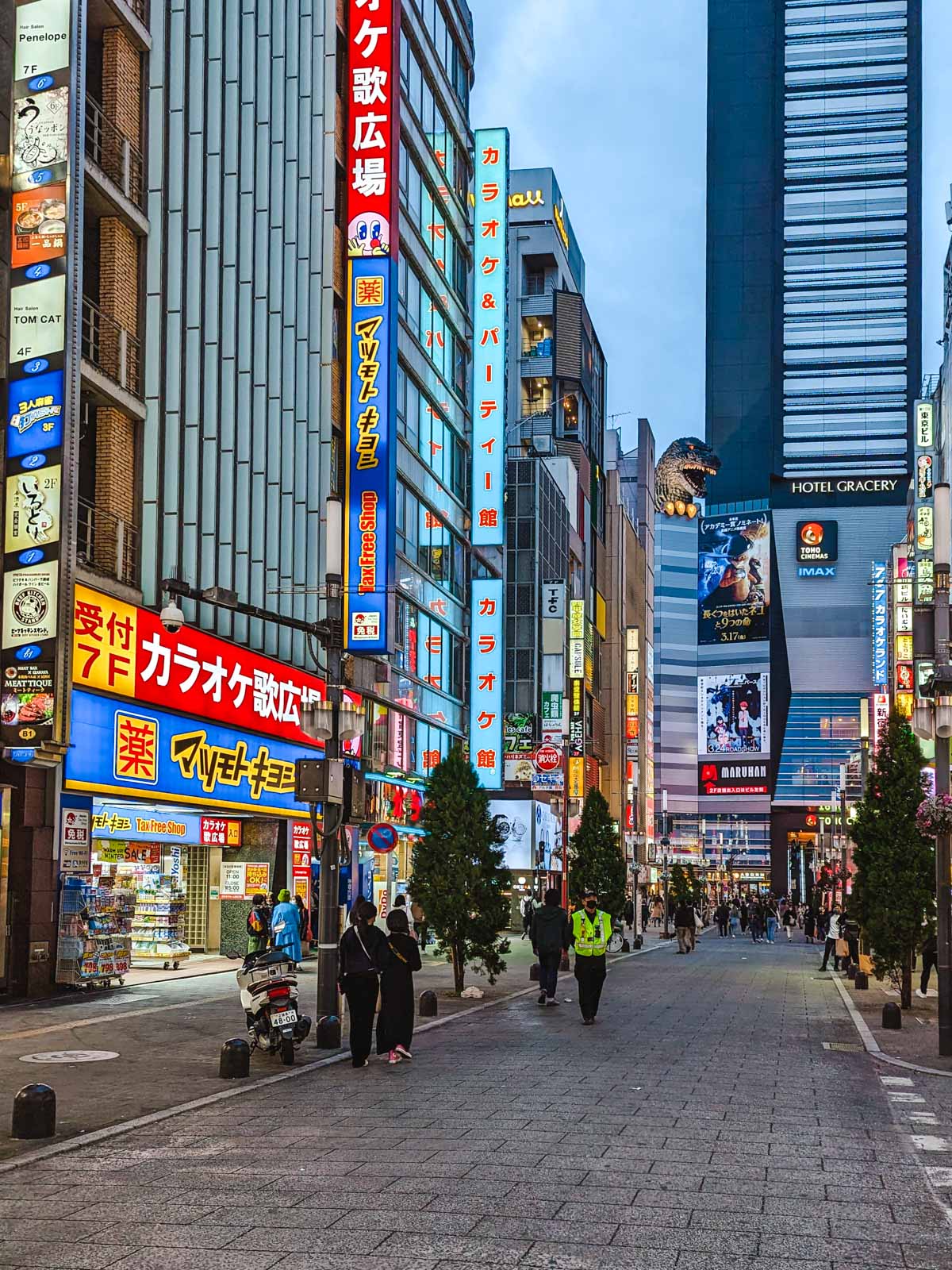 I think Shinjuku is one of the best neighborhoods in Tokyo. Though it's mainly a commercial and residential area, there's plenty of fun to be had around town.
From Shinjuku Station, head two blocks west to the Tokyo Metropolitan Government Building. Unlike Tokyo Skytree, the observation decks here are completely free and offer amazing views over Tokyo.
You can access the observation decks via the 1st floor elevator, though be prepared for a short-ish queue depending on the day and time of your visit.
Afterwards, walk back towards the station and keep going east. You'll soon reach Shinjuku Park, a massive green space in the heart of Tokyo.
Pay the 500 yen admission fee and wander the numerous garden paths, which are lined with cherry blossoms in the spring. There's also a great view of the city skyline.
At this point, it should be close to dark, and that's when Shinjuku comes alive.
Tucked away next to the tracks of Shinjuku Station, Omoide Yokocho is one of the coolest places you'll visit during your six days in Tokyo. Meaning "Memory Lane", this lantern-lit alley is jam-packed with tiny izakaya (Japanese pubs), yakitori shops, and watering holes.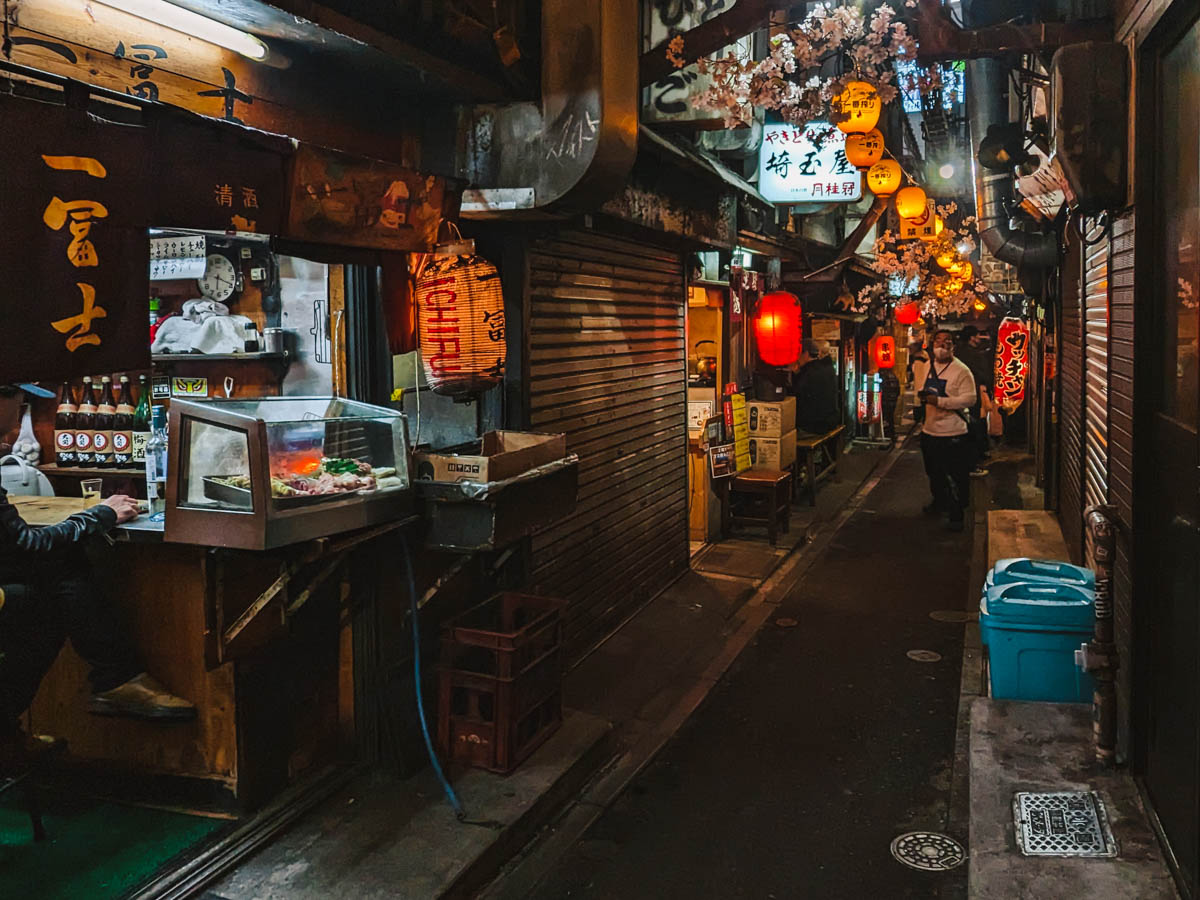 I loved peering into the restaurants through the hazy coal fire smoke. It felt like a place stuck out of time.
Head east from Shinjuku Station to Golden Gai, a grungier version of Omoide Yokocho that's home to some of the more niche bars in Tokyo.
Though it's fun to wander the area, I don't recommend going in any Golden Gai bars without a guide. It's one of the few places in Japan where foreigners are often overcharged. Plus, some of these intimate, 5-seat izakaya are havens for locals looking to escape the crowds.
Instead, I suggest booking a guided tour with a local who can help you get an authentic Shinjuku experience.
One block west of Golden Gai is the infamous Kabukicho, the "red light district" of Tokyo. You'll find endless streets of hostess clubs, love hotels, and karaoke bars beneath the flashing lights.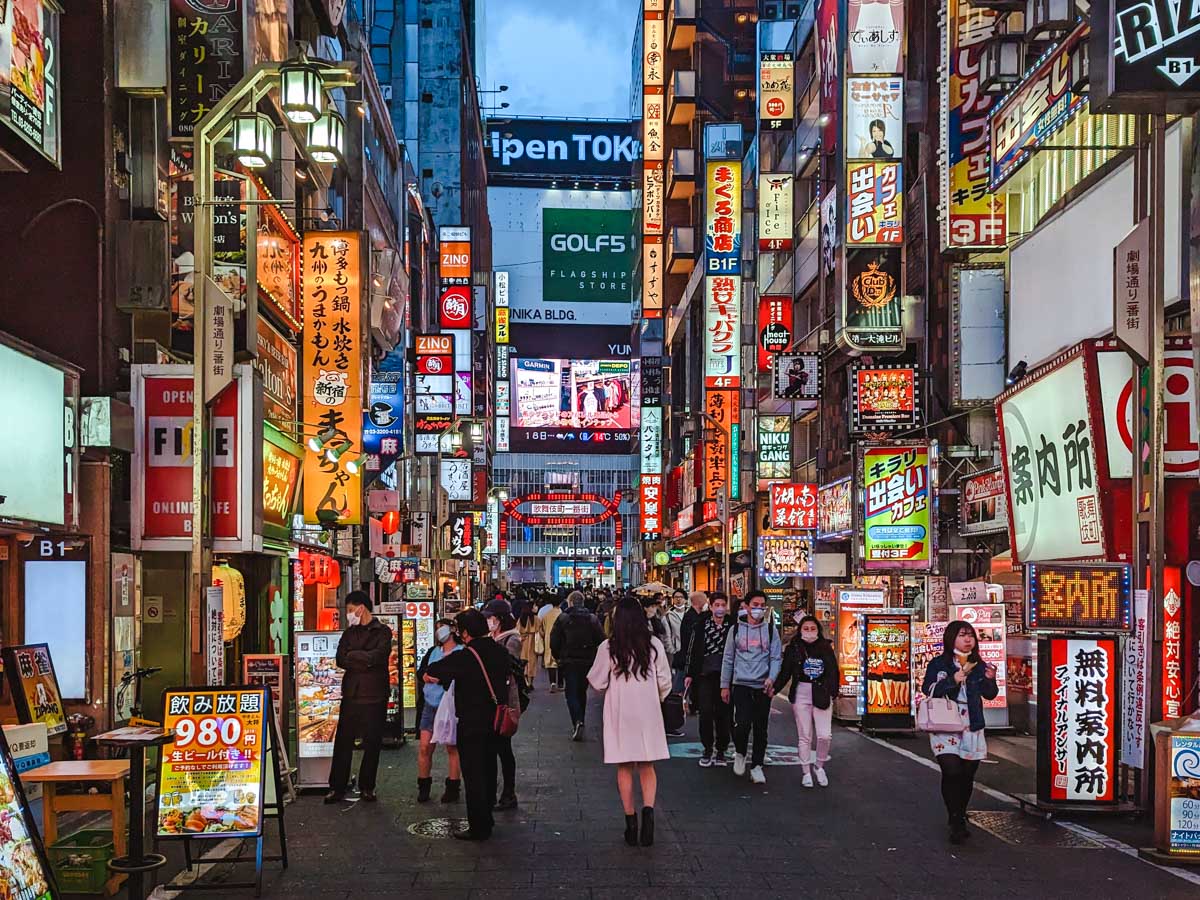 Despite its reputation, Kabukicho is perfectly safe and plenty of fun, especially if you rent a karaoke room for an hour or two. Just be mindful of the prices, which can get pretty out of hand on weekends when places increase their cover charges (we once paid $80 USD for two hours of karaoke and one drink)
Day 3: Shibuya, Harajuku, Shimokitazawa
Shibuya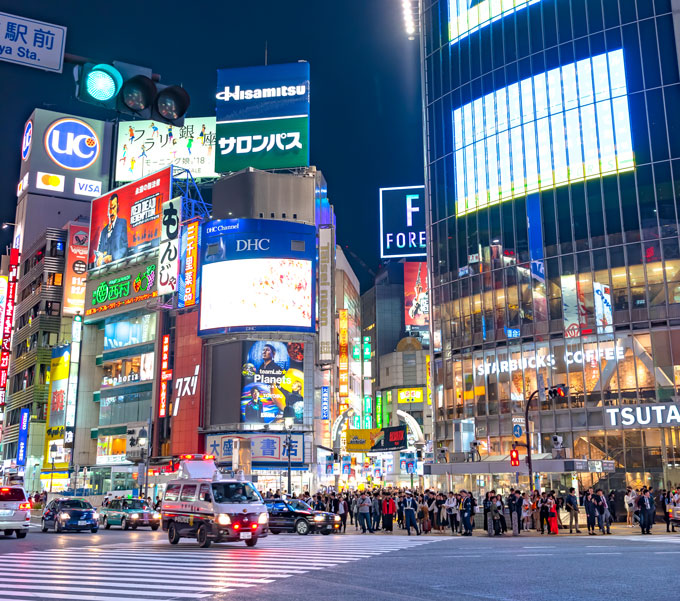 People think Shibuya is the most hectic neighborhood in Tokyo. But in reality, this ward is home to Tokyo's largest park and one of the most famous shrines.
Exit Shibuya Station and witness one of Tokyo's most iconic scenes: hundreds of people passing through Shibuya Crossing. If you want a cool aerial view of the spectacle, there's a Starbucks in the train station with a glass wall overlooking the crosswalk.
To be fair, this area IS chaotic nearly 24/7, with a mix of pedestrians and cyclists making their way through the zebra crossings. That being said, it's worth taking a few passes through the intersection to really absorb the different angles and flashing billboards.
Don't miss the the Hatchiko statue near the Shibuya Station's northwest exit, which memorializes the famously loyal Akita who waited here for his owner each day.
Shibuya is a shopper's paradise, and new complexes like Shibuya Scramble Square and Shibuya Stream brought even more opportunities to buy souvenirs, clothes, homeware, and pretty much anything your heart desires.
Even if you're not up for retail therapy, you absolutely need to make a stop at Shibuya Scramble Square to experience the newly crowned "best view over Tokyo": Shibuya Sky.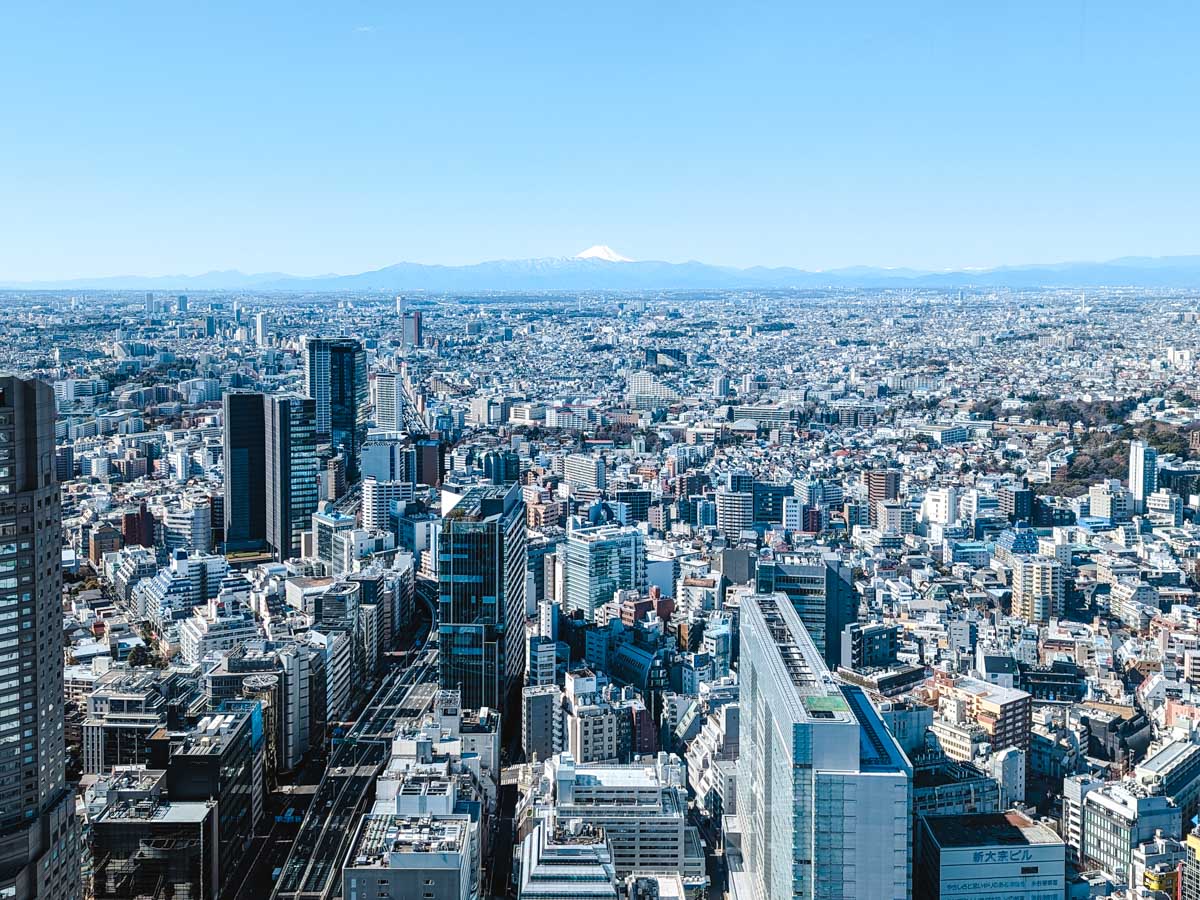 This three-storey observation area is located on floors 45-46 plus the rooftop of Shibuya Scramble Square. On a clear day, you can see Mt. Fuji in the distance, and it's become a popular spot to watch the sunset in Tokyo.
To avoid getting stuck waiting in line for an entry ticket, I highly recommend buying your timed entry tickets in advance. You'll get a QR code emailed that you can show on your phone for fast entry.
While there are plenty of signs directing visitors to the right elevators for Shibuya Sky, you should know that you need to take one of the elevators on the 1st or 2nd floor on the exterior of Shibuya Scramble Crossing in order to reach the 14th floor where the Shibuya Sky entry gates are. From there, you'll be directed to another elevator that goes directly up to Shibuya Sky.
Once you're up there, the views are absolutely incredible. And in true Japanese style, there are organized queues at a couple locations to snap photos with no people in the background.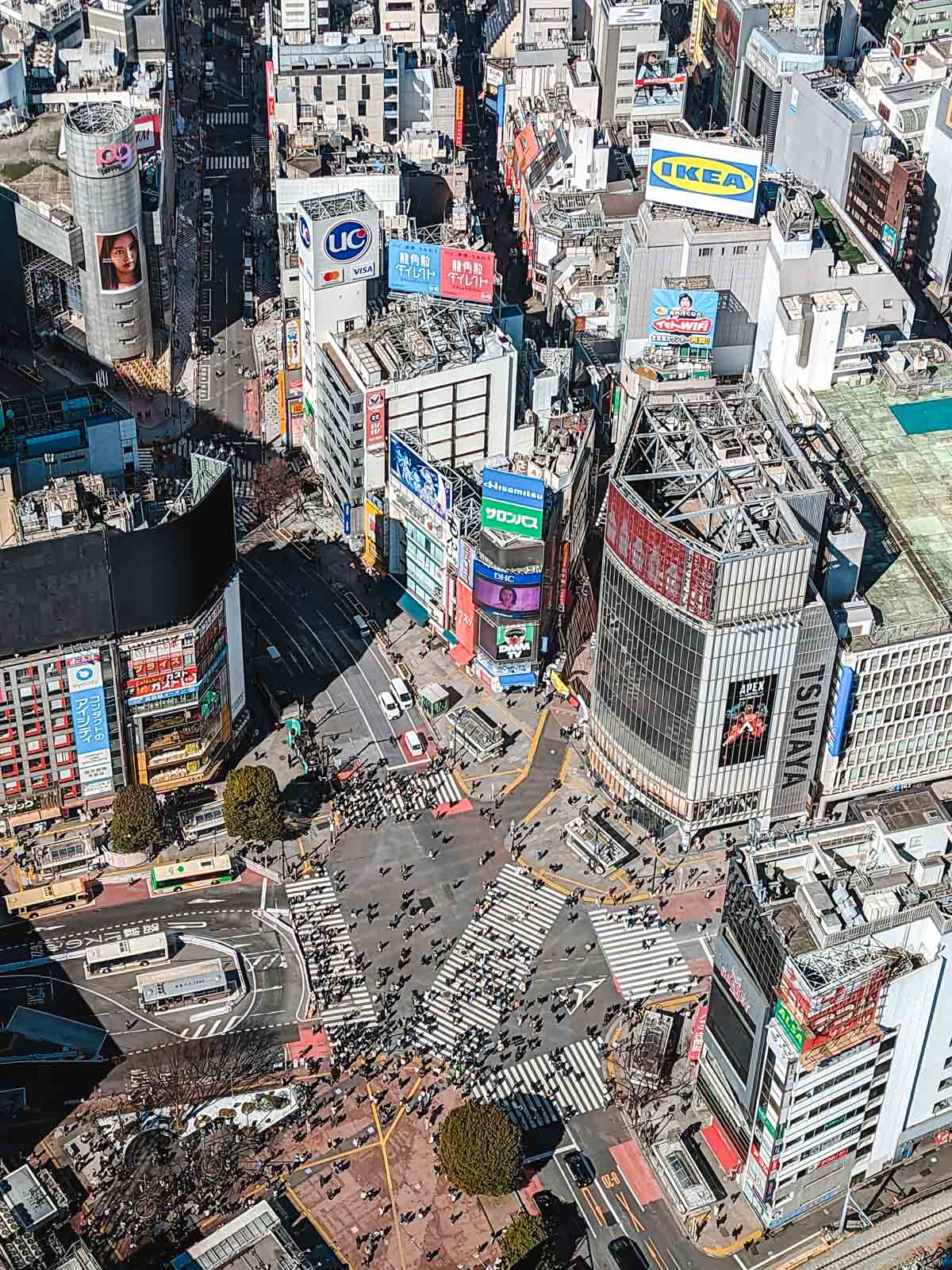 Note: This next stop is for Nintendo fans. If that's not you, skip down to Yoyogi Park.
Anyone who grew up with Nintendo's games (or still playes them today!) needs to make 84 Cafe–a.k.a. the "secret Nintendo bar"–a non-negotiable in their 6 day Tokyo itinerary. I recently had the chance to visit, and it will live among my top travel memories of all time.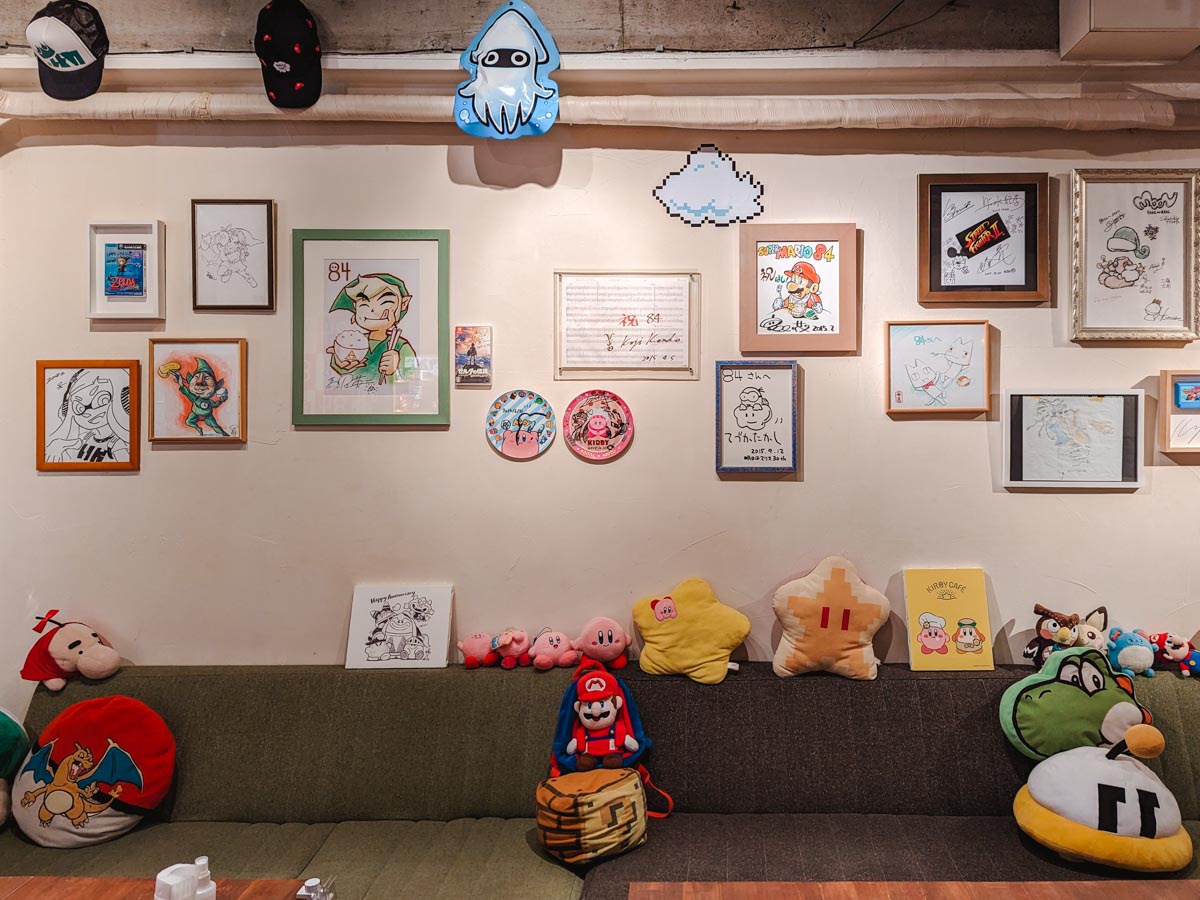 84 Cafe started out as a private space for Nintendo staff to kick back, relax, and enjoy each other's company. Relics from visitors like Koji Kondo and Chokan, the cafe's owner (real name Toru Hashimoto), cover the walls, furniture, and even the ceiling. Everywhere you look, there's another autographed sketch or vintage video game box to take you down memory lane.
In 2022, Chokan opened the space to the public, so we can all bask in the nostalgia and get the inside scoop of what it's like to work at Nintendo and develop some of its most iconic games. He worked on many of my favorite childhood games including Yoshi's Island, Pokemon, and Hey You, Pikachu!, so I had tons of fun chatting with him.
Because the cafe's location is a secret and it's a place best explored with no spoilers, I won't go into many more details here. In order to access the cafe, you'll need to make a reservation online (with advance payment). Bookings are 90 minutes long and come with free Japanese snacks and a drink.
Thankfully, you don't need to worry about stumbling about Shibuya looking for the place or not being able to communicate in Japanese. After your reservation is confirmed, you'll be emailed a meeting spot and time where your English-speaking guide will escort you to the cafe and help translate.
Now it's time to leave the hustle and bustle of central Shibuya behind for Yoyogi Park.
This sprawling green space is where locals come to picnic, unwind, and play with their children. If you're visiting in late February to early April, you'll be greeted with pink fluffy trees of plum and cherry blossoms.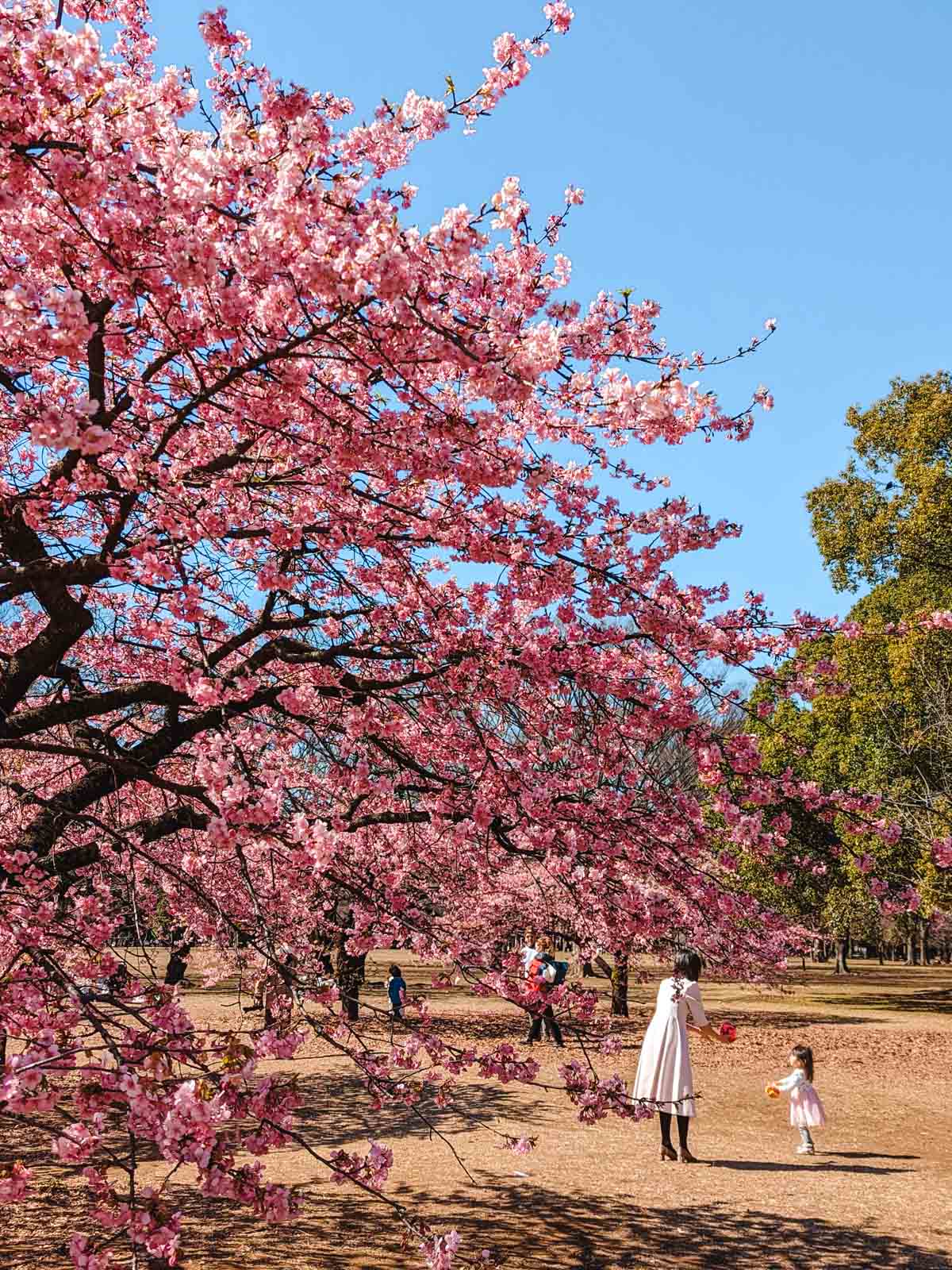 As you head further northeast, the vast open park transitions into the tranquil forest of Meiji Jingu Garden.
I'll never forget my first visit here. It was a cool, rainy morning, and there was a slight mist hovering in woods. It was completely quiet, save for the occasional shuffle of feet as we passed other walkers. I honestly could not believe I was still in Tokyo.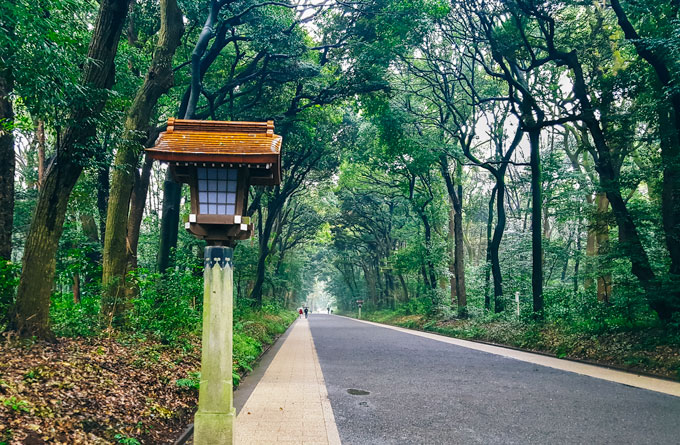 At the park's northern end, you'll find the massive wooden torii gates of Meiji Jingu Shrine. Continue into the massive complex, where you'll find several buildings. Be sure to stop by the massive wall of ceremonial sake barrels–it's one of the top Instagram spots in Tokyo!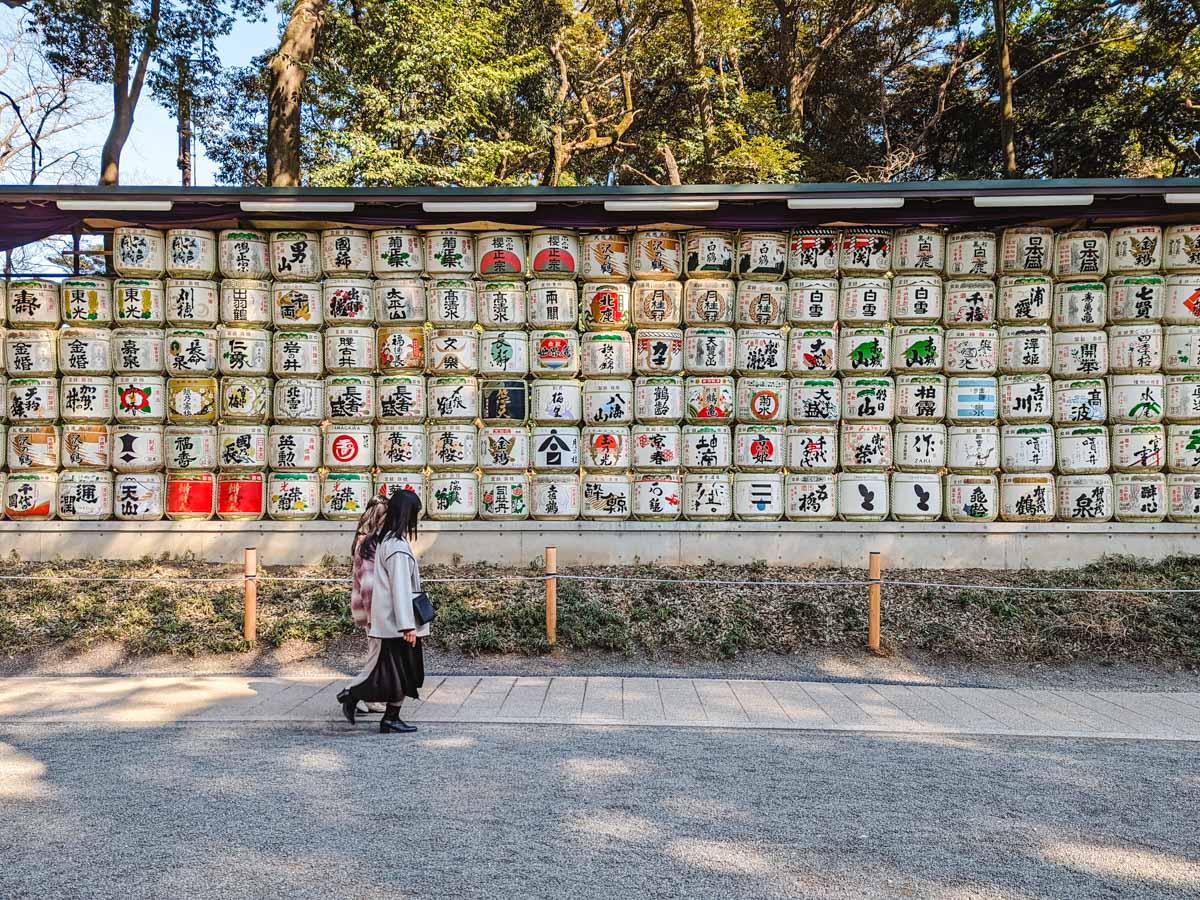 The Meiji treasure house and annex stores kimonos and personal effects of current and former royal family members. You can go inside for 500 yen. There's also the inner garden, where irises bloom in late June (also 500 yen admission).
After you've finished exploring, walk south down the main pathway towards Harajuku Station.
Harajuku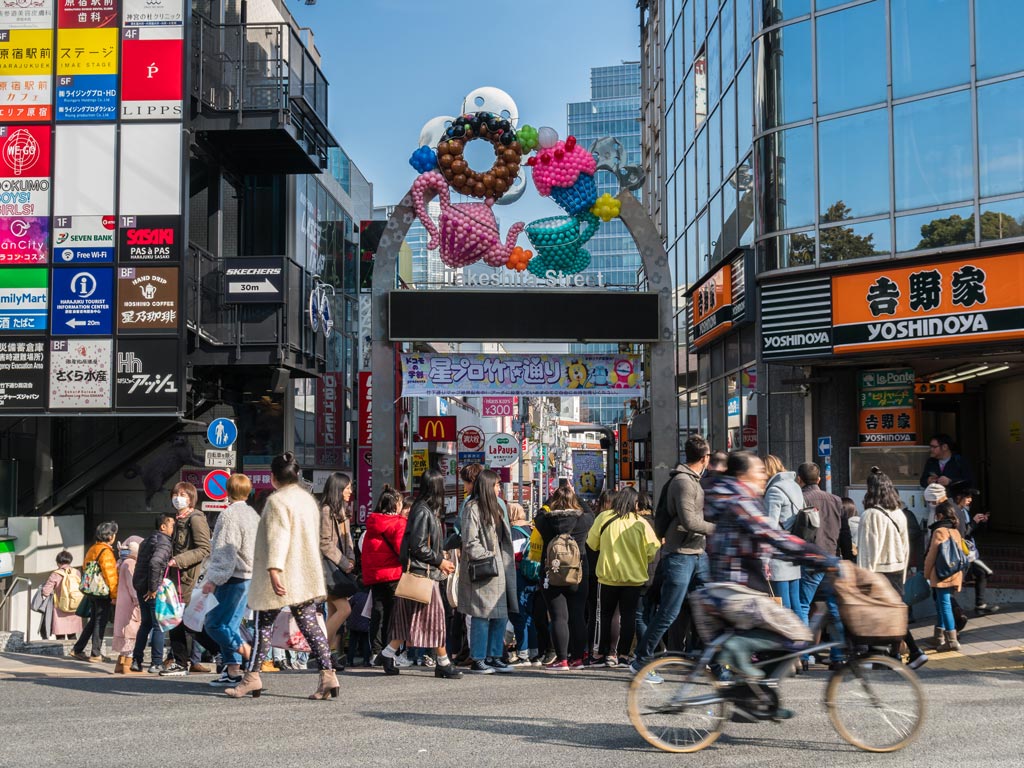 Harajuku is the epicenter of cute things to in Tokyo. As you walk down Takeshita Dori, the main shopping street, you'll see everything from Lolita costumes to towering parfaits.
If you're into quirky Japanese fashion (or need a break from the pressing crowds), get off the main road and into the alleys. Here, vendors sell the latest clothing and accessory trends, though they don't come cheap.
And it wouldn't be a visit to Harajuku without an over-the-top dessert crepe. There are a dozen crepe stands in Harajuku, but I personally loved Angels Heart.
Finish up your crepe before heading to to Harajuku Station, where you'll take the Chiyoda line to Shimo-Kitazawa Station.
A note on animal cafes in Tokyo: One of Tokyo's most popular attractions are its animal cafes. These places offer visitors a chance to interact with everything from cats to hedgehogs to owls.

Unfortunately, the well-being of these animals often comes second to making a profit. There's not much information on ethical animal cafes in Tokyo, though owl cafes have been the worst offenders.
Shimokitazawa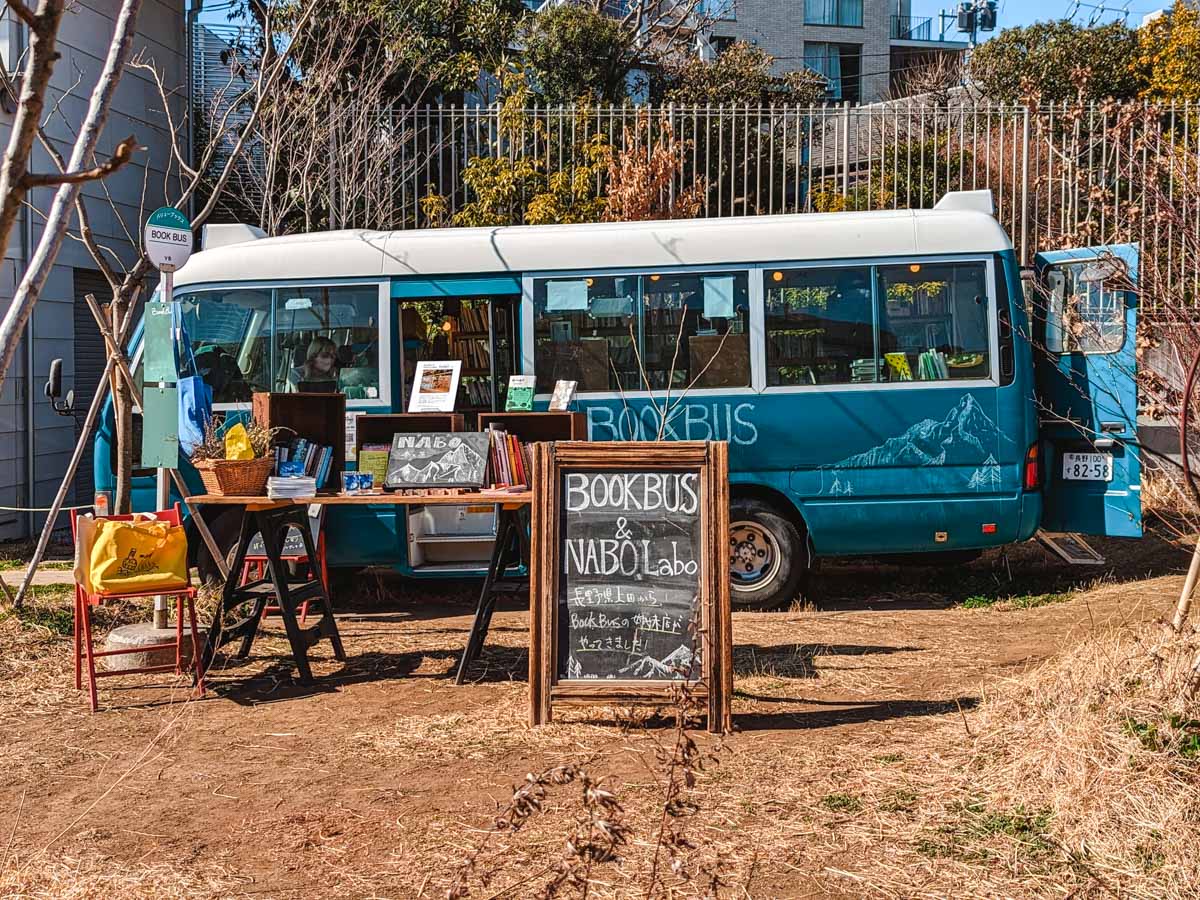 Unlike the manic-pixie vibe of Harajuku, Shimokitazawa has a more alternative, indie feel.
Anyone who loves thrift stores, record shops, and good coffee should feel right at home in this quiet neighborhood. And it's the perfect place to spend a relaxing evening before tomorrow's busy central Tokyo itinerary.
If you're visiting during plum blossom season, make sure to pass through Hanegi Park. They hold a festival every year complete with performances and street food, and there's an entire grove of plum blossom trees to meander through. On a clear day, you can even see Mt. Fuji in the distance!
Day 4: Tsukiji Outer Market, Chiyoda, Ginza, Rainbow Bridge
Tsukiji Outer Market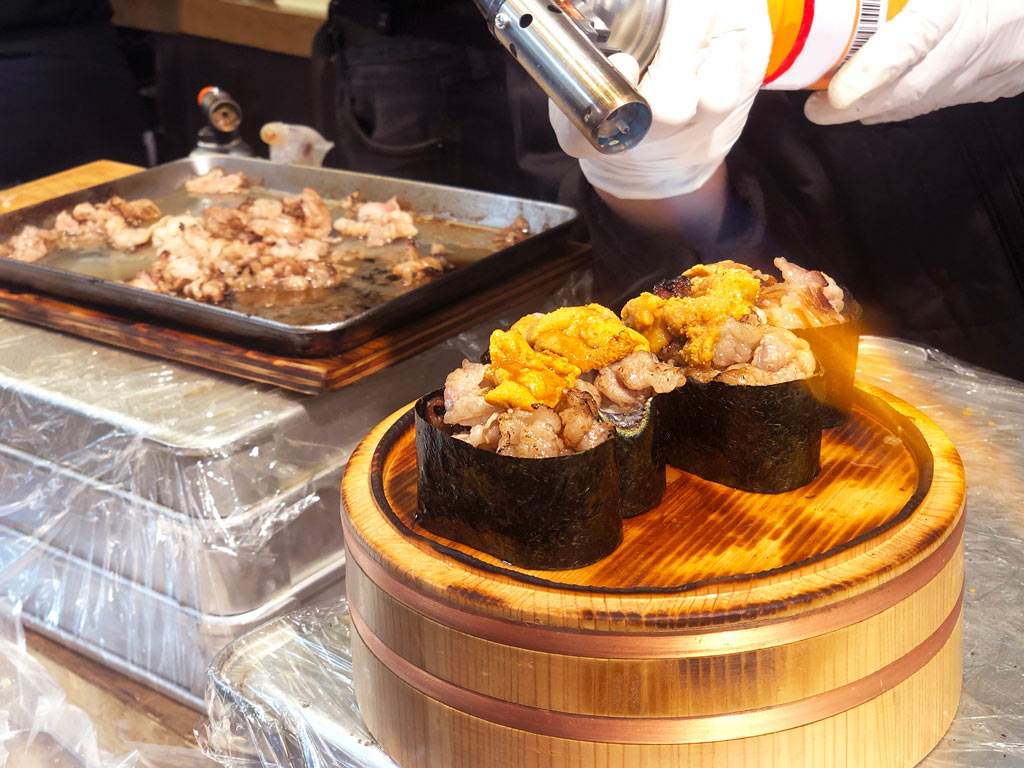 When you think of delicious Japanese dishes, I bet sushi comes to mind. And what better way to start the day than an ultra-fresh sushi breakfast at Tsukiji Market?
The site of the famous 5am tuna auction, Tsukiji's inner market moved in early 2019 to a new location. However, the outer market remains, and dozens of chefs are still serving up the morning catches for hungry customers.
Don't stress about going to Sushi Daiwa or the other "best" places, where 3 hour lines are the norm. You can't really go wrong with a morning sushi set from any of the stalls.
The easiest way to reach Tsukiji Outer Market is via the Tsukiji subway stop on the Hibiya line.
Chiyoda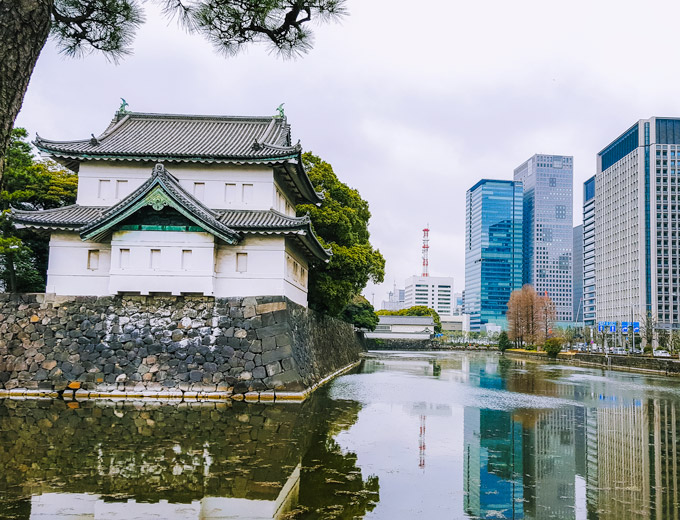 Tokyo's Chiyoda ward is home to some of the city's most prominent buildings, including Tokyo Station and the Imperial Palace.
The Tokyo Imperial Palace serves as the official royal residence of Japan. The palace itself is only open one day a year, though the splendid East Garden is open year-round free of charge.
You can also book an advanced tour of the inner garden by filling out this application.
Hie Shrine sits southwest of the palace complex. Said to enshrine the guardian diety of Tokyo, Hie is among the city's most important places. People also come here to pray for business success, and it's common to see dozens of well-dressed men and women milling about the complex during lunch and after the work day ends.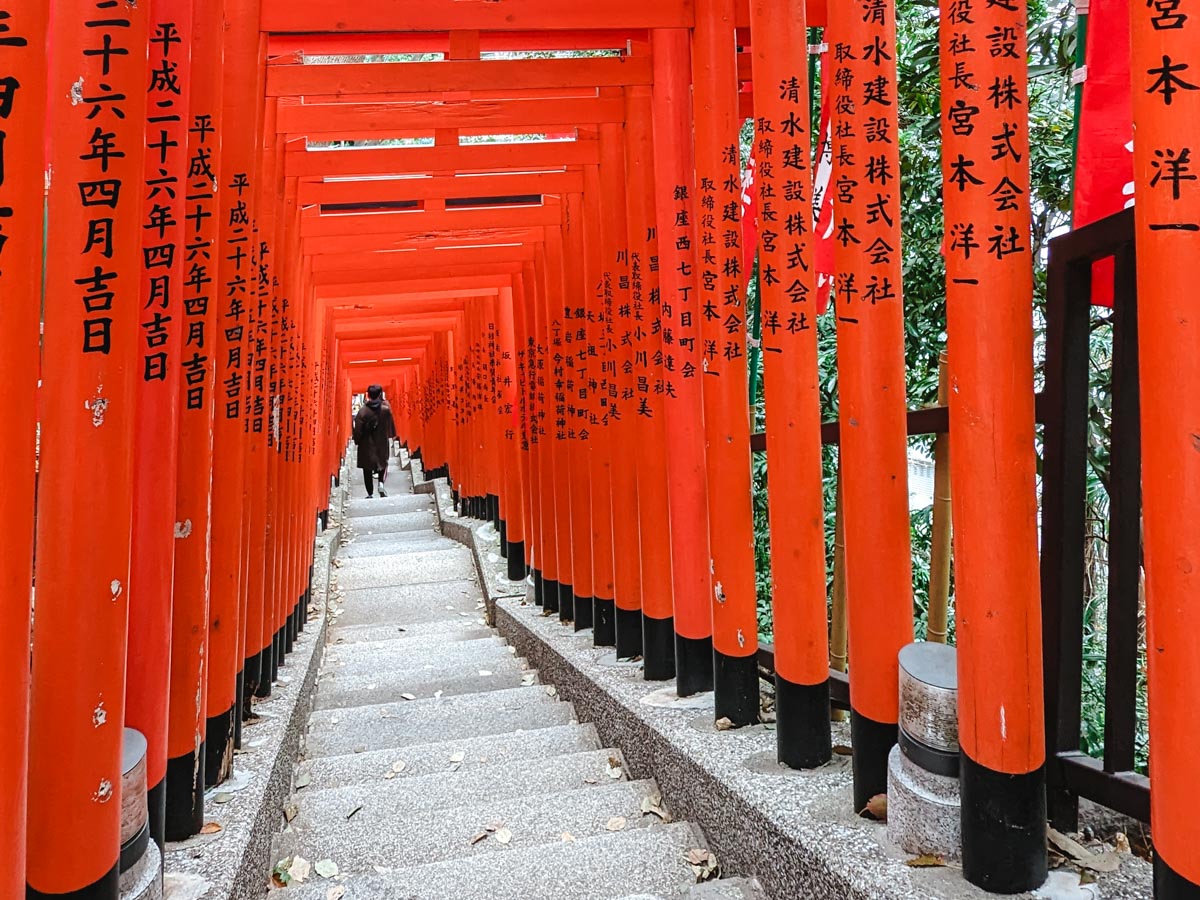 The main draw for tourists, however, is the torii gate pathway on the complex's southwest side. It's like a far less crowded version of Fushimi Inari shrine and well worth a visit.
When you're ready for lunch, walk east to Tokyo Station. Beneath the platforms lies a magical place: Tokyo Ramen Street. All of Japan's top ramen shops vie for a coveted slot in this row of restaurants, and eating here is one of the best things to do in Japan.
You can't really go wrong when choosing a place to eat, because they are all the best of the best. However, I recommend Rokurinsha for tsukemen, Oreshiki for tonkotsu, and Hirugao for shio-based ramen. Most use a machine ordering system where you select your toppings and sides.
Ginza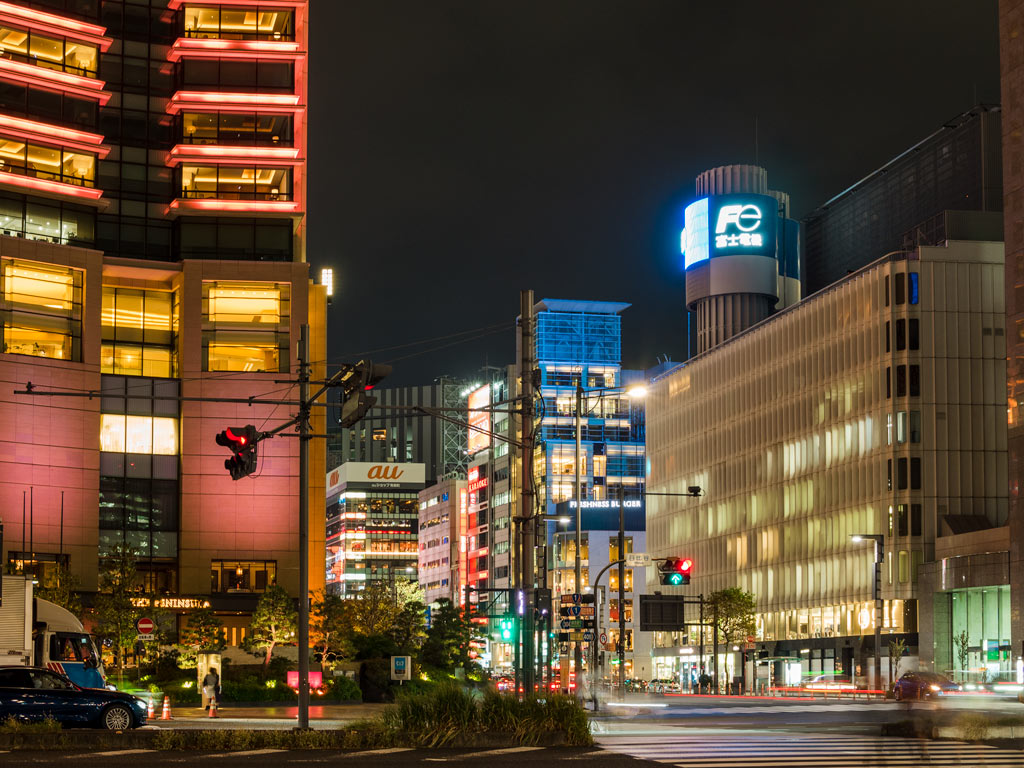 Ginza is akin to NYC's Fifth Avenue. The world's most fashionable and high-end brands are sold here, from Prada to Cartier. Even if you're not a big spender, it's still fun to walk around the glitzy streets.
Chuo Dori is the place to be on the weekend, and Tokyu Place Ginza has an excellent selection of restaurants. If you're feeling peckish or weren't insterested in ramen, there's a tasty and affordable conveyor belt (kaiten) sushi place called Nemuro Hanamaru on the upper floor.
Depending on where you wrap up in Ginza, you'll head south to Daimon Station using one of the various metro stations and lines.
Tokyo Tower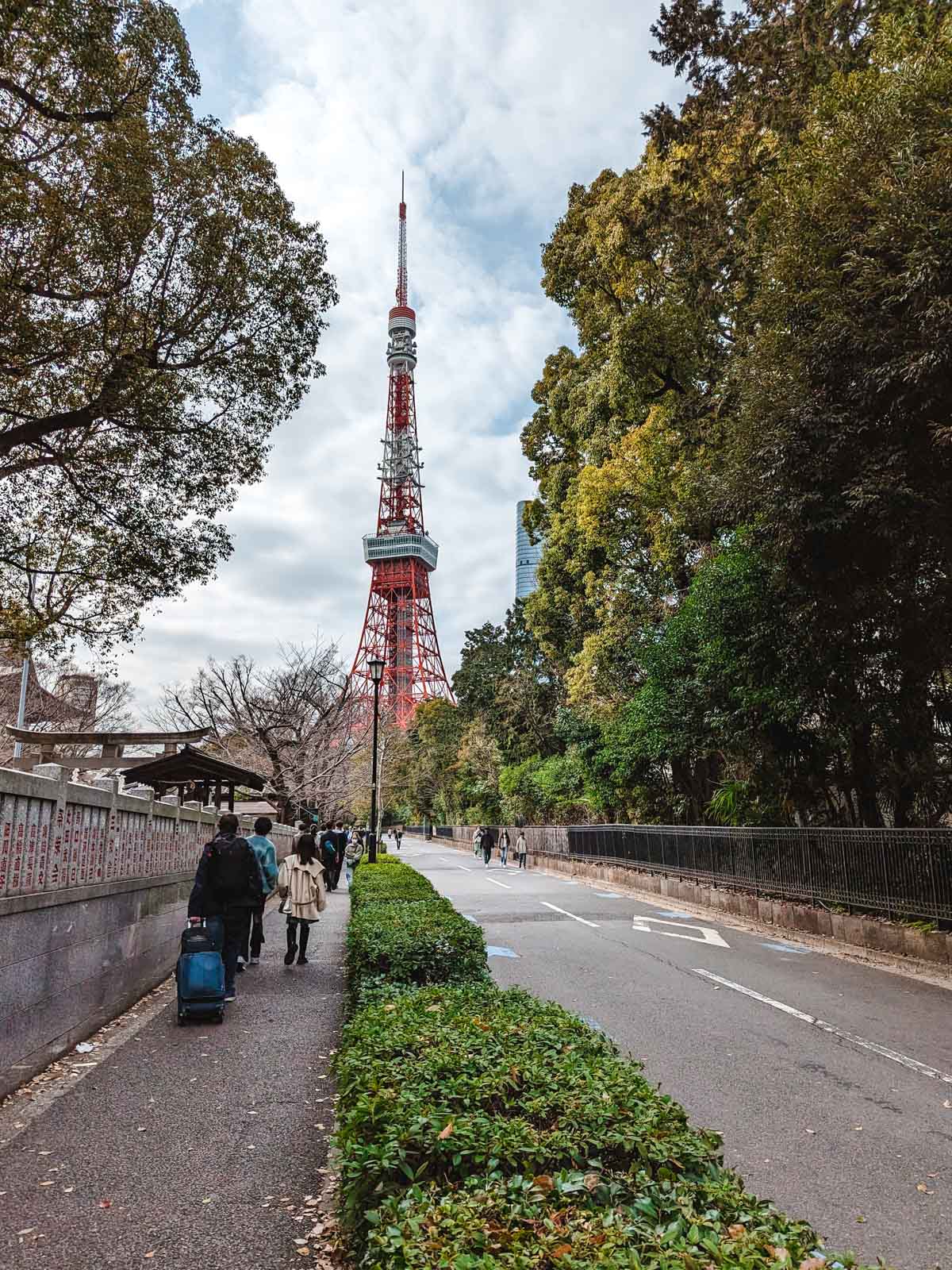 Considered the Eiffel Tower of Japan, Tokyo Tower's red and grey structure serves as a radio tower, observation deck, and nighttime illumation complete with color changes according to the season.
Given that you'll have seen Tokyo from above twice already (with the potential for a 3rd viewing tomorrow), you can skip the paid observation deck and instead stroll around Shiba Park and Zojo-ji. Dating back to the 1600s, Zojo-ji's beautiful red temple and main gate look particularly cool amid the backdrop of modern Tokyo Tower.
Afterwards, head back to Daimon Station and take the Asakusa Line south to Sengaku-ji Station.
Sengaku-ji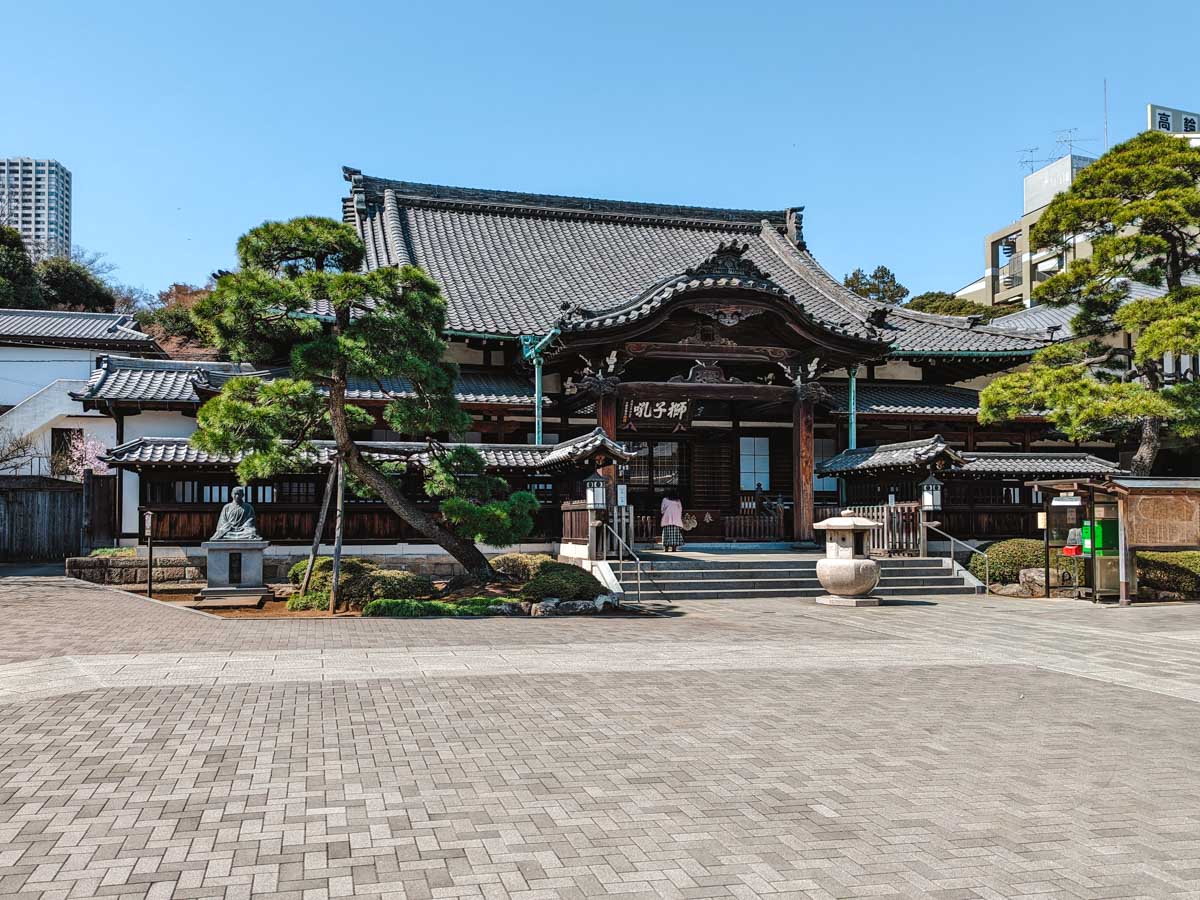 You may not have heard of Sengaku-ji, but you're probably familiar with Japan's 47 Ronin (Keanu Reeves starred in a 2013 film based on the story).
In 1702, feudal lord Asano Naganori was forced to take his own life after assaulting an important court official. A year later, the samurai warriors who served him–now ronin (leaderless samurai)–killed the court official to avenge their master's honor, knowing fulll well that they would be sentenced to die for the act.
Thanks to the public's support, however, the ronin were allowed to commit seppuku instead of being executed, which was viewed as an honorable death.
The 47 Ronin were buried alongside their master at Sengaku-ji temple, and today, visitors can honor their memory by placing burning incense at each of their gravestones. It's a beautiful ritual that I highly recommend if you have the time and aren't bothered by smoke.
Your last destination for the day is a bit more involved to reach. The most straight-forward way is to go back to Sengaku-ji Station, take the Asakusa Line north to Shimbashi Station, and then take the Yurikamome Line south to Daiba Station.
However, you can also walk 30 minutes to the Rainbow Bridge Promenade entrance and cross the bridge on foot to reach Daiba Park. I suggest using Google Maps to help you decide on a route.
Rainbow Bridge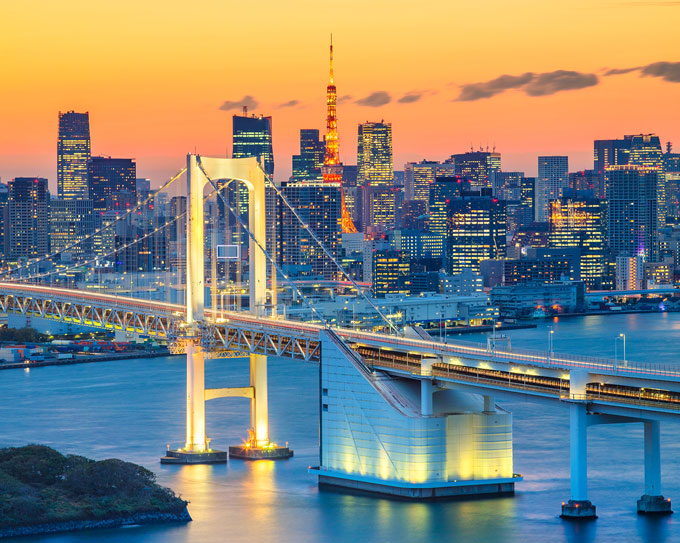 Wrap up the evening with a sunset view over Tokyo at Daiba Park. This island is also offers excellent views of Rainbow Bridge, which lights up at night. There's also a miniature Statue of Liberty that makes for great photographs.
Day 5: Kagurazaka, Asakusa
Kagurazaka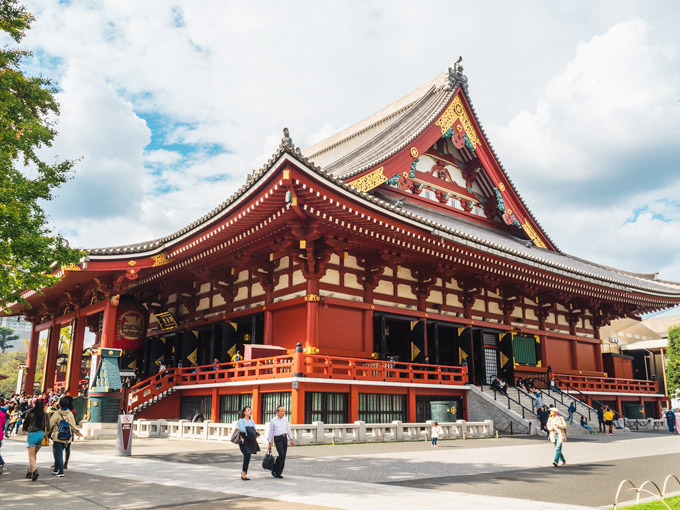 Today's Tokyo itinerary is all about the city's oldest places.
Start the day in Kagurazaka, a neighborhood known for preserved Edo buildings and old alleys. However, a quick stroll around the area reveals its mix of modern and historic architecture.
During your meandering through the alleys, pay a visit to Zenkoku-ji. It's an Edo period temple dedicated to the God of Treasure. Across the river, you can buy an amulet for good luck in romance at Tokyo Daijingū.
Before you leave, stop into Kyourakutei, where you can eat Michelin-starred soba in a traditional setting.
Asakusa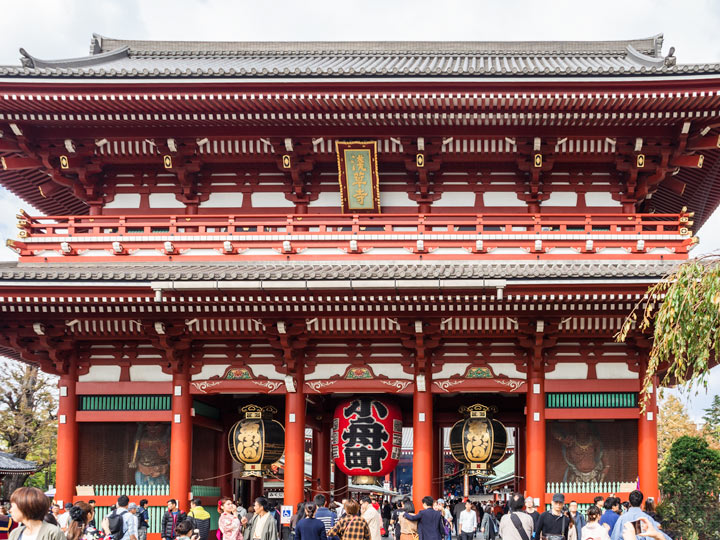 Asakusa is one of Tokyo's oldest neighborhoods, with narrow alleys and preserved Edo period buildings.
It's an amazing example of Tokyo's blend of old and new, where 150-year-old restaurants sit beneath multi-story apartment complexes. And it's home to Senso-ji, the oldest temple in Tokyo.
From Asakusa Station, head one block over to Nakamise street. Here, hundreds of shops and market stalls sell everything from fresh fruits to keychains.
Continue north to reach Senso-ji Temple complex. Within this area, there are multiple shrines, gates, a garden, and a five-story pagoda. Spend some time exploring the complex before entering the main temple.
Note that Senso-Ji is one of the most popular tourist spots in Tokyo, so expect crowds no matter the season.
From the temple, head east towards the river and Sumida Park. There are great views across the river here, as well as prime cherry blossom viewing opportunities.
The park is actually split across the Sumida River, so you'll need to cross the bridge near the Air Raid Memorial monument to reach the other side.
From the eastern half of Sumida Park, walk east towards Tokyo Skytree. Though it's most famous for it's 350m high observation deck, Tokyo Skytree also houses an aquarium, a shopping mall, and an epic basement food court.
Personally, I do not recommend paying for the observation deck view, as the Government Building offered a similar view.
Day 6: Kamakura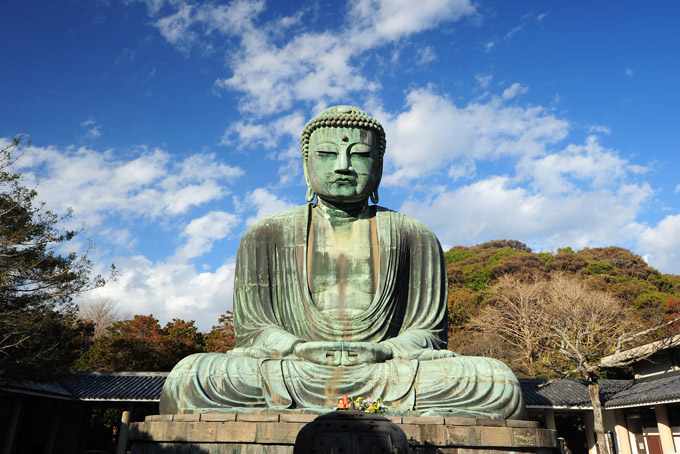 I realize this post is about what to do in Tokyo in 6 days, not 5. But it would be crazy to miss a day trip to Kamakura when you're so close. This seaside town was once the capital of Japan, and it's full of incredible shrines and temples.
It's an easy, 50 minute ride on the Yokosuka line from Tokyo Station to Kita-Kamakura station. The fare is only 800 yen, and you can use your Suica card to pay.
I recommend starting at Kita-Kamakura and making your way south, where you'll eventually return to Tokyo from Kamakura Station. Here's a suggested itinerary for your Kamakura day trip from Tokyo:
From the station, walk to Tokei-ji, which shines during fall foliage season.
Continue south to Jochi-ji, one of Kamakura's five great Zen temples.
Start on the Daibutsu Hiking Trail, a gorgeous mountain path that feels like something from a Studio Ghibli film. There are branching paths, so I recommend saving an offline version of Google Maps for the area before you head out.
Explore a bit of Genjiyama Park, a quiet place with several statues and pretty flowers.
Return to the hiking course and continue west. You'll soon reach Zeniarai Benzaiten, a cave shrine where visitors wash their money in the spring-fed pool for good luck.
Carry on down the paved road and turn right. You'll eventually come to some torii gates that lead to Sasuke Inari Jinja, where thousands of tiny porcelain foxes decorate the shrines.
Return to the hiking path and follow signs for the Daibutsu (Kotoku-in Temple).
Kotoku-in Temple is Kamakura's most famous, because it houses the 2nd largest Daibutsu (Great Buddha statue) in Japan. Admisison to Kotoku-in Temple is 300 yen, and you can pay an extra 20 yen to go inside the Daibutsu.
Grab some lunch from the nearby town area and walk to Yuigahama Beach. In the summer, it's a popular surfing spot.
More Ideas for Spending 6 Days in Tokyo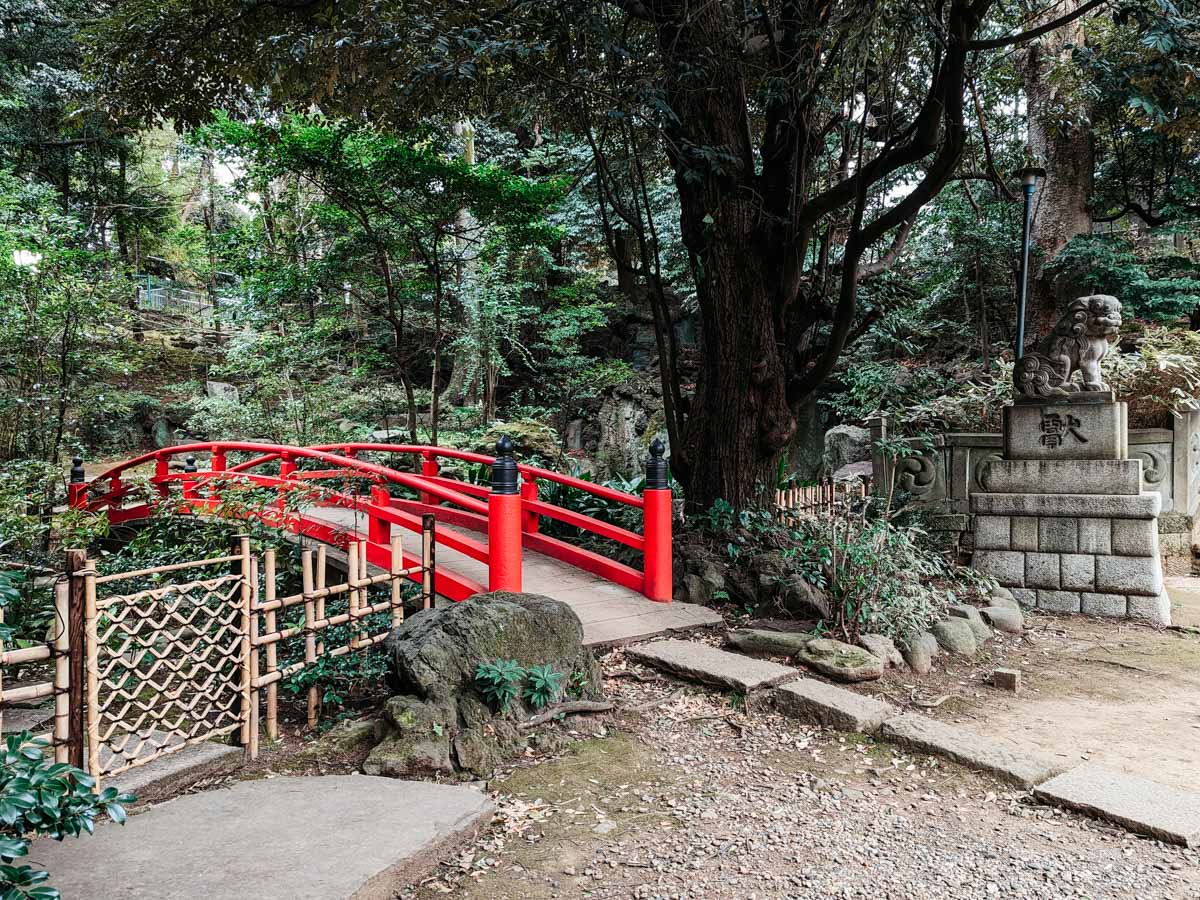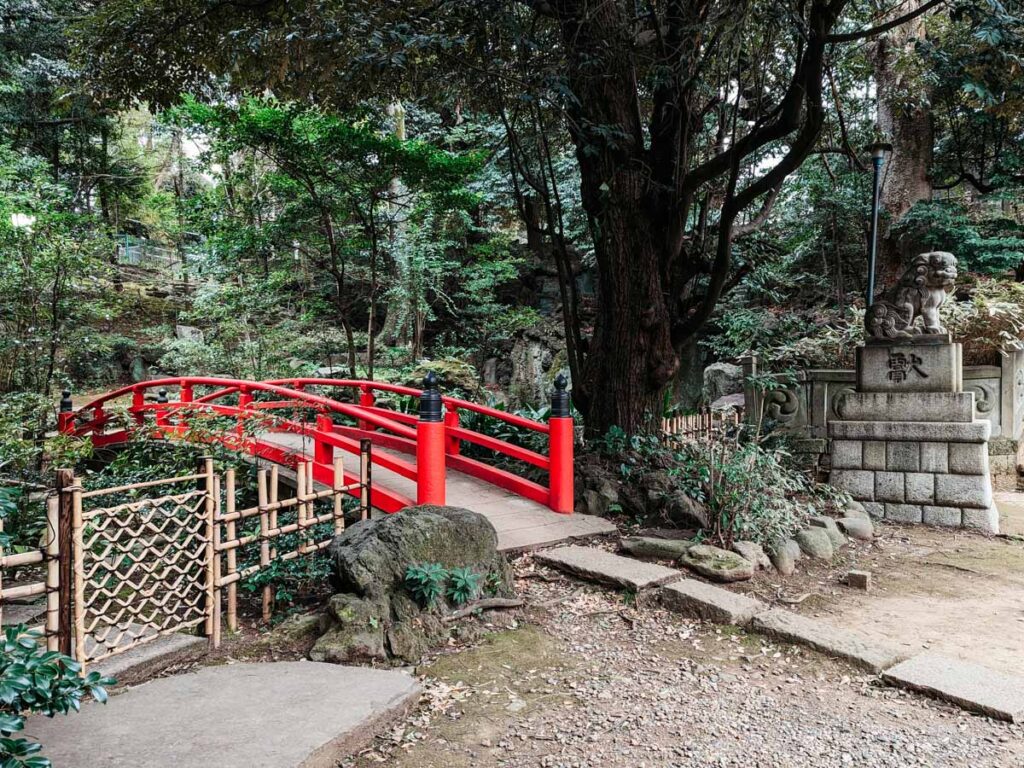 If you want to skip Kamakura or swap out something else in this 6 day Tokyo itinerary, here are a few suggestions:
Take a guided tour to Mount Fuji and the iconic Lake Kawaguchiko.
Catch a traditional Kabuki theatre performance at Ginza's renowened Kabuzi-za.
Head to the top of Roppongi's Mori Tower for amazing city views and the contemporary Mori Art Museum.
Unwind at Thermae-Yu onsen, a luxurious hot spring in the heart of Shinjuku.
Have a moment of zen at Rikugien Park, one of Tokyo's most beautiful, especially in autumn.
Visit some of the non-touristy neighborhoods like Akasaka and explore the shrines and temples (pictured above, Akasaka Hikawa is lovely)
Japan Rail pass holders could swap Kamakura for a Kanazawa day trip, the ancient samurai town of Japan.
Check out my list of Tokyo day trips by bullet train for more ideas!
RELATED: Nara Day Trip Itinerary: The Magical Deer City of Japan
Tokyo 6 Day Itinerary Map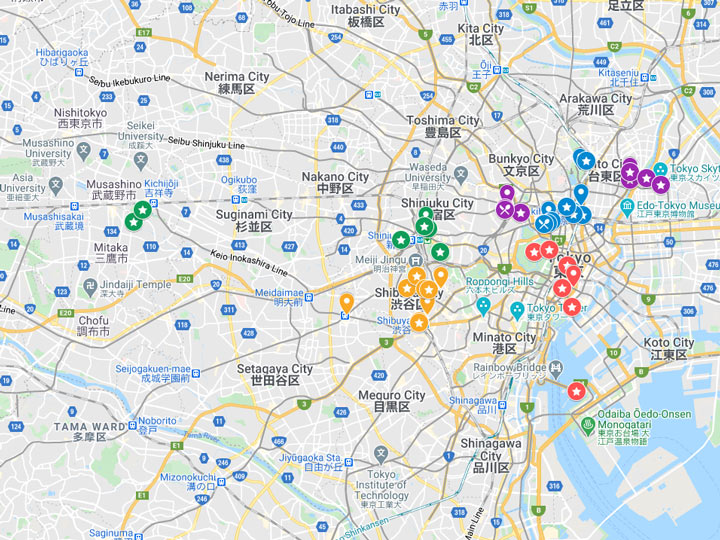 Click here for the full interactive map!
Have any questions about this 6 day Tokyo itinerary? Let me know in the comments section!