There are two kinds of people who visit Japan: those who speed along the Golden Route, and those who know where to slow down.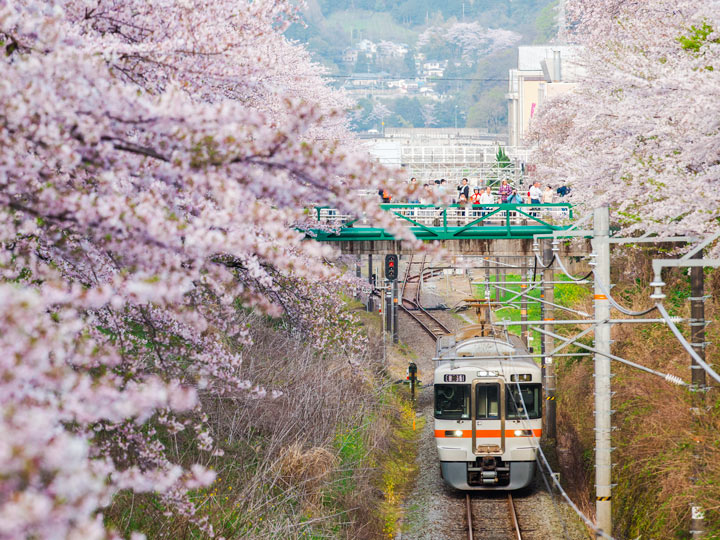 Now, I can empathize with people who want to see all the famous things in a week. Vacation time is precious, and not everyone can afford repeat trips to Japan. But there are so many places to visit between Tokyo and Kyoto that deserve to be on your itinerary.
This post contains affiliate links. As an Amazon Associate, I earn from qualifying purchases. For more information, click here.
Aside from Hakone, all of these cities lie directly on the Tokaido Shinkansen line that connects Tokyo to Osaka. And if you have a Japan Rail Pass, you can visit as many as you want for free!
From the renowned hot springs of Atami to the impressive Nagoya Castle, each destination has a unique highlight to enrich your Japan experience. Even if you only make time for a single stopover, I promise you won't regret savoring your journey from Kyoto to Tokyo!
Don't Forget Your Japan Rail Pass!
Buying a Japan Rail Pass will save you a ton of time and money when traveling across Japan.
I've purchased a JR pass for two out of three Japan trips, and here's why:
– Free bullet trains and reservations: Quickly travel all over Japan to maximize vacation time.
– Easy to use: Just show your pass to the gate attendant and walk to your train!
– Affordable day trips: Visit popular places like Nagoya, Kanazawa, and more without spending a fortune on tickets.
Yokohama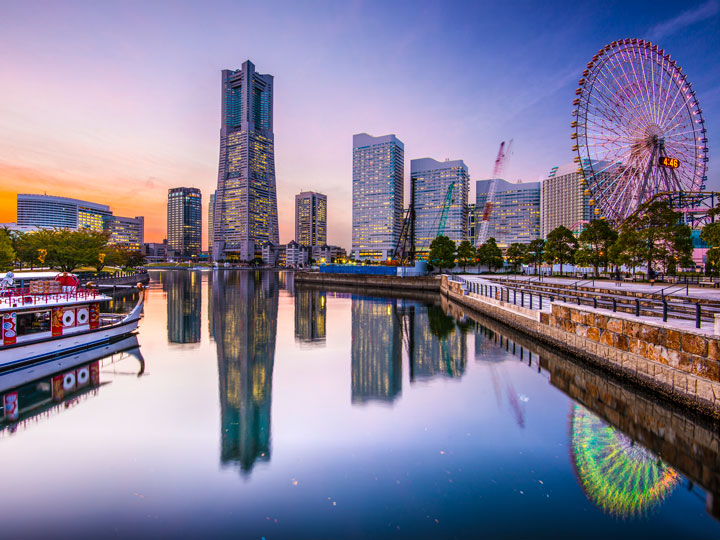 Located just one stop south of Tokyo, Yokohama is a bustling and vibrant coastal city with a ton of sightseeing spots. Although it's one of Japan's largest cities, most of the highlights are concentrated along the eastern coast and can be seen in a day.
The waterfront Minato Mirai district is especially popular with visitors. You can soak up panoramic views on the iconic Cosmo Clock 21, one of the world's tallest ferris wheels, or the Landmark Tower Sky Garden. For a more down-to-Earth view, take an oceanfront stroll through Rinko Park and along the Kishamichi Promenade.
Ramen fans will love the Cup Noodles Museum (conveniently located next to the ferris wheel). This unusual yet child-friendly establishment details the history of instant ramen, and guests can create their own signature cup of noodles to take home and enjoy!
Just a short walk away from Minato Mirai, you'll find Japan's largest Chinatown packed with colorful shops and restaurants perfect for snacking and souvenir shopping. Yamashita Park is also nearby and offers great views of Yokohama Bay and bridge.
For a peaceful change of pace, head south to Sankeien Garden, a sprawling Japanese garden featuring traditional architecture throughout history. And if you're visiting in March or April, check out the nearby Negishi Forest Park to view the beautiful plum and cherry blossoms.
Fuji-Hakone-Izu National Park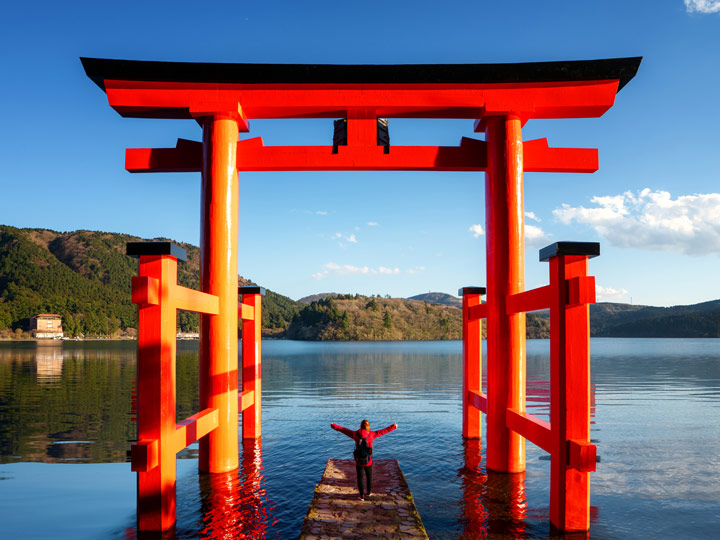 The scenic area of Fuji-Hakone-Izu National Park is perhaps the most popular place to visit between Tokyo and Kyoto. With jaw-dropping Mount Fuji views, pristine lakes, and lush forests, this stopover is a must for outdoor enthusiasts.
While the park isn't directly on the Tokaido shinkansen line, you can easily transfer from Odawara Station to multiple destinations via the Hakonetozan line or the local bus routes.
There's a lot to see and do Fuji-Hakone-Izu National Park, so you'll want to carefully plan out your trip to make the most of your time. Here are a few highlights to visit along your route:
Chisuji Falls – Ribbon-like streams of water flow down a mossy rock face
Ōwakudani – An active volcanic crater with billowing steam and Mount Fuji views
Hakone Ropeway – A sky-high cable car carries you across the valley and down to Lake Ashi
Sengokuhara Susuki Grass Fields – Expansive fields of golden pampas grass best viewed in late autumn
Hakone-en – Lakefront garden with wetland walking paths
Hakone Shrine – 1,200-year-old Shinto shrine with a famous floating torii gate
Old Tokaido Road Ancient Cedar Avenue – Stunning hiking path beneath towering cedar trees
Atami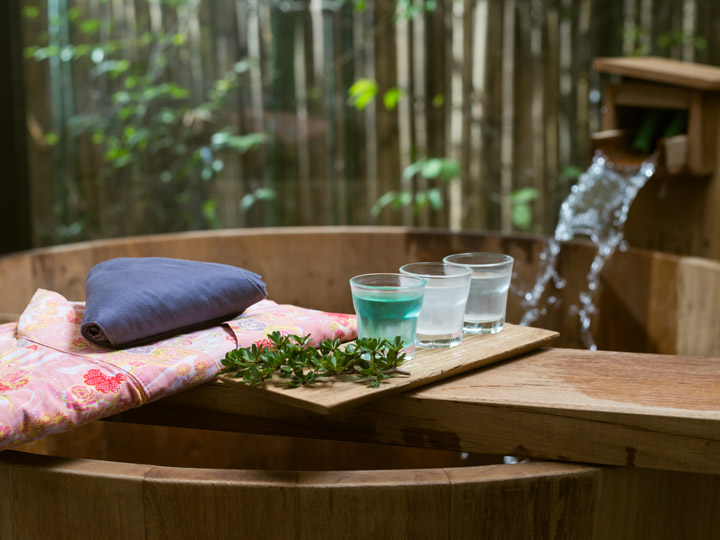 Outside of Japan, Atami is not a well-known tourist destination. Unlike Yokohama, this oceanfront city isn't packed with a variety of things to see and do. Instead, most travelers come here for one thing: onsen.
Atami is regarded as one of Japan's best onsen resort areas, with hundreds of hot spring baths (natural and man-made) where you can relax the day away. While some resorts require an overnight stay, others offer day passes or short sessions to day trippers.
Here are some of Atami's top onsens:
For the ultimate onsen experience, Watei Kazekomichi offers tranquil rooms in a lush setting with mountain views.
Budget travelers will love Onsen Hostel Hinoemi's great ocean views and short walking distance from the station.
For day trippers, Hiratsuru and Hotel Micuras offer day access to their elegant baths and restaurants.
Note that many Atami onsen prohibit guests with tattoos. However, some will allow small tattoos to be covered by a bandage when using public baths, so be sure to add that to your travel checklist! Places with private baths tend to be more lenient, but it varies by establishment.
Fuji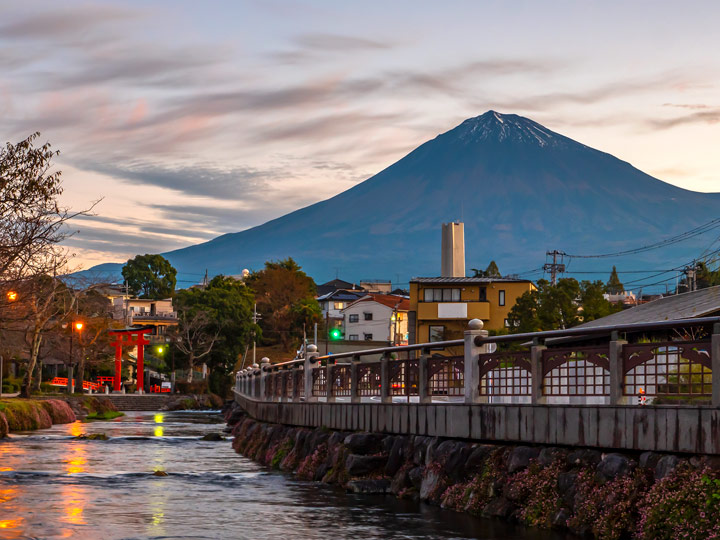 Catching a glimpse of Mt. Fuji on the shinkansen trip between Kyoto and Tokyo is a special treat. But if you want to get up close and personal with Japan's famous mountain, plan to stop at Shin-Fuji Station.
If you're pressed for time, you can simply hop off the train and enjoy spectacular views from the platform and the northern exit. Then, walk north along Fujimiodori (the main road) until you reach Chuo Park (中央公園 東地区 on Google Maps), where you'll get gorgeous views of Fuji-san.
I only recommend this short stop if you bought a Japan Rail pass. Otherwise, it's best to get your money's worth and extend your stopover into Fujinomiya. You'll need to walk about 20 minutes from Shin-Fuji Station to Fuji Station, and then take the Minobu line to Fujinomiya Station.
Fujinomiya is a charming town with a striking contrast of traditional and modern architecture. Nestled along a branch of the Urui River lies Fujisan Hongu Sengen-Taisha, a beautiful complex of historic shrines and gardens. And just a few minutes' walk south, you'll find the impressively modern Mt. Fuji World Heritage Centre, a museum dedicated to the cultural importance of Fuji-san.
If you have time to spare, take a short bus trip from Fujinomiya Station to Shiraito Falls. This horseshoe-shaped curtain waterfall is lovely any time of year, but is truly resplendent in autumn. It's a fantastic place to enjoy Japan off the beaten path.
Note that only the Kodama trains on the Tokaido Shinkansen line stop at Shin-Fuji. However, they run every 30 minutes, so you won't have to wait long when you're ready to continue onward.
Save me for later!
Shizuoka City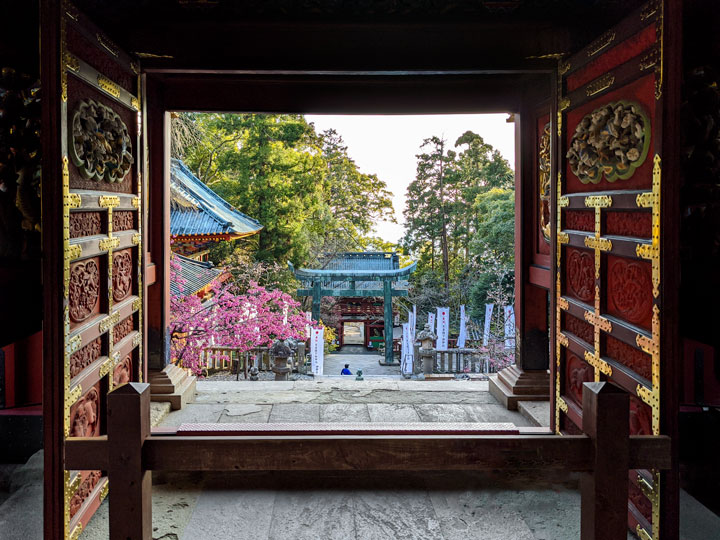 Colorful shrines, Mount Fuji views, green tea cafes… Shizuoka City is easily one of the best places to visit between Tokyo and Kyoto.
Shizuoka prefecture is a popular destination for nature lovers. But international travelers tend to overlook the region's capital city. It's an off path destination that's paradoxically on the Golden Route, and an essential stop on my 10 day Japan itinerary.
Kick off your Shizuoka stopover at the Nihondaira, a park/observatory at the top of Mount Udo. It's free to enter and offers 360 degree panoramic decks overlooking Shizuoka prefecture and the ocean. On a clear day, you can get incredible views of Mount Fuji rising above the city.
Thanks to Japan's fantastic public transit system, you don't need a car to reach Nihondaira. Simply catch the bus bound for Nihondaira Ropeway from Shizuoka Station. Buses run about every hour, and you can pay with ICOCA cards or change. You can check the timetables and other travel information here.
Once you've explored the Nihondaira, you can take a scenic cable car ropeway down to the next Shizuoka highlight: Kunozan Tosho-gu shrine.
If you want to impress people in Japan, tell them you visited Kunozan. Japanese people know about Kunozan Tosho-gu because it's where Tokugawa Ieyasu, the renowned shogunate leader, is enshrined. But funnily enough, international travelers are more likely to visit Nikko Tosho-gu in northern Japan, which was built to honor Ieyasu.
Kunozan is the kind of magical place that draws travelers to Japan. Don't be surprised if exploring the serene temple grounds becomes the highlight of your trip!
Round out your excursion at Miho no Matsubara. This tree-lined beach is considered one of Japan's best scenic points, especially when Mount Fuji is visible in the distance on clear days. It's a bit tricky to get here via public transit, so your best bet is to take a taxi (I either use the Japan Taxi app or ask my hotel to order one for me).
Once you're back in the city center, head to a matcha cafe for some refreshments. Shizuoka produces over 40% of Japan's green tea, and there's no better place to sample it than CHA10. This modern cafe serves tasty desserts and unique twists on green tea drinks, including a phenomenal matcha nitro.
For a more substantial meal in an Insta-worthy setting, check out Flowery Cafe Cachette. Most of their dishes have edible flowers, and their range of fizzy drinks and teas come in vibrant hues of pink, green, and purple.
Before you hop back on the train, take a short detour to Sunpu Castle. The grounds are free to enter and make for a lovely post-meal stroll.
Spending the night in Shizuoka
There's so much to see in Shizuoka that I suggest spending the night. For an ultra-convenient and comfortable stay, book in at The Hotel Associa Shizuoka. You'll be in the heart of the city with easy access to the train station, restaurants, and matcha cafes.
Hamamatsu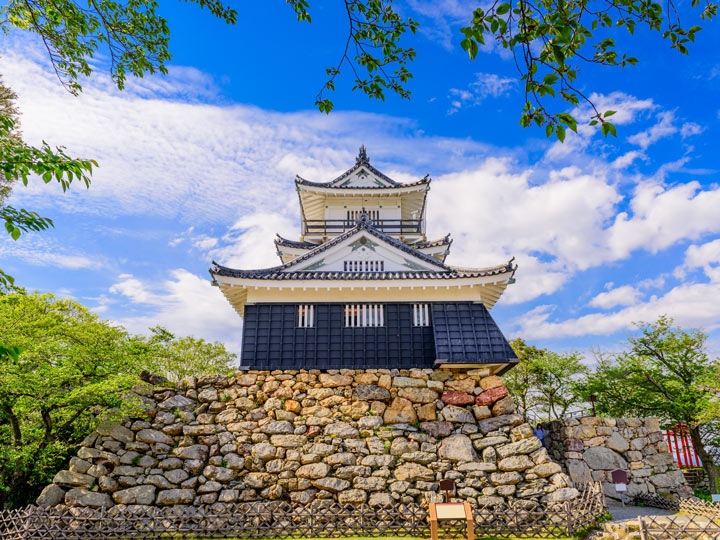 Hamamatsu is an ideal stopover for nature fans. Like Shizuoka City, Hamamatsu is more popular with Japanese tourists than international ones, though that's begun to shift in recent years.
With rivers, mountains, lakes, and ocean beaches, there's natural beauty aplenty here. Nakatajima Sand Dunes are particularly impressive and easy to reach by bus from the main station.
Hamanako Garden Park is a whimsical mix of Instagrammable buildings and flowers. And if you have an adventurous spirit, you can explore the waterfalls and stalactites of Ryugashido Cavern.
If you're trying to stay close to the main station, you're in luck! There are several great attractions within walking distance.
Hamamatsu Castle's black walls rise above the city and surrounding park. Music lovers shouldn't miss the Hamamatsu City Museum of Musical Instruments, an interactive museum with hundreds of instruments from around the world. And Gosha Shrine's colorful buildings and Shishi dog statues are a must see.
Nagoya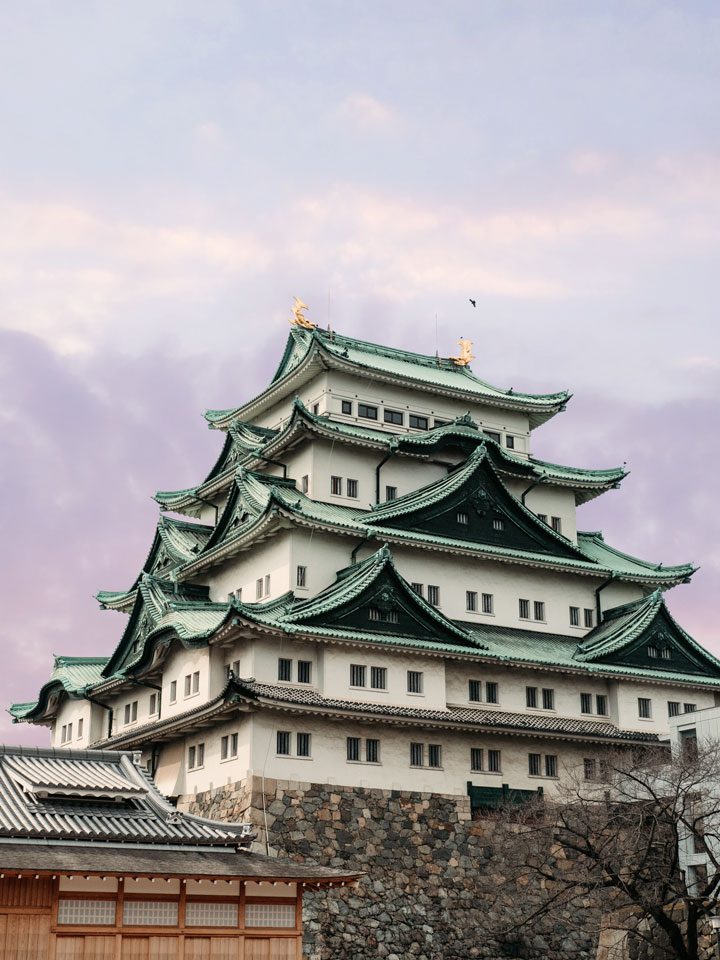 Nagoya Castle is one of the most recognizable places to see between Tokyo and Kyoto. So it's not surprising that most JR pass holders make a quick stopover here. But it would be a mistake to not explore more of Japan's fourth-largest city!
Located in the middle of the bustling city, Atsuta Jingu is a peaceful haven of nature. Cypress trees tower behind the main hall and along the walking paths that criss cross the area. And flowering trees bring pops of color during spring and summer.
Just north of Nagoya Castle lies Meijo Park. It's a popular cherry blossom destination in the spring, and a great place to spot Shiba Inu's being taken for a walk.
And of course, there's Nagoya Castle. This Edo-period marvel was one of the largest in Japan until being mostly destroyed in 1945. Its buildings are still being restored today, with the main keep set to be finished by 2023. Surrounding the castle, you'll find a mix of Japanese gardens, ponds, hanging wisteria, and even a plum blossom grove.
Check out Osu Shopping District for unique souvenirs and local foods like miso-glazed tonkatsu and eel. I highly recommend the nearby branch of Atsuta Houraiken for hitsumabushi, a Nagoya speciality of miso-glazed grilled eel served with condiments like hot tea and pickled vegetables.
Fans of Studio Ghibli will love the recently opened Ghibli Park. Located a short bus + tram ride east of Nagoya city center, this whimsical wonderland was built up around the old replica of Satsuki and Mei's house from My Neighbor Totoro.
While it used to be a huge fuss for non-residents to gain admission, it's now possible to buy Ghibli Park tickets internationally! All tickets require an advanced online reservation, so be sure to plan this excursion out well before your departure.
Spending the night in Nagoya
Nagoya is the perfect stopover point between Tokyo and Kyoto. If you plan to spend the night, book in at Lamplight Books Hotel. This modern and affordable hotel sits above a cozy bookshop, and is a short walking distance from Nagoya Station.
You can also visit Nagoya as a day trip from Kyoto if you'd prefer not to stop your journey mid-way.
Still planning your trip to Japan? Check out this 6 day Tokyo itinerary or my Osaka-Kyoto-Nara itinerary for inspiration!
I hope you're inspired to savor your journey across Japan! For more travel tips and inspiration, subscribe to my newsletter below.