Japan is the kind of place you can visit a hundred times and never get bored. There's always another beautiful shrine, natural wonder, or delicious restaurant to enjoy. But if you want truly iconic experiences, you should add these famous things in Japan to your bucket list.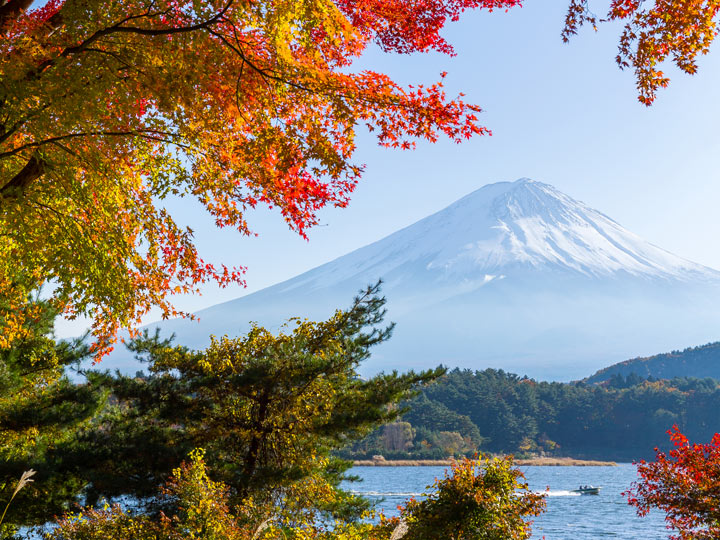 This post contains affiliate links. As an Amazon Associate, I earn from qualifying purchases. For more information, click here.
What is Japan known for?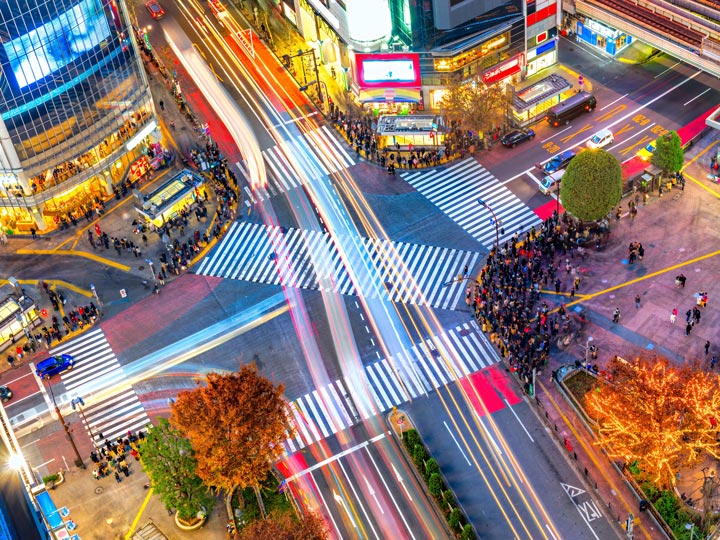 The average Westerner might say that Japan is known for sushi, anime, geisha, and video games. But there's so much more to this country than cultural exports.
From billboard-covered skyscrapers to breathtaking mountains, Japan is a land of contrasts existing in harmony. Futuristic bullet trains speed through farming villages. Vibrant red pagodas rise out of yellow forests. Suit-wearing businessmen visit cat cafes on their lunch breaks.
This mix of modern and traditional, man-made and natural, is what makes Japan unique and exciting.
Famous Things in Japan
Shrines and Temples in Kyoto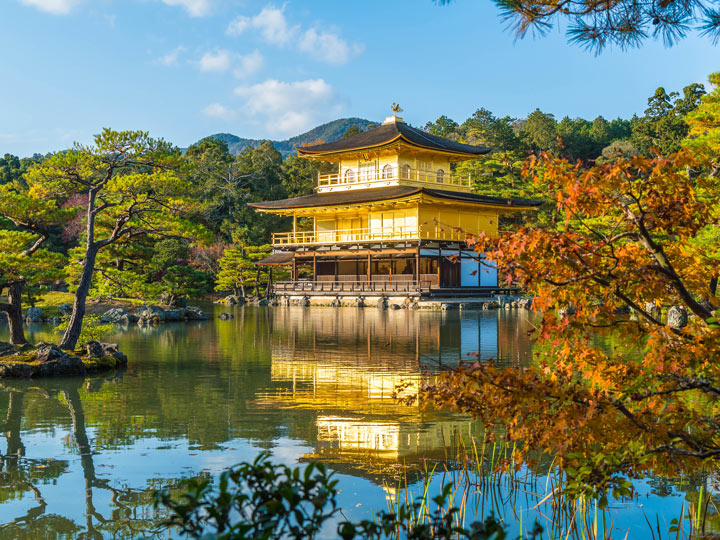 Visiting Kyoto's stunning shrines and temples is one of the most popular things to do in Japan. While there are over 2,000 of these religious buildings scattered across the city, these are the ones not to miss:
Kinkaku-ji: Kyoto's "Golden Pavilion" sits on the edge of a beautiful pond dotted with islands and pine trees.
Ginkaku-ji: Known as the silver pavilion (despite not being painted silver), Ginkaku-ji is surrounded by Japanese gardens of sand, moss, water, and foliage.
Yasaka Shrine: You can't miss this colorful temple at the heart of Gion, which also hosts one of Japan's most renowned matsuri festivals every July.
Kiyomizu-dera: This massive complex offers incredible views over Kyoto and is a must see during autumn and sakura seasons.
Tenryu-ji: Located in the Arashiyama district, Tenryu-ji has a sprawl of historic pavilions and halls bordered by a lovely strolling pond garden.
Byodo-in: Uji's iconic Phoenix Hall is so famous, it's printed on the back of the 10 yen coin!
Even if you only have 5 days in Japan, you'll want to devote at least one to exploring these amazing structures.
Geisha in Gion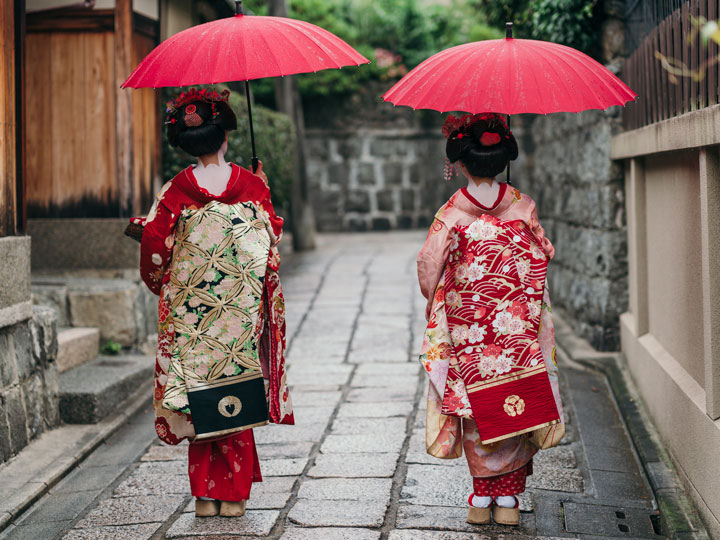 Geisha numbers are dwindling every year. But if you have your heart set on spotting one of these elegant performers, head to the Gion area of Kyoto.
This historical district overflows with Japan's traditional culture, including a few places where geisha and their maiko (apprentices) spend evenings entertaining well-connected guests.
It's quite difficult to get an invitation to one of these events. Thus, your best chance at spotting a geisha is in the early evening, when she's on her way to a gathering.
Booking an evening walk with a local guide will also increase your odds.
Geisha Etiquette: If you're lucky enough to see a geisha or maiko, keep your distance and be respectful. It is never appropriate to stop them for photos, follow them around, or interrupt their day in any way.
Sagano bamboo forest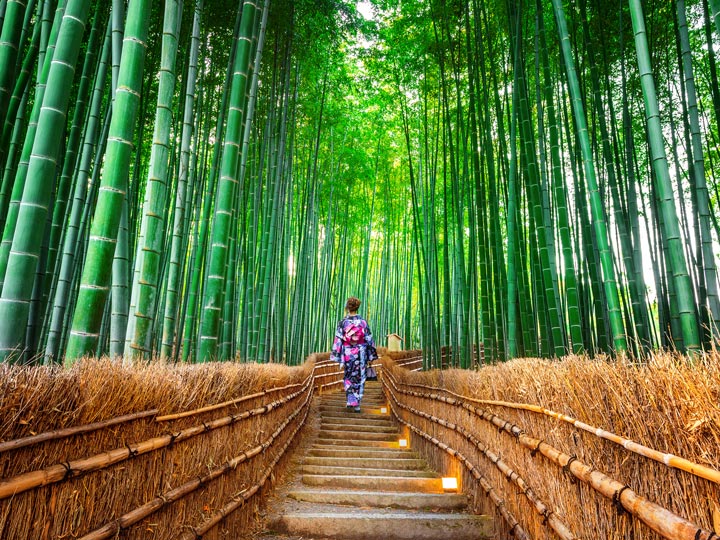 Arashiyama's bamboo forest is undoubtedly one of the most famous Japan tourist attractions. The 30+ meter stalks filter the sunlight as you pass through, creating an other-worldly experience. As you follow the maze of pathways, you'll stumble upon various shrines, temples, and even a reflecting pool.
This magical forest is a major highlight of my 2 day Kyoto itinerary. Just be sure to arrive early in the morning for a less crowded experience!
RELATED: 12 Important Things to Avoid in Japan When Traveling
Akihabara: Tokyo's Electric Town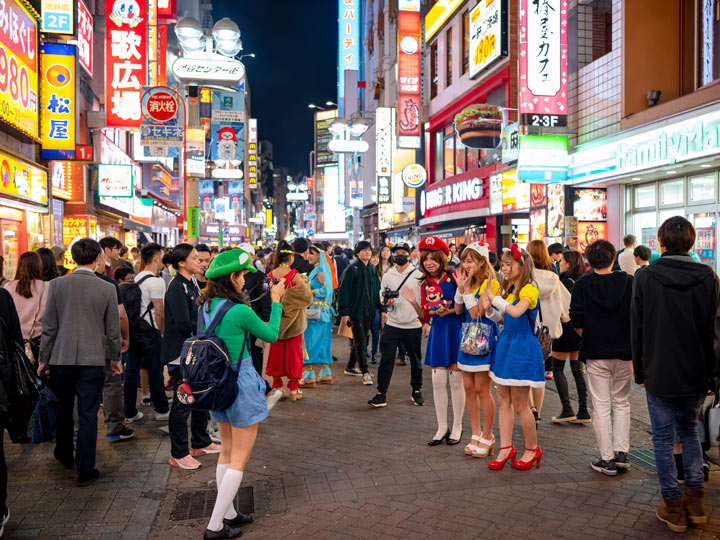 Akihabara the epicenter of Japan's anime and gaming culture. Multi-story arcades, themed cafes, and colorful billboards fill the streets and skyline. A trip here is an essential part of any Tokyo itinerary, even if you're not an otaku.
Stop into TAITO Station for the latest arcade games and tempting crane machines, or bring your own retro games home from Super Potato. Bring your 100 yen coins to Yodobashi Camera's Gachapon Corner, where people of all ages come to collect tiny prizes from the capsule-dispensing machines. And don't leave without buying a sweet, fish-shaped taiyaki pastry from a street vendor.
Important things to do before your Japan trip
From packing the right clothes to brushing up on etiquette, there's a lot to do before traveling to Japan. Use my detailed Japan travel checklist to ensure you don't forget anything before your trip!
Tokyo Ramen Street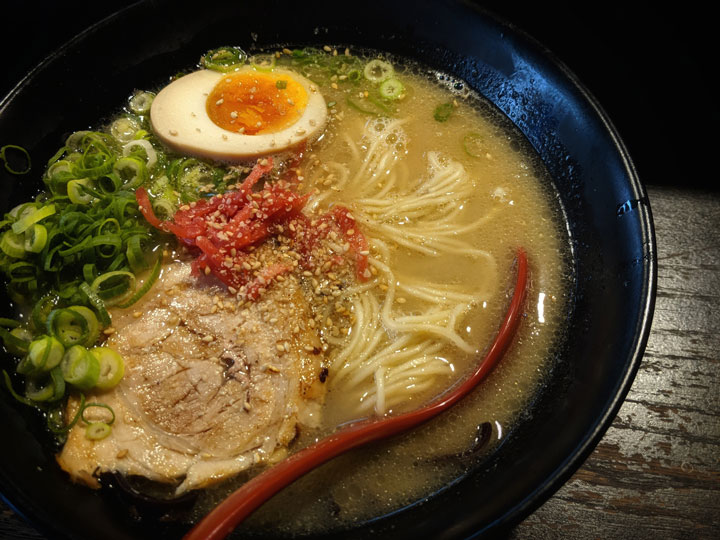 Of all the famous foods in Japan, ramen is my favorite. There's nothing more comforting than a bowl of rich broth, long noodles, and a perfectly cooked ajitama.
While there's no shortage of delicious ramen shops in Japan, you'll find a collection of the country's finest beneath Tokyo Station. It might seem an odd place to find Michelin-starred restaurants, but trust me: you won't regret eating here. Each restaurant has it's own signature flavor, from Tsujida's miso both to Rokushasha's thick tsukemen noodles.
There are eight stores on Tokyo Ramen Street, and the line-up changes every couple of years. Check this map for an up-to-date list of ramen shops.
Cherry blossoms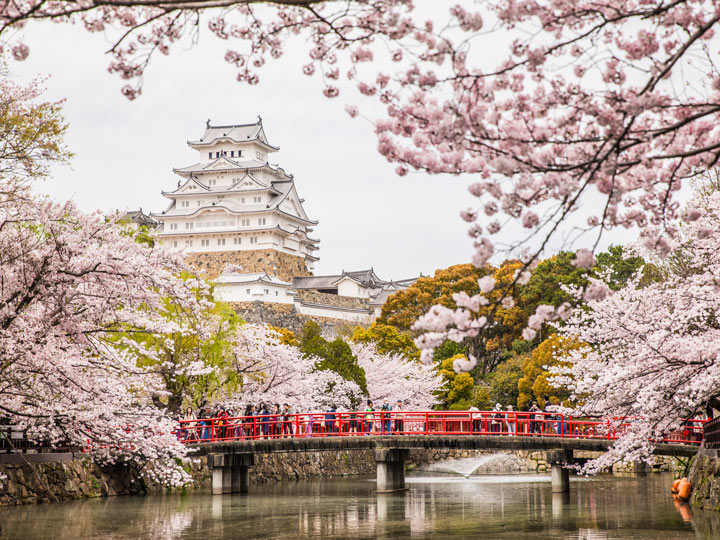 People around the world go crazy for Japan's cherry blossoms. Hanami, the act of viewing flowers, is a national pastime in the spring months, with crowds of locals and travelers alike snapping photos of the pink blooms.
The cherry blossom cycle lasts for about three weeks, but the window for peak sakura viewing is only a few days long. You can check the forecast to help plan your trip.
Here are a few of the best places for cherry blossom viewing in Japan:
Philosopher's Path, Kyoto
Shinjuku Park, Tokyo
Hirosaki Castle Park, Aomori
Chureito Pagoda, Fuji Five Lakes
Mount Yoshino, Nara
Nara deer park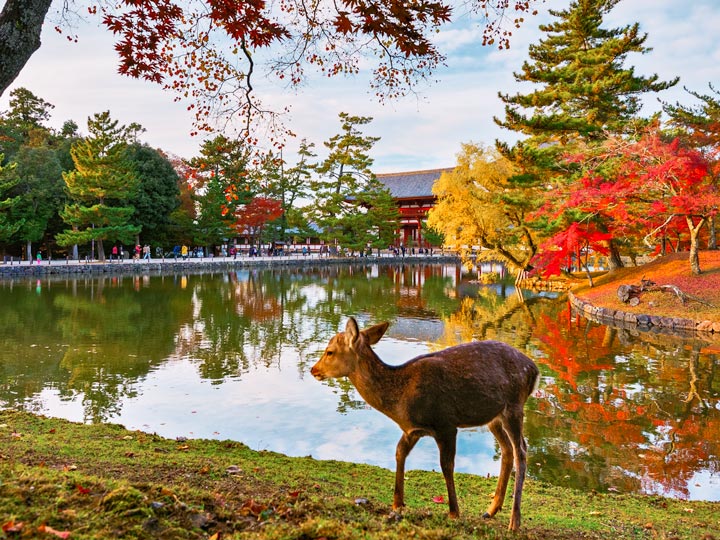 Nara's sacred, free-roaming deer have been famous things in Japan for centuries. When Nara was the capital of Japan in the 700s, the local deer were deemed divine, and harming one was punishable by death.
Today, Nara deer wander parts of the city, particularly near Todai-ji Temple, Kasuga Shrine, and Mount Wakayama. If you want to feed the deer, you can purchase a pack of specially-formulated biscuits from street vendors. Just be sure to feed them quickly, or you might find yourself being chased!
Check out my Nara day trip itinerary or this Osaka, Kyoto, & Nara itinerary to plan your perfect trip to the city.
Fushimi Inari Taisha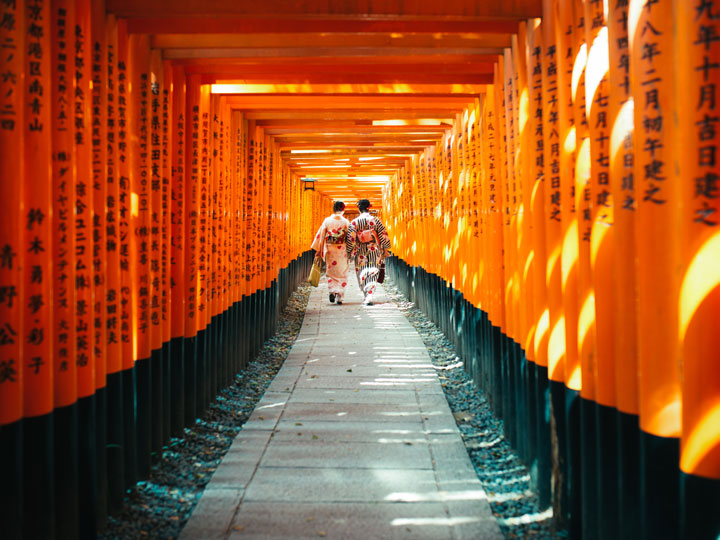 According to Japan's tourism bureau, Fushimi Inari shrine is the most popular place to visit in Japan. It's seemingly endless vermillion torii gates–more than 10,000–draw millions of tourists a year.
The gates line the path up Mount Inari, linking the main Shinto shrine at the base to smaller ones further up the mountain. You'll also find plenty of fox statues in the area that represent the god Inari, protector of rice growing.
Fushimi Inari is an easy day trip from Kyoto, though you'll want to arrive in the early morning to dodge the crowds.
Don't Forget Your Japan Rail Pass!
Buying a Japan Rail Pass will save you a ton of time and money when traveling across Japan.
I've purchased a JR pass for two out of three Japan trips, and here's why:
– Free bullet trains and reservations: Quickly travel all over Japan to maximize vacation time.
– Easy to use: Just show your pass to the gate attendant and walk to your train!
– Affordable day trips: Visit popular places like Nagoya, Kanazawa, and more without spending a fortune on tickets.
Views of Mount Fuji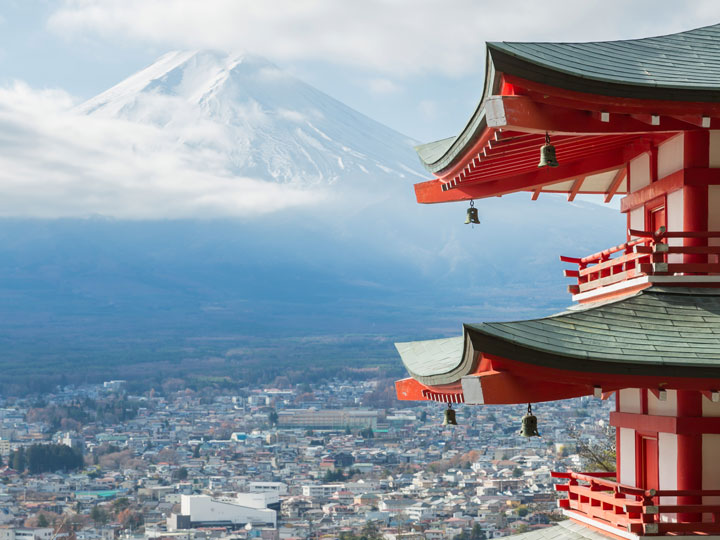 Mount Fuji is Japan's most recognizable natural landmark. Its snow-capped peak rises above the surrounding lakes and villages, and can even be seen from Tokyo on a clear day. While some athletic travelers choose to climb the sacred mountain, it's far easier to admire this famous place in Japan from a distance.
Here are a few of the best Mt. Fuji viewpoints:
Chureito Pagoda, Fujiyoshida
Oshino Hakkai, Hakone
Lake Kawaguchiko, Fuji Five Laked
Nihondaora Terrace, Shizuoka
The Tokaido-Sanryo Shinkansen also passes by Mt. Fuji on its way from Tokyo to Kyoto
Matsumoto Castle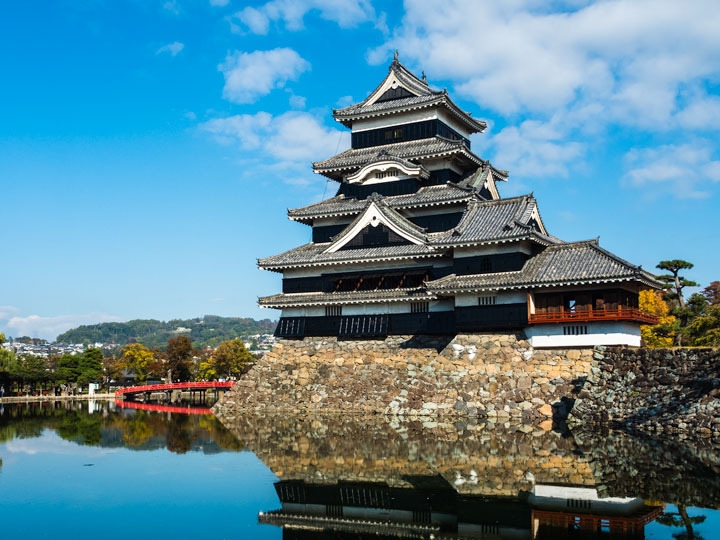 Seeing Matsumoto Castle in person tops my favorite travel memories list.
Considered one of Japan's "perfect castles", the unique dark roof and borders set the structure apart from other castles in the country. Between the mountainous backdrop and swan-filled reflection pool, it's easily one of the most beautiful places in Japan.
Visiting Matsumoto Castle is among the best things to do in Nagano, and is an easy stopover if you're traveling to popular Takayama or Kamikochi.
Autumn in Kamikochi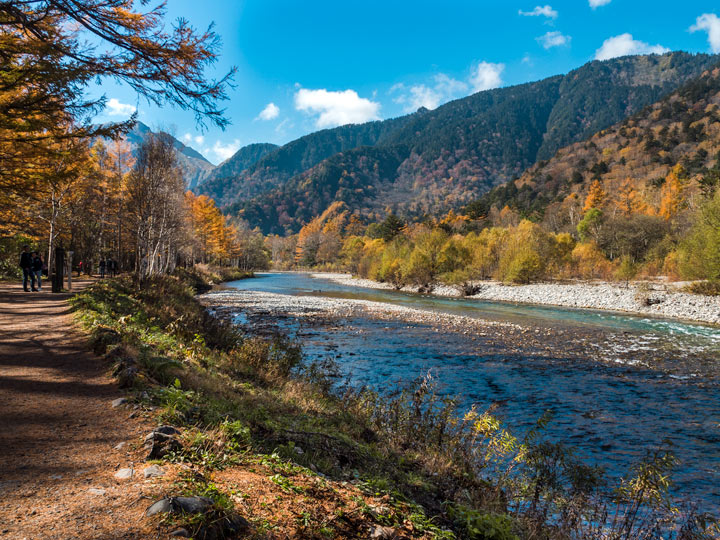 Cherry blossoms are great, but I'd argue that visiting Japan in autumn is even better. The fall foliage, from red maples to golden latches, is unlike anything I've ever seen. And this is coming from someone who lives for leaf-peeping!
Nestled in a semi-remote valley, Kamikochi is renowned for its natural beauty, particularly in autumn. The mountains surrounding Kamikochi national park start turning orange and gold around late September, making for a gorgeous hike while the weather is still pleasant. It's a fantastic place for solo travel in Japan.
Despite its rural location, you can easily plan your visit with my comprehensive Kamikochi hiking guide! It's definitely a famous thing in Japan off the beaten path.
Jigokudani: snow monkey hot springs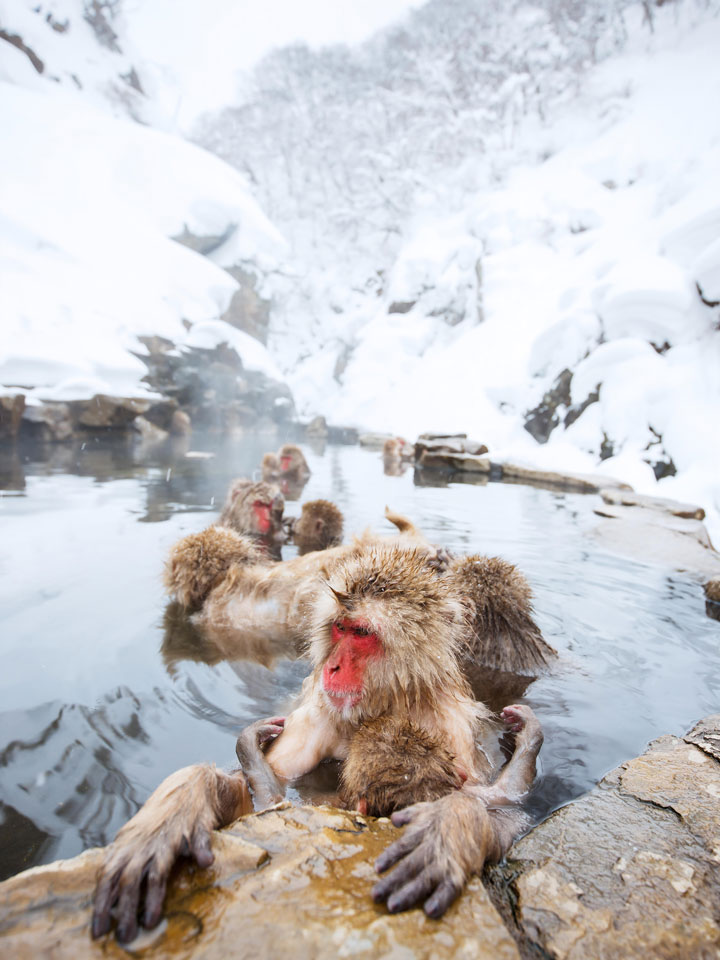 If you want a unique wild animal encounter in Japan, head to Jigokudani hot springs in Nagano prefecture.
Every day, dozens of Japanese macaques journey down from their mountain homes to warm up in the steaming outdoor pools. Visitors can watch the monkeys as they soak, groom, and forage for seeds in the water. Thanks to the cold temperatures, a winter visit is your best chance of seeing plenty of snow monkeys.
Book your snow monkey tour today!
Kaiseki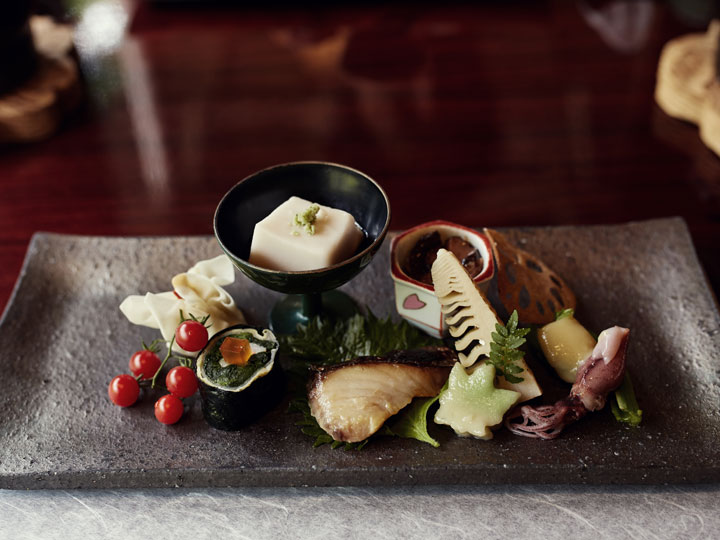 Nature. Balance. Order. These are the guiding principles of kaiseki, the haute cuisine of Japan.
Kaiseki meals have been around for centuries, with an emphasis on fresh, seasonal ingredients and elegant presentation. There's even a particular sequence to each course based on the dish's preparation (raw, boiled, grilled, etc.).
While kaiseki dinner is quite expensive–upwards of $100 per person–there are some restaurants that serve kaiseki lunch at a more affordable price.
Save me for later!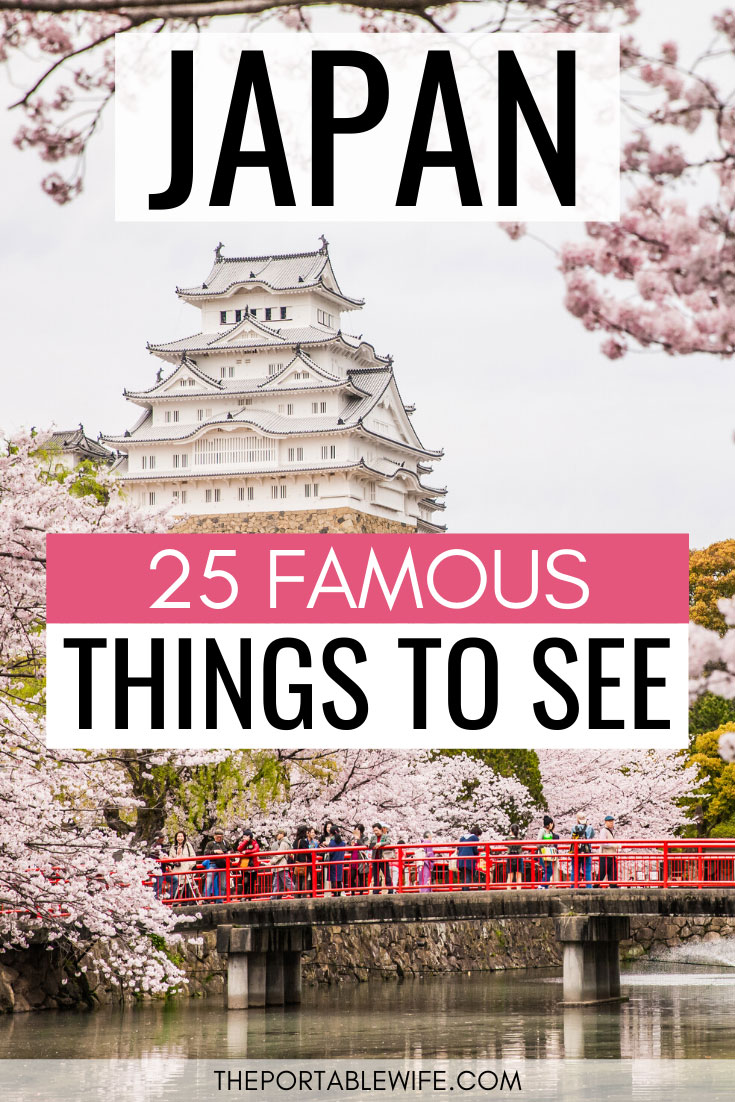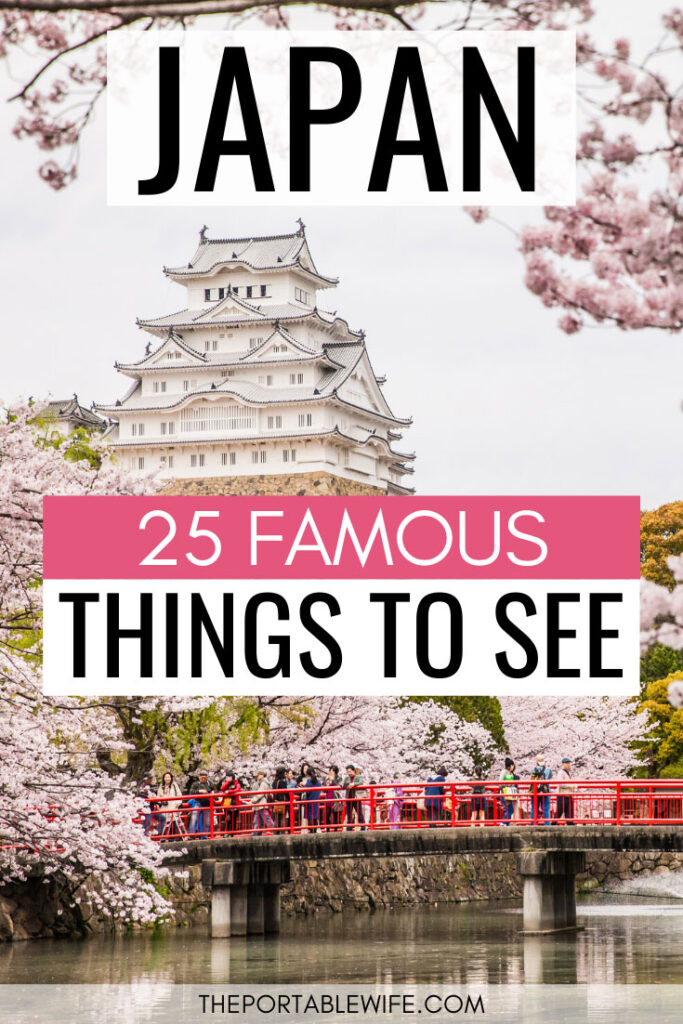 Japanese gardens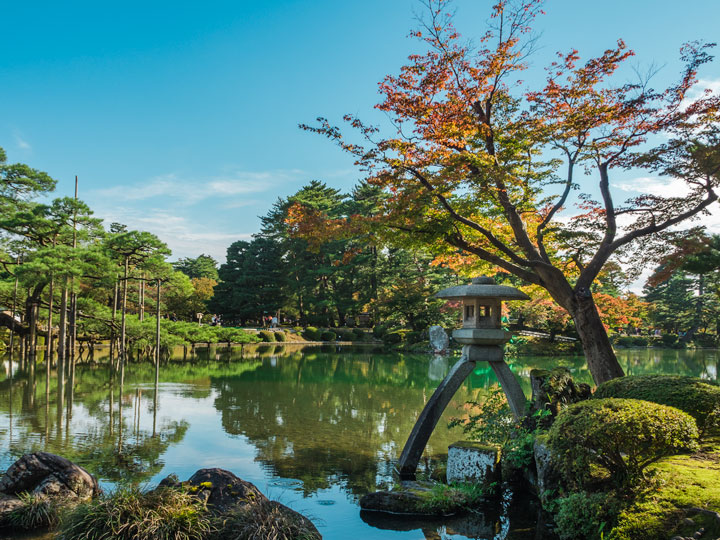 Taking a peaceful stroll through a traditional Japanese garden is a must.
Unlike the opulent, flowery gardens found in Europe, Japanese gardens rely on simple aesthetics and natural elements to create a pleasing, almost mystical environment. Moss, sand, strolling water, and rock are the main types, though many larger gardens contain multiple styles.
Japan has three "Great Gardens" that exemplify the characteristics of Japanese gardening: Kairaku-en in Mito, Koraku-en in Okayama, and Kenroku-en in Kanazawa. You can see the latter as part of a Kanazawa day trip.
Matsuri festivals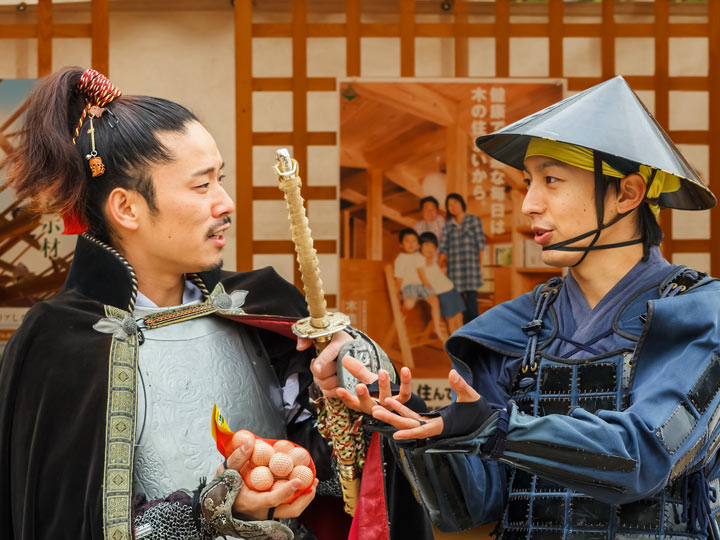 Local festivals known as matsuri are an important part of Japanese culture. Starting as annual celebrations for Shinto shrines, some matsuri have evolved into epic events that draw crowds from around the world.
Each shrine has its own associated traditions, but most festivals involve a portable mini-shrine called a mikoshi being paraded down the street. Other matsuri involve demonstrations of old cultural traditions like horseback archery and dancing.
Here are several of Japan's most famous matsuri:
Kurama Fire Festival
Namahage Ritual Mask Festival
Kyoto Gion Matsuri
Osaka Tenjin Matsuri
Osaka's Dotonbori Street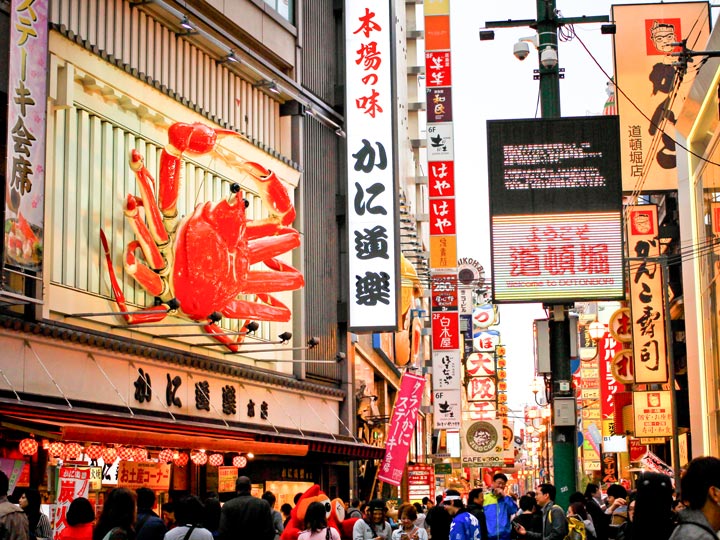 If you've spent any time looking at Japan photography, you've likely seen Dotonbori Street. This bustling, neon-laden thoroughfare is one of the top spots for Japanese street food.
Here, the sizzling of griddles and smell of fried food fills the air, with vendors dishing up Osaka specialities like okonomiyaki and takoyaki. Aside from stuffing your face, there are tons of shops, bars, and arcades in the area to check out. And you'll get to see all the highlights if you follow my 10 day Japan itinerary!
Sumo matches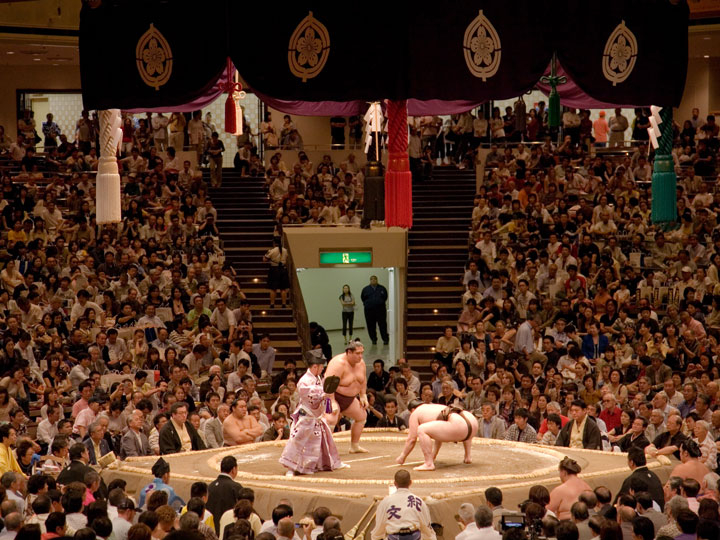 It's easy to see why sumo matches are famous things in Japan. The ceremony, the energy, the physical prowess that defies expectation… It's a unique tradition that draws fans and curious visitors from around the world.
There are six multi-week sumo tournaments held throughout the year in Japan, so you'll have a number of chances to catch a match. Getting tickets can be tricky, so use a local guide to book your seats.
Nagoya Castle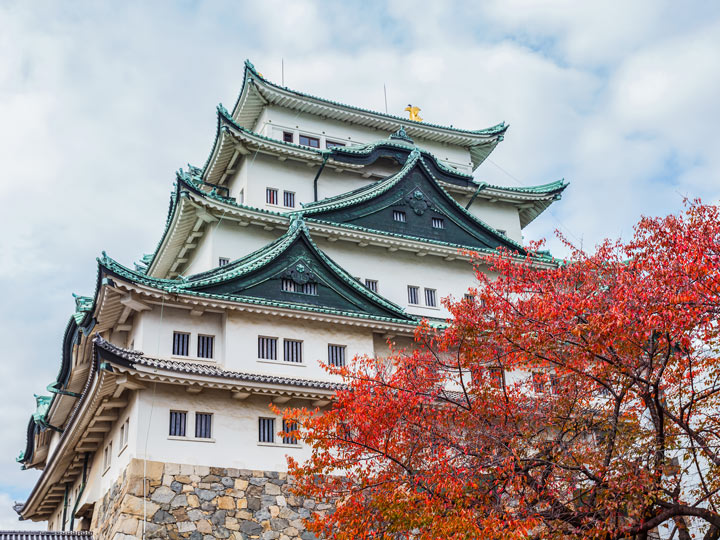 There's no shortage of beautiful castles in Japan. But Nagoya Castle is considered by many to be the most splendid, thanks to its massive size and surroundings that change with the seasons. In fact, it's one of the most popular stopovers along the Golden Route!
Constructed in the 1600s for shogunate leader Tokugawa Ieyasu, the castle has had a long history of damage and reconstruction. Many buildings were destroyed during WWII air raids, but thankfully nearly all of the castle was restored in the following 60 years. Visitors can enter the castle grounds and some of the buildings, but the main keep is closed for renovation until 2022.
Boat rides on Lake Towada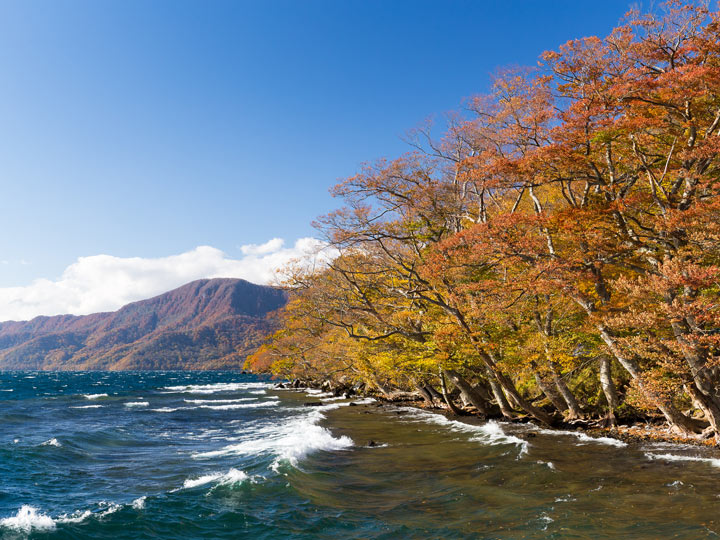 This vast crater lake inside Towada-Hachimantai National Park draws in visitors most months of the year. Boat tours ferry guests around the lake, offering amazing views of the forest that surround the shore. While summer trips seem an obvious choice, taking an autumn boat tour is popular due to the area's remarkable red and gold foliage.
Toshogu Shrine in Nikko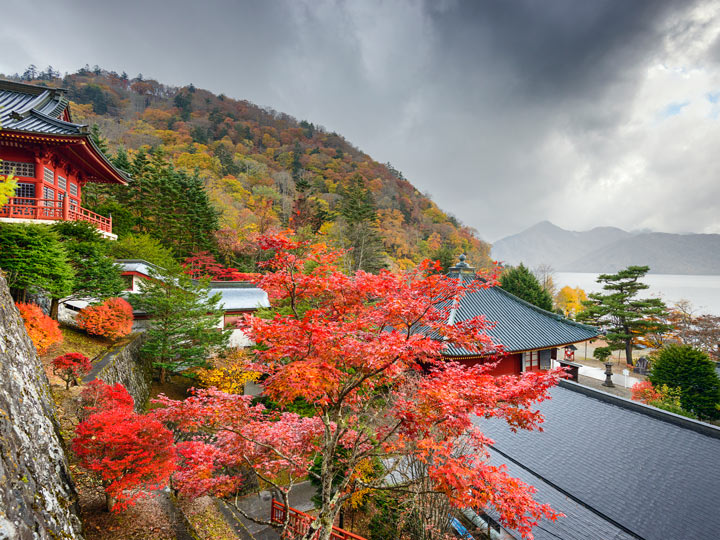 Tucked away in the mountain village of Nikko sits Toshogu Shrine. This opulent final resting place of Tokugawa Ieyasu has been a popular Japan travel destination for centuries thanks to its gorgeous forested location.
The shrine has over a dozen buildings, and each is richly decorated with animal carvings, colorful paint, and even gold leaf. Highlights include the Yomeimon Gate, the main shrine building, and Ieyasu's mausoleum.
Sapporo Snow Festival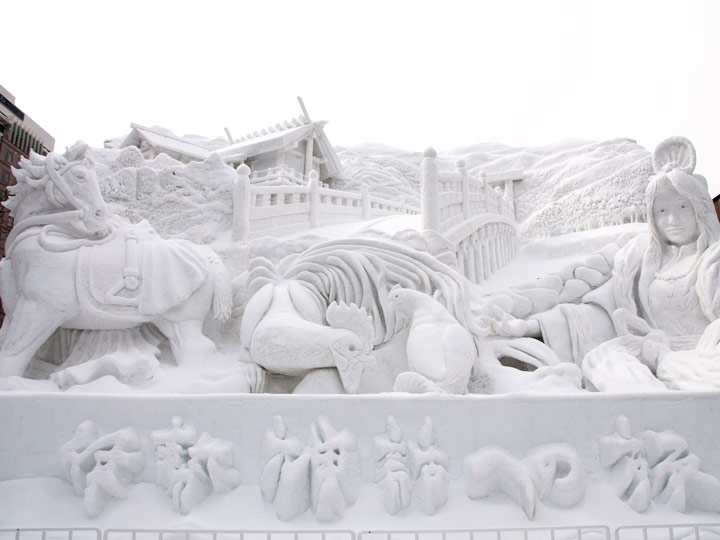 Every February, you can go walking in a winter wonderland at the Sapporo Snow Festival. Hundreds of snow and ice sculptures take over the city for seven days, with artists creating everything from illuminated dragons to towering Totoros. It's the perfect event if you're traveling Japan with kids!
Visitors can also stop by food stalls to warm up with Hokkaido's regional specialties: curry soup and hot amazake sake.
Hiroshima Peace Memorial Park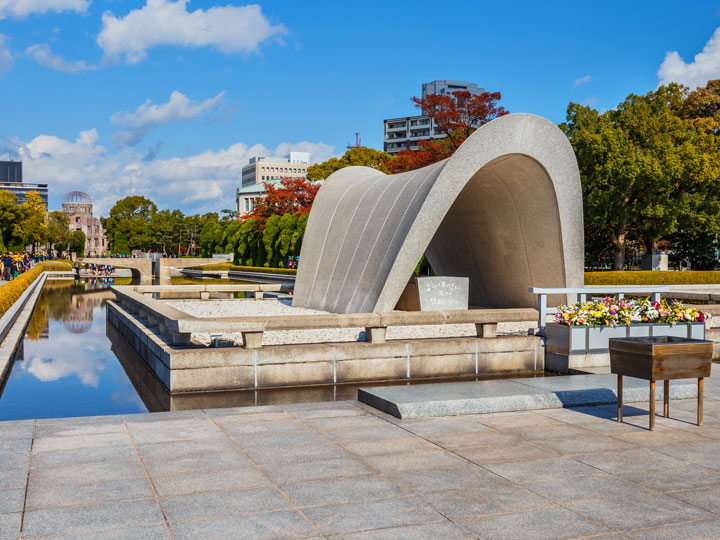 Hiroshima's Peace Memorial Park stands as a reminder of the city's destruction during WWII, and as a symbol of hope for lasting world peace.
The memorial itself is one of the few places that wasn't reduced to rubble after the nuclear bombing. It's a chilling sight, but it tells an important story, and prompts visitors to reflect on the horrors of war.
Miyajima Floating Torii gate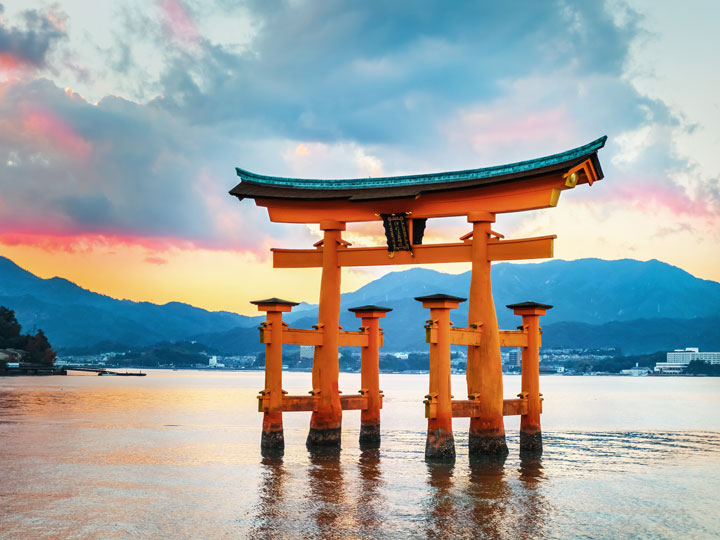 There's an undeniable beauty about the way Miyajima's orange torii gate rises out of the water. People travel for hours just to see this dazzling Japan tourist attraction (and post it to Instagram, of course).
The gate is part of Itsukushima Shrine, which also appears to float at high tide. It's been a place of Shinto worship for nearly 1,000 years and is a UNESCO World Heritage Site.
Note that as of June 2019, the floating torii gate has been covered for renovation. The refurbished gate should be ready in time for the Olympics in August 2020.
Scenic onsen resorts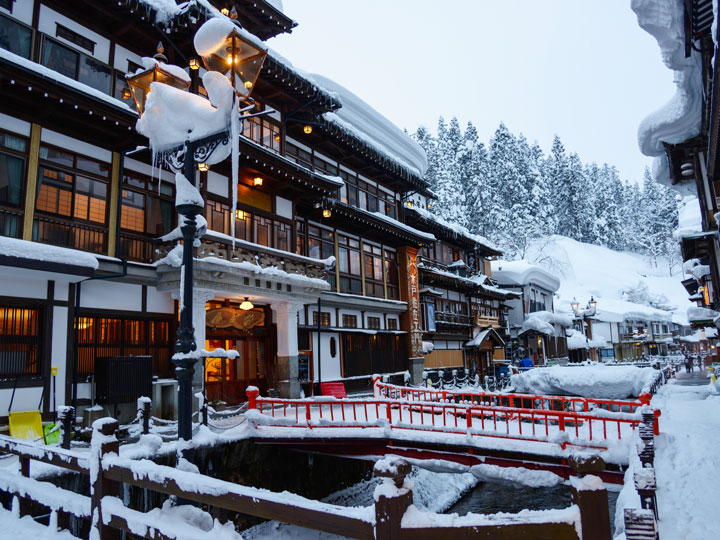 Japan is known for its onsen, a.k.a. hot spring baths. While there are public onsen that allow day visitors, you should stay at a scenic onsen resort for a truly relaxing and luxurious experience.
These accommodations offer a mix of natural hot springs and artificially heated baths. Some rooms even have their own private onsen! What could be better than soaking in a hot pool overlooking a charming village or snowy mountain?
Book your stay at one of these beautiful resort towns:
Snorkeling in Okinawa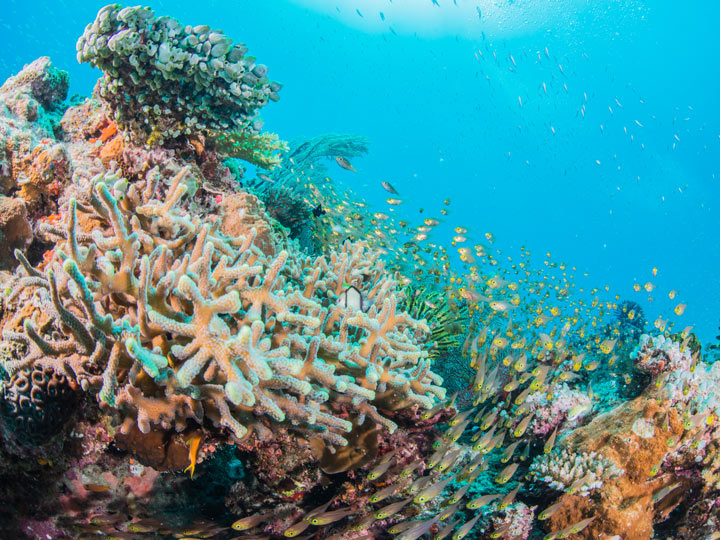 If you're a Westerner, you might not know that Okinawa's beaches and coral reefs are famous things in Japan. The island's warm, clear waters are perfect for snorkeling, and you can book local guides to ferry you to the best spots. Blue Cave and Miyako Island's stretch of Yabiji reef are must-sees.
Staying near the prime snorkeling spots can be pricey, but fortunately the island has plenty of fun cities to serve as your "home base". For example, there are a number of great things to do in Naha when you need a break from underwater adventure.