If I've learned anything from three long-distance moves, it's that we underestimate how much stuff we own. And if you're relocating abroad, it's not practical (or financially possible) to bring all your worldly possessions. Figuring out what to leave and what to pack is a daunting process without a moving abroad packing checklist.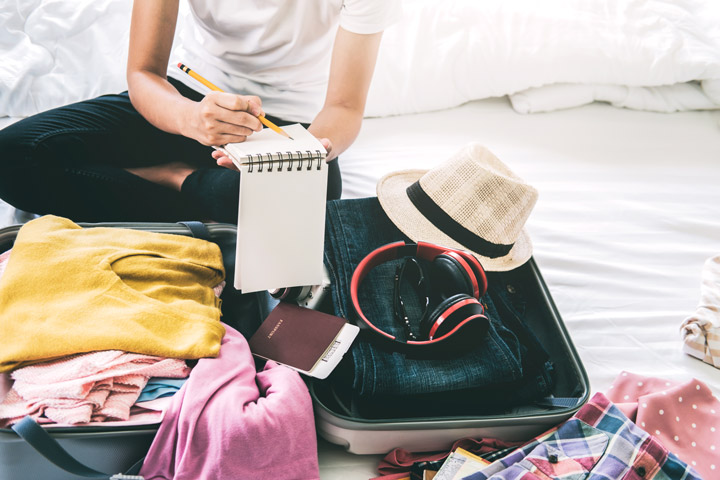 And that's why I'm sharing mine!
This post contains affiliate links. As an Amazon Associate, I earn from qualifying purchases. For more information, click here.
Deciding what to take when moving overseas is a balancing act of space and money. Sure, it's cheaper to move with carry-on luggage only, but you'll spend a fortune replacing all of your stuff.
And if you bring too much without doing research, you'll waste money shipping things you can't use, don't have room for, or could have cheaply replaced in your new home.
Feeling overwhelmed yet?
Don't worry! I've been there and have the crazy spreadsheets to prove it.
I've done the hard work of outlining a packing list for moving abroad. You just need to follow along and fill in the blanks.
If you're looking for a printable version of this moving abroad packing checklist, join my Patreon! You'll get access to my complete travel + relocation resource library.
Need more help organizing your move?
What to bring when moving to another country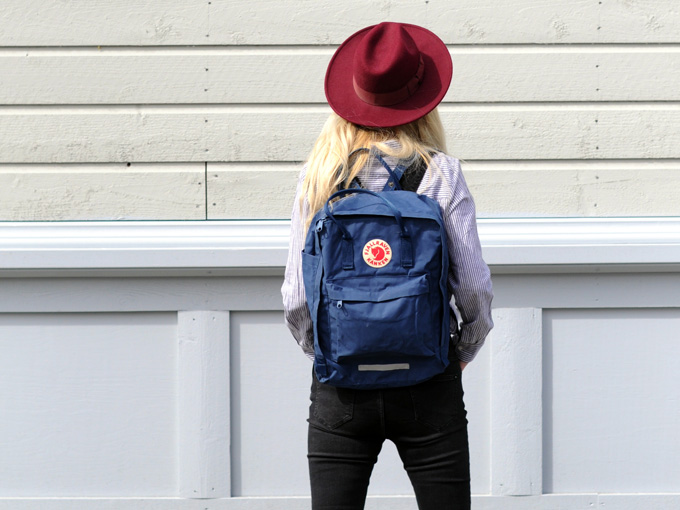 Everything you pack when moving abroad falls into three categories: practical, legal, and sentimental.
Practical items are things you use in daily life. Converter plugs, clothing, medication, pet food, etc., should be packed and ready to use from day one. Depending on the country, you might also want to bring some electronics.
Things like wills, insurance policies, and resident cards fall into the legal category. This includes any documents you need to legally enter your new country. For us, that meant our passports, a letter of entry, and backup copies of our visa paperwork.
Finally, you're sure to have a few sentimental items that you want to bring on your journey. Even if you're selling everything and starting over, you're sure to have a couple photos or books you'd like to keep. Although we left the majority of ours with family, we brought over a few things to personalize our new space.
Simple enough, right?
But here's the thing: international moves are expensive. Shipping by air is costly, and sea shipments can take months to reach your new place.
Rather than pay thousands of dollars to ship our luggage overseas, we downsized before moving abroad.
Downsizing allowed us to bring everything we needed on the plane. It only cost a few hundred dollars in excess baggage fees, and saved time on customs paperwork as well.
I'll talk more about how to pack for an international move at the end of this post.
RELATED: 9 Difficulties of Living in a Foreign Country You Must Overcome
Moving abroad packing list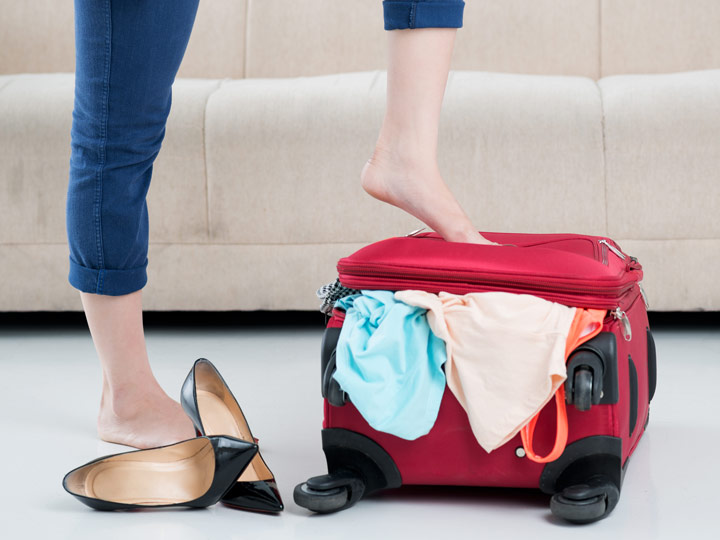 Practical Items
If your friends and family are looking to buy you gifts for moving to a new country, these practical items are excellent options.
Adapter plugs
---
The very first thing we did after arriving at our new flat was charge our rapidly dying phones. And we couldn't have done that without travel adapter plugs.
Moving from the US to London, we needed a totally different type of plug to fit into the UK's sockets. There are more than a dozen variations of plug and socket types, and many countries use more than one. So do your research and buy the right type before you leave!
Any travel adapter will do, but I like this Ceptics adapter kit best because it doesn't hang out of the socket like some adapters do (especially two-pronged ones). It also comes with all of the plug types, so we use it when traveling around the world.
Portable battery pack
---
If your first week abroad is anything like mine, you'll be spending a lot of time on your phone. From calling utility companies to navigating with Google Maps, your phone will be an essential part of daily life.
A dead phone is a nightmare scenario, especially if you don't speak the local language or find yourself in an unfamiliar area.
That's why I highly suggest carrying a portable battery pack with you.
My Anker PowerCore fits in my pocket and can fully charge my Google Pixel 2 three times. I also pack it whenever I travel, so it comes in handy often.
Personal electronics
Tablets, digital cameras, video game consoles… most of these items are expensive and pretty portable, so it makes sense to put them on your moving abroad packing checklist.
However, you'll need to do a little research before you decide.
In addition to your new country's plugs and sockets, you need to figure out the voltage. You can find this information on the plug, or somewhere on the item itself (usually near where the power cord goes into it). It will say something like "100-240V" or just a single value.
Many modern electronics accept a range of voltages and hertz, so you can use them with an adapter.
Or better yet, if the power cord is removable, you can swap it for a new power cord for your country. This is what we did with our PS4, Nintendo Switch, and camera charger.
You can easily buy 2 pin power cords on Amazon before you move, and have them ready to go as soon as you move into your new place.
Now, things with heating elements or motors, like hair dryers or electric shavers, typically only work with the voltage and hertz of your home country (110/120V and 60 hertz in the US).
Technically, you can bring electronics that use different voltages, but you'll need to use a transformer or converter rather than an adapter. This will cause your stuff to wear out much faster, and you run the risk of electrical shortages and fires. It's better to leave those items behind and replace them in your new country.
Small appliances
Like personal electronics, some small appliances are worth packing if the hertz and voltage will work. I saved hundreds of dollars by taking my cordless vacuum to London!
However, it didn't make sense to bring my bulky printer, because it was cheaper to buy a new one than give up the luggage space and weight.
Cookware
The kitchen was the trickiest area for my moving abroad packing list. As someone who loves to cook, I faced some hard decisions on what to bring and what to sell or give to family.
Ultimately, we brought very little from our kitchen. Heavy or fragile items like plates and casserole dishes didn't make sense to pack. And small things like peelers and sauce bowls are easy to replace.
What did make the packing list were expensive and sentimental items, like my Wustof knives and Michigan-shaped cheese board. We also squeezed in a few small things after everything else was packed.
Medication and prescriptionsIf you take any prescription medication, be sure to get a refill right before you leave. Always keep your medication in your personal bag with the original prescription.
Your pills must be kept in the original bottles, or they may be confiscated. Check your new country's government website and talk to your doctor to ensure you don't bring any illegal medication.
Save me for later!
Pet food
Are you moving abroad with pets? Don't forget about their needs!
Bring a few days' worth of food in a storage container. This will tide you over until you can get to a pet supply shop. And if their old food brand isn't available in your area, you can use this to transition them to a new brand.
Clothing and shoes
Clothes are the most space-consuming item on this moving abroad packing checklist. To keep your bags from ballooning out of control, go through everything your closet and ask these questions:
When is the last time I wore this?
Do I love wearing this?
Will this be practical in my new country?
It sounds tedious, but doing this in earnest will save you a lot of money in shipping/baggage fees. We donated almost half of our clothing before coming to London!
We used large duffel bags to pack our remaining clothes.
Using duffel bags for clothes is far cheaper than suitcases, and they fold down to nothing once you unpack. We're saving ours for the next international move.
Handbags and accessories
I've never been much of an accessories girl, so this category was easy for me. But if you have a purse-buying habit or a tie collection, start thinking about how to pare back.
Get creative with how you pack these items. Try putting small bags inside larger ones, and rolling up scarves and ties to fill gaps in boxes.
Notebook and pen
This might seem like a random thing to include on a moving abroad packing checklist, especially in the age of smartphones. However, if you're the type of person who likes to make checklists and notes, you'll want a notebook and pen handy the minute you arrive (and probably on the plane).
Between jet lag and generally feeling overwhelmed, my notebook with daily tasks was a life-saver. I like the bullet journal style, but a daily planner works well, too!
Legal Items
Entry documents
You won't make it very far without your passport and applicable visa. Always keep your entry documents on your body or in your personal bag.
Every country has their own set of entry rules, so be sure to research them before the move. For example, you may need to show a letter proving you have the legal right to bring your child to another country.
Other legal items
It's time to go through those (hopefully organized) file and lock boxes! Here are some of the legal documents you should pack:
Birth certificates
Marriage license
Insurance policies
Wills
House sale documents / rental check out
Final utility bills
Tax documents and old filings
For maximum safety and easy transport, we kept our legal items in a small lock box inside our carry-on bag.
Between airport transfers and cab rides and wheeling stuff through an unfamiliar city, I wasn't about to risk losing our most important documents.
---
Sentimental Items
Jewelry
It's small items like jewelry that tend to be forgotten. Anything valuable should be kept in your personal bag or with your legal documents in the lock box.
Photos
Putting up a few photos made us feel closer to the family we left behind. You can always remove photos from bulky frames and put them in an album (or between card stock) for easier transport.
Holiday decor
I was rational and objective for 90% of our packing list. But I did devote an entire storage bin to Christmas decorations. Holidays are the hardest times for expats, so don't feel guilty if you want to bring a few things to remind you of old traditions.
Souvenirs
Whether you're a traveler who amassed souvenirs or you received parting gifts from your old home, be sure to make room for these special items. We brought a few things from our Japan trip, as well as a couple Texas-themed items.
Books
I'm an avid reader and English degree-holder, so leaving behind all my books was out of the question. Try not to go overboard here, because even paperback books get heavy when you pack 50 of them in a bin.
Other
Do you have an emotional connection to a coffee mug? Or a music box that brings you joy? Remember to include these sentimental items on your packing checklist.
How to pack for an international move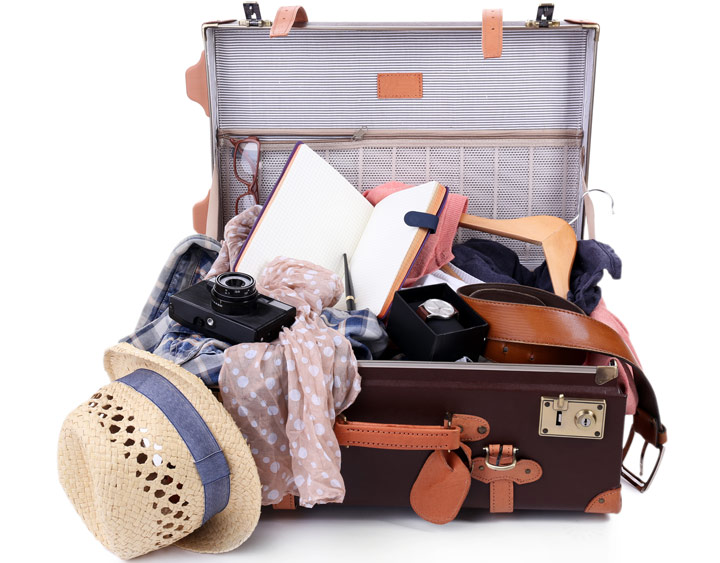 When it comes to packing for an international move, you have a few different options.
You could pay an international shipping company to box everything up and send it to your new home by air or sea. However, hiring movers and paying for international shipping is incredibly expensive.
There's also the option of packing everything yourself and outsourcing the shipping. But again, you're still looking at costly air or sea shipments, plus a lot of customs paperwork.
Personally, I suggest the DIY route: pack your own stuff and bring it as checked luggage. If you downsize before the move, it's very doable and shockingly affordable.
You can use a mix of suitcases, duffel bags, and storage bins for packing. Here's exactly how we did it.
Duffel Bags
To save our suitcases for fragile items, we bought these durable, low-cost duffel bags for packing our clothes and shoes. I also used a extra-large Shackle duffel, which has a padded shoulder strap to free up your hands.
Also, make sure you put luggage tags with your new address on everything! We bought plastic luggage tags in place of the cheap paper things you can get from the airport.
---
Suitcases
Having one large, hard shell suitcase is a must. This is where you'll want to pack semi-fragile items like your electronics and small appliances. And don't forget to use a mix of bubble wrap and clothes to cushion everything!
---
You'll also want a carry-on bag that meets the airline size requirements. It's incredibly important to check your bag size, because your most valuable items will be in your carry-on. Having to check it due to it being over-sized would be a huge problem.
---
Storage bins
Did you know you can check plastic storage tubs as luggage? As long as they fall within the size requirements for excess baggage, you'll be good!
We used heavy duty storage bins to pack our cookware, books, holiday decor, and other miscellaneous things. To ensure they stayed closed during transit, we secured them using these luggage straps.
Because we couldn't use luggage tags on the bins, we labeled them with duct tape and sharpies.
---
How to Easily Transfer Money Between International Bank Accounts
One big challenge we had when moving abroad was making payments in foreign currencies. You might need to pay a rental deposit via bank transfer, or move money from your new country's bank to your old bank to pay bills.
Luckily, there's an easy and cheap solution:
I first used Wise (formerly TransferWise) when we needed to pay our London apartment deposit, and it was SO much easier and cost-effective than doing an international wire transfer from my bank. Today, I regularly use Wise to send money to my US accounts from the UK.
If you get paid in multiple currencies (hello digital nomads!), the Wise Multi Currency Account will let you send and receive money in over different 40 currencies. It even comes with a multi-currency debit card.
Open a Wise account today to get real exchange rates, speedy transfers, and ultra-low fees.
I hope this moving abroad packing checklist makes your relocation a bit easier!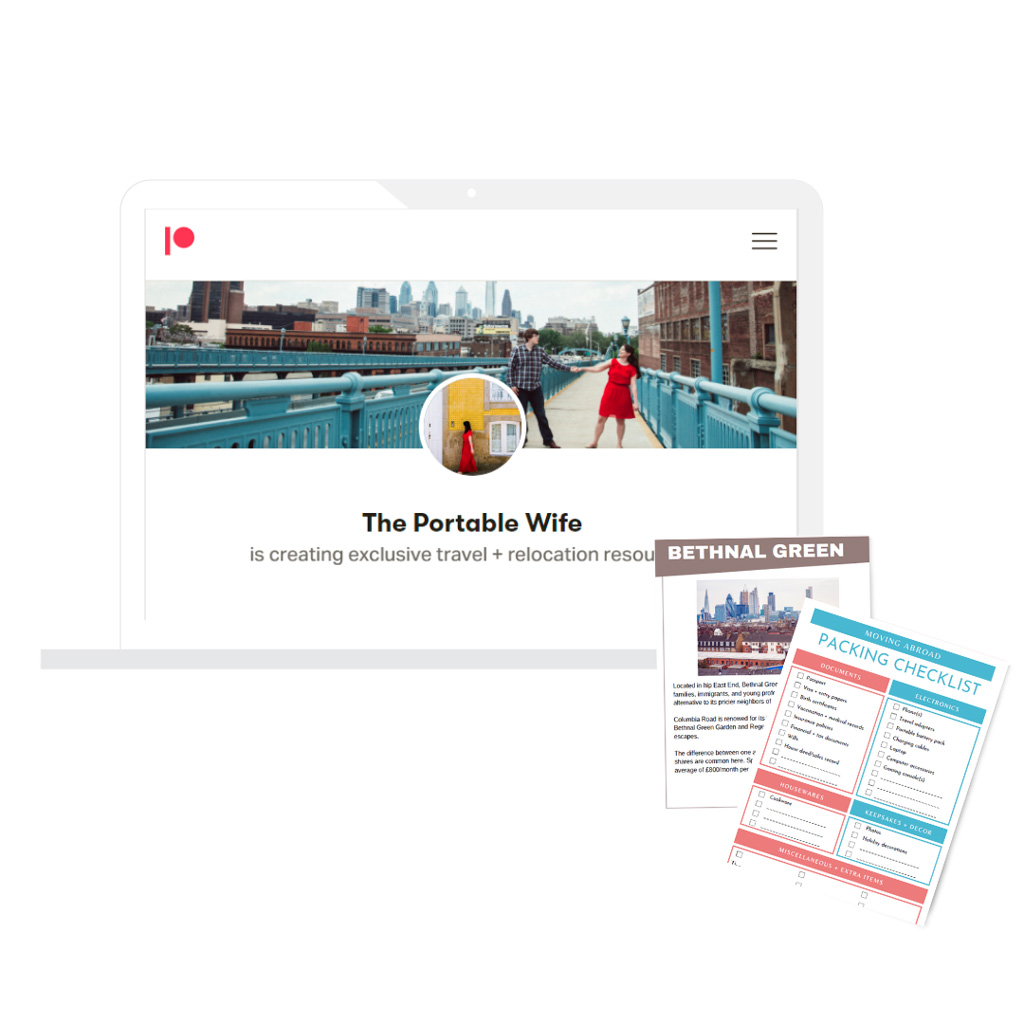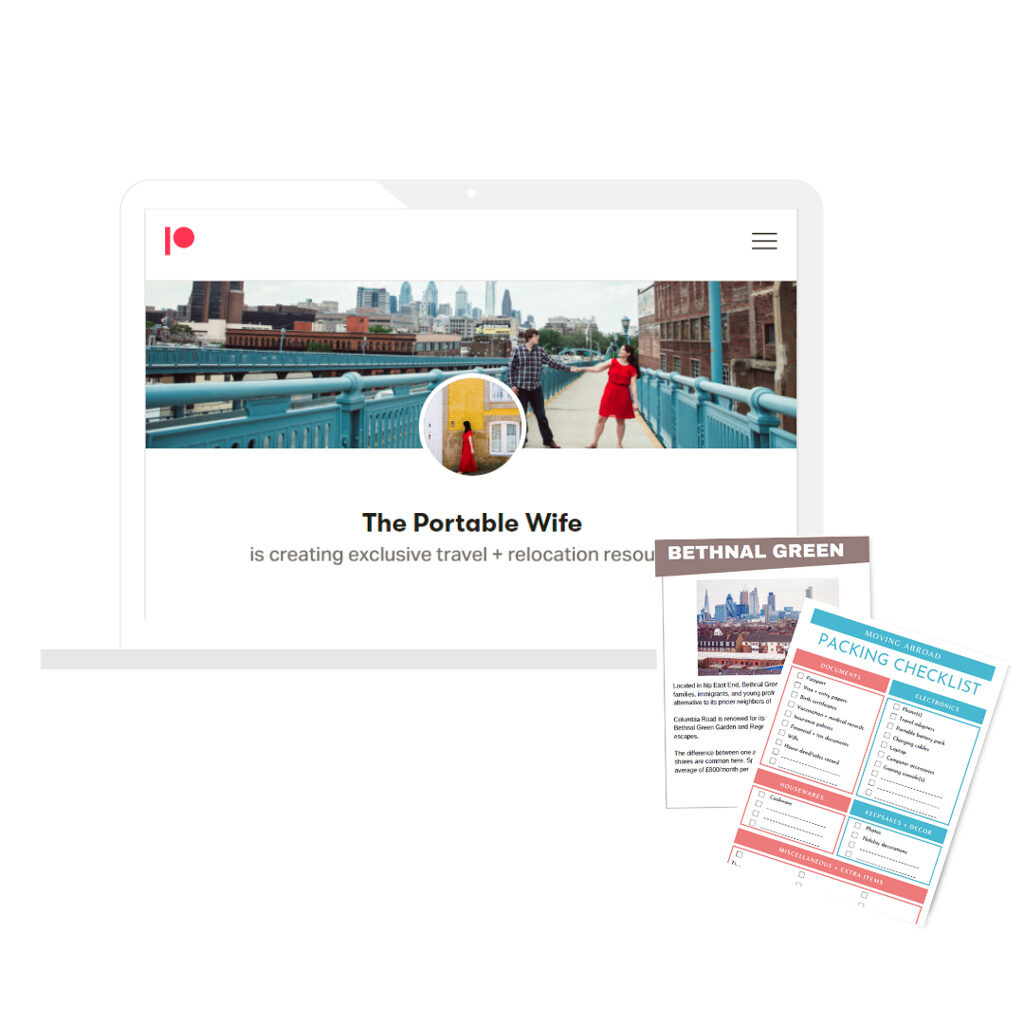 Want more travel + relocation tips?
Become a member of my Patreon group for exclusive access to my resource library, including:
Printable packing lists for moving + travel
Money-saving tips
Insider travel guides
And much more