Writing this Kyoto 2 day itinerary was an interesting challenge. Trying to condense my favorite city into 48 hours of sightseeing was no simple feat! But if you can only afford to spend two days in Kyoto, this itinerary will guide you through the ancient city's highlights as efficiently as possible.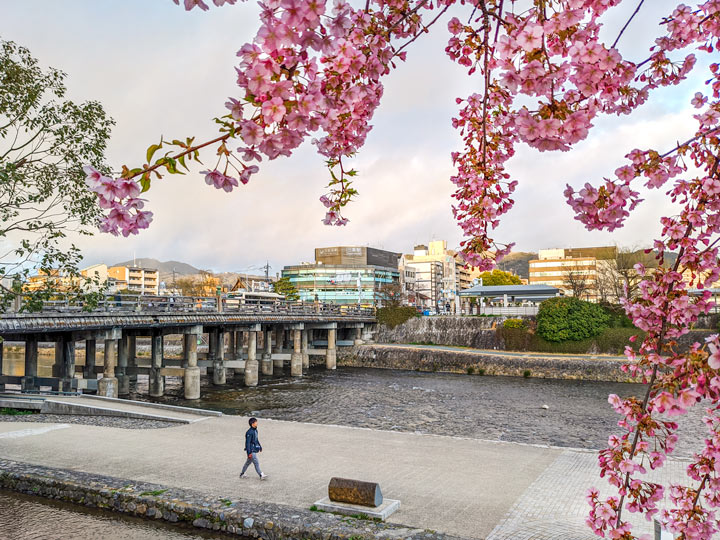 From 794 to 1868, Kyoto was Japan's capital city and the home of the Imperial family. While Kyoto saw its fair share of war and destruction, it flourished during the 260-year Tokugawa shogunate period and remained relatively unscathed during World War II.
Thankfully, Kyoto's gorgeous wooden houses and temples have endured alongside the city's modernization. It's a place where 1,000-year-old shrines and 7-Elevens co-exist on the same street, and narrow lantern-lit alleys zig zag behind concrete apartment complexes. Few cities in Japan can compete with Kyoto's elegant blend of natural, traditional, and urban settings.
Kyoto is also home to many of Japan's most famous places, including 17 UNESCO World Heritage sites, a bamboo forest, and the endless torii gates of Fushimi Inari Shrine. While I couldn't fit all of them into a 2 day Kyoto itinerary, I've squeezed in as many as possible.
This post contains affiliate links. As an Amazon Associate, I earn from qualifying purchases. For more information, click here.
Planning a longer trip to Japan? Check out these itineraries for 6 days in Osaka, Kyoto, and Nara and 10 days in Japan!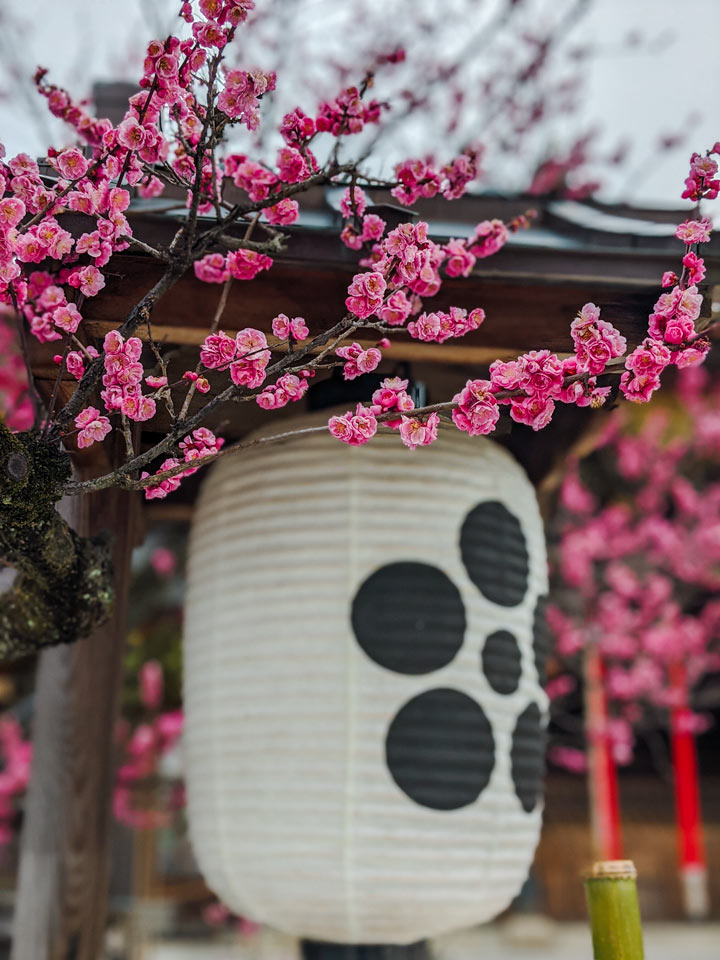 How to Spend 2 Days in Kyoto
Know Before You Go: Kyoto Travel Tips
– Is 2 days in Kyoto enough?
– The best time to do this Kyoto 2 day itinerary
– Where to stay in Kyoto
– Getting around Kyoto
– Etiquette
Kyoto 2 Day Itinerary
– Day 1: Kyoto's Famous Shrines and Temples
– Day 2: Bamboo, Castles, and Geisha
– Other Places to Visit Near Kyoto
Know Before You Go: Kyoto Travel Tips
Is 2 days in Kyoto enough?
Thanks to the city's sightseeing bus loop, 2 days in Kyoto is just enough time to catch the major highlights. You won't have much time for relaxing or aimless wandering, but you'll check off many popular attractions from the typical Kyoto bucket list. If you can spare an extra day or two, I highly recommend it!
The best time to do this Kyoto 2 day itinerary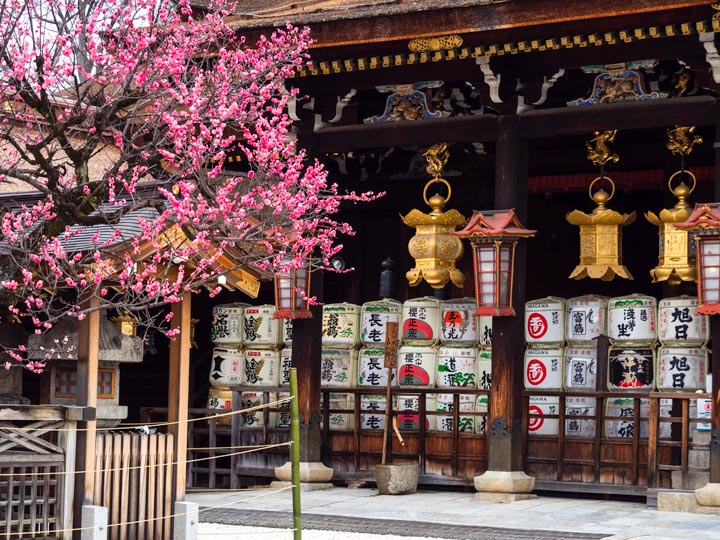 Ah, the eternal question! Choosing the best time to visit Kyoto comes down to three things: budget, scenery, and crowd tolerance.
For this particular Kyoto 2 day itinerary, I strongly suggest either mid-October or late February-early March.
Traveling Japan in October means fewer tourists, cooler weather, cheaper prices, and gorgeous autumn leaves decorating the mountains, shrines, and temples.
Late February kicks off plum blossom season, the oft-forgotten precursor to spring cherry blossoms. Prices will generally be even cheaper than October, and you'll enjoy plenty of pretty flowers without the cost and crowds of sakura season.
However, the current Emperor's birthday falls on February 23rd, so there will be a busy public holiday weekend during this time.
I recently re-visited Kyoto in early March as part of a 3 week trip to Japan, and it was the perfect combination of reasonable crowds and pleasant weather. The plum blossoms were at their peak, which made places like Kiyomizudera and Gion even more spectacular.
If your travel plans don't line up with these times, don't worry! There's not a "bad" time to visit Kyoto in terms of weather or attraction closures. However, the crowded spring and summer seasons will make it harder (and more expensive) to move around the city, so it might not be possible to actually do everything outlined in this Kyoto itinerary.
Where to Stay in Kyoto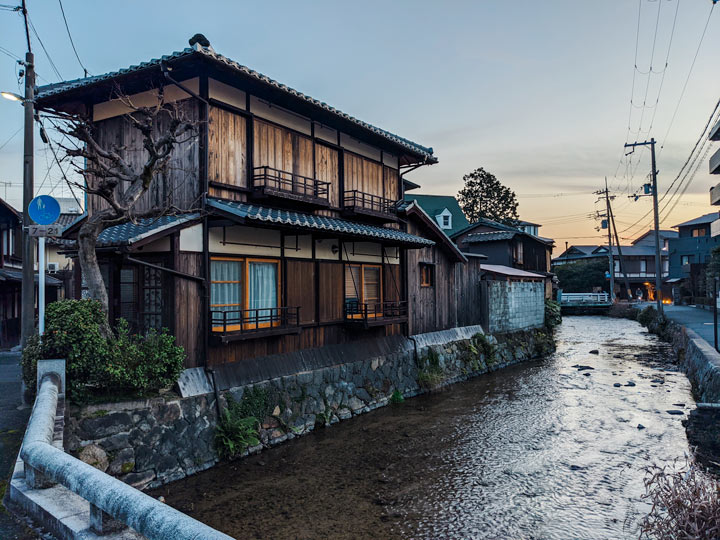 I've visited Kyoto several times and can personally recommend two great places to stay.
If you're after the classic, old-world Kyoto experience, book at Yuzuya Ryokan.
The inn's name comes from the yuzu citrus trees that grow in the inner garden. They're conveniently located next door to Yasaka Shrine in Gion and offer everything from kaiseki dinner to in-room massages. I loved coming back after a long day of exploring to rest in the traditional tatami room and soak in the wooden tub.
For a less pricey option, check out Kyoto Traveler's Inn. It's conveniently located across from a sightseeing loop bus stop and the giant torii gate (so you'll never get lost!). Gion and Pontocho are a short walk away. Plus, they offer a mix of Western and Japanese-style rooms depending on your preference.
Getting Around Kyoto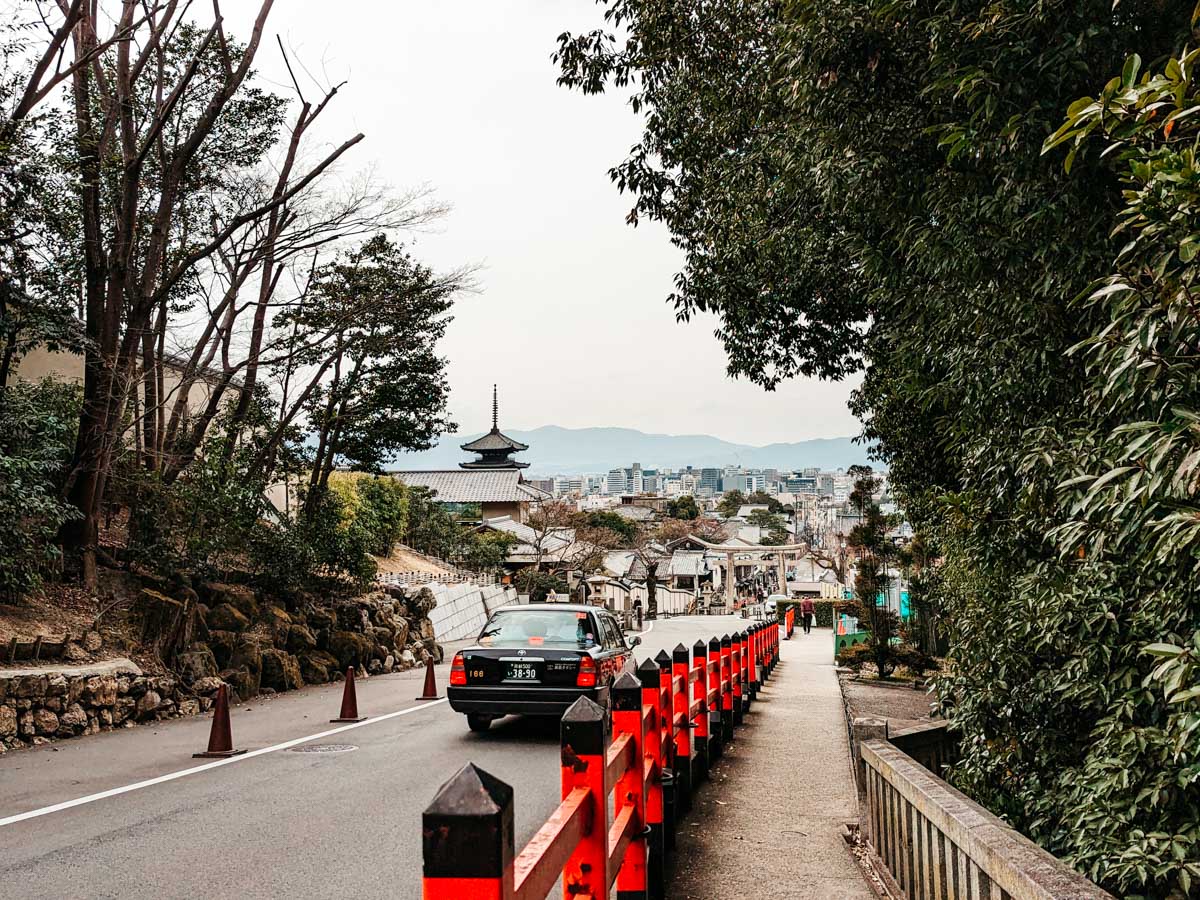 Unlike other Japanese cities, the easiest way to travel between sightseeing spots is by bus. Although there are metro and train lines connecting key sites, it's often faster to use the local and sightseeing buses to get around (in addition to walking).
The Raku sightseeing buses (#100, 101, and 102) travel clockwise and counterclockwise, stopping at all the major tourist spots. It's a flat rate fare (230 yen in 2020) no matter where you get on or off, and they accept change and IC cards.
There's also a JR bus route that stops at a few sites like Nijo Castle and Kinkakuji. JR pass holders can ride for free.
While you can technically save a few bucks on this itinerary by purchasing a Kyoto 2-day subway + bus pass, I don't think it's worth the hassle. Just purchase an IC card from one of the machines when you arrive in Kyoto. If you already have a contactless card from another city in Japan (ex. SUICA, PASMO, TOICA, etc.), you can use that instead!
Don't Forget Your Japan Rail Pass!
Buying a Japan Rail Pass will save you a ton of time and money when traveling across Japan.
I've purchased a JR pass for two out of three Japan trips, and here's why:
– Free bullet trains and reservations: Quickly travel all over Japan to maximize vacation time.
– Easy to use: Just show your pass to the gate attendant and walk to your train!
– Affordable day trips: Visit popular places like Osaka, Kanazawa, and more without spending a fortune on tickets.
Etiquette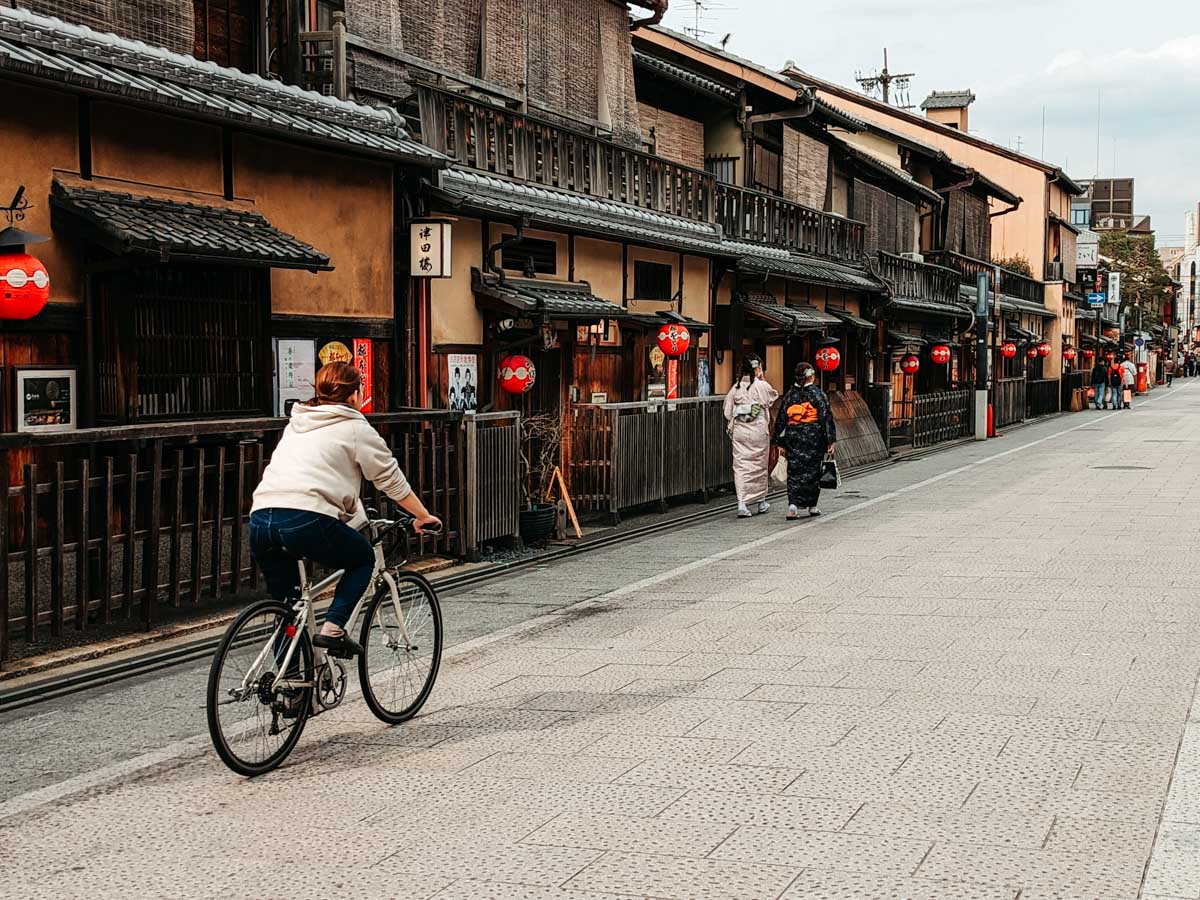 I've written an entire post on Japan travel etiquette that covers everything from footwear to trash disposal. But there are a few extra things to keep in mind during your Kyoto 2 day itinerary:
Do not approach geisha and their maiko apprentices or stop them for a photo
Always wear (or bring along) good socks, as you'll need to swap shoes for slippers inside shrines, temples, and some restaurants
Cash is still king in Kyoto, so always keep an eye out for "cash only" signs inside shops and restaurants
Please respect the "no photography" signs posted throughout the city's historic neighborhoods (even if others do not)
Check out my comprehensive Japan travel checklist for packing tips and other useful resources!
Kyoto 2 Day Itinerary
Day 1: Kyoto's Famous Shrines and Temples
Kitano Tenmangu Shrine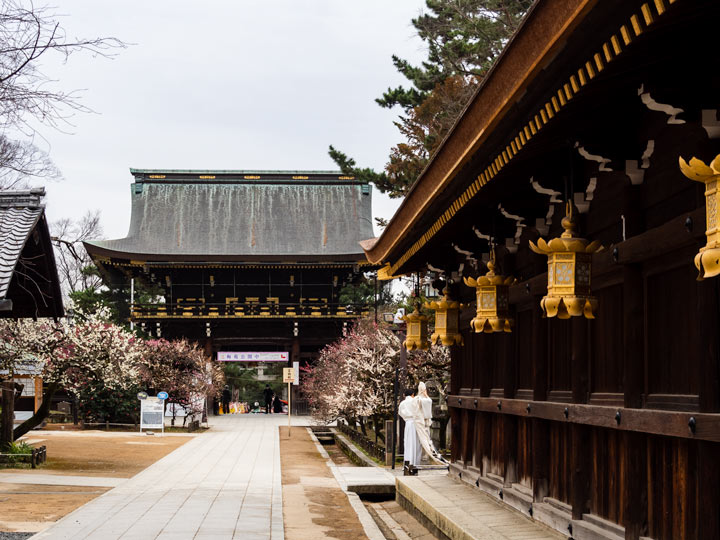 Built in 947, Kitano Tenmangu's plum blossoms and golden lanterns have become a symbol of Kyoto.
There are hundreds of Tenmangu shrines in Japan, and they're all dedicated to Tenjin, the patron deity of academics. During exam season, Japanese students and their parents journey here to pet the cow statue heads and pray for wisdom and high scores.
Kitano Tenmangu has an extraordinary plum blossom garden, with hundreds of trees lining the curved walking paths. From late February to early March, you can pay to stroll around the fairytale gardens and enjoy refreshments at small tables facing the colorful grove.
If you visit the shrine on the 25th of the month, stop by the huge Tenjin Market for some antique shopping and street food. It's an excellent place to pick up affordable and unique souvenirs like old sake cups and kimonos.
To get to Kitano Tenmangu, take the #203 bus to Kitano Tenmangu Mae stop.
Kinkaku-ji and Ginkaku-ji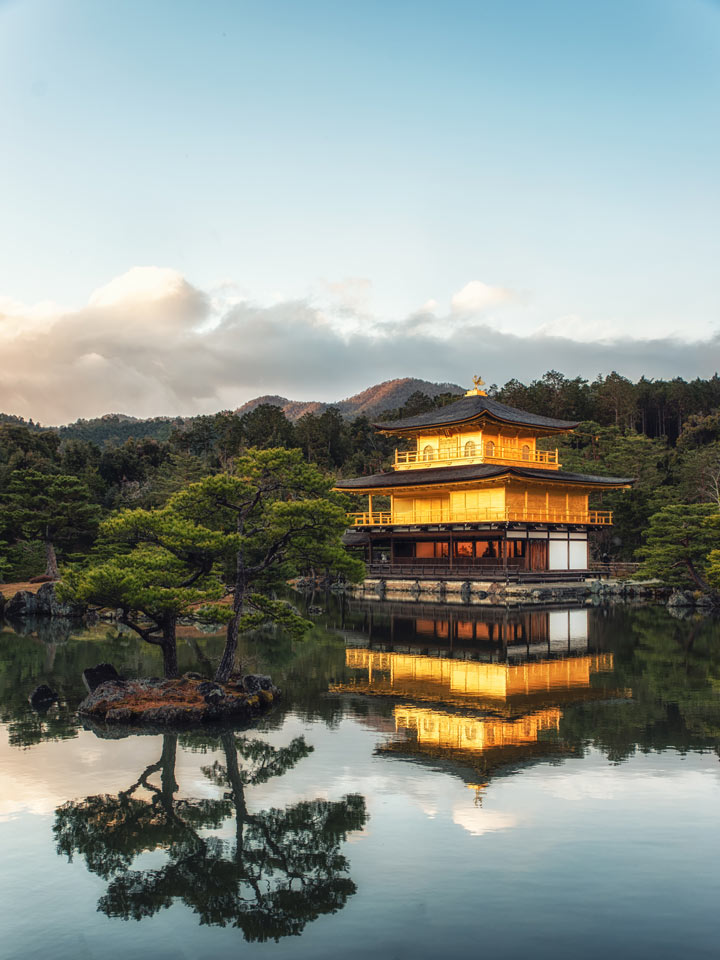 From Kitano Tenmangu, walk 15 minutes northwest to reach Kinkaku-ji.
Of all the UNESCO sites in Kyoto, it's hard to beat Kinkaku-ji. Known as the Golden Pavilion, this Zen Buddhist temple was originally constructed in 1397 as a wealthy shogun's retirement villa. The building you see today is actually a partial reconstruction, but that doesn't make it any less magical!
Kinkaku-ji is surrounded by a large pond, making for mesmerizing reflections in the water. There's also a lovely strolling garden and traditional tea house in the complex.
To reach Ginkaku-ji, take either the 102 Raku bus or the 204 local bus from Kinkakuji-michi to Ginkakuji-michi stop.
Near Kyoto's eastern mountains lies Ginkaku-ji, a.k.a. the Silver Pavilion. Despite its nickname, you won't find a hint of silver on its facade!
Ginkaku-ji's official name is Higashiyama Jisho-ji,and it was intended to be a shiny silver version of Kinkaku-ji. Sadly, the project to cover the facade in silver leaf never happened. To this day, the temple remains a humble–albeit pretty–wooden structure.
Fortunately, Ginkaku-ji's fantastic gardens, including one made of raked sand, work in harmony with the simple exterior. The combination of wood and greenery create a calming, zen-like atmosphere.
Philosopher's Path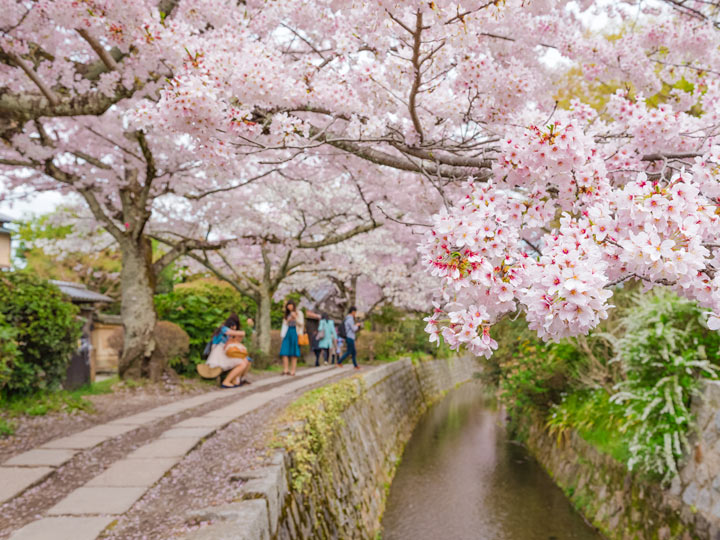 The northern entrance to the Philosopher's Path is conveniently located a few minutes' walk from Ginkaku-ji. This scenic footpath gets its name from Nishida Kitaro, the 20th century Japanese philosopher who (allegedly) walked the route for daily meditation.
You'll find cute cafes, independent shops, and hundreds of cherry blossom trees lining the canal path.
It takes about 20 minutes to walk the entire 2km path. To keep this 2 day Kyoto itinerary on schedule, you can take around 45 minutes to shop, take photos, and stroll. Definitely pop into Suzuki Shofudo, an adorable papercraft shop with a frog mascot.
Once you reach the path's southern exit, you'll be just around the corner from one of my favorite temples in Kyoto: Eikan-do Zenrin-ji.
Eikan-do Zenrin-ji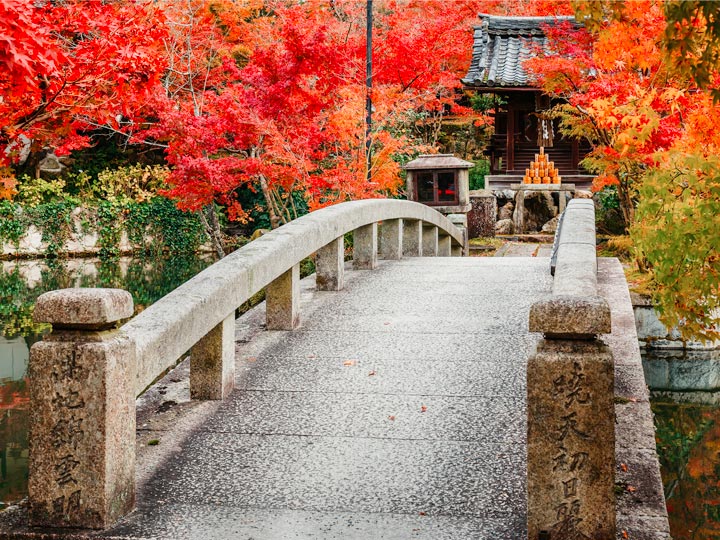 Eikan-do Zenrin-ji is easily one of Kyoto's most beautiful temples, especially during the autumn season. People travel from all over the world to see the vibrant trees surrounding the vast Hojo Pond and stone bridge. If the line isn't too long, climb the steps of the pagoda for stellar views of the complex.
From the temple exit, briefly walk south along the road to reach Nanzen-ji.
Nanzen-ji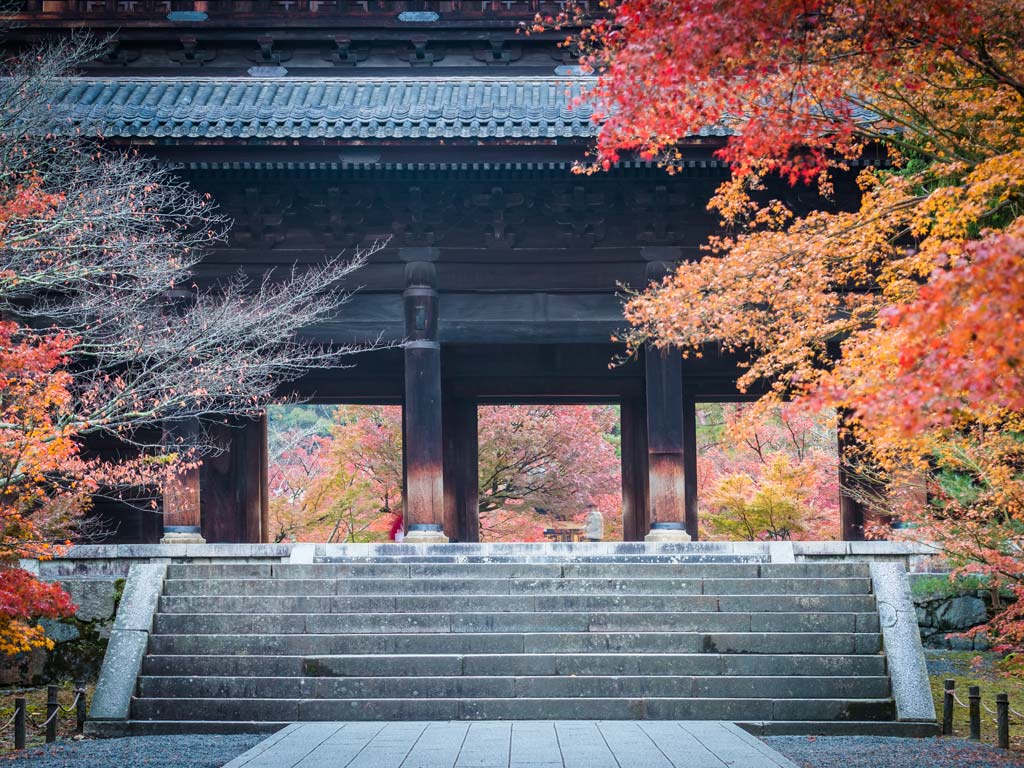 Nestled along the base of Kyoto's Higashiyama mountains, Nanzen-ji is one of Japan's most significant Buddhist temples. Thanks to its elevated location, the towering wooden temple gate offers lovely views, and the sprawling grounds and garden are a peaceful escape from the city.
Founded in the mid-13th century, Nanzen-ji started as a retirement villa for Emperor Kameyama. It was later converted into a Zen temple and expanded. Although the original buildings were destroyed during the 14th-16th century civil wars, the grounds were rebuilt and boast a number 500-year-old structures.
It's free to explore the main grounds of Nanzen-ji (including the famous gate and brick aqueduct), which is all you'll have time for during this busy 2 day Kyoto itinerary.
After exiting the temple grounds, walk west up Niomondori to the Okazaki Koen bus stop. From here, catch the 100 Rakuten bus to Kiyomizu-dera.
Kiyomizu-dera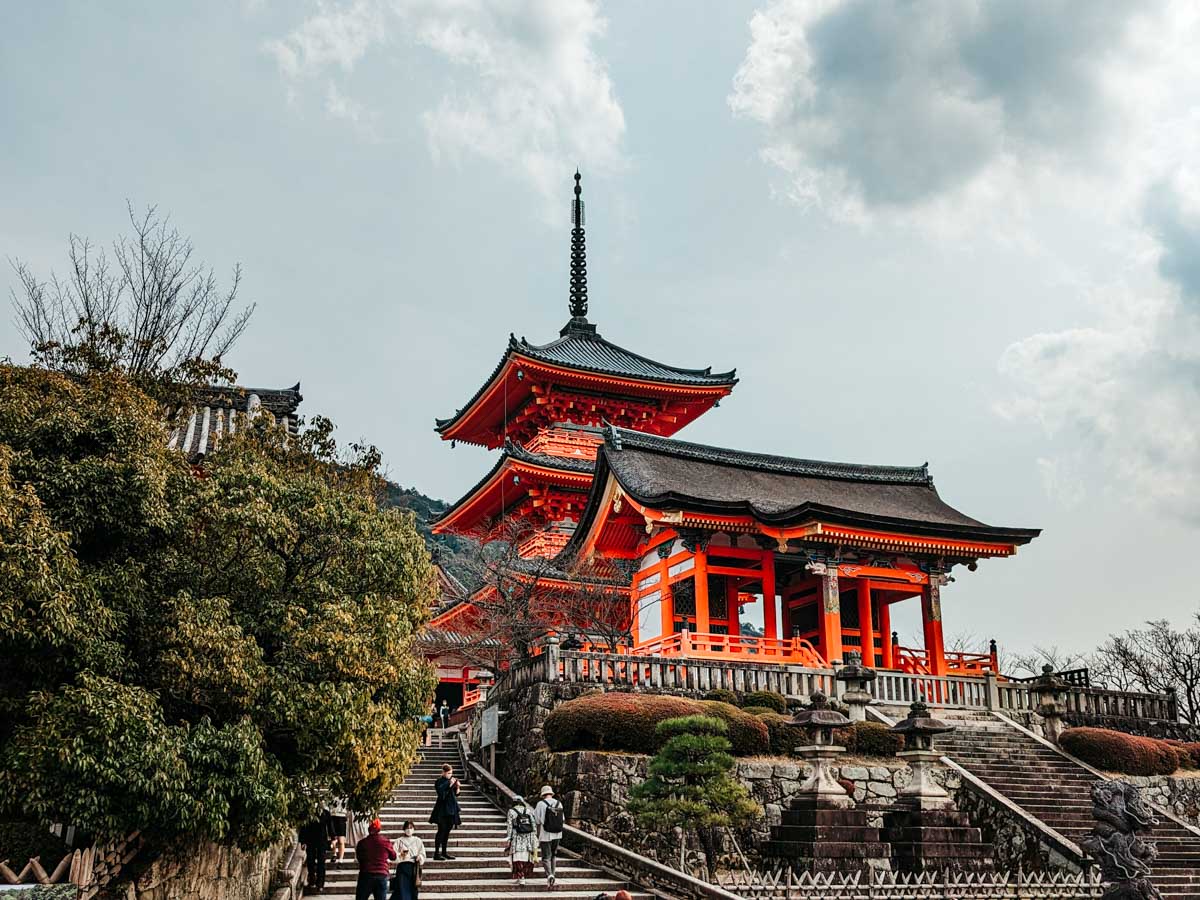 With a multi-story wooden hall and enormous observation deck, it's no wonder Kiyomizu-dera is one of Kyoto's top tourist attractions. The vast temple complex of buildings and gardens is set on a hill among a forest of bamboo and trees, which turn brilliant hues of red and gold during autumn.
Kiyomizu-dera is known as the "Pure Water Temple" thanks to the crystal clear Otowa waterfall nearby. Other highlights include the 3-story Koyasu Pagoda and the various smaller halls and shrines whose purposes range from matchmaking to safe travel.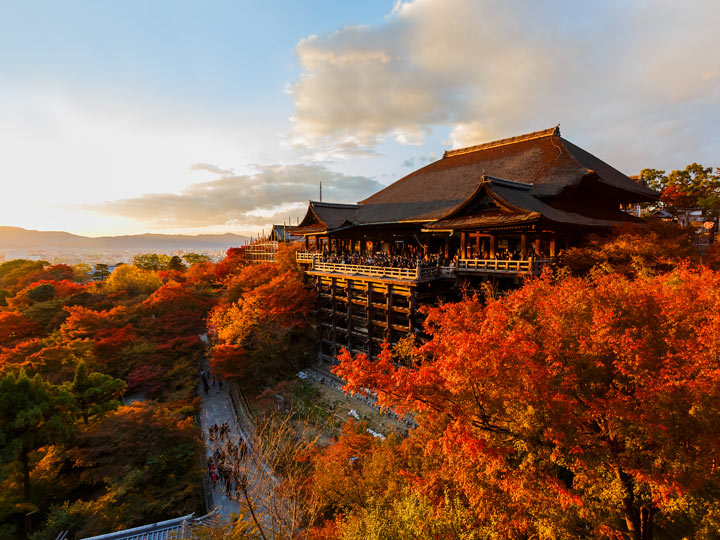 There are multiple ways to reach the next destination, Rengeoin Sanjusangendo, from Kiyomizu-dera. You could walk the entire 25 minute journey, or walk about 12 minutes to Gojozaka bus stop and catch the 100, 202, or 206 bus. The 100 and 206 stop right across the street, while the 202 stops a block away at Higashiyama Nanajo.
Rengeoin Sanjusangendo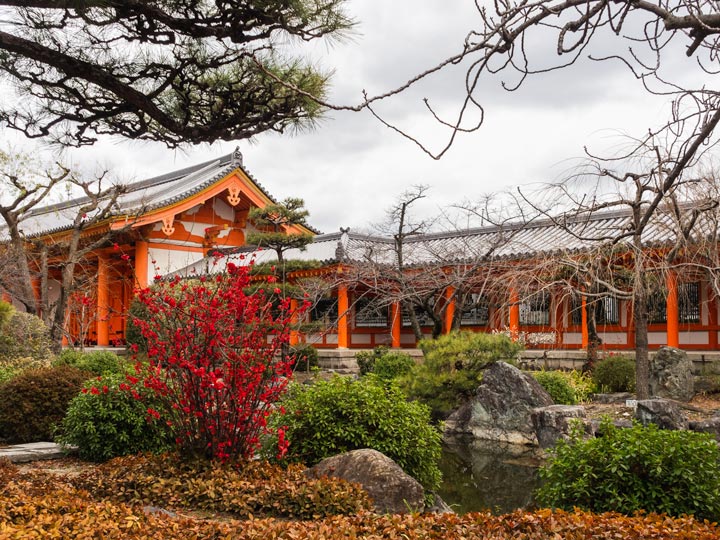 If you were hoping to be wowed by Kyoto's history and culture, look no further than Rengeoin Sanjusangendo.
Founded in 1164, this Buddhist temple's massive main hall contains a jaw-dropping 1,001 gold statues of the Goddess Kannon arranged in rows. Various displays detail the evolution of Buddhism in Japan, and many Kyoto natives consider this one of the city's most important cultural sites.
Before you depart, take a few minutes to enjoy the beautiful grounds, which include a small garden and an elegant vermillion and white outer wall.
To reach Fushimi Inari from here, you have two equally fast options. Either walk 8 minutes to Shichijo Station and take the Keihan Main Line to Fushimi Inari Station, or walk 12 minutes to Tofokuji Station and take the Nara local line to Inari Station (free for JR pass holders). Both options will get you there in 20 minutes including walk time.
Fushimi Inari Shrine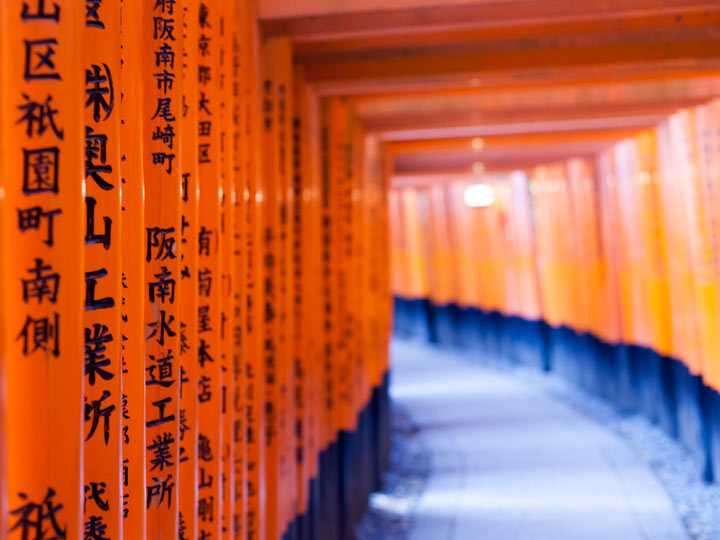 There's a reason I saved Fushimi Inari Taisha for last: it's one of Kyoto's most crowded sightseeing spots! Fortunately, arriving in the evening means avoiding most of the tourist groups that clog the path through the seemingly endless 10,000 torii gates.
The vermilion gates line the path up Mount Inari, linking the main Shinto shrine at the base to smaller ones further up the mountain. As you journey up the mountain, you'll spot plenty of fox statues that represent the god Inari, protector of rice growing.
It takes around three hours to walk all the way to the top and back, and it gets tiring quickly. Luckily, there are multiple landing spots where you can easily turn around and descend back to the train station if you can't carry on due to fatigue or fading daylight.
Save me for later!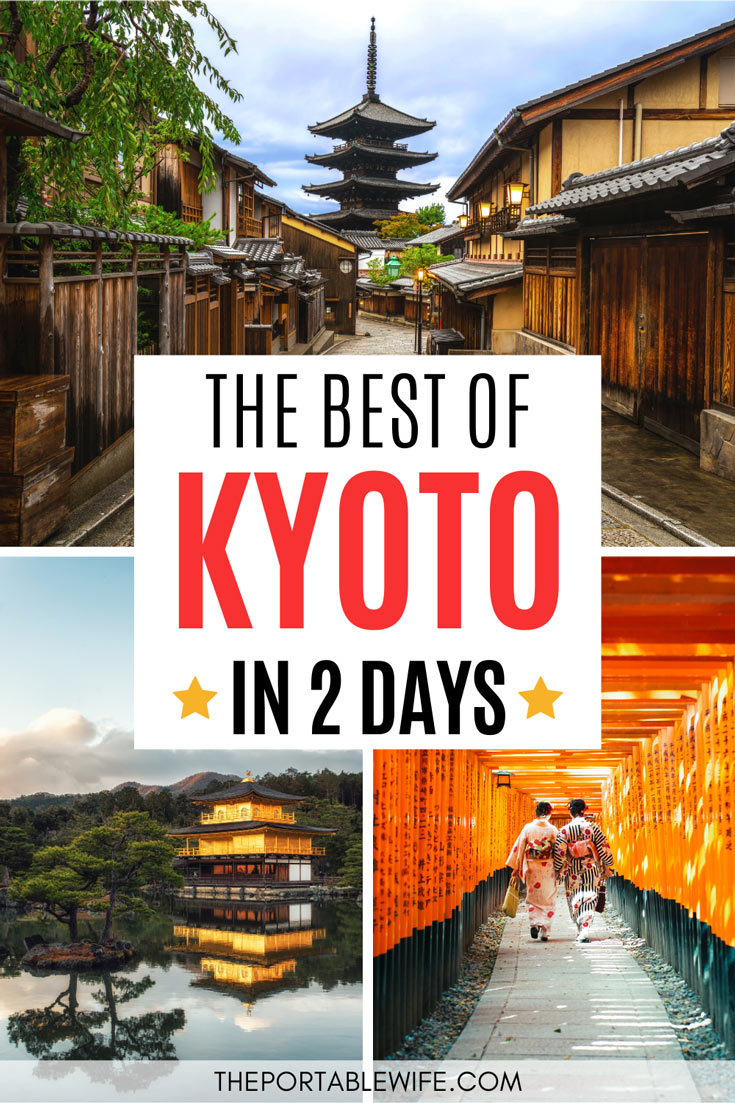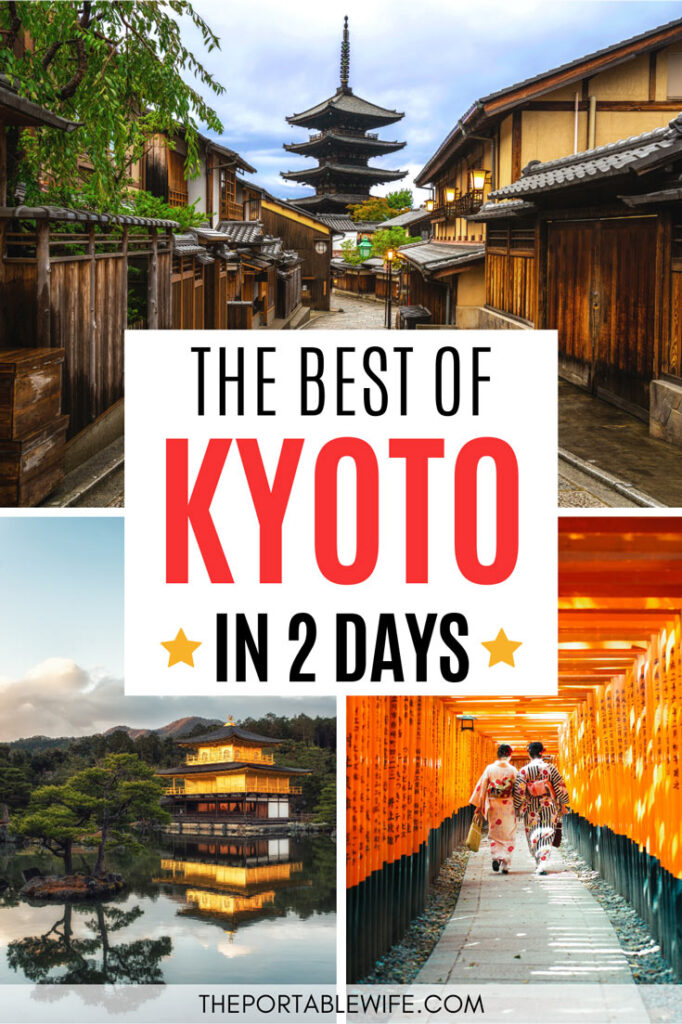 Day 2: Bamboo, Castles, and Geisha
Exploring Arashiyama Like a Local
Kyoto's Arashiyama district is one of the city's most unique and mesmerizing destinations. Unfortunately it's also packed with tourists!
If you want to navigate the area's bamboo forest, temples, and restaurants like a pro, I highly recommend booking a local guide. This insider's tour of Arashiyama will take you through the district's highlights, including a traditional Kyoto-style lunch.
Arashiyama Bamboo Forest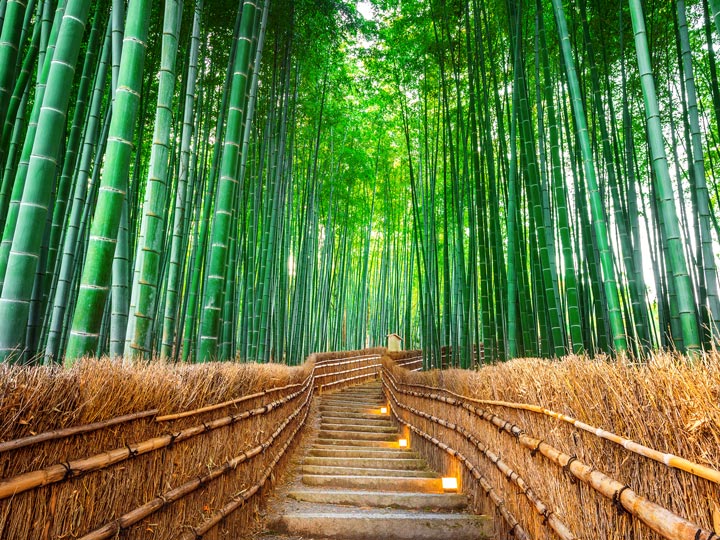 Start your second day in Kyoto bright and early with a stroll through Arashiyama Bamboo Grove. The 30+ meter stalks gently sway and filter the sunlight as you pass through, making for an other-worldly experience. If you don't want crushing crowds to kill the mood, try to arrive by 9am.
To get to Arashiyama, you can take the JR San-In line to Saga-Arashiyama Station or the Randen Local line to Arashiyama Station.
Arashiyama District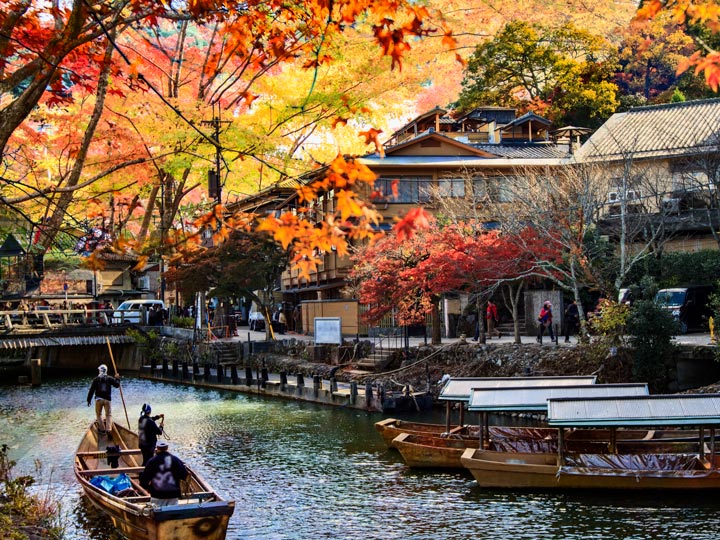 There's more to Arashiyama district than the iconic bamboo grove! Adjacent to the forest lies Tenryuji Temple, a renowned complex of ancient buildings with an elegant Japanese garden. It's a gorgeous place year-round, but it's even more impressive when decked out in fall foliage.
If your visit falls on a weekend, you can pay to enter the Hatto hall and see the famous Cloud Dragon painting.
From Tenryuji, head south towards the Katsura River and cross the Togetsu-kyō Bridge. Keep an eye out for the traditional wooden boats that ferry sightseers along the scenic riverbank.
Just a few minutes' walk from the river, you'll find the entrance to Arashiyama Monkey Park Iwatayama. This mountainside area is home to hundreds of Japanese macaques, and the overlook point at the top has incredible panoramic views over Kyoto. You'll need around 30 minutes to reach the overlook, so plan accordingly.
When you're ready to leave Arashiyama, walk back to Saga-Arashiyama Station and take the JR San-in Line to Nijo Station.
Nijo Castle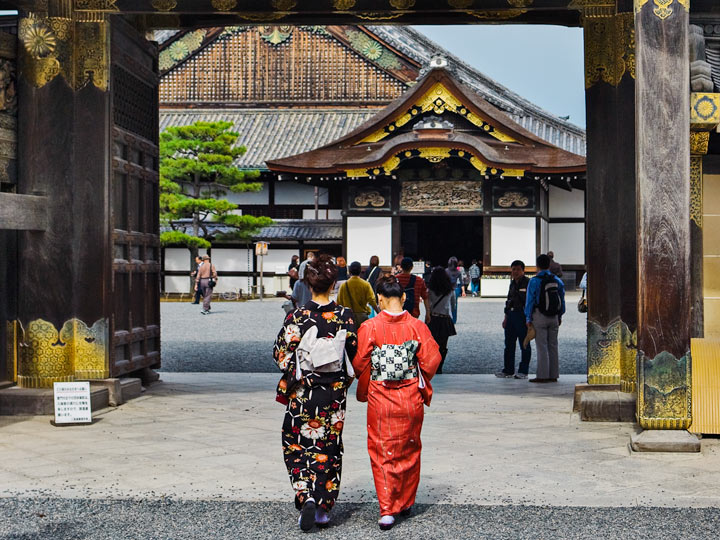 Not to be confused with Kyoto Imperial Palace, Nijo Castle was the home of the Ieyasu shogunate. The shogunate's former power and wealth is on full display here, with intricate carvings and colorfully-painted details along the huge wooden gates and buildings.
Inside the walls, you can tour the elegant Ninomaru Palace and grounds and marvel at the traditional Japanese architecture.
Take the Tozai subway line from Nijojo-mae Station to Kyoto Shiyakusho-mae Station to reach Pontocho.
Pontocho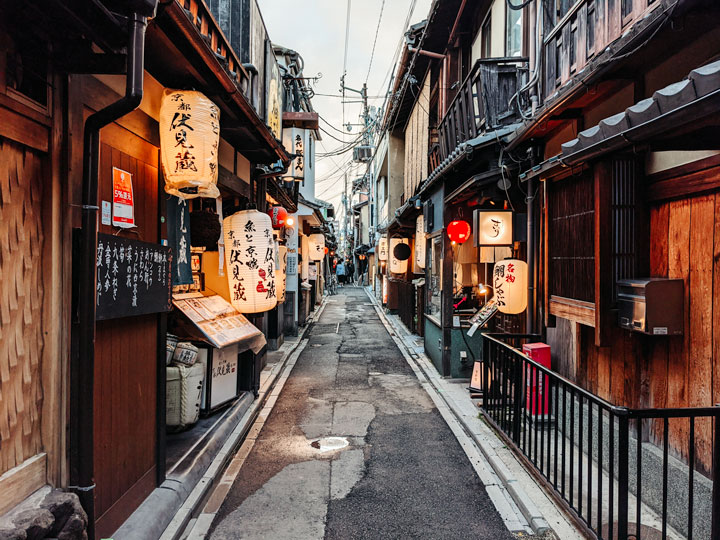 Pontocho is among my favorite places in the entire world. This long, lantern-filled alley is lined with old-fashioned wooden facades and mysterious entrances to dark narrow corridors. The atmosphere is distinctly Japanese and reminiscent of a Studio Ghibli film.
Pontocho is full of small restaurants ranging from izakaya to sushi shops to okonomiyaki grills. It's a great place to grab dinner before heading to Gion, where food is a fair bit pricier.
To reach Gion, simply walk across the large bridge near Gion-Shijo Station.
Gion District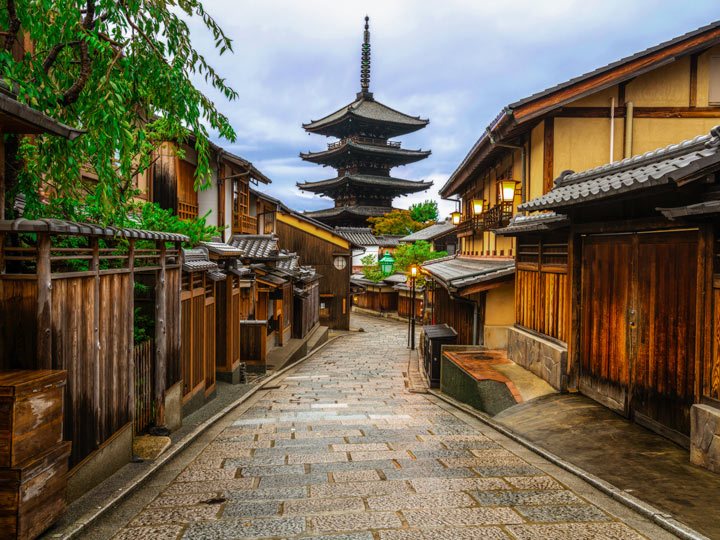 By now it should be growing dark, which makes it the ideal time for a stroll through Gion. Known as Kyoto's geisha district, this area is a maze of traditional shops, historic alleys, and elegant inns and restaurants.
If you're lucky, you might even catch a glimpse of a geisha or maiko (apprentice) on their way to an appointment during your Kyoto 2 day itinerary (but please appreciate them from a distance).
Gion holds a ton of secrets and charms, and the best way to discover them (and spot a few geisha along the way!) is on a walking tour with a local.
Begin by walking up Hanamikoji, Gion's main street. Each side is lined with hundreds of shops and street food counters operating under the iconic sakura lanterns. The numerous souvenir shops are perfect for picking up traditional wagashi–Japanese sweets–to bring back home (Kagizen Yoshifusa is my favorite wagashi shop).
At the end of Hanamikoji stands Yasaka Shrine, one of the most culturally significant shrines in Japan. Every July, the Gion Matsuri festival begins here, with an ornate deity float (mikoshi) parading through the gate and around the city. They illuminate the shrine's front gate at night, and it glows beautifully at the heart of Gion.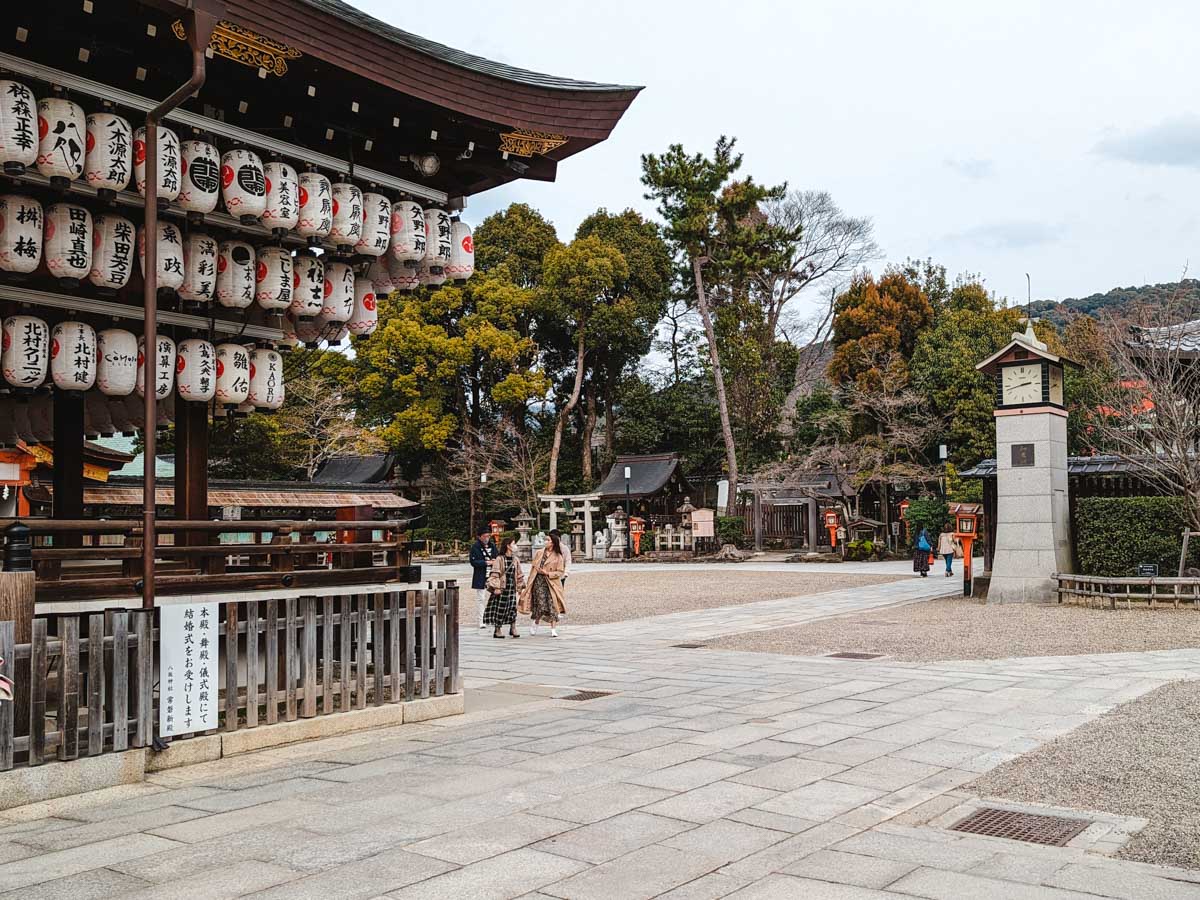 Meander south towards Kodai-ji Temple, where you can explore the lit up grounds and mini bamboo forest. They also run a three minute light and sound show after dark in the sand garden area.
Right outside of Kodai-ji you'll find Ishibe-koji alley, one of the prettiest historic streets in Gion. And for more picturesque paths, continue south to reach Ninenzaka and Sanenzaka. These lantern-lit streets offer amazing views of Kiyomizu's pagoda in the distance.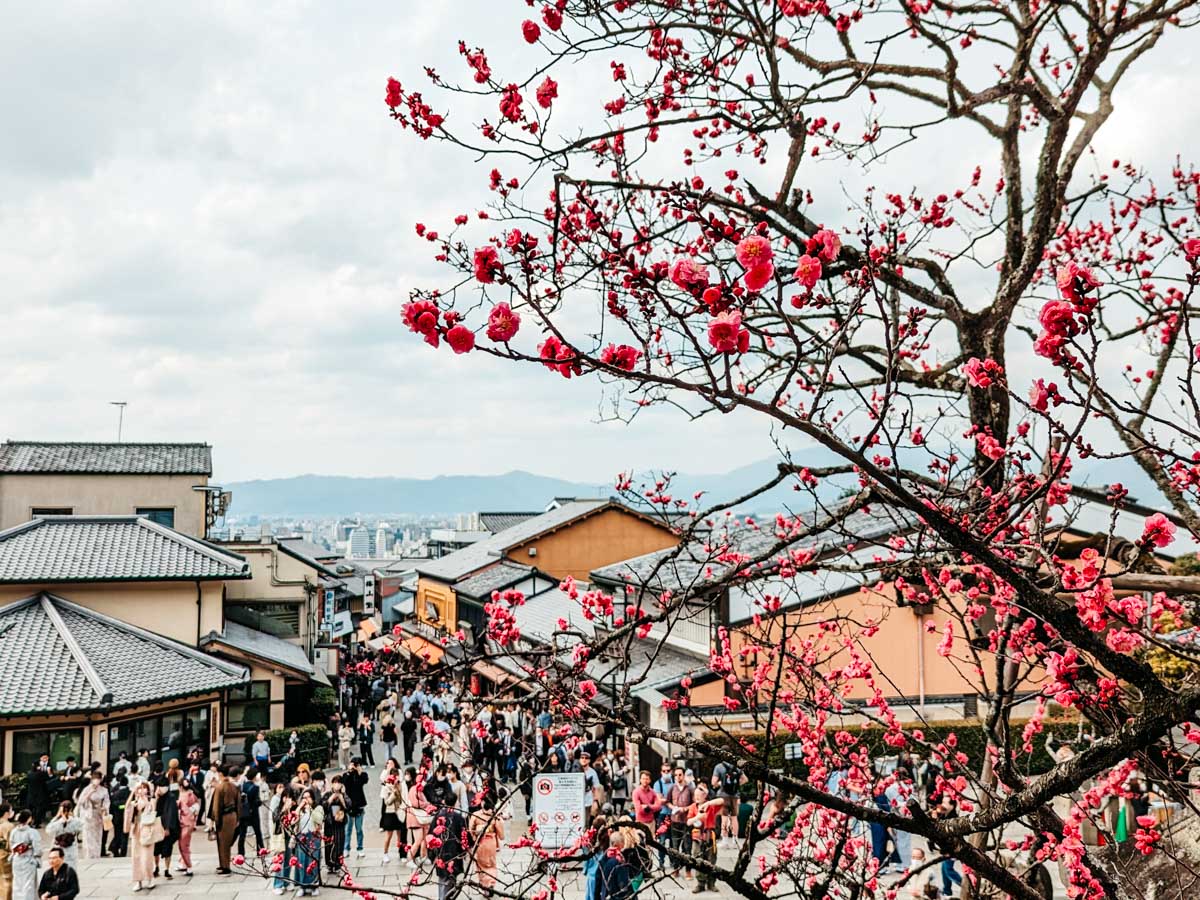 And that's a wrap! Hopefully you'll dream sweet dreams after an action-packed two days in Kyoto.
Map of 2 Day Kyoto Itinerary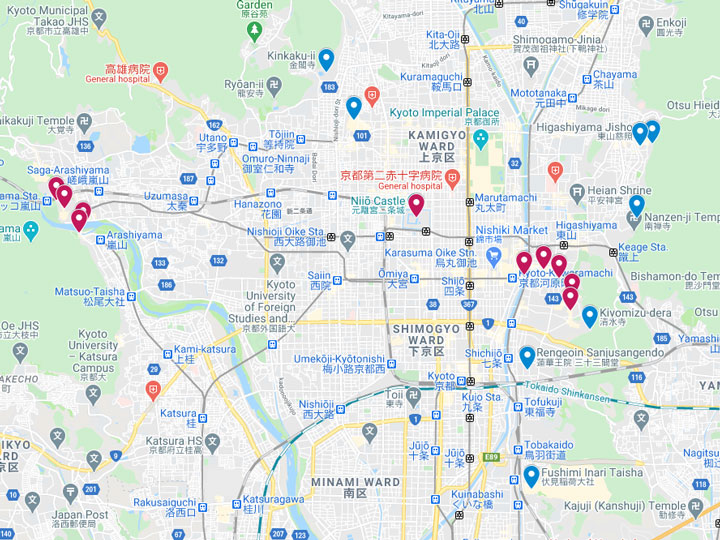 Click here to access the full interactive map!
Other Places to Visit Near Kyoto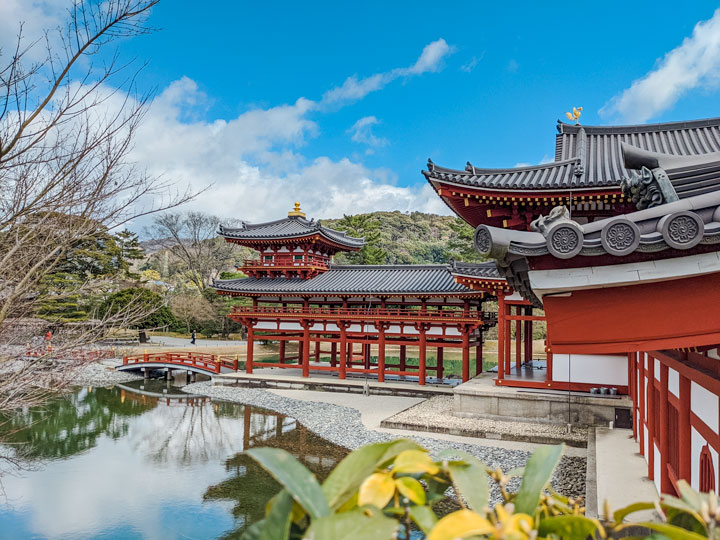 Have more time in Japan? Here are some additional places to check out before or after this Kyoto two day itinerary:
My favorite Japan travel books
These books are full of fun and practical information about traveling in Japan (I own all three!):