Are England's rolling hills and cozy cottages calling your name? Weighing the pros and cons of living in England was a critical part of our decision to move to the UK from America. And while we love our new English life, it's not without challenges.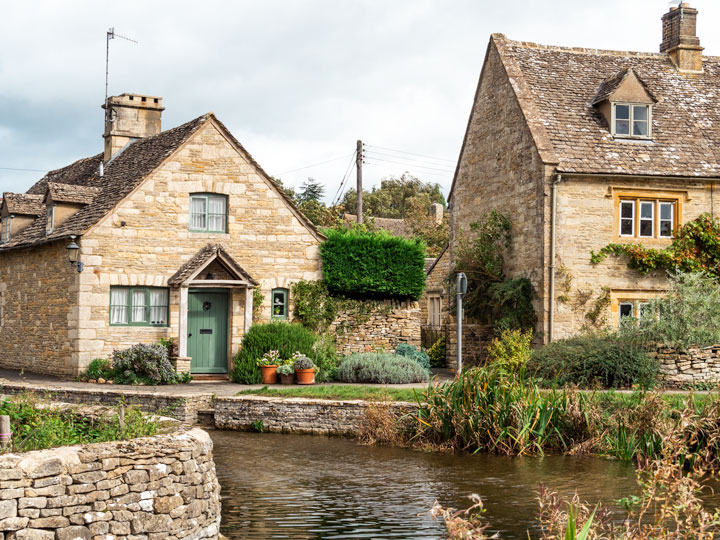 It's easy to be swept up in visions of country walks, Sunday roast, and free healthcare. But there are two sides to every coin.
The world has changed considerably since 2020, and England has been no exception. While things like the cost of living and housing prices are slowly improving as 2023 draws to a close, there's no denying that many are worse off now than they were just five years ago.
There are a lot of doom and gloom stories in the news and online about the country's decline. And yet, England is rapidly becoming a desirable place to relocate to thanks to its mild climate and reputation for safety.
This list of living in England pros and cons covers the upsides–and downsides–of English life. Give it a read before you set off on your expat adventure or make a permanent move!
Need help planning your relocation? Check out my ultimate moving to the UK FAQ!
This post contains affiliate links. As an Amazon Associate, I earn from qualifying purchases. For more information, click here.
Pros and Cons of Living in England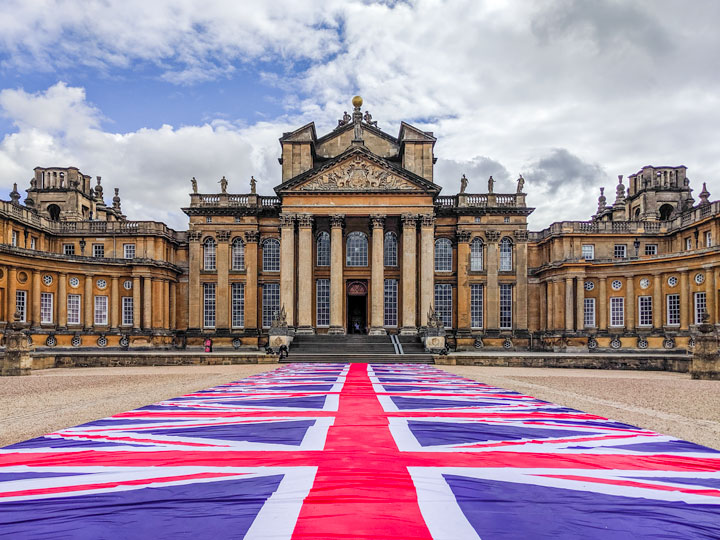 Pro: NHS means healthcare is (mostly) free
Coming from the abysmal US healthcare system, the NHS was a revelation. Even though I was fortunate to have decent health insurance through my employer, I was still haunted by the possibility that a major accident or cancer diagnosis could financially ruin my family.
Being able to call an ambulance or seek physical therapy without going into debt was among my top reasons to move to England from the US. And after two years, I still get a little excited when I walk out of my doctor's office without stopping to pay.
I had to include the "mostly free" caveat here because not all healthcare is 100% covered for everyone. There are certain times when you need to pay a (fairly small) fee for health services.
For example, dentistry operates on a tiered system where procedures cost a flat fee based on the level of treatment. However, elderly and low-income residents can get free dental treatment.
And if you're moving to the UK from abroad, you'll have to pay an NHS surcharge as part of your visa application. Depending on your visa type, it could cost you £2,000.
Con: It can take weeks to see a GP and months to see a specialist
While you generally won't pay anything for healthcare, it may take a while to get an appointment.
GP appointment availability varies quite a bit depending on where in England you live, but it's not unusual for slots to be booked out 2-3 weeks. If you need to see a specialist, wait times can be months or even years long (expats moving here with ADHD know what I mean).
And once you're finally in the GP's office, the standard appointment window is a mere 10 minutes. Although I love efficiency, it's hard to fully trust a medical system that's designed to get as many people in and out the door as possible.
There are some ways to get around the long wait times. Many people choose to pay for private healthcare insurance, which gives them access to a wider range of doctors, specialists, and medical facilities.
Some cities also have in-home health visits, like London's VisitHealth. Many GPs have also started offering virtual consultations that you can do via video chat or over the phone, which cuts the wait time down to a few days.
How to Find the Best International Health Insurance for You
Even in countries with universal health care, buying an international health insurance plan makes sense for a lot of expats (especially Americans).
But between deductible rules and coverage areas, it's hard to know which plan is right for you.
Luckily, the brokers at International Citizens Insurance can help you find the right plan for your specific situation. They will do the research, compare plans, and review options with you. A good broker will save you so much time, and best of all, there is no cost to you!
With International Citizens Insurance, you'll have your pick of plans from the best international health insurance companies (Cigna, GeoBlue, Aetna, etc.). A dedicated agent will answer all of your questions, walk you through the terms and coverage, and make adjustments so that you end up with a plan and premium that works for you.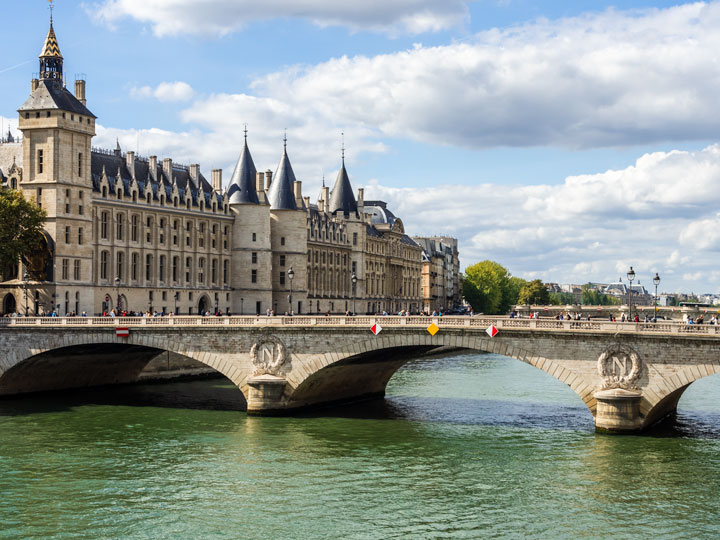 Pro: Cheap and easy access to the continent
The second item on our living in England pros and cons list was cheap and easy travel to Europe. Being able to take a day trip to Brussels or spend a long weekend in Paris is something I dreamt about as a kid. It's definitely in my top three favorite things about English life.
Greater London is the best connected city with six airports and an international train station. However, Manchester, Liverpool, and Newcastle Airports also have frequent flights to France, Germany, Span, and other European destinations.
Depending on the season and day of the week, £50 can get you a round trip flight to Rome or a train to Paris.
RELATED: 21 Living Abroad Quotes to Inspire Your Move
Con: Getting through security and across borders takes longer
Gone are the days of arriving at St. Pancras 20 minutes before your train departs. Now that the UK is no longer part of the EU, there's an extra layer of security and immigration checks when traveling in and out of the continent.
While the initial phase was just an extra passport check, the EU's implementation of the ETIAS system in 2024 will require an e-visa application in advance of travel. The official website states that approval usually happens "within minutes", but I'm certain plenty of Brits will be caught out by this additional step.
Nothing can be done about this, but if you're considering living in England vs an EU country and love to travel, it's another point to factor into your decision.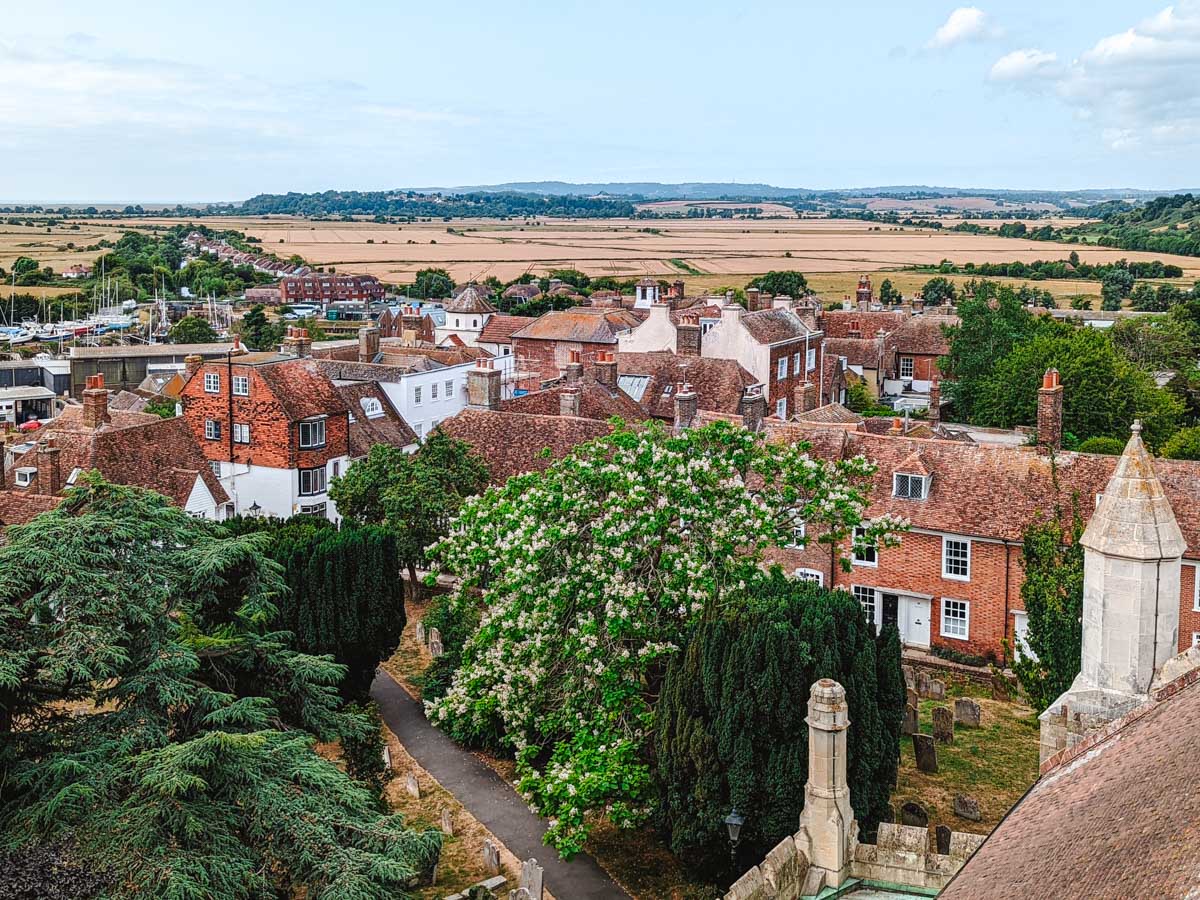 Pro: Most people don't need to file a tax return
Coming from the US, the UK's PAYE (pay-as-you-earn) system is a dream. Instead of spending hours and paying hundreds or thousands of dollars to figure out if you owe any tax at the end of the fiscal year, the UK government calculates exactly how much tax you should owe for the year based on your income.
The HMRC mails out letters with your tax code and personal allowance amount each year so you know how much Income Tax will come out of your paycheck. Your employer will then deduct the appropriate amount from your paychecks over the course of 12 months, so you don't need to worry about owing money or applying for a refund (except in rare cases).
Some people do have to file a UK self-assessment, but it's far more straightforward than filling out your typical US tax return.
Con: Higher earners have a big tax burden
The UK uses a marginal tax rate system with four bands:
Personal Allowance = 0% tax rate on income up to £12,570
Basic Rate = 20% tax rate on income £12,571 to £50,270
Higher Rate = 40% tax rate on income £50,271 to £125,140
Additional Rate = 60% tax rate on income over £125,140
About 80% of people fall into the Basic Rate taxpayer band, which in my opinion is a reasonable amount given the societal safety nets and healthcare access offered in the UK.
If you're a relatively high earner, however, the tax burden begins to feel onerous. Especially because other benefits like childcare credits and tax-free interest start to phase out or disappear entirely.
When you combine the effective tax rate with lower wages for identical jobs in countries like the US, Canada, and parts of western Europe, it's no wonder that highly paid professionals are skeptical about living in England long-term.
Save me for later!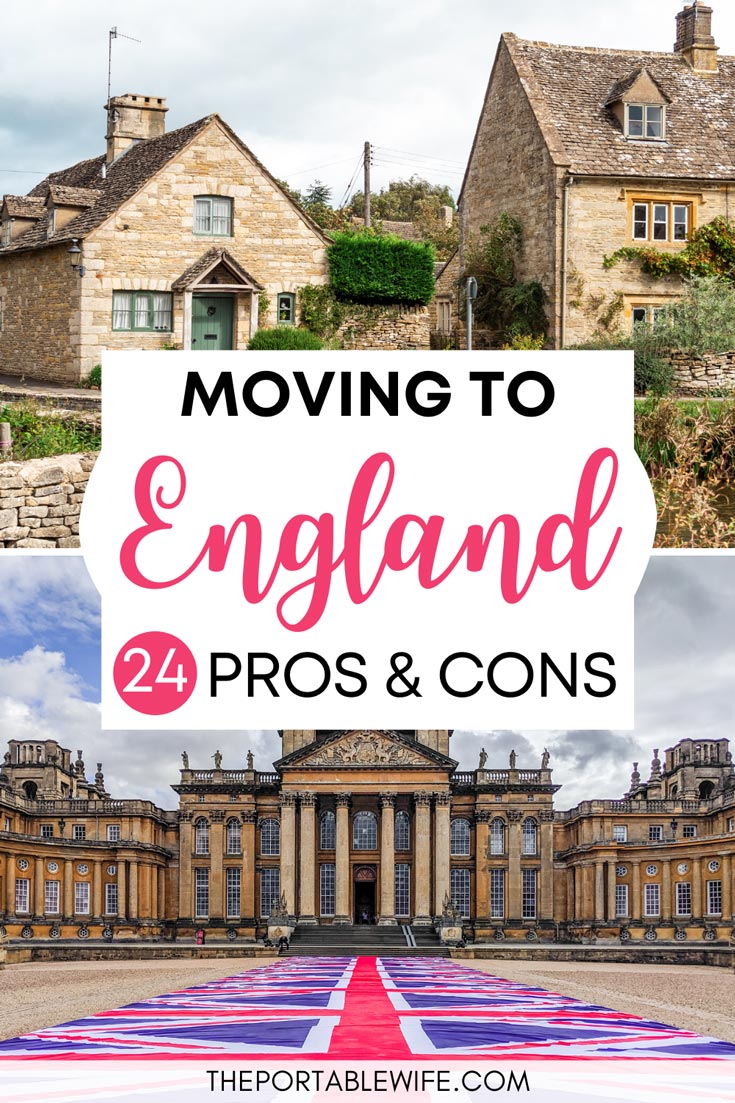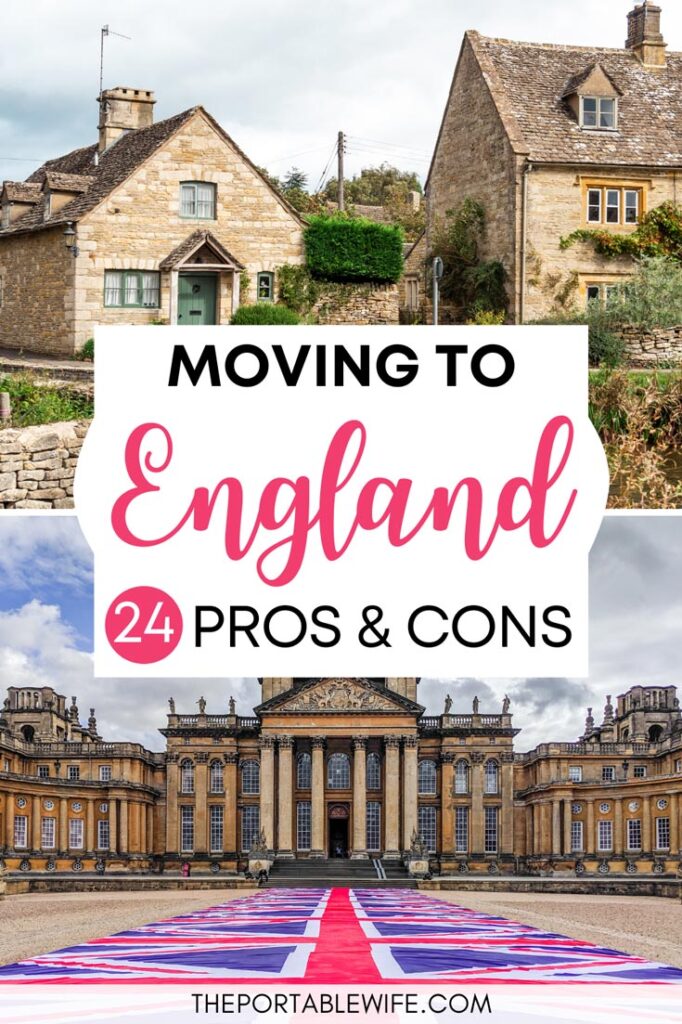 Pro: Reasonable cost of living
Putting London aside, England has a pretty good cost of living compared to other major European countries. And the further north you go, the cheaper it gets.
Comparing Chicago, IL to Manchester, groceries are over 30% cheaper in Manchester, and rent is nearly 50% cheaper. Even when grocery shopping in London, I've found my weekly bill to be about the same cost as it was in Philadelphia, PA and Austin, TX. And the quality of food is undeniably higher.
Like any country, some regions are more expensive than others. For example, housing prices in southern England drive up the cost of living there. But in my experience, things like food and clothing cost the same as other places in the country.
Now, it's important to take all of this with a grain of salt, as the UK is currently experiencing a high degree of inflation that's raised the cost of living. Conditions started to improve in the late summer of 2023, but many low earners continue to struggle.
If you're not sure if moving to England is a good idea AND your career doesn't pay well (or you're used to a high standard of living), do some soul searching before making the leap.
Con: Low wages outside of London
One of the biggest cons of living in England that I see discussed is low wages. Both expats and life-long residents lament the need to work in London to make good money.
It may be cheaper to live up north, but the difference in pay may not be worth the trade-off. The UK's median annual salary for full time workers is about £30,000. But the average full time worker in London earns 25% more per week than someone in the North East region.
Unfortunately, it's not easy to find a job that comfortably covers one's monthly expenses in London. There's a reason many 30-something Londoners share a flat with multiple roommates. For every tech or finance employee making twice the national average, there are dozens of folks struggling to afford rent and the occasional night out.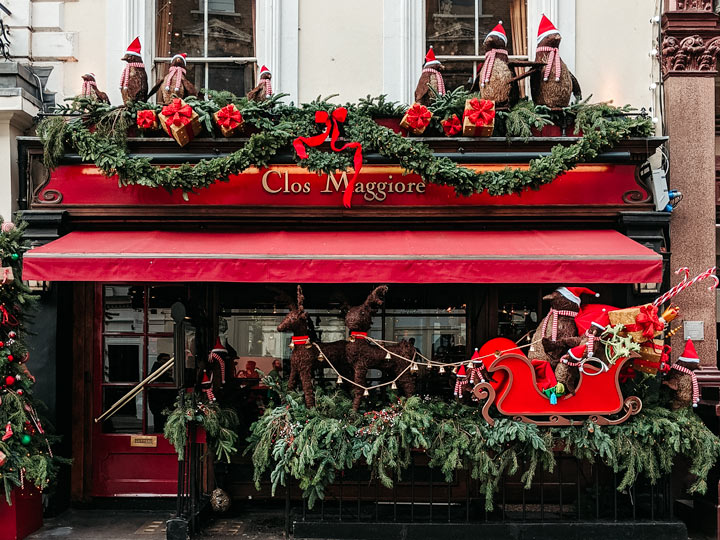 Pro: The weather is generally mild with four seasons
Weather is among the most hotly debated pros and cons of living in England. Some love it, some hate it, and some find it tolerable until they're sweating in the middle of a freak July heatwave.
England has four distinct seasons, something I sorely missed during our time in Texas. Even in the peaks of summer and winter, temperatures are pretty mild. It rarely dips below freezing or exceeds 25°C / 77°F.
Being an island nation means the weather patterns vary greatly depending on where you live. I've heard people say that London has its own climate–slightly warmer and drier than the surrounding counties. As you might imagine, southern England has milder weather than the Midlands and northern regions, though coastal areas can get wild storms and snowfall.
Quick cultural note: Brits love to comment on the weather, so you can expect the topic to come up frequently. But there's a fine line between whinging about train delays due to light snow and actual complaining, which isn't socially acceptable.
Con: There are frequent random rain showers
There's a common misconception that England gets a lot of rain. The reality is that England has a lot of random yet short-lived rain showers.
After two years, I still haven't gotten over how it will rain in my back garden but stay dry out front, and all the while the sun will shine. Unless the sky is utterly devoid of clouds, I bring an umbrella if I'm venturing out of my neighborhood.
You never know when a big cloud will roll in and cause a misty drizzle or surprise deluge. It's one of the more surprising differences between daily life in the US vs UK!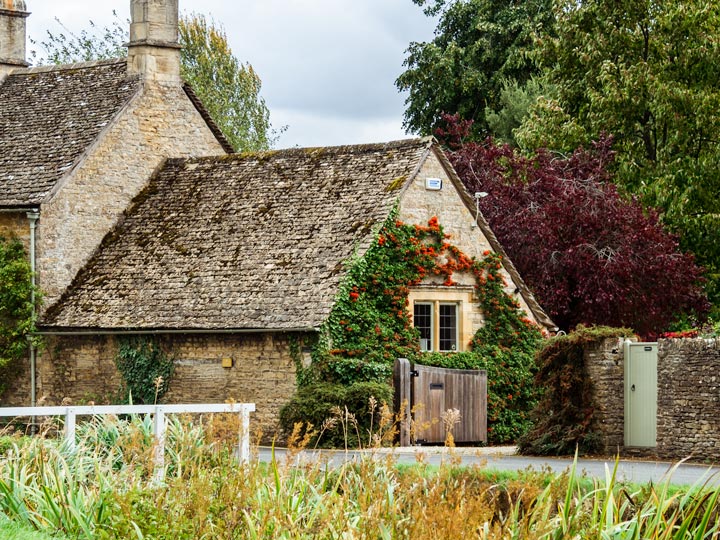 Pro: Tons of beautiful character homes and charming cottages
Thatched roof cottages, Jane Austen-esque manors, Victorian houses–England is brimming with gorgeous architecture.
Thanks to England's legal protection of historic residences, there are countless character homes that have been lived in for hundreds of years. It's not unusual to find 300+ year old properties among the country's cities and villages.
If you're moving to England from another European country, the historic architecture may not be that exciting. But because we moved from the US to London, it's thrilling to see 17th century stone cottages and elegant entryways preserved alongside modern buildings.
Con: Housing is expensive and the buying process is convoluted
Admiring pretty homes is easy. But getting your hands on an English property is another thing entirely.
In May 2023, the median home sales price in England was £303,000.
When you factor in the £30,000 average annual salary, stagnant wage growth, and costly rent, it becomes very difficult to save for an adequate deposit (not to mention the buyer's fees). There's a reason many Brits rely on gifts or inheritance money from their families to get on the property ladder.
To be fair, home prices around the world have inflated quite a bit since the buying frenzy of 2021 and are now showing signs of dropping. However, getting on the housing ladder in much of England has been a struggle for decades thanks to limited housing supply.
And saving for a downpayment is only half the battle. England has antiquated and frankly ridiculous rules around the home buying process that put all the power in the seller's hands.
If you want all the gritty details, you can read my entire post about our experience buying a house in England.
But for now, you can ponder the absurdity of gazumping and gazundering. And don't get me started on the "chain" system, where your contract is contingent on five other people successfully selling their homes…
RELATED: Ultimate Guide to Finding a Flat in London
Pro: People take pride in their homes
After living in England for a few years, I discovered that Brits love two things: DIY and gardening.
One of my simple pleasures in life is walking my dog through new neighborhoods and appreciating the love and care that people put into their homes. Whether it's a brightly painted door or rows of terracotta pots bursting with color, these little touches go a long way in making a place feel cozy and lived-in (especially when you compare it to the HOA-controlled suburbs across the US).
And this isn't contained to just home owners. We used to live on a street that was mostly renters, and nearly every place had outdoor plants, cute benches, or some other nice feature that was well looked after.
Con: The struggle against damp is eternal
Most of the UK's houses were built before 1900, before modern inventions like mineral wool insulation, cavity walls, and damp proof barriers were standard. Combine that with our rainy and humid island climate, and it's a recipe for damp disaster.
I live in a 140-year-old Victorian house–the kind you'll find all over London and other places that grew rapidly during Industrialization–and I'm locked in a never-ending war against damp and its associated problems. We have to maintain a strict protocol when it comes to venting the house, preventing condensation, and running a dehumidifier lest we get the dreaded mould growth or wood rot.
I never expected one of the biggest downsides of living in England to be "damp anxiety", but here we are.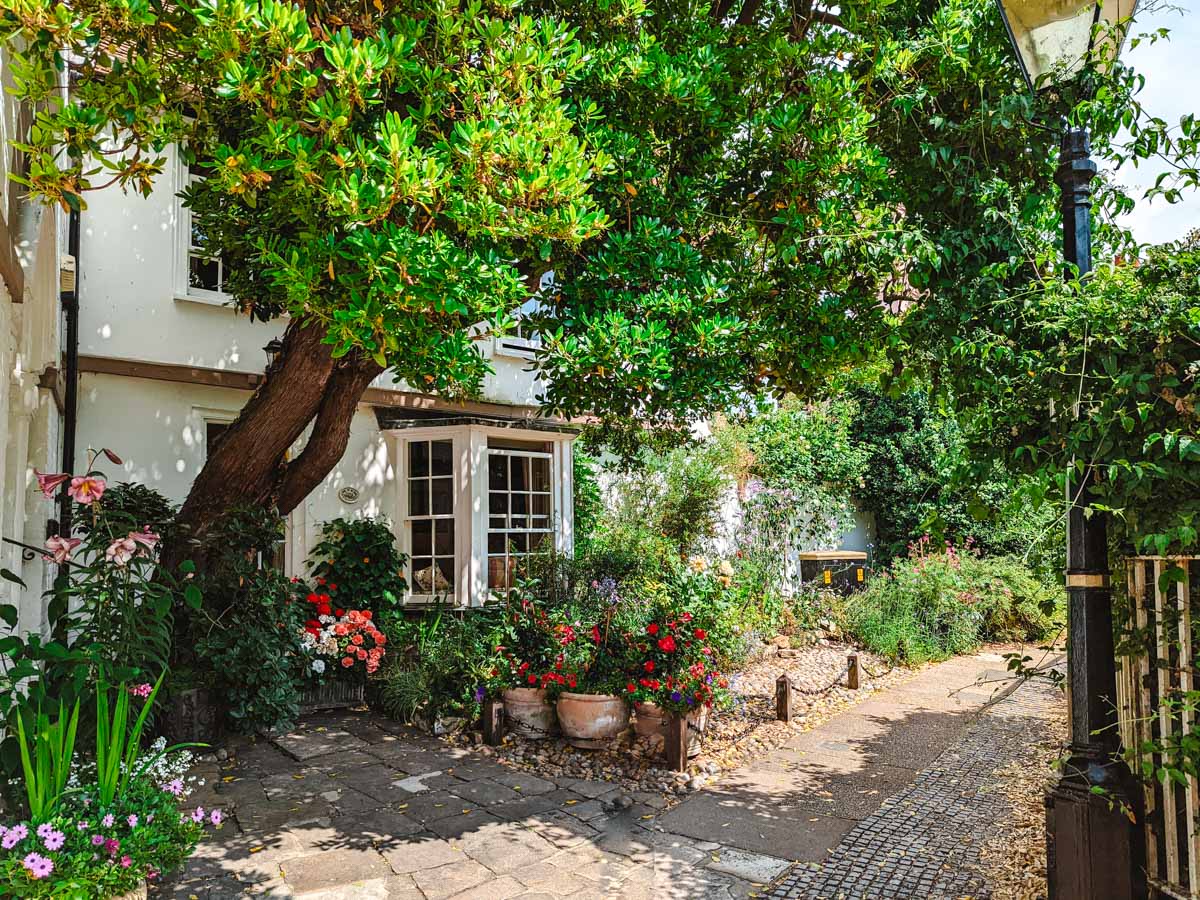 Pro: Lots of paid time off and national holidays
Full time workers in the UK are entitled to 28 paid holidays per year. That's a lot of time to travel or relax, especially if you combine it strategically with the public "bank" holidays.
Companies can technically include bank holidays as part of your 28 days. But even so, it's a far cry from the zero mandated vacation days in the US.
In my experience, people don't feel guilty about using their holidays, and it's normal for offices to empty out in August. The normalization of taking time off is frankly one of the best things about living in England, especially if you work in a demanding industry.
Con: Work-life balance isn't as good as other European countries
28 days of statutory leave plus up to 8 holidays is nothing to scoff at. However, other European countries offer even more time off.
For example, French workers get 30 days of leave per year in addition to 11 public holidays. Swedes get 41 paid days off annually.
There's also the cultural aspect of working late and taking time off.
Italy, France, and Sweden take their work-life balance very seriously. Late nights and weekend work are not the norm, and no one bats an eye if you take a 3 week summer holiday in August.
Unfortunately, England's work-life balance has been steadily decreasing in the past few years. People are working longer hours and on weekends, particularly staff in competitive London. While you can still take a long holiday without too much pushback, your colleagues might joke that you're becoming French.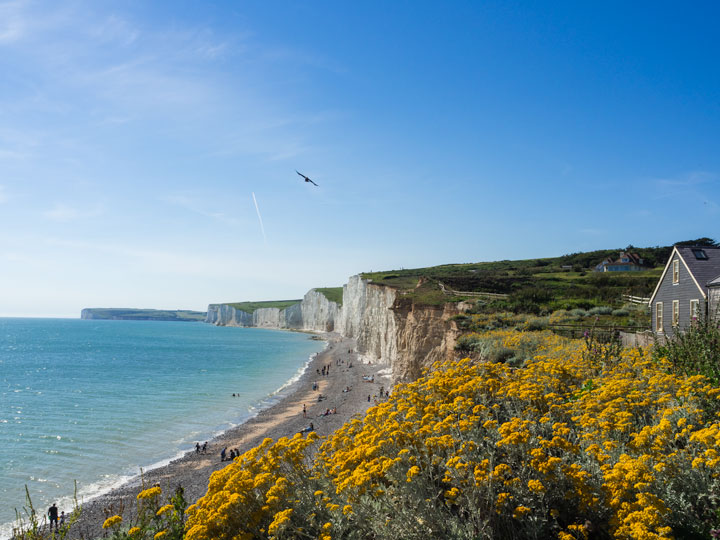 Pro: Beautiful diversity of landscapes
Chalky white cliffs, misty moors, lush forests with crystal lakes… England is a truly stunning country.
No matter where you choose to live, you'll have a diverse range of landscapes within driving distance. A road trip through England is a bucket list-worthy travel experience.
Con: Hard to fully enjoy the country without a car (and narrow roads)
As much as I love not driving, it does severely limit our exploration of the country. Many of England's best landscapes and quaint villages are only accessible by car. And you'll probably need to brave narrow, shoulder-less roads to get there.
There's a reason road trips are one of the things Americans miss when living in the UK–driving here is stressful!
You can get creative with a combo of public transit and taxis to reach some areas. But you'll want a vehicle to fully experience England's beauty.
Pro: Amazing historic sites and cities within day trip distance of major cities
Between historic sites, stately manors, and vibrant cities, you'll never run out of places to visit on weekends.
A car opens up thousands of day trip opportunities. But England's rail and bus systems make it possible to explore a fair bit of the country's best sights.
There are tons of day trips from London by train, from the beaches of Brighton to the regal grounds of Blenheim Palace. Manchester and York have great links to the Peak and Lake Districts. And trains from Oxford and Cambridge will take you to some of the prettiest villages in England.
Con: England's trains are expensive and often delayed
Unlike the affordable train fares of Germany, Italy, and other European countries, England's rail system is expensive. It's cheaper to fly from London to Barcelona than it is to take the train from London to the Peak District!
Delays are all too common as well. Between constant engineering works and rain, you can expect your train to be delayed by at least a few minutes, if not an hour.
And that was before the seemingly endless rail strikes that began in 2022 and continue to this day. It's become even more challenging to plan a rail trip in the UK, as you only get a few weeks' notice if services will be reduced or cancelled entirely.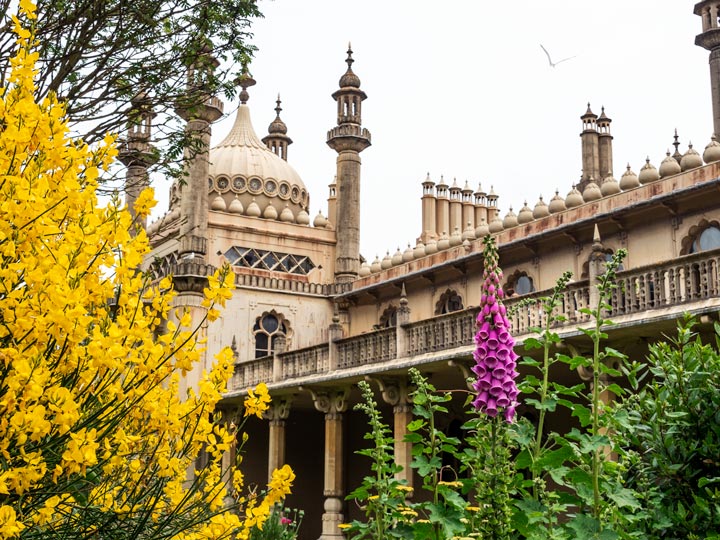 Pro: (Almost) everyone loves dogs
The English have a long history of keeping dogs as beloved companions. And with 25% of British households having at least one dog, you're sure to spot plenty of pooches in England's parks and commons.
Dogs are welcome on trains, subways, and many buses across the country. Most taxi drivers will let dogs ride in their cars as well, making it possible to travel England only via public transit with your pup in tow. Add in the number of dog-friendly pubs, restaurants, shops, and hotels, and you can easily go on holiday with your dog at your side.
Brits are famously wary of striking up conversation with strangers. But with a dog at your side, you can expect lots of smiles, comments, and even questions to come your way.
Con: It's hard to rent with pets
If you're a renter, being surrounded by cute pups falls into the pros AND cons of living in England. It's exceedingly hard to see people walking and playing with dogs all the while knowing you can't adopt your own.
While it's not impossible to find pet friendly apartments in London or elsewhere in England, it's certainly a challenge. After the Tenant Fees Act of 2019 capped deposits at 5 weeks' rent, many landlords who were once open to pets now refuse them due to potential damage to the property.
If you do have your heart set on renting with a furry friend, be prepared to compromise on location and amenities, and consider offering extra monthly rent to sweeten the deal.
Pro: Farm fresh foods are readily available
England has an abundance of farmer's markets and green grocers. Yes, you can find plenty of good produce in the supermarket chains. But if you want your fruit and veg fresh from the farm, you won't have to try too hard.
Even if your town doesn't have a market, there are numerous companies that ship produce from farms to your home. Farmers Direct, Farmdrop, and Oddbox are popular choices.
RELATED: Where to Shop for American Foods in the UK
Con: Foodie culture hasn't caught on in many places
England doesn't have the best reputation for quality cuisine. While that's certainly changing in cities like London, Manchester, and Oxford, you'll struggle to find creative dishes and diverse menus in the country's smaller towns and villages.
If you're a foodie weighing the pros and cons of living in England, I suggest moving somewhere in or near a major city. There are definitely some hidden gems and Michelin-starred restaurants in the countryside–The Fat Duck in Bray for example–but your palette may get bored pretty quickly.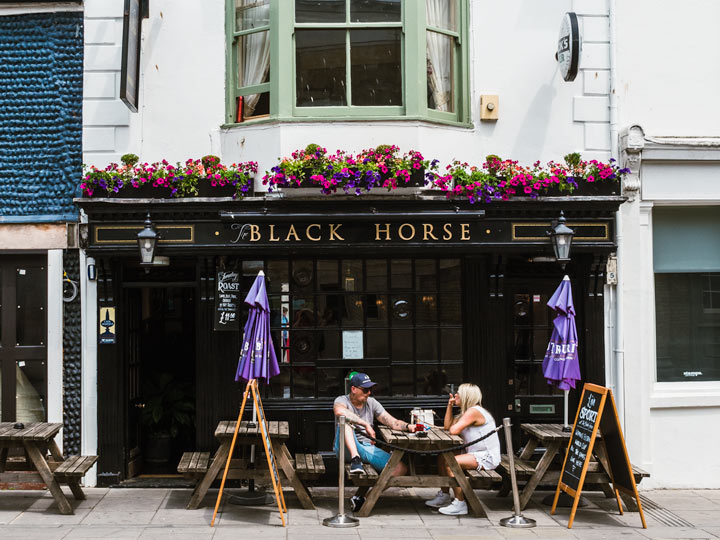 Pro: British culture is a haven for introverts
American expats tend to complain about the reserved and indirect English culture. But for introverts like me, England was a welcome respite from the overly friendly and often abrasive personalities I encountered in the US.
In England, you aren't expected to make small talk with your cashier. Restaurant staff don't hover over your table and ask you questions mid-chew. In fact, striking up conversation with strangers is generally avoided (taxi drivers being the exception).
Two Englishmen could ride in the same commuter train carriage for 10 years and never speak to one another. Because once you breach the silence, you might be expected to acknowledge that person every day for the rest of time. Best to avoid that awkwardness by looking steadfastly at one's phone or reading the paper for the duration of the journey.
Con: Making friends can be difficult
The downside of reserved English culture is that it's rather difficult to make friends. Building friendships as an adult is hard in general. But it's especially challenging if you're an outsider.
There are a few ways to make friends as an expat, like joining a weekend football club or grabbing drinks with colleagues after work. Parents and dog owners can also use playdates as a way to meet new friends. But if you live in a smaller village, it can be hard to find people to connect with.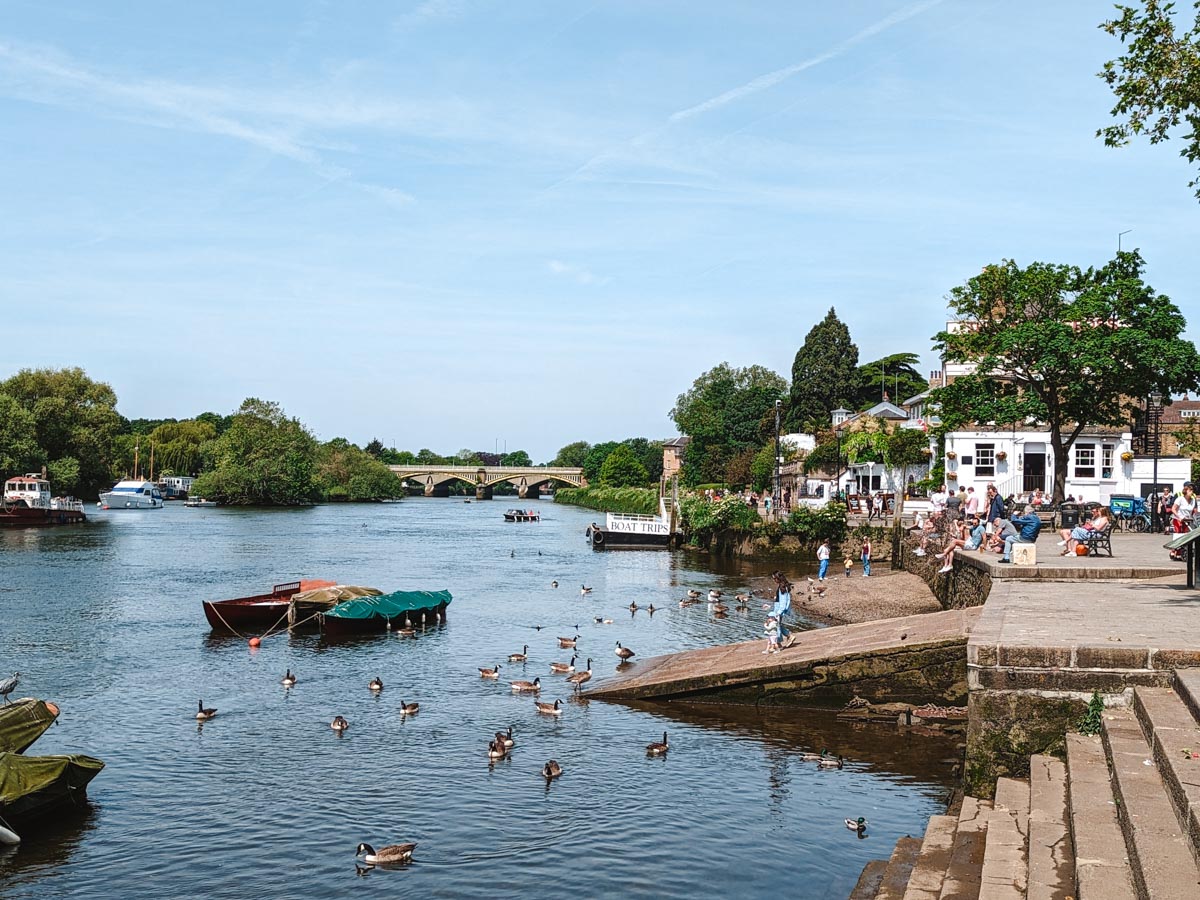 Pro: Pub culture is lively and communal
One of the very first things we did after moving to England was try out every pub in our neighborhood. We were scouting for our "local", the pub where we'd routinely get Friday night pints and Sunday roast. Having a local gave us a sense of community and comfort in unfamiliar territory.
Pub culture is an integral part of English life. Many Englishmen grab a drink with their mates after work before heading home. Taking a multi-mile ramble through the countryside or park and finishing with Sunday roast is a long-standing tradition.
Con: Football culture is rowdy
During football season, pubs get a bit crazy. The level of passion and devotion that English people have about their football teams is impressive. But when you pack a bunch of them into a room with beer and booze, things get loud.
Sometimes that energy is fun and exciting, like the 2018 World Cup matches we watched at our local. But there have also been times where we've had to leave due to rowdy fans. Or we couldn't get in at all because every pub was overflowing onto the streets.
I hope you found this list of living in England pros and cons helpful. For more moving abroad tips and resources, join my Patreon below.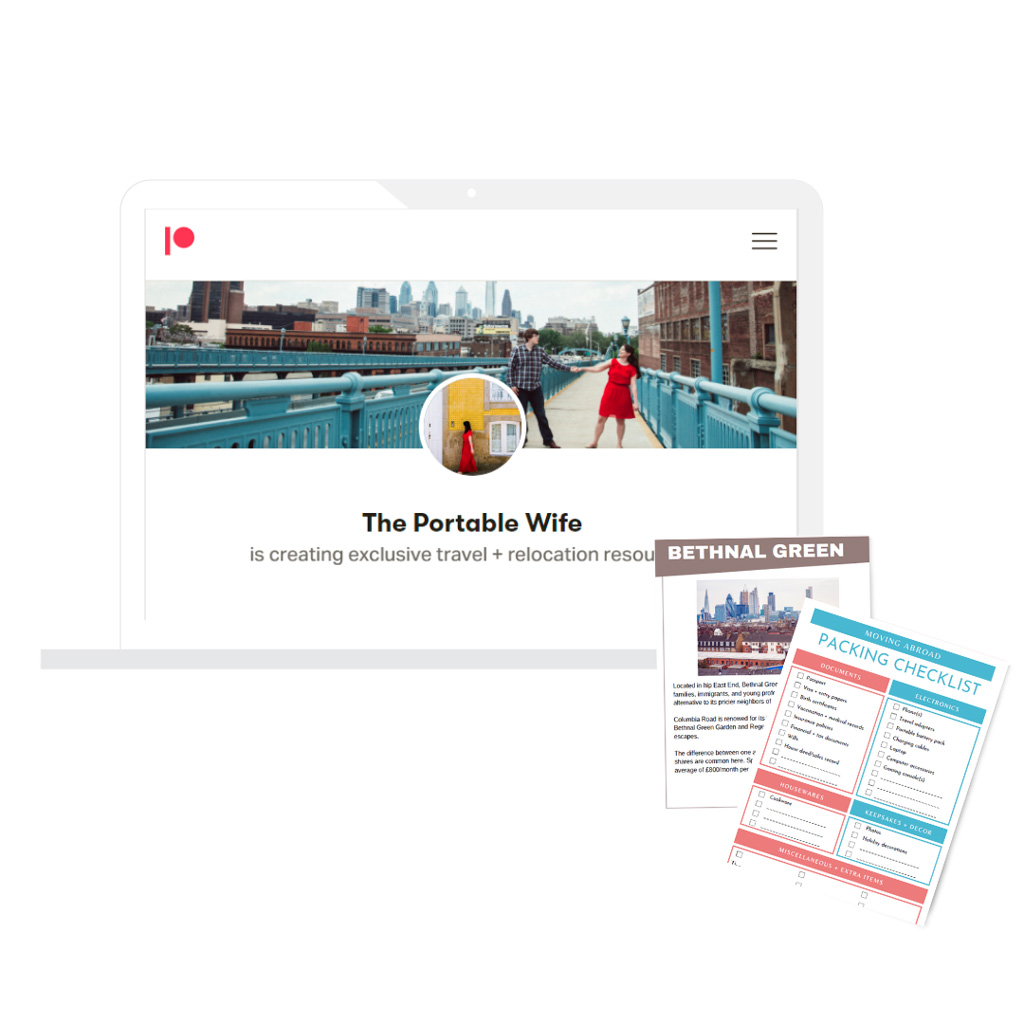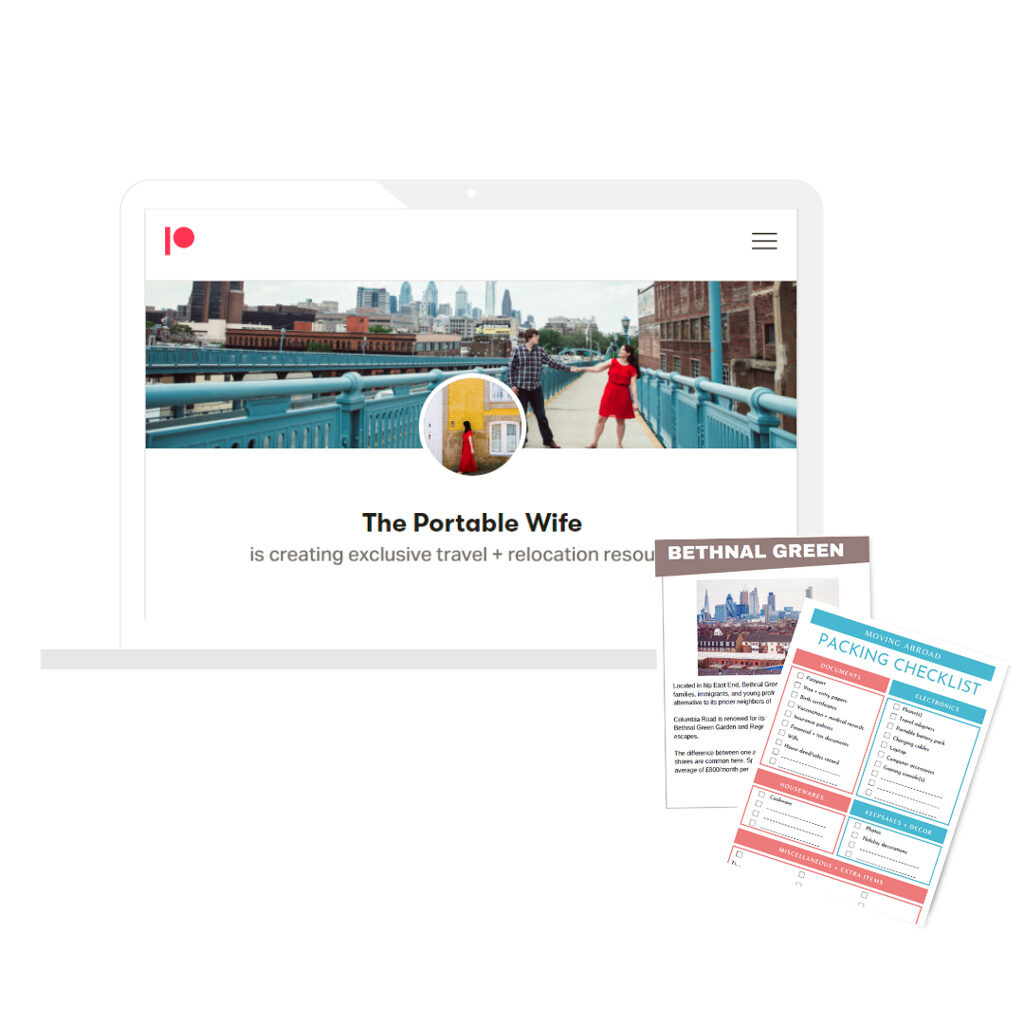 Want more travel + relocation tips?
Become a member of my Patreon group for exclusive access to my resource library, including:
Printable packing lists for moving + travel
Money-saving tips
Insider travel guides
And much more