From cozy villages to imposing castles, there are endless options for easy day trips from London by train. Whether you're planning a staycation or looking to add a side trip to your London visit, you're sure to find your ideal destination on this list.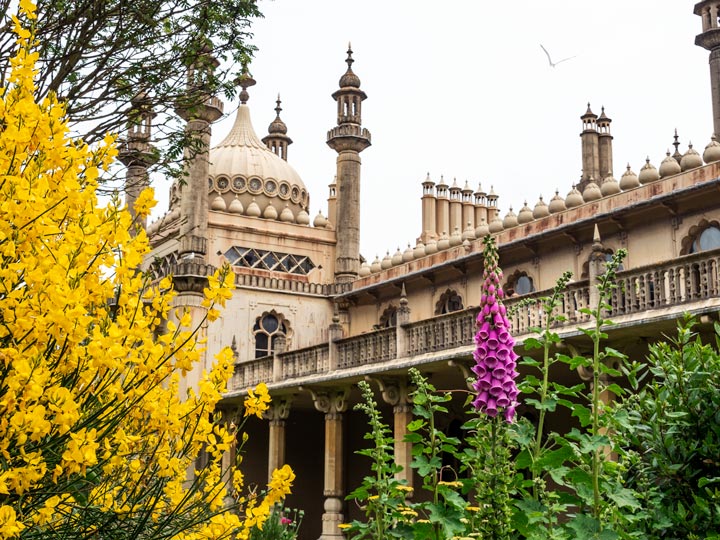 Taking a UK road trip is wonderful, but it's not always practical to rent a car. Luckily, you can experience these beautiful places in England (and a few in Europe) without getting behind the wheel!
This post contains affiliate links. For more information, click here.
Day Trips from London by Train
Cotswolds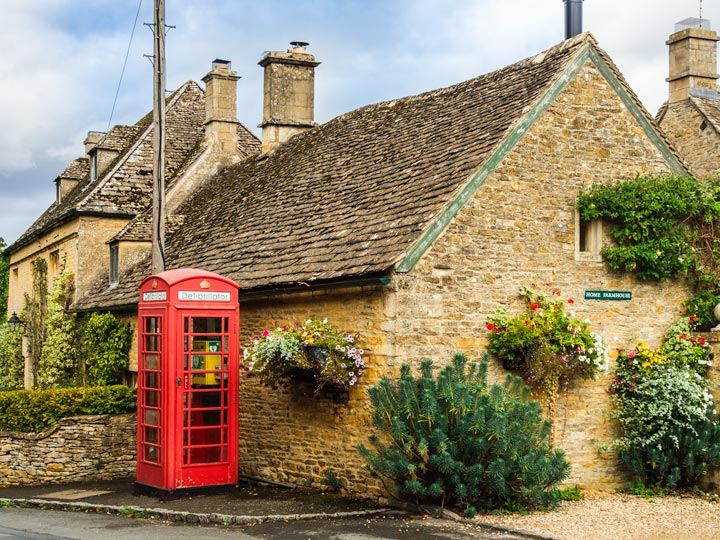 Traveling from London to the Cotswolds by train is like being transported into a storybook. With honey-colored cottages, rolling hills, and flower-laden gardens, it's no wonder the Cotswolds are designated as an Area of Outstanding Natural Beauty!
There are multiple railway stations throughout the region, so you have a few options for your Cotswolds day trip.
The Great Western Railway operates a direct line from London Paddington Station to Moreton-in-Marsh, with multiple stops along the way. The full journey takes about 1 hour and 40 minutes.
Moreton-in-Marsh itself is a lovely village, boasting an 18th-century high street and several ties to J R R Tolkien's Lord of the Rings. The Bell Inn is said to be the inspiration for The Prancing Pony, where the hobbits first met Aragorn.
Additionally, numerous bus lines operate out of Moreton-in-Marsh, so it's possible to see Cotswolds favorites like Chipping Campden and the Slaughters without a car! This website is full of resources for planning your visit by public transit.
Stratford-Upon-Avon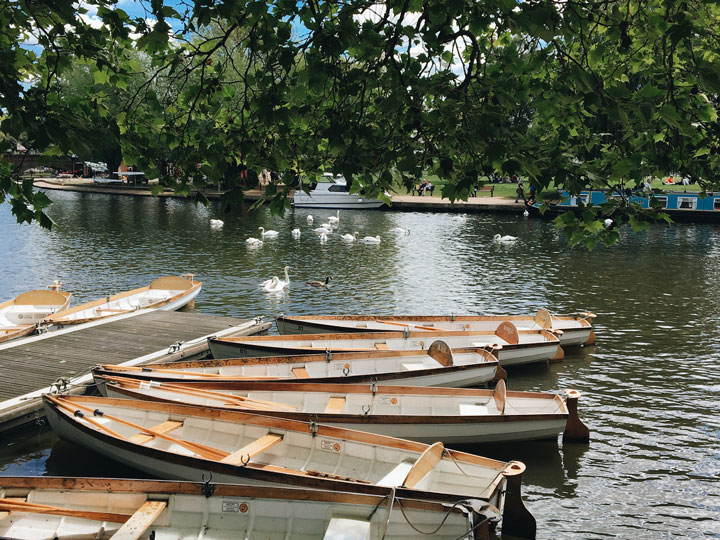 By Elizabeth of Call Me Liz | Follow on Instagram
Shakespeare's hometown is an essentail day trip from London by train. Here, you can visit Shakespeare's Birthplace, Shakespeare's mother's family home at Mary Arden's Farm, and the childhood home of Shakespeare's wife: Anne Hathaway's Cottage.
For the full Shakes-perience, grab tickets for Shakespeare's Schoolroom and Guildhall. Here, you can immerse yourself in a Tudor-era school lesson, and even dress up in period costumes!
If you plan your day trip from London in advance, you could catch a show at the famous Royal Shakespeare Theatre. Ajacent to this site is the beautiful Bancroft Gardens, which sits above the River Avon and is full of statues, flowers and seating areas. The gardens are perfect for a day relaxing in the sun with a picnic, watching the boats go by.
But if you want to be even closer to the river, you can also take a cruise or rowing boat to explore the three mile stretch.
After all that sightseeing, you're bound to have worked up an appetite! Luckily Stratford-Upon-Avon has plenty of traditional and friendly pubs like The One Elm and The Encore all within the town centre.
To travel to Stratford-Upon-Avon by train, head to London Marylebone station and take the 2.5 hour (average) journey with Chiltern Railways.
There are two train stations in Stratford-Upon-Avon, so make sure you get off at the main station and not the parkway when heading into the town centre. On an average weekday, there are 3 trains per day, so plan your travel accordingly.
Blenheim Palace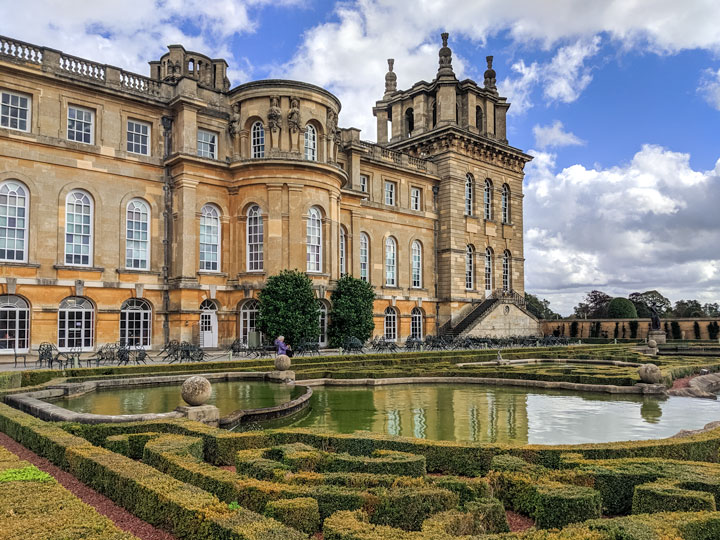 Nestled between Oxford and the eastern edge of the Cotswolds, Blenheim Palace is one of England's grandest country estates. Whether you love architecture, hedge mazes, English gardens, or British history, a day trip to Blenheim Palace will delight visitors of all ages.
Blenheim holds many claims to fame. It's the birthplace of Winston Churchill, and the site of his marriage proposal to wife Clementine. The estate is also known as the "real life Downton Abbey", due to it being rescued from financial ruin when the Lord of the house married a wealthy American heiress.
Although the palace is still the official residence of the Duke of Marlborough, the opulent state rooms are open to the public. Highlights include the Long Library, Great Hall, and Churchill's Life exhibit.
Blenheim Gardens are a beautiful mix of formal, manicured spaces and open fields. The water terrace offers lovely views over the nearby lake, and the rose garden makes for a cheerful rest stop as you explore the extensive trails.
The best way to reach Blenheim Palace from London is via a Chiltern Railways train from London Marylebone Station to Oxford Parkway Station. Trains run about twice an hour, and the journey takes around 90 minutes. From Oxford Parkway, there are multiple local buses that will drop you off near the Palace entrance in Woodstock village.
Alternatively, you can extend your day trip to include the Downton Abbey village and a bit of the Cotswolds with this guided tour!
Brighton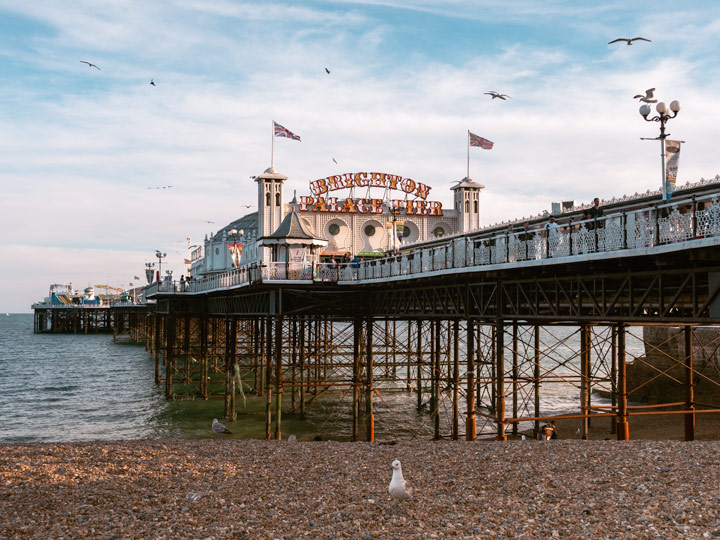 If you're after a summer day trip from London, look no further than Brighton. This beach town has been a warm weather getaway for centuries, and offers plenty of fun for families and solo travelers alike.
Unlike a typical sandy coast, Brighton Beach is formed of large pebbles. They make for a unique beach-going experience, though it's best to rent a chair if you plan to lounge in the sun!
Aside from the beach, Brighton's most popular attraction is the Royal Pavilion. This Asian-inspired palace was once the summer retreat of King George IV. Today, visitors can explore its Chinese-themed rooms and stunning English gardens.
For a more exciting day trip, head to Brighton Pier for an afternoon of carnival rides and games. There are even a few real money slot machines for adventurous adults. Be sure to get a bag of candy floss (a.k.a. cotton candy) from the food stand.
Shoppers will delight at the massive beachfront mall, with stores to suit every price range. And for more offbeat shopping options, check out the independent stores and thrift shops on and around Kensington St.
Seven Sisters Cliffs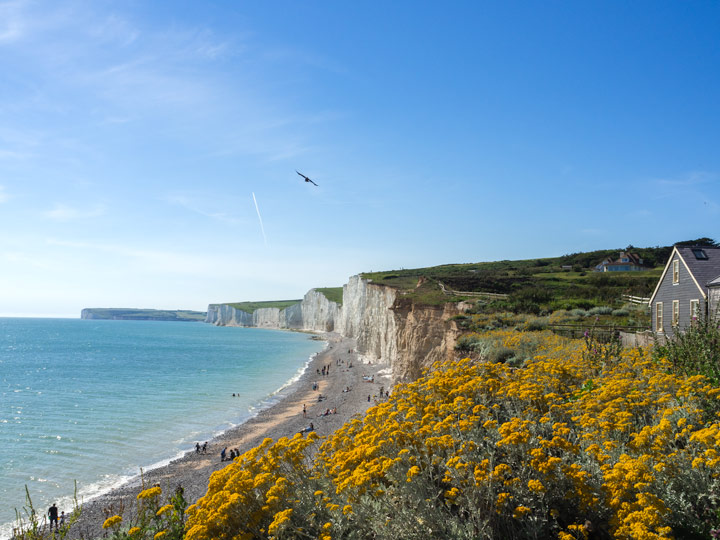 You don't have to travel to Dover for chalky white cliffs! Located between the seaside towns of Brighton and Eastbourne, the Seven Sisters are a sight to behold.
Named for the seven ridges that stretch across the oceanfront, this gorgeous natural wonder is an ideal short break from London. Walking trails run along the cliff edge and offer outstanding views over the ocean and countryside. Visiting in the spring and summer is best, when wildflowers dot the landscape.
The best way to travel to Seven Sisters Cliffs from London by train is to take the Southern rail line from Victoria Station to Eastbourne. From here, you can walk towards the coast and head southwest towards the walking trails.
You can also take a bus from Brighton to Birling Gap, which is near the western start of the cliffs. There's a National Trust center and cafe here, as well as fantastic overlook points and beach access.
In my experience, the public bus schedule gets a bit wonky, and missing the last bus will leave you stranded.
The easiest way to get from Brighton to Seven Sisters is with this full day tour, which also includes your train fare from London to Brighton!
Whichever way you reach Seven Sisters Cliffs, bring comfortable shoes and water. The hilly climbs can really wear on you, especially on a sunny day!
Rye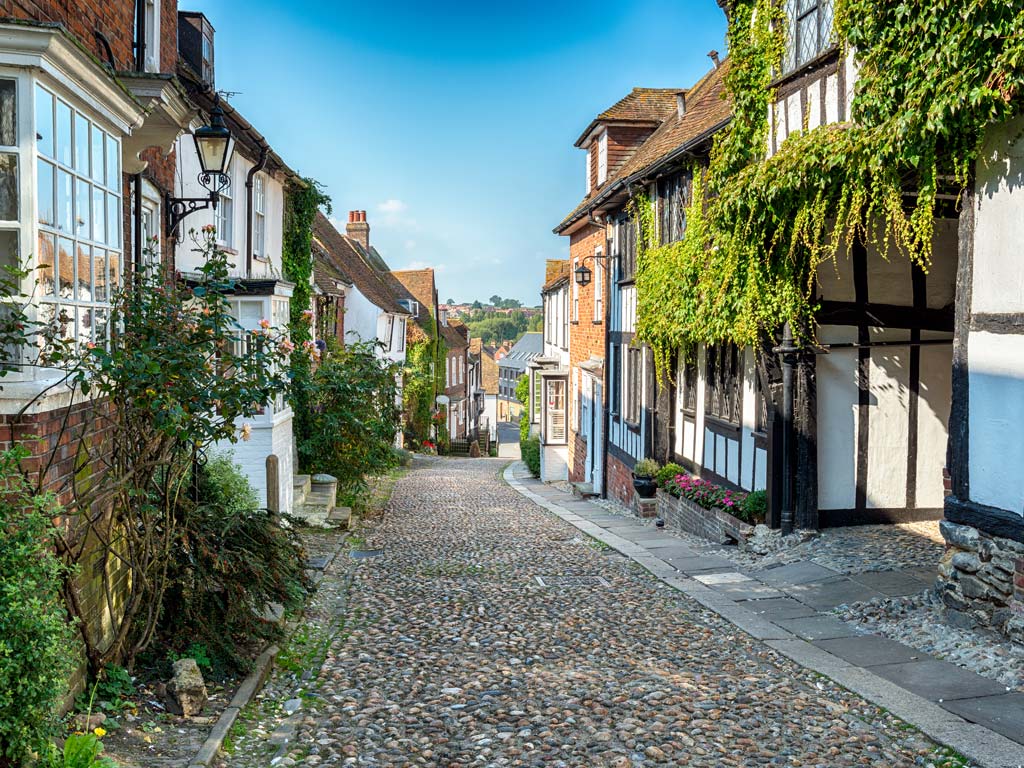 Cobbled streets, half-timbered buildings, hilltop views… Rye is a dreamy day trip from London by train.
Thanks to its elevated location, several of Rye's streets offer photo-worthy views. Mermaid Street (pictured above) is a favorite of UK Instagrammers, with its medieval houses and flower-covered cottages.
Just south of the town center stands Ypres Tower, a 14th century fortification that's been converted into the Rye History Museum. Other famous sights include Lamb House, a Grade II listed National Trust property that was once the home of author Henry James.
While there aren't any direct trains from London to Rye, you can still reach this charming town in just over an hour via London St. Pancras with a change at Ashford International station.
Mayfield Lavender Farm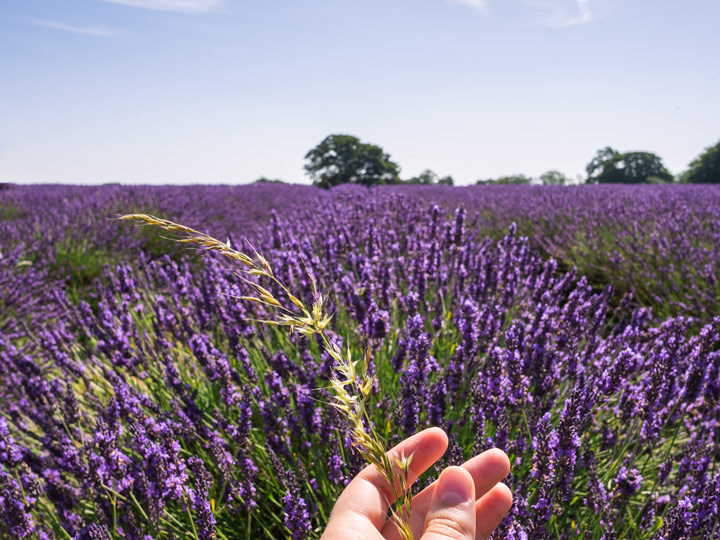 Did you know England has lavender fields? Mayfield Lavender Farm is a beautiful addition to a summer London itinerary.
Imagine leaving the city behind for a sprawling field of purple, with the calming floral smell drifting through the air… You can even order yourself a lavender-themed afternoon tea and enjoy it right next to the flowers!
The gift shop sells tons of homemade lavender products, from soaps to jams to candy. It's the perfect place to pick up some unique souvenirs.
Lavender blooming season runs from mid-June through late August, with peak bloom usually happening mid-July. You should check the website (and their Instagram) before planning your trip, as the staff posts flower updates every season.
Located in the Zone 5 town of Banstead, Mayfield Lavender is a short distance from Sutton Station. Both the Thameslink and Southern Rail services operate services here, so you can reach the farm from central London in about 30 minutes using your Oyster card.
Once you arrive at the station, you can either take a short cab ride to the farm or use the local buses. The S1 bus runs from Sutton Station to Banstead (Woolpack stop), and from there you can either walk the rest of the way or take the 166 bus directly to the field gates.
Box Hill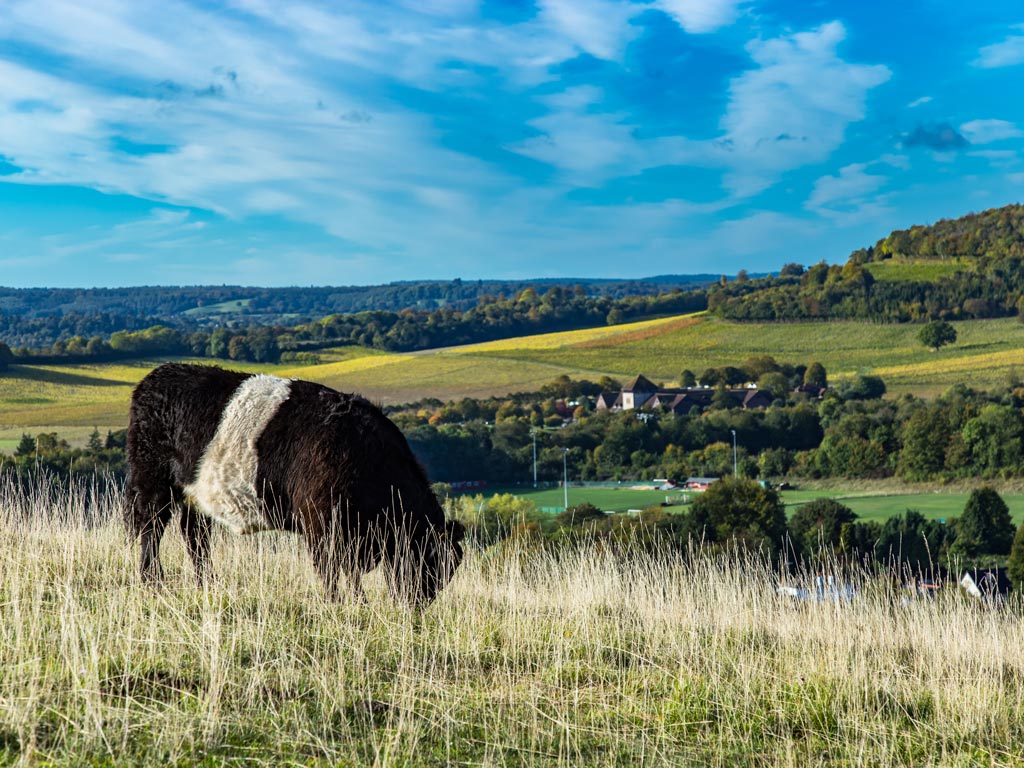 Fans of Jane Austen may recognize Box Hill as the romanticized picnic location in Emma (though the film scene was shot at Leith Hill, which is 30 minutes to the south). If you're looking for a classic countryside day trip from London that doesn't require a car, it's hard to beat this Surrey gem.
Located in the Surrey Hills AONB, Box Hill offers sweeping views of the region. Even the walk is utterly charming, with the River Mole winding along the various walking paths. Just be sure to bring a suitable pair of shoes, as the paths can get wet and slippery if it's rained recently.
There are numerous cafes and pubs on either side of Box Hill, so if picnics aren't your style, you can easily grab a bite to eat before or after the climb.
The closest train station is Box Hill & Westhumble, which is served by both Southern rail and South Western Railways. A direct train from Clapham Junction takes just under 40 minutes, making this day trip especially convenient for south Londonders.
Hampton Court Palace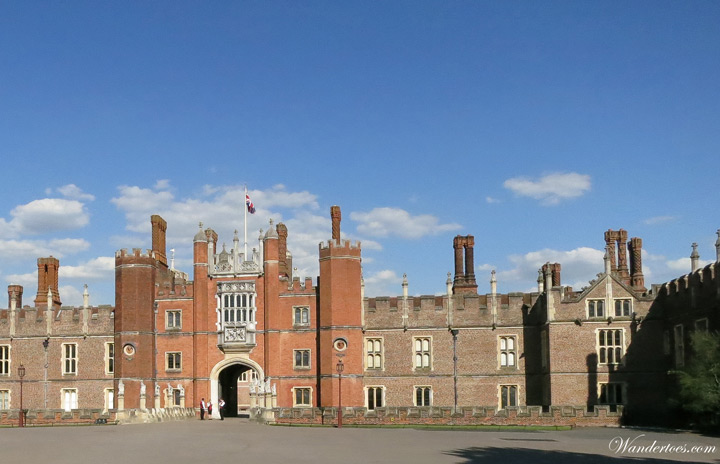 By Megan at Wandertoes | Follow on Facebook
Hampton Court Palace is one of the easiest day trips from London by train. This excursion offers royal English history, a palace to explore, beautiful gardens, a hedge maze, a haunted gallery, and more. Even better, getting there from London is convenient and only requires your Oyster Card!
The beginnings of Hampton Court Palace go back so far that records show it was being "modernized" in 1494. During its long life Henry VIII and his wives, Williams III, Elizabeth I, James I, Victoria I, and even Shakespeare visited or lived in the palace for some span of time.
Different self-guided audio tours open these stories for you as you explore the palace. There are also the Hampton Court Gardens with 60 acres of formal green space, many hundreds of acres of parkland, and the world's oldest hedge maze.
If you wear yourself out seeing all there is to see, be sure to stop in the Privy kitchen of Queen Elizabeth where a casual bite to eat can be enjoyed.
For the navigationally challenged among us, you'll be happy to hear that getting to Hampton Court Palace from London is a fairly easy thing to do, too. Waterloo station is reached by Jubilee, Northern, and Bakerloo lines of the London Underground.
From there, trains depart every 30 minutes, and take only 43 minutes to reach Hampton Court Station. Hampton Court Station to Hampton Court palace is only a 5 minute walk over the Thames river.
Windsor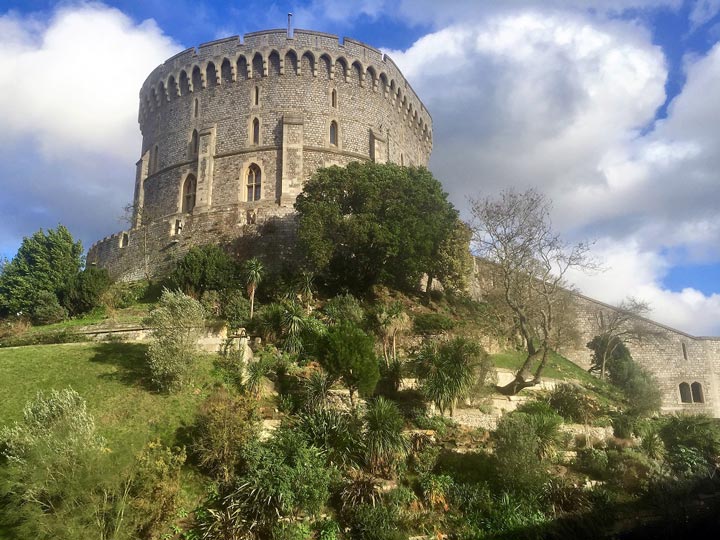 By Anisa Alhilali at Two Traveling Texans | Follow on Twitter
It's always great to visit a castle near London during your trip. Windsor Castle is where the Queen I likes to spend her weekends, and where Prince Harry and Meghan Markle had their Royal Wedding. The Castle is over 900 years old!
Additionally, Windsor Castle is easy to get to from London by train. It only takes an hour from London Waterloo station.
As you can imagine, Windsor Castle is popular, so get tickets in advance online (or use your London Pass) to avoid the long lines.
Arrive early to see the changing of the guard ceremony at 11 am. Then take the audio tour (included in your admission price) through the Castle to see Queen Mary's Dollhouse, the State Apartments, and St. George's Chapel.
Room after room is filled with priceless art and opulent details! Windsor Castle is a real working palace, where so much history has taken place.
If you still have time left on your day trip to Windsor from London, cross the Thames and admire the picturesque town of Eton. Alternatively, opposite the castle, you will find Windsor Royal Shopping, which is an old Victorian train station now filled with shops and restaurants.
Stonehenge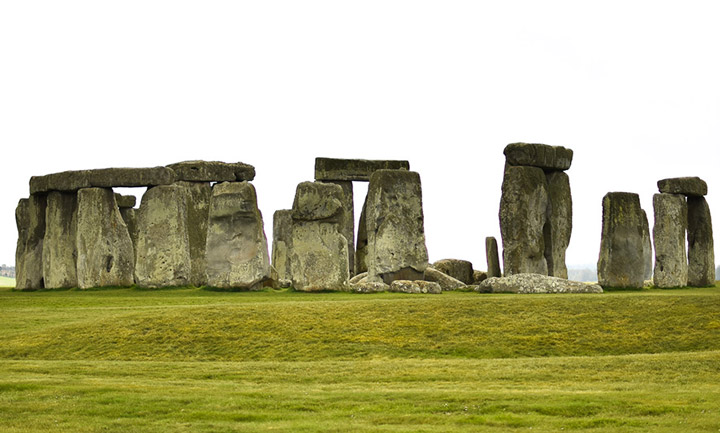 By Darah and Garrett of Where Food Takes Us | Follow on Pinterest
Stonehenge is quite a ways outside of the city, but don't let the distance of this London day trip deter you. There are a couple ways to see Stonehenge. One is paid and includes a local shuttle and museum admission, while the other is free (excluding transportation).
If you buy a ticket to see Stonehenge, your first step is to hop on a train at Waterloo Station and hop off in Salisbury.
Once you've arrived you'll see the signs for the Stonehenge Tour bus in the Salisbury train station. Advanced online tickets cost around £32, and same-day tickets can be purchased from the driver for an additional fee. The ticket price does include exhibitions at the visitor center as well as Stonehenge.
The bus tour from Salisbury train station takes around 30 minutes to get to the visitor center. From there, it's a short 10 minute shuttle ride to Stonehenge.
Alternatively, you can skip the bus and hire a taxi at Salisbury station. Just remember to buy your skip-the-line tickets in advance if you choose this option!
The free way to see Stonehenge is a little tricky but offers more freedom and a lovely walk!
Take the train from Paddington station in London to Pewsey. From Pewsey, hop on the X5 bus towards Salisburty and then transfer at Stonehenge Inn to the X4 bus towards Larkhill and get off at the Medical Center bus stop. It's a little more hassle than the tour bus, but it's worth it.
From there, make your way to Willoughby Rd and follow it to Stonehenge. Granted, it turns into a gravel road and you'll pass through some farms and open fields. However, these fields are what really make visiting Stonehenge special.
What could be more perfect than lush green field speckled with sheep, and Stonehenge as a backdrop?
Warner Bros. Harry Potter Studio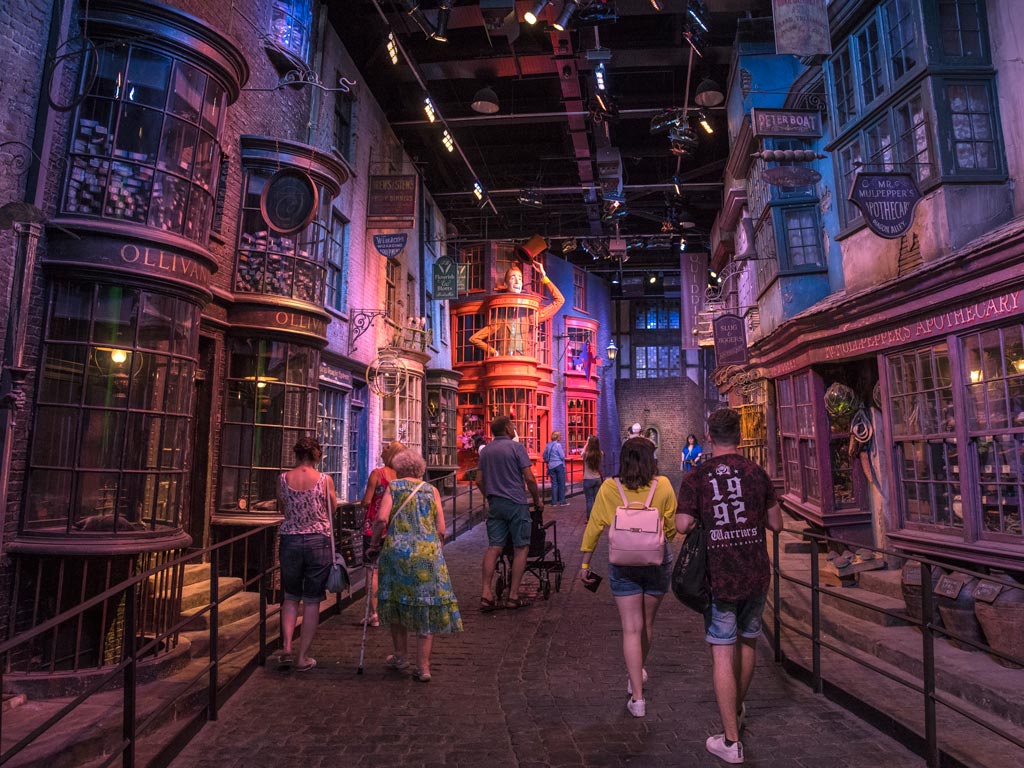 Potterheads have been flocking to the Warner Bros. Studio Tour since it first opened its doors in 2012. The Making of Harry Potter tour draws up to 6,000 visitors a day, making it one of the most popular day trips from London.
You'll walk through tons of iconic film sets during the tour, from Diagon Alley to Dumbledore's office. There are plenty of props on display as well, along with a few interactive sections like a flying broomstick green screen.
Visitors by train should catch the direct train from London Euston to Watford Junction, which takes about 20 minutes. From there, you can hop on the 15-minute shuttle bus to the studio.
This London day trip requires some advanced planning. Tickets for the Harry Potter Studio tour are in high demand, so you should book at least a month or two in advance.
Oxford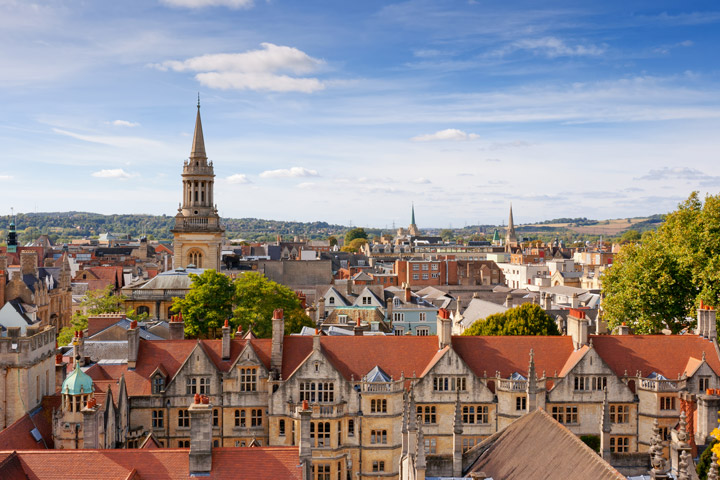 A day trip to Oxford is a must if you fancy yourself an architecture enthusiast or Harry Potter fan.
This renowned university town is home to numerous Harry Potter filming locations. The awe-inspiring Bodleian Library served as the Hogwarts library, and the attached Divinity School was used as the Hogwarts infirmary.
Nearby Christ Church dining hall was the inspiration for the Hogwarts Great Hall. And the stone halls of New College Cloisters are easily recognizable as school passageways seen throughout the films.
Most of these areas require an entry ticket or tour, so plan accordingly. This guided tour covers the city's highlights as well as the popular university sights, including the Bodleian Library and other Harry Potter filming locations!
Of course, Oxford isn't all about Harry Potter sightseeing! Another popular activity is taking a boat tour down the Thames River that meanders through the city. It's a great way to see Oxford from a unique angle while resting your feet.
As you might expect, Oxford is also home to several world-class museums, including a Museum of Natural History and the Pitt Rivers Museum, which is what you'd imagine Indiana Jones's private collection must look like.
There's also the 1,000-year-old Oxford Castle to explore, assuming you didn't spend all of your time marveling at the university campus.
You have a few options to get from London to Oxford by train. Chiltern Railways runs a one hour direct service out of Marylebone Station. And from Paddington Station, you can catch a one hour direct Great Western Railway service to Oxford. There are also routes that involve a change to the Cross Country line at Reading, so take care when planning your journey.
Cambridge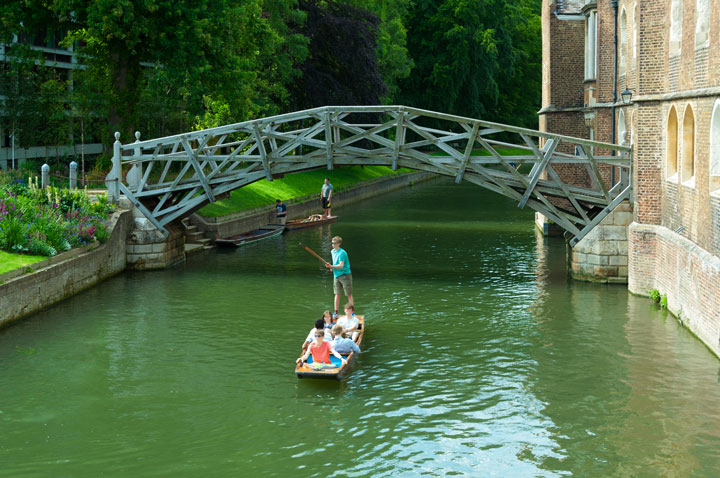 By Lesley of Freedom 56 Travel | Follow on Twitter
Cambridge is a great day trip from London and simple and quick by train. There are regular direct trains from Kings Cross, St. Pancras or Liverpool Street to Cambridge with a journey time of 45 to 90 minutes.
Traveling from the train station into Cambridge is a lovely 20 minute walk. Once you're into Cambridge proper, you'll be overwhelmed by the beautiful Gothic architecture that seems to be everywhere!
With so much to choose from, be sure to make time for Kings College, with its beautiful College Chapel that has the world's largest fan vault ceiling and gorgeous stained glass windows. Also, don't miss visiting Trinity College to see the Great Gate and the Great Court, home to the Great Court Run portrayed in Chariots of Fire.
The Round Church is a really interesting stop in Cambridge, on the corner of Round Church Street and Bridge Street. Built in 1130, it's only one of four medieval round churches still in active use. You might catch a recital or concert while you're there.
Punting in Cambridge is something not to miss! A punt is flat bottomed boat propelled by one person holding a long pole.
Punting on the backs has long been a favourite activity for visitors and it's easy to hire a punt. They're usually punted by Cambridge students who are happy to regale you with the history of Cambridge during the voyage. Plus, the view from the River Cam is stunning.
Canterbury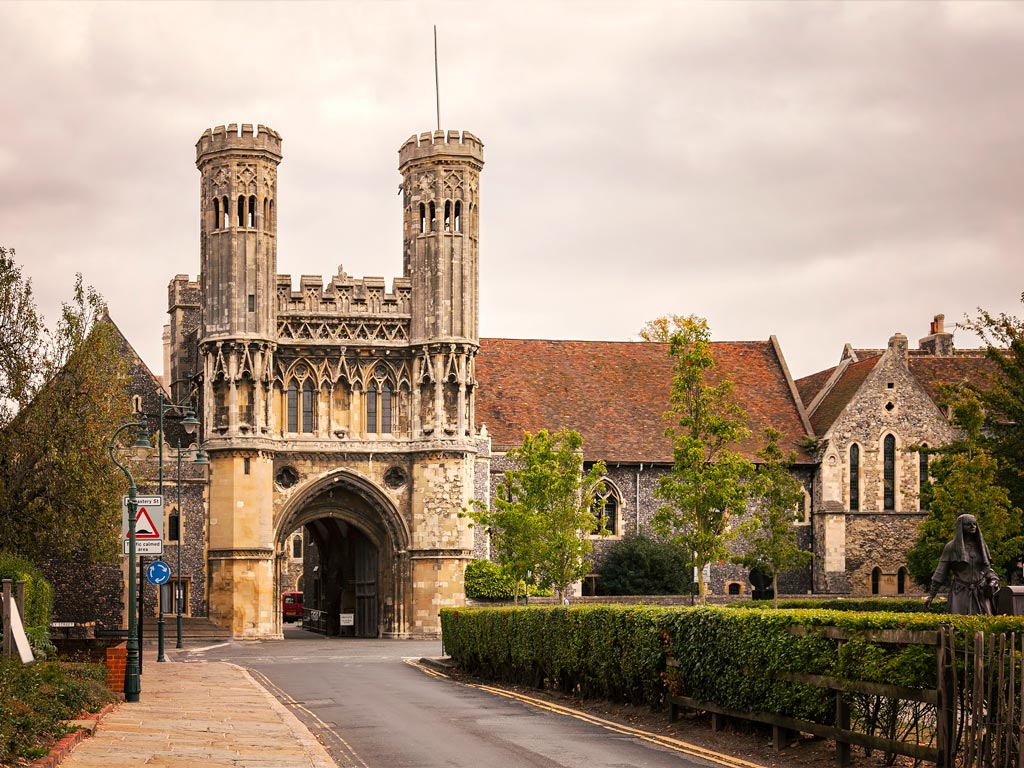 Dominated by its UNESCO World Heritage Cathedral, Canterbury has been a "tourist" destination since the Middle Ages. Or more accurately, it's been a pilgrimage site, where people traditionally walked the 153 mile Pilgrim's Way that runs between Winchester and Canterbury.
Whether you're a fan of Chaucer, architecture, history, or religion, Canterbury Cathedral belongs on your must-see list. Founded in 597 A.D, it's a grand example of Gothic and Romanesque architecture, with magnificient stained glass windows and stone sculptures.
Nearby you'll find St Augustine's Abbey, a half-ruined Saxon church with a small museum. Other highlights include the Westgate Towers and the various paths and bridges that cross the scenic Great Stour river that runs through the city.
Direct trains from London St. Pancras to Canterbury West station run every hour, with a journey time of just under 60 minutes.
Whitstable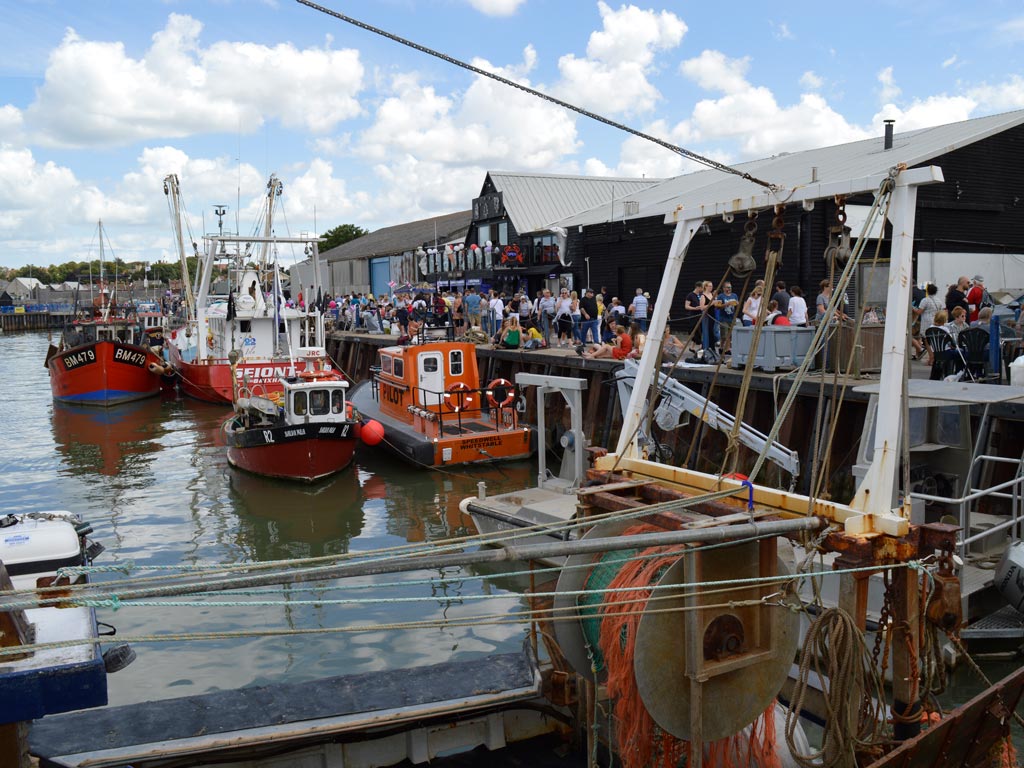 One of the best things about living in London is the number of seaside towns within day trip distance. While you won't find any sandy beaches in Whitstable (or most of southern England for that matter), you will get plenty of lovely ocean views and delicious seafood.
The town's Harbour Market is the perfect place to pick up handmade crafts and artisan goods. And no visit would be complete without sampling fresh oysters at The Lobster Shack. The Forge is also a favorite for fish and chips.
There are frequent direct trains running from London Victoria station to Whitstable, with a journey time of about 80 minutes.
Bletchley Park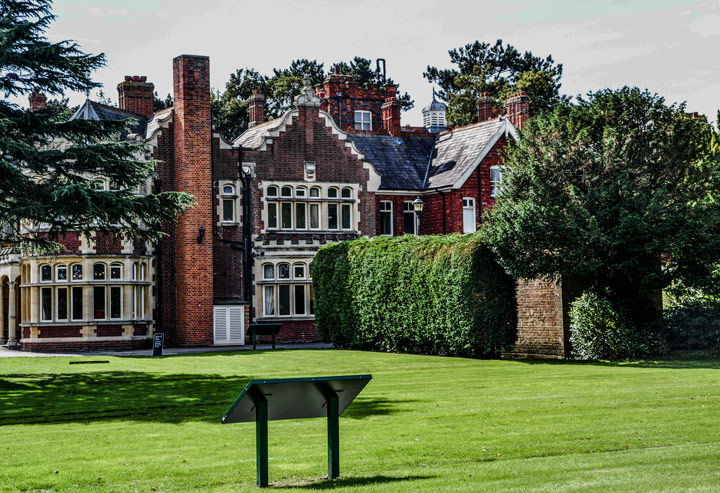 By Sharon of Exploring Our World | Follow on Pinterest
Would you like to spend a day exploring the place where the Allied Codebreakers of WWII carried on their secretive, vital work?
One main center of codebreaking operations was an unassuming place outside London called Bletchley Park. You can tour the Victorian mansion and its grounds and outbuildings, now that the veil has been lifted on the clandestine activities here. This is where some of the greatest intelligence data of the war was uncovered by the brilliant Codebreakers.
You'll learn how the German messages were decoded using Enigma machines and elaborate precursors to computers called "bombes." All the bombes were destroyed after the war, but an organization raised funds and rebuilt one from existing plans.
You may have seen this bombe in the movie about Bletchley Park, "The Imitation Game." Watch a demonstration of the bombe and get an idea of the complexity and noise of these computers.
Walk through the huts where messages came in and imagine what it was like to be a part of Bletchley. You can trace the path of a message from interception to decoding. And find out the role Bletchley played in the success of D-Day.
If you are looking for places to visit near London, consider spending a day at Bletchley Park. The world of the Codebreakers will fascinate you. From Euston station in London, take the train to Bletchley (about 50 minutes) and walk 2 blocks to the museum.
Arundel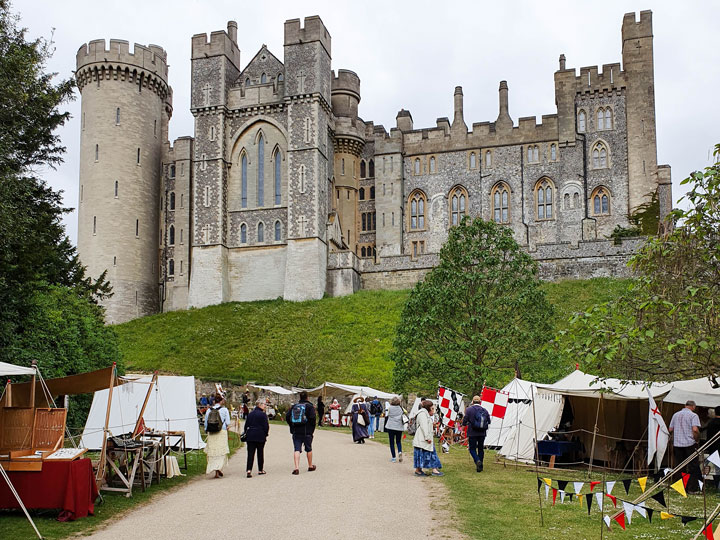 By Joanna of The World in my Pocket | Follow on Facebook
For a wonderful day trip from London that will transport you to the medieval times, consider visiting Arundel, a charming old town just one hour and a half by train from the capital.
It's very easy to get to Arundel from London, with hourly direct trains from London Victoria station.
Arundel is most famous for the gorgeous medieval castle that was built in 1067 and restored over the years, which makes it one of the best ones to see in the country. It can take a good few hours to visit the entire castle and its grounds with gorgeous gardens.
The castle is the home of the Duke of Norfolk, and the rooms you stroll by are used sometimes by the family and their guests. Imagine how amazing it would be to have dinner in the stunning dining room with high ceilings and stained-glass windows! From time to time medieval events are organised at Arundel Castle.
The town of Arundel itself is very beautiful and lovely to visit. There are many antiques stores around and also independent boutiques where you can buy local handmade products.
The nearby natural reserve is a great place to explore with children, to spot wildlife, and to enjoy boat rides on the lake.
Save me for later!
Bath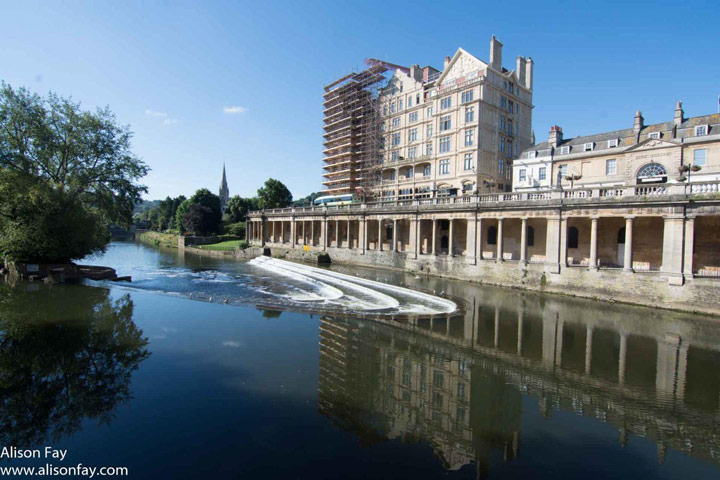 By Alison at Alison Fay | Follow on Instagram
The beautiful Georgian city of Bath is located in the west of England, around 1 hour 30 minutes from London by train. Bath is mostly famous for its Roman Baths, Georgian architecture, author Jane Austen, as well as being a UNESCO World Heritage Site.
To get to Bath, take the train from London Paddington Station to Bath Spa. When you arrive, you'll exit the station onto Brunel Square. From here, start walking towards Pulteney Bridge, which crosses over the River Avon.
On route, you'll be able to look down upon Parade Gardens and stroll along the Grand Parade, which is known for its Georgian Architecture. At Pulteney Bridge, you can go down to the riverside and enjoy watching boats travel along the river.
Heading back into the city centre, you'll find The Roman Baths and Bath Abbey. During your day in Bath, you must visit The Roman Baths, as this is a central part of the city's history.
Further away from the city centre, you'll be able to find The Circus and the Royal Crescent, both of which are famous for their historic architecture. If you're a Jane Austen fan, be sure to visit The Jane Austen Centre.
Before returning to London, why not enjoy an afternoon tea? The Regency Tea Room at the Jane Austen Centre, or The Pump Room Restaurant both offer an amazing tea experience.
If afternoon tea doesn't strike your fancy, there are plenty of other options such as pub grub at The Bath Brew House. And for vegans, Acorn Restaurant or The Green Rocket both have delicious vegan food and are conveniently located in the city centre.
Bristol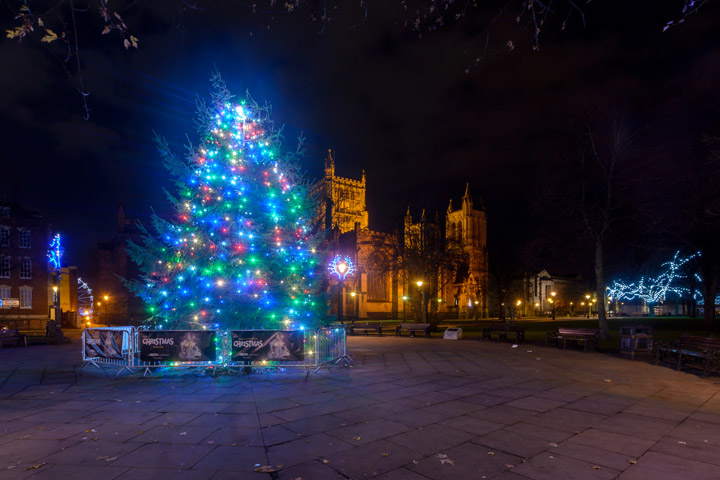 By Nabiha at Verses by a Voyager | Follow on Instagram
Bristol in the southwest of England is an easily accessible day trip from London by train. The city is often overlooked but has a lot to offer.
Clifton Suspension Bridge is the city's most famous icon and is a must see. It presents spectacular views of the surrounding areas, and it's a lovely spot for watching the sunset.
Another highlight of the city is the Cabot Tower, which is 105ft tower standing tall in Brandon Hill, one of the city's oldest parks. Your steep hike through the park will be rewarded by incredible views of the city.
Bristol is also famous for graffiti in the UK, and the city walls are painted with several interesting murals. If it's a sunny day, head to Bristol harbourside, where you'll find colourful houses overlooking the water. And if you're visiting in December, head to the beautiful Bristol Cathedral for a lovely holiday display.
There are direct trains from London to Bristol that take about 1.5-2 hours. Bristol has two major railway stations, Bristol Temple Meads Station and Bristol Parkway, and both serve direct trains from London.
Coventry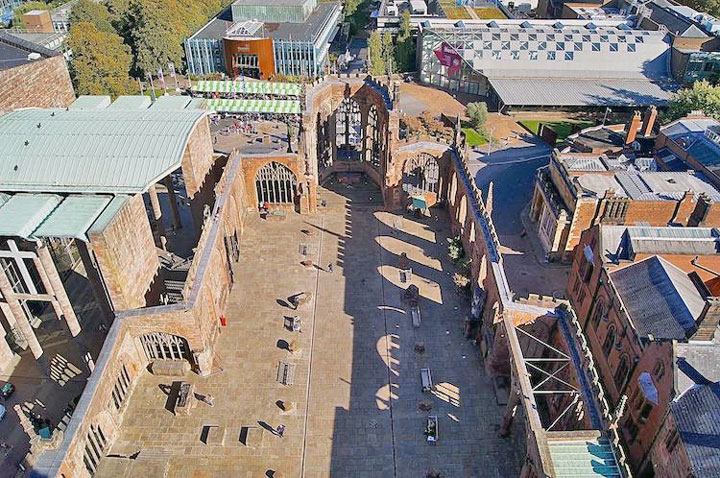 By Dagney of Cultura Obscura | Follow on Facebook
Coventry remains off many tourists' radars, but it is of great historical significance within the UK. It was one of most bombed cities during WWII, and the Blitz continues to play a role in the city's psyche, design and, of course, tourism.
Unlike many UK towns and cities, almost no one will be interested in visiting Coventry for its historic architecture. Not unless you're a big fan of the 1950s.
Due to the extent of the damage incurred during the Blitz, the city decided to rebuild afresh rather than mimic the original Victorian-era buildings as most of the UK did. As a result, Coventry is an odd hodge podge of new vs old.
Nowhere is this more evident than the ruins of the old Cathedral, which sits directly across from a new cathedral. Built in 1951, it manages to look more uninviting from the outside than its bombed counterpart.
However, religious or not, both should be on your list of things to do in Coventry The old cathedral is an important part of UK and WWII history, and the new one is actually quite stunning on the inside.
Keeping in line with its historical lean – and the fact that it was voted to be the UK City of Culture in 2021 – Coventry is a city full of fascinating museums. In addition to the cathedrals, visitors should check out the Coventry Transport Museum, the Herbert Art Gallery & Museum and St Mary's Guildhall, which has maintained much of its original medieval art and fixtures.
Coventry can be reached from London Euston in under 2 hours for a regular train, with express train journeys of 1 hour.
Sheffield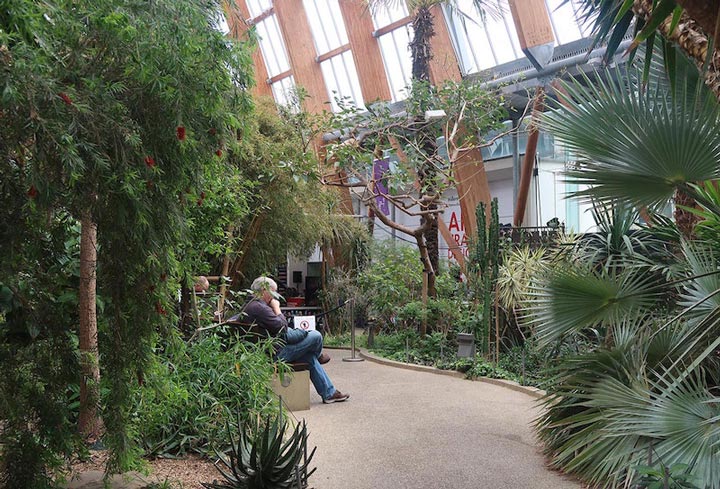 By Daniel at Layer Culture | Follow on Instagram
Situated in South Yorkshire and within the borders of the Peak District National Park, Sheffield is a city with an interesting historical background.
Nicknamed The Steel City, Sheffield was the setting of the famous Full Monty film. The city is also famous for the annual professional snooker tournament at the Crucible Theatre, which attracts people from all over the world.
You can reach Sheffield in the space of 2 hours from St Pancreas International train station. From there, it's an easy stroll into Sheffield's City Centre.
One of the popular places you'll likely encounter first is the Winter Gardens. It's a superb place to take cover in the middle of the city and see a variety of trees and plants on display.
Want to stay for the evening? Head to Cubana, a Cuban inspired Spanish Tapas restaurant. This makes for the perfect evening spot to relax and even practice some of your Salsa dance moves!
No matter what your purpose is, Sheffield welcomes you to the city. There are many local delights to be had on this easy day trip from London by train.
Leeds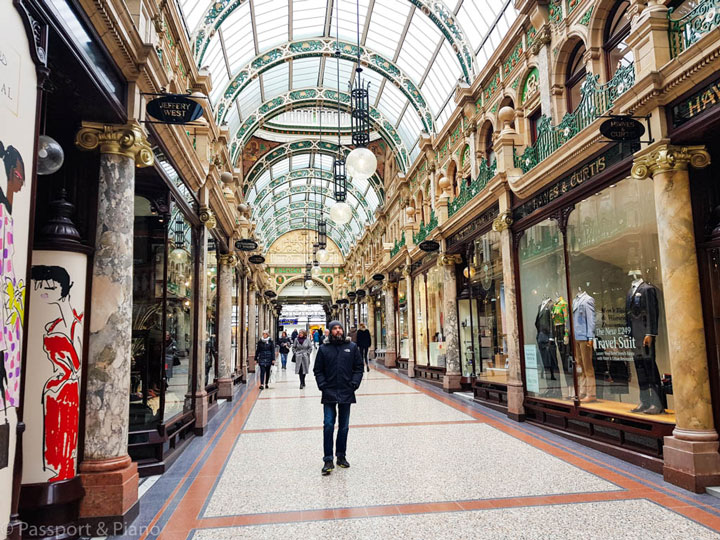 By Fiona at Passport and Piano | Follow on Facebook
Leeds is a vibrant city packed full of culture and history in West Yorkshire. The city has a wealth of museums, shops and galleries to explore, and some of the country's most beautiful historic houses are within easy reach of the centre.
Leeds has many excellent restaurants, including the one-starred Michelin restaurant, The Man Behind the Curtain. Fitting in with Leeds love of art and music, the food is presented in a modern way, and dishes not only look like a painting but also taste divine.
For retro shopping and quirky souvenirs, there's no better place than the Corn Exchange. This magnificent building with its domed roof is home to an array of vintage shops. For more chic designer labels head to the Victorian Arcade. The interior of this building with its wrought Iron features and mosaic floors is stunning.
The Royal Armouries at Leeds Dock has the most extensive collection of arms and artillery in the country, including Henry VIII's battle regalia. An enjoyable way to reach the Armouries is on the free water taxi that departs from Granary Wharf next to the train station.
Lovers of art should head to galleries like The Tetley or Henry Moor Institute. The Leeds Museum also has plenty of exciting exhibits worth visiting.
Fast commuter trains and cheap fares make it possible to take a day trip to Leeds from London. Trains depart regularly from Kings Cross Station, and you can reach Leeds city centre in under two and a half hours.
Winchester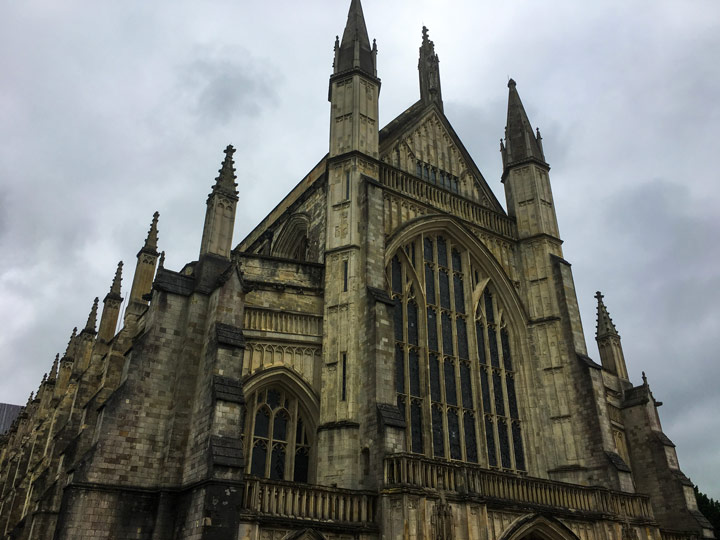 By Heather at Advendures of a Wanderluster | Follow on Instagram
If you are looking for quick day trips from London by train, look no further than Winchester. This beautiful city is located in Hampshire, England which is only an hour's train journey from London.
The city was founded in AD 597 and has an extremely rich history dating back to Medieval times. Its proximity to London makes it one of the best places to go explore when looking to escape the hustle and bustle of the big city.
The city of Winchester is not very big, but there is a lot to see here in a day. Jane Austen loved the city so much that she lived here for the last 8 years of her life. She is even buried in the Winchester Cathedral, which is an absolute must visit while you are here.
The Winchester Castle is another top attraction in the city, thanks to the replica of King Arthur's Round Table which can be found in the Great Hall of the castle. If you like visiting castles, be sure to visit the Wolvesey Castle (located beside the Winchester Castle) which today are stunning ruins from the medieval times.
The castle was once home to the Bishops of Winchester. The Military Museums are also worth checking out if you want to learn more about the city's medieval past.
You can spend time wandering the old streets as well to admire the excellent shopping, or pop into the pub for a pint. If you are looking to really splurge, check out The Black Rat, which happens to be the city's only Michelin-starred restaurant.
The average journey from London to Winchester is about 75 minutes, with the fastest train taking only around 53 minutes. To catch the train, you will need to head to Waterloo Station in London. The train is quite frequent, leaving every 20-30 minutes from Waterloo station.
International Day Trips from London by Train
Amsterdam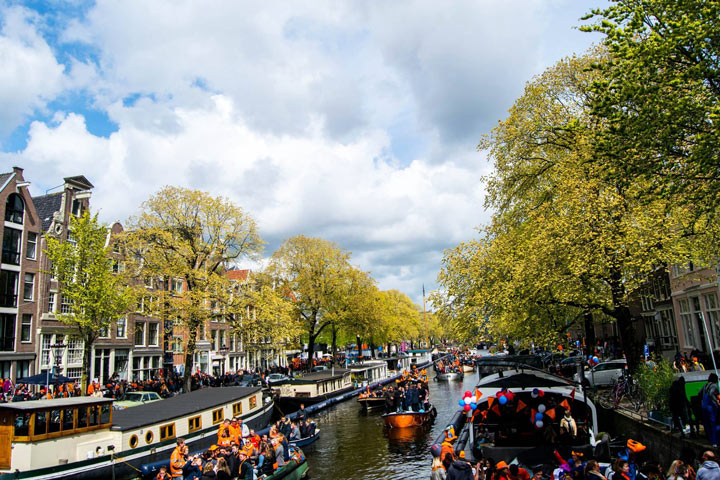 By Karen of WanderlustingK | Follow on Facebook
One of the best day trips from London has to be Amsterdam! In 3.5 hours you can arrive in Amsterdam, which is a very walkable city that you can see much of during a day.
With your limited time in Amsterdam, you can start your trip with a canal cruise before walking around Amsterdam's picturesque canals. This self-guided walking route through Amsterdam's center will bring you to some of Amsterdam's most beautiful spots!
Be sure to stop by one of Amsterdam's busy markets to eat a fresh stroopwafel, a warm waffle filled with caramel syrup. If you plan your visit well, you can try to also pack in seeing a museum, such as Anne Frank's House (you should get your tickets online in advance) or the Rijksmuseum to discover the Dutch masters.
After a long day, stop off at one of Amsterdam's charming brown bars, which well rival England's pubs, for a local beer before heading back to London.
Brussels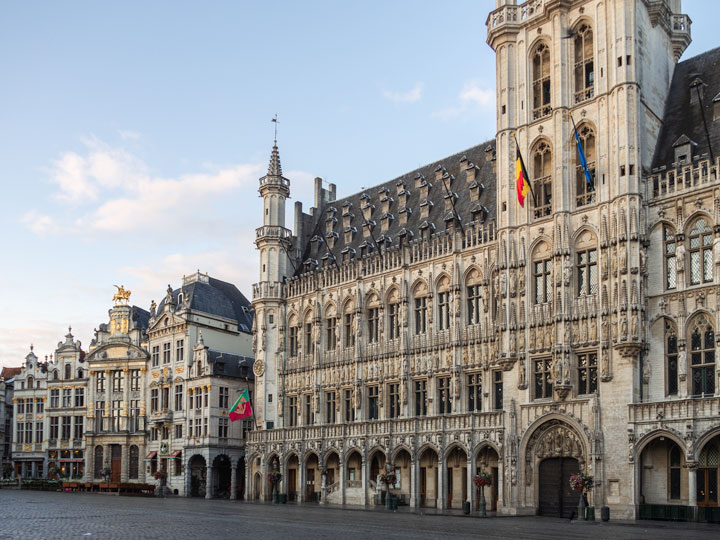 Thanks to Eurostar, taking a day trip to Brussels from London is simple and affordable. In less than two hours, you can be in Belgium's beautiful capital eating waffles and marveling at cathedrals!
Brussels is a fascinating city to explore, especially if you like architecture. The medieval city center is filled with ornate buildings, including those that line the UNESCO World Heritage Site of the Grand Place. Numerous festivals take place in the square, including the bi-annual Flower Carpet and the winter Christmas markets.
As you wander the crooked alleys of the city center, be sure to buy some waffles and frites, the two iconic street foods of Belgium. There's nothing like enjoying a warm, chocoate-covered waffle while doing some window shopping.
In contrast to the historic buildings near the Grand Place, sleek glass and metal skyscrapers tower over the city's east side. Here, you'll find the ultra-modern headquarters of the European Union. Continue walking east, and you'll come upon the impressive Parc du Cinquantenaire and its horseshoe-shaped miliary museums.
Also, keep an eye out for the many comic book murals scattered throughout the city. You can spot everything from Tin Tin to the Smurfs decorating the facades.
Paris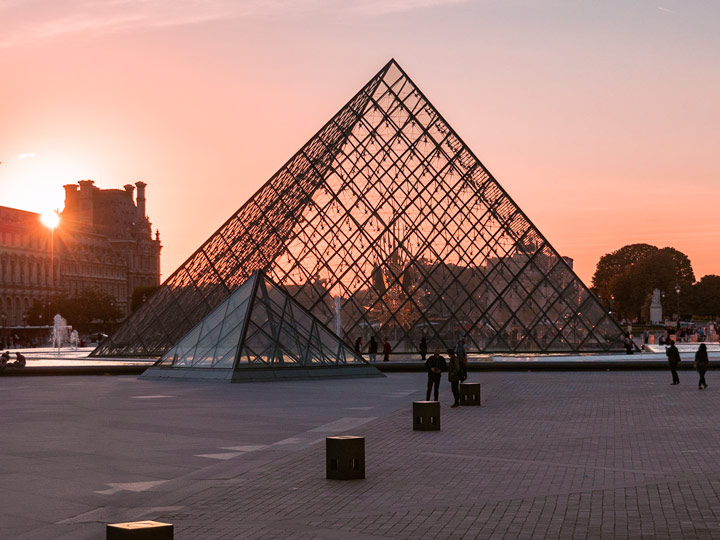 You might be surprised to learn that Paris is an easy day trip from London by train! In fact, Eurostar offers direct 2.5 hour journeys from London St. Pancras to Gare du Nord.
If you book the earliest arrival and take the latest departure, you'll have about 11 hours for your Paris itinerary. It's not enough to see everything the city has to offer, but you'll have time for a few highlights and a couple hidden gems.
Arriving at Gare du Nord gives you a great opportunity to explore Montmartre, a charming neighborhood that feels like a separate village from Paris. Here, you'll find the famous Sacre Coeur basilica and Café des Deux Moulins from Amélie. Montmartre is also home to some of the prettiest Paris photo spots, including the Consulat and La Maison Rose.
From Montmartre, you can take the metro to any number of places that suit your fancy: the Eiffel Tower, Tuileries Gardens, Sainte-Chapelle, The Louvre… Whatever you do, be sure to sample a few pastries along the way!