Buying groceries in London is more than a necessary chore. It's an act that defines your very place in society. Or at least that's the impression I got when researching London grocery stores after moving here from the US.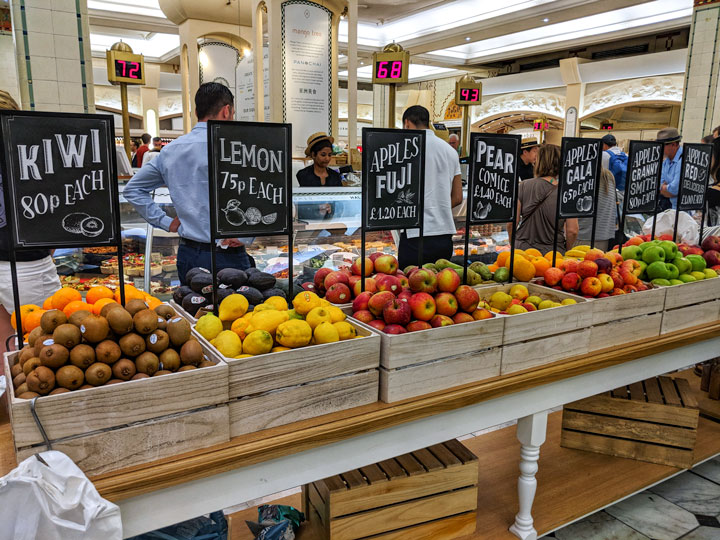 When it comes to food shopping, you'll be spoilt for choice in the city. From budget-friendly favorites like ALDI to zero waste shops like Gather, there's a London grocery store to fit every need and personality. But know this–your choice in supermarkets is still seen as a class indicator in Britain.
Yes, the social class system is alive and well in Britain. Though in traditional British style, it's never directly spoken about, but rather indicated and inferred via dozens of little signals.
Carrying a Waitrose tote bag down the street? People will think you're posh and possibly a bit stuck-up.
Leaving Tesco with a bag of crisps and a soda in hand? You're a working class bloke, or a school kid on their way home (pro tip: avoid London grocery stores between 3-4:30pm or else you'll be awash in a sea of school-uniformed children).
Class signals aside, the main differences between London's food shops are price and product range. Surprisingly, the general quality of goods and produce is pretty consistent across the supermarkets.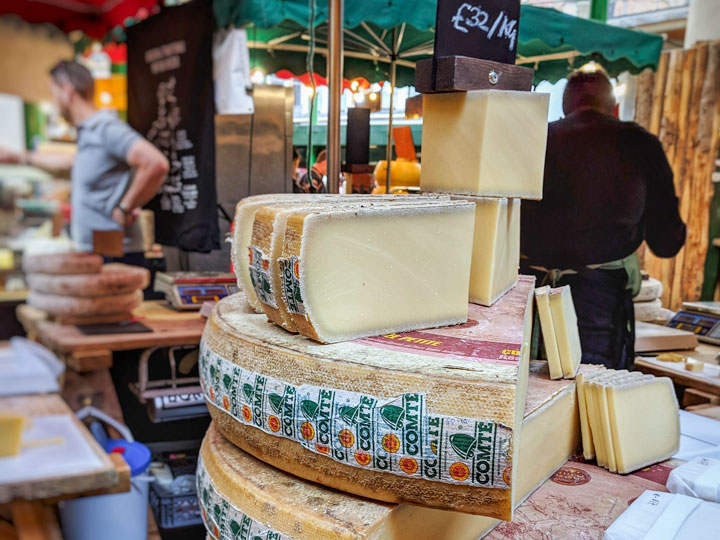 Coming from the US, this was a big surprise. I've picked through my fair share of sad vegetables and questionable meat at budget grocery stores across the midwest, south, and east coast. Fortunately, you don't need to stick to the "posh" shops to find good ingredients in London.
Whether you're a new expat in the city or a traveler trying to avoid the notoriously expensive restaurants, this London supermarket guide will help you navigate the shops and aisles like a local.
RELATED: Breakdown of Monthly Expenses in London
Table of Contents
What are grocery stores called in London?
Who are the big 4 supermarkets?
What is the cheapest supermarket in London?
Where else can you buy groceries in London?
Which is the best grocery store in London?
Other tips for grocery shopping in London
What are grocery stores called in London?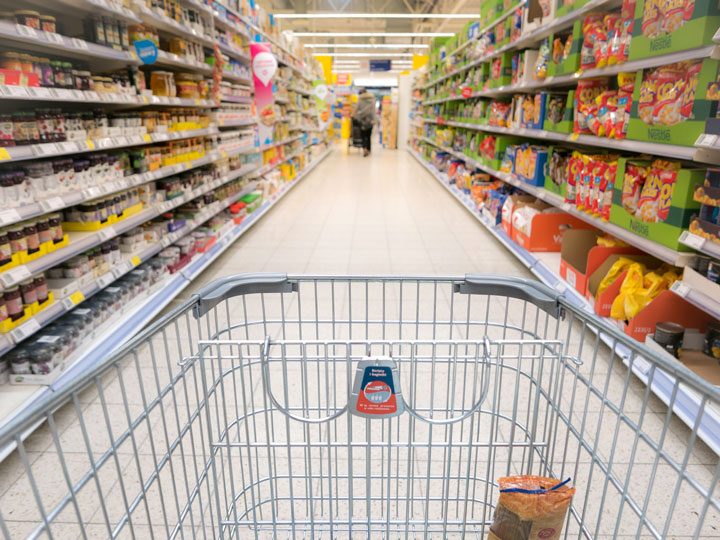 The first thing you need to know about London grocery stores is that they are called supermarkets in the UK.
You won't hear Brits talking about "going grocery shopping". Instead, they use phrases like "doing the weekly food shop" or "dropping by the supermarket".
However, you will hear Brits using the word "grocer's". These are small, usually independently owned shops that mostly sell perishable food. You'll find them all over London, with the characteristic bins of produce outside the entrance.
Locals will typically know what you mean when you say "grocery store", but you will get some fleeting confused looks as they decipher your American vocabulary.
Speaking of which, you might want to keep this list of British vs American words handy while you shop!
Who are the big 4 supermarkets?
Here in England, the big 4 supermarkets are Tesco, Sainsbury's, Asda, and Morrisons.
However, you won't find many Morrisons in London. Instead, you'll find an abundance of Waitrose stores, which are known for quality organic products (and high prices). Therefore, the big 4 supermarkets in London are Waitrose, Tesco, Sainsbury's, and Asda.
As I mentioned before, the primary differences between the supermarket chains are price and product availability. In terms of price, Waitrose is the most expensive, followed by Sainsbury's, Tesco, and Asda. I used to think Tesco and Asda were the same, but this recent price comparison proves otherwise.
When I say product availability, I'm referring to the range of brands available, as well as things like the size of "free from" sections (ie. dairy free, gluten free), the variety of prepared foods, availability of organic/sustainable products, and the quantity of non-food products (ex. household cleaners).
Unfortunately, it's pretty difficult to rank or judge supermarket chains on product availability for two reasons.
For one, there's no standard store size. A big Tesco in a Zone 3 residential neighborhood will obviously have a wider range of products than one with a smaller footprint in the city center.
Also, some of the shop's stock is tailored to the local community. For example, there's a prepared sushi counter inside the Sainsbury's of my (somewhat) posh neighborhood. Other Sainsbury's may have a Zizzi pizza or just a standard deli counter.
With the exception of Asda, each of these London grocery stores also have smaller, scaled down locations throughout the city. They are perfect for picking up a few ingredients on your way home from work, or for travelers trying to save money on food. When we spent 4 days in London exploring the city and finding an apartment, we ate several meals from the prepared food sections of Tesco Express and Sainsbury's Local.
Here's a short breakdown of what you can expect at London's major supermarkets.
RELATED: Ultimate Moving to London Checklist
Waitrose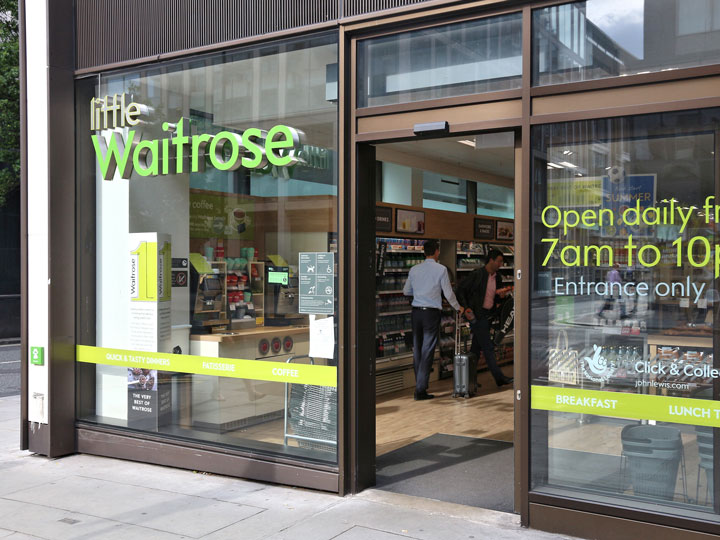 Known as Britain's poshest grocery store, Waitrose is where you shop for organic celery juice next to children who clamor for avocado toast rather than sweets.
Brits love to poke fun at Waitrose and its clientele–just have a look at the Only in Waitrose Twitter account–but it is a good place to find organic produce, sustainably farmed meats, and plant-based foods. It's a close equivalent of Whole Foods, which also has a few London locations.
While the other supermarkets carry fairly similar brands, you'll find very different items and products on Waitrose's shelves. That's because the company is committed to products made with organic ingredients and ethical farming methods. It's why Waitrose is also the most expensive supermarket in London.
The other thing that sets Waitrose apart is the lack of non-food items for sale. You might find a small selection of cleaning products and kitchen essentials, but don't expect to pick up a new video game along with your free range chicken.
Waitrose has a free loyalty program called MyWaitrose. Members can get a free tea or coffee every time they visit the store, as well as a monthly magazine with coupons and seasonal recipes.
The supermarket's scaled-down version is called Little Waitrose.
If you're a conscious consumer who wants easy access to local, sustainable groceries, Waitrose is a great option.
Sainsbury's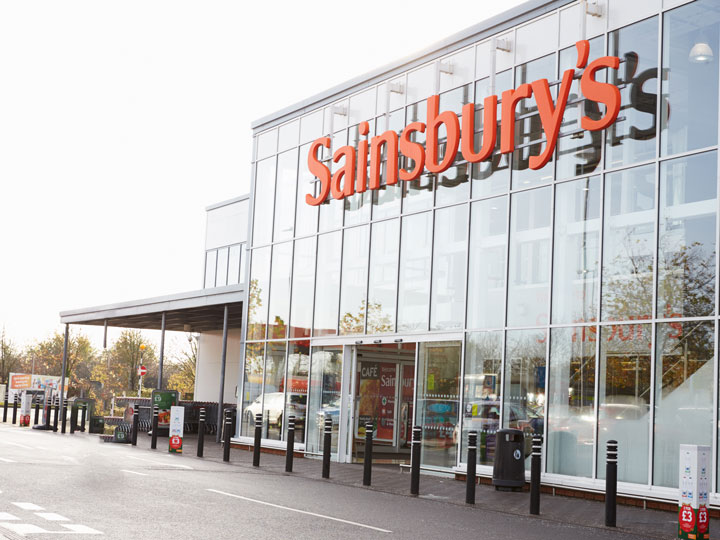 Sainsbury's has been a London fixture since the mid-1800s. It started out as a small dairy shop in Drury and quickly grew into one of the largest supermarkets in the UK.
Sainsbury's is considered to be a mid-range grocery store, falling between Waitrose and Tesco in price and product. Their commitment to sustainable farming and helping customers "live well for less" means a decent selection of organic, locally sourced, and environmentally conscious products that don't break the bank.
While you can get things like grass-fed beef and organic ketchup at Sainsbury's, they don't have as extensive a selection as Waitrose. However, they have far more budget-friendly items and pantry staples.
I'd liken Sainsbury's to your typical mid-range American supermarket. It reminds me of HEB in Texas and smaller Meijer's in the midwest, but with fewer non-food products. While you can get gaming consoles and some garden supplies at Sainsbury's, you won't find clothing or outdoor sporting goods.
Sainsbury's is part of the excellent and free store loyalty program called Nectar. You earn one point for every £1 spent, and there are weekly offers for bonus points. The weekly bonus offers are based on what you typically buy, so it's easy to rack up points that you can use to get money off your grocery bill or spend on partner offers.
The supermarket's scaled-down version is called Sainsbury's Local.
For the record, I do most of my grocery shopping at Sainsbury's (supplemented with the weekly farmer's market and farm delivery). The prices are good, the selection of products and prepared foods is excellent, and I can get my non-food shopping done at the same time.
RELATED: How to Move to the UK FAQ
Tesco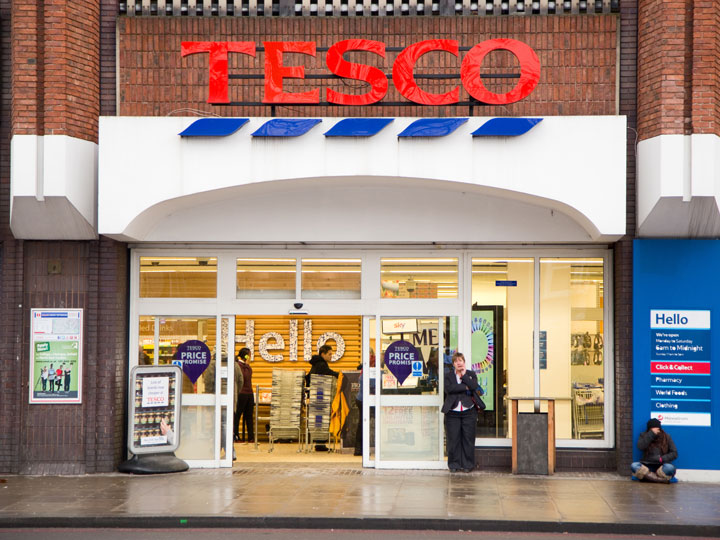 With nearly 30% of convenience store market share, Tesco is the UK's largest grocery store chain. Between the large Tesco superstores and smaller Tesco Express shops scattered throughout London, you're sure to encounter the brand in your neighborhood.
Based on my experience and conversations with other Londoners, there's not much of a difference between Tesco and Sainsbury's. While some people see Sainsbury's as a slightly higher-end supermarket, the prices and products are extremely similar. If you have both a Sainsbury's and Tesco in your neighborhood like I do, you'll probably end up shopping at the one that's closer.
Tesco has a free loyalty program called the Tesco Clubcard. You'll get one point for every £1 spent in store, and there are other ways to earn points via Tesco Mobile, a Tesco Bank current account, and Tesco credit cards. The points are converted into vouchers, which you can use for money off your bill or for discounts with other retailers.
The supermarket's scaled-down versions are Tesco Express and Tesco Metro. The Express shops are pretty small and mostly have convenience foods and snacks, while the Metro shops fall between an Express and a full-size store.
Asda
Asda started out in northern England, and didn't open its first London location until the 1980s. While it has a larger market share than Sainsbury's, you won't find nearly as many Asda shops in London.
But if you happen to live near an Asda, you can save a fair bit on your food bill vs. the other major London grocery stores. Asda's appeal is its budget-friendliness. While they ended their beloved Price Guarantee program in 2018, their own-brand products are cheaper than those of Tesco and Sainsbury's.
Like Sainsbury's and Tesco, Asda also carries a range of non-food items. After Asda was purchased by Walmart in the 90s, they opened a few Supercentres in the London suburbs. These mega markets sell clothing and home goods in addition to food items.
Unlike other grocery stores, Asda doesn't have a loyalty card. However, if you have an Asda Money Cashback credit card, you can earn 1% cashback on Asda groceries.
I'd liken Asda to a Walmart Supercenter, though many of the London locations aren't big enough to support a huge variety of non-food products. In fact, the Asda brand is so vast, they offer everything from pet insurance to eye glasses.
What is the cheapest supermarket in London?
When it comes to cheap supermarkets in London, ALDI and Lidl take the cake. These discount food shops came over from Germany in the mid-90s, unseating Asda as the most affordable grocery store in the UK.
You'll find ALDI and Lidl scattered throughout the city, mainly outside of Zone 1. Despite the "no-frills", efficient models of these shops, ALDI has been voted UK Supermarket of the Year numerous times.
While you won't find the same range of products available in ALDI and Lidl as you would in the big 4 supermarkets, you will save a fair bit of cash–though quality is hit and miss. Rather than do your entire food shop at these discount stores, it's best to get a few things there and the rest at the larger retailers, farmer's market, or specialty shops.
Save me for later!
Where else can you buy groceries in London?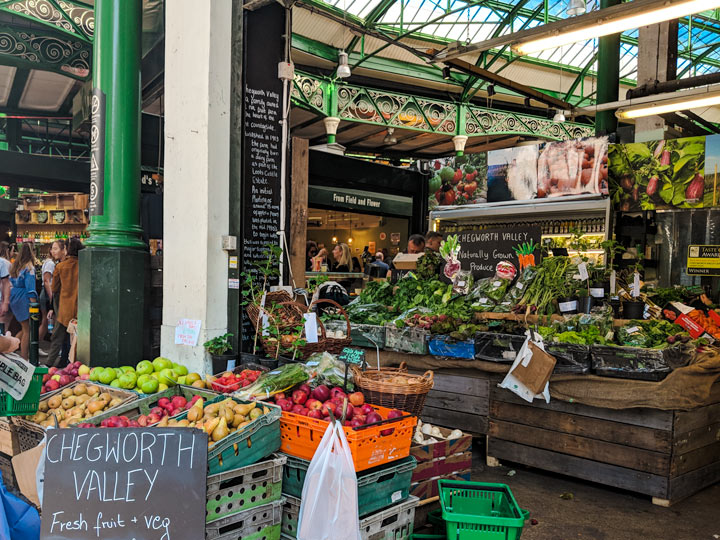 From Italian grocers to department stores, there are tons of places to buy groceries in London. It's one of the biggest benefits of living in the capital.
Aside from the major London grocery shops I described earlier, here are some places you might see in your neighborhood:
Marks and Spencers – This posh department store chain sells groceries and prepared foods at its M&S Foodhall and M&S Simply Food locations.
The Co-op – A member-owned, mid-range supermarket that also provides legal and funeral services to members
Whole Foods – The same organic, eco-friendly brand you'll find in the US
Iceland – Another discount food shop similar to ALDI and Lidl
Independent Grocers – Shops like Panzer's and Partridge's are great places to buy American food in England
Butchers, bakers, fishmongers, etc. – If you care about quality, go straight to the experts
Regional food stores – Many neighborhoods have country-specific shops like Italian markets
Farmers' markets – London has a vast network of farmers' markets that rotate through local communities one day a week
Which is the best grocery store in London?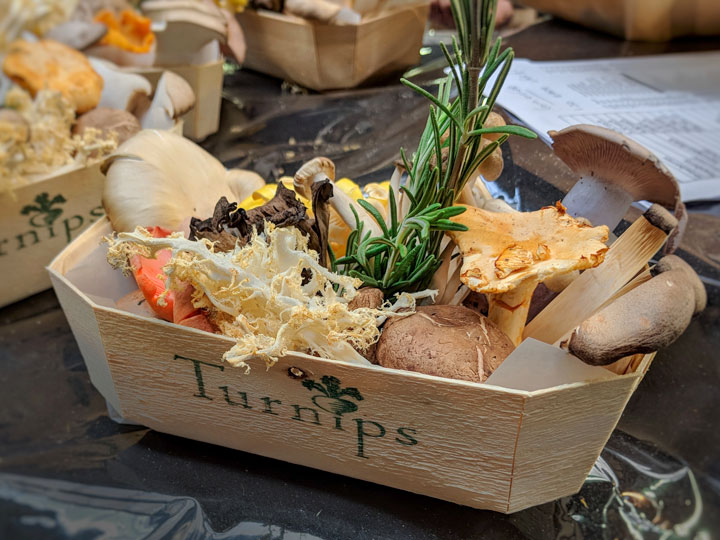 Waitrose was voted the UK's Best Supermarket of 2020, so I suppose they're the best grocery store in London.
Now, I have nothing against Waitrose and enthusiastically support their commitment to sustainability and animal welfare. But I'm a Sainsbury's fan, both for the price and the quality of products. However, I do pop into Waitrose now and then for certain items and supplement my in-store shopping with farmer's market trips and a weekly farm produce delivery.
Ultimately, the best grocery store in London is the one that fits your budget, values, and location.
Other tips for grocery shopping in London
Here are a few tips to make your London grocery shopping experience a pleasant one:
Always carry a quid (£1 coin) so you can unlock a shopping cart (a.k.a. trolley) to use while you shop
Bring your own reusable shopping bags, or you'll be charged for plastic ones at checkout
Know the difference between American vs British food names
Take advantage of online ordering and delivery if you don't have a conveniently located supermarket
Sign up for the loyalty program on your first visit so you can start saving money ASAP
Despite Brits driving on the left, there is no clear traffic flow in the grocery aisles