From festive holiday markets to off-season prices, winter is a fantastic time to travel Europe. Whether you're after a refreshing ski holiday or a crowd-free visit to a popular city, this list of the best winter city breaks in Europe has got you covered.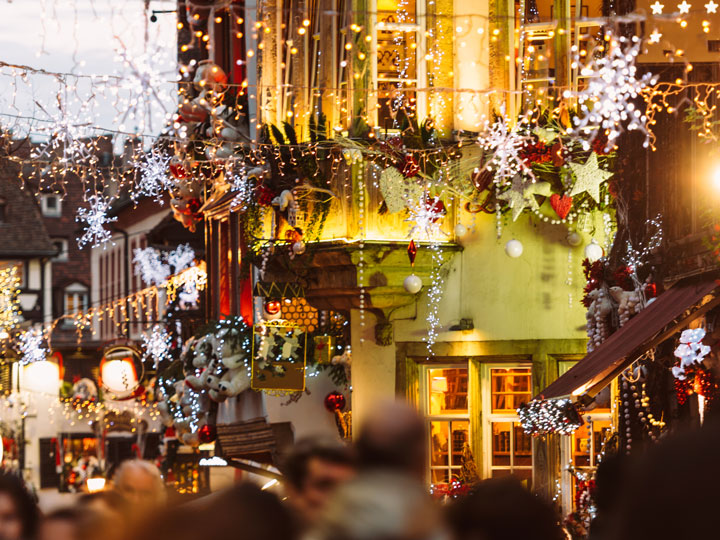 To keep things organized, these Europe winter breaks are sorted alphabetically by country. Have a scroll through the whole list, because some of these destinations will surprise you!
This post contains affiliate links. For more information, click here.
Europe Winter Destinations by Country
The Best European Cities to Visit in Winter
Hallstatt, Austria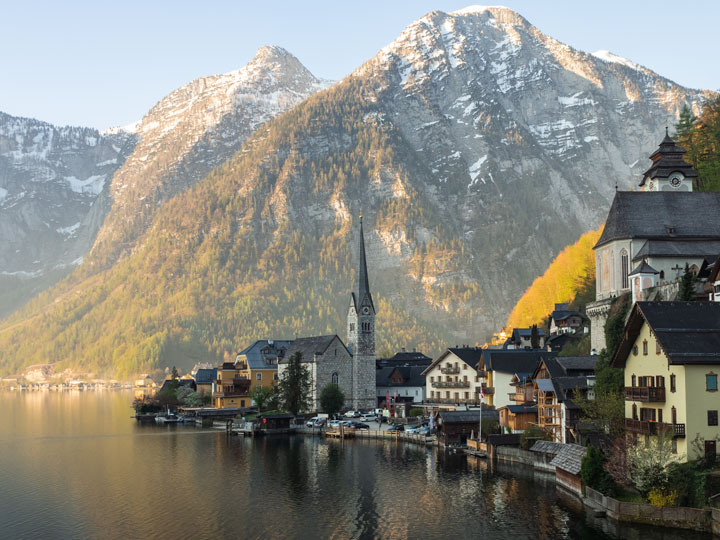 Nestled between a serene lake and snow-capped mountains, Hallstatt is the very definition of picturesque. Although you can enjoy a Hallstatt day trip during any season, this fairytale village is best enjoyed with a fresh snowfall and mulled cider.
Hallstatt may be small, but what it lacks in size is made up for in holiday cheer. Every December, the village hosts a traditional Austrian Christmas market, where visitors can purchase local crafts and snacks. In the nearby alleys, strings of lights and garland criss-cross overhead to create a romantic atmosphere.
If you want to mix your cozy winter getaway with an adreneline rush, you're in luck! Nearby Obertraun and Gosau both offer skiing and snowboarding to suit athletes of all levels.
Hallstatt is quickly becoming one of the most popular European cities to visit in December. Accommodation in the is village fairly limited, so it's best to book your hotel several months in advance.
For the best chance of a winter wonderland, plan your visit for December and January.
Salzburg, Austria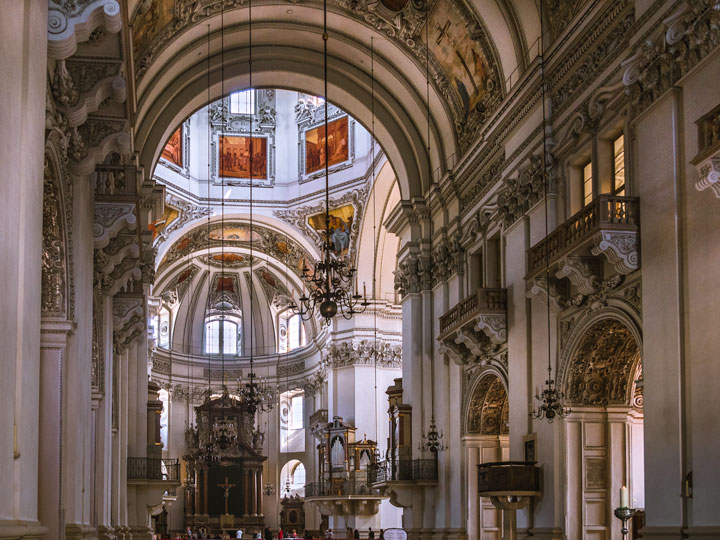 Salzburg isn't just for The Sound of Music and Mozart fans! This medieval Austrian city boasts incredible mountain views, a maze-like Old Town, and a unique series of Advent celebrations.
Salzburg's Christkindlmarkt is one of the oldest Christmas markets in the world. Starting in late November, visitors flock to the Residenzplatz, where dozens of vendors sell handmade decorations, hot cocoa, and artisan goods. Each day brings new events, from sing-a-longs to Christmas tours.
In keeping with the city's musical roots, local ensembles and folk groups put on the Salzburg Advent Singing every December. This festival of traditional music performances dates back over 70 years, and is one of the most popular events of the year.
There are numerous performances every night, making it easy to fit one into your Salzburg itinerary.
In contrast to these peaceful holiday celebrations, the Krampus and Perchten parades are rather unsettling.
These cacophonous rituals involving scary-costumed performers happen in the evenings during the first week of December. Their loud howls and terrifying appearance are said to scare away bad winter spirits (and possibly your chances of pleasant dreams).
Vienna, Austria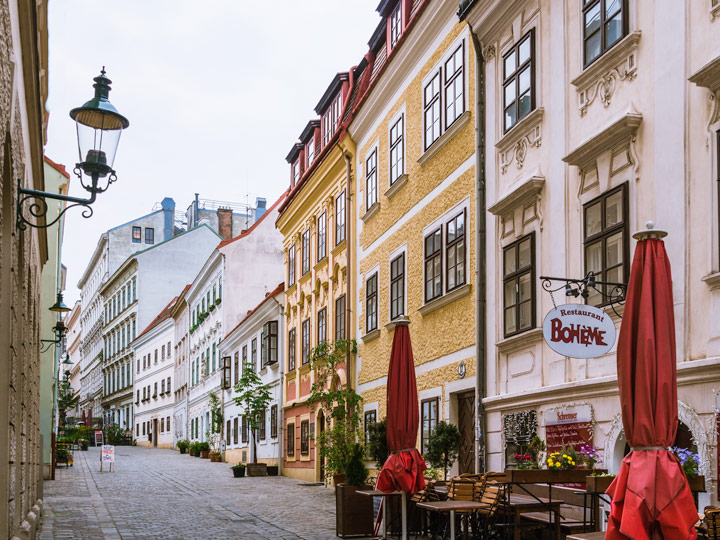 With elegant coffee houses, opulent architecture, and world-class Christmas markets, Austria's refined capital regularly tops the lists of best winter city breaks in Europe.
Anyone who loves Christmas decorations should put Vienna on their must-see list. Starting in mid-November, all manner of holiday displays and events take over the city, from Christmas villages to ice rinks to towering trees.
The highlight of the season is the Viennese Dream Christmas Market outside of City Hall. Here, revelers can go ice skating, listen to carolers, decorate cookies, and more. Against the illuminated backdrop of the iconic Rathaus, it looks like a scene from a postcard.
The Spittelberg Christmas Market is another winter favorite, with stalls selling Glühwein (mulled wine), local crafts, and antiques. Schonbrunn Palace also hosts a Christmas and New Year's Market in the public courtyard.
Vienna also hosts multiple Christmas villages. These areas at Belvedere Palace and Maria-Theresien Platz are even more charming than the markets because of the traditional wooden stalls and warm lighting. Under a dusting of snow, the villages seem like a holiday fantasy.
After the December crowds fade, Vienna becomes nearly empty of tourists, and travel becomes far cheaper and easier. You can spend two days in Vienna exploring the highlights and hidden gems without worrying about lines and crowds!
RELATED: 17 Must See Cities for Your First Time in Europe
Bruges, Belgium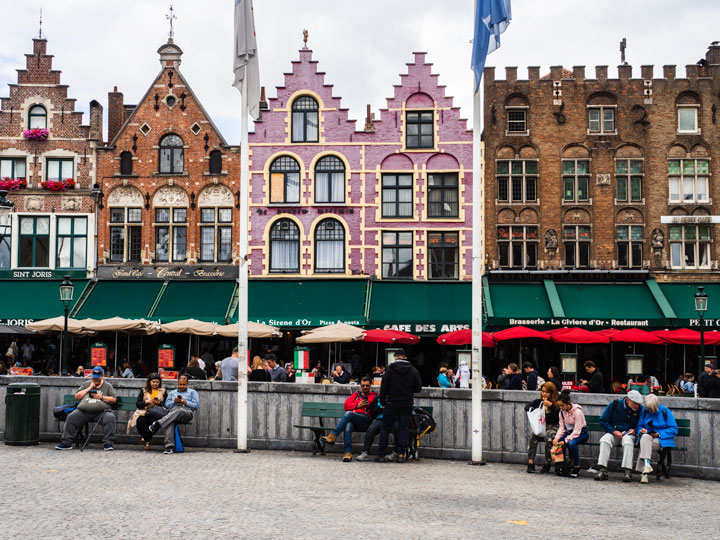 Known as the "Venice of the North", Bruges is a medieval canal town known for delicious chocolate, pretty facades, and vintage windmills. Spending a day in Bruges is always a good idea, but a winter visit is ideal.
There are few winter destinations in Europe that rival Bruges in charm. A simple stroll down the narrow alleys and canal briges becomes infinitely better with a warm scarf and a sprinkling of snow.
The Bruges Christmas market is a sight to behold. Located against the gingerbread-house backdrop that lines the town square, the traditional stalls sell fresh baked waffles, hot cocoa, and hand-crafted decorations that make for lovely souvenirs.
Although the city stopped hosting the ice sculpture festival and skating rink in 2019 for environmental reasons, a festive atmosphere still permeates the old town.
Mid to late winter is the low season, so you won't have to contend with the usual crowds. While the Christmas market draws in a sizable number of tourists, they mostly disappear once January rolls around.
It's no secret that Bruges is one of the best European cities to visit in December. Hotels fill up quickly during the holiday season, so book your room in advance to avoid disappointment (and high prices)!
Zagreb, Croatia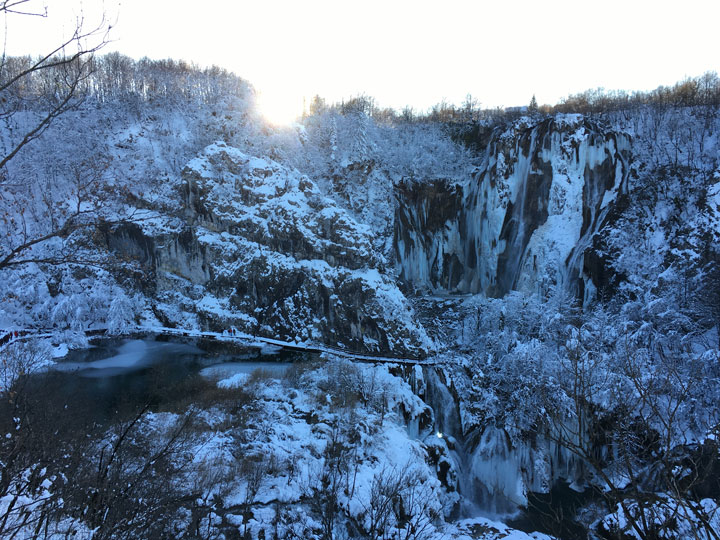 By Karllie at YOLO SOLO | Follow on Facebook
The capital of Croatia is often overlooked as a winter travel destination, but many are pleasantly surprised when they discover what this incredible city has to offer. Winter here is truly a treat!
Advent in Zagreb is something special, and it is no surprise the city was voted among the best Christmas markets in Europe in 2016, 2017 and 2018. If you're spending Christmas in Croatia, the charming stalls are a must see.
Throughout the Advent season, there are marvellous markets scattered right throughout the city. But the best place to start has to be Ban Jelačić Square in the city center.
The next stop should be King Tomislav Square where you will find the large open-air ice skating park. This winter wonderland is constructed every winter for all ages to enjoy from beginners to ice skating pros.
On the edge of the city is Mount Sljeme, a very popular ski resort. How many cities can offer ski slopes right on their back doorstep? This is a unique feature of the city with several ski runs and chair lifts for most ages and abilities.
If you want to get out of the city for the day, then a visit to Plitviče Lakes National Park is easy to do by car or bus. This park is lush and green throughout the summer months when it draws enormous crowds, but in the middle of winter, it turns into a magical place.
Lastly, winter food is another great reason to visit Zagreb in the cold months. The markets are popular for kobasice (locally cured sausage), fritule (mini donuts) and kuhano vino (mulled wine). Other traditional winter food and beverages that the locals love include roasted chestnuts, sarma (cabbage rolls filled with minced pork meat) and rakija (local fruit brandy), which are sure to warm you from the inside out.
Bristol, England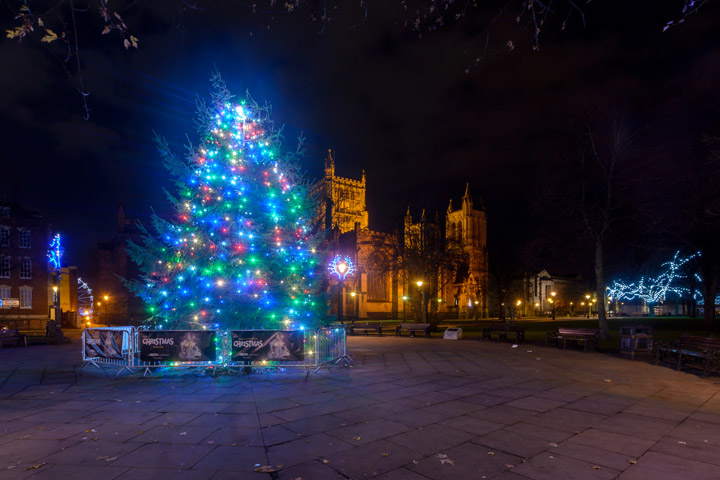 By Nabiha at Verses by a Voyager | Follow on Pinterest
Bristol, the largest city in the southwest of England, is a must to visit during the cold, chilly months of winter in the UK.
The most iconic landmark of the city, Clifton Suspension Bridge, offers some incredible views of the city, and a beautiful early sunset can be enjoyed from the bridge during the winter. For even more overlook points, head to Brandon Hill, where you can climb Cabot Tower for stunning views over Bristol. This steep hike is best enjoyed during cool winter months.
Bristol also offers a fun-filled Christmas market with a variety of stalls and activities. Millennium Square, an open space in the city centre, hosts the largest ice rink in the southwest of the UK. The city's Winter Wonderland is quite popular in this part of the country and attracts many visitors from the surrounding areas.
If you're looking for an affordable winter city break in Europe to escape the harsh snowy weather, Bristol should be on your list!
London, England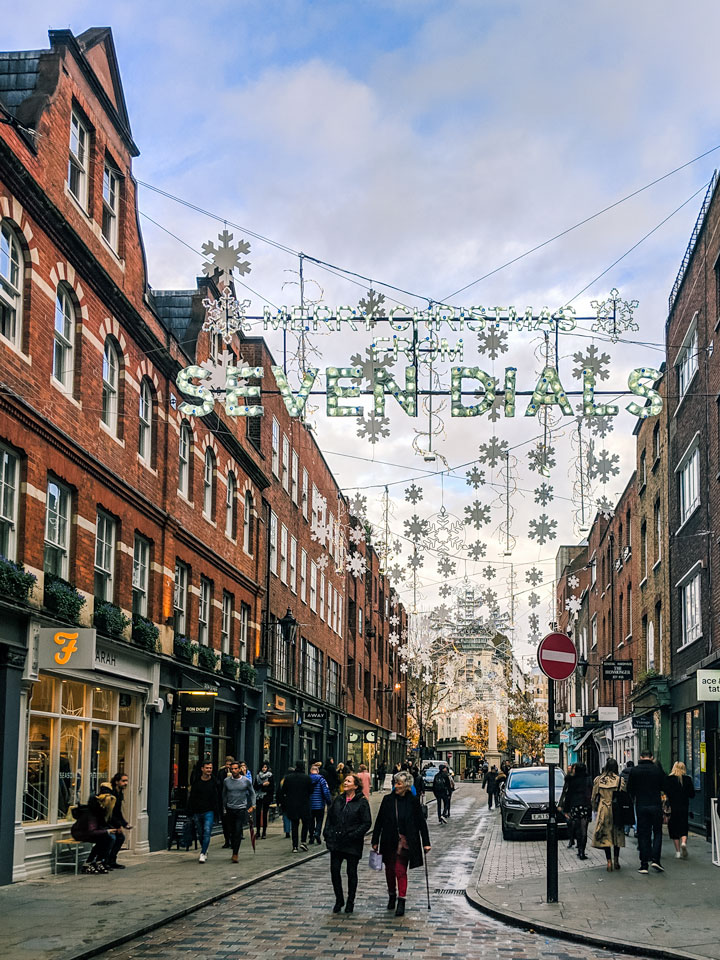 London knows how to do Christmas. From fantastical window displays to cold weather carnivals, a trip to The Big Smoke is undoubtedly one of the best winter vacations in Europe.
Starting in late November, you'll find eye-catching light displays throughout the city, particularly in Oxford Circus, Covent Garden, and Mayfair. Carnaby Street is especially famous for its neon display, which changes themes each year.
If you love massive Christmas trees and shiny baubles, head to the covered market in Covent Garden. Every December, this popular shopping spot transforms into a holiday explosion of red bows, green pines, and hanging ornaments. Seeing everyone out shopping for gifts adds to the cheery atmosphere.
London also puts on a number of Christmas markets and fairs. Check out Hyde Park for the famous Winter Wonderland, where you can skate on the ice rink, ride several roller coasters, and warm up with a rich hot chocolate.
Afterwards, take the tube to Southbank's winter market for delicious food and traditional market stalls selling artisan goods. And for an "alternative" winter experience, go south of the river to Clapham Common, where you can enjoy live music and classic holiday films in a cozy makeshift theatre.
If you're looking for an affordable time to do a London itinerary, January and February are ideal. With all the money you'll save on hotels and travel costs, you can easily manage to take a few day trips from London as well!
Tallinn, Estonia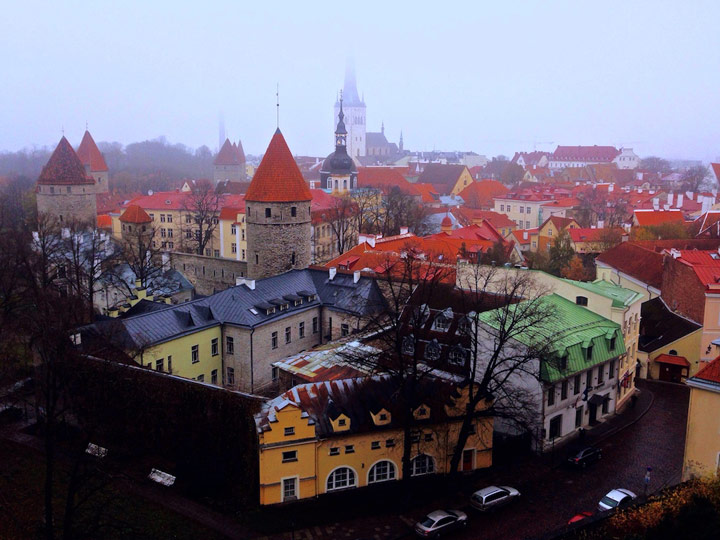 By Dagney at Cultura Obscura | Follow on Twitter
With its incredibly picturesque old town, particularly when shrouded in fog or snow, Tallinn in winter is truly enchanting. Despite its popularity during the summer months, Tallinn in winter tends to be much quieter (although it does pick up a bit before Christmas). This means that you may find you have parts of the city to yourself, even in the popular old town.
Within the city of Tallinn, those visiting during the run up to Christmas season can enjoy Tallinn's Christmas market. Make sure to brush up on your local history so you don't offend anyone: the cities of Riga and Tallinn have long contested who had the first public Christmas tree.
This became such a point contention that government officials from each city had to sit down and work out a solution. It was decided that Tallinn had the first Christmas tree and Riga the first decorated one.
In addition to enjoying spectacular views of the city and the Christmas markets, make sure to explore the alternative districts of Kalamaja and the Telliskivi Creative City, and check out one of the city's 40+ museums!
If you're looking to do winter specific activities, you can easily do a day trip out of the city. Some of the unique winter activities available include dog sledding, bog skating and winter kitesurfing.
Chamonix, France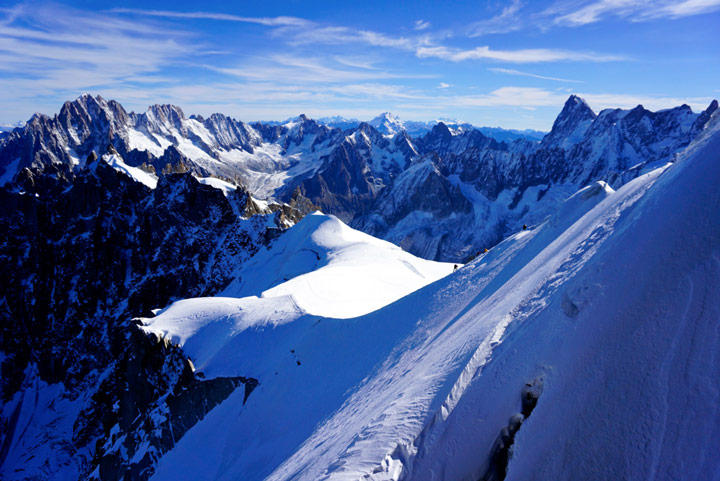 By Coni at Experiencing the Globe | Follow on Instagram
If you're into winter sports, Chamonix is like already on your bucket list. This alpine city became known around the world when it hosted the Winter Olympics back in 1924. Since then, it attracts skiers and snowboarders in the cold months, and climbers in summer.
But even if these sports are not your thing, Chamonix should still be on your list of places to visit in Europe in winter. This city gives visitors a chance to see the stunning Mont Blanc from "the top of Europe", a viewpoint up in Aiguille du Midi.
A cable car gets you to 3842 meters, where you'll have a 360° view of the French, Swiss and Italian Alps. You can 'step into the void', a glass cage over a 1000 m precipice. And you have the option to ride on a gondola lift over the Glacier du Géant to the Pointe Helbronner in Italy, for views on a different perspective of Monte Bianco.
There's also a gondola on the mountain in front that takes you to Plan Praz at 2000m, and then a cable car up to Le Brévent at 2525m. It doesn't get more stunning than this! The northern slopes of the Mont Blanc massif are reachable via the Montenvers train, which will get you to the beginning of the trail down to Mer de Glace, France's largest glacier.
Chamonix also offers fine dinning and shopping, so there's something for everyone –whether you are outdoorsy or prefer a fancier trip.
Paris, France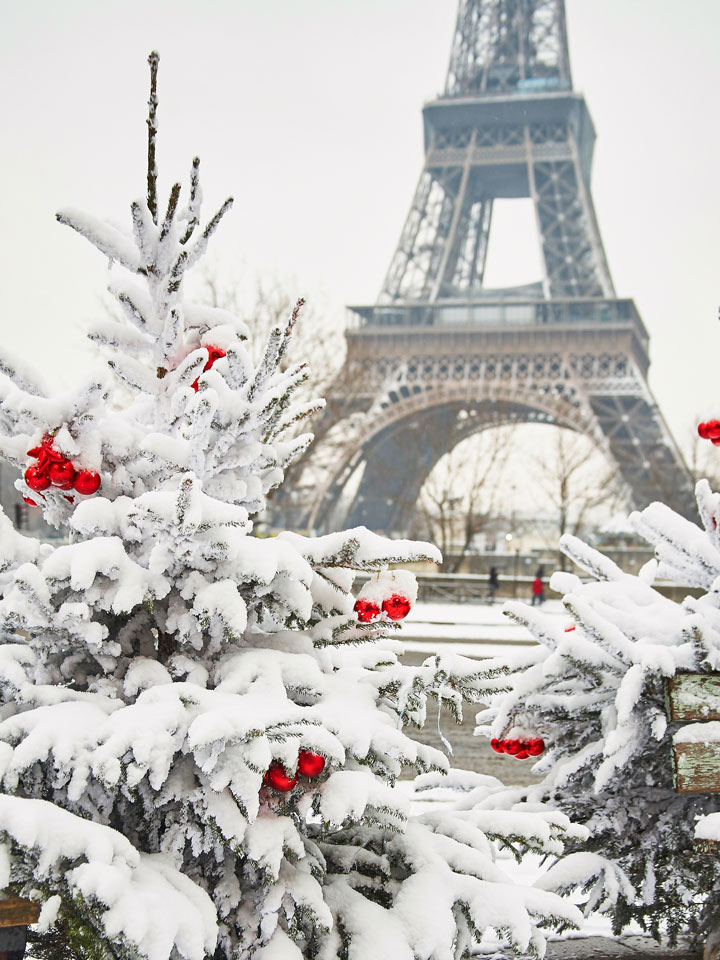 They say that Paris is always a good idea. And once you've experienced the blissfully uncrowded off season, you'll see why Paris stands among best winter city breaks in Europe.
Planning your Paris itinerary for January or February is a sure-fire way to dodge the infamous queues and crowds. If you hate the necessity of restaurant reservations and advance tickets, winter in Paris will be a dream come true.
Just be sure to avoid the week of Valentine's Day, as hordes of travelers flock to The City of Love for surprise proposals and romantic getaways.
While December sees a higher volume of tourists than the other winter months, there is a benefit to traveling at this time. In addition to less-busy highlights like the Eiffel Tower, Louvre, Sacre-Coeur, and Musee D'Orsay, you'll see the city decked out for Christmas.
Like most European cities in winter, Paris hosts a number of Christmas markets and villages, including the massive Les Halles market and The Magic of Christmas village at the Tuileries. And be sure to pop into a few covered passages, like the Galerie Vivienne, where garlands and baubles decorate the ceilings and shopfronts.
Save me for later!
Rovaniemi, Finland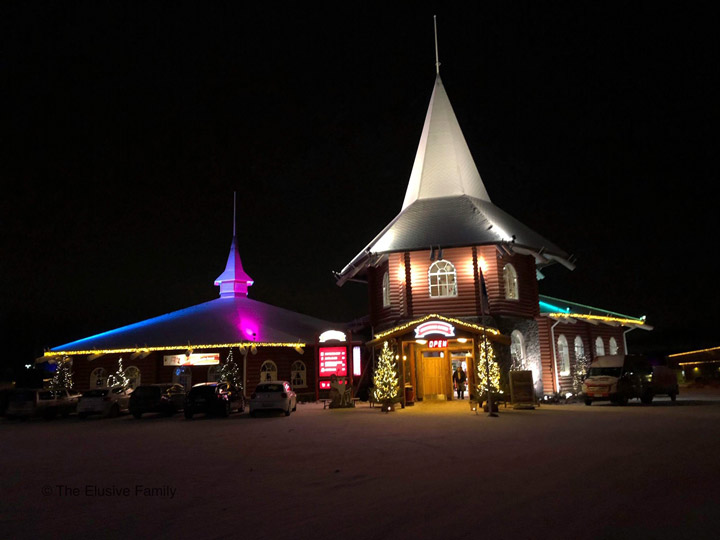 By Diana at The Elusive Family | Follow on Facebook
Rovaniemi, Finland is no doubt, one of the most magical winter places in the world. As the official hometown of Santa Claus, Rovaniemi is the town to go to for winter, especially around the holidays. The town caters to thousands of visitors every year, and its main purpose is to create a magical holiday experience.
Rovaniemi has a lot to offer visitors. Santa Claus Village is a great place to visit whether you choose to stay there for your accommodation or not. 
The Village has little guest houses for visitors, a husky park, reindeer rides, a snowman village, several on site restaurants and building including two areas which have two different Santa Claus's as well as an Arctic Circle post office. The Arctic Circle runs right through the village.
Rovaniemi is a great town to visit with kids or families. Besides Santa Claus Village the town is filled with tour operators with many activities, especially in the winter. Rovaniemi and the surrounding small towns have husky rides, reindeer rides, snowmobiling, snowshoeing, ice fishing, cold lake swimming, northern lights tours, sauna experiences and many other activities.
Berlin, Germany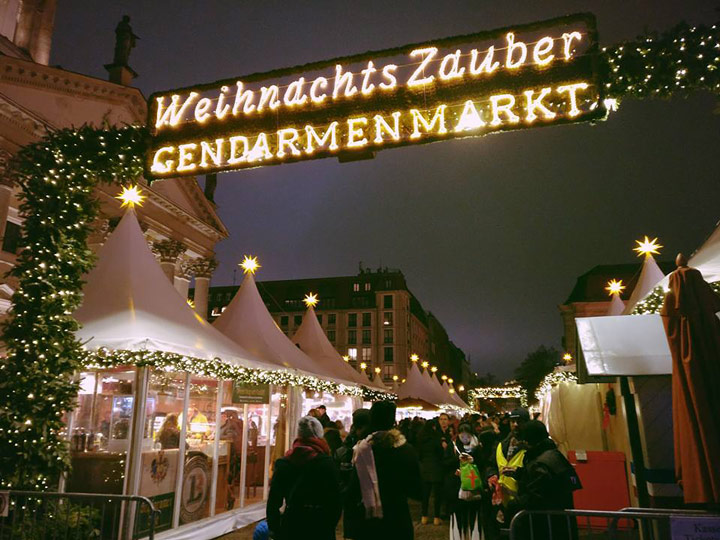 By Smita Bhattacharya | Follow on Twitter
Christmas markets in Germany are well worth the hype. It gets jaw-droppingly cold, yes, but the sparkles and the joy all around are infectious and warming. Seeing the beautiful, grungy city of Berlin decked out in Christmas cheer is utterly wonderful.
In December, Berlin is bursting with Christmas markets at every corner (much like the rest of Germany). There is a charge of €1 or €2 to get in most of these markets, but it's well worth it. Usually, you also get to take a memento free at the price.
Inside, the revelry is infectious, especially after a glass or two of Glühwein or Eierpunsch. Eat some yummy currywurst or Bratwurst afterward, and maybe sing along with the local choir as they bring in cheer with their merry carols.
Although the list keeps evolving, here are the top 5 Christmas markets in Berlin:
Weihnachtszauber at the Gendarmenmarkt
Berliner Weihnachtszeit at Roten Rathaus
Alexanderplatz Christmas Market (Mitte)
Winterwelt am Potsdamer Platz
Weihnachtsmarkt am Gedächtniskirche
Note that only a few of the best Christmas markets are open after the 25th of December so make sure to catch them early!
And be sure to get off the beaten path in Berlin when exploring the city.
Cologne, Germany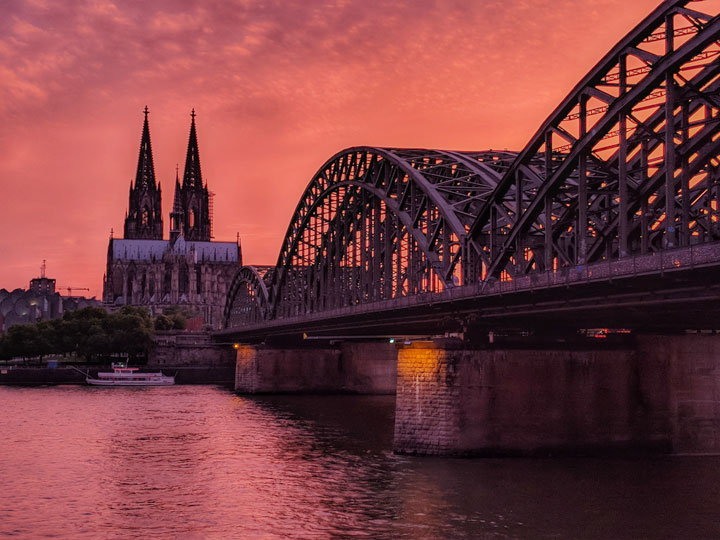 It may not be the most popular European city break in winter (or any season), but you won't regret spending one or two days in Cologne. And if you plan your trip for December, you're in for a magical treat.
The Cologne Cathedral is a UNESCO World Heritage site, and one of Europe's grandest structures. Its Gothic spires and massive stained glass windows tower above the colorful old town and create an awe-inspiring atmosphere.
Its in the shadow of this grand cathedral that you'll find one of Germany's best Christmas markets.
Over 40 red-roofed huts sit under a canopy of twinkling lights, with traditional craftsmen and vendors showing off their skills and wares. Glassblowers, wreathmakers, and bakers lend an old world charm to the market, where the scent of mulled wine and cookies permeates the air.
In addition to the Christmas festivities, be sure to explore the Old Market, where brauhauses serve tall glasses of Kölsch alongside hearty German fare. Look for a seat next to the fireplace to warm up after a chilly day of sightseeing.
Nuremberg, Germany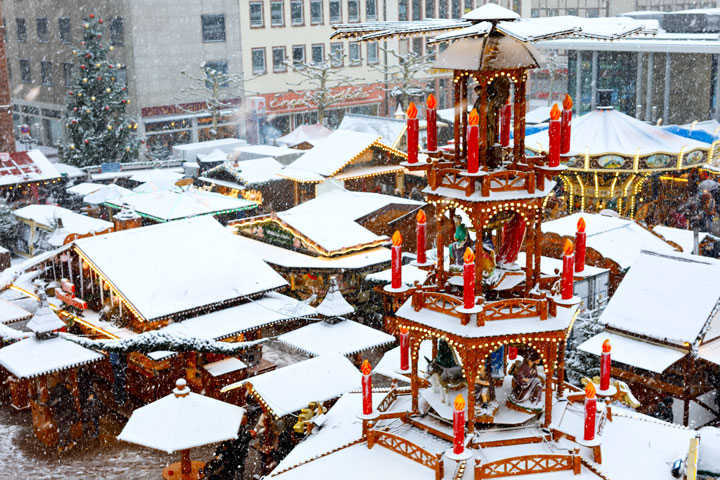 Anyone with a passing interest in Christmas markets knows that Nuremberg is a must visit in December. While it may not be Germany's oldest Christkindlesmarkt, it's certainly the most enchanting.
Like most holiday markets, you'll find your traditional stalls selling Glühwein, pretzels, toys, and crafts. But the live music, giant gingerbread cookies, and illuminated carnival rides make the Nuremberg Christmas market extra special.
If you catch a glimpse of an ethereal young woman wandering the area, don't worry: you aren't dreaming! Each year, the city nominates someone to play the Christkind, a Christmas Angel that's responsible for giving gifts to children on Christmas Eve. She also plays an important role in the opening ceremony, which takes place on the first Friday before Advent.
Aside from the Christmas festivities, Nuremberg's storybook Bavarian and medieval architecture come to life in winter. A light coating of snow on the Imperial Castle and the nearby half-timbered buildings renders them irresistably photogenic.
Check out my complete guide to visiting Christmas markets in Germany by train!
Budapest, Hungary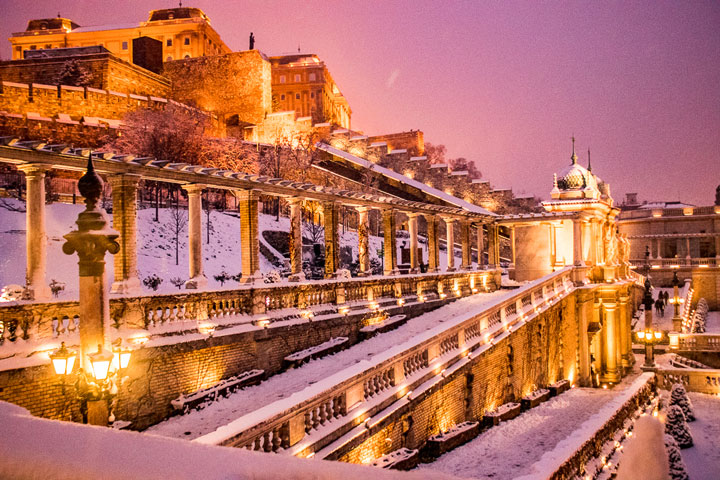 By Kata at Budapest Connection | Follow on Facebook
Winters in Budapest are truly magical. It has a lot to offer for its visitors: walking on the snow-covered streets under the holiday lights, having a bath in the hot waters of the healing spring waters, tasting the Hungarian flavors at the Christmas markets… These experiences will make your visit to this lovable city memorable.
Budapest is called the "city of waters" because there are several thermal springs under our feet. These waters have been in use for relaxation and healing since the middle ages. People quickly realized their benefits both by drinking them and bathing in them. There are taps in every bath where you can fill your water bottles with these mineral waters.
One of the most unique experience in Budapest during winter is visiting the thermal baths. Széchenyi Bath has the biggest outdoor space with several pools, while Rudas Bath has a rooftop pool from where you can see the city and the Danube surrounding you.
Do not hesitate to try these outdoor pools. They make the bath experience so much fun!
Of course, Budapest has many other attractions that make it among the best winter city breaks in Europe.
The Christmas markets are internationally recognized, and they offer all the traditional Hungarian dishes one can imagine. Try a mulled wine or our national fruit brandy "pálinka" after a hearty Hungarian meal and top the experience with a hot chimney cake. You won't be disappointed!
If you fear for your waistline, there's a solution: there is a Christmas market right in front of Saint Stephen's Basilica with an ice rink in the middle. You can skate here while watching the laser show projected on the walls of the Basilica.
There will come a point during sightseeing when all you'll ask for is some warmth and coziness. Luckily, Budapest is full of coffee houses!
The traditional ones such as Ruswurm, Gerbaud, and New York café – which is considered to be one of the most beautiful cafés in the world – are famous for their grandeur architecture and decorations. If you like modern cafés and bearded lumberjack baristas, fear not! Downtown Budapest is full of coffee shops.
This city provides you with things to do during the night, too. The Jewish Quarter is a newly gentrified area with quirky ruin bars. The most famous ruin bar is Szimpla. It has several rooms with decorations centered around a unique theme.
On Sunday mornings there is also a farmers market in Szimpla, making this place the best spot to have a great breakfast.
After visiting Budapest during winter, you will surely start daydreaming about coming back in the summer!
Reykjavik, Iceland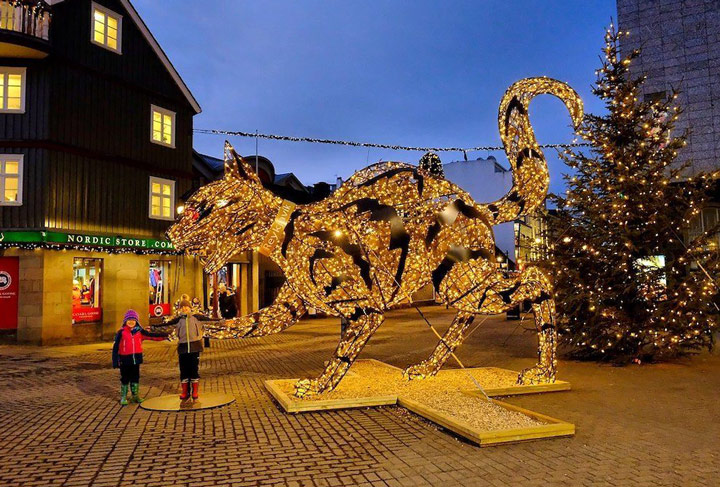 By Ania at The Traveling Twins | Follow on Instagram
If you visit Iceland in winter, you'll realize that Reykjavik must be one place where you can feel winter and Christmas coming more than anywhere else.
Saying that the days are shorter in Iceland is an understatement. December has only 4 hours of sun to brighten up the long nights. Luckily, that means Icelanders put out lots of lights. Every house on every street is covered with twinkling Christmas displays.
If you drive away from Reykjavik, you may be lucky enough to see the green northern lights dancing in the dark sky. But that's not the only Christmas surprise awaiting you: Icelanders don't have Santa!
Instead thirteen mischievous Yule Lads bring Christmas presents. Starting from December 12th, you can expect to find small gifts in your shoe. Of course, you should leave the lads a spoonful of skyr to lick. On the night of Christmas Eve if you haven't been good, you may be eaten by the Yule cat.
If you survive Christmas, you are in for another treat. From midnight on Iceland's New Year's Eve, the fireworks start in thousands and don't stop for days. With all these magical events, it's no wonder Reykjavik is among the best European cities to visit in December.
Belfast, Northern Ireland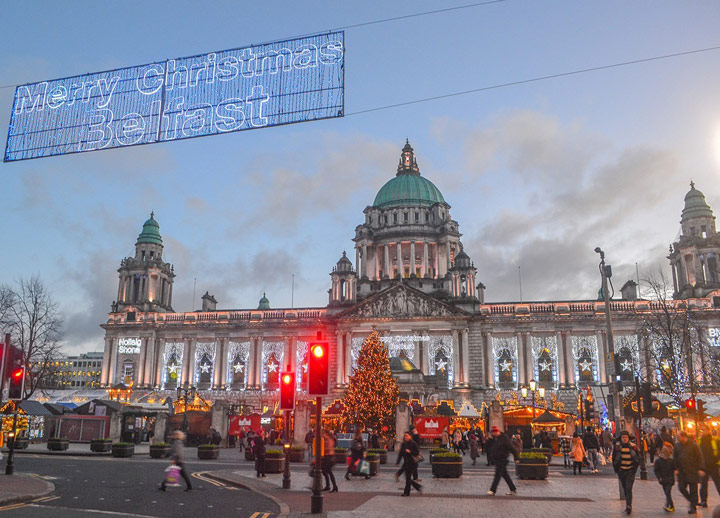 By Allan at It's Sometimes Sunny in Bangor | Follow on Instagram
There was a time when Belfast was best to be avoided. But these days, it is a lesser-visited gem of a city that's perfect to explore in winter time.
As Christmas approaches, Belfast comes to life with festive lights, baubles, and a youthful fun-loving Irish charm. And a good start for exploration would be at the central City Hall, which plays a rather majestic backdrop to the annual Belfast Christmas Market. The market runs from early November through late December.
But there is a lot more to Belfast than the monuments of the city centre. The buzzing shopping district surrounding Victoria Square and the Lagan Riverside area will always be a more relaxed and romantic escape at this time of year, when the bridges are lit up in the early evening hours.
Otherwise, Belfast is more about the local nightlife at this time of year, with festive student gatherings in and around the Botanic area of the city.
You'll also spot youthful city workers frequenting the more traditional Irish bars between the cobblestoned alleys of Belfast's Cathedral Quarter. And it's a must to grab a pint in a snug at the iconic Crown Saloon in the city centre and to enjoy the local 'craic' (Northern Irish slang for banter).
Dublin, Ireland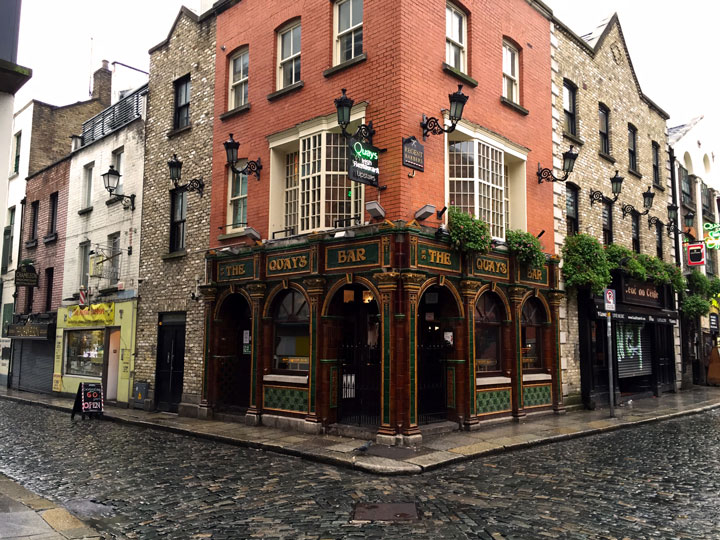 By Naomi at Probe Around the Globe | Follow on Facebook
If you're wondering where to go in Europe in winter, then Dublin is the perfect answer. Although Dublin is not as popular as London or the German cities time of year, Ireland's capital will charm you off your feet with festive holiday cheer!
Dublin is quite a small city, making it easy to get around and see the highlights in a few days. In winter, the days are a bit dark and dreary, but the streets of Dublin will cheer you up. Large Christmas trees, shimmering holiday lights and the friendliness of the Irish are unrivaled!
In Dublin, there are plenty of indoor activities so you don't have to worry about the weather. Visit the Guinness Storehouse, go for a whisky tasting or marvel at the hundred year old books at the Trinity Library.
If you're done sightseeing and shopping for Christmas presents, then it is time to dive head first into Dublin's vibrant pub life. You can drink, dance, eat and just have a 'craic' with the locals in one of many pubs in Dublin.
Read more about Dublin in winter here.
Rome, Italy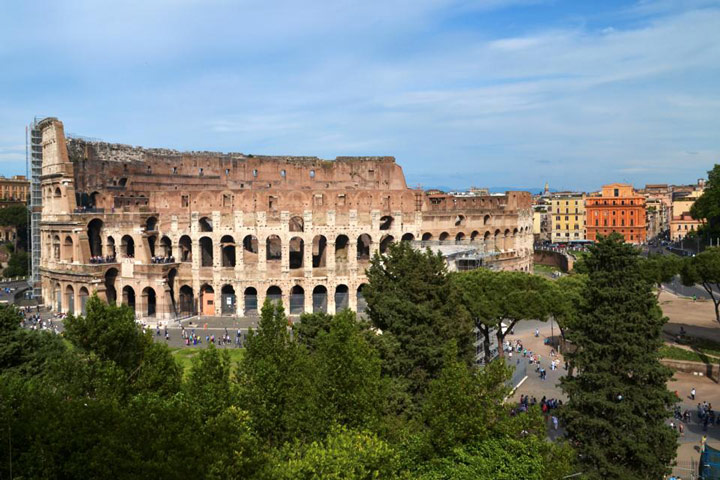 By Leanne at The Globetrotter GP | Follow on Facebook
Visiting Rome in winter may seem like an odd idea since Italy is famed for its beautiful warm summers. However, winter is actually a great time to visit this beautiful city for several reasons.
Firstly, there are fewer crowds to contend with. Sadly beautiful cities like Rome draw huge crowds and this often means waiting in long queues for public transport and to enter popular attractions. However, in winter, these queues are considerably shorter and there is a more peaceful feel to the city.
Secondly, the weather is not unbearably hot and sticky like it can be in the summer months. You may need to pack an umbrella and a coat but Rome never really gets very cold due to its location in Southern Europe. In fact, if you visit in early November, you may still be rewarded with warm sunny days.
Finally, you may find accommodation is significantly cheaper during the winter months as hotels strive to keep their rooms filled through the cooler months.
If you visit Rome in December, you will also get to enjoy the various Christmas markets and outdoor skating rinks which pop up in the festive period. And if you get caught in the rain, there are many things to do that won't involve getting wet, such as visiting churches, museums, and the spooky catacombs of the Vatican!
Venice, Italy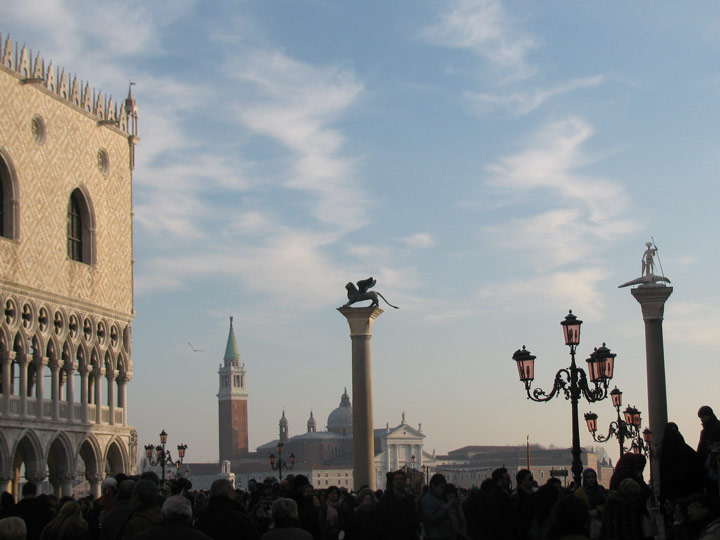 By Pam at The Directionally Challenged Traveler | Follow on Facebook
Thanks to the seasonal drop in tourism, Venice is one of the best winter city breaks in Europe. And if you can plan your trip for the end of December, you're in for a treat.
Venice, the Italian city of romance, is not one to disappoint on New Year's Eve. The annual theme is love – and whether you interpret that as personal, friendship or worldly love is up to you.
The Piazza San Marco is the place to be and starts to fill up around 9 pm, so be sure to get there before the crowds to secure your spot. Since everyone is family tonight, you're bound to make a new friend or two.
In the Piazza, there are musicians on stage playing right up to midnight. Bellini gives out small bottles of bubbly so you can ring in the new year in style – you can't miss the giant Bellini balloon in the square.
At midnight, lovers welcome the new year with the traditional kiss and can celebrate with their bellini. Fireworks go off over the lagoon- lighting up the Venice skyline and waterfront.
Be sure to learn the Italian words for Happy New Year – Buon Anno! You'll hear it yelled in restaurants, alleyways, and even stores. The city turns into a very joyful place, with cheeks being kissed and wine being poured – what a way to bring in the new year!
Use this 2 days in Venice itinerary to plan your perfect trip!
Valletta, Malta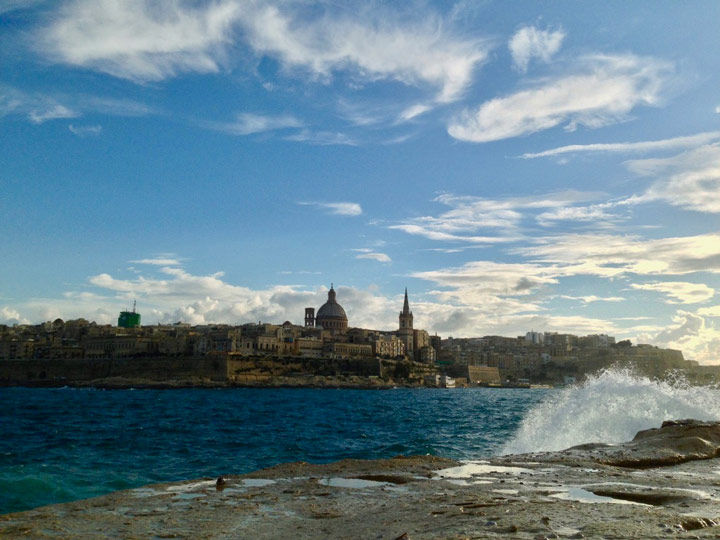 By Mario at Rest and Recuperation | Follow on Facebook
Malta is renowned a destination for summer holidays. If anything, tourists visit it during the shoulder season in late spring or early autumn. What most of the people do not know is that Malta is even more beautiful in the winter time!
There's a distinct lack of tourists this time of year, which means that the usually terrible public transit works smoothly. This allows you to get around efficiently and visit all the highlights of the archipelago in a very relaxed way.
When visiting Valletta in winter, you're able to see the iconic city gate and Republic Street without the hordes of tourists that typically crowd them. Despite the cooler weather, you are still able to enjoy the city's most beautiful places, including the Higher and Lower Barrakka Gardens, the fortification walls, and the local bars and restaurants.
One thing you shouldn't miss is the St. John's Co-Cathedral. Here, you'll find lovely golden decorations and one of the most famous masterpieces of painter Caravaggio: the Beheading of St. John the Baptist.
Despite the decent temperatures that barely go below ten degrees Celsius, Valletta has a beautiful Christmas atmosphere, mainly due to the winter decorations and lights on the buildings of the city. If you want to visit Valletta, avoid the big crowds and go to Malta for a weekend during the Christmas holidays.
Amsterdam, Netherlands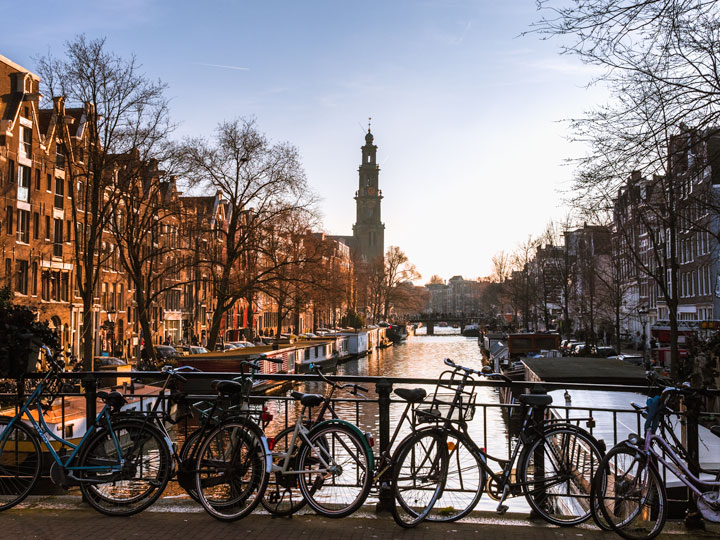 Amsterdam has skyrocketed in popularity in recent years, and it's not hard to see why.
Between its iconic canals, renowned bars, and walkable city center, the Dutch capital is frequently overrun with fun-seeking tourists. But if you plan your trip right, a weekend in Amsterdam is among the best winter city breaks in Europe.
To enjoy the city without the eye-watering prices and frustrating crowds, book your trip for January through the first week in March. While you'll need to bundle up against the 0°C / 32 °F temperatures, you won't spend your days dodging Instagrammers and standing in museum queues.
There are tons of things to do in Amsterdam, from visiting the Rijksmuseum to eating a stroopwafel steamed over a hot coffee. Famous attractions like the Anne Frank House and Van Gogh Museum require advanced reservations, so book your tickets online at least a few weeks before your trip!
Alta, Norway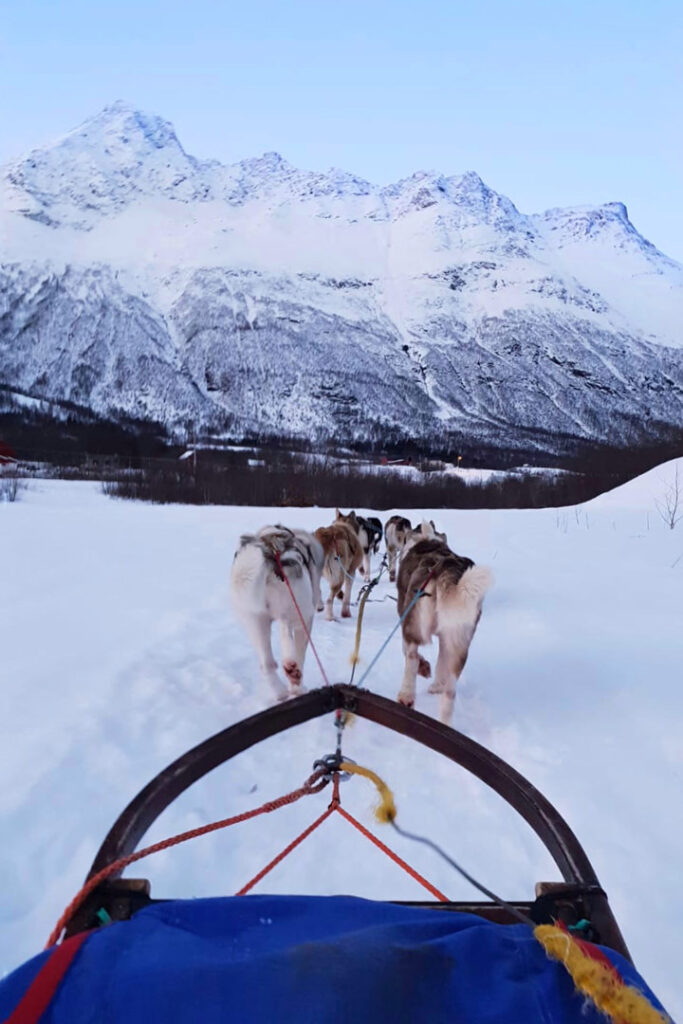 By Roshni at The Wanderlust Within | Follow on Instagram
Alta, dubbed "the town of the Northern Lights", lies well above the Arctic Circle at 70 degrees north latitude. With a population of 20,000, it is the largest city in the vast wilderness of the Finnmark County.
From late November to mid January, Alta experiences the Polar night, when the sun never rises above the horizon. This means that for a few hours a day, there is a twilight blue glow that washes over the landscape, before turning pitch black for the remaining 20-22 hours a day.
However, the darkness does make it perfect for chasing down Mother Nature's elusive light show.
It is best to join a Northern Lights tour so you have the highest chance of witnessing the eerie beauty of the Aurora Borealis. Imagine waiting inside a picture perfect cherry-red Norwegian cabin, keeping warm with hot chocolate and homemade ginger cake.
After a few hours of waiting, the clouds part and vivid blasts of green start to leap from one side of the sky to the other. Truly an unforgettable experience!
It's best to spend two nights in Alta to fit in as many Artic Norway activities as possible, including visiting the unique Sorrisniva Igloo Hotel, snowmobiling, snow shoe hiking, dogsledding, cross country skiing, ice fishing and reindeer sledding.
Oslo, Norway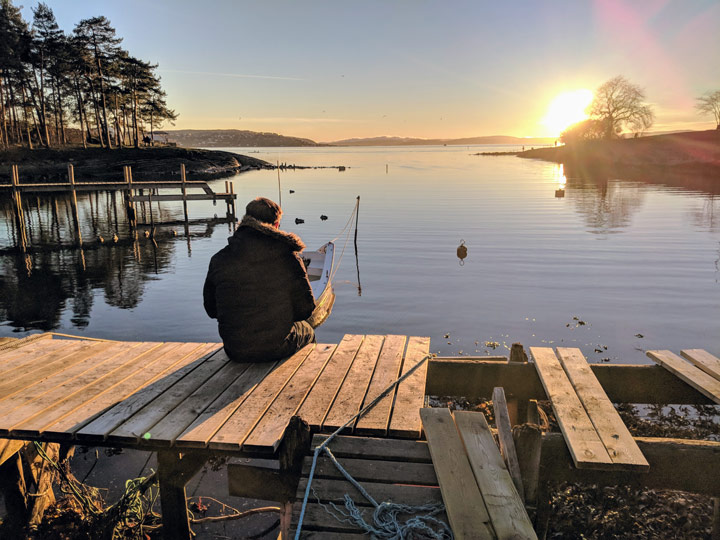 By Kieren at Got My Backpack | Follow on Instagram
Situated along the edge of the Oslofjord, Norway's capital is known for having some of the happiest residents in the world. It's a super green city that gains the world's attention as it awards the Nobel Peace each year.
While most tourists will visit Oslo during the summer months, this beautiful and historic city is becoming a popular destination for a European winter break.
Beginning in November, the heart of the city transforms into a wintery wonderland as the 'Jul I Vinterland' Christmas market takes over the square outside the royal palace. Highlights include a Ferris wheel, ice rink and stalls selling a range of festive food, drink and gifts.
Look out for some of the smaller markets dotted around the city, including an indoor market dedicated to local culture and a weekend market in the folk museum, where children can make their own gifts in Santa's workshop.
One of Oslo's major landmarks is the Holmenkollen Ski Jump located 10km outside the city. The ski jump remains open all year round, but during snow season (December until February) the nearby toboggan track also opens its doors, allowing you to rent a sledge for an adrenaline filled ride down the 2km track.
As the world's 3rd northernmost capital city, Oslo experiences an early sunset in winter that can be witnessed as early as 3:10pm. A favorite place to view this is at Huk beach, where the wooden boardwalk makes a perfect spot for watching the sun disappear over the horizon.
Don't forget about the other top tourist attractions in Oslo that remain open all year round! Oslo has more than 50 museums, and it's recommended to spend time at the Viking Ship Museum and Fram Museum, both located on the Bygdøy peninsular.
It's also worth visiting Vigeland, the largest sculpture park by a single artist in the world, and the Oslo Opera House, which allows you to walk on the roof.
Krakow, Poland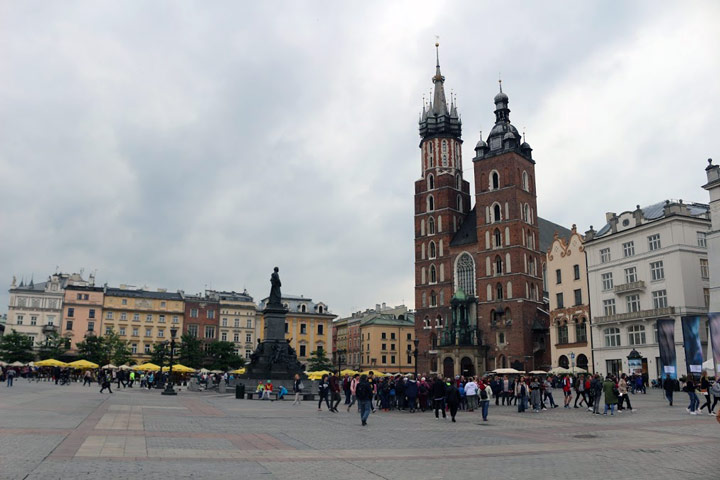 By Karolina at Lazy Travel Blog | Follow on Facebook
One of the best winter destinations in Europe, Krakow Poland has a knack for brightening up the cold and dark season with their Christmas Markets and traditional winter activities.
A city that has not been won over by commercialization, small artisan businesses sell their crafts in the wooden stalls that line the market. As you walk past each colorful stall, you will also be tempted by the scents of smoked meats, dumplings, gingerbread, spiced cookies, mulled wine flavored with cinnamon almonds, and the best hot chocolate in the world.
Aside from the amazing food and wares sold by Krakow's best artisans, Krakow has many traditional winter activities such as the Cracovian Christmas Crib Contest, where you will be awed by the intricately designed nativity houses or szopka that are vying to be displayed in the city's History Museum during winter.
At the St. Francis Basilica, there is an annual live nativity scene on Christmas Day. And, one New Year's Eve, every bar, club, restaurant, and hotel in the city has a party planned to greet the New Year. And, if you find the tickets too expensive, then book a free ticket to the party at the Tauron Arena or head to the main market square to enjoy the free concerts and count down with locals.
Zakopane, Poland
By Holly at Four Around the World | Follow on Facebook
When you imagine the best European cities to visit in winter, Zakopane should come to mind. This beautiful town in Poland has winter wonderland vibes from the moment you arrive. Just 2 hours from Krakow, Zakopane sits at the base of the Polish Tatra Mountains, offering spectacular views of snow capped mountains from every angle.
Zakopane is a popular winter holiday destination in Poland for winter sports and activities. Whether its snowboarding, skiing or tobogganing, you can find them all in Zakopane. If you are especially game, you may even want to try your skills on Kasprowy Wierch (or simply enjoy the view from the top via the cable car).
During December, Zakopane has Christmas markets and plenty of festivities happening around the town centre. There is also a market hall that runs all year, perfect for finding some unique gifts of souvenirs.
Alternatively, enjoy some fun at the indoor swimming pool and water park at BUKOVINA Thermal Baths. They are a great way to unwind in the warmth after a morning on the ski fields. The thermal water is heated to between 30 and 38 degrees Celsius.
Of course, don't forget to enjoy the deliciousness of traditional Polish food, with many great restaurants and street food options available in Zakopane during your visit. This hearty food will warm you from the inside out!
Edinburgh, Scotland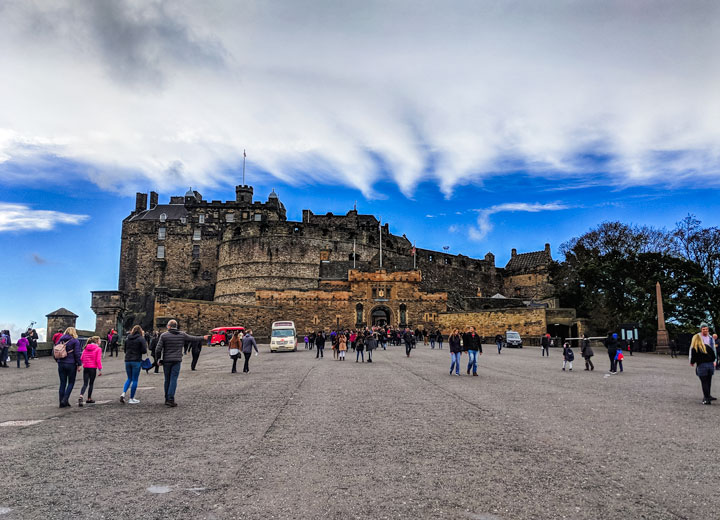 Are you a Harry Potter fan? Do you long to see a royal palace lavishly decoarated for the Christmas season? Does the thought of relaxing in an old pub next to a wood-burning fireplace put a smile on your face?
Then add a weekend in Edinburgh to your list of winter holiday destinations in Europe!
Scotland's capital city is best enjoyed whe bundled up in a warm coat and tartan scarf. There's an excellent mix of indoor and outdoor attractions, which means you'll rarely get too cold before its time to head inside.
A visit to the Scotch Whisky Experience is sure to set you right if you stay out too long!
Edinburgh is home to dozens of sites that inspired J.K. Rowling's Harry Potter series, from the colorful shopfronts of Victoria Street (a.k.a. Diagon Alley) to the stunning George Heriot's School (a.k.a. Hogwarts). There are plenty of guided Harry Potter tours that can take you through the other noteworthy places.
If you're visiting Edinburgh in December, don't miss the Christmas display at Palace of Holyroodhouse. From epic illuminated garlands on the Great Stair to the vast Christmas tree in the Great Gallery, the shimmering splendor makes the Palace even more opulent. And of course, Edinburgh hosts a marvelous Christmas market complete with fireworks and a ferris wheel.
Glasgow, Scotland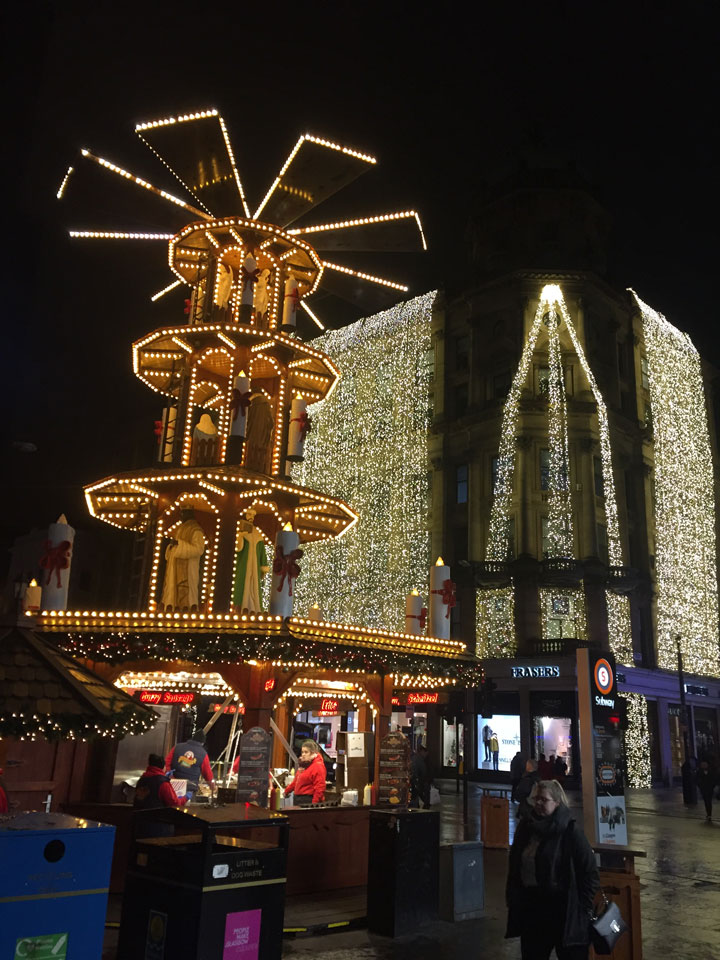 By Campbell at Highlands 2 Hammoks | Follow on Instagram
During the winter months, the streets of Scotland's largest city come to life with cheer and festivities. The Christmas lights in Glasgow are a sight to be seen alone, but when combined with the vibrant and buzzing Christmas markets dotted around the city, Glasgow is somewhere that is not to be missed.
Once a year, traders from all over the world come to Glasgow to sell souvenirs, foods and even traditions to locals visitors alike. The atmosphere as you walk around the St Enoch markets is one to behold, with people jostling all around you in search of presents for loved ones or a warm drink for the night.
Tourists and working men and women rub elbows in the sheltered areas of the markets, where you can try the finest imported beers or the freshly made mulled wine and ciders. Chat with the friendly locals as you taste the delicious market food and listen to their stories best places to visit around the city.
As a local, you'd normally begin a winter night out with a couple of drinks at the St Enoch or George Square markets, before heading to Bath Street where the best bars in town can be found.
Ljubljana, Slovenia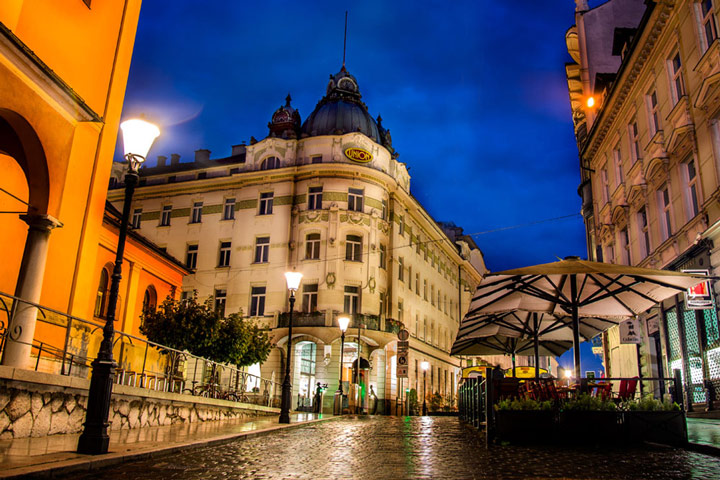 By Lexi at Stylish Packing Lists | Follow on YouTube
Ljubljana is a great Europe city to visit during Christmas time or even just winter in general. The city rests just outside of the main Western European tourist circuit, so it's less packed with travelers than other cities.
During Christmas there are a ton of things that you can see. You can take a look at the Ljubliana city lights, lit up to represent different objects such as stars and Christmas trees, to celebrate the winter season. The Christmas lights generally start on November 30th, but you'll want to confirm this before you leave as the dates may change.
Other cool things you can do during the winter season are to go ice skating, hop on a boat and go for a ride down the river, and hike the surrounding areas for beautiful snow-laden views. It's also a great time to rug up in your hotel room and watch everything go on outside from your window on chillier days.
You can visit the Christmas markets from late November to early January if you want to get some shopping done or simply enjoy the spectacle. If you happen to visit during a snowy period, make sure to go for a stroll during the evening, as the historical centre looks like a fairytale all lit up in the night.
Gruyère, Switzerland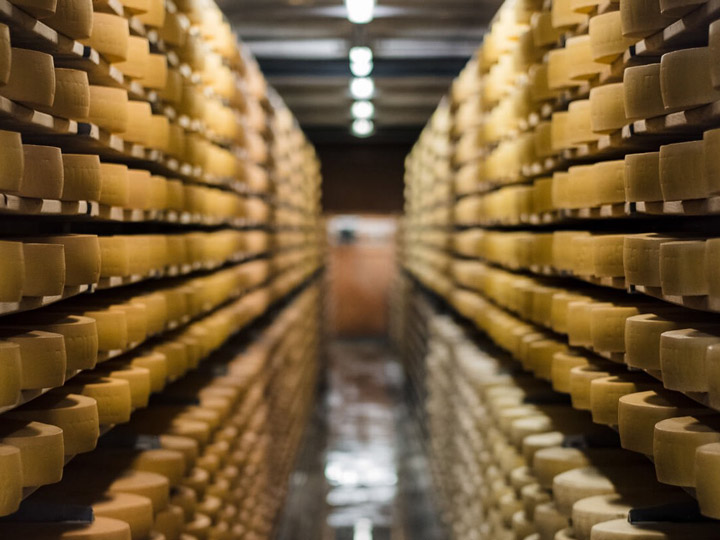 By Natasha at And Then I Met Yoko | Follow on Instagram
Like so much of Switzerland, the Gruyère region is a great place to visit in the winter, especially if you're into winter sports. From the center of Gruyères (the town), you can ascend to the nearby village of Moléson-sur-Gruyères where there are ample opportunities to ski, snowboard and snowshoe.
You can even go sledging and on Saturday nights, if you're feeling adventurous, you can take to the lit up slopes for some night sledging.
In December, the town of Gruyères becomes even more magical with a Christmas market. Over 30 different merchants take over the center of the town selling Christmas trinkets and food. The streets are filled with lights, Christmas music and lots of joy.
Of course you can't visit Gruyère without seeing how Gruyère AOP cheese is made. At La Maison du Gruyère you can tour the facilities and find out how the flavors of the cheese are influenced by the natural surroundings of the region. You'll also be able to watch cheesemakers hard at work in the production process. It's important to visit first thing in the morning to see the production.
Lastly, you can't spend time looking at cheese without eating it. Try the fondue at La Maison du Gruyère or visit one of the several restaurants in the center of town, like Gruyère Traditions.
They make a delicious moitié-moitié fondue (half Gruyère AOP and half Vacherin Fribourgeois AOP). And while fondue can be enjoyed all year around, it's best eaten as comfort food when you're feeling cold in the winter.
Check out this travel guide to Gruyère if you're looking for more activities in the area.
Remember to save this list of best winter city breaks in Europe for your next cold weather vacation!